Professional Photo Editing > Lightroom Presets > Lightroom presets bundle
Lightroom presets bundle – a wide choice of different filters
Our team of qualified photo retouchers and experienced photographers, who has been engaged in retouching photos of various styles for many years, is pleased to present you a Lightroom presets bundle. This modern Lightroom preset pack consists of more than 1000 various plugins that are suitable for different retouching goals and preferences. With our Lightroom preset collection, you can perform many retouching techniques that form the basic set of photo post processing being confident in their efficient and resultative work. Among options that are possible after ordering the best Lightroom preset pack our specialists enumerate changing colours, improving light, adjusting wrong exposure, tone, low brightness and general saturation of the image. It proves that the ultimate Lightroom preset collection will substitute other smaller Adobe Lightroom preset packs.
Lightroom Preset Pack:
Adobe Lightroom 5.2 and higher
Unlimited Number of Projects
Windows and Mac
RAW and JPEG
Comercial Use1432
Size200 kb
Downloads1012
Rank
In case of buying the advertised preset Lightroom collection, you will also get possibility to correct various drawbacks of the RAW photo and to stylize it according to your taste. No matter what you want to do with your picture, our Lightroom preset bundles will undoubtedly raise your pictures to a new and advanced level.
---
Lightroom preset pack – what is inside?

The following preset collection Lightroom comprises of 1432 plugins. All of them have a certain classification according to the offered retouching style. They are Black&white, Base, Cinematic, Cityscape, Color, Creative, Cross processing, Dark, Exposure, Fashion, Film, HDR, Landscape, Light, Matte, Nature, Pastel, Portrait, Sepia, Street, Style, Vignettes, Vintage, Warm, Wedding, Winter
All presented plugins are consistent with such Lightroom versions 4-6
They are characterized by compatibility with both PC and Mac
Plugins can retouch both JPEG and RAW files
In case you have remarks they can be manually adjusted to the needed level
Some of the Photoshop Lightroom bundle features are:
The most efficient and the best preset packs Lightroom are able to enrich beauty of every picture. No matter whether it has been taken by a professional hand or by an unskilled amateur. In case that is the first photographing experience and photos are far from being ideal, the best Lightroom preset bundles will be also useful.
Organizing retouching process with Lightroom preset packs brings a number of bonuses. They underline photographer`s creativity only after one click. They speed up retouching workflow by minimizing spent hours in front of a monitor. Plugins are easy to work with and will not require any additional instructions. All these bonuses lead to one conclusion. If a person has this mega bundle, he/she enjoys spare time devoted to taking photographs rather than to retouching them. For many creative photographers this advantage becomes crucial.
---
The most vivid features of offered LR filters:
Everything bundle Lightroom presets can be applied quickly and efficiently. After them photographers enjoy saturated and lush colors, skin of pleasant peachy tone and appealing natural light. These three components are valued most of all by contemporary photo art specialists. It was a focus of our attention while we created and developed the filters for clients.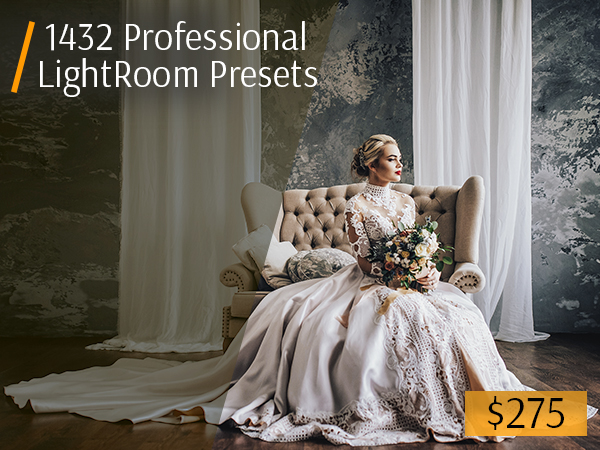 Despite being rich in airy and bright coloring, all important small details remain while retouching. Thus, every outcome preserves its initial look, but without all drawbacks. Depending on preferences they can be underlined.
All plugins guarantee vibrant results. That becomes possible by adding life and contrast to a dull picture.
An outcome will be characterized by a perfect white balance. That will highlight pretty warm colors.
All effectual presets are specially designed by taking into account the specifics of photo post processing connected to a particular style. Each filter has been carefully tested and approved on different photos. All used pictures are from various styles and with varied visible imperfections. This proves the universality of advertised Photoshop Lightroom bundle. Photographers of all genres will find something useful in them.
For raising simplicity of work with our plugins, we have classified them into different groups, but you can experiment without any fears and get a unique, creative and unexpected result.
Customers who buy this item also buy: