Dark Presets Lightroom Free
Photo retouching with Lightroom dark presets gives a photo a special atmosphere and saturated colors. If you want to transform photo colors and tones into professional High End one, this plugin is made for you. For this purpose dark urban presets Lightroom have been created. Our team has compiled a set of dark Lightroom presets for free that will make your photos amazing and interesting. Such Lightroom presets for dark indoor photos will give them mystics and emphasize their atmosphere.
Lifestyle and adventure photography can be easily enhanced with dark presets Lightroom. They suit ideally for event photos with dark coloring, as they add realistic natural tones. After application of free Lightroom presets portrait photos become deep in colors and magnetic to viewers. Such current free Lightroom presets for dark photos are completely great in adding atmosphere without spoiling initial colors. Described plugins have been designed for portraits with natural light. Modern photographers also use Lightroom dark presets for landscape and modern fashion photos.
---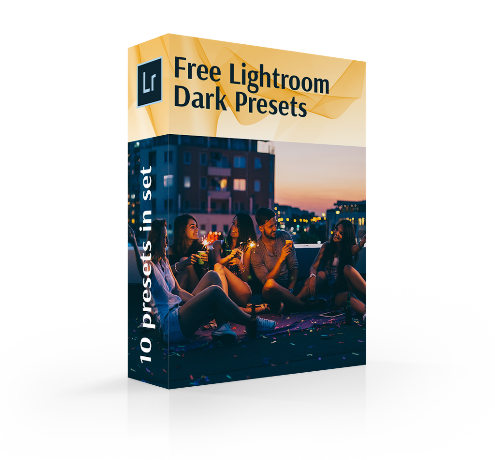 10 Dark Presets Lightroom Free Bundle Includes:
---
Dark Lightroom Presets for Free
Our free moody presets for Lightroom have a number of lines that are to be totally taken into account.Dark Lightroom presets for free are chosen when there is a need to intensify photo drama. That is possible by adding to photo shadowing, saturating colors and darkening highlights. By using these moody Lightroom presets photographers have possibility to underexpose ordinary pictures being sure that every detail will be emphasized on a final image.
Like other top Lightroom presets achieved result depends totally on the characteristic of an unretouched picture. In any case dark presets Lightroom are the right choice for professional photographers. Such plugins open possibilities for experimenting with sliders and settings.
Free Lightroom Dark Presets
10 dark Lightroom Presets
Compatible with all versions of Adobe Lightroom
Suitable for editing of JPEG and RAW images
Work with both Mac and PC
Fully managed

Free Lightroom Presets Dark
---
Dark Lightroom Preset #1 "Warm"