Photo restoration – best online image repair service
Our photo retouching service deals with diverse levels of post-production. The highest and the most difficult picture retouching level is called Photo manipulations & Restorations. If you need help with damaged photographs repair or want to colorize old photos, our professional image retouching company is ready to help with it, you can access our website 24/6 except Sunday.
How to restore old or damaged photos?
What is photo restoration? When the picture was damaged by water or time, and it needs a colorizing or photo renovations, photographers use a photographic restoration to retouch their faded photographs. Faded photo restoration has many improve picture quality techniques which help to get rid of bad quality picture and visible flaws. There is such kind of professional photo editing softwares which deal with repairing pictures and adding to the digital variant of the photo where fragments of the physical snap are torn or lost. We call them Raster graphics editors. The programs like Adobe Photoshop, RawTherapee, and Adobe Fireworks restore corrupted photos, scratches, and other signs of vivid age from the photograph.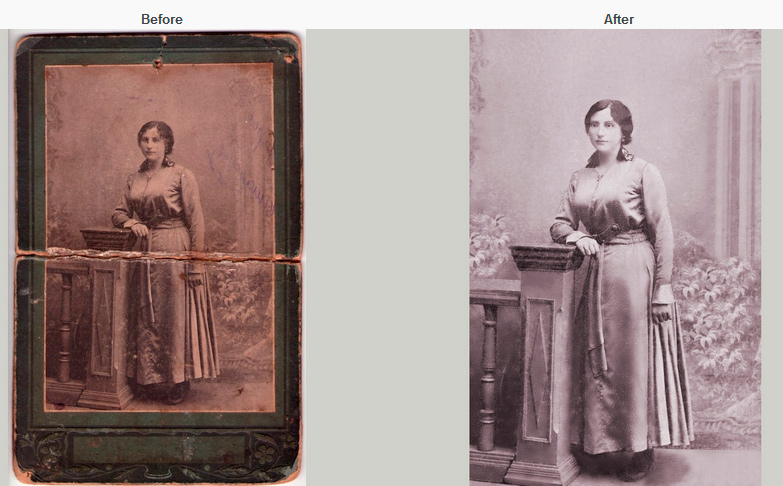 What our photoservice suggests?
If you think, that your damaged photos can't be renewed, or you don't know where to get old photographs restored, Fixthephoto is ready to help. We have a big client's base in the USA, the UK, Canada, Europe, and China with over 25,000 satisfied photographers. Our photo editing company always remain the unique form of your pictures. We work with negatives, slides and photographs. You can view many before and after photo retouching examples before creating an order. We can fix fading, cracks, tears, discolorations, and nearly any effect that time may have had on your photograph.
Giving us your instructions about what to restore in your photograph is optional. Our photo restoration editors are very qualified and are knowledgeable in cracked or stained photos enhancement. Though, if you have unusual requests, you can write guidance like: "make a picture clearer," "remove discoloration," "make the hair brown," etc. You may attach photos in JPEG format or upload the shots via Dropbox. Normally it takes within 1-2 business days to a week from the time you upload your photos for us to restore old photos.
Cost of photo restoration services is from $25 per picture.

Examples of photo restoration - Before & After
Old black and white photo restoration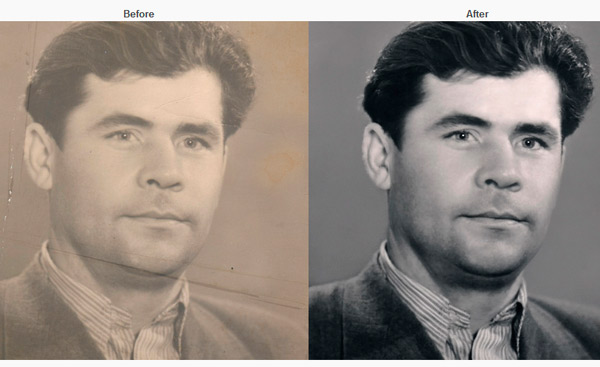 Restoring heavily damaged photos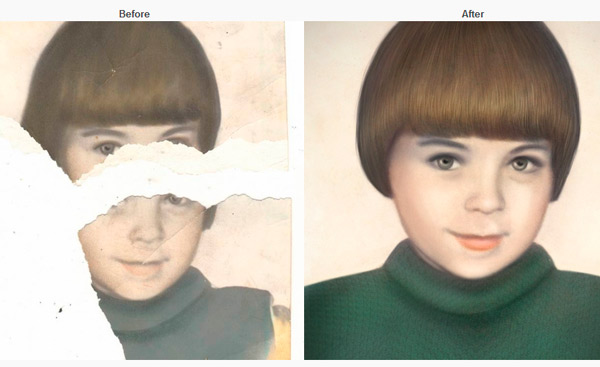 Retouching & repairing vintage photos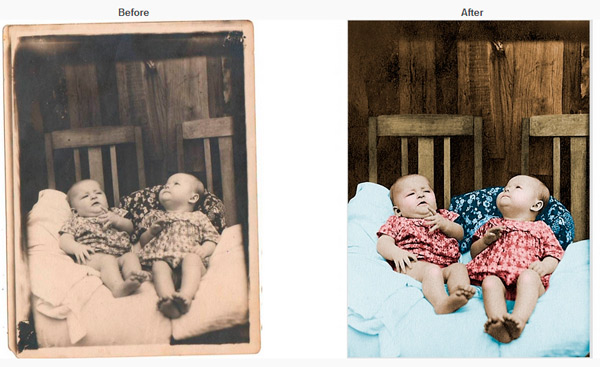 If you want to restore old family photos or renew your old photos, our photo editors are here to help you. We are the best photo retouching company in the USA, because we can not only fix fuzzy photos or fix picture resolution, also we have the most affordable photo retouching prices.
We have many years of experience in providing photo retouching services to professional and amateur photographers from different industries and corners of our planet. Just sign in, attach your photos, write necessary instructions to each shot, and we will turn your works into visually appealing images.
FixThePhoto is your perfect photo editing companion. We are able to cooperate with diverse formats such as TIFF, JPEG, PSD, PNG, and RAW. We can change the photo's format into the one our client needs. Our knowledgeable digital photo editing profs are skillful in lighting techniques, the general retouching, and color correcting.