Newborn Photo Editing& Baby Photo Retouching
Baby photo retouching involves all the deliberate alternations of digital images carried out by means of various photo editing programs and is aimed to boost the general quality of photo images of newborn babies' natural beauty. Newborn photo editing is supposed to be exceedingly gentle and quite precise, so that all the photos are still in possession of their real features and texture. Thus, newborn photography editing predominantly comprises:
Newborn skin retouching;

Baby photo color and tone correction;

Light and exposure correction;

Removing or adding extra objects;
Needless to say, babies' images are already a kind of perfection due to the natural charm of the objects of newborn photography. Nevertheless, when those ideal at first sight images are zoomed into, a heap of tiny flaws may be revealed and you should edit photo baby. Subsequently, editing baby photos requires utmost tenderness and utter precision since baby picture edits should just lightly emphasize the natural allure of the mallow object being in the center of attention. That may result in slight difficulty and make the whole newborn editing pretty challenging, as well as perplexing for some people. Therefore, baby photographers and post processing services for photographers are apt to pay attention to the following essential core units of baby photography and baby picture edits.
---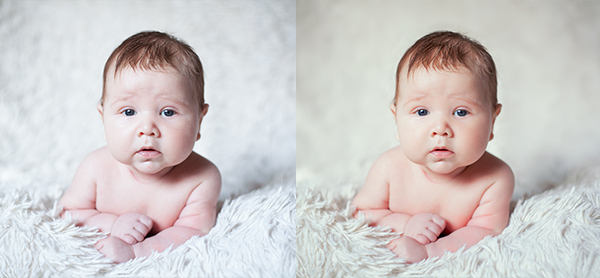 ---
Newborn skin retouching as a base notion for baby picture edits
It may only seem that newborn babies have perfectly flawless, charming and the smoothest skin ever imagined. Well, they are for real pretty much impeccable if generally perceived as a part of this constantly imperfect world. But as they say: "There is always one rotten apple that spoils the bunch." Thus, one should always pay ample attention to it.
Generally speaking, babies are the king of being infamous for their red blotchy skin, purple or blue random patches or even jaundice. What is more, they are notorious for having flaky skin and blemishes. It is a well-known fact, we suppose. All these require careful retouching, without any doubt. Newborn red skin should be disguised and blemishes are definitely meant to be removed. Instead, a nice creamy skin tone should be built up. Meanwhile, newborn photo editing services ought not to be exaggerated. Babies still have their charm. Be more careful when you edit photo baby. Thus, slight and mild alternating touches should be applied, so that tiny boys' and girls' photos stand out even more and have a greater enchanting power.
So, how to edit newborn skin, you will surely ask? For the most part this procedure involves the following steps. First and foremost, additional layers are created in order to work through the problematic part of newborn photos without involving the overall picture material. This process also requires taking samples of the more or less perfect looking skin areas by means of using low opacity clone stamp brushes, as a rule. See these photo retouching before after examples to compare how photo manipulation services may change the photographs.
For the sake of exceedingly smooth blending and nicely clean skin those clones are resampled perpetually throughout the whole process of newborn skin retouching. The crucial thing when you edit photo baby is not to fail to forget to change the blending mode of the clone stamp tools. One also ought to darken it when a dark area sample is required to be cloned from a lighter one. And vice versa: when lighter areas are needed to be cloned, then make sure to darken them. This is easy as it is. Luminosity is pretty important when it comes to the desire not to take into account the color of the area being sampled, but only the tone. For the goal of achieving a flawless newborn face one can employ low opacity brushes for processing it over the blanket and skin in pursuit of a creamy and soft effect.
---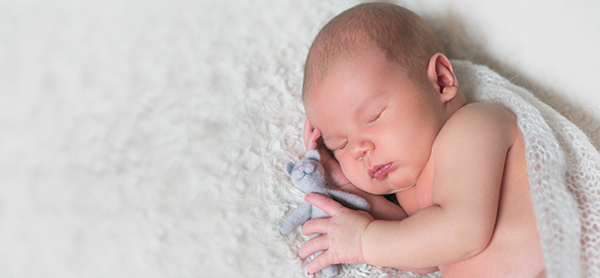 ---
Why do services edit photo baby online?
But again, it should be always kept in mind that overdoing and exaggerating do not do much good when it comes to editing newborn photos. It can only result in undesirable fakeness and thus spoil thorough works of newborn photographers. It's like in professional portrait editing: going overboard makes it way too conspicuous and consequently not very attractive and agreeable to the eye. It is desirable that you should be better beware of it.
Luckily, our FixThePhoto team knows for sure how accurate and mild kids' photo editing online should be since this is a very vital aspect of baby photo editing online. We are aware of how significant it is to preserve the natural beauty and charm of children's photos. Our professional retouchers do their utmost when getting rid of newborn red skin, removing blemishes and all the minor imperfections for the sake of gaining the greatest effect of a flawless, smooth and creamy skin. We know how to boost the quality of babies' images, make them stand out and save their authenticity and natural features at the same time.
---
---
Newborn photo editing: color and tone correction
To edit baby photos also presupposes to pay ample attention to colors and tones of images. Some couples even may convey their ardent desire for retouchers to adhere to some definite color spectrum which might have been already successfully used in their photos using baby photo retouching and family photo editing online. Tastes differ since people vary immensely, as you perfectly know. Thence quite a multitude of quire commissions may come across.
Besides, to edit photo baby is quite a well-known fact that colors, their hues and tones play an enormous role in perceiving an image. Our outsource photo retouching services' retouchers are repository of information and attitudes about colors, according to color specialists. Besides, all people are apt to have an innate reaction to colors though with age we become much more conscious of learned reactions. Nevertheless, as far as babies are concerned, we usually associate them with some warmness, softness, as well as lightness, don't you think so? And so it reflects on the way we would like them to be depicted in photos. Therefore color and tone matters a great deal.
And generally speaking, the first thing we hasten to do is surely to get rid of tonal and color problems and boost the overall picture this way when it comes to baby photo retouching in Photoshop, for instance, or in online baby photo editing programs, for example, in our case. Those are global problems, so to say, which usually stay in our way on dealing with some more specific tasks which require a greater amount of precise attention, as well as scrutiny and deliberate processing (or let's say on the way to local problems). The right saturation, color balance and contrast can make an already alluring image look just perfectly gorgeous.
---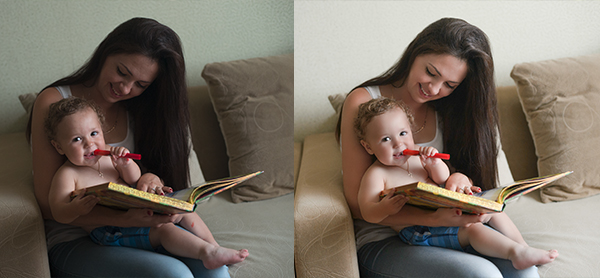 ---
Why do you need baby photo retouching
Therefore, the first intention when editing baby photos can be to heighten the overall exposure, for instance, as well as to warm the image and add some yellow or beige tones and get rid of unattractive ones. One can feel free to experiment with tones while editing newborn photos, it's even vital to do that sometimes for the purpose of changing some colors and seeing some much more agreeable ones instead.
When employing Photoshop it is possible to use its Level commands for the sake of color correction or tonal one. By means of using such a Photoshop Level proper as Color Picker it is possible to prevent the lightest parts of a photo from becoming paper white. On the analogy of that one can prevent the darkest area of newborns' photos from going to pitch-black. Threshold adjustments for highlight and shadows are also sure to be applied and so on and so forth. The rage of photo manipulations may be almost endless, about them you nay read in our retouching blog. The only thing that matters is to accomplish a splendid result with kids' photos. To edit photo baby is not easy as it can look.
Anyway, for emulating a desirable style of baby photos relatively quickly, three core masks, should be kept in mind. These are color balance, creating curves adjustment layers, saturation, using selected color adjustment layers, and luminosity, paying ample attention to the histogram of each shot.
We know how all the mentioned above are essential for online baby photo editing. Color spectrum and tonality are exceedingly important aspects of newborn baby photos. Therefore, the FixThePhoto team pays special attention to color correction service of photo editing services by doing its best while creating splendid photos that are the most appropriate for your color spectrum and tonality.
---
Light and exposure correction as an essential part of editing baby photos
Light and exposure are must-pay-attention-to aspects of newborn photo editing services together with the one mentioned above since they are quite connected. With correct lightning and exposure balance any kids' photos can stand out and be extremely mesmerizing. At the same time, when not paying enough attention to these issues babies images may lose their charm and even start looking boring and irksome.
The FixThePhoto team takes this aspect into consideration as well and is always able to adjust light and exposure characteristics of your children photos so that they look absolutely stunning and eye-catching in the final result. This technique is the basic when you edit photo baby.
---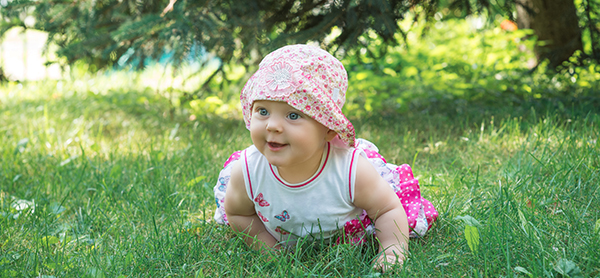 ---
Removing or adding extra objects when editing baby photos
Zooming up photos may reveal quite a number of imperfections which may stay in the way of enjoying baby photography. Consequently, those need immediate removal so that your boys' or girls' photos look more natural, laconic and charming.
On the other hand, there are a lot of manipulations of baby picture edits which involve adding some extra object to photo imagery. It can be even done to such ingenious extent that the whole setting may look completely changed, but at the same time look more playful and gripping. Here background removal service comes to help.
Our team is keen on removing or adding extra objects. It's not at all a challenge for us when it comes to newborn editing. Our highly-skilled retouchers can make those manipulations look utmost natural and harmonious.
---
FixThePhoto newborn photo editing services: why should you choose us?
In our contemporary life when everything seems is if it was making astounding progress perpetually and boundlessly, there is quite a pile of online baby photo editing services, various prosperous retouchers and skillful artists at diverse photo retouching companies which will gladly suggest you their photo editing services. Besides, the number of ingenious photographers and thriving photo artists who gravitate towards newborn photography is also sparingly big, it should be noted.
Many of them might want to edit baby photos online themselves. So why would you find it preferable to choose the baby photo retouching services provided by our friendly and productive FixThePhoto team under the conditions of such a competitive and even cut-throat photography society? Well, we are more than sure that there is plenty of valid reasons for that!
There can be a heap of problems on the way of snapping picture of newborn babies. It is a challenging task, no one will ever presume to question this fact, but the result is totally worth it. Nevertheless, there may be some minor imperfections which need professional baby photo retouching. As it has been previously mentioned, baby photo retouching services should be carried out extremely gently since every touch in this domain counts a lot.
And here comes our experienced and highly skillful team of editors to your aid! We realize the importance of every single detail, as well as how pivotal it is to preserve your own unique styles of photography so that they can carry your name on them. Thus, we are open to all you preferences and wishes. Or on the other hand, FixThePhoto team is more than glad to aid you to make up some new mouth-dropping composites which can grow to be your style signature with ease.
We can fairly admit that our team of skilled retouchers is exceedingly dedicated to its professional cause. We are always ready to provide help with photo post processing for photographers. Therefore, we have quite a marvelous retoucher portfolio in our possession which is available for free viewing on our webpage, which is splendid proof of our productive retouching work. Thus, if you choose to make use of our newborn photo editing services you can always be sure that your artistic works are in safe hands.
Besides, the cheap photo editing prices in our FixThePhoto retouching company are quite attractive as well. We can boast of reliable photo retouching prices together with an excellent quality of editing work. This fact only proves that we are totally worth having business relations with.
So, feel free to contact our team and try out the professional photography aid suggested by our image retouchers! We can supply you with help concerning all the aspects of editing newborn photos mentioned above. Our FixThePhoto team will be immensely pleased to give you a professional helping hand providing wedding photography post production, headshot retouching, old photo restoration services, real estate photo editing, product photo retouching services, and jewellery retouching services as well as to diligently fulfill our professional duties by making the most of your babies' images! We bet the results will gladden you and your children's photos will make you beam with joy every time you fasten your eyes upon them.