Free Lightroom Presets by FixThePhoto
Welcome to our Free Lightroom Presets page. We have 500+ presets for Lightroom that you can download free. Our collection offers professional Lightroom presets for portraits, wedding, landscape, and street photography in RAW and JPG formats. These Lightroom presets are compatible with Lightroom 4-6, CC and can be used easy and fast by beginners.
Having worked more than 10 years with Lightroom presets, FixThePhoto knows how to speed up your work in Lightroom with Adobe Lightroom presets. Every week we add new Lightroom presets free for every photographer, retoucher, and digital artist who want to edit photos fast and professionally. Download 100% free Lightroom presets and use them for your photos now.
How to Download Lightroom Presets?
We have 500+ presets for Lightroom that you can download free. Click on the bundle of Lightroom filters you like to read detailed instructions on how to install Lightroom presets and use them and view before and after photos. Subscribe and receive all the latest best Lightroom presets, photo editing tips and special discounts!
---
Our Best Free Lightroom Presets Include: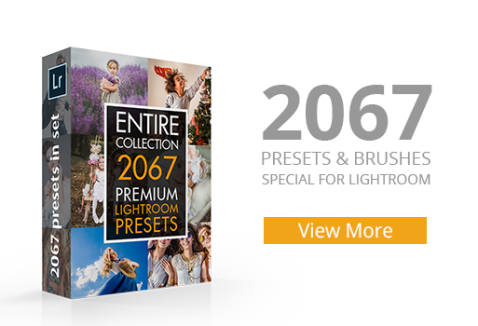 ---
What Is Adobe Lightroom?
Adobe Lightroom is a popular photo editing software for image color correction, photo management, and basic photo editing of RAW and JPG images. Having used Lightroom presets and brushes, photographers make photo editing twice faster. You can use free Lightroom presets to control and manage hundreds of images and edit them in one style. Find out how to get Lightroom for free legally and without lags and start editing photos right now.

What Are Lightroom Presets?
Adobe Lightroom presets are saved Lightroom settings that help edit a photograph as you like and then save that exact combination of settings for other images. With the help of Lightroom filters you can adjust white balance, sharpness, contrast, colors, shadows, temperature, etc. To create Lightroom presets you need to run Lightroom and open the "Develop" module. Now you can save the settings and use them for further photo editing without repeating all the steps to achieve the desired look. The file you get is called a "Lightroom preset" with the extension .lrtemplate.
14 Bundles of Our Free Presets for Lightroom
---
1. Free Black and White Lightroom Presets
Lightroom Black and White, Sepia, and Cross Processing Lightroom Presets are classical and universal collections of filters that make any photo emotional and dramatic. You can use B&W Lightroom Presets for any photo genre to draw attention to the subject or hide bad lighting. Sepia Lightroom Presets are recommended for old photos or to add a vintage effect. To change colors in the highlights, mid-tones, and shadows to create unique film look, download Cross Processing Lightroom Presets.

---
2. Free Lightroom Presets for Weddings
Top Lightroom Presets for Weddings, Matte, and Pastel Lightroom Presets are useful bundles for event and wedding photographers who need to do batch image editing of hundreds of photos fast. These are top Lightroom presets for wedding that can be used for all wedding styles and photos. You can use Wedding Photography Presets to make clean and accurate skin tones or add a classy and refined look. Matte Lightroom Presets are recommended for portrait and couple photos to wash out the colors slightly and make your wedding photos look as if they have been printed on matte paper. To add a soft or dreamy look, download Pastel Lightroom Presets.
---
3. Best Free Lightroom Presets
Best Lightroom Presets for Photographers, Best Lightroom Presets for Weddings, and Best Lightroom Presets are universal collections of plug-ins for any photographic style. Each bundle includes 25+ Lightroom filters to choose the preset you like. These presets have been carefully designed by professional photographers and Lightroom experts so they will look good with different types of photo and camera brand. Not every preset will work with every photo, do experiment to find the perfect one for your shots.
---
4. Free Lightroom Presets for Portraits
Do you enjoy taking portraits? Check out these Best Lightroom Presets for Portraits, Film, and Fashion Presets that are good for studio and outdoor portrait images. You can use Portrait Presets for Lightroom to edit both close up and medium shot portraits. Film Lightroom Presets are recommended for street photos to add high contrasts and bold colors. To add a warm hue and glamourous touch, download Fashion Lightroom Presets.
---
5. Free Lightroom Landscape Presets
Landscape, Sunrise, and Sunset Lightroom Presets are the best presets for Lightroom to make landscape and nature photos clear and bright. You can use Landscape Presets to emphasize the mood and tonal qualities of each season, natural lighting, and weather. Sunrise and Sunset Professional Lightroom Presets are recommended for scenic photography to brighten dull landscape photos and add creative touch to your projects.
---
6. Free Lightroom Presets for Outdoor Photos
Cityscape, Street, and Glow Free Presets are perfect Lightroom plug-ins to make outdoor photography pop. You can use Cityscape Lightroom Presets Free to enhance the lights and atmosphere of big towns and cities in several clicks. Street Presets are recommended for architecture and portrait photos taken in the park or near buildings. To add a stylish touch, download Glow Lightroom Presets.
---
7. Free HDR Presets for Lightroom
Our Lightroom HDR Presets, Nightclub, and Vintage Presets will bring some vibrant vibes to your photos. You can use Free HDR Presets for Lightroom for architecture, real estate, cityscape, and street photography or images that lack bright colors. Nightclub Presets are recommended for the night photos taken at bright nightclub lights. To add a warm old-fashioned look, frames, and light leaks, download Vintage Lightroom Presets.
---
8. Free Lightroom Presets for Real Estate Photography
The following Real Estate HDR Presets, Real Estate, and Interior Lightroom Presets free are highly recommended for real estate photographers and agents to make property images vibrant and sharp. If your architecture photographs have much noise and many darkened areas or you wish to change the color palette, these Lightroom presets bundles would be a good variant to make your color correction faster.
---
9. Free Natural Light Lightroom Presets
Our Fall, Warm, and Cool Presets for Lightroom will help you add bright colors and cheerful mood to any nature photo. You can use Fall Presets to add a sepia effect that is appropriate in the fall season. Warm and Cool Lightroom Presets are recommended for portraits or wedding images to add some warm shades. Mix these presets with other Lightroom filters for a better look.
---
10. Free VSCO Lightroom Presets
Moody, Film Look, and Dark Lightroom Filters are must-have presets if you want to make street and outdoor photos stylish and vintage. Bring a unique look to all of your portrait images having mixed several presets for Lightroom. We don't guarantee the 100% result shown on our before and after photos, you should customize each preset according to your photo.
---
11. Free Lightroom Presets for Product Photography
Professional Lightroom Presets for Product, Food, and Car Photography are designed to make photo editing fast and reduce time you spend achieving the consistent look of the entire catalog of product images. Attract more clients and customers with better product photos. These Lightroom presets will help you correct light, white balance, color cast, and shadow issues, make your whites whiter, sharpen, and improve the overall look of your product photos.
---
12. Free Lightroom Presets for Newborns
Our Lightroom Presets for Newborn Photography, Light and Airy, and High Contrast Presets will make your baby photo soft and creamy. Use these free Lightroom presets for babies to edit studio and home newborn shots with harsh shadows. The presets help adjust skin texture and eliminate red spots. Light and Airy together with High Contrast presets are extremely universal, offering beautiful soft and delicate edits for all of your baby, wedding, couple, and portrait photos.
---
13. Free Orange and Teal Lightroom Presets
Do you have pictures with blue colors prevailing? Or you need to enhance the images with warm and orange elements? Orange & Teal Free Presets for Lightroom are just what you need. They are suitable for different photo genres, be it portrait, wedding, beach, landscape or street photography. Use Instagram Filters to edit your photos to evoke a specific tone, style, and mood before publishing them.
---
14. Looks Like Film Lightroom Presets
---
15. Free Classic Lightroom Presets
---
16. How to Install Lightroom Presets?
Watch the following videos to understand how to load Lightroom presets in several steps. You can also download free Lightroom brushes for professional teeth whitening to make portrait photos pop.

---
How to Work with Our Adobe Lightroom Presets Pack?
Download our free Lightroom Presets Bundles in several clicks. If you are a beginner photographer and don't know how to load Lightroom presets or use them in a proper way, watch the detailed video tutorials below or read simple guides on how to achieve professional results with FixThePhoto Lightroom filters. Subscribe to our channel to keep up with the latest updates related to image editing.
FixThePhoto knows how important it is for photographers to be unique and individual, that's why our collection of Lightroom presets for professional photographers is so large. It gives a possibility to choose among various options of filters and effects depending on your personal taste, style and ideas.
With these free presets in Lightroom, you can forget about long hours spent on photo editing, color correction, batch image processing, and do portrait editing faster and more effective.
Create stunning and breathtaking pictures without paying a cent and making practically no efforts. Try these free Lightroom presets and you will see how easier your photo enhancement work will become.
---
---
Reviews
(101)
(20)
(0)
(0)
(0)
121
Reviews
Write a review
---