How To Get Into Real Estate Photography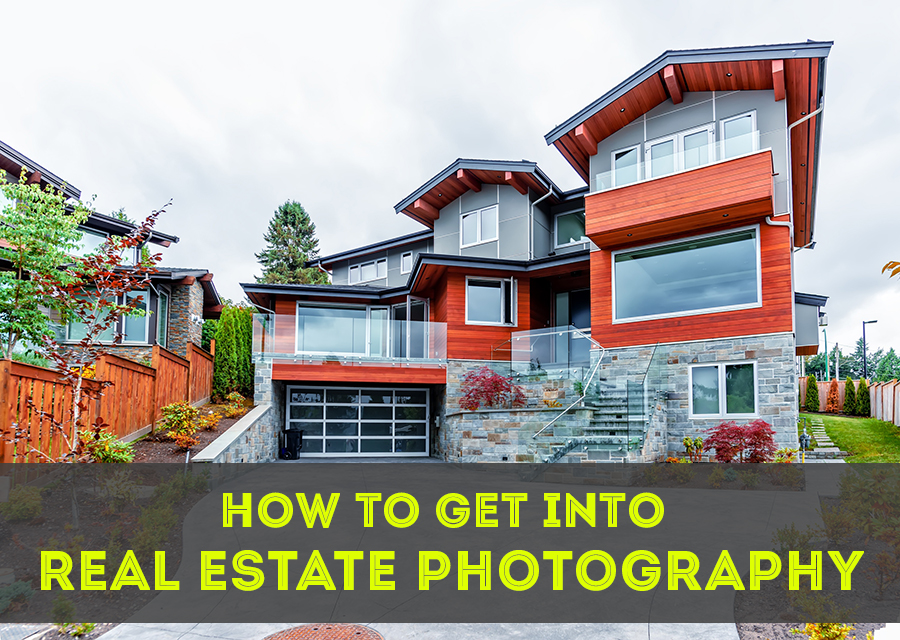 If you decided to run a real estate photography business, do not hurry up and make a business plan. In 2008, when I started my business, I spent much time and money in vain. Today, I can advise you and share real estate photography tips & tricks you should know in order to start working successfully.
---
Contests:
---
How much do real estate photographers make
The average real estate photography salary in 2017 varies from $90 to $300. In terms of beginners, they may charge from $80 per a listing. Usually, this rate includes up to 25 pictures made in home of 3,000 square foot.
I deliver 25 photos with 24 hours turnaround. During this period, I make culling and edit the best ones. NOTE, the more photos must be delivered, the bigger amount of time is required and the higher real estate photography pricing will be asked.
Additional real estate photography services you can offer
Video (starting at $1000)
That is the most popular premium service where only real estate photographers wanted. It is not a slideshow. Usually it is done with the help of Steadycam, shows the house layout in the most beautiful way. To make the effect more influential, photographers add music. Notice that not all soundtracks are allowed to be used in commercial real estate videos. For this you should collaborate only with those music webpages that let you use music paid or free.
Photos made with drone (from $200/hr to $5,000 per photoshoot)
This elevated perspective shows the bird view of the house together with the neighbourhood. Notice that currently FAA dictates strict limits for using drones and that influences on how much do photographers make. To avoid problems I recommend just use a painter`s pole and a tripod.
Architectural 3D rendering (about $500)
It will become a great benefit, if you find a customer that is a home builder.
Real estate photography fees in different states
Surely, the state influences how much do real estate photographers make. This is a short list of real estate rates in the most popular cities and states.

The average rate for standard photo session is $225 and for extended is $325. For premium services like drone photography you will be paid $275.

For standard photo shoot you will get $299 and for extended $379 in case you will work with Gotham by VHT studios. OLR digital charges $175 for standard photo session.
The company Shooting LA offers standard service for $275-$400 and extended one for $350-$475. For virtual tour or drone photography minimum $300 are asked.

TK images offers photo session (up to 10 images) for $95 and up to 32 for $170. Photos made with drone cost $125 and tours $225.
Photographers charge $115 for standard and $175 for extended real estate photo sessions.
Real estate photography equipment
Depending on the budget, I decided to create a list of everything you need if you want to deal with the real estate photography business. Below you can see a list of Budget, Pro, and Trending levels of real estate photography equipment.
Best camera for real estate photography
When buying a camera, I'm only interested in one thing - the best wide angle photos.
Budget (about $500)
• Nikon Coolpix B700
This camera has an incredible 60x manual and 120x digital zoom, which allows you to make wide-angle photos with capturing details. This budget camera will show you how to get into real estate photography not expensive.
• Panasonic Lumix FZ300
This wide angle camera for real estate has a 25-600 mm zoom with the f/2.8 diaphragm, which makes it possible to get good photos even with poor lighting. And the noise starts only with ISO 800.

• Panasonic Lumix DC-FZ80
Camera is equipped with a universal ultra-wide-angle lens (20 mm), which allows covering up to 140% of the space, for example a living room.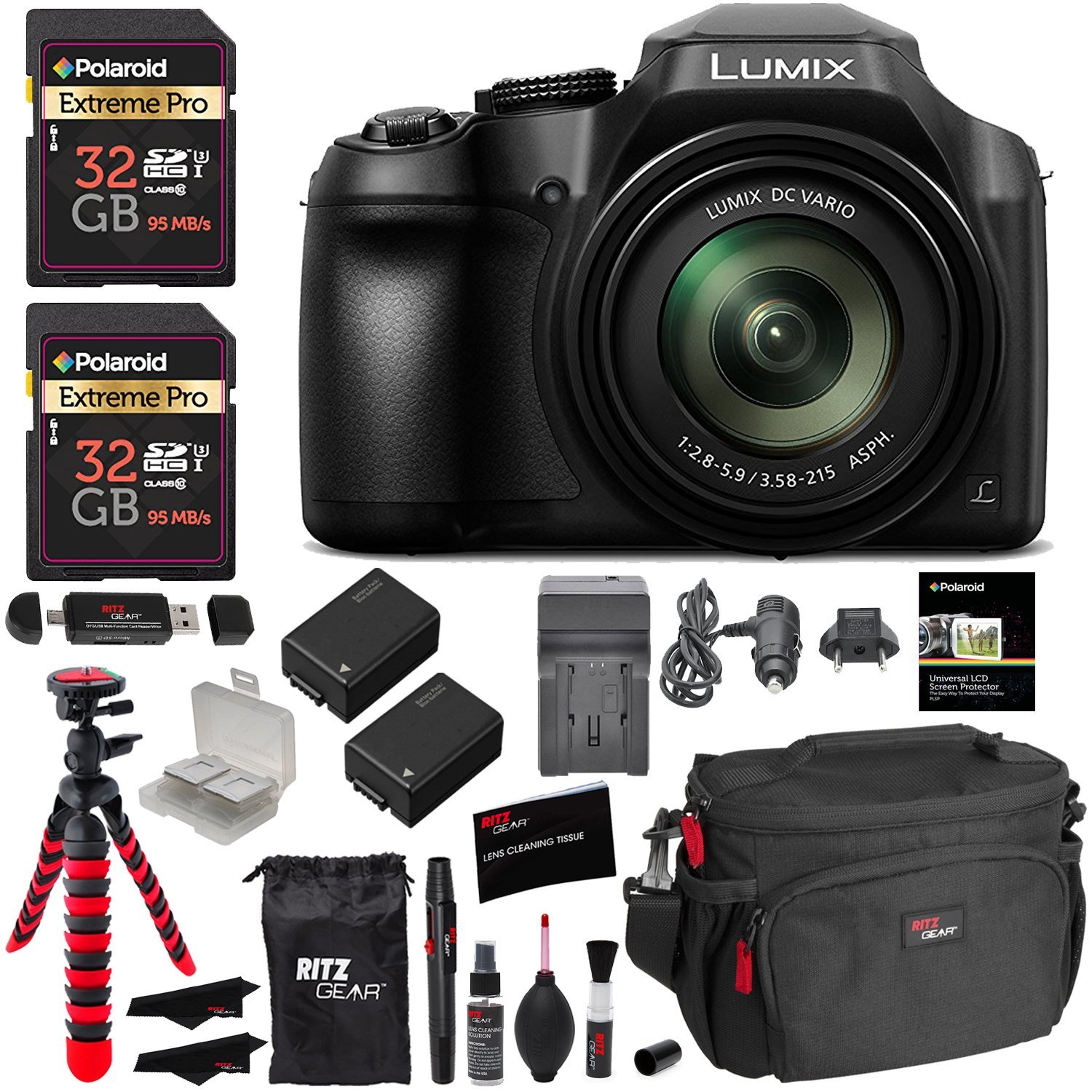 Pro (about $2000)
• Nikon D750 DSLR
This is a full-frame camera with 51 focus points and 100% viewfinder coverage knows how to take interior real estate photos. It can be used both for photography of the whole room and for details.
• Canon EOS 6D Mark II
The camera has a large resolution matrix, which is ideal for real estate photography, as you can capture more details, and the cross-type AF points will help to photograph in low light conditions.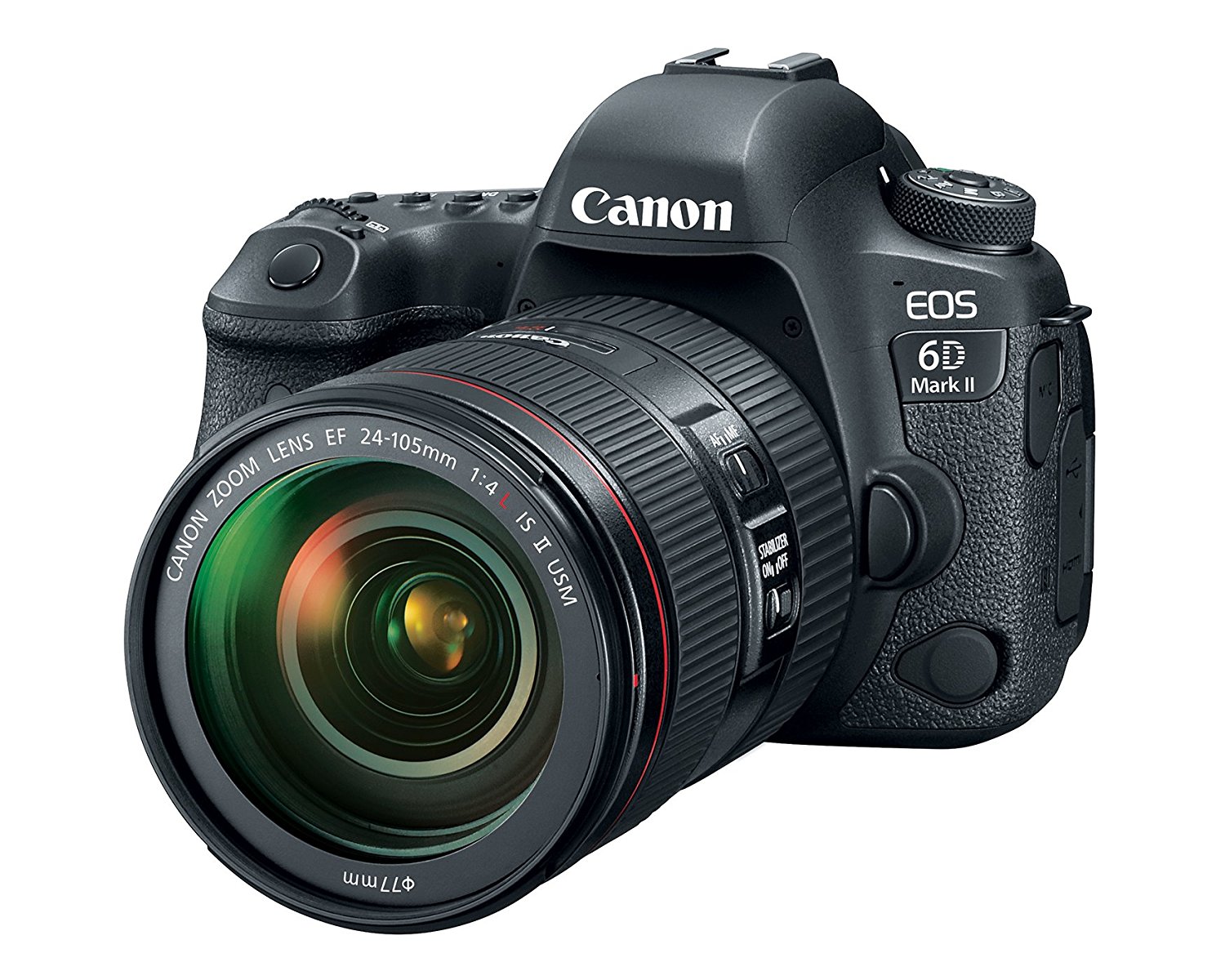 • Canon 70D
There is a unique two-pixel focusing system, which will ideally capture the focus on the object you want. Also 103 lenses are available for this model.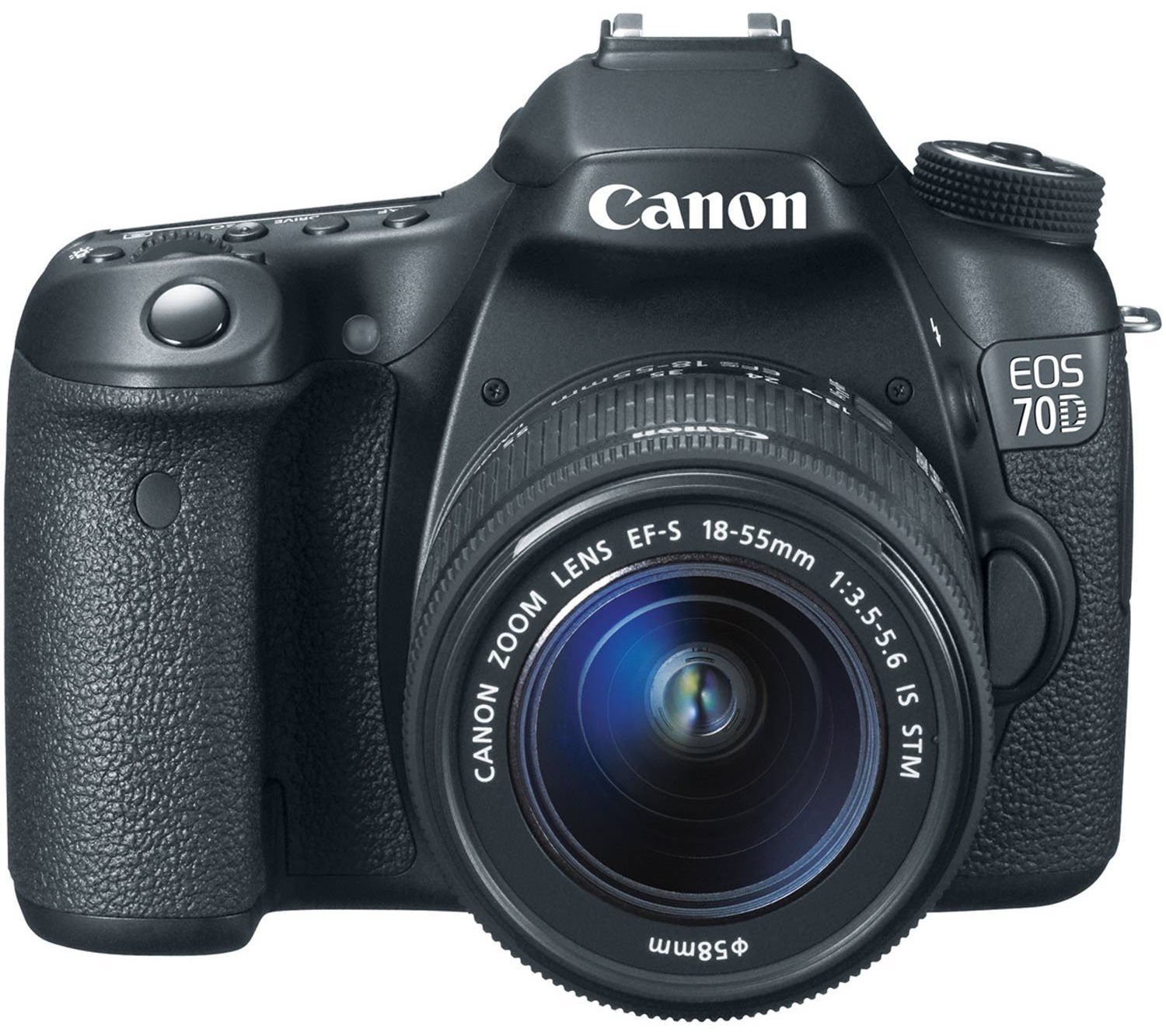 Trending (about $4000)
• Canon EOS 5D Mark IV
Not the extended ISO range of this camera is 100-32000. Since it is a full-frame camera, it captures more space and light.
• Nikon D5
With this camera you can capture almost anything, because D5 has 153 focus points and not the extended ISO reaching up to 102400 for obtaining a cleaner picture with a larger dynamic range.
• Sony Alpha A9
This mirrorless camera gives you the opportunity to see what the exposure will be before pressing the shutter button. You also get a full-frame sensor and a hybrid mechanism of auto-focusing.

Best camera lens for real estate photography
Budget (about $500)
• Tamron 10-24mm f/3.5-4.5 (for Canon & Nikon) - very compact and lightweight lens with a wide-angle range of focal lengths and excellent image quality for its size and weight.
• Tokina 17-35mm f/4 (for Canon & Nikon) - provides a high quality image at all focal lengths as the lens length doesn't change when the focal length is changed.
• Tokina 12-28mm f/4 (for Canon & Nikon) - this real estate photography lens is designed for use in a variety of photoshooting conditions.
Pro (about $1000)
• Nikon 12-24mm f/4 - ultra-wide-angle lens whose nanocrystalline coating reduces glare and provides exceptional image sharpness throughout the frame.
• Canon 16-35mm f/4L - gives a greater depth of field and a distinction between foreground and background.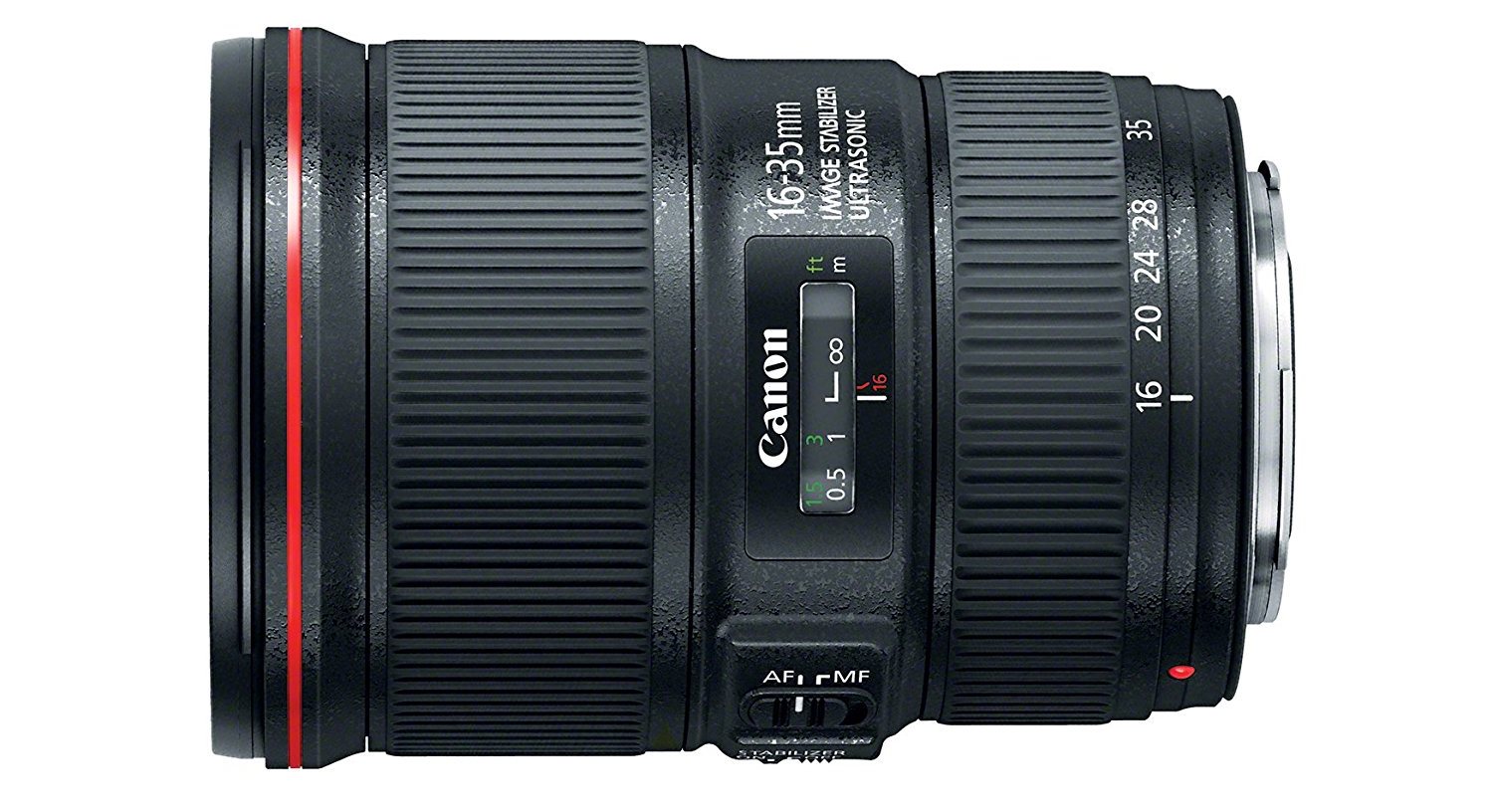 • Sigma 12-24mm f/4 ART (for Canon & Nikon. Sony gets a non ART version) - lens with a high speed of autofocusing and which gives high sharpness and contrast of the image.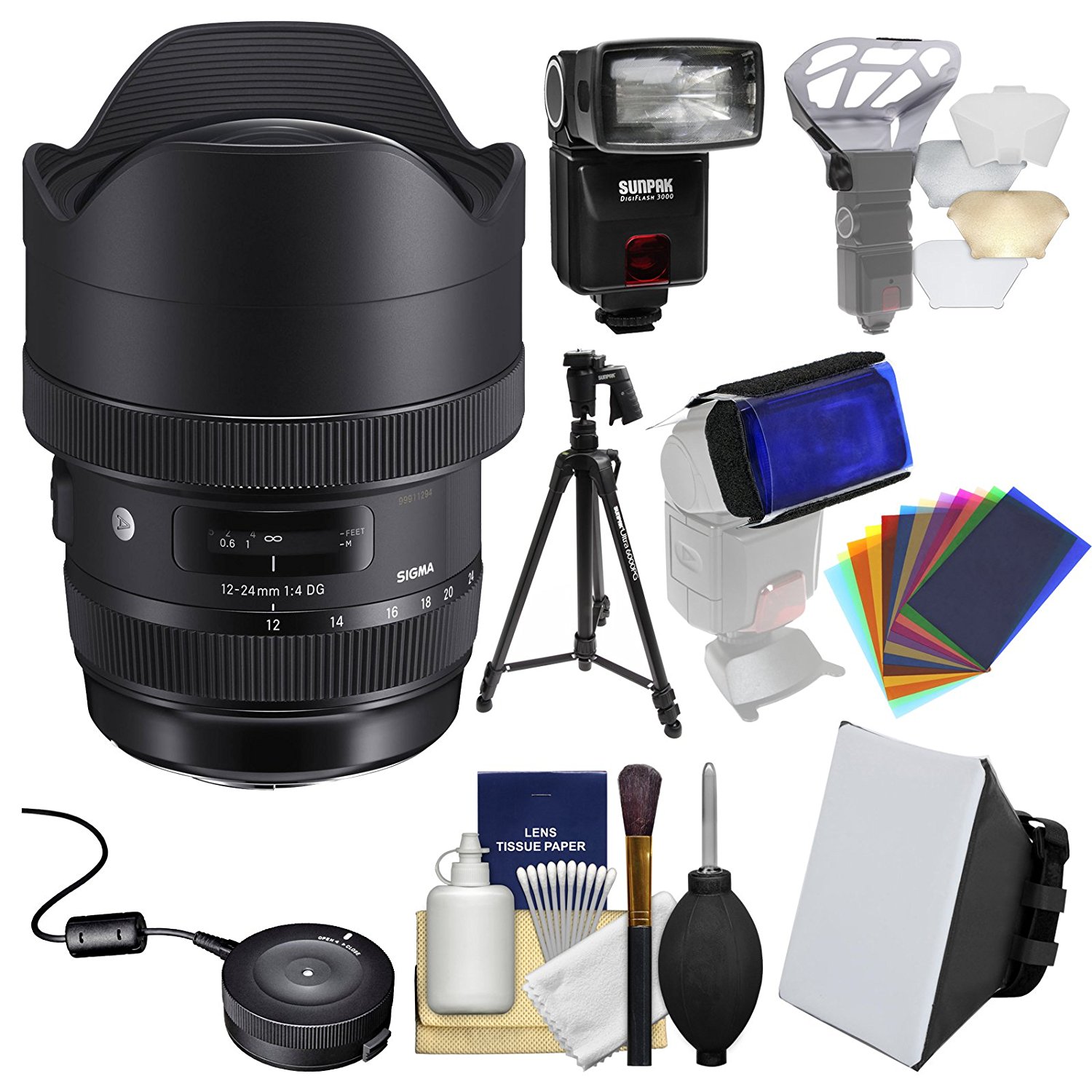 Trending (about $2000)
• Tamron 15-30mm f/2.8 Di VC USD - ultra-wide-angle zoom lens with a vibration compensation system, in case you are without a tripod and don't want to raise the ISO.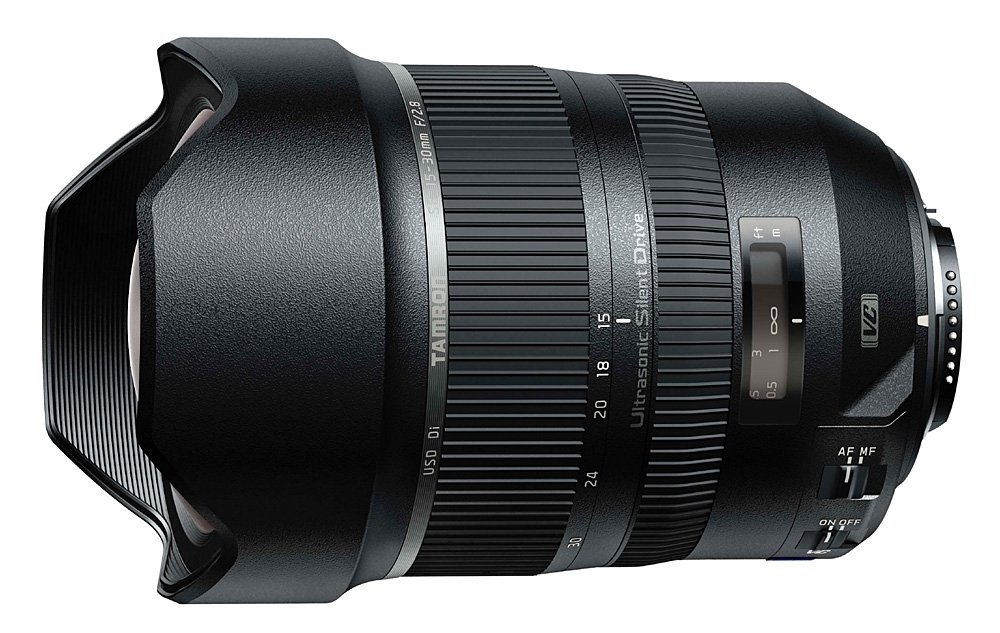 • Nikon Nikkor 16-35mm f/4 - provides the highest resolution and contrast when photoshooting under different conditions and the Nano Crystal coating reduces halos and lights. This lens knows well how to take interior real estate photos.

• Canon EF 16-35mm f/4L IS USM - doesn't give optical distortions, has a coating preventing the appearance of unnecessary flares and reflections and a Super Spectra coating, which increases the contrast and saturation of the image.

Real estate photography lighting units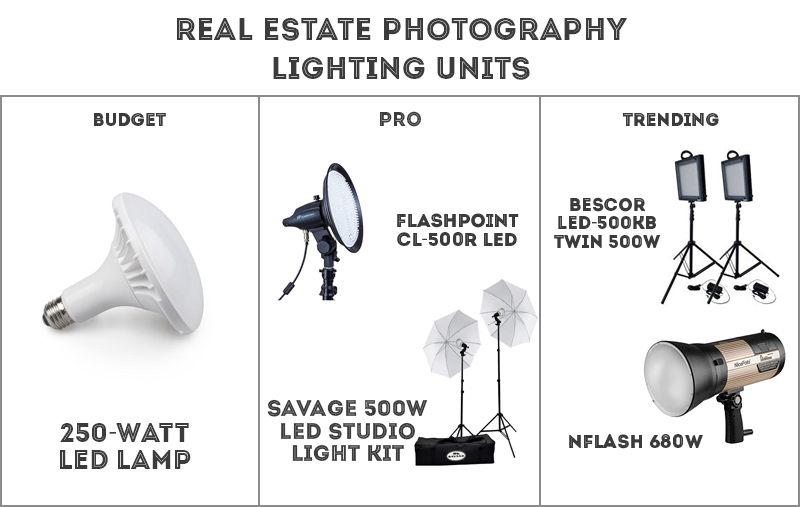 Budget (about $100)
• 250-watt LED lamp – it's good for additional lighting of interior details.
Pro (about $200)
• Flashpoint CL-500R LED Circular Light Kit - not a very powerful lamp that will add cool light.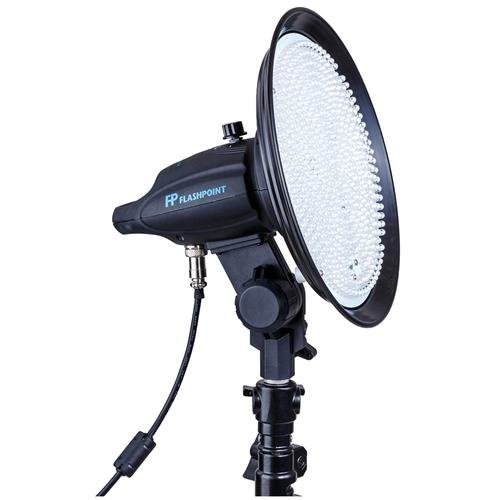 • Savage 500W LED Studio Light Kit - consists of two lamps with a warm/cool filter and umbrellas for light diffusing.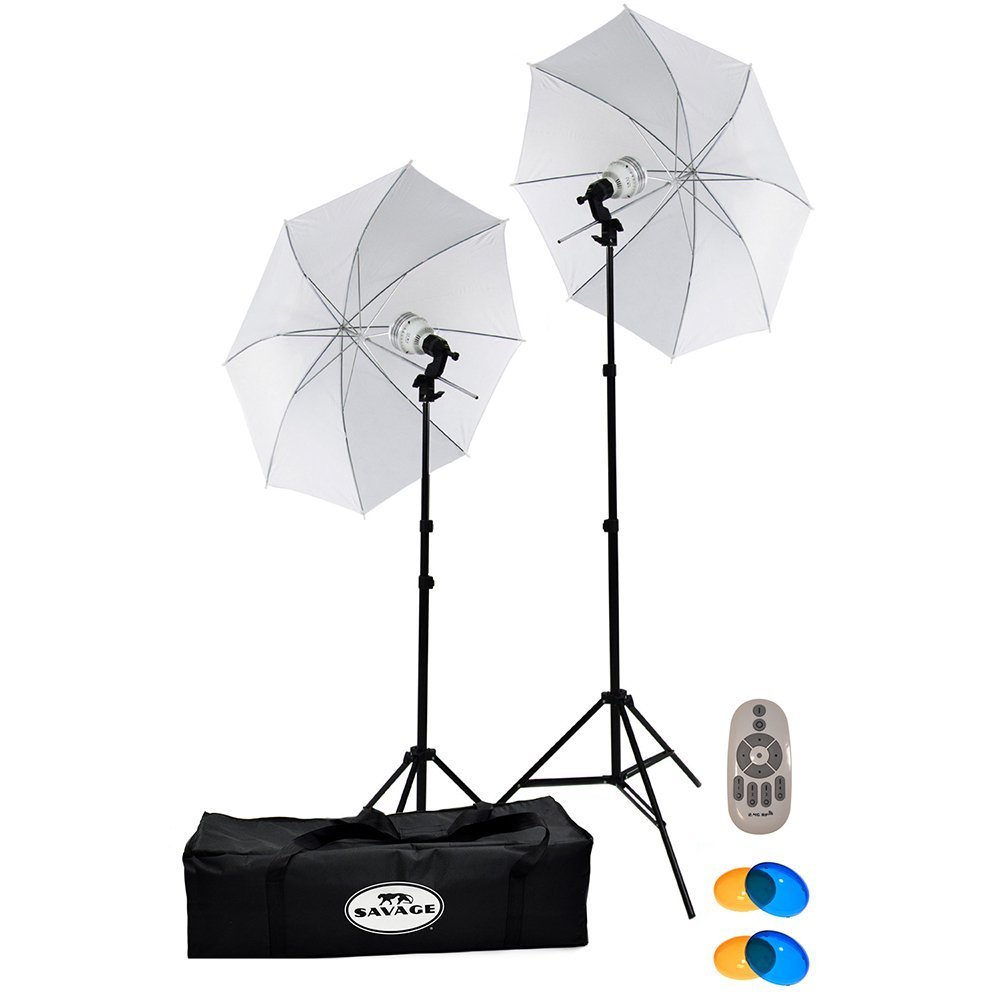 Trending (about $500)
• Bescor LED-500KB Twin 500W - portable and quality system that provides pleasant daylight

• Nflash 680w - best flash for real estate photography with quick charging, on which you can choose the duration of the flash and Multi-flash number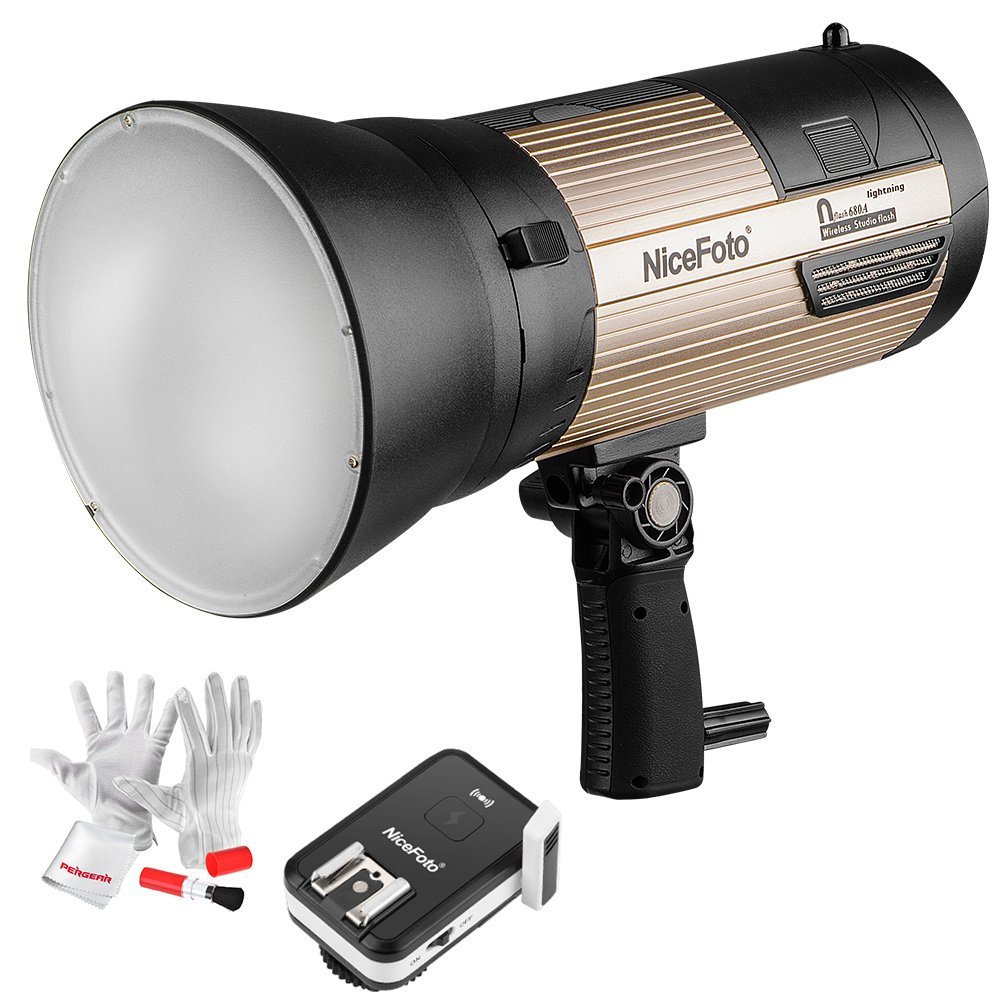 Best tripod for real estate photography
Budget (about $150)
• Zomei Z888C Carbon Fiber Tripod - has good heat and corrosion resistance, cushioning and double fixation of the camera, to avoid falling.

• Manfrotto MK290XTA3-3WUS 290 Xtra Aluminum Tripod – has legs which can change the angle of inclination in four positions for photoshooting absolutely all places in the room.

• Sirui T-025X 52″ Carbon Fiber Tripod - ultra light and compact tripod, which is great for compact and mirrorless cameras.
Pro (about $300)
• Manfrotto MT055CXPRO3 Carbon Fiber Tripod - this tripod is great for using in smaller more compact spaces.

• Manfrotto 410 Junior Geared Head - lightweight and durable head that provides a smooth and very precise adjustment during photoshoting if you need to pick up an ideally accurate angle.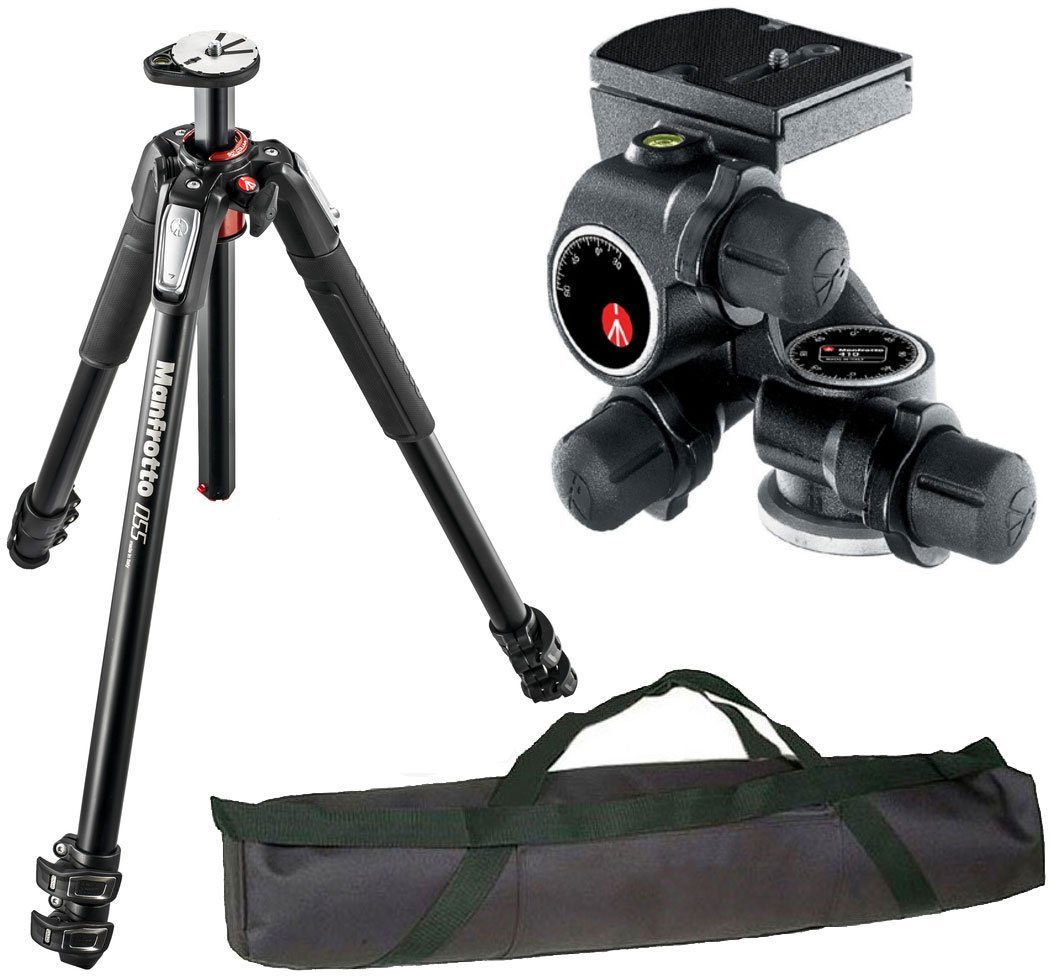 Trending (about $500)
• Manfrotto 161MK2B Super Professional Tripod Mk2 - a high tripod (2.67 m) for photos of the room from above with support for cameras up to 20 kg.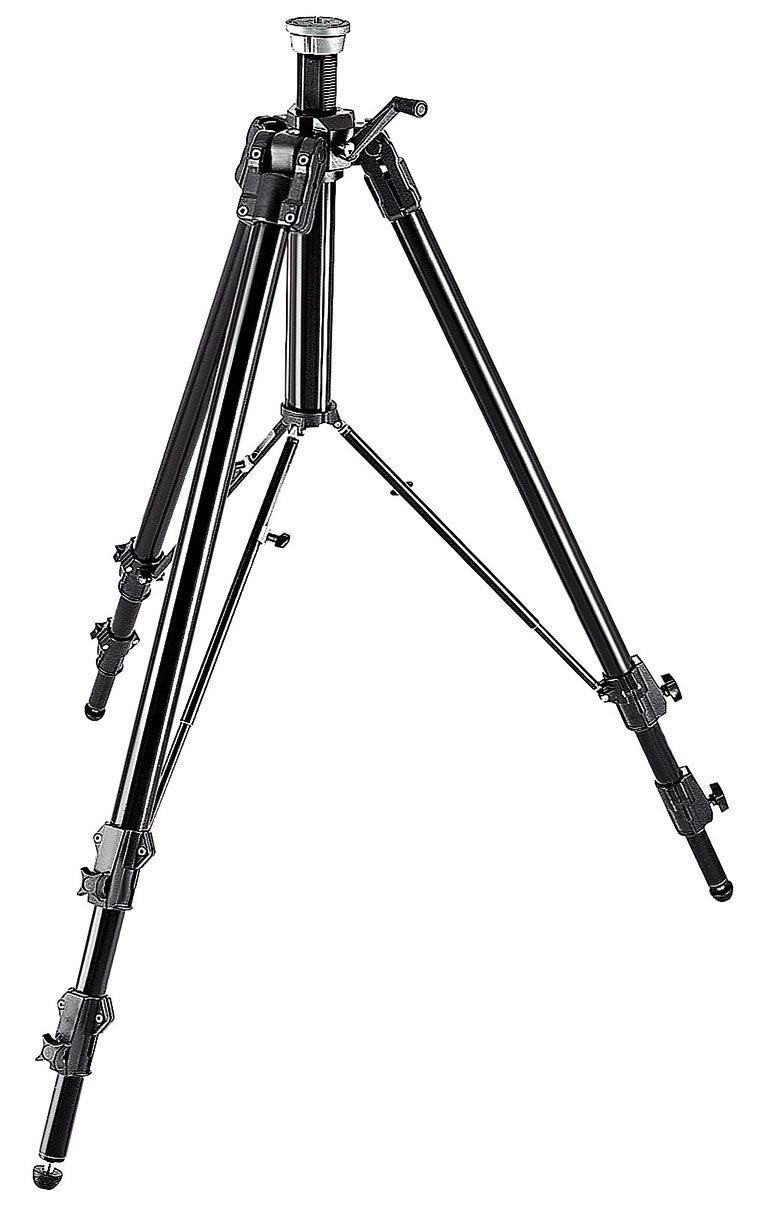 Best polarizer for real estate photography
Budget (about $50)
• Hoya 58mm Alpha – reduces glare and reflection of light from the filter, which gives a greater transmittance of light, it can be also used as a protective filter.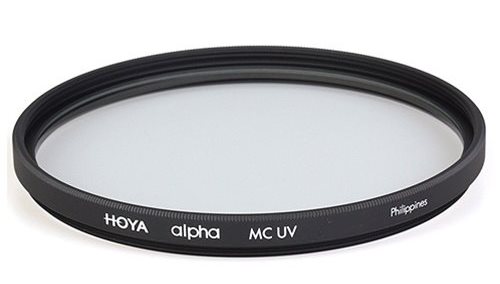 Pro (about $100)
• Hoya 77mm NXT - removes reflections from non-metallic surfaces, give the colors saturation and contrast.

• B+W 77mm XS-Pro Kaesemann High Transmission - is made of artificially grown crystals, which makes it possible to partially polarize the sunlight and moreover, it's hard to break.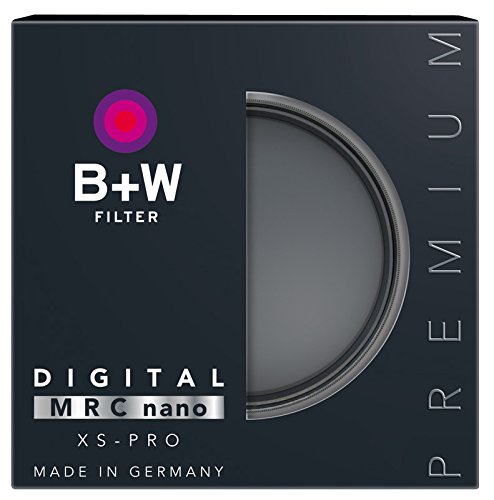 Trending(about $200)
• LEE Filters 105mm - this filter has a warm tint, designed specifically for wide-angle lenses and removes glare from shiny surfaces.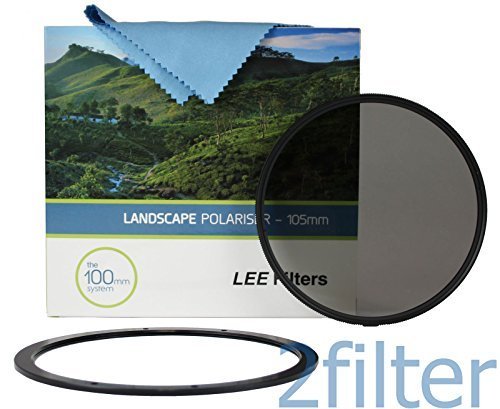 How to build a real estate photography portfolio
The difficult thing for me was to create a cool portfolio, so that the client realized that I am the photographer he/she is looking for. But how to make a good portfolio in a short time and without spending much money? Ask your friends, local businessmen to take photos of their houses, rooms, etc.
TIP: Visit a real estate office near you and offer them your photography services. Tell that you are ready to photograph any present listing for free but If they want to use your photographs they have to pay (at least 1$). They have to pay something. Only risking will show you how to get into real estate photography.
10 Photoshoots you should take to build a beautiful portfolio
1. Take photos of the same building in a daytime and nighttime. Show that you know how to set your gear to make both types of photoshoots professionally.

2. Take interior and exterior photos in HDR.
3. While photographing real estate interiors, make a photo composition – use a book, a carpet, blankets, pillows, your pet.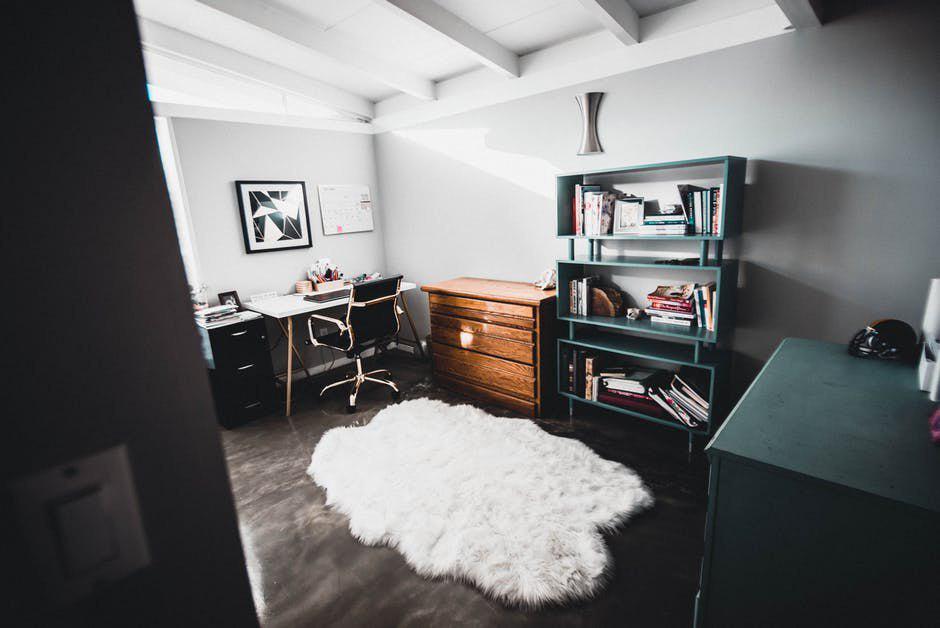 4. Photographing real estate interiors is recommended in natural light – more windows, less louver shutters.
5. Photograph public places our local sights from the best angle you will find.
6. Let nature help you to compose the exterior photograph (take photos of gardens, parks, lakes, etc.).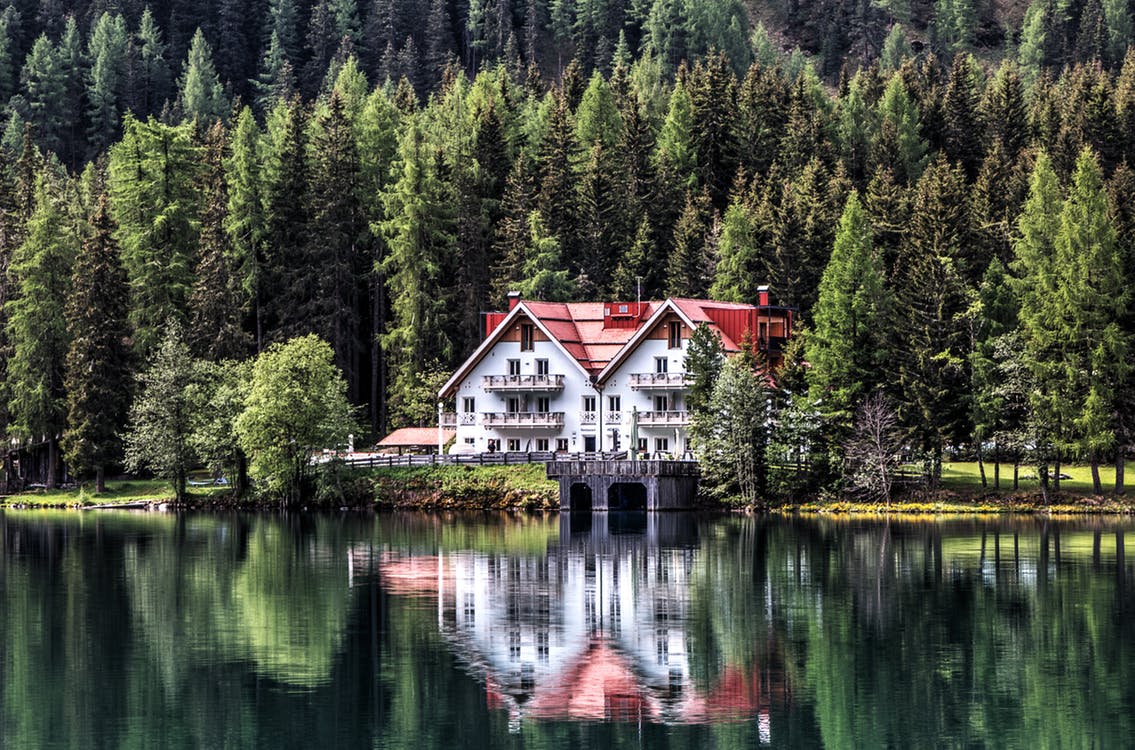 7. Café & bars in grunge style.
8. Fashionable restaurant with refined atmosphere.
9. Cozy and clean fast food cafe to show you can do any kind of real estate photography professionally.
10. Add several before and after photos with and without real estate photo editing. Pay your potential client's attention to the skills you have and understand how to take good real estate photos.
Real estate photo editing
Don't neglect this procedure. Exposure, white balance and light editing, work with colouring and sharpening will increase your sales. Apply day to dusk technique, remove or add objects for additional price. But if you are a fresher in Photoshop or Lightroom, you can use Lightroom presets or Photoshop actions and install them in 1 click. Choose the design and style you like. You can try Exterior, Interior, and HDR Lightroom presets.
---
---
Real estate photography classes
There are millions of lectures, events, real estate photography classes and tutorials, which you can view online and FREE on YouTube. Another variant is to buy a pack of tutorials (from $10 to $100) from a prof whose real estate photography business provides huge incomes. I won't recommend anybody because I found this variant useless. Practice makes perfect.
How to get real estate photography clients
To my mind, the most helpful ways to get customers is to distribute your real estate photography business cards and to find real estate photographer jobs on full work sites or on special sites for freelancers and real estate fairs.
Websites to find real estate photographer jobs
1. Upwork
The jobs here are divided into groups, which allow you choose the proper direction easier. Moreover, there are three levels of services, which support you during the long way of finding your job. "Upwork" level is free for singing up.
2. Indeed
This site has its offices all over the world. The job departments help you to orientate yourself on the website. To find the proper position quicker, use the special filters with keywords and location name.
3. LinkedIn
This is a social net, which helps with the establishment of a business connection between the specialists from different countries. The site offers you to sing up without any problems, and have tips about how to get real estate photography jobs.
4. Job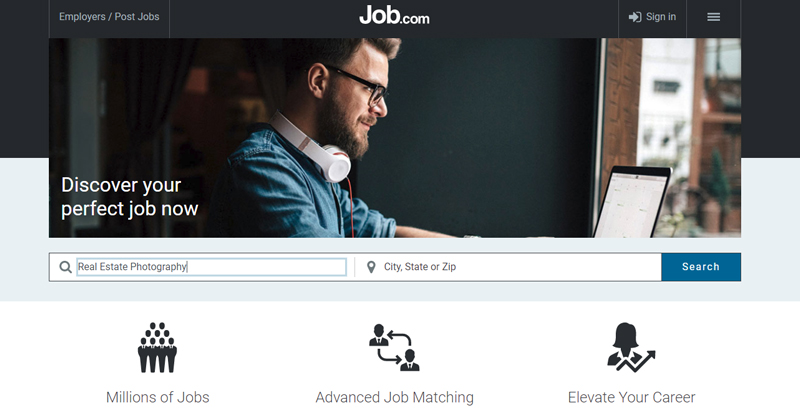 On this website you can create an account with your real estate photography job description and resume.
5. Monster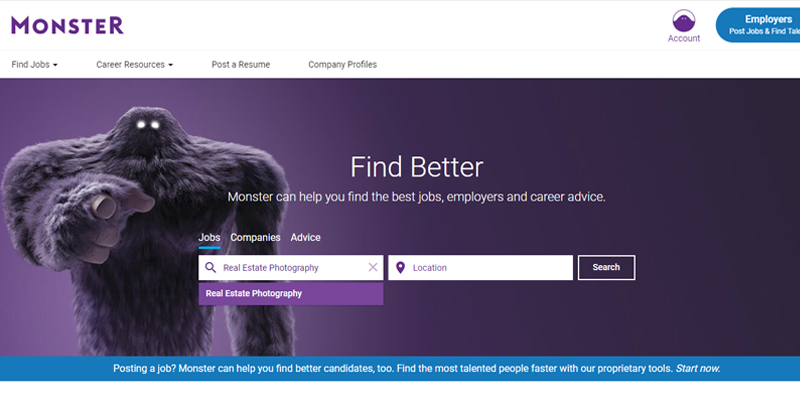 Here you have the possibility of finding a job and getting useful career tips. By the way, the site offers special education programs and even is ready to help you with your resume. Creating an account takes few minutes.
Freelance real estate photography jobs
If real estate photography is a part-time work for you, I suggest you to sing up on the sites for freelancers.
1. Craigslist
Use the menu art/media/design in the job list, or the filter in the left to find the real estate photographer part-time job.
2. Fiverr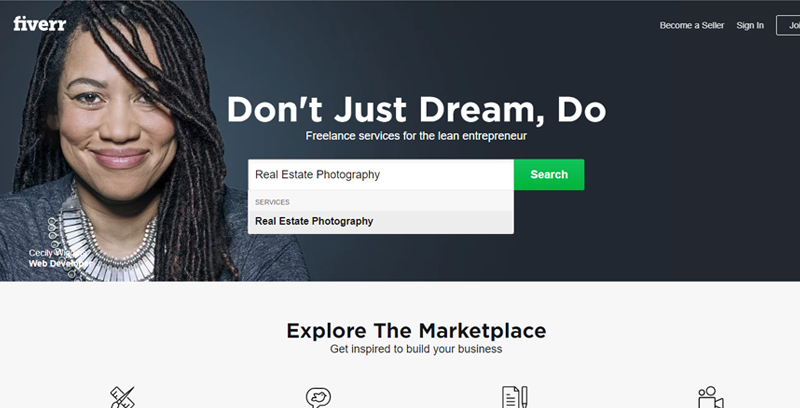 There a few ways to become a job here: 1. find the position in the search menu; 2. choose Video & Animation or Graphic & Design category and take decide on the photographer job. If you need, the site has an effective guide about business building and development.
3. Toptal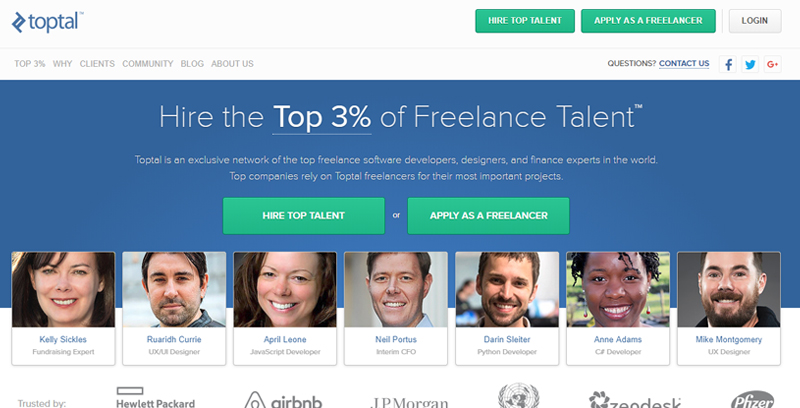 It is the best place for designers and software developers. The procedure of applying as a freelancer is very quick.
4. Freelancer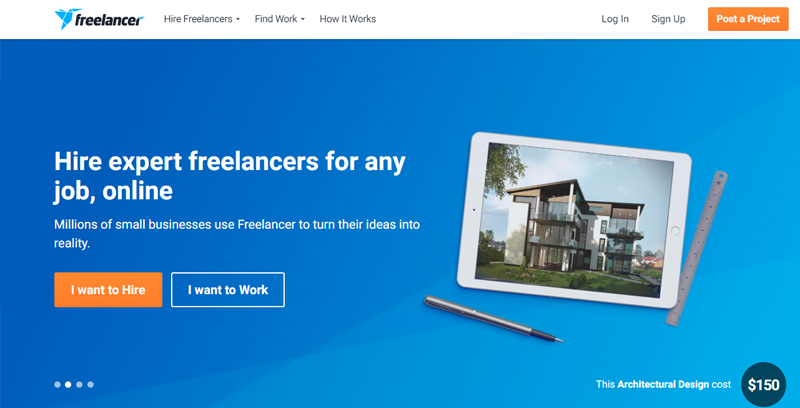 This is a place for creative people, where you can present your portfolio and post your project either without charging or for a fee.
5. iFreelance
The clients post their projects and search for freelancers, who can give them a helping hand. Go to Photography/Videography department to find the list of realtor photography jobs.
Real estate conventions
One more good advice is taking part in real estate events that are organized in your area. Just communicate with the target customers and leave them your portfolio and contacts.
1. Tom Ferry – Sales Edge, Miami, Florida (March 27-29)
2. National Association of Realtors Broker Summit, Nashville, Tennessee (April 4-5)
3. Real Trends 2018 Gathering of Eagles, Denver, Colorado (May 16-18)
4. National Association of Real Estate Editors 52nd Annual Real Estate Journalism Conference, Las Vegas, Nevada (June 13-16)
5. Inman Connect San Francisco, San Francisco, California (July 16-20)
6. Tom Ferry – Success Summit, Anaheim, California (August 6-9)
7. Texas Association of Realtors' Texas Realtors Annual Conference, San Antonio, Texas (Sept. 7-10)
8. Tom Ferry – BluePrint, Las Vegas, Nevada (Oct. 23-25)
9. National Association of Realtors (NAR) Realtors Conference & Expo, Boston (Nov. 2-5)
10. Triple Play Realtor Convention and Trade Show, Atlantic City, New Jersey (Dec. 3-6)
Real estate photography marketing tools
Professional advertising for real estate photography is very expensive. I spend about $3000 per a month to receive the first orders. If you are only thinking of becoming a real estate photographer and do not have enough money, these 3 strategies for expanding your business with minimal investments are for you.
Build a professional real estate photography website
Your website must be concentrated on two components, which are functionality and aesthetics. Make sure that the navigation is easy, photos are sharp, all content is of high quality and there aren`t too many advertisements.
Design makes much traffic
For this you don`t need to pay much to web designers. On websites like PhotoFolio or Photoshelter you will find everything you need for free. To raise traffic you should also use these key words: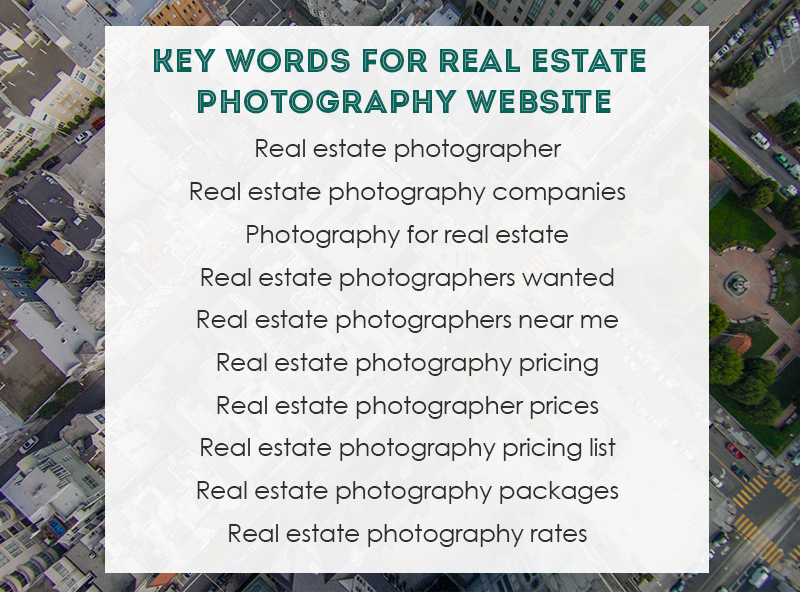 Pro content marketing
Use extra websites like YouTube, Instagram, Tumbler or Quora to promote your personal site.
Google Analytics
You should track how metrics relate to you website content. You will understand whether your efforts bring you success or not.
Free offer
Remember that discounts and free offers are used to collect email addresses. Remember: to do that effectively you should have a good offer and established authority.
Add watermarks
If you have watermarks on the photos that are uploaded to your website, customers will easily find your site in Google search. So, add your name and contact information to any picture you post.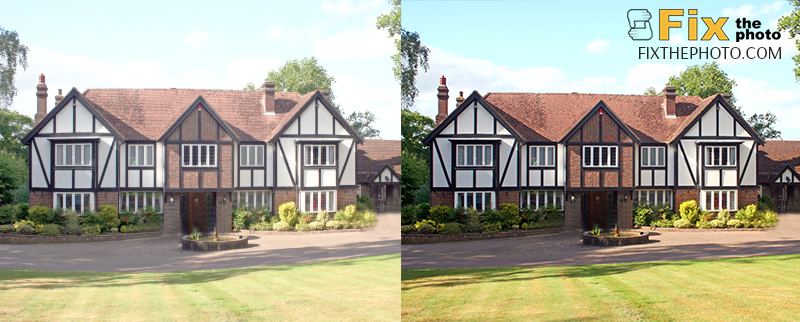 Bonus TIP: Use email marketing campaigns like Adveber or LeadPages.
Make a blog with tips for real estate photography
It will explain how to do real estate photography in articles. Discuss any topic that you find useful and make sure that your articles are added on the regular basis. To make your content more interesting, use videos and other media files.
Create a photo blog
There are many websites that will help you free. In case you are ready to spend a bit of money, consider Squarespace as the most effective variant.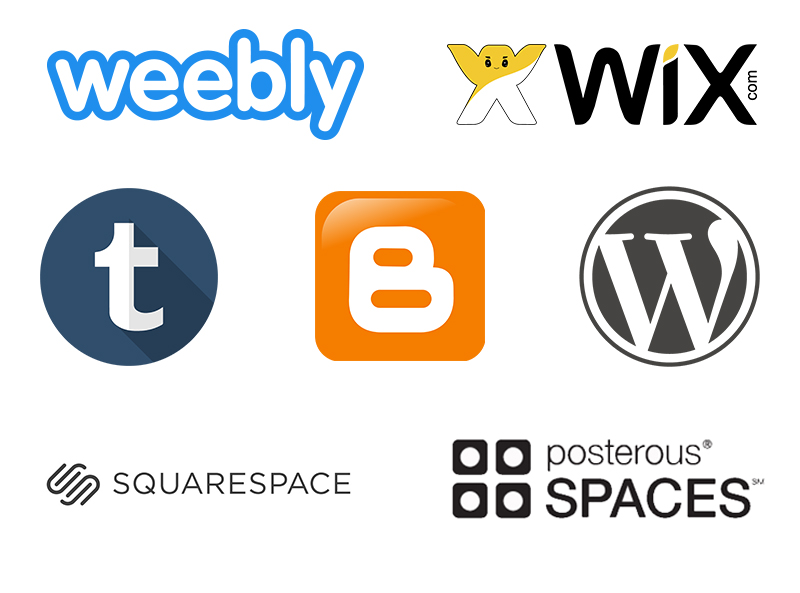 RSS feed
This program will let your clients subscribe to the blog you run and receive the latest news from you.
Regular basis
Notice that the most popular websites have fresh content. Have a strict plan, for example to refresh your blog twice a week.
ALT tags
Use the tags with key words on your photos in order to receive more traffic.
Sections
Divide your blog into theme sections. Here is the approximate variant of topics for your blog:
• Your recent works.
• Personal experience: personal blogging is always a thing that attracts attention. Mention your private biography details.
• FAQ: articles about frequently asked questions you receive.
• Reasons to love photo art: here you may have posts about how to shoot real estate photos and famous property studios.
• Promotions: varied discounts are a great way to raise a number of potential clients.
• Behind the scene photos: most customers are interested in the process of professional photo sessions.
Social media to promote your real estate photography
Nowadays almost all social nets become a powerful tool of promoting property photography business. According to Social Media Examiner's statistics, Facebook posts with photos get an 95,8% interaction rate.
FACEBOOK
1. Once you become active in Facebook, make sure that your posts deliver valuable information and do not contain spam.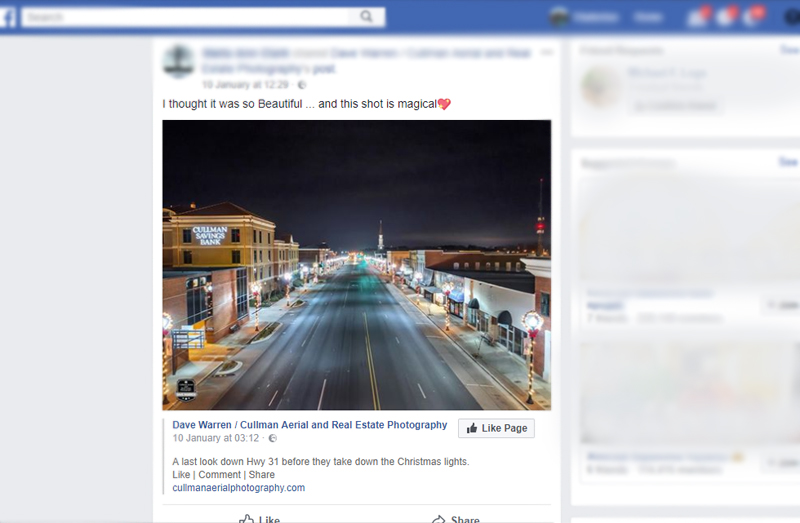 2. Design a landing page for the comfort of mobile users.
3. Join groups of the same topic as Real Estate Photography, Flow Real Estate Photography or Real Estate Photography with Lights, etc. Post your photos in the groups, comment other's posts, communicate with the users.
4. Have right photo size. For example, 180x180 for profiles images and 1200x1200 for other images.
INSTAGRAM
1. Use popular real estate hashtags like #dreamhouse, #properties, #homeforsale. To attract new international customers, notice that every city and country has unique hashtags. So, learn them and use.
2. The limit is 30 hashtags per a photo, I recommend using only 15.
3. Have optimal photo size. For vertical pictures choose 1080x1350 and for horizontal 1080x566.
4. Use Instagram stories.
TWITTER
1. Avoid having generic links that do not attract attention.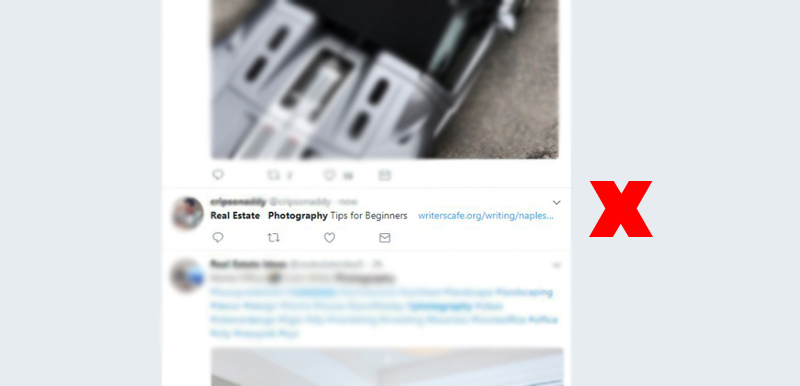 Prefer individual photos instead, write interesting comment.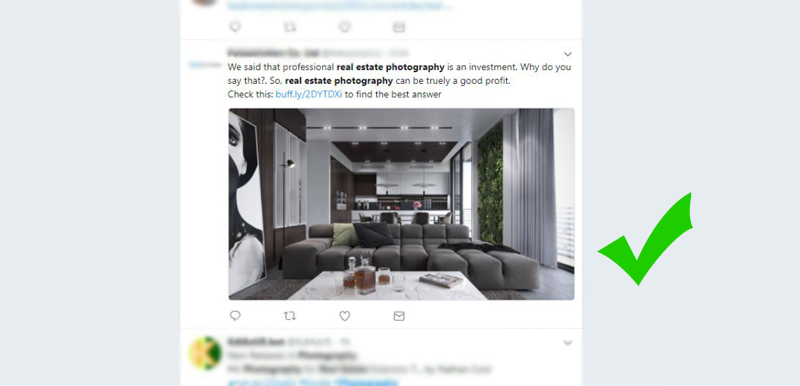 2. With the help of Twitter`s search tool you will find the most popular hashtags.
3. Follow all popular pages like @500px, @ETRealEstate or @DHVastgoedfoto devoted to real estate photography.
PINTEREST
Make an interesting "pin" with description of your brand and have access to more than 150 million of Pinterest users.
BEHANCE
Create your portfolio and upload the most amazing real estate photos.
FREELANCER
It is great for beginning photographers that want to establish a personal portfolio. Be ready to critics.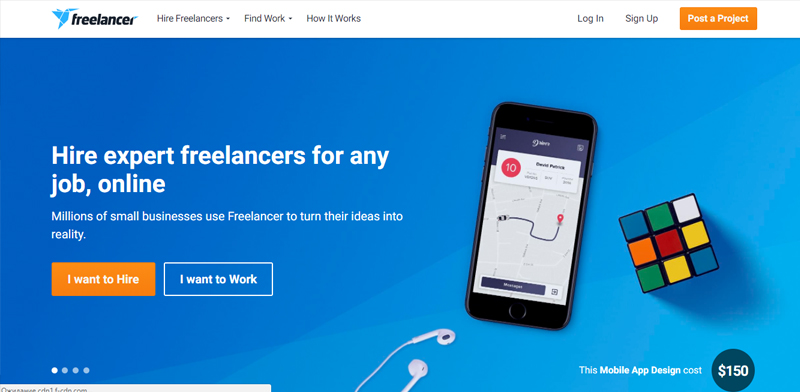 500PX
This website allows promoting photo works taking into consideration the number of likes.
TUMBLR
The next websites suits ideally for micro-blogging. So, don`t be afraid to share your thoughts there.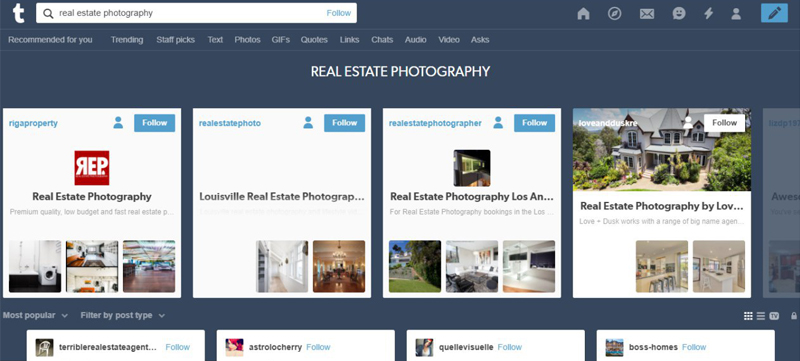 FLICKR
This website is known as the best sharing application.
This is just the basic info you should know starting a real estate photography business. These are useful and practical tips that I would like to read when I started, and didn't know how to get into real estate photography business.
Do you like the article? Please feel free to share it via your social accounts.
---
Pay attention this photography blog which does not require credit for the pictures and photo post production examples listed here . All photographs used in the article are only copyright to their respectful creators . These shots posted as a big admiration of portfolio and photo retouching talent the experienced rt masters have . If you found the photo on this post that is yours and do not want to be promoted on our website , please do not hesitate to write us via online chat on your right and it will be quickly deleted .
---
Rate the article!
The article's rating:
---
You comments or questions are welcome; please share your opinion on the topic.
Use Facebook:
Use Disqus: