Natural and retouched beauty of celebrities
All the world knows that every magazine cover picture is retouched. It's a never-ending purpose to make the model perfectly pleasing to the eye of readers – at least according to the editor or art director. A-List of famous people sells flawless images and dreams to consumers via popular magazine covers or promo campaigns when they're really just imperfect like everybody else. But "blemishes and overweight" doesn't sell products, which explains the entertainment industry's obsession with Photoshop magic done by the best retouchers in the World.
We have gathered the examples of celebrities' before and after retouching pictures (source 1, source 2) which demonstrate the amazing art of editing. You'll see body skinned, skin blemishes removed, breasts made fuller, navels made 'perfect', eyeglass glare removal, and waistlines lose inches. Photoshop is an amazing tool, if you want see how to do-it-yourself – find a retouching tutorial, and get into it. You'll quickly understand that it's a difficult task to edit photos.
People always ask "Why Photographers Hire Retouchers?" We can live without our photos being edited. On the other hand, we live in the modern technologies society where almost each person has a Facebook or Instagram account. Well, not only women use retouching services, men's bodies and faces are also Photoshopped, typically by female Photoshop masters, not only for men's magazines, but for women's magazines too. They brainwash females into thinking that this is what the ideal male should look like. It's bad enough females reject everyday males because of these retouched images of male models and celebrities that they're highly exposed to in women's magazines and that males do crazy things to females who stare at photos of sexy, fit, yet altered males.
And what do the photographers say?
- "People would be shocked to know what some of the models really look like. Sometimes a model walks in and I don't even realize it is the model…"

- All photos in every book and magazine are retouched, not just covers. We professionals don't start off with that goal in mind, we are generally only following the art direction of the editors, art directors and CLIENTS.

- "Retouching is an art, and the best artists remove distractions, they don't instantly start making breasts bigger and waist narrower just because they can. A lot of hobbyists do because they think it's the right thing to do"
People are fond of going to movies to be transported to another reality. They buy magazines to escape this world, to go to a place where people are richer, more glamorous, better dressed and lead more exciting lives, who are a smart society. If people in magazines all looked like us, then no one would want to buy the magazine. Retouching has been around since the invention of photography art. Most of the techniques used on Photoshop are extensions of old darkroom techniques, dodging and burning, spotting, color grading, use of filters, etc. No one complained in the days of analogue photography that the images are not 'real'.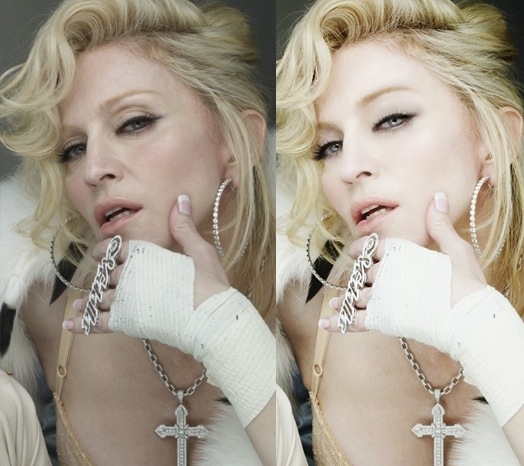 You won't find any photograph, film or digital be 'real', it is an interpretation of an actual scene or event by a photographer, which is then finessed to create a final picture. Airbrushing has also been around since the invention of photography. You can read the book George Hurrel's "Hollywood portraits" which shows before and after retouching photographs of many famous Hollywood stars. The retouching was extensive, but nobody questioned it then, they accepted that the photographer was an artist, creating iconic photographs of their idols.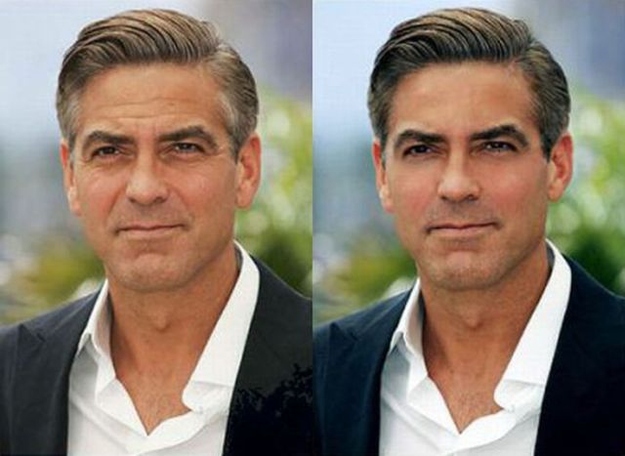 And the goal of retouching is to reveal a picture's full beauty potential. And for everybody who says anyone could retouch a photo, the answer is NO. It's simple to remove a blemish or a wrinkle, but could you do High End work on an image, remove a background, do flawless hair for a shampoo advertisement, fix blotchy skin or do fine tuned colorimetric adjustments. The process of retouching is an art that has existed since the creation of the film photography and we would like that people have a little more respect for our work.
It should be noticed, that not all famous people use photo post production services. Over the last few years many celebrities started an anti-retouching campaign trying to show their fans how their real faces and bodies looked. Actress and model Emma Roberts was featured in the Photoshop free campaign for the lingerie brand Aerie REAL messaging to women - `real is sexy, real is cool!`
"Barbie effect" is a matter of culture. Everyone wants to look that way and it's (sad but) true. However, we can live with that without drama: paying a few dollars to a retoucher for having a better Facebook cover, or for wedding photography editing shoot, it's not a crime.
Do you like the article? Please feel free to share it via your social accounts.
---
Pay attention this photography blog which does not require credit for the pictures and photo post production examples listed here . All photographs used in the article are only copyright to their respectful creators . These shots posted as a big admiration of portfolio and photo retouching talent the experienced rt masters have . If you found the photo on this post that is yours and do not want to be promoted on our website , please do not hesitate to write us via online chat on your right and it will be quickly deleted .
---
Rate the article!
The article's rating:
---
You comments or questions are welcome; please share your opinion on the topic.
Use Facebook:
Use Disqus: