HDR Real Estate Photography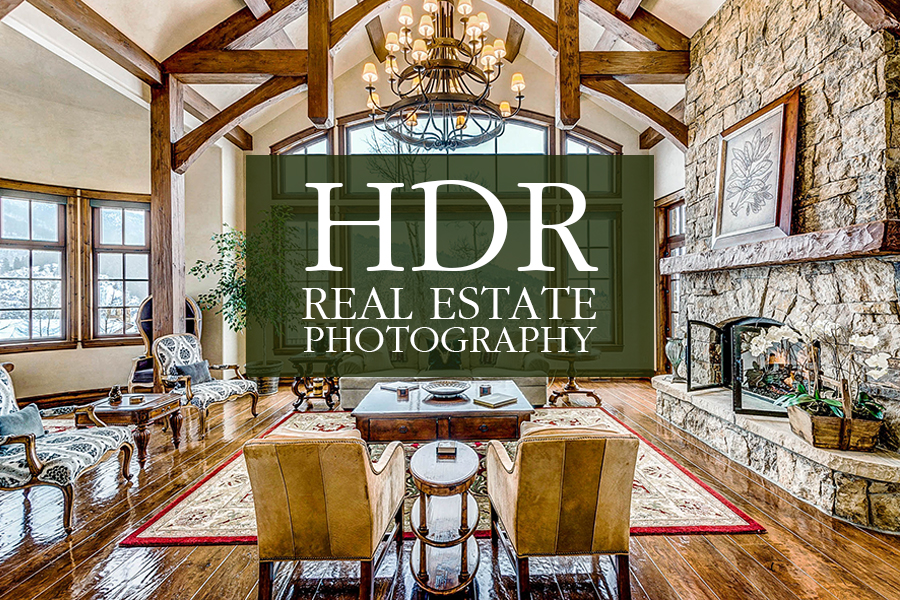 HDR real estate photography or High Dynamic Range is a popular photographic technique especially for architectural and landscape photographers. HDR allows you to fuse divergent exposures, photos of the particular location captured at contrasting shutter speeds into a compositive image comprised of the best light information of each exposure. Let's find out how to create it on your camera, in Photoshop and Lightroom, and define the differences between HDR and Flash photography.
---
Contents:
---
HDR real estate photography: Frequently Asked Questions
Working as a lecturer of the Michigan interior photography course for more than five years, I often hear the same questions about the basic technique of High Dynamic Range for interiors, exteriors and real estate in general. That's why I created this list of the most frequently asked questions and tried to answer them.
What is HDR real estate photography definition?
HDR allows you to blend several photos together to get light and shadow details that you can't get in a single photo.
What are the pros & cons of HDR real estate photography?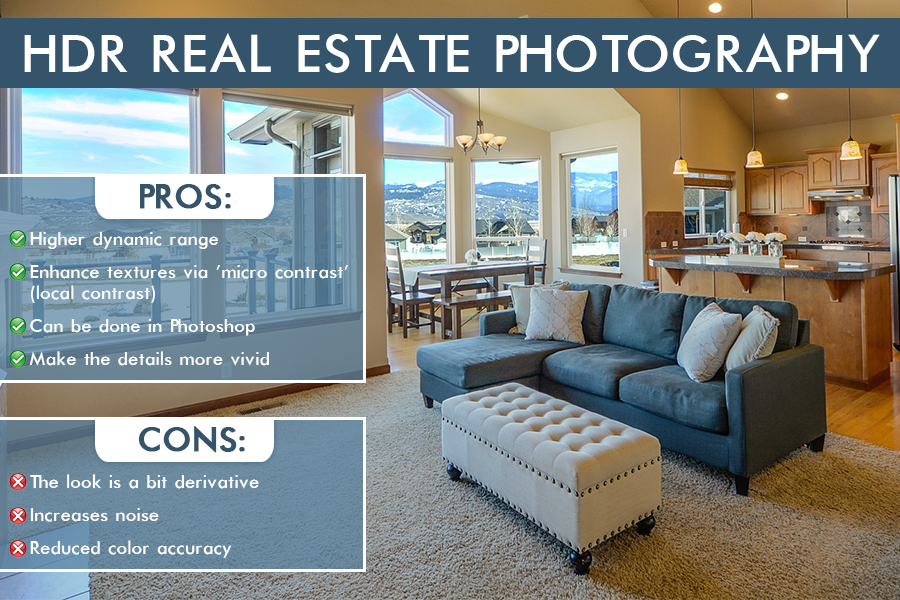 ADVANTAGES:
enhance textures via local contrast
great photo quality
more accurate representation
add a whole new dimension of beauty to the photo
easy to make on your DSLR or app.
As a consequence, the rooms won't lose their vibrancy, the windows will preserve the contours and the dark spots will be present according to real estate photography lighting rules.
DISADVANTAGES:
much halos in amateur hands
can look a bit derivative unless you tone it down
doesn't go with portraits, so it is not suitable for lifestyles photos of the hotel
Increases noise
Reduced color accuracy
Is HDR real estate photography suitable for all kinds of properties?
No matter exterior photography or interior architectural photography you accomplish, HDR can enhance any image of property. I don't recommend using this effect when people are in the shot, there is no furniture in the room or the scene out the window is not notable.
What is a HDR interior photography pricing?
This type of photography costs more due to the extra time required to do it.
Up to 25 HDR real estate photos - $175 - 60 Minute Photoshoot
35 HDR real estate photos - $275 - 90 Minute Photoshoot
45 HDR real estate photos - $375 - 2 Hour Photoshoot
60 HDR real estate photos - $525 - Over 2 Hour Photoshoot
If you need HDR real estate photos and Virtual Dusk - it will cost $225 per 30 photographs of your property.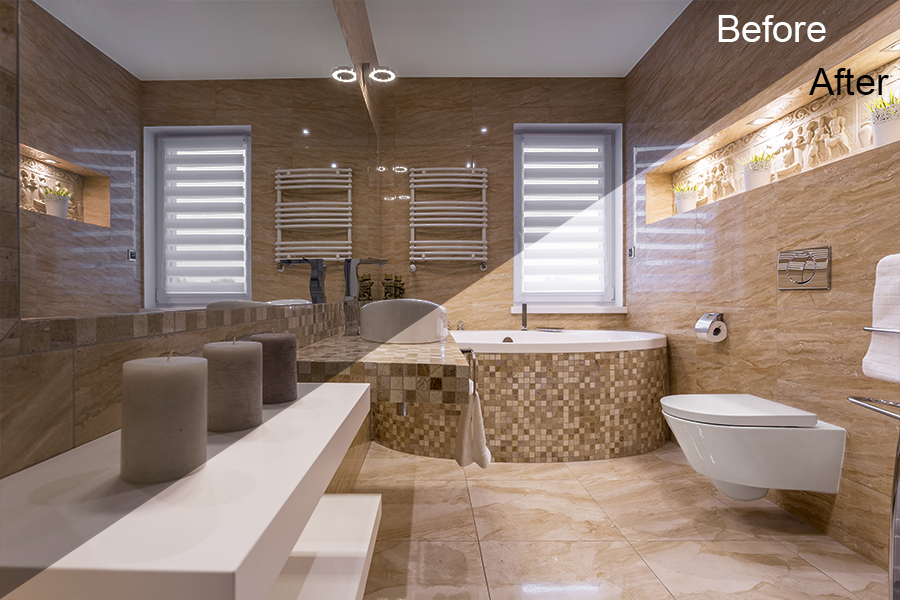 HDR real estate photography settings
In order to achieve the best HDR effect follow my recommendations:
Often the disputes are held within the RAW vs JPEG. I prefer high quality, so my choice is RAW format.
Try the Aperture Priority mode, because no one wants to works with pictures with different depth of field.
For Nikon set metering to Matrix, the best option for Canon is Evaluative. So the camera will choose the best exposure for all scenes.
Real estate photography HDR vs Flash
HDR real estate photography creates a balanced tonal spectrum. It means that for each photograph you will actually shoot between 4 to 7 separate exposures. Perhaps, more if necessary, depending on the intensity of the tonal variations of the space.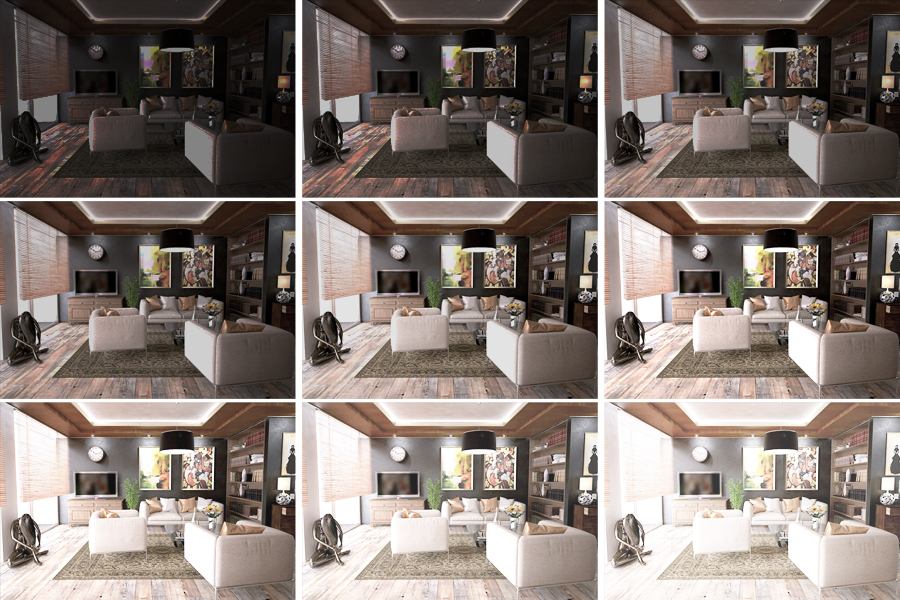 You will manually bracket these exposures starting from darkest exposures to brightest by changing the shutter speed on your camera. Do not change the ISO or F-stop mid bracket. The shutter speed is the perfect dynamic variable while doing HDR manual bracketing.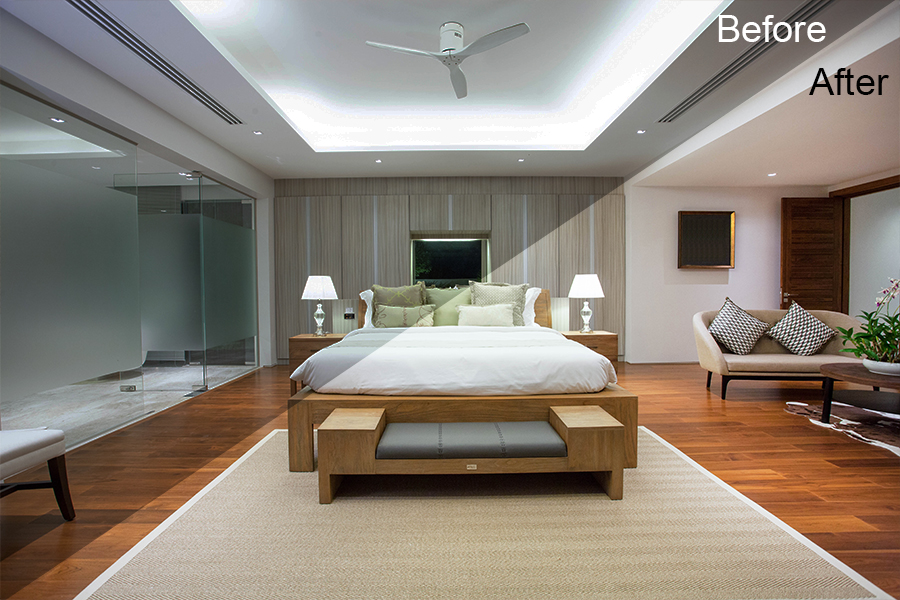 Other things to deal with while manually bracketing are to use shutter release cable to ensure each exposure especially brighter ones. Make sure your tripod is stable and stays completely still throughout your exposure set. Even the slightest movement or disruption will make compositing the individual exposure more difficult for real estate HDR Photoshop editing. Perhaps, even impossible. Don't overdo with HDR and give it a cartoon's look.
The biggest problem during the shooting of HDR pictures is the different temperature of the colors. Sometimes the gear grasps the natural light bursting through the curtains, sometimes displays fluorescent lightings and also produces a different color balance. So, how to choose between real estate photography HDR vs flash?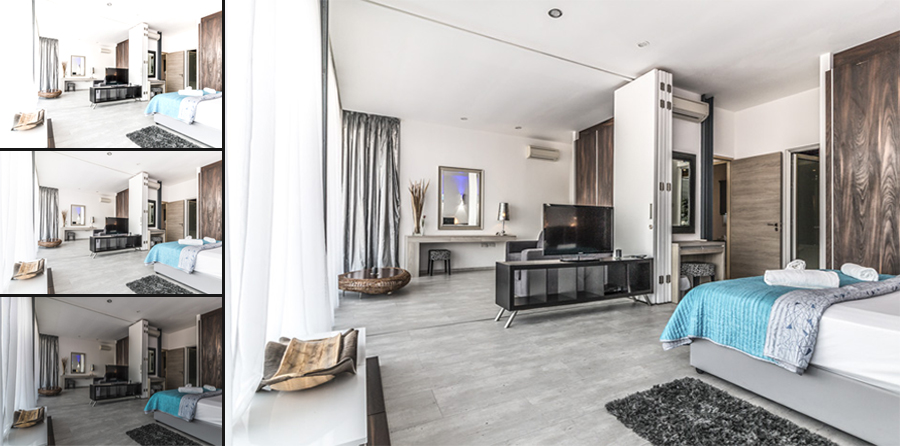 Flash real estate photography. Your camera's auto white balance function is a good enough starting point, but because the houses are a combination of cool exterior light competing and clashing with warmer interior photography lighting. It's crucial to take a good flash out the room after you complete your exposure set. And then customers can enjoy the beautiful balance of white and natural colors of the interior of the room, and this is very important in the hospitality industry.
Firstly, learn how to use your real estate photography flash setup perfectly. If you're using a speedlight 600 ax you'll be shooting exclusively in manual working mode. In manual mode you can fully control the flash charge that will be emitted. Normally, you'll be shooting between 1.2 and 1.8. 1.2 will be more powerful, 1.8 – softer. Then you will switch your shutter speed to 1/600. This will prevent the majority of the spaces ambient light from reaching the sensor. As you take more photos and get accustomed to your on-camera flash, you will develop a better sense of what ISO setting you'll need according to the lighting for real estate photography conditions of the space that you're shooting.
Typically, you don't want to exceed 640 ISO, but when the room is extremely dark, then you have to achieve an adequate real estate photography flash setup and exposure. Be gentle while switching your flash on, so as not to shake a camera or nudge the tripod out of the position. You want to flash shot to line up perfectly with the HDR bracketed exposures. The editors sometimes stitch sections of the flash shots in with HDR composites. Take as many flash shots as necessary until you get one that is adequately exposed and balanced.
Rather than pointing the flash straight at the section of the room you're photographing, it's best to bounce the interior photography off camera flash the ceiling straight above or a little bit behind you. This way the light will disperse evenly. Otherwise, you'll highlight some areas leaving others darker, the illusion of vignette and the editors won't be able to effectively enhance the shot.
Exposure Blending vs HDR interior photography
Many modern photographers who are engaged in real estate photography and constantly in search of something new for themselves, use a different from HDR method of editing photography which is called Exposure Blending. Here are a few real estate photography tips & tricks about this method:
It allows you to use one image, because there are many problems with multiple photos and the appearance of ghosting issues. HDR photography requires special knowledge on how to combine competently individual photos on which there can be a large number of people moving to different positions of machines. With Exposure Blending you use one.
You can control the color, while the Lightroom - best HDR software for real estate photography may cause an undesirable color changing.
It is also known that sometimes HDR exterior photography editing contributes too much detail of the image. While at the Exposure Blending you can independently allocate certain areas of photography.
Exposure Blending means there is no halo, which is sometimes filled with HDR photos.
You can independently monitor the quality of the photo by using Exposure Blending, for example, HDR software often sins by adding unnecessary sharpness and noise to photos and it spoils the quality.
When using Blending, you can work with a single RAW file completely and get rid of double or triple editing.
What is the best HDR software for real estate photography
The main and most important function of such software is to help in the quick combining of three pictures into HDR-picture. However, often such programs expand their sphere of influence to minimize noise, ghosts removal, image toning, etc.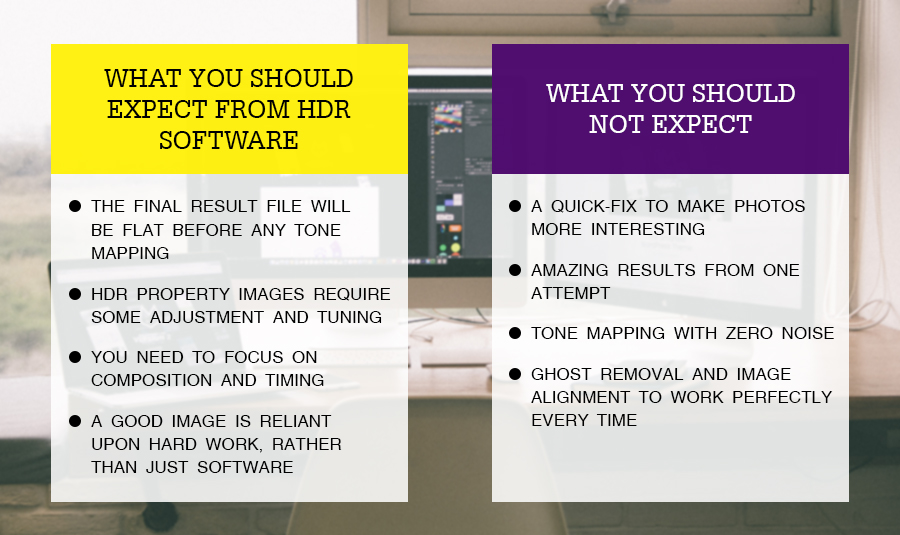 Photoshop – a good tool for HDR interior architectural photography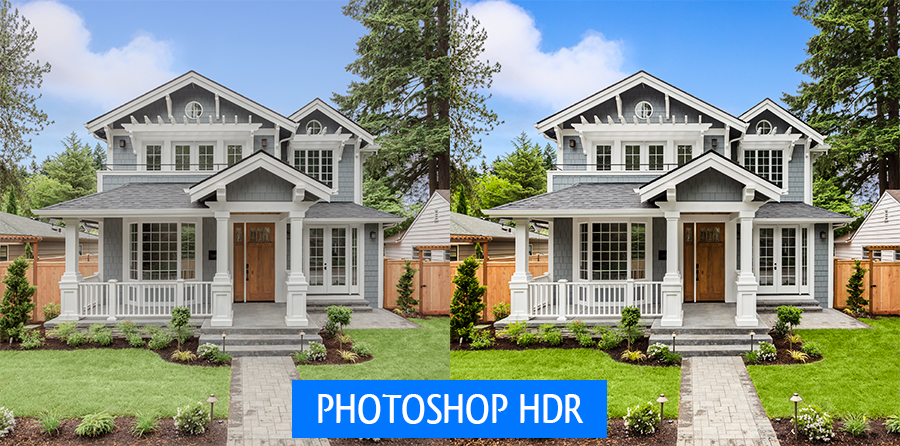 Photoshop and Lightroom are products of the same brand, but each of them differently copes with the ultimate task of making HDR images. In my practice, I used both Lightroom and Photoshop to design the desired effect for me. From my own experience, I can honestly state you that I use Photoshop more often because it gives me the best effect when removing ghost and makes the image smoother. Lightroom, however, sometimes adds blur to the image and poorly copes with the ghost removal.
I'm sure that precisely because of the use of various processing techniques and a large number of different tools, this program is so good at coping with the set tasks. Besides, you can operate additional actions or plug-ins that you can be installed in unlimited quantities.
The fundamental drawback of Photoshop is in that you must be skillful enough to get the desired effect, for beginners this program does not work.
Lightroom – the best HDR software for real estate photography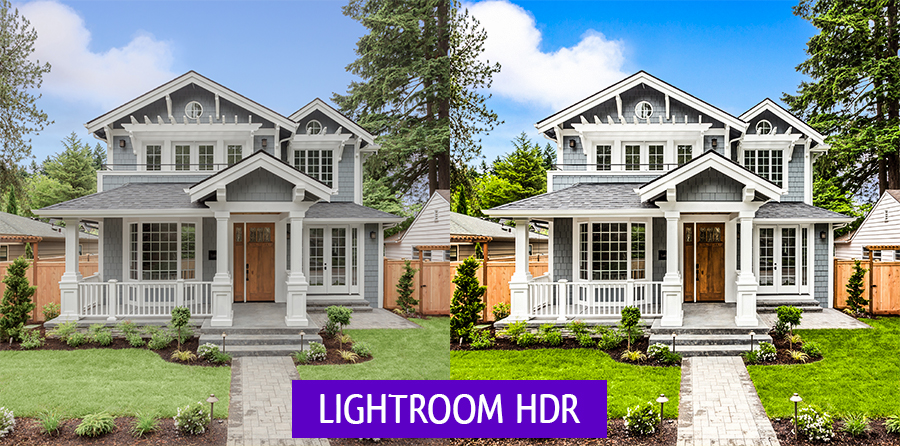 An advanced stage in the creation of qualitative HDR photography in Lightroom came in 2015, when the incredible opportunity "Merge to HDR" became the part of interface of the software. Now you don't need to install expensive plug-ins or use presets, everything is already in your Lightroom.
Photomatix Pro
I often came across the fact that on the web many professionals recommend this software to create HDR real estate photography. This is an excellent option for beginners, because the program doesn't require certain knowledge, it is easy to use, it has best Photomatix settings for real estate, but I think that the quality of the original picture is not so good.
Aurora HDR real estate
This program is an excellent alternative to the previous one. Aurora's tools qualitatively cope with their task of creating beautiful images in the format of HDR.
In addition, you can make preset adjustments by yourself to keep the same HDR effect for all session photos. It really is that with the help of such automated presets you can make the work easy and enjoyable.
You can look at all the image changes in real time on the sidebar of the program.
Lightroom presets - understand interiors and photographs of exteriors in HDR easy and fast
HDR Real estate Lightroom presets


Here you can find a whole bundle of Lightroom presets to create an incredible HDR effect that will help highlight objects, add colors and life to your photos. This bundle contains a large number of various presets ranging from black and white to sepia which help you to find out how to take interior photos for real estate in HDR.
Real estate Lightroom presets


These Lightroom presets will help you enhance your interior and exterior photos in 2 minutes. Professional color correction is guaranteed.
Interior photography Lightroom presets


My HDR real estate photography tutorial
Let's see how easy it is to make a HDR photo in Lightroom.
1. First we'll go to Photo > Photo Merge > HDR
2. The HDR Merge Preview is opened. You need to tick Remove Ghost is ticked and Mode is set to 32 Bit. Pay attention no to tick Compete Toning in Adobe Camera Raw.
3. Edit the settings in the Basic section of the Develop Module. Change Exposure to +1,59, Contrast to +55, Highlights to -100, Shadows to +73 and Whites to -34. You need to set Clarity to +9. And change Temp to 4400 and Tint to +5.
4. Then press OK button and enjoy the result.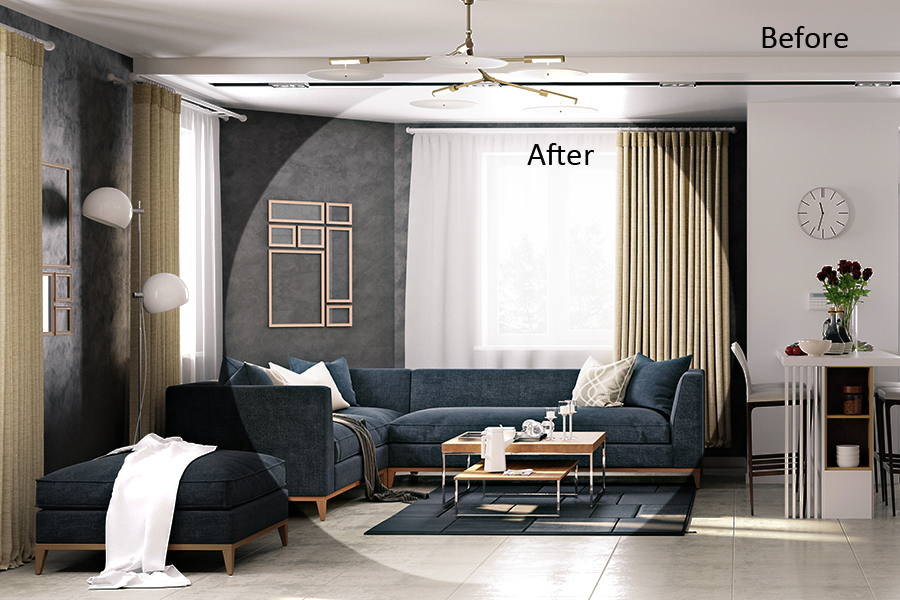 HDR real estate photography – cartoon's look or stunning images?
It used to be that most people who appreciate to practice the advantages of the HDR effect are novices or amateurs, but everything has changed and the number of qualified photographers is turning to this professional editing, especially when people talk about the art of photographing interiors and exteriors. Why is this happening? The matter is that many choose an economical variant of shooting and HDR photo editing than to buy special equipment for more wide-format shooting.
Simultaneously, there is always a large number of people who don't recognize how to achieve this wonderful effect selectively and create whole galleries of tasteless pictures. So do I think that HDR is still an extremely bad editing option? And how to do it so as not to harm the photos?
It is impossible to deny that HDR is a magical opportunity to create excellent professional images, but only when you use this method of photo editing wisely. This effect clears the way for both advanced and beginners and gives us the opportunity to show things as we can see them. The best thing that you can create with the effect of HDR is the photo looking at which the person will think "Is it exactly HDR?". My favorite definition for such photos is "realistic". And it seems to me that professionals who are engaged in HDR real estate photography should remember this and have a sense of limits.
Do you like the article? Please feel free to share it via your social accounts.
---
Pay attention this photography blog which does not require credit for the pictures and photo post production examples listed here . All photographs used in the article are only copyright to their respectful creators . These shots posted as a big admiration of portfolio and photo retouching talent the experienced rt masters have . If you found the photo on this post that is yours and do not want to be promoted on our website , please do not hesitate to write us via online chat on your right and it will be quickly deleted .
---
Rate the article!
The article's rating:
---
You comments or questions are welcome; please share your opinion on the topic.
Use Facebook:
Use Disqus: