If you want to go to an open-air music event and think about taking a camera with you, it's important to learn what festival photography tips use can use to take amazing photos. In this article, you will find handy tips for those who enjoy visiting music festivals and other cultural events. They will help you take great pictures in various weather conditions without risking your camera and other expensive gear.
Top 18 Festival Photography Tips
Using these festival photography tips, you can select the right camera for your budget and needs and adjust its settings to take amazing photos and capture the best moments of any event.
1. Schedule the Day
When visiting a festival, you might notice that there are too many events that you want to take photos of. However, if you start capturing pictures of everything, it might be difficult to tell a good story.
Make sure to write a plan and think about what angles and viewpoints you would like to use. In most cases, you can find festival schedules at the official websites.
If you are going to photography festivals or other events that have a schedule, think about what performance you want to capture most. Since there might be many events during the day, you need to set your priorities straight.
Find out when and where a band will start performing. This way, you will be able to quickly find a stage before a concert starts.
2. Arrive Early
To explore the location and find the best spots for taking your photos, you need to arrive early. Otherwise, you will need to take photos from the crowd which might make it impossible for you to get good shots.
It's better to find the right spot before other people arrive. Make sure to check whether you can see the stage clearly. It's better to select a high spot that allows you to overview the crowd and the stage.
3. Get a Media Pass
If you are going to a festival, a press pass is a must. Those who are interested in music festival photography need to use pro-level equipment to take great photos. At many festivals, you won't be allowed to use a professional camera unless you have a media pass. Besides, with a press credential, you can take images of festivals in the press pit.
There is no need to risk your expensive gear since you can take photos from a safe distance. Usually, there is a fenced area in front of the stage, where photographers can work.
If you don't have a media pass, visit the website of a festival and find the contacts of the press office. Write them an email, and they will advise you whom you should contact.
4. Communicate with Photographers
It's highly likely that you will meet other photographers at a festival. Try talking to them to see if they could share some tips on a successful festival photoshoot with you. It never hurts to learn more about your craft.
Fellow photographers might tell you about possible schedule changes or canceled events. It might also be useful to learn when the pyrotechnics will be used. You might even make friends with some people and meet them at other festivals later.
5. Capture the Audience
If you have already taken lots of photos at a festival and are wondering what to do next, try taking pictures of the crowd. You can capture the genuine emotions of the audience and take stunning portrait photos of the most flamboyantly-dressed visitors.
6. Capture the Details
By capturing the smallest details, you can make your festival photos more unique and grab the attention of your followers. For instance, you can take pictures of musical instruments, amps, fashionable clothes, eye-catching makeup, delicious dishes, weather, exhibits, installations and other events that take place at the festival.
This way, you can share your experience with your subscribers and encourage them to visit this festival in the future. If you have never taken such photos before, make sure to follow famous Instagram photographers who often go to festivals and take stunning photos. You can use their ideas or come up with your own.
7. Shoot RAW
There is always something going on at festivals so you need to adjust camera settings beforehand to capture the best shots. If you take photos in RAW, it will be easier for you to fix possible lighting issues during post-processing. When editing your photos, you will be able to tweak colors, adjust exposure, brightness, and white balance.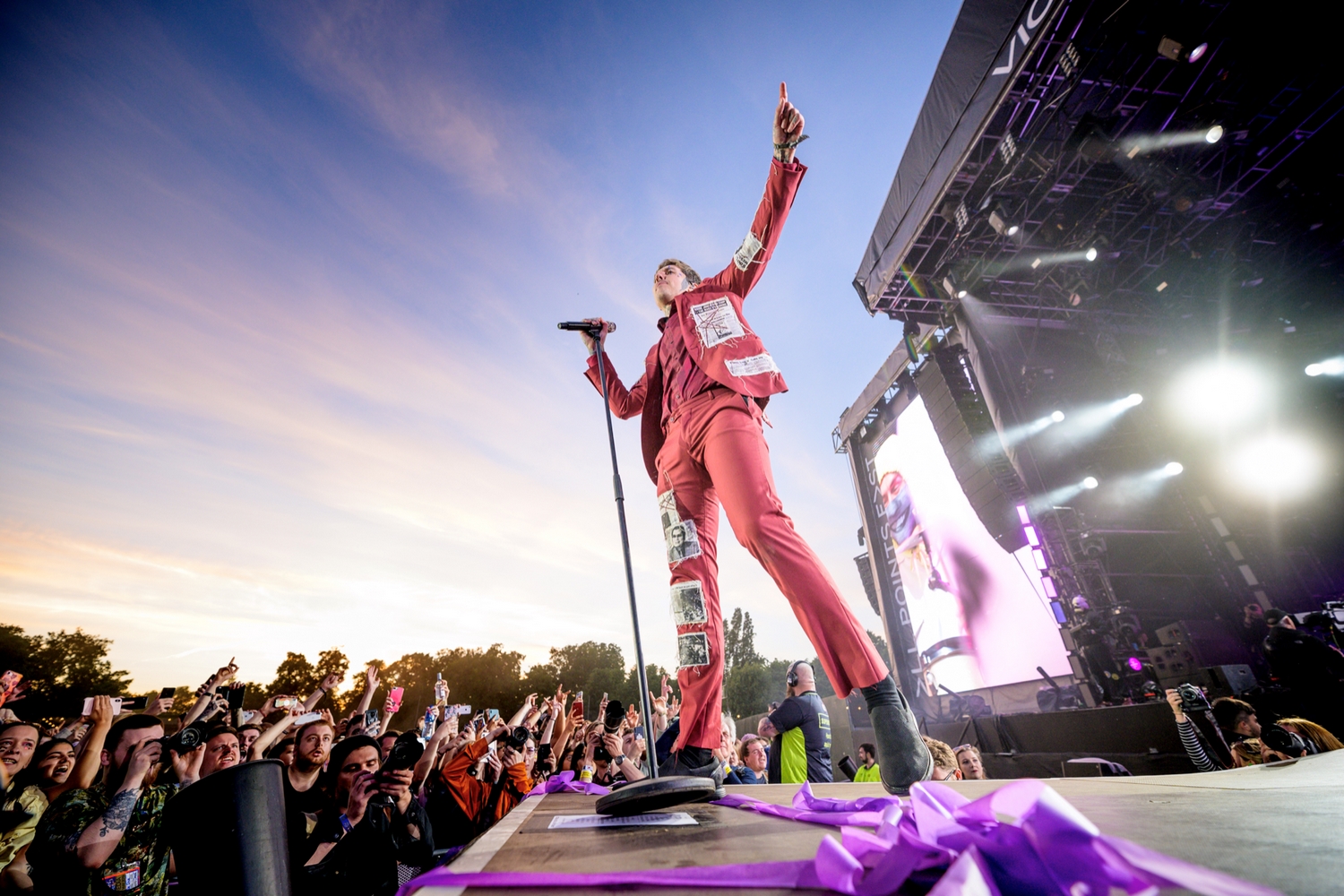 You don't need to worry if some of your pictures don't meet your expectations as you can easily enhance them by ordering professional post production services. Before placing an order, you can learn more about photo retouching prices to estimate the total cost. It will depend on the services you need to use and the number of photos that you want to edit.
8. Bring Several Cameras
The choice of a camera largely depends on your preferences. It's better to use a camera that delivers great performance in poor light conditions, has great battery capacity, decent ISO settings and AF. Since you will spend a lot of time outside, your camera should be water-sealed.
Most photographers use DSLR cameras, such as the Canon 5D Mark III or Nikon D800.
If you are worrying about rainy weather, it's better to purchase a waterproof camera case. It will protect your expensive equipment. If you have some cash laying around, make sure to take two cameras. This way, you won't need to waste your time switching lenses.
9. Use Zoom Lenses
To take close-up festival pictures, you need to usBesides, you can purce at least 2 lenses, a wide lens and a telephoto lens. If you think that you won't be able to find a place close to the stage, it's important to use a good telephoto lens, such as the Canon EF 70-200mm to zoom in on your subjects. This way, you will be able to capture what's happening on the stage from afar.
By using wide angle lenses, such as the Canon EF-S 10-18mm, you can capture stunning photos of the audience even in poor light conditions. It makes them perfect for those who want to take festival photos at night.
10. Bring Spare Batteries
When you are at a music festival, it might be impossible to recharge your camera, which is why it's crucial to take spare batteries with you. If you are going to take a lot of photos at several events, it's better to have several batteries. You might even need to use a whole battery pack.
Besides, you can purchase a portable power bank that allows you to recharge your smartphone and camera with USB charging support.
11. Bring Spare Memory Cards
If you want to take a lot of photos, you need to use a large-capacity memory card for storing your images, such as the SanDisk 128GB. This way, you won't need to delete images that you have taken to free up some space for new ones. Deleting photos from a camera is a time-consuming task so it's better to purchase an external memory card to optimize your workflow.
To ensure that you won't run out of free space, you need to know how many images can your memory card hold. This way, it will be easier for you to decide how many images you need to take. Besides, you can take several memory cards with you. If there are some issues with one of them, you can always replace it with another one.
12. Pack Your Gear in a Camera Bag
If you don't want to lose your expensive gear, it's better to pack it into a secure camera bag that you can quickly open at any time.
After taking your camera out of the bag, you need to close it and keep your camera around your neck. To ensure that you won't lose it, use a comfortable camera strap.
13. Use Fast Shutter Speed
When you are at a festival, everything happens too quickly. Singers usually move on the stage so you need to always be ready to take good shots. This is why I advise you to take festival pictures at a high shutter speed to capture the most important moments. Start using the shutter speeds of 1/250th a second or higher and you will see the difference.
14. Use Aperture or Shutter Priority Modes
Shutter priority is important for those who take photos of moving objects. It helps photographers to take clear pictures without any blur. However, if you need to capture all the details and control the depth of field when taking photos of large crowds, you need to pay attention to aperture priority.
15. Bring Snacks
While you can always purchase snacks at festivals, they might cost an arm and a leg. Keep in mind that you will need to eat at least 3 times per day.
To avoid unnecessary expenses, make sure to take a bottle of water and some snacks with you. This way, you won't feel hungry and dehydrated, which will help you stay more productive.
16. Wear Comfortable Clothes
When taking images of festivals at an open-air event, you need to spend long hours outside. This is why it's better to wear comfortable clothes that can protect you either from heat or cold.
Make sure to wear walking boots and simple clothes.
You don't need to stand out from the crowd too much. If the weather is rainy, you need to wear a waterproof jacket. When taking photos on a sunny day, make sure to take sunblock.
17. Get Insurance
Photography insurance is a great option for those who use expensive gear. It allows you to recover your money if your camera gets lost or damaged.
The only thing you need to do is to decide, which type of insurance suits you better. For instance, if your insurance doesn't cover water damage specifically, you won't be able to get your money back if your camera gets soaked.
18. Keep Your ISO Low
In poor light conditions, it might be important to use high ISO values to increase your shutter speed and take clear photos without any sign of blur. However, you need to be extremely cautious when raising ISO. In most cases, it's better to keep it low.
High ISO might result in some noise, which is why it's crucial to check whether your camera supports such settings.
FREEBIES for Festival Photography