Home Photography Studio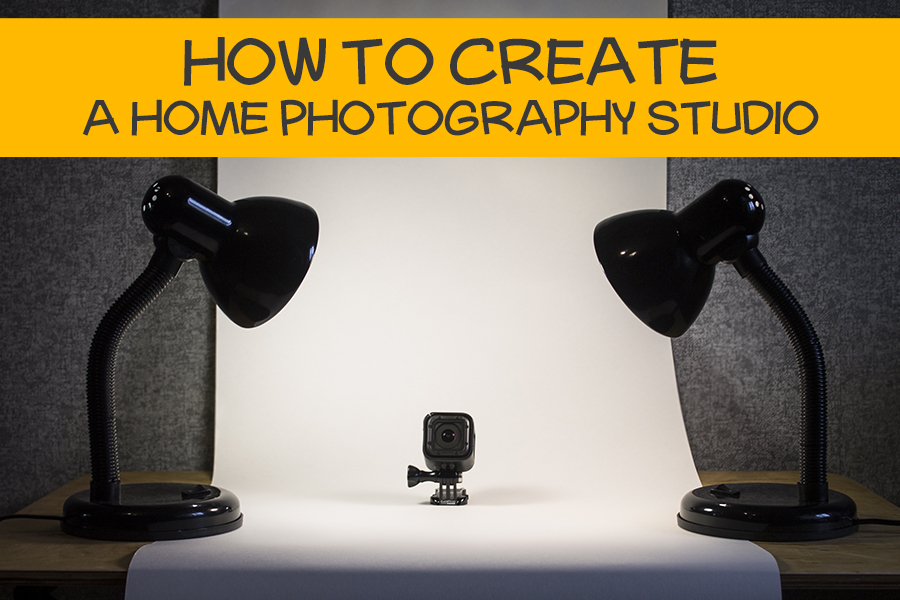 Creating a professional product photo on a clear white background seems very difficult? Do not know how to set up a photo backdrop and camera at home and how much will it cost? To make your first attempts successful, I'll explain you how you can build a home photo studio with minimal expenses and a professional quality in a few minutes. Also in this photography studio setup guide, I'll tell you what you need for this and will give some tips for shooting and photo editing.
---
Contents:
---
PREPARATION OF YOUR HOME PHOTOGRAPHY STUDIO KIT
In fact, I could show you how to make DIY Lightbox, but working with gluing and reshaping a cardboard box is quite a painstaking task. Moreover, after you have made this kind of lightbox, you can't increase its size, and you will have to spend time on making a new one. DIY photography studio is easily amenable to changes, but requires a little space at your house. The cost of such a home photo studio will be about $70. Here is a list of the things you need to make your own DIY home photography studio for your Amazon or ETSY account: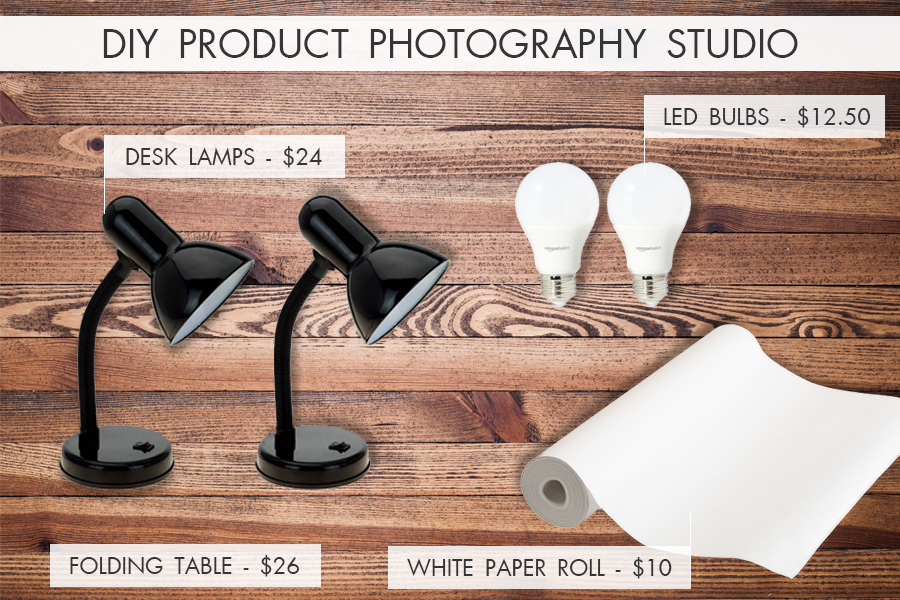 First of all, we need a basis for a white monophonic home photo studio background. Many people advise to choose a white fabric, which can be bought at the pharmacy, since it is cheaper (about $6).
But I chose paper and advise you to do the same, because the fabric, unlike the paper, is very light. Because of this, it will be very problematic to fix it on the table, forming a cyclorama. It constantly has to be pulled, and it's impossible to glue the fabric to the wall with an adhesive tape. So, my choice is the white paper. You simply glue the edge of the roll to the wall and throw the rest of the roll on the floor.
The paper
is very elastic and perfectly holds the shape, and if it is soiled, you can just cut it off, unwind the roll further and continue working.
The price of paper is almost equal to a roll of fabric - I bought my roll in IKEA for $10.
Many of those who make the DIY home photo studio prefer not to buy additional light, but window daylight. I recommend you spending money on photo studio lighting. Window light is quite problematic due to persistent problems with shadows. For this, I even tried to use a mirror system and a few pieces of styrofoam, but the picture was still not clear enough. Since we will use low values ??of aperture for a greater depth of color - window light will not be enough for us, especially since we have the opportunity to shoot only a few hours per day. If you missed this time or it's cloudy outside - forget about the shooting.
Therefore, take a pair of ordinary inexpensive table lamps
I assure you, this will be great. But before buying, make sure that its wire is not too short for being mobile.
You need lightbulbs that produce a strong white light. To understand the difference, look at the incandescent lamp. If its light gives off yellowness, then it doesn't suit us at all. When buying a lightbulb, remember - the more powerful, the better.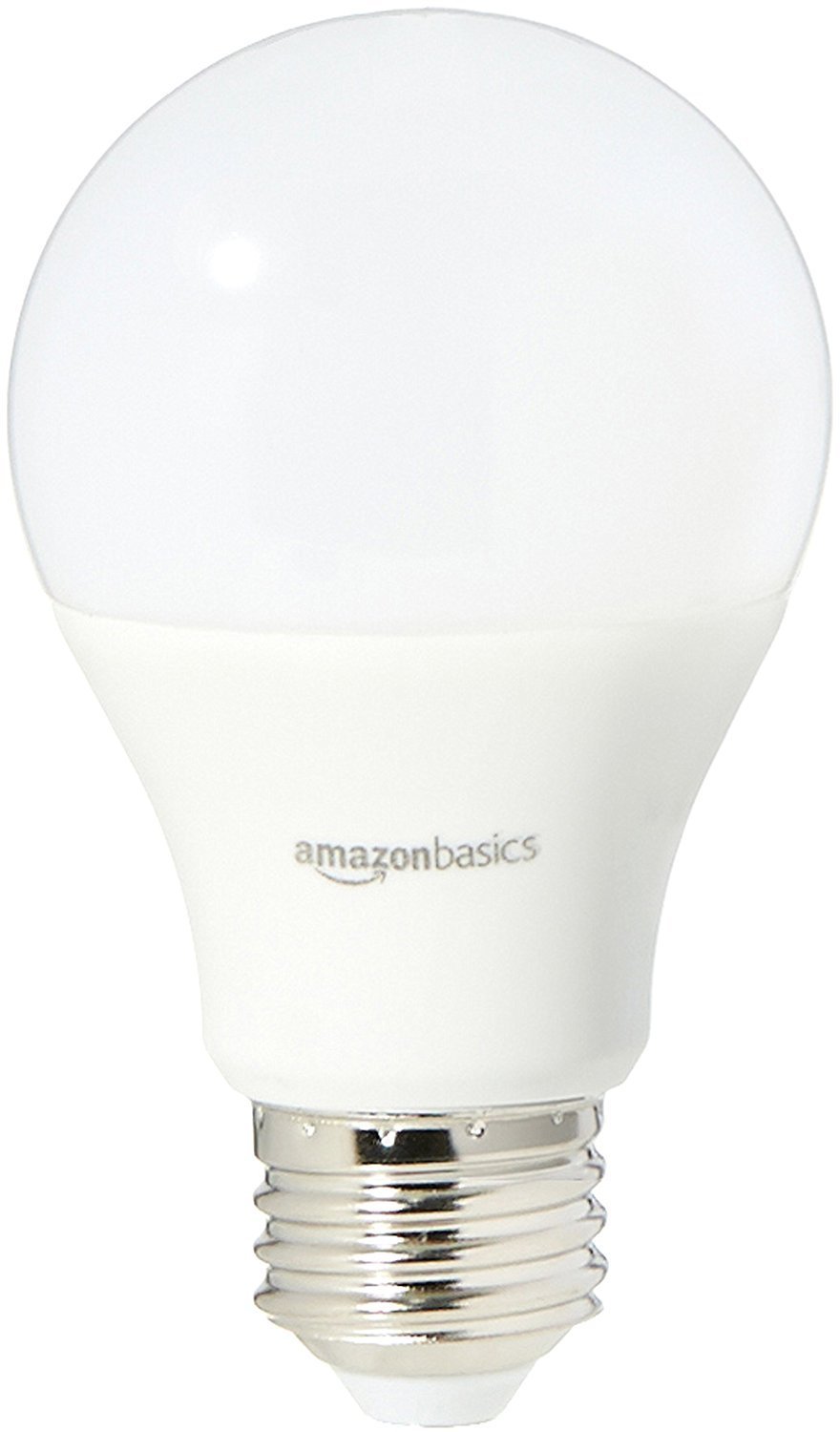 I purchased two 60W Equivalent LED lightbulbs.
These Soft White (2700 Kelvin) bulbs generate a calm, yellowish glow. This is more than enough, but if you are willing to spend on a more powerful lamp - take 100W.
If you have a small unnecessary table in your house, then boldly delete this purchase from your list.
You need to buy a table, about 20x30 inches.
You do not need a large table, because for greater accuracy you need to reduce the zoom to a minimum and bring the lens closer to the object as close as possible, so a large table will only interfere.
After you have purchased all the necessary things, you can start making the DIY home photography studio.
1. Find a free place near the wall in your house and place a table here.
2. Take a roll of paper and glue its ends to the wall with a duct tape, and the other part can be cut off or simply dropped onto the floor. Your task is to form a smooth line on the table without any noticeable corners.
3. Install the lamps on both sides of the place where the object will be placed.
4. If you are shooting on a camera and you have a tripod, just position it as close to the table as possible so you do not have to use the zoom. For product photography, you need the maximum focus. If you do not have a tripod, just put the camera on the table. It's better to prop up the lens with something to prevent the camera from moving when pressed. If there is a control panel - use it.
5. Place the subject into your home photography studio and get ready for shooting.
SHOOTING A WHITE BACKGROUND AT HOME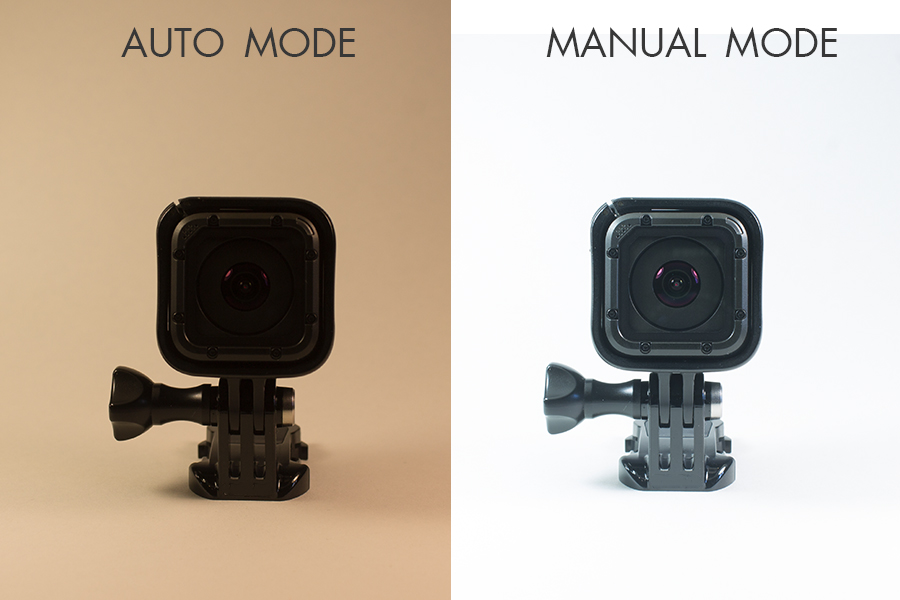 It's not enough just to place all the parts of the home photo studio in its place and point the lens toward the subject. To achieve the desired result, you need to set everything well. First of all, set your camera - no Auto Mode. You will never achieve the desired result in Auto Mode, only need manual shooting! I took 2 photos with equal light conditions but different Modes. You can see and understand why to choose the second variant.
ISO - this is how sensitive your camera's sensor is relative to light. For successful shooting you need to keep it within 100-200. Higher values will not produce the desired results.
Shutter speed determines how fast your shutter operates on the camera. Since you do not need to worry about blurring, because our camera is static during shooting, you do not need too short exposures. For my white background photography at home, I used the shutter speed - 1/6.
Aperture - with this parameter you adjust the depth of field. The smaller the value, the smaller the area will be in focus. I recommend setting the value to F12 or close to it.
White balance - play around with the modes and choose the one closest to what you want your image to be.
Image format - take pictures only in RAW, especially if you are planning photo editing.
After setting, safely place the object in the center of the frame. For convenience, use the screen of your camera instead of the viewfinder. But before you press the shutter, switch back, because there may be difficulties with the focus.
Once you have exposed your item, start working with the home photo studio light. Try to put the lamps so that to reduce the number of shadows to a minimum. Try to redirect the light with white cardboard or polystyrene. After a couple of minutes, you should have a perfect white DIY photo studio backdrop behind the subject, and on the subject there should be no bright highlights that are conspicuous. I used a simple mirror and a piece of cupboard too, but it just removed some little shadows from the sot.
PRODUCT PHOTO EDITING
Yes, you can post the photo you got, but to make it look more professional you need photo editing. Do not think it will be too difficult. Always remember, when making product photo editing, leave the product of the same color, shape and texture as it was originally. Many people change the texture by removing scratches, damages that radically change the product.
Remove dust that spoils the look of your product. Before shooting it is impossible to remove such defects perfectly, your eye just will not notice it, but the camera will grab all the dust on the surface.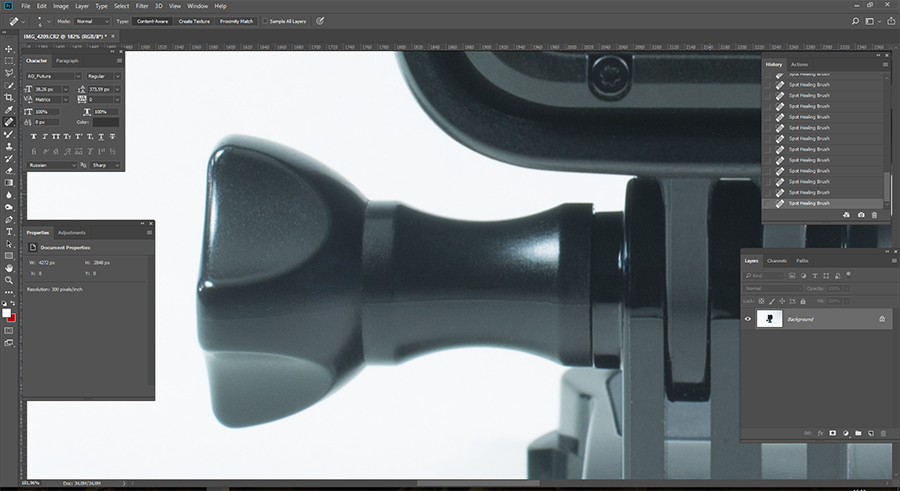 You can remove dust using the Spot healing brush tool, but you be careful with the edges, the object must be sharp. I also change contrast, sharpness and saturation. I noticed fingerprints and greasy spots on the subject that I also removed (believe me, I cleaned the camera before shooting, but how you see it did not help)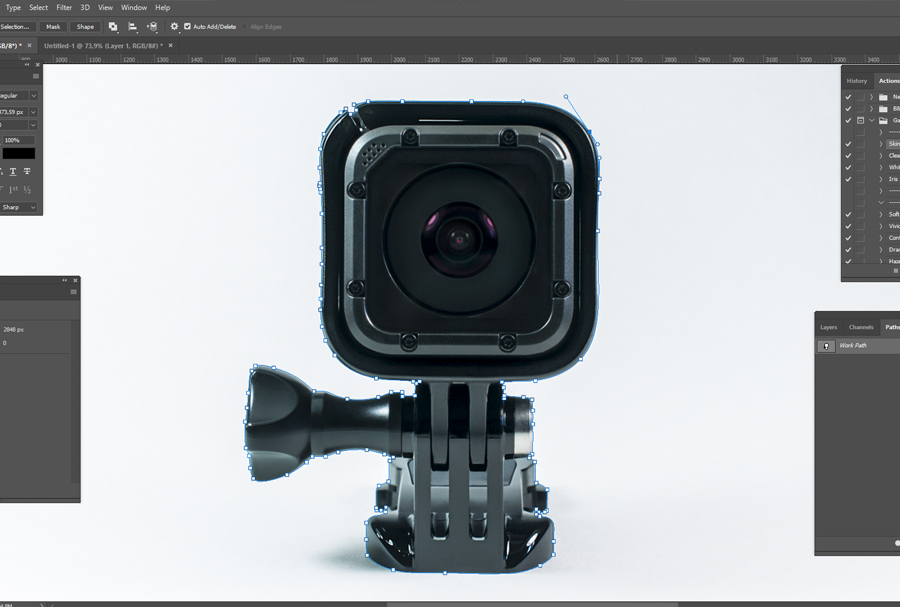 The next important step is to remove the background. You will fail to do it perfectly white when shooting it, only quick selection or clipping path can help. The background is more or less monotone, there is nothing complicated in this step.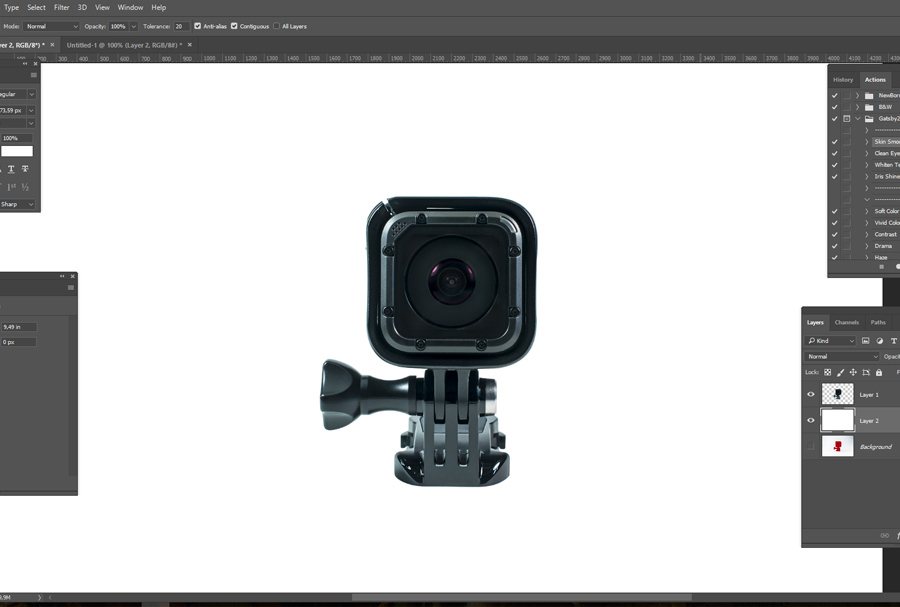 The final image you can leave on a white background, or remove it by making the background transparent if required.
Home portrait photo studio
If you want to try your hand in studio portrait photography and you dream of owning in house photo studio – I will tell you how to create a DIY home photo studio at minimal cost.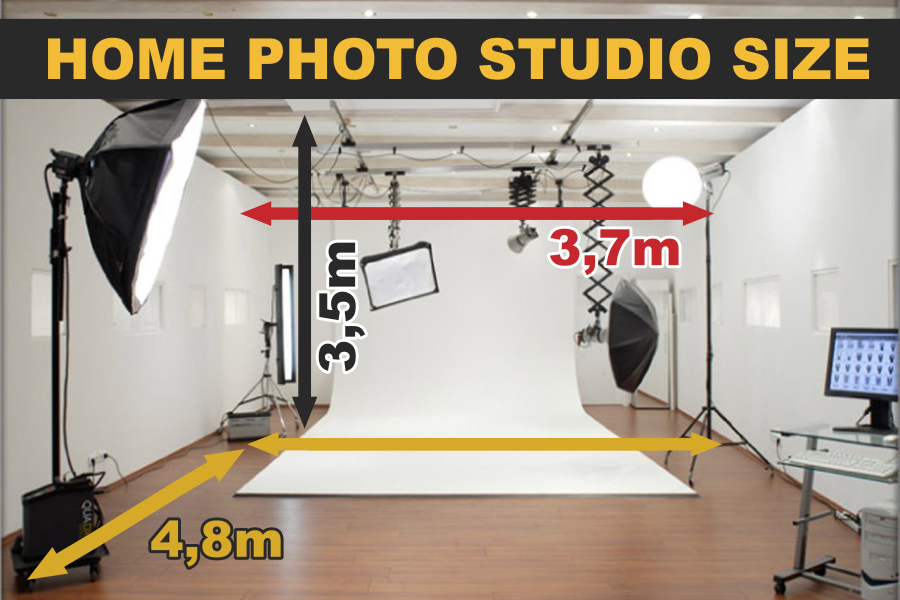 Prepare the Place
The most foolish thing you can do is to arrange the studio in the middle of the room.
This will make additional inconvenience for you, models and your relatives, who live under the same roof. Of course, you can experiment with various home photography studio ideas and make it mobile. It can be a real waste of time and efforts. The best option is to allocate a separate small room for this, where you will always have a studio and nothing else.
Background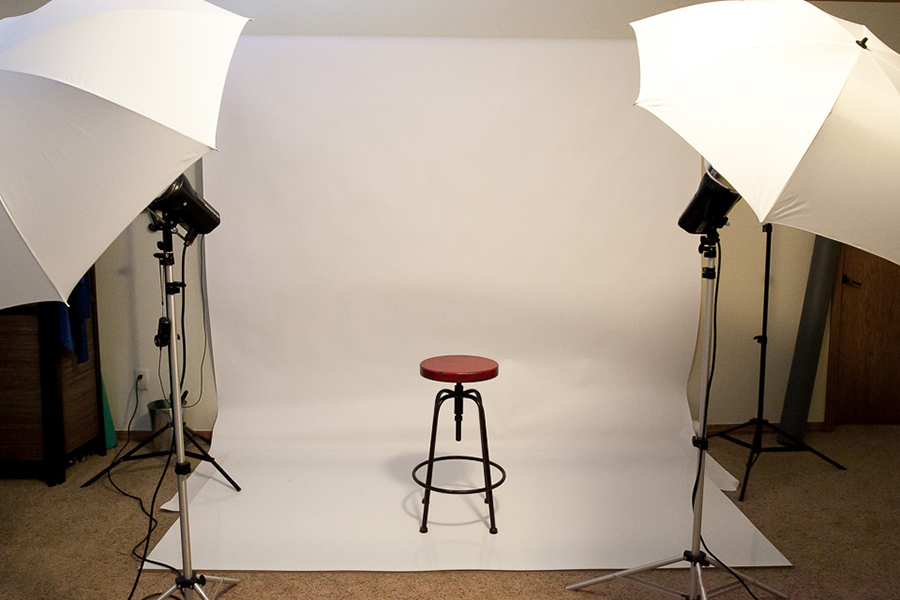 A very popular choice is a white background photography at home. In fact, you may try some other tones, such as grey or dark, which should suit the main idea – to create a monochrome backdrop. Gradient is good too. But be careful with too complicated patterns, as they may provoke additional challenges during shooting.
Mind, that we can't use a common sheet of paper for work. Only a thick fabric. Professionals prefer velvet, as it absorbs the light best of all. For fixing the chosen background you will need a wall mount. It functions as a ledge, on which you fasten the roll. If you need to replace the studio, just use dismountable ledges.
Lighting Setup
Of course, this item is extremely important and difficult in any type of shooting. The quality and inexpensive home studio lighting kit consists of: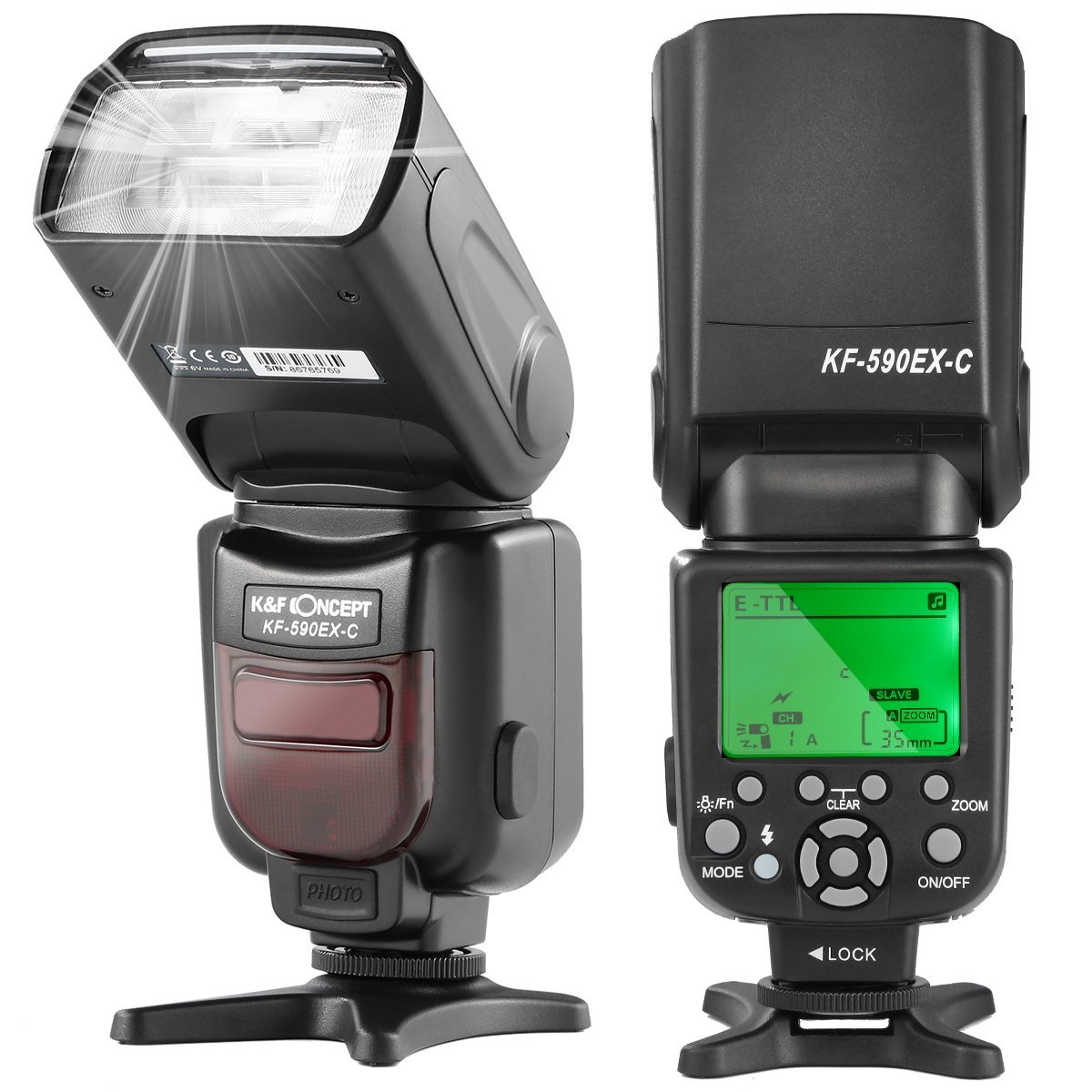 The flash
is easily adjustable. Combine it with radio triggers and receivers, so you can place it at any distance without cords. Besides, you can move them around the studio smoothly.
Is like a reflector, enabling you to direct the light in the proper area. There are different types of umbrellas, but make sure your home photography studio kit has at least white or silver reflective umbrella.
All in all, these items will cost less than $200. But I'd like to warn you, this sum may be doubled, depending on your needs and preferences, for example, if you want to have a more powerful flash.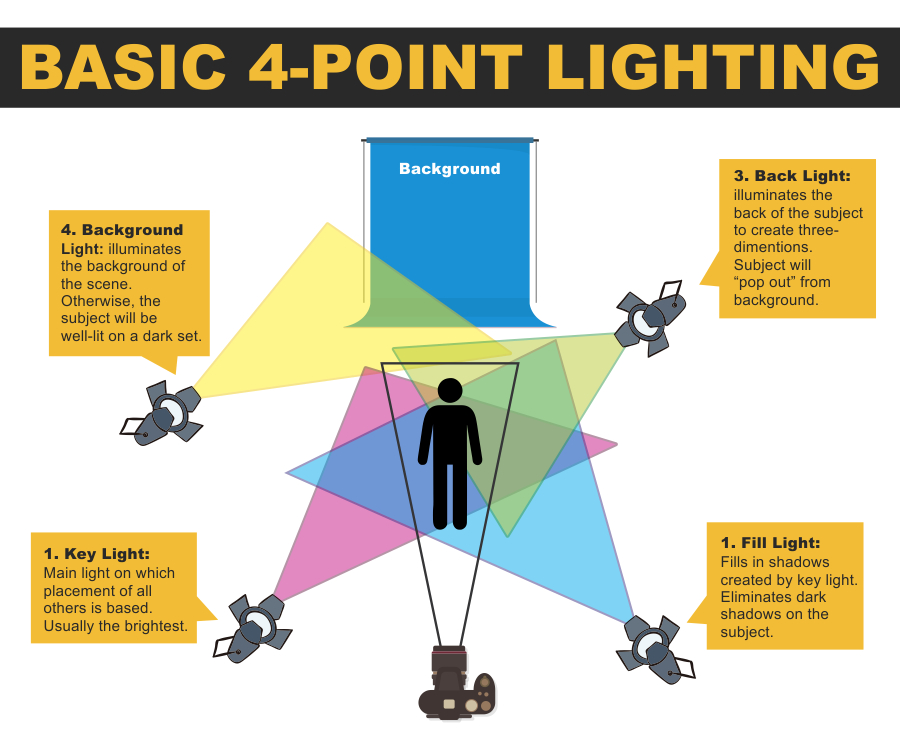 There are also some handy photography studio setup ideas you need to know. It is highly recommended to eliminate natural light coming from the window, because light from flashes has different colors. Such a mixture may harmfully affect the photos. Still if you use more flashes you may compensate it. If the room you are working in is too dark and windowless, use several powerful LED lamps.
Building the Studio
Now when you have a thoroughly-chosen photography studio lighting kit on your table and your DIY photo studio backdrop is fixed on the wall – you can proceed to the most important part – piecing together the studio.
First of all, connect the bracket flash holder and light stand. Place them on both sides; if you use a double set, or if you have one kit - place it on any side you want. Then fix the flash trigger on this construction. It is important not to confuse them, as one sends a signal and the other receives it. Install the flash on the trigger, which is already on the stand. You will need to synchronize the triggers by doing a couple of test shots to make sure that each one is tuned to the same channels.
Take your umbrella and place it in a special hole on your flash holder. Fix it. It is important to note that you need to experiment with the pictures, because you can use an umbrella as a reflector, or on the contrary, shoot straight at it.
The camera setup begins with placing a lens hood on the camera. We will shoot next to the flash, so we do not need direct light entering the lens. Set the camera to Manual exposure mode. For a better starting point, use shutter speed 1/125 at f/8 - it reduces the risk of camera shake, and the diaphragm prevents the presence of ambient light. You will also need to work with a minimum ISO (about 100-200) for maximum quality and use Flash for white balance. Take pictures only in RAW for the flexibility of further photo editing and choose a single shot, since flash heads require time to recharge.
SHOOTING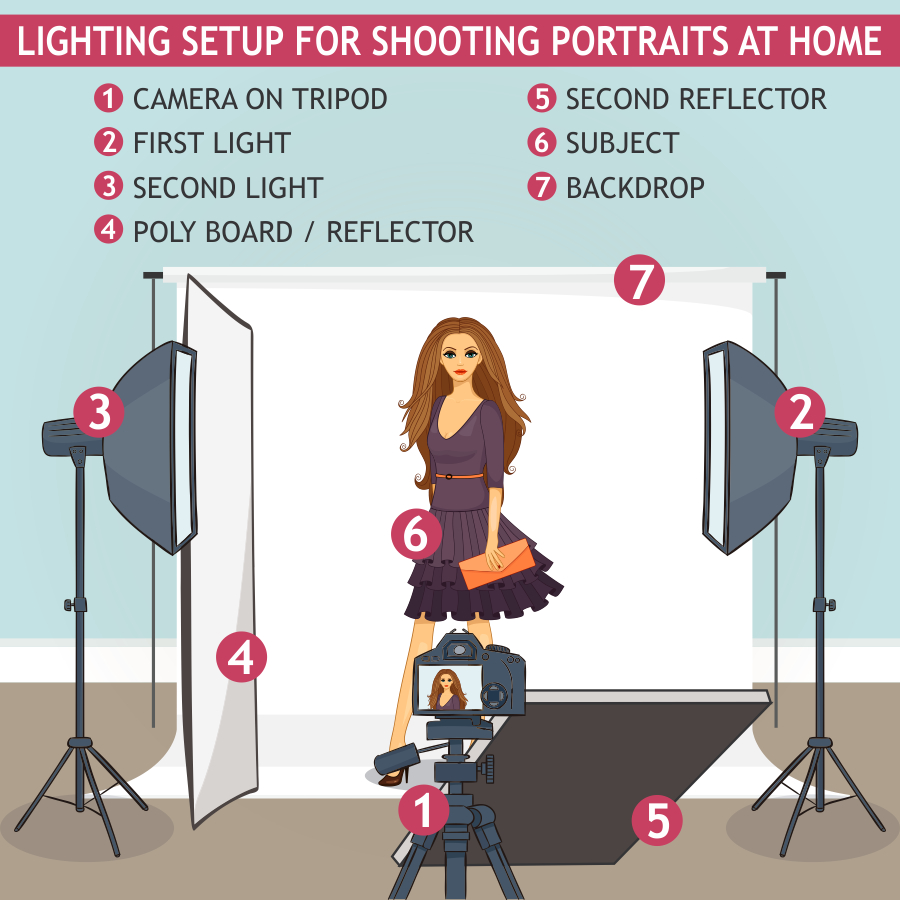 Conduct a test photo session with your friends or relatives in order to understand exactly how to control the DIY photo studio lighting when shooting. Do not experiment with real clients, as you can't be sure that everything will be successful. Take care of your reputation from the very beginning. Place a person closer to the background, and then set the umbrellas so that they are about a meter from a person and are directed to his/her face. Also, prepare reflectors beforehand and use them, placing them in the direction of the object's shadow to fill them.
PROPS
The more you take pictures, the more you want to do it. The simple white background portrait photos will soon become boring, so adding props will be a great decision. It is very beneficial to orient on holidays and change your photography studio design plans according to it. A studio with Christmas, New Year or Valentine's Day style will attract many customers during the season. View my favorite and simple prop below.
Props can be numerous: furniture, plants, clothes, or you can create a scene instead of a simple background. Make several scenes for a different mood:
Classic furniture, old radio and brown tones for family photos.
Pastel colors, flowers, pillows, and quaint furniture for light female photographs.
Scattered toys, funny background and props for children's photos.
To my mind, the best place to make a purchase is sale-offs. Vintage electronics or furniture, handmade toys, old musical instruments, even a piece of an old fence instead of a background – all this you can get even for nothing, but the photo will look awesome.
Homemade Car Photo Studio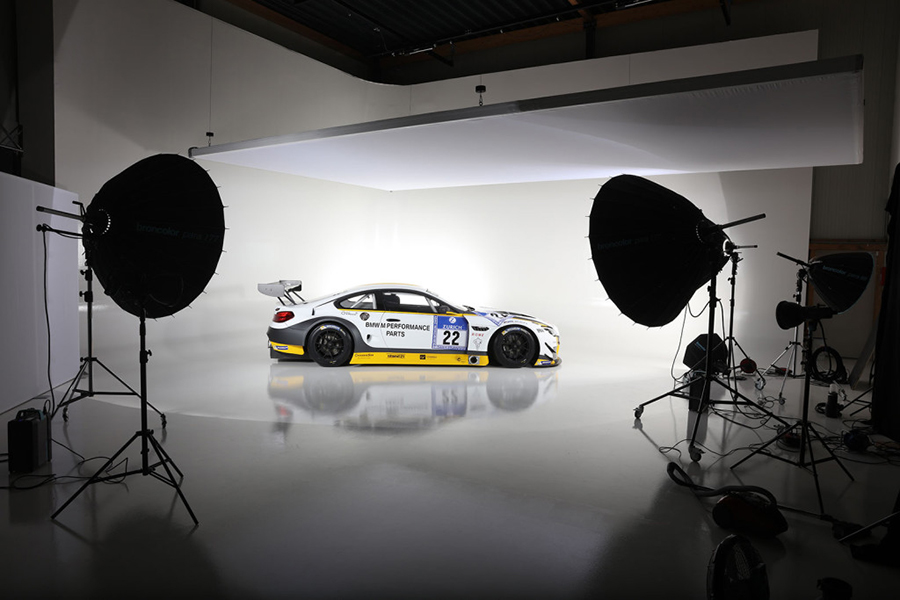 Shooting cars is one of the most popular types of commercial photography. Most cars are photographed in the street with natural light on the background of any route. The photos in the salons are also very popular. Still, these two options have some shortcomings and further problems in car photography retouching.
The photos of cars that you see in magazines and on billboards are 90% made in the photo studio. I'll tell you how to build a home photo studio for photographing cars, but you should know that it's not cheap. In fact, it will cost several thousand dollars at least.
LOCATION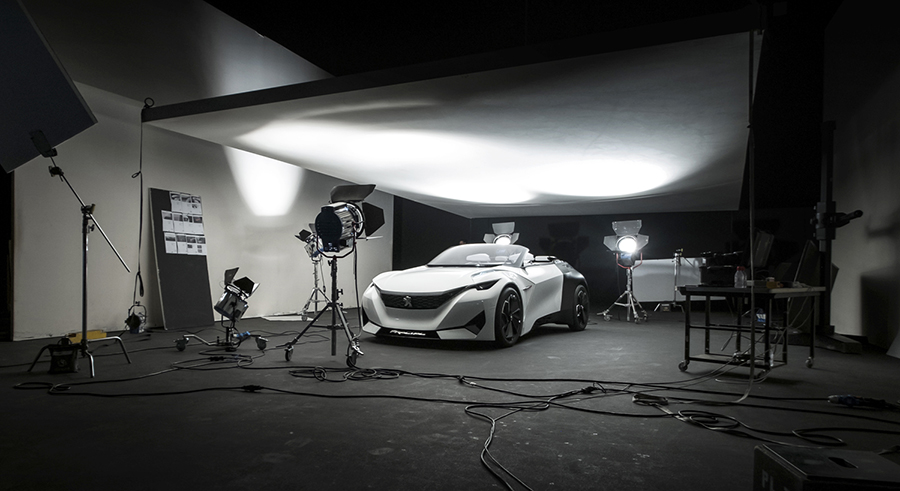 You need a lot of space. Don't think about how to build a photo studio in your garage – that won't do. You need an area of about 10x10 meters, or even more. After you've found a proper place, take care of a cyclorama. That's why most photographers rent a place, as it is very difficult to build a photography studio from scratch with all necessary items. I have created the map with the most popular photo studios for shooting cars with a rental charge below.
Lighting
A car is a huge mirror that reflects any directed light, that's why there should be no point light. There are 2 methods of lighting a car: Additive and Subtractive.
Additive lighting is the direction of light on an object and diffusing it with the help of diffusers.
Subtractive is the lighting of the entire studio environment and the use of a large amount of black coating to form shadows on the car. The entire car is evenly lit, and you just need to place the black material there, where you want to see the shadows. The best choice is the combination of both methods.
First of all, you need to hang a huge softbox on the ceiling. As a professional softbox for cars can cost $10,000, I suggest creating it by yourself. You will need 4 long pipes or boards, as well as a large piece of dense white fabric. It will cost approximately $100. You need to place it on the ceiling above the car. Then place a pair of stands with a white background on both sides of the car.
Lamps are very important. In total you need about 10 lamps of 1000W, they will cost about $30. Place 6 lamps above a car behind the softbox and two behind each stand.
In such a way, we get an additive lighting of a car. If you take a picture right now, the object will come out flat with all its details and grooves on the case lighted. To get the shadows you need to apply a method of subtractive lighting.

Take any black surface, whether it's fabric or black-painted paper, it might even be a black board and put it on the floor on the side from which you need to photograph a car. Then put a pair of it on the side to create a shadow.
SHOOTING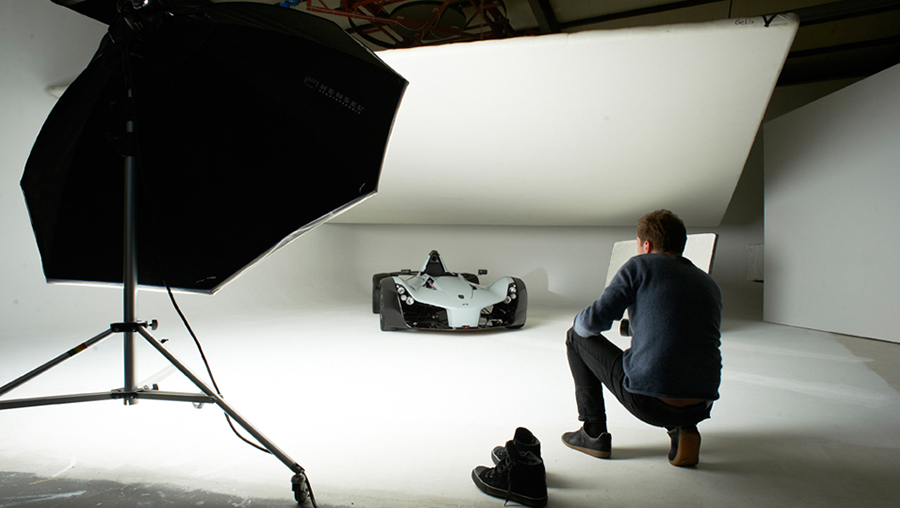 Everything is obvious concerning shooting. You can make a good image even with your iPhone, if the light is set correctly. But for professional photos you need a good DSLR camera. The main rule here is to stay as far as possible from a car.
I have already said that a car is a mirror, and you can also be reflected in it, so move away. You need a zoom lens so not to spoil a photo while zooming. As far as your car will be perfectly illuminated, shoot at low ISO, the rest settings are similar to portrait shooting – shutter speed 1/125 at f/8.
Mind the angle of shooting. Most of the time you will need to lie down or sit low, because this is exactly the angle from which cars are shot. Take more pictures from above using a ladder, a few detailed pictures of the wheel, the emblem of the car and the headlamps.
Car Retouching
If you think that you can get a great photo in one shot, believe me – it's almost impossible. You can make some great shots at a time, but the main picture will be a combination of several shots. How does this happen?
Without changing the position of the camera, you change the placement of light and black surface, focusing on some particular part. Such a picture is much easier and faster to get than trying to highlight the entire machine in a beneficial manner. Of course, photo retouching is a must-have: you correct the background, removing it or doing some other manipulations.
SUMMING UP
As you can see, making a home photography studio for less than $100 is not difficult, and the quality of the photos will not be worse than the professional product and portrait photographers take. But car photography home studio is a nonsense – renting a studio is the only way out.
Do you like the article? Please feel free to share it via your social accounts.
---
Pay attention this photography blog which does not require credit for the pictures and photo post production examples listed here . All photographs used in the article are only copyright to their respectful creators . These shots posted as a big admiration of portfolio and photo retouching talent the experienced rt masters have . If you found the photo on this post that is yours and do not want to be promoted on our website , please do not hesitate to write us via online chat on your right and it will be quickly deleted .
---
Rate the article!
The article's rating:
---
You comments or questions are welcome; please share your opinion on the topic.
Use Facebook:
Use Disqus: