How to gather essential photography gear for real estate photography
Essential photography gear is the foundation of any professional photography, especially if it concerns the business. Photo sessions of architecture and real property involves not just knowledge of real estate photography tips & tricks, but also special photo and lighting equipment for real estate photography that plays an important role in obtaining the desired result. Various photographers of realty can state that preparing and image editing can be a lot more complicated than a deep portrait retouch. Photographic treatment can really take a plenty of time failing the photoshoot'stime of day, choosing the best lenses for real estate photography and other details. Our aim is to explain as clearly as possible what is necessary in practice for this kind of photoshoot and what you can go without.

In this post you will discover some tips and secrets, as well as learn how to select the best camera for real estate photography or the best flash diffuser for real estate photography, and prepare your placement for saleable interior photos. We will consider many aspects for house property's photographing, such as: the appropriate equipment for first-class pictures, the correct interior photography lighting setup and theme, the interior spots for photoshoot, said differently the "best wide angle point and shoot camera for real estate", learn the secrets of creativity in this style of photo sphere.
By tradition, we offer you to watch this video presentation "Real Estate Video cinematic", because regular footage and video from the drones became a popular service among realtors.
Top real estate photography equipment components
Photographic engineeringis evolving so quickly that new models of cameras appear every year. To obtain extra-fine images for real estate photography businessyou have not to acquire the latest models of essential photography gear.
Lenses
It is reasonably to buy two exemplars of the lenses – a wide angle or lens with ultra-wide-angle (a focal distance of 14-28mm in 35mm equivalent). A wide-angled lens is a powerful tool for accenting depth and relative size in a photo.
The best lens for real estate photos: Japanese Canon 10-22mm and Canon 17-40mm Wide-Angle Lenses, Panasonic LUMIX 14mm f / 2.5 G, Panasonic LUMIX G 20mm f / 1.7, Panasonic LUMIX G X Vario PZ 14-42mm / f3.5-5.6, and special such as Tamron 17-50 mm.
The most practical are small portable flash units such as the Nikon SB 900 or Canon Speedlite 580 EX II, they are great quick-tunable flash units that can fill most of the places with a light pulse.
When making a selection of the best camera for real estate photography you should pay attention to its photosensitivity. For example your client can ask to make a photograph of the premises at night. Then if your camera's ISOis higher you will obtain better picture. Sure enough, the critical criteria for taking an interior scene is a great depth of focus, which means that most of the images are taken at aperture f/6.3 and above, as well as at low ISO to reduce noise.
Camera
In respect to the price and quality, cameras likes of the Canon 60D and Canon 5D MK II Camera Bodies are great for taking realty, and the best camera for real estate is the model of Nikon D80 with the SB-600 flash.
Extra Flash & Soft Box
As additional elements of equipment needed for photography which can also improve the quality of the obtained photos these are extra flashes and soft boxes with different kind of light. Such real estate photography lighting techniques affect the quality of photography and can significantly shorten the time for image post processing and also bring a soft diffusing light to the interior or vice versa, if necessary. You can also use a diversity of large light-pulse generators, such as Alien Bess or Westcott Spiderlites. They provide greater coverage with light, but are cumbersome and problematic in installation and configuration.
Tripod
You will be needed a tripod with a large maximum working height. No matter what kind and brand of tripod you choose, justassure yourself that it includes a universal tripod head with a handle for adjusting the camera's position. Presence of the built-in level is only welcomed. Manfrotto Tripods and Heads is the best decision for convenient and quality tripods.
Photoshop
After the main work in field conditions is completed, the next step is to create a high-quality interior photo its enhancement. Here the well-known Photoshop and Lightroom programs are suitable, as well as special programs for gluing panoramas and other photo editors for photo retouching, where headshot retouching is more often done.
Some talented photographers work with lens filters to make objects in the frame brighter and clearer, the texture of objects is traced. All this can be adjusted with the help of image editing, but to save time and efforts you can immediately stock up all the necessary equipment. But here the photographer decides for himself/herself, if has the money and knowledge about how to use expensive equipment needed for photography and divers devices (such as light meter). Any photographer can buy a set of different lenses, flashes, filters, etc, and if not then photo color correction services will always help to hide shortcomings and emphasize perfections.
Website
Any self-respecting photographer cannot do without his/her website, social networking pages, etc., where he/she can showcasethe portfolio, promote services and interact with clientage.
Some platforms, such as Wix, offer the creation of free sites with a simple interface and the capability to display their photosfully.
How to make well-paid real estate photography?
Photographing realty and architectural elements, which can be considered a class of outdoor photoshoot, cannot be qualitatively performed independently of essential photography gear and specialized equipment, for examplethe necessary condition will be the usage of facilities for panoramic pictures, the application of attachedreal estate photography lighting, as well as special lenses for high-end photoshoot. Unconditionally the cost of photographing premises and architectural objects is directly consisted of the expenses of devices and professionalism of the artist. The prices for photoshoot and how to draw up a real estate photography business plan you will read here "How to get into real estate photography".
Now we will share some real estate photography tips techniques how to make unique photos so that they sell the realty and have the WOW effect. It requires preparations.
Tip 1. Photograph from the lowest level to recapture the perspective of the spacious plan. When taking general plans, the position of the sun must be taken into account. The optimal time of a day for such photoshoot is early morning or late evening. This is the time when the sun gives a very soft light. Try to choose a position in such a way that the sun is behind you and illuminate the room as good as possible.
Tip 2. Take the whole interior not the furnishing separately. Any buyer wants to see the whole picture. In indoor photographytidy and well-ordered placing are very crucial. The cleaner the placing and the less distracting elements of the interior thenit is the better.
Tip 3. Be wrapped up in process and the spirit of placing. Imagine yourself at the customer's place. Install the tripod. Pick the most winning view. It is significant that the apartment looks as large, neat and light as possible. When this occurs, you will require the best lenses for real estate photography witha wide-angle.
Tip 4. Watch the "horizon". The tilted horizon is a common flaw that has spoiled more than one photograph. Most tripods go in the built-in level. In the case where there is no level in the tripod, you can utilize the carpenter's level. Do not be discouraged if you do not have either level. The horizon can be editedin any photo editor.
Tip 5. As practice shows, most realtors do not upload photos of interesting interior elements close-up plans. That's why, take a few of such photos and include them in the catalog. The buyer will appreciate this.
Tip 6. As a rule, panoramas of interiors are made by gluing together several overlapping photos. To create panoramas, special programs are used, such as ArcSoft's Panorama Maker 5 Pro. There are also free online services for creating panoramas (CleVR) along with such programs.
Tip 7. Professional photographers recommend doing the series of vertical photographs. So you grab as much space as possible for subsequent gluing.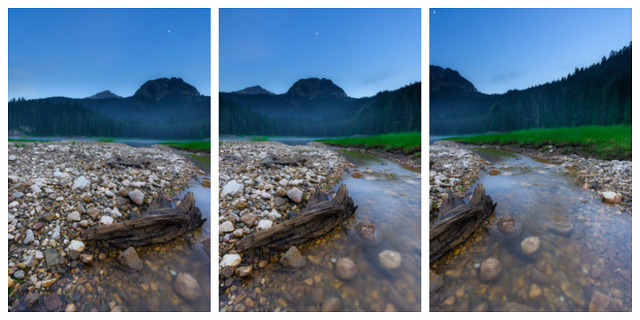 Tip 8. Do not forget to use a tripod. For better images, turn off the camera's auto-exposure mode.
Tip 9. In some modern cameras (for example, the best camera for real estate is Nikon Coolpix), there is already a panorama mode that will make your work much easier.
Tip 10. Do not use flash. Try to photograph the interior in natural light in Aperture Priority mode. This will prevent the appearance of unnecessary shadows and will give the interior a more natural look. Set the aperture value to f8. Do not forget that the more you close the diaphragm, the more exposure will be. If you take photos by your hand, then long exposures may appear as a slur. To avoid blurriness use a tripod and a timer on the camera.
Tip 11. With the advent of the digital era, almost all modern cameras have an exposure bracketing (Auto Bracketing). Bracketing has become a standard tool for creating frames using the technology of High Dynamic Range (HDR) it removes 3 or 5 frames, which are then glued together into one using special software (Adobe Photoshop, Photomatix). Such photos are distinguished by the clarity, brightness and volume of the image.
Tip 12. One of the main advantages of this method is the lack of the need for additional equipment for lighting the room, just a tripod and one best camera for real estate photography.
Tip 13. Do you want your ad to distinguish from the gray mass of ads with low-quality and boring photos? Do not be lazy to retouch your pictures, some customers like to look at the examples before and after retouch, where you can see how much work was done. In order to take the photo more contrast, rich and vivid, it does not involve deep knowledge in working with popular photo editors. To date, there is an abundance of both paid and free online photo post processing services and our service is no exception. For expert photo editors, our article "Useful architectural rendering Photoshop tricks & tips" will be interesting.
Tip 14. Always protect your work with copyright. With the development of print and Internet resources, photography has become increasingly used. At the same time, users of such photos often violate the rights of photographers, forgetting that each photo has its own author, who possesses all the set of copyrights. To avoid theft, always protect your work with copyright. How to do it? It is enough to put a watermark on the photo.
Tip 15. The program Visual Watermark adds watermarks with any content and structure whether it's your brand, copyright, logo or all of this together. The program Visual Watermark contains an innovative watermark editor. It does not matter how many images you need to put a watermark on.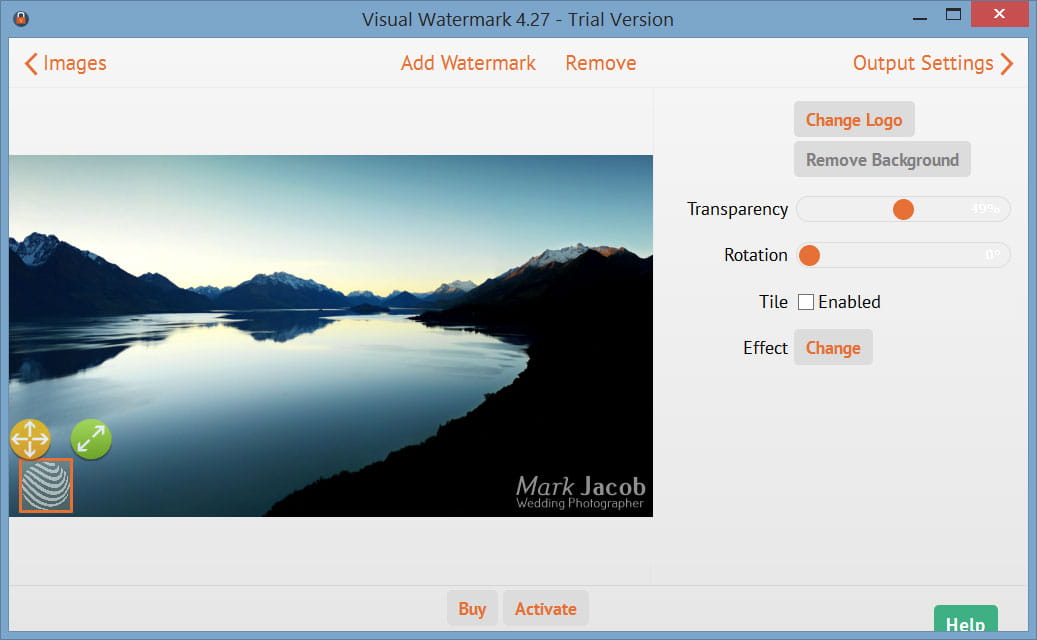 Thanks to the batch processing function, you can add a watermark to all the photos at once. Even if you need to urgently protect 50 thousand photos, Visual Watermark will do it for you.
Camera settings for real estate photography
We looked at the equipment needed for photography, you learned the features of photographing real property and what you need to consider, now it's time to pay attention to specific camera settings for indoor photography and outdoor as well.
When you go to the destination, first of all you make ready for your real estate photography equipment, check the memory card, clean the lenses, and already on the spot make installation of equipment and camera settings.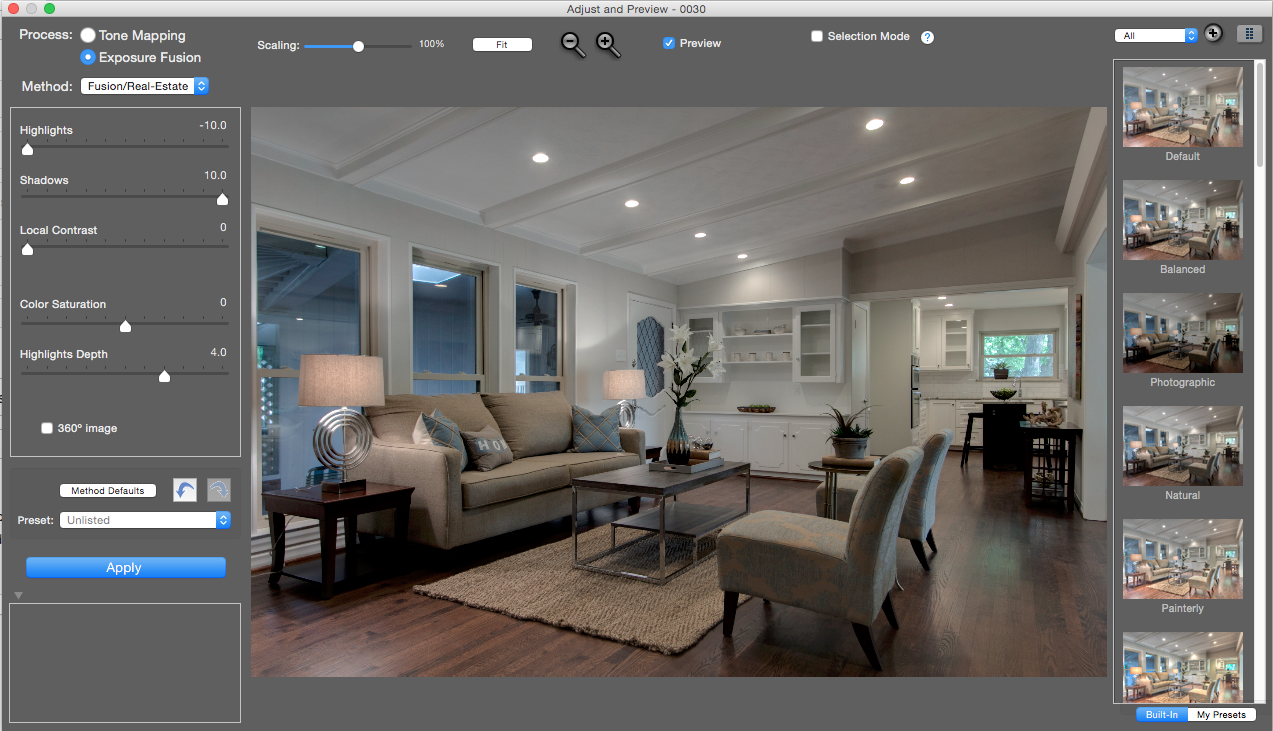 According to the type of photo session, the interior or exterior will need different camera indicators and different elements of photographic accessories. For indoor photography, it is mandatory to use a flash and additional light, if it is not enough in the placing. Such indications as, white balance you do not need to adjust, but leave the automatic setting, and ISO settings will be 320 for photographingeither interior or exterior.
Optimal interior photography camera settings include:
• f/8.0
• Drive (Single Shot)
• Bracketing (7 frames, -3, -2, -1, 0, 1, 2. 3)
• Metering (Spot)
• Focal Length – the possible longest, but in no wise wider than 22mm (35mm equivalent).
For outdoor photography, half of the additional lightening may not be needed, but the following metrics should be set:
• f/8.0
• Drive (2s Timer)
• Bracketing (3 frames, -1, 0, +1)
• Metering (Spot)
• Focal Length Varies, better the longest possible.
You can choose the necessary settings by yourself, by trial and error, subject to the brand of your camera and other additional real estate photography equipment. But be sure to photograph in RAW image format, transferring images and retouching them will be much easier without degrading the quality.
Analyzing this article, you can reach the conclusion that the ideal option for photographing the room will be the availability of both the best camera for real estate, high-speed optics and a good external flash. After all, high-speed optics allows you to make excellent frames with full immersion in the atmosphere of the image;the photos are obtained live and real. And the use of an external flash and the best lenses for real estate photography is always useful to you in those moments when the illumination of the room is extremely small and any optics cannot cope with its task or when the placing is small but you have to capture it all.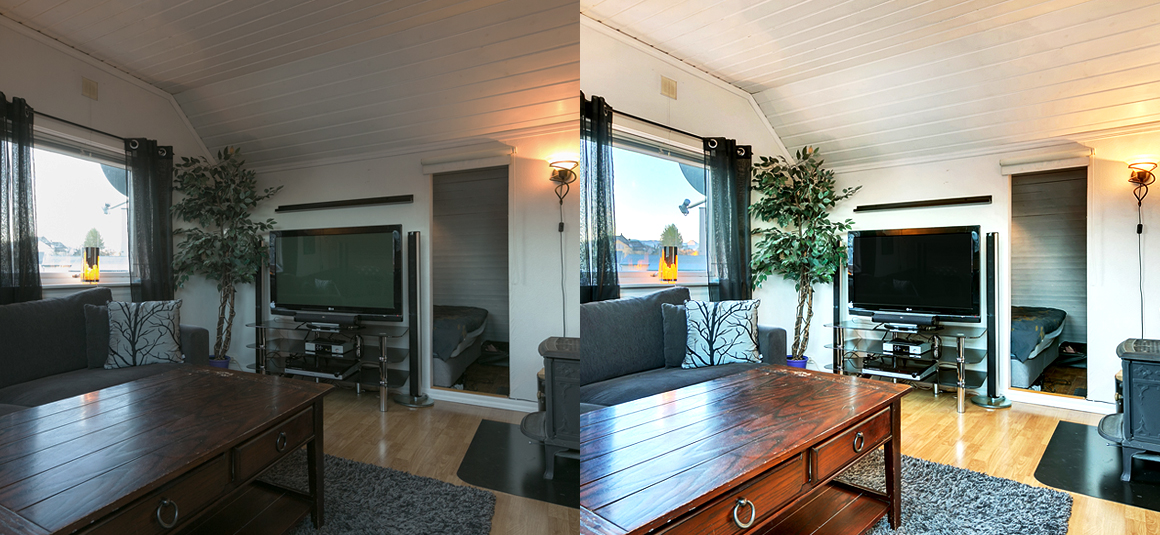 We save your time while you work with the client and take photos. We can take care of all the photo post production services, as our experts will help you turn a conventional interior photo into an excellent real estate sales tool. A pleasant surprise for our customers will be reasonable photo editing prices, loyalty system and a wide range of photo post processing services.
Do you like the article? Please feel free to share it via your social accounts.
---
Pay attention this photography blog which does not require credit for the pictures and photo post production examples listed here . All photographs used in the article are only copyright to their respectful creators . These shots posted as a big admiration of portfolio and photo retouching talent the experienced rt masters have . If you found the photo on this post that is yours and do not want to be promoted on our website , please do not hesitate to write us via online chat on your right and it will be quickly deleted .
---
Rate the article!
The article's rating:
---
You comments or questions are welcome; please share your opinion on the topic.
Use Facebook:
Use Disqus: