Photo Editing Services › Photo Post Production Services › Custom Facebook cover photo
How to create outstanding custom Facebook cover photo?
---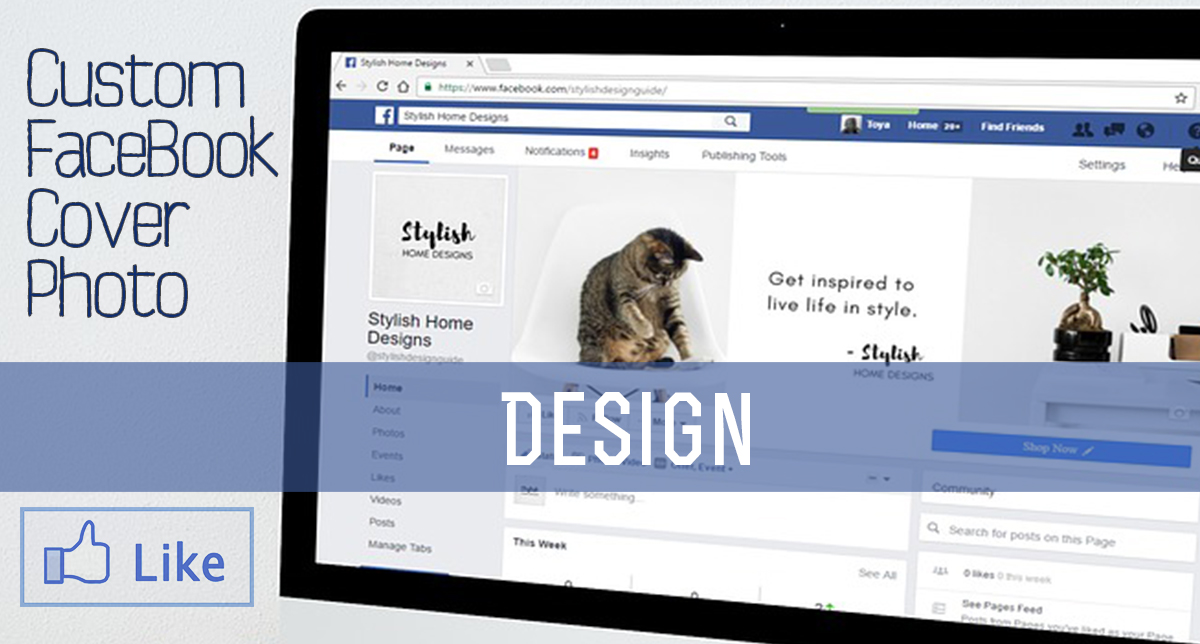 ---
Custom Facebook cover like every element that can be used in social media is a definite method as well as a form of personal expressions. This fact certainly explains why a lot of people are so obsessed about the photos that are presented on their web pages. These are not just images that show our reality and actions. Such photos show off our true personality, different thoughts and deeply hidden feelings. They are special signs of our emotions and that is why we should pay great attention to what we post on social nets. Thus, Facebook page design is of significant importance among contemporary users.
The main idea of social nets is to present a person in the most appealing way so that other users have a strong will to communicate with us. In most cases online web pages do not have any opportunities for live communication, except video massages. We are not able to assess person`s behaviour and habits or to hear his/her voice. All these benefits of live communication are inaccessible for us when we are in online contact with person. The thing that can be visible is person`s photos. Only with their help we may have at least some glimpses of his/her life, habits and day routine. Thus, they should reveal our inner world and be true to life without enormous amount of retouching. Otherwise, your photography will look too artificial and other users may think that you have something to hide. And that is the main problem of all social nets.
But still there is one thing that is even more important that choice of all pictures that will be visible on your online profile. That is custom Facebook cover photo. That is certainly the first image that every user sees before he/she is added to the list of your friends. Like in live communication, the first impression is believed to be the most essential one. In some cases custom fb cover can be a crucial thing that influences people`s impression about you as a person. Thus, to create Facebook cover photo is the issue of the biggest importance for all people, who have decided to start their personal online pages.
---


---
To make your Facebook profile popular and to get thousands of followers is not as easy as it seems to be. In order to do that you should pay thorough attention to each detail. And the first thing you should start with is custom Facebook page design. Here a photo of primary importance is custom fb cover as it represents the whole web page. It is an obvious thing that such image should lure people with the help of its original beauty and bright colours. But still there is a long list of some particular demands that must be followed in order for such image to suit all requirements of modern social nets.
Nowadays the most wide-used social net is surely Facebook. It has the biggest number of users comparing with other nets. According to the latest statistics, Facebook occupies the first place according to the number of users that have created their online profiles. Exactly this impressive number of followers makes Facebook a truly demanding social net that must be considered by both contemporary and would-be users. If you are the part of those, who only want to create his web page or those who already have done it, you should know these requirements and follow them.
The first thing you start with is Facebook photo cover size. According to the latest demands, every image that will be uploaded must have certain size characteristics. To have right cover photo for fb size, your front picture should have such overall dimensions as 320 by 340. In case you want to check whether your cover photo Facebook size on desktop is right, remember that is should be 820 width to 312 height. As your see these Facebook photo cover size is a bit different, to be more precise, it is a bit smaller that overall one. If you upload photo from smartphone, the cover photo Facebook size should coincide with overall one. Do not forget that every custom Facebook cover will be cropped in order for it fit a square. That is a definite feature of this popular social net.
---

---
Concerning page`s profile photos, they should display at least 170&170 pixels on your computer, 128&128 pixels on your smartphone or at least 36&36 pixels on phones. Besides, cover`s images on Facebook should not display on feature photos.
Often people do not pay attention to these demands and that may cause some serious problems. We understand that using various social networks like Pinterest, Twitter and surely Facebook, it may be very hard and sometimes almost impossible to keep up with all correct formats and dimensions for each popular network. That is why in order not to get overloaded with tones of unnecessary information, people tend to co-work with professional services that can not only make custom Facebook covers, but also choose just the suitable formats and sizes. Make sure that with our company your cover photo for fb size will be always right. All photos that have been done or enhanced by our specialists are professional preformatted to optimum size for using it all social networks and not only in demanding Facebook.
One more issue that can become a truly disappointing surprise for online users is that sometimes due to improper Facebook photo cover size, inevitable image formatting may spoil the whole look of front picture. Just imagine how discouraging it can be. You have spent an incredible sum of money, but all beauty has been spoilt by tricky formatting. Is it what you are looking for? We are sure that not. So, while searching for brilliant company that will enhance your photos for online social networks, make sure that they will choose right cover photo for fb size in order not to get bad surprises. Our specialists are always aware of the latest requirements concerning formatting and choosing cover photo Facebook size. That is our definite bonus that ensures people to collaborate with us.
As soon as you are sure that your photography has just perfect cover photo for fb size, it is high time to think about the originality of custom Facebook cover photos. Really unusual and totally creative custom fb covers will become an effective instrument in keeping your webpage fresh and amazing for your followers.
Just think about the amount of various pages that are created in Facebook. There are thousands and even hundreds of thousands pages. This number is definitely impressive. Thus, in order to be noticed, your custom Facebook cover photo as well as professional Facebook page design must be definitely eye-catching. It should be bright to such a great extent that every person should have interest to see more pictures on your profile with the hope that they are not less beautiful as front photo.
It is certainly hard to create your own Facebook cover photo without professional help of experienced specialists. They certainly know how to underline all strong features of your appearance in custom Facebook covers. Even the greatest images cannot be uploaded to social networks without digital editing. Very often you may not notice all imperfects that become visible to other users. Thus, before you are sure that your image is ready to be uploaded, you should consult specialists in this sphere of retouching custom cover photos for Facebook.
Our company has considerable experience. Due to years of successful work with custom Facebook page designs we have reached definite perfection in final outcomes. We know how all alluring custom cover photos for Facebook should look like and we are also aware of how to create a cover photo for Facebook in the shortest possible time. But still do not make crucial mistake and search for the quickest services, as such work is usually done automatically. Thus, there is no difference whether to choose some automatic plaguing or such low-quality services. The result concerning custom Facebook cover photos will be the same. It will be awful.
The best variant for you is to find specialists that will create a Facebook cover photo manually. This service will provide only custom fb covers of amazing quality. They definitely will stand out of the crowd of other covers. We know it for sure, because we have succeeded in this sphere. We have collaborated with numberless Facebook users.
In case you want to get mesmerizing Facebook page design and outstanding custom Facebook covers, contact our professional team. The process of placing an order is quite simple. The only thing you should do is to email our specialist, to find our website and to explain what you expect from your custom Facebook cover. We may provide modern users of social nets with a wide range of advanced techniques. They start with basic enhancing that is able to underline all your appealing facial features. Moreover, we may create Facebook cover photo collage that is also in the list of popular orders.
To create Facebook cover photo is easy?
Although the process of placing an order to create a cover photo for Facebook is quite simple for our customers, it does not certainly mean that the procedure of improving professional Facebook page design is free from difficulties. Concerning professional, but not amateur editors that create Facebook cover photo, we know for sure that this process is truly laborious as well as time-taking. So, what steps should all diligent photo manipulators come through in order to create a Facebook cover photo that will set apart from common photos from this social net?
The first step is choosing exactly excellent cover photo Facebook size. We do it firstly, because that is the rule that is believed to be the strictest. Photos with wrong size and formats simply will not be uploaded. Thus, all editing work will be done for nothing. One more issue that is connected with Facebook photo cover size is that resizing after all editing tools have been already applied may spoil the general retouching work. To be more precise formatting and resizing can make all editing efforts useless. Thus, that is the first step in working with custom fb covers.
After that we select design type that will be the most suitable for underlining your personal features. That is where your help will be of enormous importance. We realize that every client is unique and has specific views on his/her custom Facebook page designs. Some people tend to have romantic images that seem to be "warm" and pleasant. Someone considers this kind of pictures to be boring and certainly old-fashioned. Such people ask editors to make custom Facebook covers that will shine with brightness. Their main aim is to lure other followers with the help of eye-catching colors. We also have collaborated with some official pages for which we have created custom Facebook covers of strict and official style. Thus, you may be sure in our unsurpassed professionalism. No matter what kind editing you will ask for, together we will achieve perfection.
As soon as we understand what professional Facebook page design and cover photo you are waiting from our services, we make a special plan of all techniques that will be used in order to make this order. This step helps us to determine a particular amount of time that will be devoted to creating definitely perfect custom Facebook cover photo. In case our customer is satisfied with our deadline that we have announced, magic of photo enhancing begins.
---

---
First of all, we offer our clients to apply stunning portrait editing, as 90 percent of amazing custom Facebook cover photos are portraits. That is a definite tradition. Thus, that is the primary sphere of retouching if we are asked to make custom Facebook covers that will overcome clients` expectation. To make photographed face appealing and magnetic, our photo manipulators start with advanced skin editing. In this sophisticated sphere we are unrivaled masters in imperfects eliminating. You may be quite confident that all drawbacks starting from temporal blemishes or acne and finishing with permanent scars will be removed. Moreover, such option as professional skin airbrushing is also of extreme popularity. Actually, the result after this technique is exactly the same, but still this option will be more beneficial for editing portraits with high resolution.
Perfect skin is not the only one key to certain success concerning custom cover photos for Facebook. In order to make your glance definitely magnetic, we advise you to add digital make-up. That will make your eyes truly magnetic. But still we must be careful with this option in order not to make your look artificial and over edited. Otherwise, your custom fb cover will be a flop which will be used for teasing.
Online enhancing techniques that are also important parts of portrait improving are lips editing, removing unwanted stray hair from face parts and eyelashes lengthening. All these digital makeovers are able to create magic from your raw shots.
Professional portrait editing is not the limit for those who are eager to be proud of custom Facebook cover. Very often in order to get professionally looking front images, there is a need to apply advanced background removal service. This truly sophisticated technique includes common backdrop enhancing, deleting unwelcome photographed items and complete changing. Concerning the first service we should admit that it is the most time-consuming out of these three. It may consist of fixing blurred movements, advanced color saturation, adding necessary natural shadows and so on. If we take into consideration unwanted objects removal, here our stunning specialists apply either masking or clipping path options. A particular object is simply outlined and deleted or replaced. The main difference between masking and clipping lies first of all in type of unwelcome item that is needed to be vanished from a photo. In case this object is simple and without complicated angles, clipping path will be an excellent choice. And if our picture manipulators face a challenge to outline hair for instance, here masking will be quite helpful. View how our retouchers work in photo retouching before after samples.
Complete change of photo backdrop requires using the same digital options, but the main difference is that outlined items remain on a photo. Specialists change everything that is out from the circle. This technique is mainly asked for application when a user wants to get custom Facebook page design and front photos of unusual style. Here all new backdrops may be divided into naturally looking and those, which main aim is to create humorous effect. Concerning our experience in the sphere of enhancing custom Facebook covers, we must admit that humorous covers are definite leaders.
Time-taking work with colors is of extreme significance too. What distinguishes a professional covers from amateur photos? Definitely these are colors! Right coloring may create masterpieces that will grab everybody`s attention. Our specialists offer effective color saturation and adjusting. We know for 100 percent that all colors must be naturally looking, in case you do not want others to notice that your custom fb cover has been improved with the help of digital editing. Too bright or too dark tones seem to be quite unappealing, only if they are not a part of your photo concept.
Among contemporary Facebook users applying various filters to create Facebook cover photo collage or just common one photo covers are popular too. Such techniques enable to design covers without devoting incredible amounts of time. The only thing you should do is to choose appropriate layout that will enhance your photography. Still this method is mainly applied if you create your own Facebook cover photo. In case you decide to ask for professional help, automatic filters will not be suitable. You will get only manual editing that will surpass automatic services. That is so because brilliant retouching is a true art and not a single machine is able to outcall it. Just look at the High End retouching examples many photo enhancement companies provide!
We also can be ordered to create Facebook cover photo collage. That is new trend concerning appealing covers in social networks. When you are already fed up with common photos and want to make your Facebook page design unrivaled, picture collage is a sure-fire way to set your profile apart. This tendency is new, but still more and more people tend to get involved in it.
Adding labels is also very useful in case you want to get amazing professional Facebook page design and unrivaled front images. We will provide you with a wide choice of fonts that will suit exactly your image. In case you are eager to add labels, but have no idea how they look like and what to write, feel free to contact our specialists. They will definitely advise what to do.
How to create Facebook cover photo collage?
If you are interested in making your custom Facebook page design really unsurpassed and unusual, you definitely have noticed that nowadays on internet there are a lot of online applications for making covers. From the first sight it may seem that these services are much better than collaborating with professional companies. Such applications may be usually used for free. That is their main bonus that lures most users. Moreover, they enable to create a cover photo for Facebook within several clicks and minutes. But still, is it as simple and beneficial as a lot of people used to think?
---

---
Definitely the only advantages of online apps are low costs and time devoted to application. They are cheap if not free and fast in using. But still such applications offer a standard range of effects and layouts. Thus, for those people, who want to get creative custom fb covers they are not useful and interesting. If you try to create your own Facebook cover photo with their help you will feel all disadvantages of automatic editing.
Such demanding people, who care about the attractiveness of their custom Facebook page designs, tend to work with reliable editing companies like ours. They know that everything which is wide-spread cannot be original, all modern techniques of jewellery retouching services in the USA. So, they outsource their images for professional retouching and finally get awesome custom cover photos for Facebook.
Users, who care about Facebook page design, know for sure that picture editing is a laborious manual art. Surely all applications are modern and up-to-date, but still they cannot replace real talent of skillful editor. Such machines work according to a strict scheme without any exception. But every picture is unique with different characteristics. And if for one custom Facebook cover photo standard settings and effects will be suitable, another picture they will turn into a complete flop. You should be aware of this fact before you create your own Facebook cover photo without help of talented editors.
To make custom Facebook covers is definitely not easy task. Professional photo manipulators should know all requirements concerning suitable formats/size, secrets about retouching techniques and surely have profound knowledge in such advanced image improving programs as LightRoom, Photoshop or others. Can you get this amazing combination of complicated tasks while working with online applications? Definitely that is impossible. You should follow outsource photo retouching services like ours.
To create a Facebook cover photo enthusiastic image editors use modern picture enhancing software. Nowadays the most used one is surely Photoshop. It is so, because it enables diligent photo retouchers to create a cover photo for Facebook that will mesmerize everybody. Really endless possibilities set Photoshop apart from other editing programs. Thus, the main task for our picture manipulators is to master skills exactly in this advanced software.
With the help of Photoshop we may reach any level of perfection. Even if we are ordered to create Facebook cover photo collage, that is believed to the most laborious and sophisticated type of retouching images for social nets, we are not afraid of this challenge. Besides, we provide wedding photography post production if you need a commercial collage you're your wedding photography portfolio cover. We know for sure that Photoshop will offer all necessary tools to make this photography alluring. With its support we may please our customers with stunning photo manipulation services, incredible appearance improving and hair-raising picture montage and so on. Can you imagine these great services to be applied automatically?
Want to get custom Facebook page design?
For what do people need professional Facebook page design and outstanding picture editing? The main reason for asking for masterful image retouching or even sometimes for old photo restoration services is a wish to stand out from the crowd of other online web pages and to be definitely noticed. Mainly people, who collaborate with highly qualified editors, have official pages. It means that they use their profiles either for promoting their creative work or for presenting their unique personalities.
Such people usually tend to have creative custom Facebook page design. They do not economize on time, efforts and money for making their profiles better. That is a kind of habit for them. A lot of people tend to think that such creative persons are obsessed with social networks. We want to ruin this old-fashioned myth. In modern reality, where an average person spends at least 4 hours per day in social networks, our profile may be thought to be our second face. Some moms even use baby photo retouching to make their babies' photographs more attractive and eye catching. So, is there sense to be indifferent and neglect it?
But still, not only people, who are connected with art spheres, should ask for making unsurpassed custom Facebook page designs. Every person should use headshot retouching to get alluring images in order to present himself/herself in the most magnetic way. Social nets have become an inevitable part of modern reality, as almost everybody has online profiles and those who do not, plan to create it. Thus, custom Facebook cover photos are not new things for us and we should not be detached from them.
One more reason to create Facebook cover photo with professional assistance is to promote yourself more if you are a public person. Social nets are useful tool to make a statement. Still to make a page that will be worth everybody`s appreciation is not an easy task. But together with our post processing services for photographers you will overcome all possible difficulties.
Our specialists have perfected their design and editing skills. Thus, creating awesome Facebook page is easier than ever. Our team offers all range of cheap photo editing services that deal with portrait and body retouching, effective backdrop editing and creative image manipulations. Furthermore, we enable customers to make mesmerizing one-of-the-kind photo collages that will impress everybody. In case they have favorite sayings or quotes, we are ready to put them in outstanding design and add to your photography.
Our customers always have fun with collaborating with us, as our friendly team does everything to make communication informal, but still informative. In our retouching blog you will find the latest trend in photo editing and photography industry in general. Clients usually feel free to clear out all necessary questions as we are open to give a helping hand for them any time they need it. That is what makes our service to be so popular. We appreciate our reputation and do not want to spoil it at all. Thus, every customer is precious for us. We try to treat him/her with thorough care. Try to create a neat cover on Facebook with our assistance and you will not ask for other editing companies.
Concerning prices for retouching, we do not promise that our rates are the lowest. But still we provide reasonable prices only especially if you need product photo retouching services. It saves big sums of money. We know that as a rule the cheapest prices do not bring any good quality. And in case you want to get really awesome outcomes, you should search for at least average pricing list. That will save you from collaborating with low quality companies and even swindlers. Our editing service has found golden balance between prices that will be suitable for every pocket and rates that will cover all efforts that have been devoted to retouching by our specialists.
We are convinced that you will not have reasons to complain about. For the years of editing we have not spoilt any image, no matter what genre or retouching level you require - color correction service or family photo editing online. Thus, all customers are more than satisfied by our quality and professionalism. If you want to find more facts about our company, find our page on internet. Here you will get maximum information out our offered options and unsurpassed team. We provide a lot of advanced services from the most basic ones, such as color correction, to really advanced ones, such as antique picture repairing.
---
►

Special Spring Offer




• Join our group




• Share this post




• Download free custom Facebook cover photo right now!




Download here,

100% FREE!!
---