Types of photo manipulation– only mind-blowing examples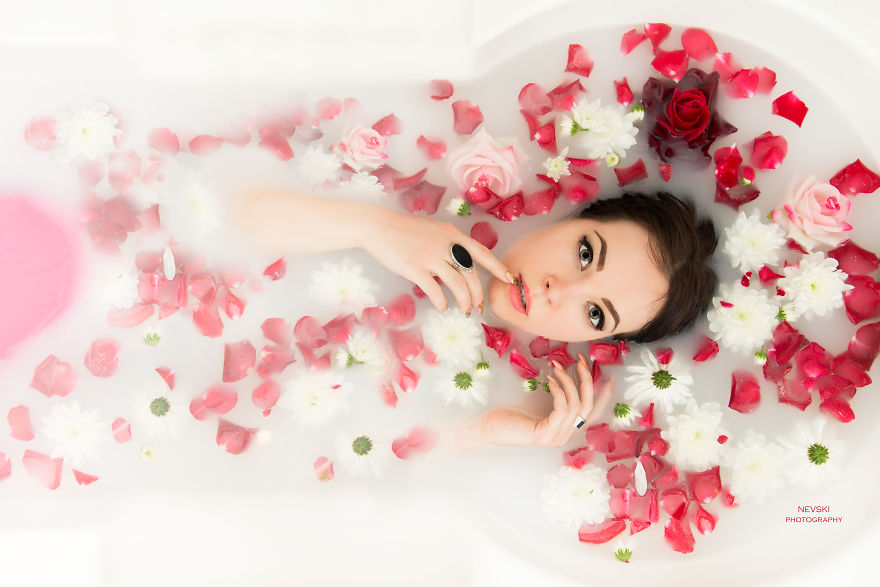 It`s not a secret that modern photo post production services are developing from day bringing new possibilities for picture manipulations which we can see after having googled "photo manipulation before and after". Thus, today every photo can undergo not only professional and so common image retouching with rather predictable results, but some unusual ones. Nowadays the biggest trend is improving ordinary photographing samples with manipulation art as that is the most incredible modern digital art. Our photo manipulators are not ready to fall behind all contemporary trends. We are eager to widen the sphere of picture manipulation`s application and create Photoshop manipulation tutorials. So, to achieve this, we have compiled the list of the most overwhelming impressive examples of manipulation`s styles. Are you ready to get down into the world of awesome photo manipulations?
Easy photo manipulation ideas - types of photo manipulation
1) Funky Extrude
Today not all people know that there is such a kind of amazing photo manipulation effects as this one. The most surprising thing is that this effect is rather simple without losing in its uniqueness. So, what should be done in order to achieve this cool beauty? Should we replace photo manipulation backgrounds or colorize the picture? The useful and the most important step, which is simultaneously the first one, is changing the background of a photo you work with. Usually, qualified photo manipulators use some stylish textures that suits to a processed photo. And important thing is not to forget to make a copy of a background layer. This way you always have a chance to return to the original backdrop.
After it you find Filters and choose Extrude. After this you are to choose what type, we mean blocks or pyramids, you like more. Mention that the bigger size you select, the longer figures you will get, but the most preferable is 20. And also choose Random option. As soon as you do it, the whole surface of the picture will be changed. In order to have the desired photo manipulation before and after outcome, take layer mask, then take a brush and make sure you have a white backdrop. So, you just apply a brush in the areas that should undergo transformation, leaving all unnecessary untouched.
Everything about creating this photo digital photomanipulation you will find in the following video, so make you have enough time to repeat all this. Learning something new is also great, as who knows, maybe this knowledge will be important for your business. To know more read 5 tips to start your editing business.
2) Cracked-skin-effect
This modern effect will change your thoughts about portrait retouch. The main idea and simultaneously the main complicity is to combine the original variant of the photo and its improved texture that contains the cracked effect. Again, like in the first example the most important thing is to choose a texture that will become a base for a final look.
For you comfort, put both the raw image and the chosen texture into one document and create two separate levels for them. By adjusting opacity of the texture, you may regulate what area of face will be "Cracked". Notice that usually these changings look great on skin, but not eyes. Then, with the help of transformation tool, you just wrap the corners of the texture adjusting it to the face shape. Then you go to filter and find Leak of eye.
This digital photomanipulation looks quite effective and unusual in varied advertisements and, that is surprising, in fashion magazines, because modern designers are in search of something fresh and at the same time unforgettable.
3) Red/Cyan 3D effect
This effect will help your photos to stand out from the mass or ordinary pictures. It will bring you, as a photo retoucher, lots of pleasure and experience necessary for widening your career horizons and broaden your photo manipulation before and after portfolio. Additionally, you will have a chance to impress viewers, as by wearing 3D glasses improved photos will revive.
So, how to achieve this 3D digital photomanipulation? To make it, let`s find out what 3D effect is. That is a special effect when one object is photographed from different angles in order to achieve the effect of "a live photo". In case you want to change the ordinary picture according to this manipulation, you will need RGB Color mode. Before starting retouching, you should create several copies of a photo. After it, choose "Channels" and isolate red channel and make it greater with Move Tool. After it, you just create a mask with the adjustment "White opacity". To make the mask work, select soft round brush and highlight the areas you want to mask out.
If you get really interested in this photo manipulation, we gladly advise you to look this fabulous tutorial. That will give you a possibility to repeat the same effect step by step. Moreover, that will be a brilliant chance to test your patience and ability to open new horizons.
4) Halftone Dots Photoshop effect
The next effect enables to get photos as if from vintage newspaper or advertisements. The main idea of this modern photo manipulation is that it divides a picture into numberless dots that may be either colorful or monochrome. This option is named a Halftone.
The most pleasing is that applying this effect either to portrait, wedding or even landscape photography is equally successful. Believe that on every type of pictures it brings special beauty. The first thing you have to mention that in case you have colorful photography, halftone will be also colorful. And in case you deal with black and white photos, the final halftone will be monochrome.
To achieve the desirable effect you should choose "angle gradient" and run Twirl filter. After doing this, you have to go to Mode menu and select Bitmap. By choosing this option you will certainly be asked what you want to do with selected grey tones of an image. Do not make mistake and allow the program to turn all dark pixels into black dots and all light pixels into white. That is not interesting anymore and does not suit professional photography. And again in order to repeat everything step by step and get improved photo manipulation before and after samples not less gorgeous as these before and after retouch, watch this and discover a new world.
5) Crt screen effect Photoshop
In case the first photo has made you interested in the following photo manipulation variant, you are quick to please you with the piece of news. This effect is so simple to be achieved, so that even Photoshop beginners will be able to improve pictures with it and receive varied compliments about their creativity and talent.
Like the previous one, it simply turns an ordinary photo into a certain combination of dots. It is quite useful for Instagram photography, Facebook cover in case we speak about private using and for advertising if you mention commercial using. Besides, due to the immense popularity of Instagram, we advise looking through Promotion and tips how to have a successful Instagram account for photographers.
To get the proper result, create a new file with RGB. Then just press D and zoom your image as much as possible. Usually the maximum is 3200%. After it you just choose Rectangle tool and make a square. You will have to repeat the same operation 9 times. Notice that each time you will have to choose a different color and more about the most used color combination you will find on the internet. As soon as you are ready, go to background layer and choose Flatten image and after it go to Edit and select Define pattern. All these operations enable you to get a pattern with the help of which you will transform the necessary photography. In this video you will find this photo manipulation before and after applied.
6) R 3D effect
Most editors consider anaglyphic photo effect to be rather complicated. That is why despite its undeniable beauty and a great ability to bring freshness to every photo, we cannot claim that this photo manipulation ideas are widely used. Lots of contemporary photo manipulators are afraid to start working with such effects. Still, on the professional level this manipulation effect can be rather beneficial and definitely unusual. The most interesting in case it is used in varied logos and advertisements, as with them any picture and billboard looks quite eye-catching.
The effect lies in the idea to transform a 2 dimensional photo into 3 dimensional one. Firstly, with Lasso tool you have to select the necessary area that will undergo transformation. After you have to make copies of the background level and for each level you should choose the right channel (green, red and blue). Then, everything you should know is explained in the following video.
7) Easy cartoon Photoshop
Want to have a bit of fun? Then this photo manipulation variant is perfect for you. Just imagine that with its help everyone can become a hero of a cartoon.
Interesting? Sure thing and the most wonderful that its creation is not more complicated than common headshot retouching, to which we are already used.
The first step is to choose from Filter gallery Poster edges. Then make multiple copies of the original image. Go to Adjustment and choose Threshold. After the achieved result take a soft brush and clean the backdrop. To see how it is applied and to find out details about further editing, watch this.
8) Ink Smudge Effect
This effect is in the list of the most gorgeous photo manipulation examples. The final look it produces can hardly be explained in simple words, it should be just assessed. For its uniqueness and ability to produce somehow alluring and even mysterious photo samples, it has become so popular.
To begin you should select Dry brush, which you can find among Artistic filters and select the whole canvas. Then darken the image and apply layer mask.
After it upload an image with ink and change the blending mode to "Multiply". More about the described effect you will find here. After it you will have a step by step instruction of how to turn photography into "ink masterpieces".
9) Easy Smoke Dispersion Effect in Photoshop
That is the most mysterious sample of hair-raising photo manipulation variants that are described in the article. Despite considerable simplicity of application, the final look it produces can be compared only with high-quality picture retouching that only photo manipulation experts can provide. Do you want to do the same? Then you are on the right way.
For getting such unrivalled result you will be in need of two components. They are Liquefy tool and Smoke brushes. Notice that such brushes are not included into the standard list of Photoshop brushes. Thus, you will have to upload them to get this dispersion effect. Firstly, you just cut out the captured model and mask. So, you are ready to begin effect application and realize these photo manipulation ideas in life.
This manipulation enables to make the photographed model just disappear in the air. For varied advertisements that is a definitely fresh idea and, thereafter, such popular. But believe, even hesitating beginners will cope with this sample of Photoshop power.
10) Create a Human Robot Hybrid in Photoshop
Here the most important is to find a suitable photo. Brilliant will be to use a photo with captured model face and body, preferably in underwear in order to underline all body lines. Then, the effect of transforming photographed model into half-machines will be the most impressive.
Start with selecting the model image with Pen tool and duplicate it on the additional level. Then in "select" choose Modify and Contract. Mind that all lines that will make your model look like a real robot you will have to create yourself with a help of Pen tool. In addition, use Delete Key to erase the part of model`s body. After all these operations, you will achieve the effect of "a real machine".
11) How to create a Pixelated effect in Photoshop
Are you ready to exercise your creativity with this awesome Pixelated effect? This example of photo manipulation is able to change every ordinary picture so dramatically that it even may become unrecognizable.
The start of editing is common, as you just choose the picture you want to improve and make several copies of it. Then, you are to go to Filters, select "Pixelate" and click "Mosaic". You will see the slider with the help of which you will increase or, on the contrary, decrease the number of pixels. Move the slider to the right and you will get a fewer number of visible pixels. After, it will be quite great to add photo color correction services in order to achieve the completed creative photography. Believe, even experienced photographers will be impressed.
12) Glitch Portrait Effect in Photoshop
This modern picture manipulation is known due to a huge variety of its variants. Still, this fact emphasizes only one idea. That is the undeniable popularity of the described Photoshop effect
For this impressive manipulation you will have to select a photo where a model is captured with clear visible edges. That is needed, because you will have to select him/her from the initial backdrop and put it on a white one. And, as usual, you are to make several copies of it and if want you may desaturate a photo.
If you want to repeat the same photo manipulation ideas with your photography, see this video and get a possibility to have a step by step tutorial.
13) Paint Splash Effect using Photoshop
This colorful photo manipulation is known to be used not only for improving portrait photography, but also in popular product retouching. The reason is that this effect suits ideally for advertising campaigns, because it attracts attention exactly to the picture that you have edited leaving behind other photos.
Notice that you will have to upload this preset. Thus, you go to Actions and add Paint action. Together with it, new brushes that come in combination will be automatically added. After everything is ready, select the necessary photo part and with Paint Bucket tool it will undergo changes.
14) Create a Double Exposure Effect with Photoshop
To achieve this unforgettable beauty, firstly you will have to choose the suitable photo with more or less one-color background. With Magic wand tool you should select the necessary photo object. Then, choose the second photo that will "fill in" the first one. Monochrome landscapes are the most appropriate, mind it.
Then with layer mask thumbnail you will merge two photos. After some little retouching details according to your taste you will get really mind-blowing results that certainly will be discussed.
Our company is open to any kind of the described photo manipulation. Specialist that we have already gathered into a friendly team, are experts in this branch of Photoshop possibilities and photo manipulation ideas. You will be amazed when noticing how wonderful retouching may be for such modest photo editing prices. We will prove you that with enthusiasm, talent, patience and Photoshop, your photos may be improved in the most mind-blowing ways.
There are no limits for FixThePhoto.
Do you like the article? Please feel free to share it via your social accounts.
---
Pay attention this photography blog which does not require credit for the pictures and photo post production examples listed here . All photographs used in the article are only copyright to their respectful creators . These shots posted as a big admiration of portfolio and photo retouching talent the experienced rt masters have . If you found the photo on this post that is yours and do not want to be promoted on our website , please do not hesitate to write us via online chat on your right and it will be quickly deleted .
---
Rate the article!
The article's rating:
---
You comments or questions are welcome; please share your opinion on the topic.
Use Facebook:
Use Disqus: