Useful architectural rendering Photoshop tricks & tips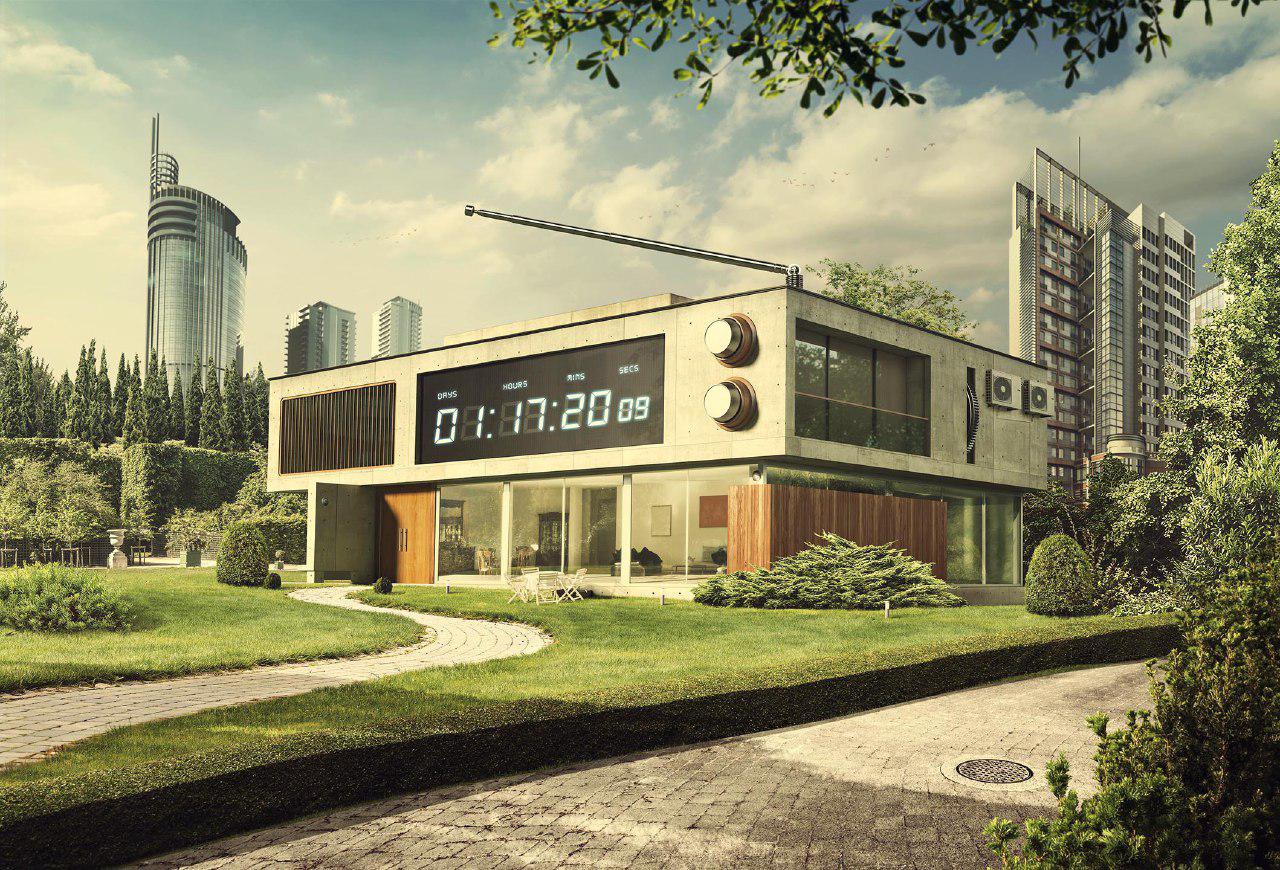 You know that samples of before and after retouch done by FixThePhoto specialists or photo masters from other firms vary not only in genres, but also in the complicity of editing task. Every modern photographers and even people that do not have connections with retouching know that current photo improving is not limited by ordinary portraits or all the same wedding pictures. Nowadays Photoshop solves tasks of the higher level of difficulty. And this makes Photoshop widely used in different spheres. And this article we will focus our attention on the connection between this "retouching helper" and interior design or even architectural projects.
Seem surprisingly? But Photoshop has already shown all benefits to enjoy even in these complicated spheres. The biggest amount of tasks that are trusted to this problem is devoted to Photoshop architecture rendering. Still do not know what is it? Then watch this video and make yourself more educated about this topic. You will see that with the help of skilled hand an amazing visualization of a house may be created so perfectly that you will recognize Photoshop work and think that it is a shot.
Now when you have seen how laborious the process of Photoshop rendering architecture is and your wish to know more about it is still powerful, we will reveal all secrets of this Photoshop sphere. Let`s get started and open some new horizons and hidden sides of already known programs.
Photoshop for architectural rendering – let`s understand the starting steps
Every time you see some unknown terms and want to understand it in details, you should realize meanings of its every component. Thus, what is rendering and how it is connected with editing?
Rendering is a widely-used term in modern computer graphics that denotes the process of professional obtaining an image from a raw model using a special computer program. In this case the model is a description of any necessary objects or particular phenomena in a completely defined language or in the definite form of a structure of data. In most cases pictures that are received after rending is of satisfactory quality, but still they are not ready and perfect enough to be immediately shown to clients.
In the broadest meaning the word rendering is the popular term of complicated computer graphics, which means the process of photo visualization, or the construction of an image, a model using a computer program. Who does the rendering? The most commonly found profession requiring from you the knowledge of rendering is as it called "3D designer". A specialist of this sphere can create any kind of digital magic and everything from an elementary banner to computer games.
Often in contemporary computer graphics, it can be artistic and even technical, under the word rendering (or also 3D rendering) is realized a process of digital creating a flat image, it also can be named as digital bitmap file. A synonym can be, but only in this particular context, is digital visualization. Logically, now we need simple explanation of the word visualization.
Visualization nowadays is certainly one of the most essential sections in modern computer graphics, and in wide practice it is related in a close way to other Photoshop spheres. Typically, sophisticated 3D modeling and digital animation software packages may consist of a rendering or visualization function. There are other software products, which are separate, that perform rendering, but if you are not engaged in this sphere, you do not need them. More interesting for you will be to focus attention on the results of rendering in different industries.
Depending on the important goal, rendering is considered as a rather slow process of visualization, used mainly for video creation, and rendering of real-time, for instance, in computer games. The last always uses 3D accelerators. But we will not go in such small details and will present to you only useful architectural rendering Photoshop tricks and certainly varied Photoshop tutorials for architectural rendering. With their help you will know how to use Photoshop for architectural renderings for solving current tasks of low and middle difficulty. But remember that for really complicated task, you should search for a professional help.
Photoshop rendering architecture – how are amazing architectural pictures created?
Designers, sure thing, do not present their projects of different interiors in the form of hand-made pictures, as modern technologies have already open hew possibilities for advertising their works in digital ways. Thus, the basement of either interior or exterior is created in the special programs. In general the most used is 3D Max.
Still it's not a secret that rendering an architectural visualization in 3D MAX is not everything that is needed for designers. After this program there is a possibility to get images that are worth attention, but still they must be further improved. Thus, a decent piece of work still has to be done in Photoshop. Why it is so useful?
We always adhere to the opinion that it is necessary to do in Photoshop to the maximum of your possibilities, as it will save much time and effort in 3ds max. The biggest plus of the system is its versatility. Using the same steps you can do postproduction of an office interior, a residential complex, a nightclub or a restaurant. Having understood all necessary architectural rendering Photoshop tricks and watched Photoshop architectural rendering tutorial you will be able to improve every type of interior images.
Once again, it's no secret that nowadays pure rendering with 3ds max or other 3d programs has not to be shown to customers. A lot of additional effects are to be use with the one aim, which is to make a picture or animation "delicious to client`s eyes." To do this, specialists use programs such as Photoshop for pictures or After Effects, Nuke or Fusion for animation. Very often in the post-processing phase, adding a nice color-coder enables a picture to become animated and consequently more effective. In the animation, experienced users usually remove flicker, overwrite unsuccessful places and add additional elements according to the demanded result.
Post-processing is needed solely to give individuality to a picture, so that images from different people would not be similar to each other as the twins. That will be too boring to modern demanding customers in the world where unique features are the most precious.
On the other hand, if you think about Photoshop architecture rendering as an alluring sphere for you, consider that it's really not an art thing at all. It is rather informative, although there are exceptions, because the purpose of the architectural presentation is to show the would-be existing object with all details, not some atmosphere. Just when the object is displayed, you can transfer some characteristic of the object using the general atmosphere of the picture. In general, post-processing should be sculpted not just in a vague way. It must be very thoughtfully and even ideally well presented. Or it must just stand out from the ordinary mass, in order to be noticed and further chosen.
How to use Photoshop for architectural renderings – the most popular methods
Nowadays many visualization algorithms have been developed for making our life considerably easier. Their variety is so huge that it will take much time to find hand or tail in them. To make things even more complicated, existing software can use several algorithms at a time to obtain the final image. Thus, you should be aware of their combinability too. Let`s consider the most simple ones.
The first comes light tracing. The laborious tracing of each light ray in a scene is totally impractical and takes an unacceptably much time. Even tracing a small number of rays, sufficient to get an image, takes a huge amount of time if no approximation or sampling is applied.
Because of this, four groups of methods were developed, more effective than simulating all the rays of light that illuminate the necessary interior scene.
Rasterization together with the scanning of lines is a common thing for applying Photoshop for architectural rendering. Visualization is carried out by projecting the objects on the screen without considering the perspective effect on the observer, to be more precise a customer.
Then we will consider ray casting. The scene is seen as an observable from a certain point. From the point of observation, rays are directed to the items of the scene, as with their appearance the color of the pixel on the two-dimensional screen is determined. In this case, the rays stop their propagation, unlike the method of reverse tracing, when they reach any object of the scene or its background. It is possible to use some very simple ways of adding optical effects. The perspective effect is obtained naturally in the case when the light rays are thrown at an angle depending on the position of the pixel on the screen and the maximum viewing angle of the camera.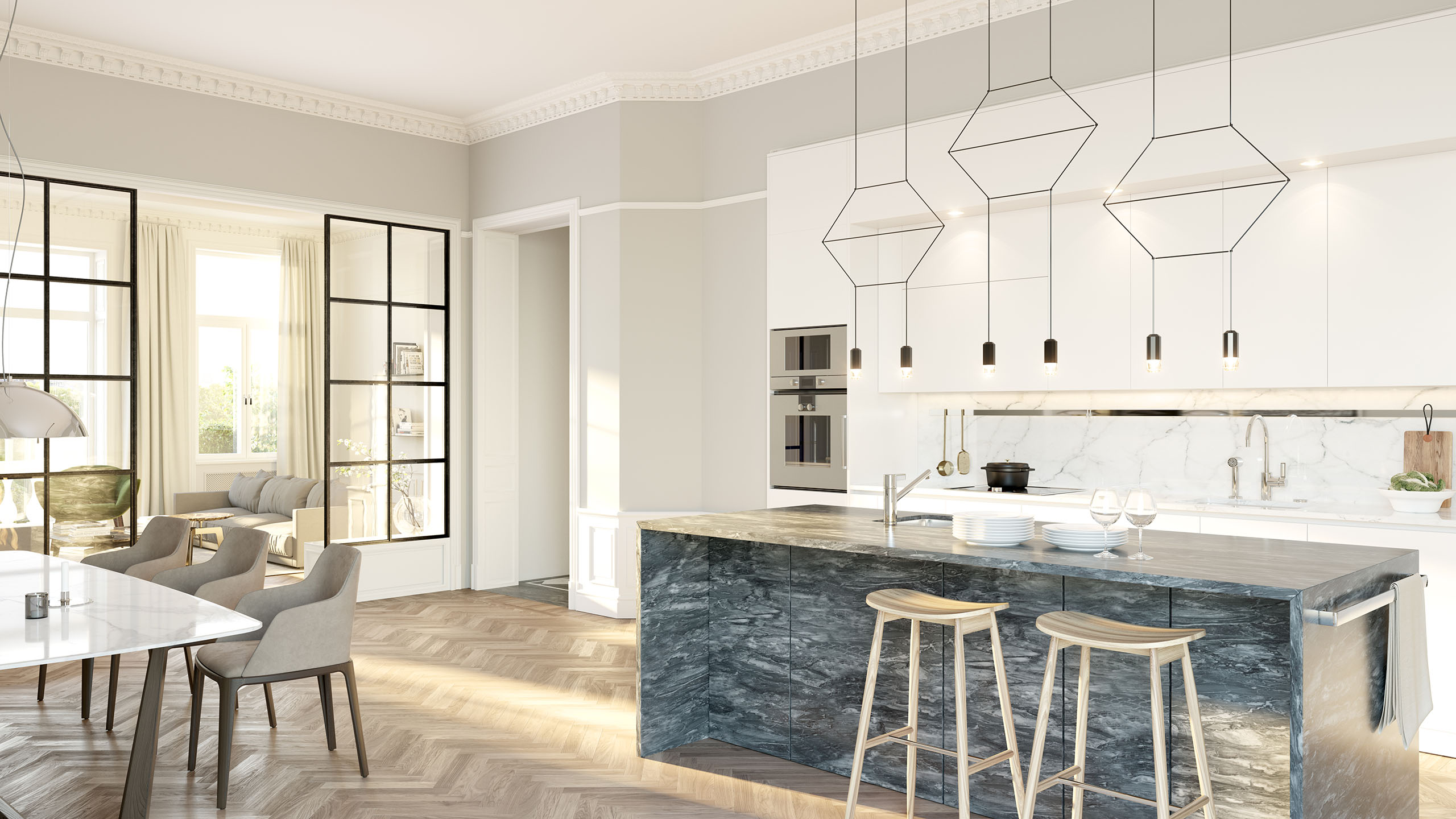 Ray tracing is similar to the method of throwing rays. From the point of observation, rays are directed to the objects of the scene, with the help of which the color of the pixel on the two-dimensional screen is determined. But the rays do not stop their propagation, but they are divided into three ray-components, each contributes to the color of the pixel on a two-dimensional screen: reflected, shadowed and refracted. The number of such components determines the depth of the trace and affects the quality and photorealism of the image. Due to its conceptual features, the method makes it possible to obtain very photorealistic images, however, because of the high resource consumption, the visualization process takes considerable time.
Path tracing uses a similar ray tracing principle, but this method is quite approximate to the physical laws of light propagation. Also it is the most resource-intensive. Advanced software usually combines several techniques to obtain a sufficient high-quality and photorealistic image for acceptable computational resource costs.
Still method description is a good and useful thing, but for us it is much more convenient to see than to read. Thus, in the following video, which is a Photoshop architectural rendering tutorial, you will see all described methods in action. You will understand with your own eyes how they influence the surface of the picture.
If you want to know more exactly about light and exactly light rays, we also have a pleasant piece of news for you. Out of numberless videos and Photoshop tutorials for architectural rendering we have chosen only one that will not leave any of your questions unanswered. In general, it is devoted to the adding dramatic light to interior picture, but still while explaining all kinds of light are deeply considered. So, enjoy watching.
If you like this video and want to make your knowledge of Photoshop more proficient, then we have a great surprise for you. On our website we have a collection of great tutorials. Here you will find everything that may help you to enhance digital photography. Read this 2017 Best Photoshop tutorials on YouTube.
Why is Photoshop architecture rendering so helpful?
Sure thing that all descriptions and monotonous explanations may be interested for someone, but we stick to the point that for better understanding everything must be explained with the help of pictures and colorful schemes. Thus, even those, who do not need this topic, will have at least some shallow impression about Photoshop rendering architecture.
Firstly, you should see raw images that designers get after creating their projects in 3dmax. Sure thing they contain all important details, all pieces of furniture and so on. But still such images look more like schemes than like photos for presentation to clients. It seems that they do not contain live and that strange feeling of warmness. In simple words such images are not suitable for customers. That is where Photoshop is always at hand.
Let`s consider the most frequent troubles of raw 3dmax pictures on the bases of this image. The list of problems is like this:
1) Lams are not working
2) All pieces of glass and mirrors do not look like real glass
3) There is no alluring deepness of the picture
4) Ceiling seems to be too dark
5) The light from the window is unnatural
6) All shadows are unsaturated.
Separately these problems are not very crucial for the final look of the presented interior, but in combination they create an unnatural look. Still for modern specialists everything may be solved with the help of architectural rendering Photoshop tricks.
All tricks are divided into three steps, which are photo color correction services, adding lens effects of camera and adding lightning effects. Each is further subdivided into small steps. Consider our table, that we have specially created for you.
Color correction includes:
- White color adjustment
- Picture highlighting
- Contrast and shadow adding
- Separation of shadow and visible light
Adding lens effects of camera means that we will do:
- Vignetting
- Abberations
What is aberration? This is the name of a small defect that appears when shooting with a camera. We add it specially to give the picture realism. This can be done in two ways. The first is just to move slightly the RGB layers. The second is by means of a filter. Execute FILTER / DISTORT / Lens CORRECTION. A window will appear in which you can make a slight aberration, radial obscuration and a few other useful things that are easy to understand.
- improving depth of field
- Division into plans
Adding light effects presupposes:
- Volumetric light
- Glare from the sun
- Light from lamps
- Light from the window and the sky.
So, what we will see in the end after everything is improved and enhanced?
On the presented picture you will see that:
1) The lamps are working
2) Glass pieces look like real glass.
3) Appeared visible planning, depth and difference in color.
4) Light ceiling is just the same as in perfect interior photography.
5) Natural Outdoor light seems also alluring.
6) Saturated shadows also contribute to the beauty of presented interior.
Besides, if you feel that everything described is too simple for you and you consider yourself to be real master, then read this Try things out with photography contests 2017. Here you will find all photo contests that are connected either with photography or editing to try your luck in. who knows, maybe here you will become a great winner.
Still that is not the end of perfection. If your picture has a view of the window aperture, then in Photoshop you can easily create a small nebula of light pouring from it. To do this, create a new layer and through it we draw our window so that the stroke simulates the drop of light on the objects. After that, just take the gradient fill, give it a transparency and apply it to our selection. Blurring the edges is achieved by using a simple eraser with a soft brush.
A very interesting and popular filter is DIFFUSE GLOW, which gives the bright areas of the picture some blurriness and whiteness. The final step is the using of the SMART SHARPEN filter, which will give the image good clarity. Most often, a simple post-processing is limited to these functions, but if you want something more, then look for professional Photoshop tutorials for architectural rendering. They will definitely help you to understand how to use Photoshop for architectural renderings. If you are shot of time, then just ask for providing Photoshop for architectural rendering by real specialists that have devote not one year to this sphere and understand what to do with your image after several seconds.
Such specialists definitely work in our photo post production services. For sure, we hope that with this Photoshop architectural rendering tutorial now you have at least a shallow impression about architectural visualization, but still it is not enough to solve complicated tasks on your own. But at least you may try and start. In case of having troubles or questions, we are always here to support you.
Photoshop rendering is only a little part of services that you present. Mainly we work with advertising photographing and private editing. Thus, portrait retouch full of unpredictable surprises and headshot retouching that is always strict and demanding, formulate the bulk of our main retouching tasks. And product editing is also in the list of leaders, as we have mentioned photo improvement for advertising.
A lot of customers chose us due to several reasons. For sure we are not able to know all of them, as we only see one side of cooperation, which is ours. But still, we know that photo editing prices are in the list of these reasons. They are perfectly low, but still they reflect our quality, which is extremely high to be noticed.
For us the main reason is that we love what we do and we understand what should be done in order for a photo to look its best. We know that every editing program is very difficult for understanding. Otherwise, every person is able to use it for their purposes and the necessity of professional retouching will be considerably reduced. But still, modern programs are so great and complicated that only real masters, who have chosen editing as profession, can get such magnificent results.
Do you like the article? Please feel free to share it via your social accounts.
---
Pay attention this photography blog which does not require credit for the pictures and photo post production examples listed here . All photographs used in the article are only copyright to their respectful creators . These shots posted as a big admiration of portfolio and photo retouching talent the experienced rt masters have . If you found the photo on this post that is yours and do not want to be promoted on our website , please do not hesitate to write us via online chat on your right and it will be quickly deleted .
---
Rate the article!
The article's rating:
---
You comments or questions are welcome; please share your opinion on the topic.
Use Facebook:
Use Disqus: