ON1 Photo RAW Review
Can ON1 Photo RAW replace Adobe Co. products? Can we name this app a new, better alternative for old Adobe photo editing softwares? ON1 Photo RAW 2018 is a powerful yet easy-to-use photo editor, RAW processor with the essential photo editing workflow all photographers need in their work. The ON1 ideas and feedback helped deliver the best available app for photographers on both Mac and Windows.
---
Contents:
ON1 Photo RAW 2018 vs Lightroom
ON1 Photo RAW 2018 vs Capture One
---
ON1 Photo RAW 2018 features fast images organization, various customizable image effects, fast and beautiful HDR, panos, masking and selection tools, layers in one app with no subscription.
Nowadays when Adobe continues releasing updating Lightroom versions, and doing it worse and worse every time, as well as changing the policies and releasing Lightroom CC, photographers are thinking seriously about changing this standard RAW editor.
Who needs ON1 Photo RAW for?
Without doubt, new users in photo industry will like everything about easiness and fast in watching and sorting RAW files this app offers. Every user can gain interesting results applying filters and basic editing. Experienced photographers will get more control on their ready photos. You can control everything, color, details, skin retouching, noises and many other interesting things. If you are going to use it as a plugin together with Adobe Photoshop, like I do, so, it is amazing.
ON1 Photo RAW's pros & cons
Capture One is one of the most popular opponents of Lightroom, but due to the complicated interface, new users who got used to the simple Lightroom interface, take difficulties in working with Capture One. That is why, after the latest release of ON1 Photo RAW, it became very popular and there are numerous reasons for that.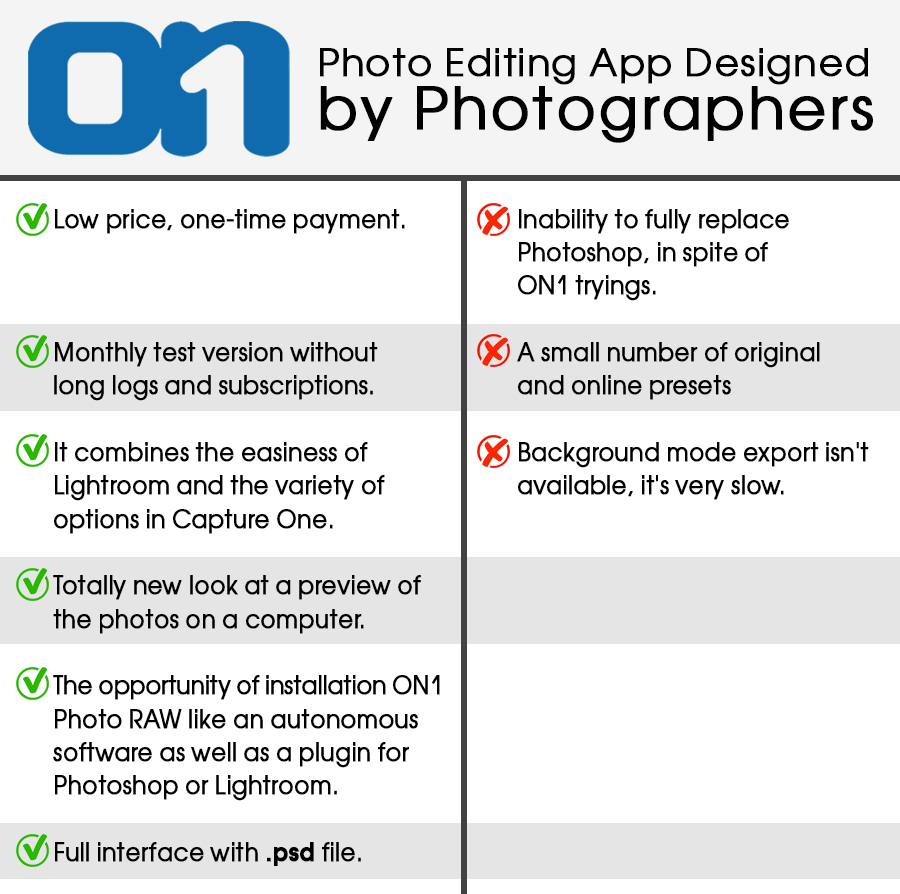 ON1 Photo RAW price
The photographers were shocked when Adobe Co. stopped selling the full Lightroom version, and offered just $9.99/month subscription. The Capture One's system is simpler - $20/month subscription or buying the full version for $299.
ON1 is the winner: it's $99-119 one-time payment. Buying the application you get some sets of presets and 2 professional how-to use video tutorials. You know I'm not sure about Lightroom's work, because when I stop paying for its subscription, it won't work. With ON1 I forget about that problem.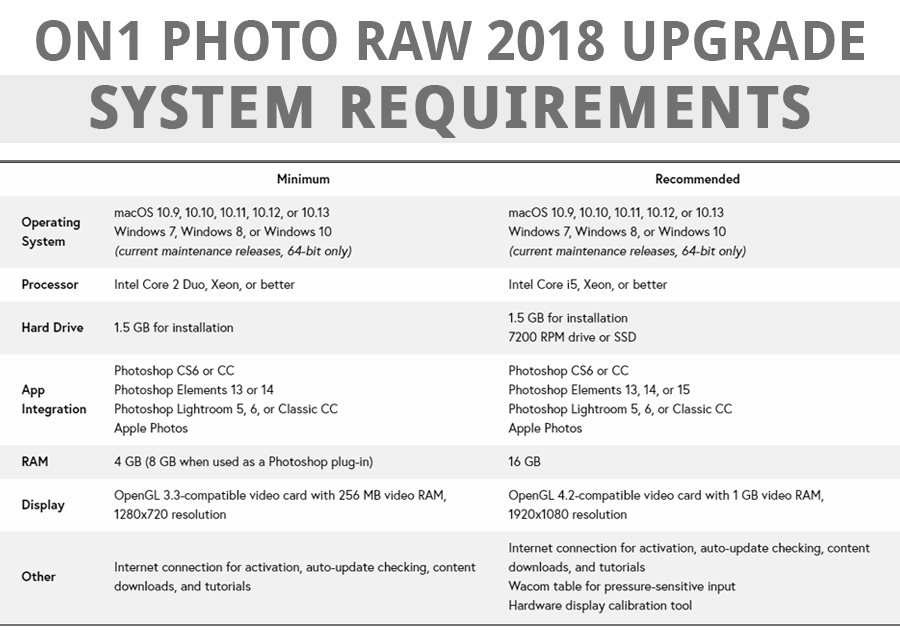 ON1 Photo RAW modules
Browse Photo Module
PHOTO DOWNLOAD
You open the app and… no, you needn't to import your pics, creating a special catalogue or download them from the folder to the app. Here is a "Browse" module with the help of which you see all folders, photos, downloaded photos on your laptop.
You can press Cmd+B (on Mac) and Ctrl+B (on Windows) and choose a folder you need by Finder. ON1 adopted the software "Browse", in order you to have an opportunity to quickly have a look at your pictures, without waiting them to download.
VIEW PHOTOS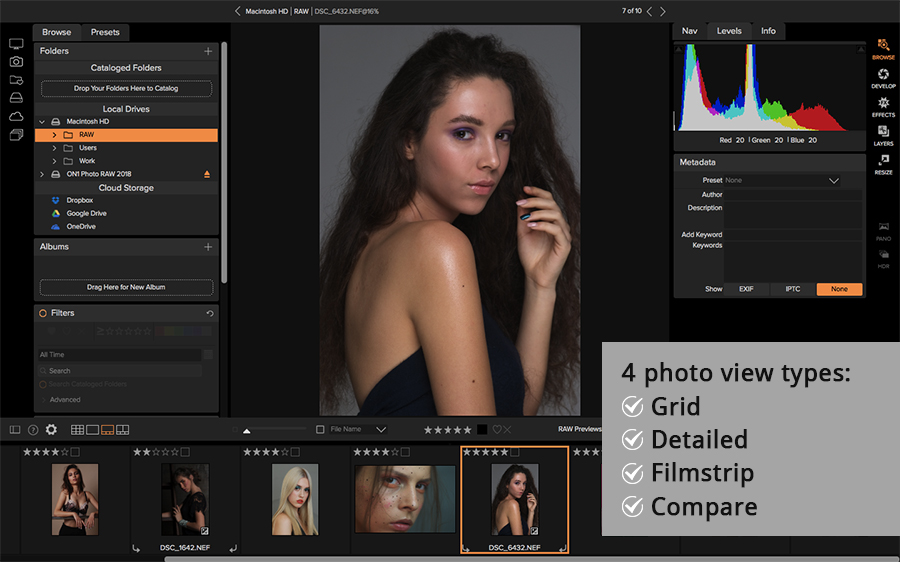 You have an opportunity to select between 4 photo view types. Personally I prefer Thumbnail and Filmstrip for more detailed look while editing. The rating system is almost the same as in Lightroom, except they added purple to colored labels, the color score is from 6 and to 0, 1-5 is for star feedback. You may add/delete photos out of your folders and all those actions will be visible in the app. If you add a new photograph you needn't export it to the program. It also works well in Quick Preview. If you connect your camera to the laptop, all images will be displayed in the Preview window at the left and you can easily take a look at your photos.
PRESETS
Directly in the "Browse" module you may use One 1 Photo RAW presets. There are some of them installed but you can download your own.
It is also possible to apply a preset to all photos in the folder. What I like about presets in Photo RAW is that you see its preview to the left and there is no need to select every preset with the mouse like in Lightroom. Choose one and start photo editing.
Develop Module
On your right you will find the sliders to make color correction. It is so easily as in Lightroom, all setups are lined up and it doesn't take hours to find what you need in comparison with Capture One.
OVERALL SETTINGS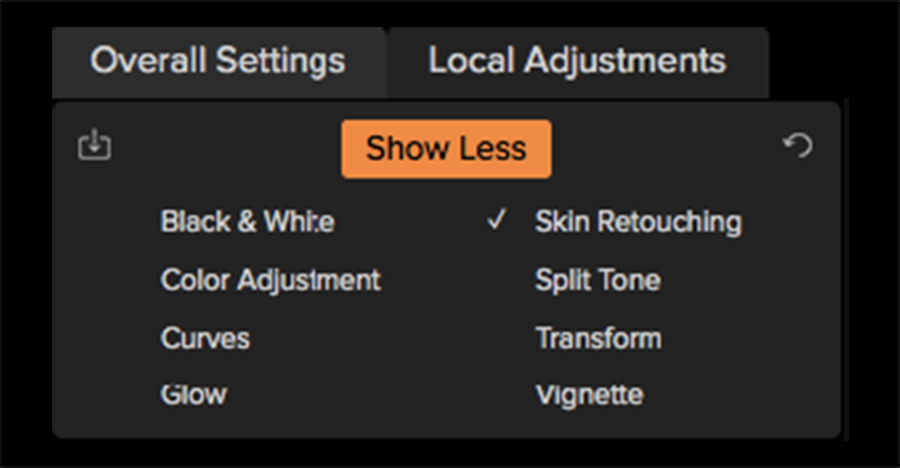 At first sight, setups are few - only 4, but if you look closer, there is a button Show More, which gives you more opportunities, such as Curves and Color Adjustment. It contains Skin Retouching, which I meet in similar apps for the first time.
Black and White
Choose from selecting different color filters to selectively modify your photo into a black and white image.
Color Adjustment
This is where you control your hue, saturation, and brightness of each color. The handy eyedropper tool allows you to have pinpoint accuracy if you choose to target a specific color.
Curves
A powerful tool that allows you to control the brightness and contrast in your photos. You'll find curves in most image editing software. You can also selectively work with your RGB color channels in curves.
Glow
Wonder how to get that dreamy look on your photos? Glow is your choice. Just don't over do it!
Skin Retouching
How to change color of skin and not to touch other parts on the photo? It makes that, but works if color of clothes/hair/background is not similar to the skin color.
Split Tone
Using a split tone to selectively color your highlights and shadows different colors can lead to some beautiful cinematic looks to your images.
Transform
When shooting subject matter with straight lines, especially with wide angle lenses, you can get a significant amount of distortion. The handy transform tool allows you to correct those issues.
Vignette
I like adding a little vignette to portrait photos – it's easy to achieve in here.
LOCAL ADJUSTMENTS
On the other tab left there is Local Adjustments. It looks like Adjustment Brush in Lightroom.
There are some presets for brushes too. I find Magic Eye Fixer and Bleach Teeth the most useful because I used very often while improving portraits.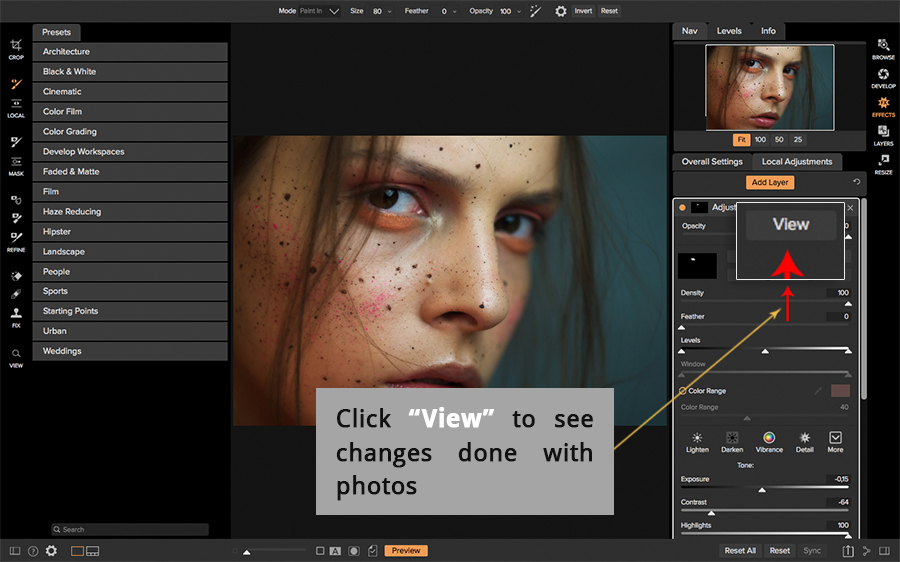 To see changes done with your photos you have to press "View". I couldn't find this function for the first time.
To say the truth, it is not so convenient as it is realized in Lightroom, where all your actions marked red on photo.
Effects Module
The third adjustment module is the same presets, but the Template System is more well-developed.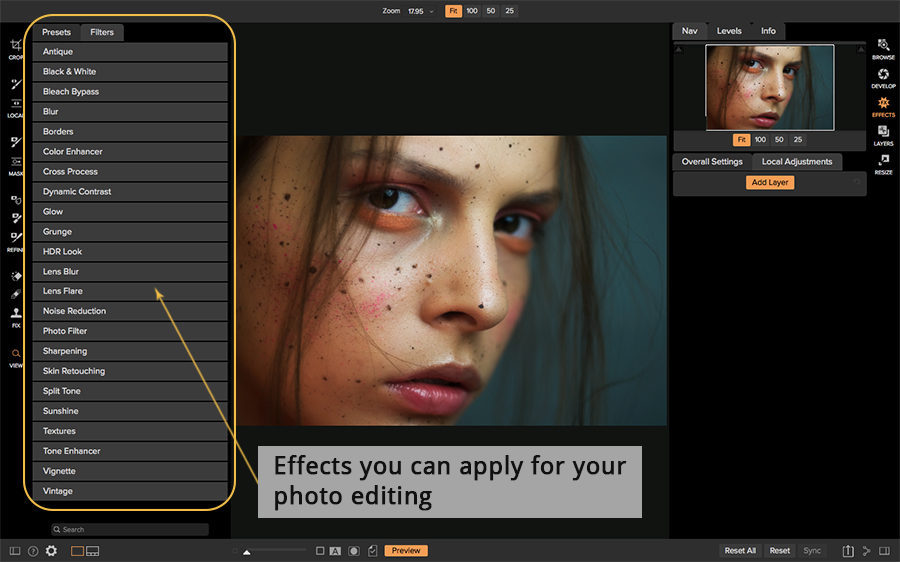 These are filters you can apply and adjust as presets. You can apply effects using layers for particular parts of your photo, so you can apply one filter to skin, other one to the background. There is a difference between One 1 presets and filters. The founders explain that presets do many effects, while the filters provide only one. When applying any of them you may do changes so it is as strong as you need, or they can be made to have less effect. You get to be the judge of how you want the final image to look.
ON1 Photo RAW has many available presets build. You can find them free in the web. There are also some photographers who sell presets they made, but they have much less variants than Lightroom.
Layers Module
Having opened the tab Curves, you just start up the equivalent of Photoshop layers. I make every change in the new layer in order to have an opportunity to improve/correct everything later.
In the left part of your window you have only tools for Retouching.
Stains, defects removal or deleting objects Brushes are the most frequently used ones. It's worse than Lightroom has, here you cannot control where the brush will take information and make corrections, it is really better realized in Capture One. But there is one more tool with the help of which Photo RAW wins - Clone Stamp. It is fantastic, because I open Photoshop if I need that. Now I can do everything in one app.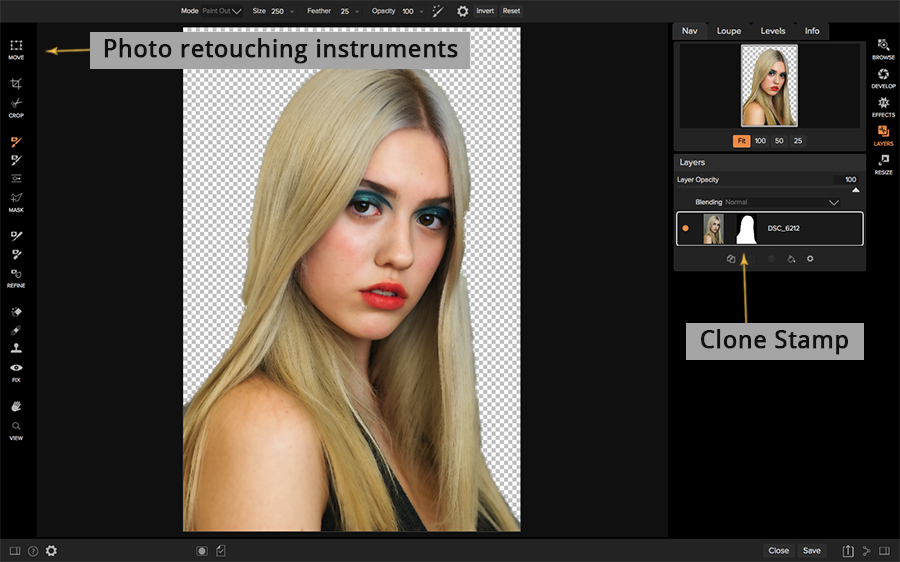 Some tools are used for Masking. There is Quick Mask, which you can apply to remove background fast or use Masking Brush, which is used for painting and highlighting some areas. Some instruments are used for masking, I applied Quick Mask on photo to see how it works.
There was no difficulties as I used simple portrait photo with one tone background.
Resize Module
All photo settings before saving is here. Here you can also adjust photo for printing using some presets. When you choose big sizes, the program should zoom to achieve a proper size. Recently, there were special apps for this purpose, that's why it's convenient to have this function here.
As I see the possibility to export the photo in 40×60 for the first time, I was interested in what would happen during it. Export took about 5 minutes, but my laptop was heated so much I could hardly touch it. The result is a 40 х 60 size file in 135МБ.
Progress export window annoys, as it totally hides your app and you can hardly do something, the situation is the same with Capture One. Lightroom makes all those things in the background, so you may continue working. I really hope, that ON1 will find a way to change that in updated versions.
I exported 10 photos in maximum quality for 3 minutes in ON1 Photo RAW, but it took less than a minute in Lightroom. Big difference!
Unique functions with ON1 Photo RAW 2018 tutorials
ON1 HDR creates amazing HDR photos. Program is able to analyze and process information and series shoot with bracketing (test results show that the ON1 makes it seven times faster than other HDR apps). Unique algorithms align photos and delete too bright zones.
Pano Stitching. Join a few photos in one panoramic or matric photo. The program aligns photos automatically, even if they weren't taken by the tripod and joins them easily.
Global Mask Editing Tools contain new sliders Density and Feather, which make changing density or masking opacity as well as blurring mask for softening of filters possible.
Luminosity Mask Updates adjust mask levels to zoom contrast or brightness, and set up tone area to work with a definite place. These updates make users focus on a certain place on the photo.
Blur and Chisel Mask Tools. Blur Tool is ideal for softening or Blur Mask random. Chisel Tool helps a user to selectively press or draw the edge in order to delete halo.
Versions are virtual copies of the same photo. Every copy may contain non destructive setups, including resizing, retouching and adjustments.
Paint with Color Brush. Painting with a selected color may be ok for skin softening and for making annotation layers, or you can easily work only with a color and leave main brightness zone without changes. It may be applied if you want to change only eyes on the photo.
Selectively Add or Remove Noise. Get rid of noise in some areas such as sky or add noise to create an art effect.
ON1 Photo RAW free download for Mobile. The best photos are always with you, thanks to the free app ON1 for mobile devices. It is a nice way to share your portfolio. By the way, this tool makes it possible to synchronize new photos, taken on mobiles, back to a desktop so they can be edited there.
ON1 Photo RAW vs Photoshop
Unlike all other programs that try to replace Photoshop (Affinity, Luminar), ON1 Photo RAW behaves smarter. They try not to replace Photoshop, but work together. These are the first who realized that to beat Adobe is impossible. Adobe co. has millions of trusted customers, so ON1 app made an interesting step – now you can set ON1 Photo RAW as a plugin for Photoshop.
Let ON1 Photo RAW can partially replace Photoshop for basic photo retouching – removing blemishes, simple background replacement, merging photos, but it does not have such great opportunities as in Photoshop.
How to set ON1 Photo RAW as a plugin in Photoshop?
You do not have to suffer from manually adding a plugin to internal Photoshop files. To install the plugin you just need to install ON1 software on your computer, the program will do everything for you. You just need to enable the plugin in Photoshop after installing the program. In rare cases, there are cases when the plugin will not be displayed in Photoshop. To fix it, add the plugin files manually: insert the files that you download from the ON1 site to the folder - Adobe / Plug-Ins / CC /
Why do you need it?
You do not need to open additional programs, such as Lightroom or Camera RAW, you just work in Photoshop without being distracted. Having opened a photo in Photoshop, you can simply switch to the ON1 Photo RAW plugin by clicking "File-Automate-ON1 Photo". You can perform basic image editing and color correction, for example: adjust white balance, shadows and reduce noise. At this step you will correct all errors and get a ready image for further photo retouching. It's like preparing before you start doing real work. You can also do it the other way around - do a retouch, and then experiment with color and effects.
ON1 Photo RAW 2018 vs Lightroom
ON1 Photo RAW is one of the main opponents of Adobe Lightroom. It offers more detailed customization methods, as well as some retouching elements, namely, layers.
Viewing RAW files
The first and biggest difference towards ON1 Photo RAW is viewing and importing your photos into the program.
IN LIGHTROOM first you import your photos and make a catalog of them. While doing this you will come across a whole bunch of problems, because if this photo has already been uploaded to Lightroom you can not add it to the new catalogue, so you need to delete it from the previous catalogue and add to the new one. What do photographers want when they have more than 500 RAW photos? Convenient viewing and fast sorting!
ON1 PHOTO RAW uses a simple, but at the same time a useful system - viewing photos directly from a folder on your computer or SD card. This is convenient, you can quickly select the photos excluding long downloads. Mind, that ON1 Photo RAW uses cache creation for each photo, saving each step made in the form of a .PSD format, sometimes such files can occupy 1 GB each. It is important to clear these files in order not to occupy extra space.
RAW photos Import
Capture One, as you know, while loading distorts the colors, most often the white balance looks worse. Some photographers think that Lightroom lowers color saturation, but it leaves them realistic. Photo RAW also makes small changes not for the better, the downloaded photos look too contrast, especially if you compare with the photos uploaded to Lightroom. This is not a big problem, moreover both programs offer a simple adjustment of all possible indicators in a few seconds.
Layers
Lightroom doesn't have a comfortable color correction via layers. Lightroom has a brush for the same work and it also allows you to change individual parts of the photo. But to switch between them, it is necessary to click on these annoying points on the photo, and if the layers are many, these points occupy the entire screen! In ON1, switching between layers is like in Photoshop, you can hide the layer or apply a certain effect to it.
Export and cropping
Both programs have excellent export settings for photos. Lightroom exports are easier and faster, we will tell you about the export problems in ON1 Photo RAW in the "Problems" section. What I like about ON1, unlike Lightroom, is the Quick Export feature, which allows you to export the current photo without going through the management settings in the export dialog box. Both apps also make it easy to send your photos to work in Photoshop.
Working as a plugin
It's also not typical for programs that compete with Lightroom - they can be viewed not only in the form of opponents, but also in the form of programs that complement and cooperate with each other.
How ON1 Photo RAW can be useful for Lightroom or vice versa? Lightroom is familiar to everyone, but ON1 is easier at some points.
Here is how I see the programs can work together. So first of all you upload your photos through the Lightroom catalogs (it would be great if you could browse and sort your photos with "Browse" in ON1 right inside the Lightroom). Next, you work with basic photo editing where you like more. But what is in Lightroom, which is not in this new software? Thousands of Lightroom presets available on the web. Unfortunately ON1 has a limited number of them, unlike Lightroom where they can be thousands. Therefore, after editing in ON1 Photo RAW, you apply your favorite preset in Lightroom and export the photo.
ON1 Photo RAW 2018 vs Capture One
Both of these programs are opposed to Lightroom, but what distinguishes them from each other and how to decide which one is better for your photo editing?
Viewing photos
Capture One is the golden medium between Lightroom and ON1 Photo RAW in terms of uploading and viewing RAW photos. In order to upload a photo in Capture One, you just need to throw the selected photos into the program itself, they are not divided into catalogs, you simply view them. Mind, the download itself also takes time. In ON1 Photo RAW, without minding the number of photos, the time for uploading will be the same. You just look at them as if through a standard photo viewer program on your computer.
Quick change from Adobe Lightroom
In order to understand Capture One after working with Lightroom, it took me 3 days. Capture One is a more professional program unlike Lightroom or ON1 Photo RAW, but in order to make even the most simple actions for editing a photo, you will need time to sort it out. With ON1 Photo RAW, everything is much simpler, it's very similar to Lightroom, you just turn it on and work. In order to make the same photo editing in ON1 Photo RAW as I did in Lightroom, it took me less than 20 minutes, so everything is simple.
Working with Adobe programs
The guys from Capture One completely exclude the cooperation with Adobe programs, so you can forget about working even with .PSD files, and they do not offer anything for replacement. ON1 actively collaborates with Adobe Co. programs, this is a smart choice, as Photoshop, as I said earlier, is difficult to replace from photo retouching market.
Photo retouching
In Capture One I like automatic photo retouching with the help of "Clarity", this function will smoothen all the blemishes on the face, but it will make the texture natural. It's done in a couple of clicks. There are also layers here, they work as well as in ON1 Photo RAW - you just select, for example, the eyes whites, skin, background and work with them separately.
Number of possible settings
Capture One is a professional photo editing software, it has a much larger set of tools than Lightroom or ON1 Photo RAW, and the capacity to select all the windows for yourself is amazing, although when you need to use a large number of settings they can annoyingly cover the whole screen . In any case - Capture One will allow you to work with images in more detail.
Cameras support
ON1 Photo RAW supports more than 5 thousand types of cameras and their RAW files, and this list is constantly updated. Capture One in turn supports a smaller number of cameras, especially bad it the situation with Sony cameras. To work with them you need to purchase or subscribe to a separate version of Capture One for Sony.
Read more about differences between Capture One vs Lightroom.
ON1 Photo RAW 2018 problems
As in every photo editing program, ON1 has operating problems. I'm not going to talk about system lags, only about the problems that for some reason they decided to leave in the app.
Long-term photo export
As I mentioned earlier, this process takes much time, especially considering the fact that the export loading window covers the entire program excluding the chance to continue working - it needs to be urgently excluded.
Loads between modules change
After sorting, you go to the Develop module and the photos start downloading, usually it's fast, but if you need to switch to Layers then ON1 Photo RAW will start to load photos again in this window. If you come back to Develop module, the program will start loading photos again in this module. Why cannot we just wait for one download and not load photos every time - it's annoying.
Work as a Lightroom plugin
The work of ON1 Photo RAW as a plugin for Lightroom is very convenient. I'd like the guys from ON1 to realize the possibility of viewing and downloading photos through ON1 Photo RAW while working in Lightroom. It is more convenient than working with catalogs.
Why should you use it?
Will I name ON1 Photo RAW number one program in photo editing? I am sure that Photoshop cannot be replaced, but another thing is with Lightroom. There are some stuff I like about that, these are the preview speed and Lightroom presets, but export speed leaves much to be desired. I will use some ON1's tools such as sorting, color correction and then will move to Photoshop if necessary.
Do you like the article? Please feel free to share it via your social accounts.
---
Pay attention this photography blog which does not require credit for the pictures and photo post production examples listed here . All photographs used in the article are only copyright to their respectful creators . These shots posted as a big admiration of portfolio and photo retouching talent the experienced rt masters have . If you found the photo on this post that is yours and do not want to be promoted on our website , please do not hesitate to write us via online chat on your right and it will be quickly deleted .
---
Rate the article!
The article's rating:
---
You comments or questions are welcome; please share your opinion on the topic.
Use Facebook:
Use Disqus: