Myth or Reality: Kim Kardashian without Photoshop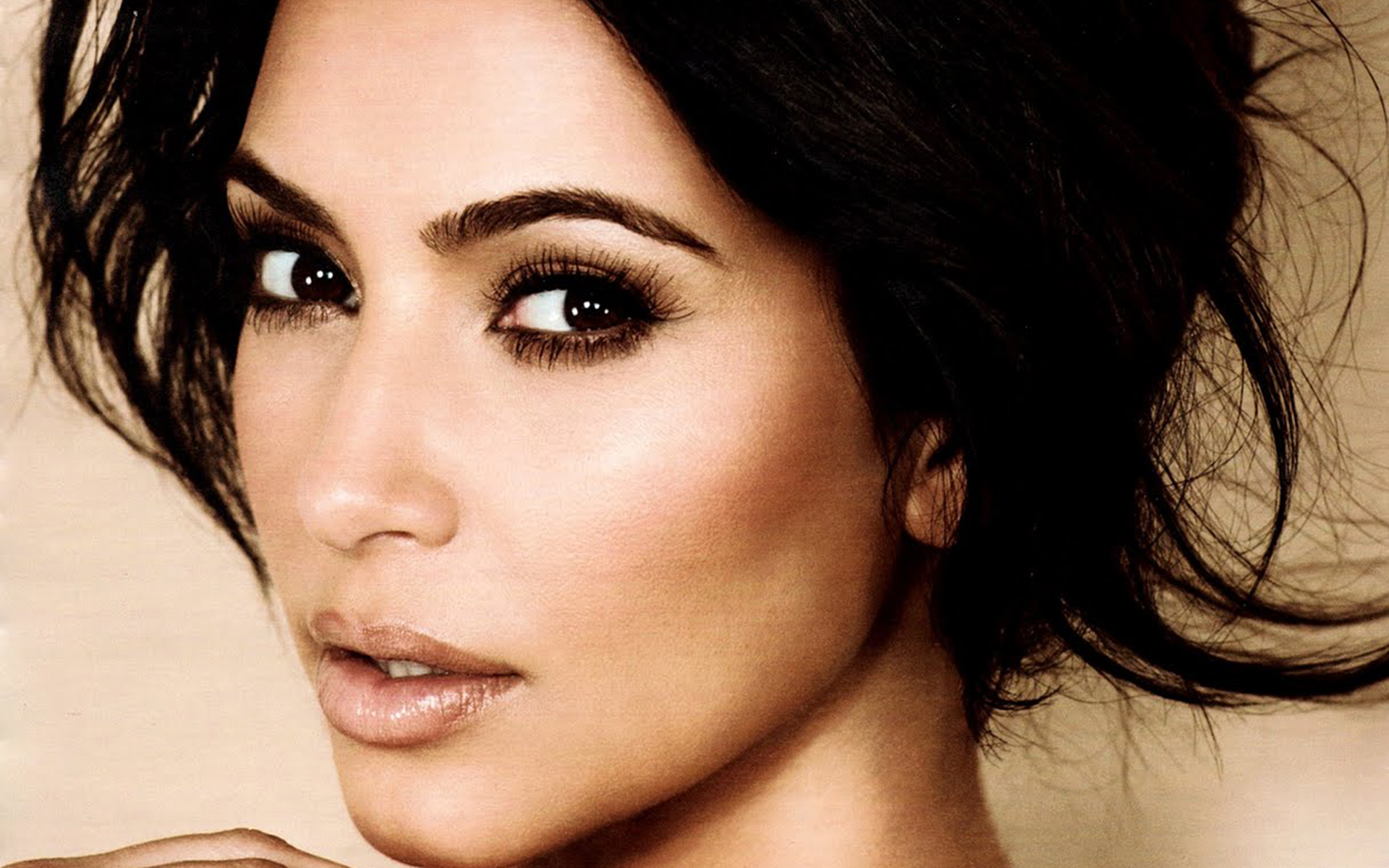 If you know nothing else about Kim Kardashian, you know that she is very well-known. At press time, she has 25 million Twitter followers, about a million less than Oprah Winfrey and nearly 5 million more than CNN Breaking News.
The 36-year-old reality star has a book of selfies so it's fair to say she knows a thing or two about taking photos. She once said that she took a lot of selfies before getting the brilliant one. Kim Kardashian isn't always satisfied with the final result as she has been caught out photoshopping her images on a number of occasions.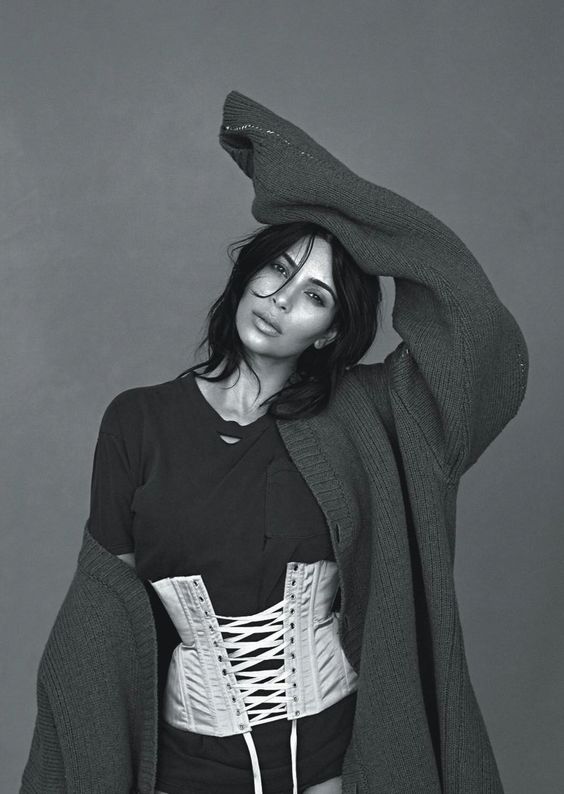 Source: gotceleb.com
In this article we're going to list all Photoshop mistakes this celebrity's retouchers have made. All pictures were taken from Pinterest.
Make Butt Look Bigger
November 2014. The image of Kim Kardashian balancing a champagne glass on her perfectly-sculpted derriere alongside the hashtag #BreakTheInternet sent a sharing shockwave through the web.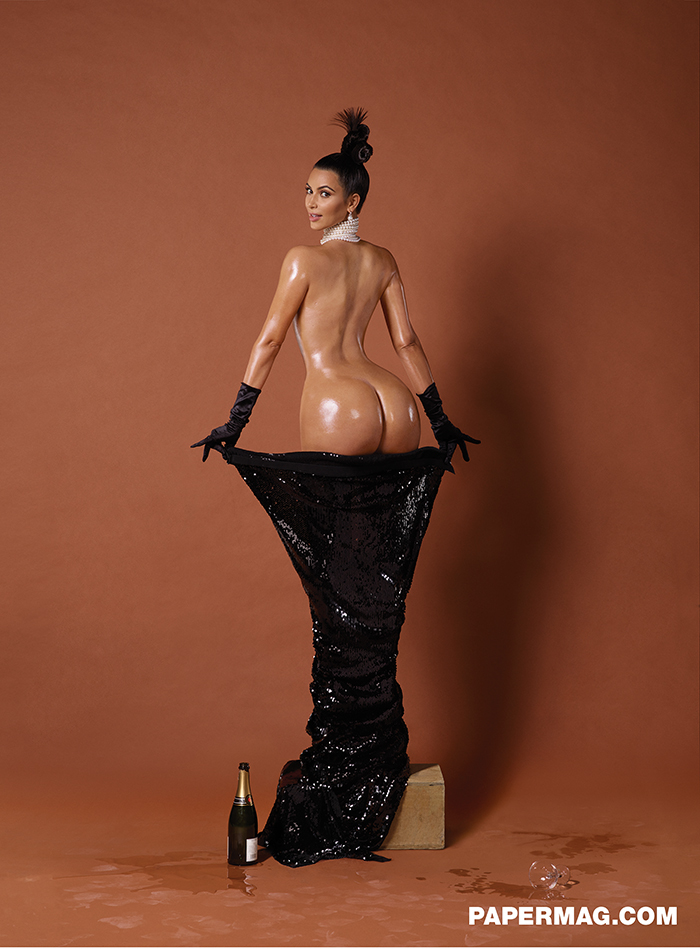 The editor of Paper magazine admitted that the publication retouched Kim's infamous butt pictures. "Every cover of every magazine is airbrushed on some level, but what I will say, is that is her butt," Mickey Boardman claimed.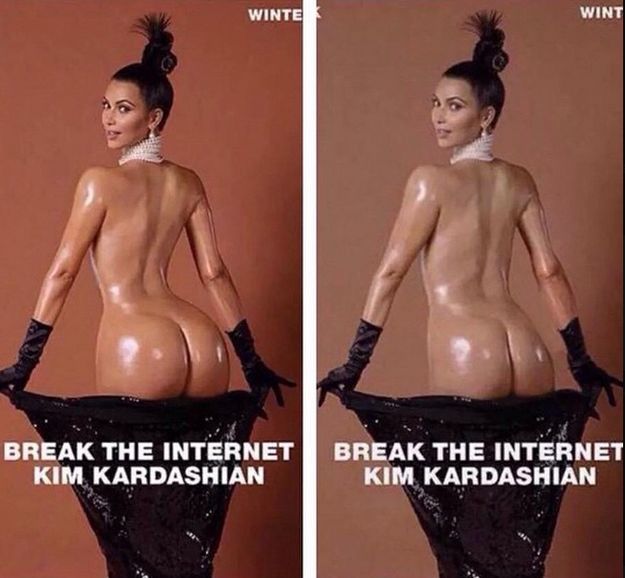 This beautiful woman is a real fan of Instagram. Kim always edits photos before posting them to social media, she may use some clever filter action or ask photography post processing services to help. So it shouldn't come as much of a surprise that Kim Kardashian was caught "sprucing" up an image on Instagram in January 2014!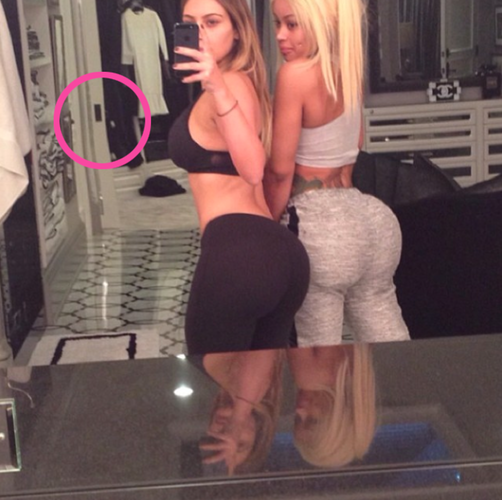 Kim was accused of editing her butt in this one due to the bended mirror in the background. But we're going to side with her on this one, because mirrors have a way of making things look bizarre.
Cellulite Removal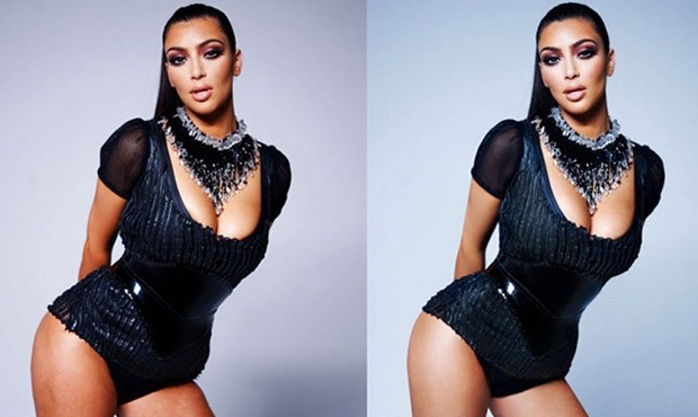 This photo was made for Complex Magazine — March 2009. After an unedited pic of Kim was leaked online, the magazine acknowledged the airbrushing by putting up both pictures on their website. The cellulite removal is the biggest thing, but at least the mag fessed up to their mistake.
Family photo editing
On the Notebook Magazine Cover in February 2014 all three Kardashians are clearly edited: Khloé looks much skinner around the waist area, as do her arms. Kim's waist also looks tinier. Kourtney's arms are unnaturally skinny. We know magazine covers are ALWAYS airbrushed, but this one strays far on the spectrum of reality.
Make slimmer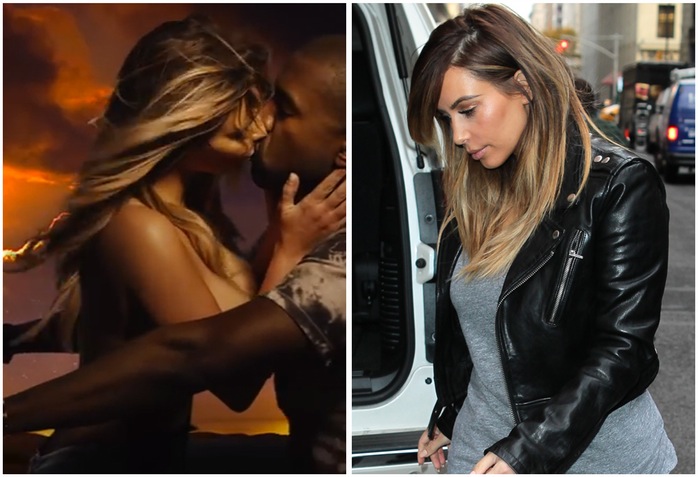 While watching Kanye West's music video for "Bound 2" (November 2013) you may observe some photo editing work. Kim essentially riding Kanye while nude wasn't the only thing about "Bound 2" that made people talking. Critics pointed out that she looked much slimmer in the video than she did in "real life" at the time of its release. We agree — simply look at the pic on the right.
Check out this music video.
Objects removing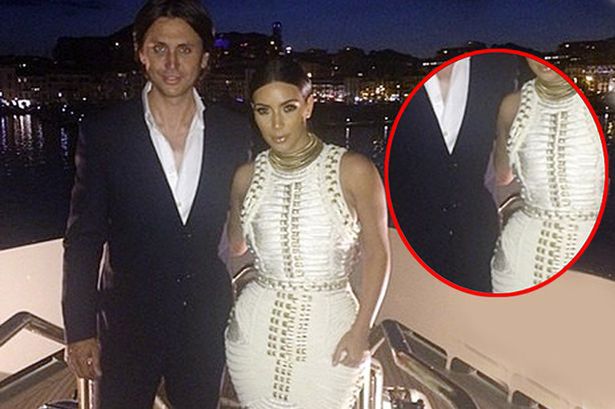 Remove background is probably Kim's biggest Photoshop fail. The vain reality star managed to completely cut off her right arm while posing for a picture with Jonathan Cheban. The shot was so confusing that even Kim was baffled: "Ummm where's my arm lol."
We recommend reading our previous article about Photoshop & Reality and how to find photoshopped photos.
Waist editing
Let's remember the Kardashian Collection Swimsuit Ad in 2012. Again Kim was the topic of conversation with this ad. Her waist looks unnaturally small. The photo on the right was taken around the same time.
The last scandal was about the Fergie's star-studded M.I.L.F. $ music video where her waist had unrealistic and photoshopped look. On this video you can see many popular Hollywood moms like Ciara, Alessandra Ambrosio, Amber Valletta, and the rest of the hot women, but the Internet society just couldn't believe that Kim's waist was retouched.
Later Kim denied the photo editing rumors with a behind-the-scenes photograph of her on Snapchat.
People say that she's just wearing one of those retarded waist trainers. If you can't decide what is real, you may check out the M.I.L.F. $ music video and see for yourself.
Nevertheless, her circle of fans becomes much bigger. These fail photos just makes her popular, people create blogs and articles about how to look like Kim Kardashian, what makeup does she use or how to dress like Kim! No matter how much Photoshop she uses her photos impress the Internet every day. The only thing we should do is to ask which photo editing company she uses.
If you need post production for photographers view our photo retouching portfolio. You can outsource photo editing and find the best photo retouching prices for:
Family photo editing
Editing newborn photos
Image manipulation services
Photo restoration services
Product retouching
To get more clients for your photography business, learn more how SEO services for photographers can help.
Do you like the article? Please feel free to share it via your social accounts.
---
Pay attention this photography blog which does not require credit for the pictures and photo post production examples listed here . All photographs used in the article are only copyright to their respectful creators . These shots posted as a big admiration of portfolio and photo retouching talent the experienced rt masters have . If you found the photo on this post that is yours and do not want to be promoted on our website , please do not hesitate to write us via online chat on your right and it will be quickly deleted .
---
Rate the article!
The article's rating:
---
You comments or questions are welcome; please share your opinion on the topic.
Use Facebook:
Use Disqus: