Why Photographers hire photo editors?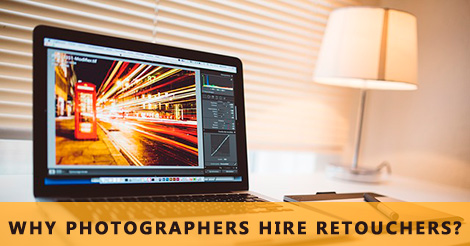 With what the ideal photo starts? It begins with team effort of people who work on a set of different events for achievement of the general successful result. Here you can see smiling brushed and dressed up models who look for a successful shot together with the head of this project ─ photographer. The stylist skillfully moves accessories creating necessary spirit, and the makeup artist in his turn continually wags with the brush correcting already ideal make-up. But as soon as shooting day comes to the end, not less responsible work begins which the audience doesn`t even think about considering glossy photos of ideal beauties. Namely professional retouching of photos.
Adjusting Workflow or a stream of operations, each photographer provides carrying out post processing of digital photos. Image retouching can be absolutely simple. In certain cases this process can be reduced, for example, to simple cutting of the photo to a certain size. Photo post-processing in Photoshop and other graphic editors allows improving quality of a picture, removing defects and small flaws. Even the minimum color correction makes your pictures look smarter, colors look brighter and saturated.
Who are photo retouchers and what their duties are
You may ask if a great number of people works to receive ideal shots, why do we need the pictures to be retouched?! Modern fashion-industry requirements are ruthless even to the smallest faults. The wrong length of a skirt, unsuccessful diameter of heels or tone of blush can easily damage the general concept of a picture and, as a result, it will lead to a failure of all photo shoot. Therefore the things the stylists and the makeup artists don`t manage to correct are completed for them by the retoucher.
Sometimes other tasks are given to the photograph retouches, for example, addition to the photo of nonexistent subjects, creation of absolute other style or custom digital drawings. But anyhow the photo post-processing is very responsible, creative, and at the same time very patient work. Generally professional photo editing get used to work with Adobe Photoshop, however they more often resort to use 3D-schedules in their works.
Usually photographers correct their images themselves, but nowadays they ask skillful people for photo retouching services. It is absolutely elective for retouchers not to be present at a photo set that is why majority of photographers use online photo retouching. After all, their main purpose is the editing of the finished shooting photographic material by means of various graphic editors.
3 different types of photography retouchers
The retoucher is also the artist. The only difference is that he creates not on a canvas by means of paints and a brush, but on the monitor, using the tablet or a mouse pointing device and a keyboard. Three main types of this profession can be distinguished: beginning retoucher, experienced retoucher and digital artist.
1. The first type of photo retouchers can also be called as `free retouch`. This person has just started his practicing and all he needs is only to get some nice example photos posted in his page on Facebook. His main purpose is to make a customer be satisfied with his job. This `free` retoucher spends 1-4 hours after the main work retouching his friends` photos, correcting saturation and light. The only disadvantage is that sometimes he has problems with delivering images on time, because he confers advantage to his family and the main job.
2. Experienced Retoucher is much more mature and popular retoucher in photo industry. He really makes a great work for $5-$20 a shot. He develops flair of sets and workflows learning new modern Photoshop or Light Room techniques. The first and the main advantage is the quality of his work. Usually this person is assiduous and patient as professional photo retouching is rather hard process. They can handle both professional portrait editing and damaged photo restoration just making a click and offering cheap photo editing.
3. Digital Artist is a gorgeous retoucher who is situated beyond the basics of retouching. He is really fond of taking your shot made in any New York street and placing it to an imagination world with a crocodile in summer time on the beach. The photos look real pretty and a lot of his craftsmanship and artistry go into the work. Digital Artists needs more time for his complicated and demanding creating a new masterpiece, 6 hours instead of 30 minutes. As you understand it costs much more than simple correction of skin.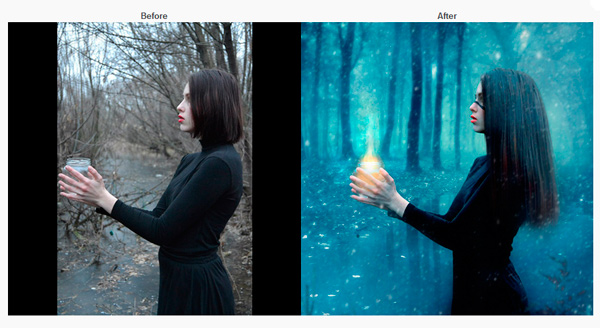 Reasons why do photographers hire image editors
It is clear that the pictures retouching is necessary not to all photographers. Moreover, the photographer, as a rule, can successfully cope with the small amount of a retouch himself. You will ask why photographers are not engaged in post-processing themselves, without asking other professionals for the help. There are many reasons to follow the image retouching services. The first reason that we have found is a lack of time. The time spent to photoshop your shots by yourself can be huge; it depends on your skills and a number of photo sessions per week. If you are busy enough to make your photo correction, it is a high time to follow our blog post Why Should You Stop Retouching Your Photos ... By Yourself? and assume measures making your work simpler.
The most frequent reason is cost effectiveness. You can outsource your photos for $10 to an online retouching service instead of spending hours doing it yourself. The group of professional retouchers will make your picture look sharper as well as adjust colors and can do everything starting from opening an eye in a group shot to fixing skin as well as remove objects and people from the background or background removal. They also may suggest improving things and giving second ways to retouch that the photographer didn`t even think of.
The last great reason is photographers editing skills. Generally they are very skilled at compositing and general image manipulation for print, but they are not beauty retouchers, which is a very specialized skill, especially when done well. That is why many photo masters hire other people for photo editing. Many artists happen to have inspiration for a new photo set not for a new Photoshop function. Here come online photograph retouchers who can help you day in and day out. They give you an opportunity to focus more on other things like photography website promotion, and spend your free time not correcting color or contrast, but having fun with friends and relaxing.
Thanks to the Internet it is possible to find and employ the retoucher practically from any country of the world! If you want to ask retouchers for help, but you don`t know yet whom to choose, Fix The Photo can present you online photo editing service. We provide high-quality online photo post production services from portrait retouching to damaged photo restoration. To make sure in our quality just look at our photo retouching examples. Choose the most suitable variant and let`s start working together.
Do you like the article? Please feel free to share it via your social accounts.
---
Pay attention this photography blog which does not require credit for the pictures and photo post production examples listed here . All photographs used in the article are only copyright to their respectful creators . These shots posted as a big admiration of portfolio and photo retouching talent the experienced rt masters have . If you found the photo on this post that is yours and do not want to be promoted on our website , please do not hesitate to write us via online chat on your right and it will be quickly deleted .
---
Rate the article!
The article's rating:
---
You comments or questions are welcome; please share your opinion on the topic.
Use Facebook:
Use Disqus: