Free LUTs by FixThePhoto
Would like to have universal and free LUTS for fast color grading? Understanding the growing competition between video editing specialists and filmmakers, FixThePhoto team has designed an impressive number of free LUTs for you to create eye-catching, vibrant footage and stand out from the crowd. These free LUTs will come in handy for both experienced videographers and those only learning the video editing and color grading process. Here you can find more than 200+ LUTs for free and turn your video color correction routine into a fast and pleasant activity.
---
Our Best Free LUTs Include:
DOWNLOAD
---
Free Wedding LUTs
10 Free LUTs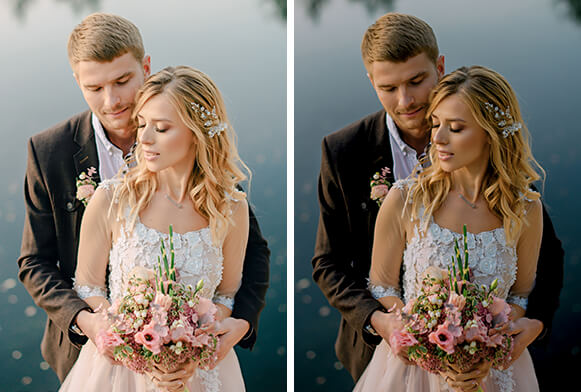 Free Teal and Orange LUTs
10 Free LUTs
---
Best Free LUTs
We have collected the best free LUTs that will turn any piece of footage into a masterpiece, namely, make the overall toning of the video more saturated, enhance the lighting, accentuate prominent details and shadows. Our LUTs are available in the .cube format. These LUTs are ready to be used in Premiere Pro CC, Sony Vegas, FCPX, After Effects CC, DaVinci Resolve, etc. The best LUT package is an essential tool for those who often edit travel or lifestyle footage, as well as event or wedding videos. Even if you are involved in creative videography, you will definitely put these best LUTs to good use.
Using a certain free LUT from presented bundles, you can easily add brightness and liveliness to your footage, thus attracting more viewers' attention. People like beautiful and cinematic colors and with these free LUTs you can quickly achieve such a result. Evaluating the demands of modern videographers and fast-developing video editing standards, FixThePhoto professionals worked hard to create the best free LUTs that can satisfy the needs of artists engaged in different genres. Looking through the collections, you can find Film, Color, Wedding, Canon, GoPro Free LUTs and many more bundles with first-class tools. Since they are all distributed for free, don't miss a chance to add them to your toolkit. All free video LUTs from FixThePhoto are a must-have for every filmmaker, colorist, motion designer, cinematographer, and video post-production specialist, who want to bring more flexibility and creativity to his/her regular work!
---
What Are LUTs?
A LUT also known as Look Up Table holds a set of numbers that are looked up by the video editing program you are working in to intentionally change colors in videos. Whenever you need to perform color grading, free LUTs from our bundle may greatly speed up the task.
These tools are very easy to use, while the effects they deliver are beyond any expectations. Professionals like increasing their personal collections of LUTs with new filters, because it enables them to approach video editing in a more artistic way without much effort. Less experienced users can't also do without nice LUTs free collections, as it is better to automate the video editing process rather than make all the changes on your own, especially if you can boast of top-notch skills. Every LUT in these collections produces a bit different effect, but all of them are absolutely free and of high quality! Free LUT files included in these packs offer non-destructive video editing, so nothing will damage your original clip. For your convenience, we have divided the LUTs into 2 groups – stylistic and camera-specific.
Download any collection of free LUTs to test it and see whether it suits your needs. There won't be any OS compatibility issues, as these tools work smoothly on Windows, Mac and Linux. They come in a .Cube file extension, meaning you can use them in most video editing programs, including Premiere Pro CC, After Effect CC, Sony Vegas, DaVinci Resolve, Adobe Photoshop, FCPX, Luminar and more.
The biggest advantage of these free LUTs is that they are available absolutely without hidden payments. Download the pack you like the most or even all of them for future use and create a stylized, catchy look in your videos. Hope you like this rundown of cool freebies and recommend them to your friends!