Self Portrait Ideas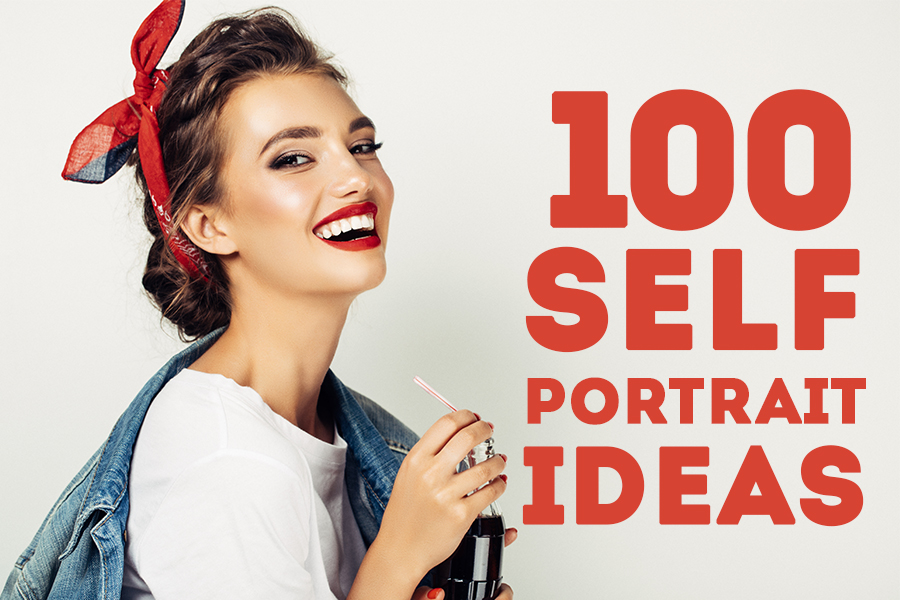 Looking for creative and fun self portrait ideas to surprise your viewers? Getting self portrait photography inspiration from other photographers and creative people often solves this problem for me. Here is I've gathered about 100 interesting and fun self portrait ideas and video tutorials for you to use when your inspiration is over. Different portrait photography ideas themes and DIY video tutorials in the following post.
---
Contents
---
Portrait Photography Ideas
Fun Self Portrait Ideas
Laughter and humor not only increase the mood but also prolong life. Below you will find a list of fun self portrait ideas to learn self-irony, to become more relaxed and get more sincere photos. Choose among classical and extraordinary portrait photography ideas themes and stop your decision on the one.
Pull silly faces
Paint funny faces on your hands.
Splash a glass of water off your face.
Take a "the second before.." shot.
Recreate the situation, when you cannot decide what to wear.
Line up your face with money bills.
Money self portrait ideas is the funniest way to show how well can you work with angles and proper poses. Take pictures of individual parts of your face on money and connect them.
One of the funniest portrait series ideas: make different poses, facial expressions and combine them all afterwards.
Use water glasses to distort your face
Home Creative Self Portrait Ideas Photography
To start bringing your creative self portraits to life, there's no need to immediately go to the studio or find interesting locations.
Put these DIY ideas on notice and start a personal photo shoot at home. Repeat these beautiful examples of creative self portrait photography at home.
Use your bedroom
Pets
Include pets into your photography, and do not forget to pamper them with treats.
Milk bath
Tricks with a mirror
Play around with a mirror and a camera in your hands. The result is mysterious and slightly surreal.
Selfie in the Mirror
Today this is number one in self portrait photography. Regardless of where you are, there's always a mirror around.
Creative background
Use sheets, curtains, newspapers, which will serve as an excellent background for your future most creative self portraits.
Your hobbies
Capture yourself while doing your hobby or engaging into your favorite activity: playing the piano, guitar, drawing, etc. Find more beautiful examples of creative self portrait photography on Pinterest.
Cassette Retro
Vinyl records and cassettes will be excellent props that you can hold in your hands or cover your face with.
Transparent fabric
This is one of the most popular portrait photography themes. Wrap yourself into the cloth or put it overhead.
Interaction with flowers
You can hold the flower in your hand, covering your eyes, or put it in your mouth.
Flower wreath
This symbol of the sun and nature will turn your portrait photography photos into gentle and romantic pictures.
Mysteriousness
To make the viewer interested, try hiding some part of your face.
Black & white classic
Collage
Combine two similar pictures that tell the story to the viewer.
One color range
Make a photo in which there will be only one dominant color, it will perfectly emphasize your facial features and figure.
Glasses with water
Distortion of water in a glass will give interesting portrait photography ideas.
Self portrait ideas drawing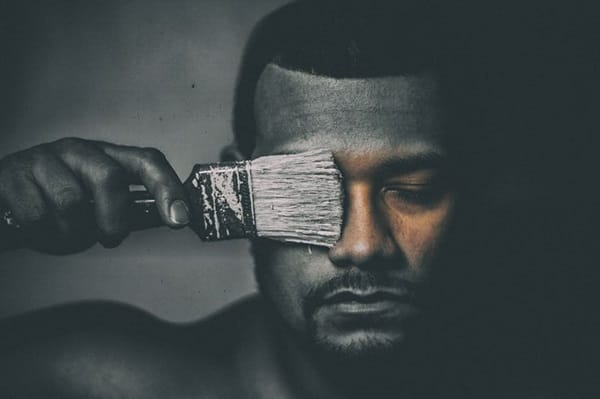 Make a work of art
Use your body, face, hands for this.
Portrait photography lighting
Playing with light, flashlights, and garlands will create an atmosphere of fairy tales and ideas will come to mind in a row.
Good morning
Capture your lovely stretching, morning coffee or a book, a pretty sleepy face in bed. For these self portrait ideas prefer an early morning or a rainy weather.
Emotions
Show your strongest emotions: anger, tears, joy.
Conceptual Self Portrait Ideas
Сonceptual self portrait definition: these are the photos that show the idea, provoke emotions from their viewers.
If the ideas above lack originality, try out these creative photography project ideas.
Be bold
Use wigs, different techniques in makeup, come up with or borrow interesting costumes for your image.
Body part collage
Take pictures of individual parts of your body and make a collage of them. For realizing this kind of conceptual self portrait ideas you don't have to be a guru in Photoshop.
Hairstyle
Put on an unusual headdress that will become part of your image
In water
Capture your reflection not in the mirror, but in the water. These cool self portrait ideas look awesome in the mist.
Double exposure
Take a picture of yourself using DIY exposure, the glass or window will help you
Movie style
These self portrait ideas Pinterest followers like the most. Imagine that you are filming a movie of your life. The appropriate filters and free film Lightroom presets will help.
A true fan
Recreate a favorite image from a book, movie or TV series
Effective make-up
Turn yourself into your favorite fruit with an extraordinary make-up and appropriate props
Sensual shadows
Capture the shadows from the sheets, the patterned material on your body
Rainbow effect
Take a picture of the rainbow on your face using a sun ray and a CD.
Surreal Self Portrait Ideas
Sometimes with the help of photography, we want to escape to a fictional fairy-tale world, which you can create yourself using improvised means, or create in Photoshop. This is a surreal portrait definition. Without digging too much into Photoshop peculiarities, enjoy awesome portrait photography ideas below.
Transformation of your silhouettes into Double Exposures
This kind of surreal portraits photography can be called "Sweet dreams".
Mirror with no reflection
Antlers
Create an illusion with Polaroid cards
Replacing your face with a magazine cover
Use a magnifying glass
A head full of dreams. To realise this kind of self portrait ideas, you can download free Photoshop sky overlays to create creative photo manipulations your own.
It's raining cats and .. books!
Headless
Gathering lights
From the wonderland
Unity with nature
Stuck in a birdcage
Movement
Self Portrait Photography Tips
Photographers know what a challenge photographing yourself is: planning the location, position, setting up the correct light, learning all the portrait photography techniques. This process is not for the impatient, because you cannot see yourself in the lens, to take a more flattering pose and while getting into the frame, you will encounter technical problems with timers and remote shutters. Therefore, we suggest you pay close attention to the following portrait photography tips and your photo session won't make you stressed.
1. Take a tripod
To prevent the camera from falling off an uneven place or the photos from blurring during shooting, purchase a tripod. A good tripod will provide flexibility, durability and create new ways for portrait photography ideas poses. You can take pictures of yourself from different distances, perspective, freely change poses and background.
2. Use the Autofocus
Do not waste your energy on constant running, use autofocus and remote control, or self-timer. The remote control is compatible with almost every model, and you do not have to race back and forth to set the timer.
3. Take test shots
No matter how great the entered settings are, you still can't be sure your picture will be in focus. That's why, take a couple of test shots. If you are not in focus - raise your aperture or speed up your shutter speed - this should fix it. Keep adjusting the settings until you reach the desired result.
4. Mind your compositions
Always take composition into account. It will help you achieve more pleasing results. To avoid some technical problems, put an object in the spot, where you will stand and do some trial shots. Decide on which position or angle is better to take a more effective shot.
5. Discover the new sides
If you are shy or worried about criticism, then try to prove yourself in a different way or by exposing only some parts of your body or face. Drop your fears, using our creative photography ideas for self portraits, you will learn how to feel confident in your body without being afraid of the camera, and understand yourself, your flattering angles better. You will not realize the value of self-portrait photography until you learn all of your capabilities that will help you develop as an artist.
6. Exit the Comfort Zone
This piece of advice is one of the most crucial portrait photography tips for beginners. Without trying the most different perspectives, postures, emotions, you cannot grow. Look for imperfections and try to fix or improve them. Thus, you will discover new cool self portrait ideas that you can later realize in your future work.
7. Use artificial lighting
We all know that natural light is changeable and has time limits, which narrows our possibilities during the implementation of outdoor portrait photography ideas. Therefore, you need to learn how to work with artificial lighting (a flashlight, a lamp, a torch, a garland, etc.). You can control the intensity if light as you wish, make it brighter or cover the light source with some object, or cover it with a cloth to get a muffled glow.
8. Invite an assistant
Third-party help does not violate the meaning of self portrait photography definition, but it does not mean that your assistants should take pictures for you. They can simplify the photographic process if they keep you light, help carry the equipment, and also become your first spectators and critics, and great support at the same time.
9. Photograph yourself with pleasure
Whatever goal you set for yourself, there's no need to run yourself ragged. This will lead to stress and unsuccessful shots with a tired face. The process should bring pleasure so that with each click of the camera shutter you relax more and discover new possibilities and ways of character manifestation. The self portrait photography tips will help you in that. Pay attention to your mood, take food and water breaks. You should also take a break when you get tired or postpone shooting the next day for better results.
10. Remember that the ideal does not exist
Do not try to achieve perfection in order to improve others. Do not remove immediately disliked shots , look at them after a while. Sometimes we are cruel to ourselves, which leads only to greater inner isolation, when in fact our work is not as bad as we see it in our mind. Therefore, take it slow, and don't stress out over every little detail.
11. Use Lightroom presets
Self Portrait Photography Definition
Self-portrait history has always had an impact on media, changing the ideas about beauty and charm. The masterpieces of famous self-portrait photographers seem to narrate us a story of their lives, lifting the veil of intimate secrets. The self-portrait photographers use various approaches, angles, and perspectives, creating the benchmarks for this genre of photography. Here you can observe some of the well-known self-portrait photographers who have greatly contributed to this photo genre. They have gained the eternal glory when created the wonderful photo masterworks.
Robert Cornelius
You may ask: «Who is a founder of self-portrait photography?» The answer is Robert Cornelius, a chemist-dilettante, who took the photo of himself by removing the lens cap and running into the frame where he posed for a one minute. This happened in 1839 and this formed the basis for a brand new genre of photography.
Claude Cahun
Claude Cahun, a French photographer, created a series of creative self-portraits in the 1920s where she appeared as a vamp, cherub, skinhead etc. She was also a fruitful writer, where she raised the issue of gender. Personally, she identified herself as agender, though most scientific articles use female pronouns when mentioning her. Her cooperative still picture works with Marcel Moore raised the questions of gender and self- identification.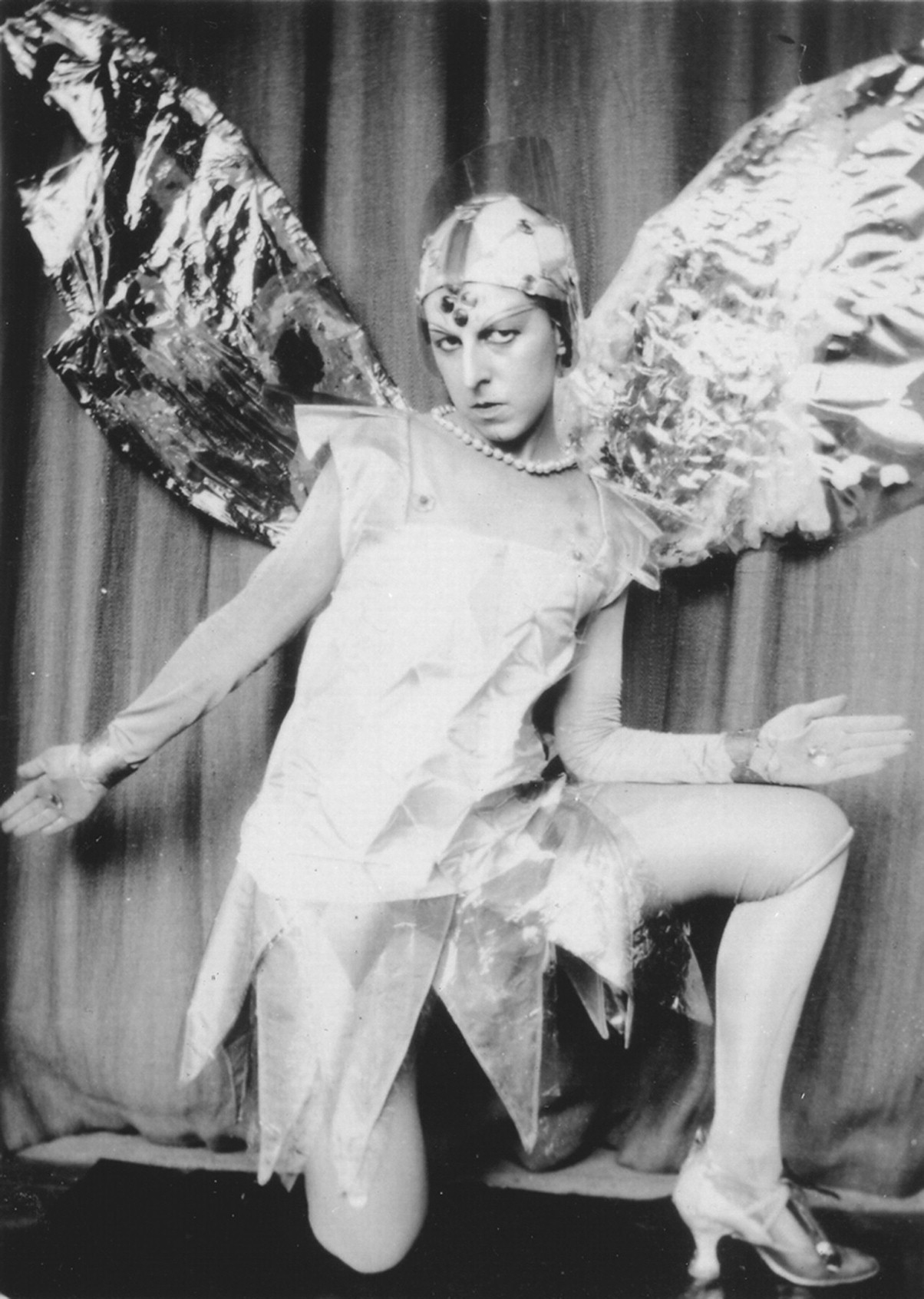 Man Ray
Man Ray was a dada and a Surrealist painter, though he gained the most popularity as a photographer. He was very skillful with his camera and his art can be compared to Old Masters' paintings, who portrayed themselves with brushes.
He was making self-portraits throughout his life, often appearing in many roles and using many portrait photography techniques. Wearing a turban or female clothes was his typical manner to express himself and to show different sides of his personality. He was separating his portrait photography photos from his paintings, saying that he took pictures because he didn't want to paint the existing things.
Vivian Maier
A mysterious personality of Vivian Maier can only be slightly revealed through her amazing folder of self-portraits, discovered recently. An ordinary woman, who earned a living as a nanny in NY city and didn't live a Bohemian life. But her camera revealed the inner world of a real artist, outstripping the modern portrait project ideas by decades. Walking the avenues of Big Apple with a photo camera, an ordinary nanny was catching her reflection in the shop windows, mirrors, through a shadow on the sidewalk, creating the wonderful images of streets combined with awesome portrait photography. She wasn't on the list of famous portrait photography artists during her lifetime but nowadays her works are being exhibited all around the world.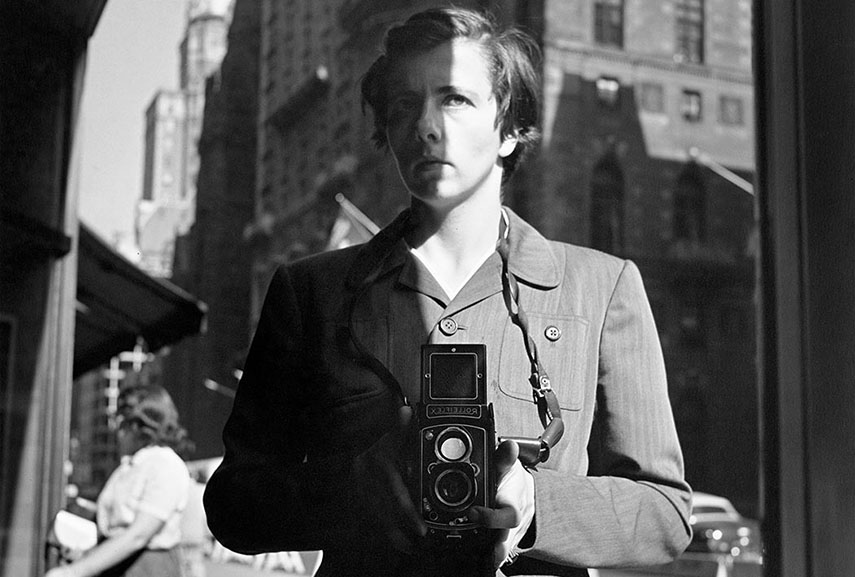 Andy Warhol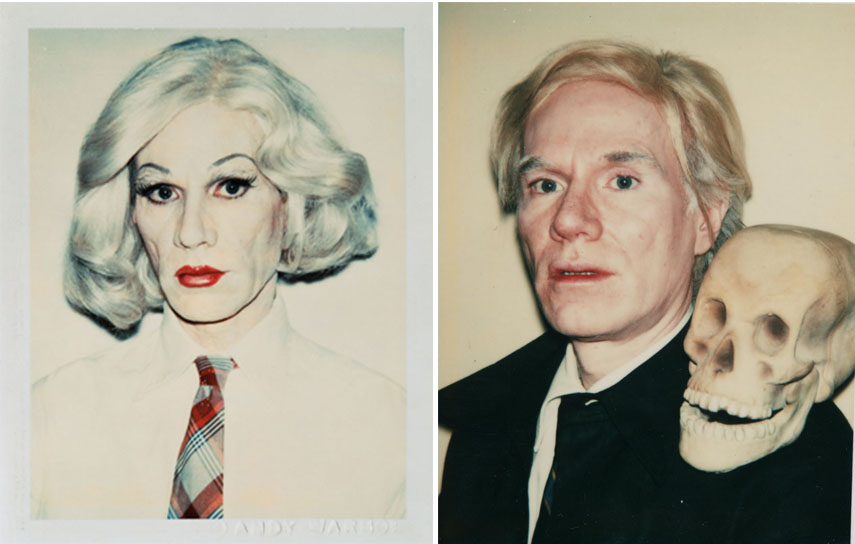 The name of a crank Andy Warhol is well-known to everyone. He was fond of depicting the amusement and was a great admirer of himself too. This is proved by Polaroids, his famous creative portrait photography ideas, made in 1979 for Polaroid Corporation. They invited him to work with their new large-format camera. The shots made by him were splendid, showing us Andy Warhol we had already known and revealing a person unknown to us. He loved art, theatre, and movie, that's why he appeared as movie-stars like James Dean and Marlon Brando in his photos. The art critic Robert Rosenblum has identified his portrait photography themes with a «pure theatre».
Cindy Sherman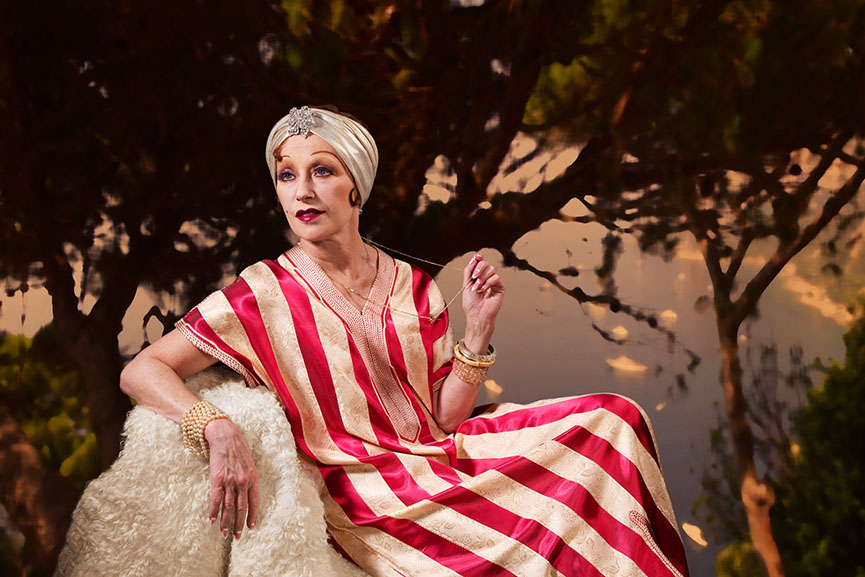 The queen of herself, Cindy Sherman, has started using herself as the main photo subject in the late 1970s. She experimented with creative photography ideas for self-portraits by creating new characters to show different social roles and sexual stereotypes. She proclaimed herself to be a photographer, model, makeup artist, costume designer, and narrator. Her photography uncovered the truth about Cindy Sherman in a striking way. Her portraits images gallery was huge.
Famous Self Portrait Photographers
A very interesting experience for every photographer is to discover himself or herself through the camera lens. You become the main subject of your photography, not the others. Here you can see 5 famous contemporary self-portrait photographers and their portrait photography ideas.
Kyle Thomspon
Kyle Thompson (11.01.1992) is an American tog from Chicago. He devoted himself to surreal conceptual photography. His surreal world is created to describe the concepts. He is fond of deserted locations – desolated buildings, gloomy forests etc. He has no formal education and he is a self-portraiture specialist.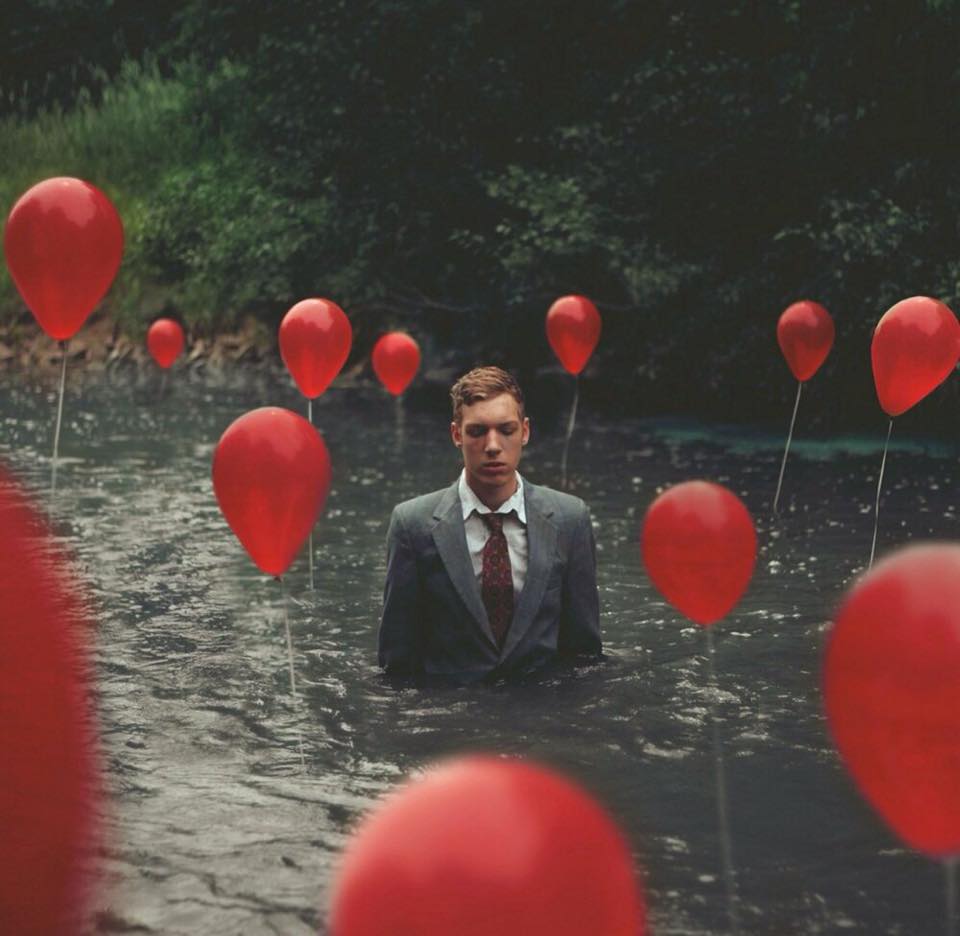 He adores nature and hates city outskirts where he matured. Suburbs are artificially constructed reality in his understanding. He likes to use different effects like water or smoke to emphasize the surrealism of his images. Sham is very important for his works – mirrors, balloons, model ships old TV sets are being used to transmit abstract concepts.
Brian Oldham
A self-taught photog Brian Oldham (born 1993) uses a conceptual approach in his works, based on a variety of topics – from self-portraiture to different contrasts and ways to connect nature and a man. His most creative self-portraits go beyond the limits of time and space.
Though there are surreal and fantastic things in his photos, they are amazingly real and have a deep meaning.
His fertile imagination and his love for fantasy gave him an idea to become a photographer. He started photography when he was sixteen. He continued to perfect his skills by experimenting with surrealism and self-portraiture. Now he is living near Los Angeles, dedicating himself to art photography and he is working at international level.
Hayashi Natsumi
This photographer from Tokyo is lifting the art of self-portraits to a new level in a very literal way. She is floating in her photos, surrounded by the typical objects of a Japanese city. The location can be different – from deserted street to a busy train station.
Her self-portraits are done from afar by using an ordinary tripod and a 10-second timer. Her images have no gravity, that's why she looks surreal among the ordinary items in them. She doesn't use a rigging system or Photoshop for taking photos, all portrait photography ideas poses are fixed in mid-jump. She also doesn't apply Photoshop for image retouching.
Laura Zalenga
Laura Zalenga expresses her inner world through her self-portraiture. Natural portrait photography lighting and inimitable scenery make her photos look perfect. Her images express her love for herself.
This daydreamer, according to her words, was born in 1990. Laura studied architecture but photography has become her real passion and self-therapy. Her photography is a way to understand and accept herself in order to become happy
Ben Zank
Ben Zank was born in the Bronx, New York. He started taking shots after he had detected a Pentax ME Super in his granny's attic. The aim of his self-portraiture is to show that people can manifest themselves without words.
He didn't go to the school of photography but was absorbed with journalistic. Soon he understood that words mean nothing and can't reveal his personality. His creative self-portrait ideas photography gave him a chance to show his real emotions and feelings.
Creative Self Portrait Ideas vs Selfies
Is there any difference between these two notions? Scientifically speaking, a self-portrait is a portrait that artists create of themselves. A selfie is a shot taken by a person, usually with a smartphone or webcam, which is publicly accessed on social media. So, let's study the main differences between selfies and self portrait ideas.
THE IDEA
The first difference is the idea, the message we are going to convey through our photo. There isn't too much depth in a selfie. We are just taking the snapshots of some important or unimportant instants of our life. They serve to capture us in a certain place in a certain time and to get some comments and the likes in social media.
Self-portraits have a certain idea and concept. A photographer transmits his or her message to people through them, he or she must get an inspiration to create the images.
THE MOMENT
Selfies are connected with a special place, time and people. Looking at them, a person can remember the certain moment of his or her life. They are your recollections of the past moments.
Self-portraits are connected with your feelings and emotions you've got when you were making your photos. You can't remember the time it was made but you can remember the feelings it gave to you.
PLANNING AND PREPARATION
You don't need to plan or prepare funny picture ideas of yourself when you are making your selfies. You just unpromptedly grasp your smartphone or a camera and take a snapshot.
The situation is different for self-portraiture. You need to prepare and work out all the details before you start shooting. Sometimes you need some props or you need to set the right light for your photography.
Summing up
Hope, you've found some self portrait ideas and saved them to your list. Be creative, use Photoshop and surprise your followers with surreal surrealist self portraits.
Do you like the article? Please feel free to share it via your social accounts.
---
Pay attention this photography blog which does not require credit for the pictures and photo post production examples listed here . All photographs used in the article are only copyright to their respectful creators . These shots posted as a big admiration of portfolio and photo retouching talent the experienced rt masters have . If you found the photo on this post that is yours and do not want to be promoted on our website , please do not hesitate to write us via online chat on your right and it will be quickly deleted .
---
Rate the article!
The article's rating:
---
You comments or questions are welcome; please share your opinion on the topic.
Use Facebook:
Use Disqus: