Becoming Your Favorite Character - Game Of Thrones Photoshop Tutorial
The winter is coming! So you need to be prepared.
As you all know, the new season of Games of Thrones has just come out. More and more people become interested in this TV-show. As a result, everything that is somehow connected with it is trendy: sweatshirts, backpacks, makeup and hair style, and, of course, photos.
So, today you will learn how to do a Game of Thrones photoshoot and how to use Photoshop in order to make your photos look like posters. At least, you can always contact photo post production services
There will be not only one game of thrones Photoshop tutorial, but bunch of them. Let's get started!
Games Of Thrones Cast
Firstly, let's learn something about the TV-show and its characters.
Daenerys Targaryen is probably one of the most famous of all. She is strong, powerful and very beautiful. Emilia Clarke is perfect for this role.
So, obviously, a lot of girls want to be like her. You can find many different cosplays of this character. I don't know if it's all about game of thrones color grading Photoshop or just every girl is that beautiful.
What do you do to look like her in pictures? Be hot. I mean, really hot, even hotter than fire. It doesn't burn you, you do it.
Done with jokes, let's get down to business. By the way, to find more information and tips about creating a look of your favorite character, check this Cosplay Photoshop tutorial or how to make your favorite character's impression?
How easy it can be if we just have an ideal game of thrones picture editor that does all job instead of us. But, apparently, for quality photos you need to create this look in real life. Then you can make it even look better and naturally using Photoshop, but you still need to recreate Daenerys look with the help of wig and makeup.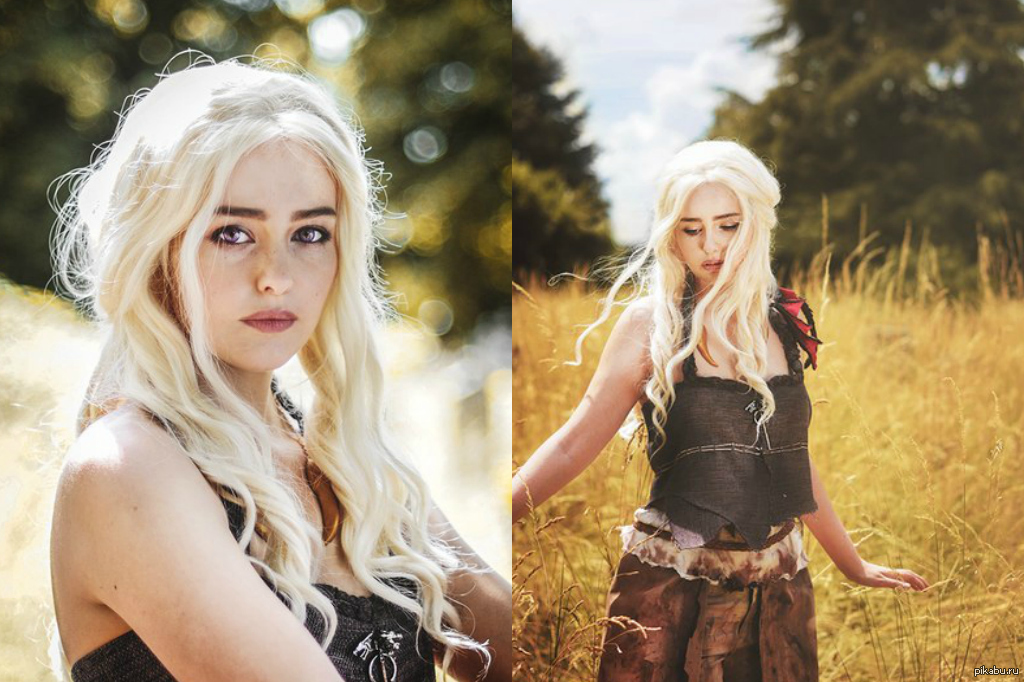 No matter how good your makeup is, most likely you will still have to turn to the processing of the picture, so it's better to contact the professionals of headshot retouching
By the way, did you know that it takes a few hours to put the wig on? Now you do. You will find out how to look exactly like the mother of dragons and learn more interesting things here Game of Thrones: Daenerys Targaryen Look
Now you need a professional photographer and proper place like a forest o even waste land. Also, you need to know this character good in order to do the same poses, facial expression etc. But, I bet you already do in case you decide to do the game of thrones photoshoot.
Now let's move on to a popular man character.
Even though Jon Snow knows nothing, you have to know how to recreate his look. Kit Harington portrays this character in television series.
He's a strong, brave man with dark curly hair and dark eyes.
To look like him, you probably need help of a girl or a sister who knows how to draw a scar. Or you simply can use a special game of thrones photo effect that will artificially put scars on your face.
You also need to make sure that your outfit is similar to the original. The best place to shoot is a stone building or a forest. It would be perfet to take photography in the winter when the snow falls.
To create the illusion that it's winter that everyone is afraid of and wait for in the Game Of Thrones color grading Photoshop can be used.
If you prefer enticing redheaded girls instead of beautiful blondes, you should think about the image of Sansa Stark for your photography.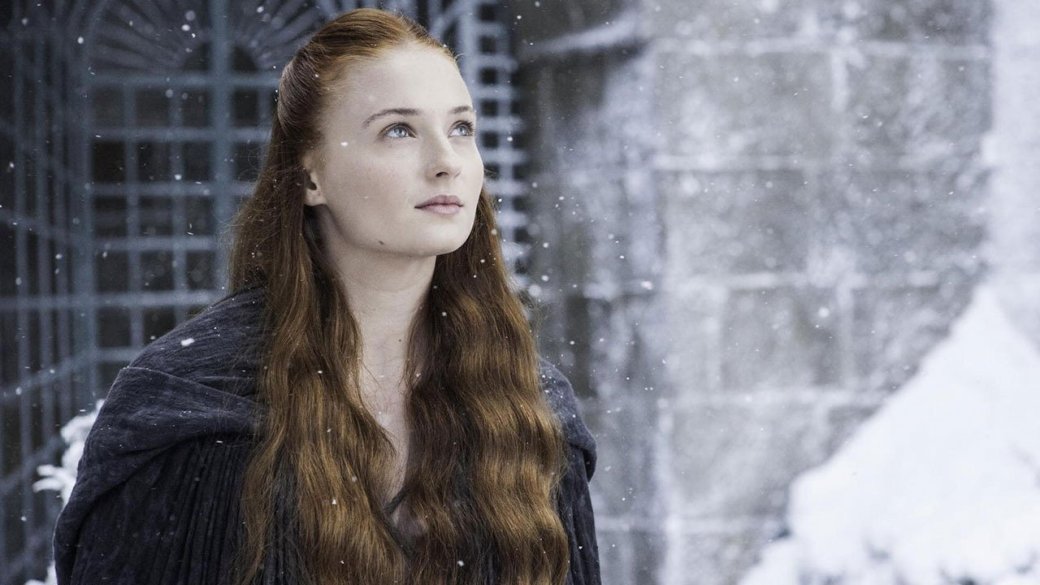 Sophie Belinda Turner portrays Sansa who is one of the main characters. Selecting this character for the game of thrones photoshoot is an amazing idea. Sansa combines the sophistication of the lady and the power. She has a sense of duty and lives in reality, not dreams. Sansa could be a great queen.
So when you decide to choose her image, you need to show yourself as a queen. Video that is called Sansa Stark // Game of Thrones inspired look will help you with it, so go and check it out!
For the ideal end result, do not hesitate to turn to portrait retouch. By the way, actress Sophie Turner loved direwolf, Lady, so much that took it home. In real life, the dog was named Zunny.
Direwolves of the first season are actually breed of dogs called North Inuit.
So if you have a dog, take your own pet to the photoset. It's okay if it's a little chihuahua, it'll add some humor to the photo session.
Idea! If you want to do a common photoset with your friends, make it in style of your favorite show! There is no doubt that everyone will find a character they like. To make the photos look as natural as possible, watch the Game of Thrones cast photo shoot. This will surely inspire you and give you new ideas.
If during your photo session you want to be a woman who is a warrior, brave, vindictive and strong?
Then try yourself in the role of Arya Stark. How do you make makeup like that? What kind of clothes you need to choose? What's the hairstyle?
Becoming Arya Stark [Cosplay Transformation] will answer to all your questions.
For fans of challenges, there is also an appropriate option. The Night King is the main white walker.
To get this look without using Game of Thrones photo filter is not easy task. But don't be afraid if a professional makeup artist works with you. Not just a guy, but also a girl can make this character cosplay. Even a very beautiful woman. Even a very beautiful woman with long hair. Even a super woman.
Go and check it out: Transtransform into a white Walker
After watching this video, you should have no doubt that this image can be recreated by anyone.
In fact, there are enough characters in the Game Of The Thrones, and it would take forever to describe each one, so let's stop it for now.
Game Of Thrones Photoshop Tutorial
We discussed what it takes to make those photos, and now it's time to learn how to edit them.
First you need to determine what you want: Take pictures in the style of the series, with such colors and atmosphere, or make a photograph like a poster.
In the first case, you don't need to know anything special, if you can work in Photoshop, you'll find the right filters and effects without problems. If not, the video below or photo color correction services will help you figure everything out.
Create An Easy Game For Thrones Effect: Photoshop Tutorial
Your pictures stylized like this popular series will probably be of interest to many people. If you want to copy the style of your favorite poster, you'll need to do roughly the same manipulations.
Game Of Thrones Photoshop Template
What's about atmosphere? Let's confess it: Everyone would like to see themselves on that very Iron Throne, surrounded by dragons, or with a sword in their hands. Actually, it would be even better with Daenerys in their hands (just a joke). So this is a very handy thing called the Game of Thrones Photoshop template. It's not so easy to find these patterns, so it's easier to learn how to create them. How do you do that? Find the answer in Photoshop Tutorial | How to create Game of Thrones by another way
There are also separate templates for substituting themselves in a picture. Working with them is easy. Of course, now we're talking about the Game of Thrones Photoshop template, not the usual template cut from paper or cardboard. You can download these "blank" pictures on your PC, install an app (the quality of which is likely to fail, but still as an option), or use all sorts of online services like this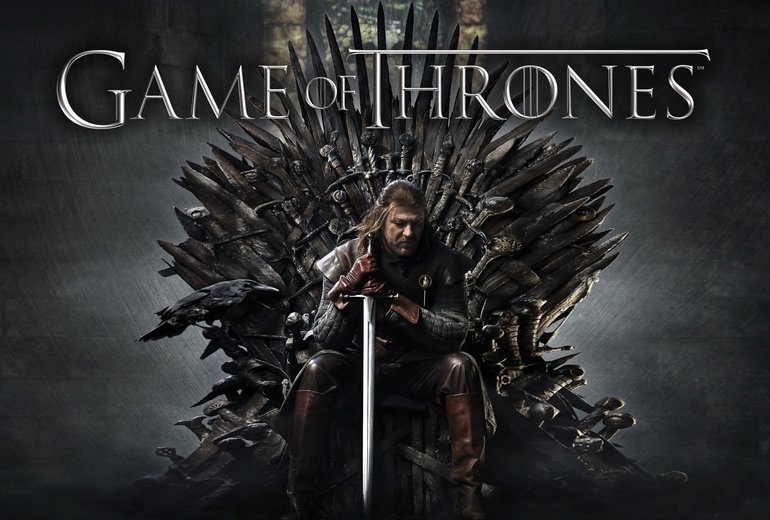 There's a theme of the series, but the Game of Thrones picture editor is completely bad for creating quality photos. There you can just try it or make a few pictures for yourself, but put them on your Social media will not be a good idea, because it looks very amateur and frankly ridiculous.
Game of Thrones Color Grading Photoshop
Everyone has already seen the posters of a new season of the Games Of Thrones. The gradient of the blue color looks very good in the characters ' photographs.
How can you make your picture look the same as the new poster? It would be nice if you find a suitable Game of Thrones photo effect, but it's hardly exist. But it's not a problem, because you can create it yourself! See the detailed instructions below.
Tutorial - How to make Game of Thrones season 7 Character Poster
You don't have to make a cosplay or an exact copy of the poster to stylize your photo. As it has been mentioned above, you just have to find the right colors.
Game of Thrones photo filter can help you with it. If you don't want dragons, antique dresses, swords, scars and all the other things, but you're attracted to this series like aesthetically, that is, you like the picture, the colors in it, the way they mix, the cold tones, and so on, and you just want the same for your photos, then color grading is what you need.
The following video will help you find out how to achieve this result:
Game of Thrones - Color Grading Tutorial
Even a regular photograph can be changed into a fantastic and slightly mystical one using this technique.
Game of Thrones Photo Filter
Not so long ago, popular now Snapchat has released a new photo filter dedicated to the show. It changes you into White Walker. You don't need to make any effort to become one of the characters in the series, except to take your phone, open Snapchat, and take a selfie.
All of the above are good, but it can't be compared with a professional photo shoot and everything that it includes. Do not refuse the pleasure of taking Game of Thrones photoshoot and opportunity to be a real model for a few hours. There will be a whole team of makeup artists, stylists, hairdressers, and so on. You don't have to worry about the costume, you can be sure that the pros will take care of you and choose for you a perfect outfit, whether it's a fancy blue dress or a fur suit. If something will not be realized through clothing and makeup, it is fixed by the retouchers. By the way, here you'll find photo editing prices for that.
You don't have to worry about props, there are fake swords and other weapons at the studio.
Of course, maybe the Iron Throne will not be built special for you, but be sure that the photographer or editor will fix it while processing the photos, using, for example, a Game of Thrones Photoshop template.
And if you want to photograph and see the real prop with your own eyes, go to the exhibit! HBO arranges such exhibitions in different cities and even countries. Like a real fan, you have to be there.
Create Your Own
If you already have all of the existing merch of this series, or if you're just more interested in creating it yourself, old good Photoshop is always there.
You can take any photograph from the Game of Thrones cast photo shoot and make something original. Put the actors in the scene of another show, or in the scenery of your town or even your own room. You can make a funny and comical pictures, or on the contrary, make them heroes by placing them in another universe. Sky is the limit, the most important thing to do is to turn the imagination on and show all your creativity.
Easy-to-understand training of the basics of a photo manipulation is provided by the following video: Game of Thrones | Photo manipulation | Photoshop CS6
You can also use some Games of Thrones photo effect, but with a precision of 100 percent, you can say the photo won't be so good. If you already know good how to work with a Photoshop at a higher level or you just love challanges, there's another video. It will also help you understand how you can use the usual Photoshop to create whole piece of art. Interested? Follow the link below.
Mother of Dragon Photo Manipulation - Photoshop Tutorial #1
Why is there such a hype around this tv-show? Why do so many people admire it? And why does anything that's related to it is also popular? People look for any information related to their favorite show, and any Game of Thrones cast photo shoot gaines many views. So don't forget to put the appropriate hashtags below your photo in that style. The importance of hashtags can be read here in Best hashtag photography for your portfolio
Famous For What?
The point is this tv-show is very unusual. It's not like the others, every episode is breathtaking and explodes the brain with its storylines. Someone loves the show for its surprise and unpredictability, someone for its cruelty - it occupies the first place by the number of deaths! Of course, the magnificent acting of actors and charismatic characters should be mentioned.
To look like one of the characters, Game of Thrones photo effect can be used.
The abundance of erotic scenes only makes this show even more spicy. You can find many references to this show in other popular TV shows. In the video below, you can see some of them:
More Games of Thrones References on TV
It's very interesting to look at actors without the usual images of gloomy warriors, murderers, and conspirators. To see them without scars, dirt, but in modern clothes and with hairstyles can be very unusual, especially if you had a 24-hour marathon of watching the show.
The Game of Thrones cast photo shoot behind the the scenes looks pretty nice.
You can see a similar effect if you first read a series of books, and you have already think of one image, while on the screen you saw completely different one.
Let's Take A Photograph's Look
Well, we've learned how to make makeup in the style of a character that you like, different ways to make your picture and poster look similar, such as the Game of Thrones color grading Photoshop and many others. An we have learned something new about the show. The only thing we didn't do, we did not look at it from the side of the photographer or the editor.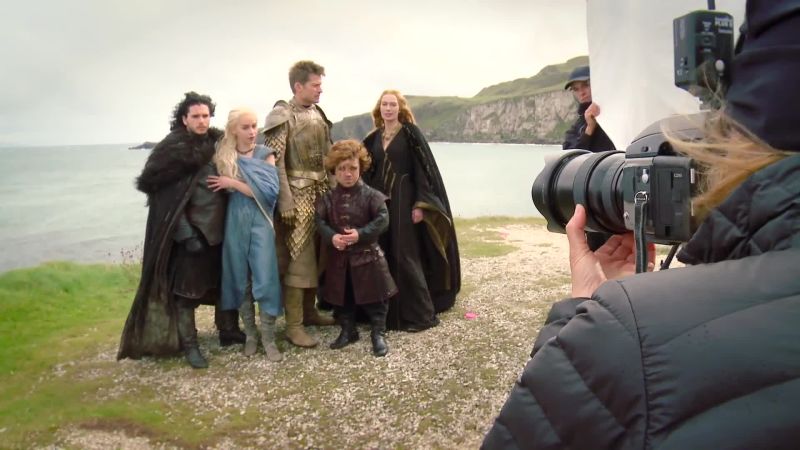 Perhaps not every photographer would take such work because he would know in advance that it required much efforts. Especially if the photographer chooses to edit these photos by himself later. After all, he or she's going to have to do more than just find a good Game of Thrones picture editor, but create an entire fantastic picture from scratch.
Imagine if you had the chance to do not just photoset in that style, but a whole wedding photo session!
It seems that every guest there used the Game of Thrones photo filter.
Thanks to Blinkbox, Kerry Ford and Darren Prew had been given the opportunity to play a "game of Throne" wedding. For the event, an antique castle and horses were rented, and professional makeup artists and wardrobes helped transform all the participants in the ceremony.
Beloved wore costumes of Daenerys Targaryen and John Snow. All present were also dressed in the style of the series.
More photos from this unique wedding you can find here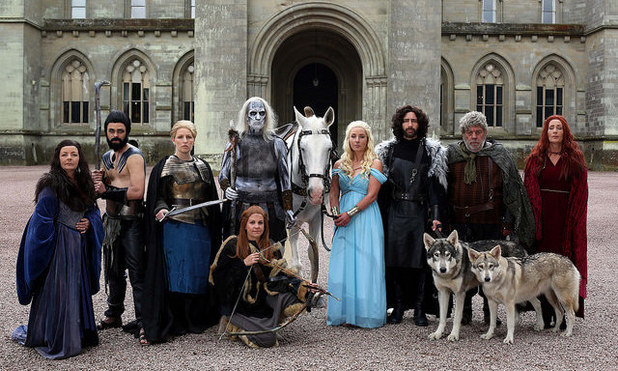 Despite the abundance of pictures, patterns, and existence of Games of Thrones Photoshop tutorial, creating an image that matches the desires of the customer, the mood of the series is not easy task.
A Belgian photographer, Laura Bierens, took a photo of the style of Games Of Thrones for a whole family. Photoset was a gift to the father's anniversary from his daughter. Original present!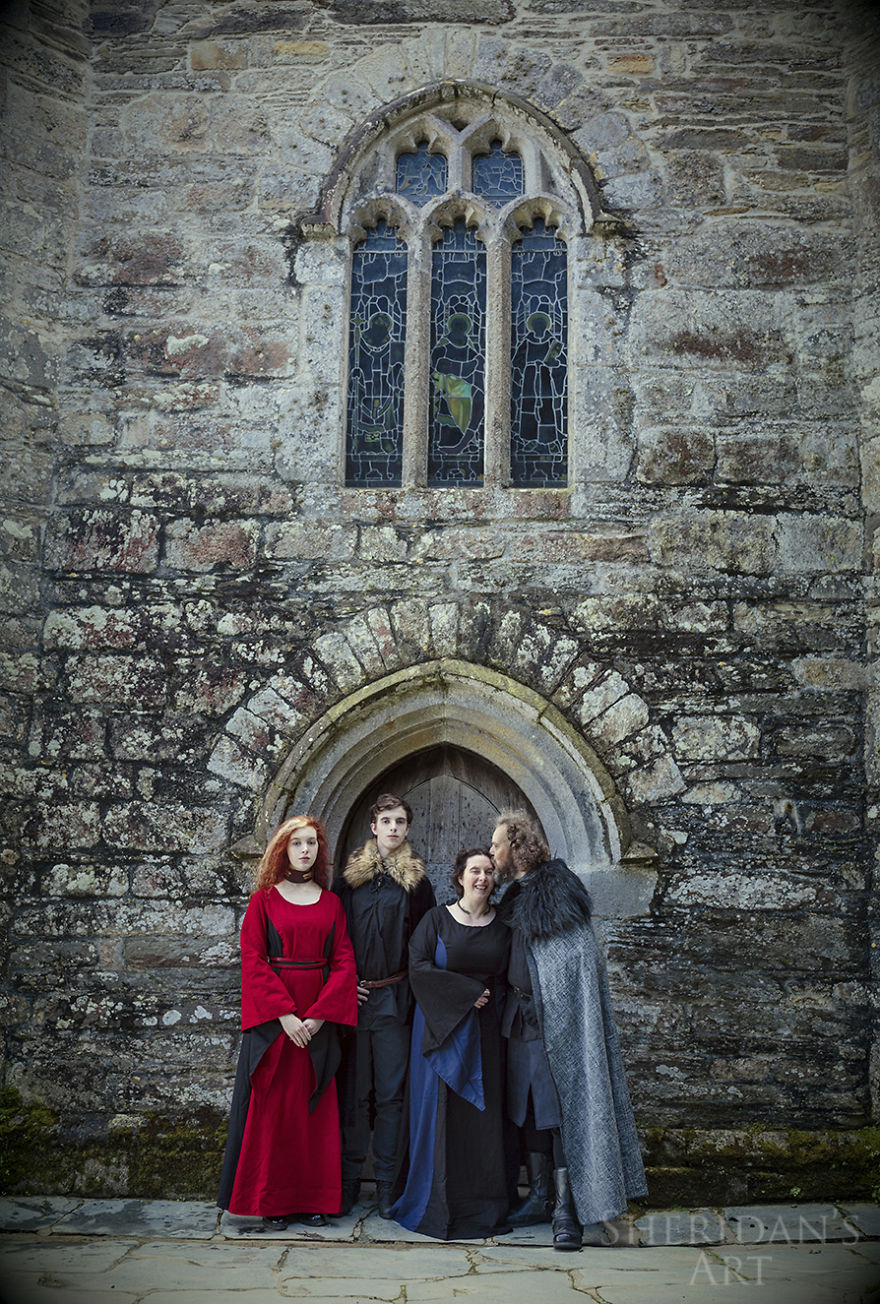 Note the quality of the photos. Processing is certainly an important part of it.
A variety of professional examples you can find at before and after retouch
For this photo session, a whole story was invented.
In conclusion, one thing is needed to be said. You don't have to be afraid to implement these crazy ideas like a wedding in the style of a favorite series or book. It's something that makes your life interesting and fills it with bright moments!
Hope that each Game of Thrones Photoshop tutorial in this article will help you to realize your ideas.
Do you like the article? Please feel free to share it via your social accounts.
---
Pay attention this photography blog which does not require credit for the pictures and photo post production examples listed here . All photographs used in the article are only copyright to their respectful creators . These shots posted as a big admiration of portfolio and photo retouching talent the experienced rt masters have . If you found the photo on this post that is yours and do not want to be promoted on our website , please do not hesitate to write us via online chat on your right and it will be quickly deleted .
---
Rate the article!
The article's rating:
---
You comments or questions are welcome; please share your opinion on the topic.
Use Facebook:
Use Disqus: