Professional Photo Editing > Free Photoshop Textures > Free Watercolor Texture Photoshop
Free Watercolor Texture Photoshop
Watercolor effects are now a hot trend in web design and digital photography. Adding Photoshop watercolor texture to a photo can definitely give it an artistic shade.
Watercolor - a special technique of painting, in which colors (watercolors) are applied to wet paper, which creates the effect of smearing and ease of composition. This effect can be achieved not only with the help of a real letter, but also in Photoshop.
We present you free watercolor Photoshop texture kit with various chaotic stains and intricate patterns. Your own imagination will help you to use them in an interesting manner.
In order to download your favorite texture, click on the "Watercolor texture download Photoshop" button under the corresponding image. You will see a field for filling in, where you need to indicate your name and the email address. A direct download link will be sent to your email.
---
10 Watercolor Texture Photoshop Free Bundle :
---
Watercolor Photoshop Texture Free
If you manage to use a Photoshop watercolor texture in a proper way, your photos will acquire more depth and emotion. Moreover, this Photoshop texture watercolor collection may help you to finish the picture, adding a grunge or even a vintage look.
Some people think that any watercolor texture in Photoshop can significantly change a terrible photo. In a way, it is true, that the free watercolor texture Photoshop makes pictures more eye-catching and interesting. Besides, you get the basis for further creative ideas. Every free watercolor Photoshop texture enriches your pics with bright colors and impressive shadows, making them striking and pop.
---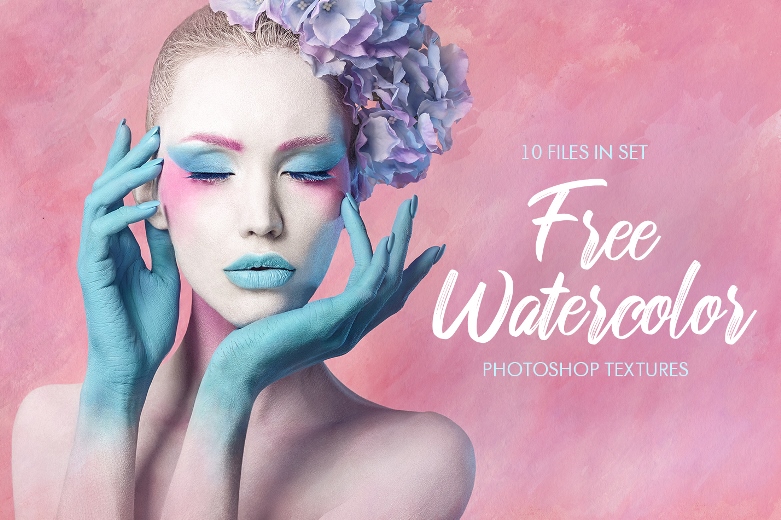 Free Watercolor Photoshop Texture
• Kit of 10 textures;
• Convenient *.jpg format of all files;
• Conformity: Photoshop version 4-6, Adobe Creative Cloud;
• Quick watercolor texture download Photoshop;
• Mac and PC user can apply the collection;
• Perfect for RAW and JPG pictures.
Photoshop Watercolor Texture Free
---
PS Texture #1 "Blue Sky"
The first watercolor texture Photoshop free has a light blue color and is done in a touch up technique. The main peculiarity is the harmonious transition from blue color to soft white shades. This free watercolor texture Photoshop will look gorgeous in wedding photos and newborn images.
Texture's group: Free Watercolor Texture Photoshop
Tips:
Have a fling of color variations by adding a Saturation/Hue effects or a gradient layer. You may also use a proper overlay from our Shop.