Professional Photo Editing > Free Photoshop Overlays > Free Star Overlay
Free Star Overlay
Free star overlays are the best way to make beautiful night sky in Photoshop easy and fast. Now creating a starry sky effect during the image post processing is extremely simple, especially if you're using one of these 10 free star overlays created by FixThePhoto.
The Free Night Sky Overlay collection was developed by professional designers specifically for Photoshop and serves to create realistic and fairytale nature photographs. These star overlay Photoshop effects are perfectly suited for editing evening and night photoshoots as well as wedding photos. This collection features a variety of overlays that are suitable for all kinds of images since each overlay has a different number, size, and positioning of stars. You can easily add a bit of magic to your images by adding a real meteor shower to the night sky. This set of free night sky overlays for Photoshop will prove to be irreplaceable in the photo editing collection of both experienced and beginning photographers. All you need is basic knowledge of Photoshop, raw nighttime photographs, and a tad of creativity.
---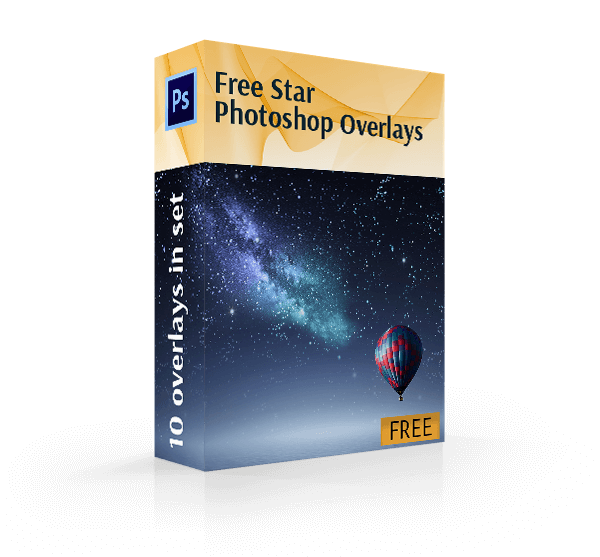 Free Star Overlay Photoshop :
---
Free Star Overlays
Capturing photographs of the night sky without star overlays is equally challenging for both experienced photographers and amateur designers. You need to be a true professional with great instincts to choose the correct location, date, and time for such photoshoot.
You also have to demonstrate patience as you wait for the moment when the Moon and the Milky Way are both visible in their full majestic glory.
Our star overlays for Photoshop were created to add a magical atmosphere to the background of your photos, making them stand out in any portfolio. When the night sky is filled with stars, it creates a mystical aura that can't be matched by anything else. It's a unique experience since during the night we act as nature's guests without any control over what can happen. Our star Photoshop overlays will allow you to convey the atmosphere you enjoy while being only accompanied by stars and sounds of the wildlife and wind around you.
Free Star Overlays for Photoshop
Set of 10 high-quality star Photoshop overlays
Overlays are saved in .JPEG format
Supported by Adobe Creative Cloud and Ps 4, 5, and 6 editions
Ready for fast and 100% free download
Compatibility with the majority of modern PCs and Mac
Designed to work with JPG and RAW picture formats

Star Overlays Free
---
Star Overlay #1 "The Milky Way"