Professional Photo Editing > Free Photoshop Overlays > Free Rainbow Photoshop Overlays
Free Rainbow Photoshop Overlays
FixThePhoto team created a set of free rainbow Photoshop overlays which will relieve you of the necessity to wait for the suitable natural conditions or sit on the street until the rainbow shows up in full beauty. Using these free rainbow Photoshop overlays, you can add a rainbow to any photo in just a few clicks. All overlays look very realistic, so no one will ever guess that you added the rainbow to the pictures without waiting for the end of the rain, but merely sitting at home. Wedding, portrait, urban, summer, landscape, and many other photographs will be complement perfectly with any free rainbow overlay Photoshop from this bundle.
---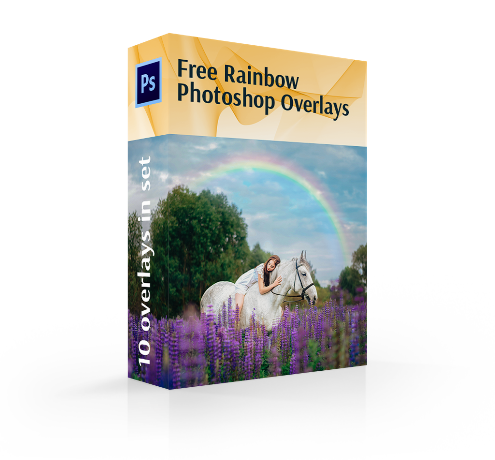 Rainbow Overlay Photoshop Free Bundle :
---
Rainbow Photoshop Overlays Free
The rainbow usually appears unexpectedly. But how to "catch" and show this beauty in the photo? To ease the task and get awesome results, you can use these high-quality and free rainbow Photoshop overlays.
In this set, you will find ten overlays designed by the professionals. You'll see the rainbows of different sizes and directions. The rainbow can have not a full arc or can go from edge to edge when all seven color spectra are clearly visible. There is also such a phenomenon as double rainbows.
For image editing, use photos taken outdoors in clear weather, with good lighting, sky, and horizon. Just select the picture you like and pick the overlay, as well as the desired place and the rainbow's size. These free rainbow Photoshop overlays will inspire you, so the photos are sure to please everybody.
Free Rainbow Overlay for Photoshop
10 Free rainbow Photoshop overlays
In JPG format
Compatible with Adobe Creative Cloud & Photoshop 4-6
Fast downloading
Available for Mac & PC users
For Raw & JPG photos

Free Rainbow Overlay Photoshop Bundle
---
Rainbow Overlay Photoshop #1 "After the Rain"