Professional Photo Editing > Free Photoshop Overlays > Free Grunge Overlays Photoshop
Free Grunge Overlays Photoshop
Grunge is one of the most controversial modern fashion trends. Its main point is the combination of incongruous, the mixture of styles, colors and textures. Grunge combines everything at once, turning every separate element into one inconceivable cocktail. Grunge in photography reflects the cultural and social significance of the trend, namely, resistance to the generally accepted styles and rejection of the popular standard norm in fashion, behavior and appearance. All this you can get if you choose free grunge overlays for Photoshop.
You won't have to spend many hours inventing or selecting something to create a grunge style on your photos. We have compiled the collection of 10 Photoshop grunge overlays that will give your photos a fresh, stylish look. Our bundle will become an excellent source of inspiration and creative idea for retouching different pictures.
---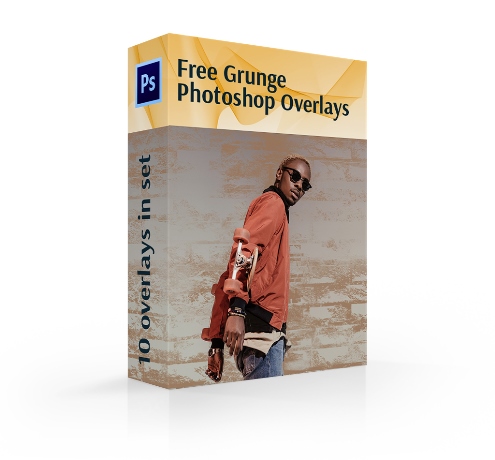 10 Free Grunge Overlays for Photoshop Bundle :
---
Grunge Overlays Photoshop Free
The variants of experimenting are never-ending. Try different modes, "play" a little bit with grunge Photoshop overlays, add some cool grunge style to your pics. This Photoshop grunge overlay collection is wonderful for art photography. Besides, every creative photographer can use it to make her/his own style even more peculiar and interesting.
This amazing set of 10 Grunge Overlays impresses by its diversity and versatility. If you are open to constant experiments, you will definitely like it. Photographers can use:
transparent Photoshop grunge overlay on its own;
combine overlays;
match them and blend.
Free Grunge Overlay Photoshop
10 free grunge overlays Photoshop with a blurring, out-of-focus effect, known as bokeh;
Recognizable, easy to work with, in *. png format;
Combinability with all versions of Photoshop photo editing program;
All grunge overlays for Photoshop download are quick and clear;
Both Mac and PC users can try and enjoy these overlays;
Apply to Raw and JPG file formats.

Grunge Photoshop Overlay Free
---
Free Grunge Effect Overlay #1 "Fire Wall"