Photography Associations Free Membership
If you are serious about your photography, you should consider joining photography associations. The number of American Photography Association (APA) members has increased by 25% since last year. What is the secret of such growing popularity among professional photographers? Is there any chance to get photography association free membership?
---
Contents:
---
Photography Associations FREE Membership
American Photography Association
General Information
Country: USA
The American Photography Association is known in the world of photography simply as the "Association". In 1869 enthusiastic photographers decided to create something in a form of a Member-based organization in order to glorify and develop photography. The main objectives of creating the "Association" are:
- to arouse interest to different photography genres and styles;
- to offer various activities, professional photography courses and tutorials;
- to stimulate general artistic participation and elaboration in the field.
Overall, this organization is aimed at educating the participants and all other people, who would like to be engaged in professional photography. Members get a chance to learn more about their intellectual property rights, modern technologies, mass media and its impact on the activity of a photographer. National Association of professional photographers gives an overall view of possible ways, how you can apply your talent and knowledge in business. Moreover, it strives for organizing different exhibitions, when members can demonstrate their works and takes part in various charitable and educational events that are related to the topic of photography.
Why should you join this organization?
It is one of the oldest associations on the territory of America, offering free membership with almost full use of the benefits.
Photographer membership advantages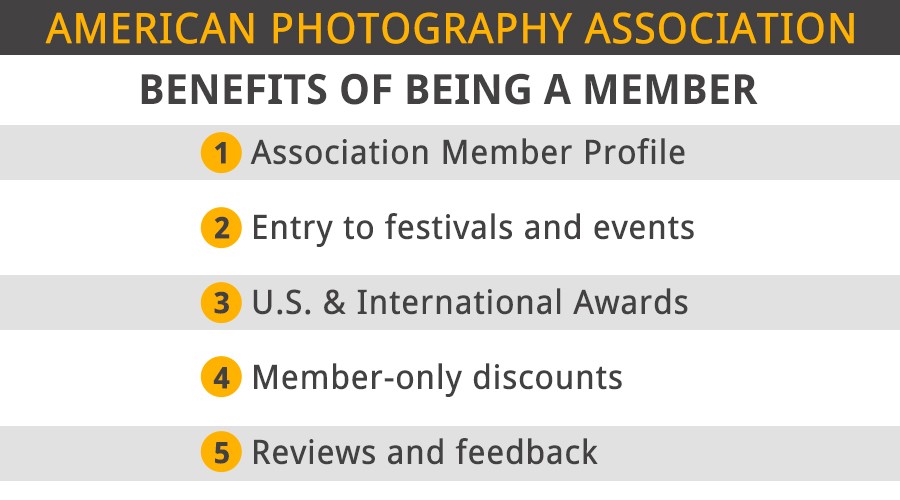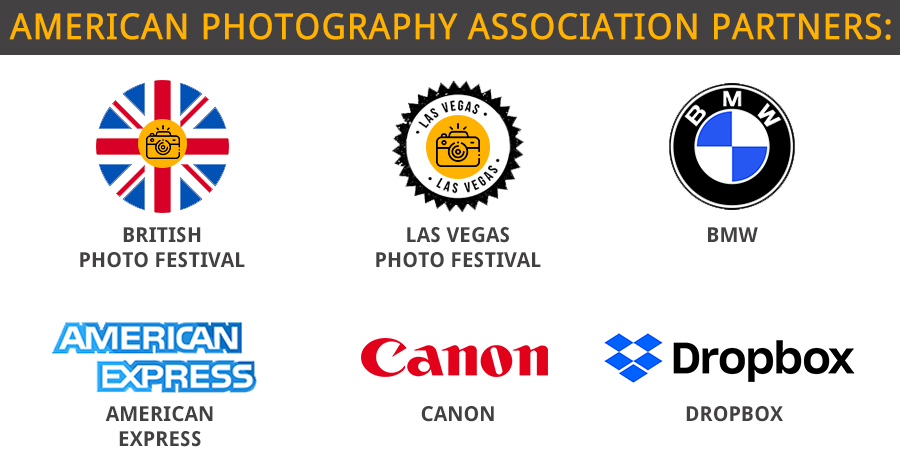 There are various privileges that every member of the Association enjoys. First of all, you may create a unique membership profile and get a chance to fill in an application for Association-sanctioned U.S. & International Photography Festivals free of charge.
It is also possible to receive different discounts and bonuses from sponsors and business associates, as well as, comments and references from the colleagues. Moreover, every member gets a chance to be nominated for U.S. & International Awards and, thereby, become recognized for his/her works. Last but not the least benefit is an educational side – you will get to know about copyright laws and possible ways of protecting your professional photographer's rights.
Free membership – how to get?
All you have to do is find the application on the official website and fill it.
Photographic Society of America
General Information
Country: USA
Another world-known organization that creates the basis for photography development and advertising photographers of America is the Photographic Society of America or simply PSA. It offers various services and photography classes to bring more attention to the photo-art and educate the members by:
holding competitions;
organizing study groups;
creating online courses;
offering professional photography tutorials and much more.
Any time you wish, you can view members' works and visit youth photography exhibition that is held once a year. All members have a chance to get professional reviews or even critique of their works to perfect their style. Moreover, discounts for various products, free admission to the Member's Only area on the website, as well as, PSA professional photography magazine are available to the members.
Why should you join this organization?
This organization provides free membership with the opportunity to be published in an international journal and become part of a huge number of cognitive activities.
Photographer membership advantages


The first important benefit is quality education, which enables each member to develop skills, broaden horizons and, ultimately, apply for the best professional photographers of America jobs. Every photographer-member can:
- visit conferences or local chapter events;
- subscribe for Picture Professional periodicals;
- get some pieces of advice from other members.
Actually, there are many different ways how the Society promotes the constant artistic growths of the members.
Another important advantage is the connection within the community. It means that a lot of useful professional contacts and working relationships are done through the organization. Moreover, the Photographic Society of America is a non-commercial organization that boosts the photo industry as a whole. It combines different perspectives of professional photographers of America in order to create the single basis crucial to all and sundry picture enthusiasts.
Free membership – how to get?
You can take a track at open competitions and get a 1-year free membership if you manage to win.
EN FOCO
General Information
Country: USA
En Foco is a non-commercial organization, founded in 1974 with the aim of helping the present-day photographers from Africa, Latin America, Asia, Pacific Islands that have based in the USA. Among the members, you will see representatives of various photography genres and diverse cultures, who have something unique to demonstrate the society. En Foco has created the Permanent Collection and continues supplementing it with new professional photography pictures. The key objective of the organization is to develop and implement social programs that will support lower-income members of society and those, who are in need.
Why should you join this organization?
This is an excellent opportunity to develop other cultural features on the territory of America.
Photographer membership advantages


The organization offers the Photography Fellowship Program that supports young and talented photographers of color, who demonstrate a high quality of work and meet all the requirements set by other experienced professionals. There are 10 Fellowships ($1 000 at an average) awarded to the best artists. Moreover, you have a free access to different exhibitions and can get publications on professional photography websites or in A Nueva Luz periodicals.
Free membership – how to get?
En Foco organizes different social events and public projects all the time. Take part in one of these programs, in order to get fellowship or membership FOC.
South Australian Photographic Federation
General Information
Country: Australia
This organization was established in South Australia to give an overall support and guidance to the professionals, who live there. It exists in a form of umbrella institution that consists of brunch-clubs and groups throughout the territory. South Australia Photographic Federation helps photographers of all levels to develop their skills. It controls and coordinates the affiliated structures, provides necessary photography tips, holds classes and does everything possible to draw attention to the art of photography.
Why should you join this organization?
This organization is a network of local clubs that exist not only online, you can physically meet with a large number of people and attend numerous events.
Photographer membership advantages

There is a great choice of clubs you can join, so think before selecting any. Some of them offer lots of amusing activities, a chance to meet interesting people and just enjoy your time. Others are concentrated on some practical classes, lectures about professional photography equipment, tutorials and so on. Knowing the peculiarities of each club, it will be easier to choose what you really need. Though there is the general division on competitive and non-competitive clubs, some activities are quite similar:
scheduled meetings;
guests visits;
workshops;
excursions.
Anyway, you must be sure that some theoretical activities will be combined with practical tasks, as well as the chance to demonstrate the results of your work.
Free membership – how to get?
Everything is super simple – attend the clubs in Australia.
Professional Photographers of Canada
General Information
Country: Canada
This is a famous organization that does its best to develop all photography forms, enable photographers to find fellow-artists to exchange opinions and share knowledge, help amateurs to get proper education and perfect their skills. Every year PPOC organizes the Image Competition showcases, known as PPOC National Convention for the purpose of choosing the best image taken in the country during the year. PPOC has a rich history and many world-known names in a long list of professional photographers-members. According to the chronicles, commercial photographers in Ontario had an idea of establishing a photographic institution to serve their artistic needs. In 1946 such an organization was formed and even was granted a federal charter. Some changes took place on October 30, 1962, when it was renamed Professional Photographers of Canada Inc. (PPOC), which was more suitable to demonstrate the nature of the organization.
Why should you join this organization?
The main advantage is its own international organization, which is engaged in supporting its members in any part of the world.
Photographer membership advantages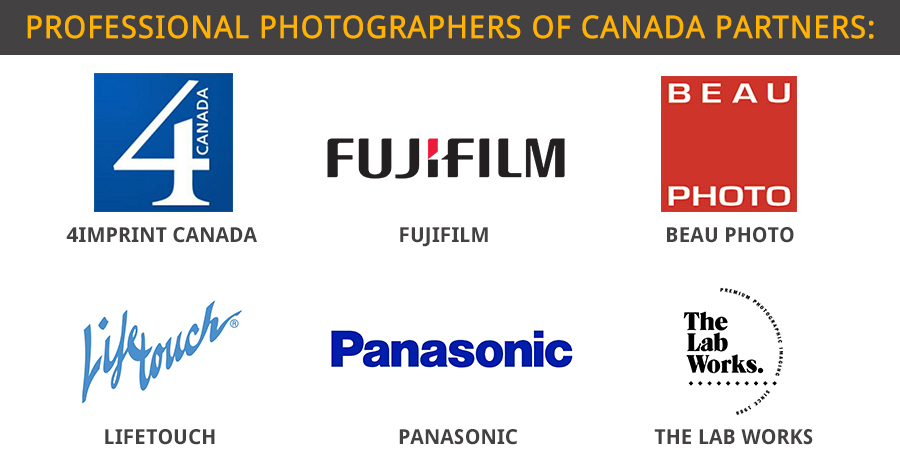 The doors of the organization are opened to the photographers of all genres and styles. The only must – is to be in love with your profession. All the members will get a chance to:
meet new friends and find influential sponsors;
exchange your knowledge and learn something new;
rise to a new professional level;
take part in popular competitions and earn awards;
receive direct membership benefits;
find assistance in artistic growth and financial improvement.
Everybody can upgrade to an Accredited member, which brings lots of bonuses, such as a personal page on the national professional photography website. In such a way, people will see your works and can get in touch with you.
Free membership – how to get?
Compared to other photography associations free membership, this one is available within several minutes:
fill in and send an application form;
receive the confirmation with an Accredited level;
enjoy the benefits.
Professional Garden Photographers' Association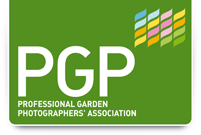 General Information
Country: UK
The specialization of Professional Garden Photographers' Association is obvious from its name. This UK-located organization is focused on the activity of professional photographers, who are engaged in plants and garden imagery. In fact, Professional Garden Photographers' Association is a semi-governing part of the Garden Media Guild.
After another regular meeting at RHS Chelsea Flower Shows in 1999, two men, whose names were Jerry Harpur and Andrew Lawson, decided that there was an urgent need to raise garden photography to a new level. These men were the establishers of the PGPA, who contributed a lot to the development of the genre. That, what started as a friendly talk, turned out to be a very crucial event in the photography industry. Nowadays, Professional Garden Photographers' Association has more than 100 members and continues attracting talented photographers from all parts of the world.
Why should you join this organization?
This is the only organization of its kind in the world.
Photographer membership advantages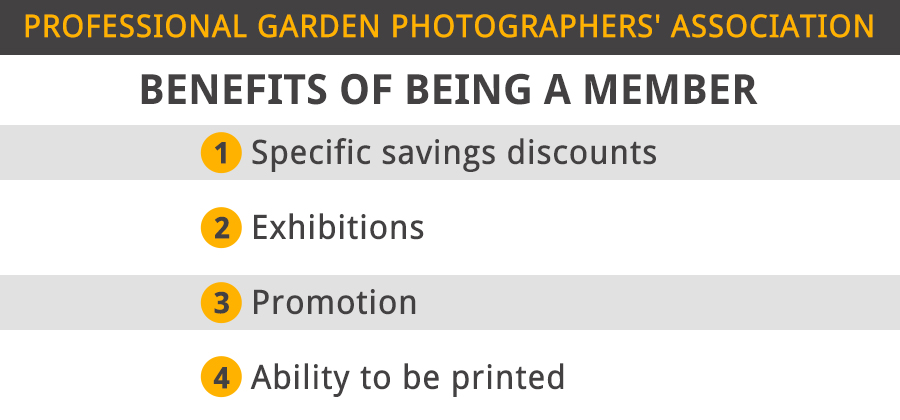 Every member can benefit not only from educational reasons (professional photography studios, classes, tutorial), but from:
lavish saving discounts;
free access to events and meetings;
feedback and comments about your confreres and much more.
Free membership – how to get?
Free PGPA membership presupposes also Garden Media Guild membership. If you join Professional Garden Photographers' Association, you become a member of a bigger structure.
Photographer Memberships
American Photography Associations

Professional Photographers of America (PPA)
General Information
This organization is the largest organization in the world for photographers, it has more than 30 thousand members in 50 countries. Creating of a society of professionals who could constantly share knowledge with each other is the main purpose of this association.
The PPA exists more than 150 years at the moment. It began as a collection of several photographers who wanted to discuss the free trade, share ideas and together fight for the popularization of photography in the XIX century.
Why should you join this organization?
It is an organization with the longest history in the world, which deals with training, collaboration and support of professional photographers.
Photographer membership advantages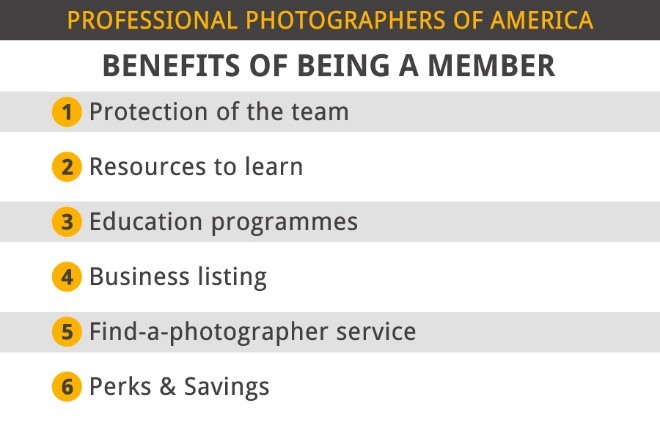 Everyone who thinks about getting a stable income from photography should think about joining this organization, because in addition to the obvious things, you get the same and a lot of additional pleasant bonuses. These include discounts on goods and services of partners (often up to 50%), access to all available training resources, the ability to interact with other photographers and much more.
International Association of Press Photographers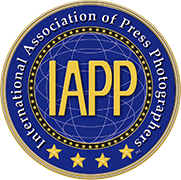 General Information
Freelance editors and other news-people often fail in their attempts to find their way to the media world. All the positions are usually occupied by the representatives of huge newspapers, radio and TV stations. Many organizations don't treat freelance workers seriously, as membership presupposes full-time employment. International Association of Press Photographers has another approach to this problem. The organization provides all the employees with equal chances to get the job, as far as, many freelancers demonstrate even better results than full-time workers do. People, who can work due to their own schedule and from the place they like, often show interesting solutions to the ordinary tasks. Such organization as IAPP equalizes all the employees and gives freelancers a chance to earn good money for their work.
Why should you join this organization?
You will get the opportunity to have a new job with this organization.
Photographer membership advantages

Lots of benefits are waiting for the workers:
free usage of the internal information and research section;
special media accounts;
free publishing of your works;
making notes in the database.
International Association of Press Photographers gets no money from the government and is funded only by membership fees.
Wedding Photojournalist Association
General Information
Wedding Photojournalist Association or simply WPJA was established in 2002 and has been functioning successfully since that year. It is a trusted authority, whose services are available for all couples, who would like to keep the sweet memories of their special day. The WPJA looks for talented professional photographers, who have the experience of working in professional photography magazines, are willing to show their creative approach and readiness to cope with diverse tasks, around the world.
Why should you join this organization?
WPJA members are top-quality professionals (even Pulitzer Prize winners), who do their best to capture each and every moment of the wedding day.
Photographer membership advantages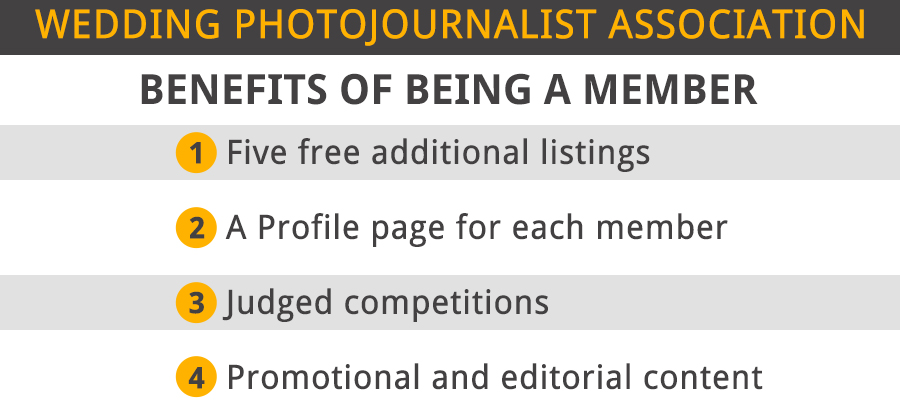 WPJA guarantees the most lavish benefits to its members:
an individual profile;
links to your personal site (a great advertising);
online regional directory;
5 free additional listings for other regions with wedding locations defined;
Participation in competitions.
Prominent photographers
William Lambelet
Isabelle Hattink
The Association of Independent Architectural Photographers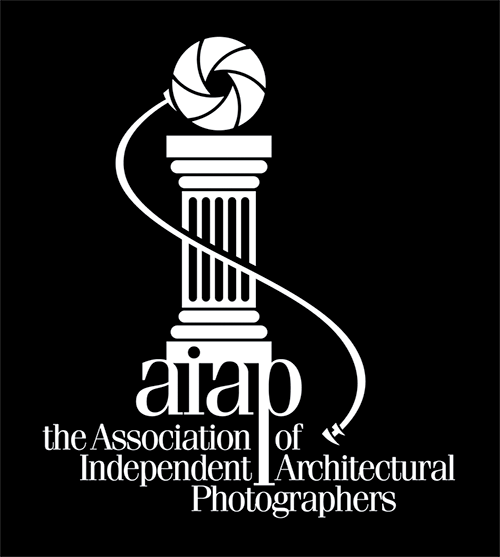 General Information
The Association of Independent Architectural Photographers is an online trading organization that was created for the promotion of architectural photographers. The AIAP strives to educate the members in order to attract more clients to their work and, thereby, increase a professional photographer salary.
Why should you join this organization?
The members get a constant support and can master their skills.
Photographer membership advantages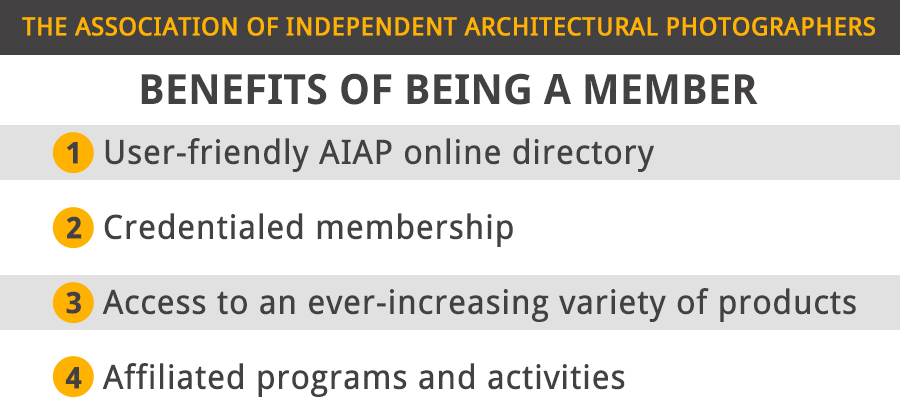 Every member has a free access to the AIAP online directory and gets credentialed membership to the most famous organizations for architectural photographers. AIAP offers special professional photographer prices for a vast majority of products. Besides, every member can exchange the ideas through AIAP groups in social networks and cooperate with architectural companies in many countries.
American Society of Media Photographers
General Information
American Society of Media Photographers (ASMP) was established in 1944. There were about 7000 members and 39 chapters at that time. ASMP protects photographers' right, educates them, organizes professional photography studios and classes, and helps to find the potential clients.
Why should you join this organization?
Nowadays, it is a world-famous trade association of the most prominent photographers.
Photographer membership advantages

The benefits range from educational programs to the financial bonuses. Anyway, ASMP takes care of every member.
Prominent photographers
David Moser
Douglas Barkey
Photography Organizations NYC
New York Press Photographers Association
General Information
New York Press Photographers Association was founded in 1915 as an organization of photographers, the main purpose of which was the collection and exchange of information among photographers of New York, who were shooting photos for prints. Since then, more than a century has passed, but the organization still exists and now has peddled the sphere of its interests in a different direction. Now the association sponsors diverse educational projects, accredits photographic organizations and conducts a number of annual events.
Why should you join this organization?
This is the oldest and most respected association of New York, its included only unquestionable professional photographers without exception.
Photographer membership advantages

Thanks to a wide partner segment, you can get a large number of excellent bonuses, including significant discounts for services and goods from partners. Of great importance in the association are offline activities, for which each member has free admission. In addition, there is an opportunity to participate in the annual competitions, which can cause even greater prizes.
American Photographic Artists – New York
General Information
The New York APA branch is part of the leading US organization that deals with the spread of the popularity of photography. The basis of activity of the organization is creating of diverse events, which include cognitive workshops, lecture material of different levels, exhibitions and field work. The main goal of this organization is the cultivation of active, interesting and most importantly professional photographers who will be able to be in trend in the present changing times.
Why should you join this organization?
Because it is the largest organization in the USA, and its New York branch is the most established subsidiary.
Photographer membership advantages

The benefits of membership in this organization cover all aspects of the activities of professional photographers, from increasing the need for your work, various training events, seminars and workshops, ending with discounts for purchases from partners.
National Association of Professional Photographers
Pro Imaging
General Information
Country: UK
Pro Imaging International is an organization for photographers, which conducts various discussions. Members of this group receive professional photography tips and complementary resources for their work. This group was created in the UK. The central concept of the group is the refusal to participate in the sales.
Why should you join this organization?
In addition to the usual advantages of membership, this organization cooperates with large companies, such as Canon and HP.
Photographer membership advantages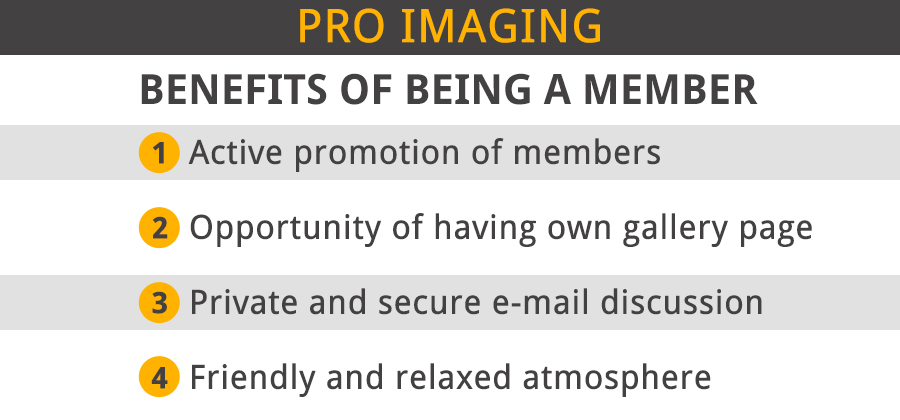 Pro Imaging promotes every participant and helps him find new clients. And also each member creates its own photo portfolio, which the organization actively promotes.
Round the clock, each photographer, who is in this group, has support. They answer all the questions and helps with problems that arise during the work. Any photographer can be a participant, regardless of his financial situation and professional attainments. This group is the only mechanism whose primary goal is to help each participant. The group appreciates each of its participants, its interests, so it is rapidly developing.
Prominent photographers
Steve Bradshaw
Simon Burt
Photographic Society of New Zealand
General Information
Country: New Zealand
PSNZ is a New Zealand club for photographers, which dates back to 1953. It consists of 1000 beginners and professional photographers. This society is connected with more than 50 clubs throughout the country, which includes more than 200 participants.
The main target of this club is assistance in the development of each member, its promotion, and support. Photographers exchange their ideas, photography tips, and help in learning. It provides a chance to realize all opportunities and to reveal the potential of each participant.
Why should you join this organization?
The main feature is the maximum of offline support, which is provided to each of the members regardless of work experience or other characteristics.
Photographer membership advantages

Permanent training seminars and lectures at a discount;
Participation in international competitions;
Regular meetings for community members, discussions;
Each member of the club can publish his work in the annual publication of the camera book of this country;
Free training seminars for judges;
Each member of the community can exhibit his photos at the yearly international and regional exhibitions, as well as online contests;
Professional photography tutorials.
Prominent photographers
George Chance
Jack Sprosen
FEP
General Information
Country: European countries
FEP consists of 29 countries, namely the United Kingdom, Ukraine, Czech Republic, Denmark, Norway, Austria, and other European countries. This federation includes more than 50,000 photographers with different professional skills. And also the federation was organized by QEP, which consists of more than 400 of the best professional photographers in Europe.
Why should you join this organization?
This is the largest photographic organization in Europe, which gathered the most famous photographers.
Photographer membership advantages


Personal support from professionals, patronage;
Photography contests;
Getting a qualification;
Publication in a professional photographer magazine - Professional Imagemaker;
Participation in the London photographic convention;
Forum communication;
24 hours a day legal support;
Business listing on the federation website;
Intermediary management;
Professional photography course.
Prominent photographers
Sergey Mikhalenko
Jean-Félix Bernetel
Portrait Photography Associations
Society of Wedding and Portrait Photographers
General Information
Country: UK
This organization is one of the largest organizations that are engaged in wedding photography, as well as portrait photography. The association was founded not so long ago, but already now it is very popular among the beginning photographers of Great Britain, after all it is an excellent chance to become a part of the big photographic family.
Why should you join this organization?
This organization is the founder of the Photographic Forum, which enables members to participate in its activities.
Photographer membership advantages

For its members, the organization provides a huge number of pleasant bonuses, starting from the standard page on the website, so that customers can easily find them, ending with the possibility of publication in the magazine. In addition, a wide range of public conferences, workshops and exhibitions that take place not only in London enables members of the organization to communicate more and learn new things.
Portrait Society of America
General Information
Country: USA
This organization is not a commercial organization that supports the idea of promoting portrait art among photographers. In addition, this organization promotes the prestige of education in the photographic sphere and independently conducts many educational events. Now it is one of the organizations most demanded in America, engaged in portrait photography, its members are known far beyond the United States.
Why should you join this organization?
To become part of a massive research movement aimed at restoring the prestige of portraits.
Photographer membership advantages
Membership in the organization is divided into several levels, based on which you and receive privileges. But there is a basic set of benefits that are received by all members of the organization, regardless of the size of the membership fee. These include subscriptions to two international journals and the opportunity to be printed in them, support of curators in the regions, the opportunity to receive a discount on entrance tickets to events held by the organization.
Fédération Internationale de l'Art Photographique
General Information
FIAP was established in 1946 by M. Van de Wijer of Belgium. Photographers from the neighboring countries (Switzerland, Portugal, Italy and the Netherlands) were the first members. Later, in 1947 photographers from Finland, Denmark and Hungary joined the federation. The year 1950 is very significant in the history of the federation as the first FIAP congress was held in Bern, Switzerland. Later Luxembourg, Cuba, Austria, Ireland and other countries joined FIAP. Nowadays, there is a tradition of FIAP Biennials that take place once in two years in different countries.
Why should you join this organization?
La FIAP is like an international umbrella federation which comprises lots of smaller photography associations. That's why if you are interested in photography associations membership you have to address representative federation of your own country.
Photographer membership advantages

Being a member of FIAP is a great honor. Moreover, you can:
- have an access to the Public Liability insurance;
- get the provision of Trustee Liability;
- get acquainted with the published lectures and professional photography tips, which are important for your artistic education;
- participate in the regular inter-club and Print Championships. The best two clubs will compete in the Inter-Club Championship finals.
Prominent photographers
The FIAP awards a rare honorary of Master of Photography (MFIAP).
Robert Barbarien
Csaba Balasi
Fashion Photography Association
The Society of International Fashion and Glamour Photographers
General Information
At the moment, CIFGP from a small organization has evolved into a major international network for active fashion photographers, which has grown throughout the UK, opening its doors to more than 1,000 participants. Such success became possible thanks to an active policy of recruiting new participants, which over the past six years helped to increase the popularity of such a direction as fashion photography, and also to raise the level of photographic art.
Why should you join this organization?
There is a huge number of various contests and competitions among the members of the organization, but thanks to the participation and the victory in the main of them you can get a publication in a famous fashion magazine.
Photographer membership advantages

Membership in this organization gives you enormous opportunities. They include access to a variety of lectures, workshops and other educational events, reasonable criticism of the work, the opportunity to get discounts from partners of the organization, printing in well-known fashion magazines, communication with professionals.
International Association of Photography and Theory
General Information
A group of enthusiastic photographers and academics in Cyprus presented the idea of the international conference dedicated to the photography as a whole and its significance and influence on the society. It all started in 2010, and three years later, after two successful ICPT conferences, the International Association of Photography and Theory (IAPT) was officially founded. It functions as a non-commercial, academic-oriented establishment that gives guidance to ICPT conferences that are held every two years. The founders of the IAPT viewed it as an organization which provides the broad and critical investigation of the photography with the help of photography classes and modern techniques. Different critical discussions, debates, and analysis are encouraged by International Association of Photography and Theory.
Why should you join this organization?
La FIAP is like an international umbrella federation which comprises lots of smaller photography associations. That's why if you are interested in photography associations membership you have to address representative federation of your own country.
Photographer membership advantages
The members of IAPT are interested in the development of the photography and revealing its most intricate issues. Everybody has lots of financial bonuses, such as:
- a 10% discount on ICPT conferences registration that takes place once in 2 years. But only members with a valid paid membership for the year of the conference can benefit from such a discount;
- generous discounts on any ICPT publications;
- the chance to select professional literature;
- 30% discount on individual professional photographer subscription to the journal;
- a discount or a free entry on regional workshop and lecture registration fees.
Prominent photographers
Walid Raad
Joachim Schmid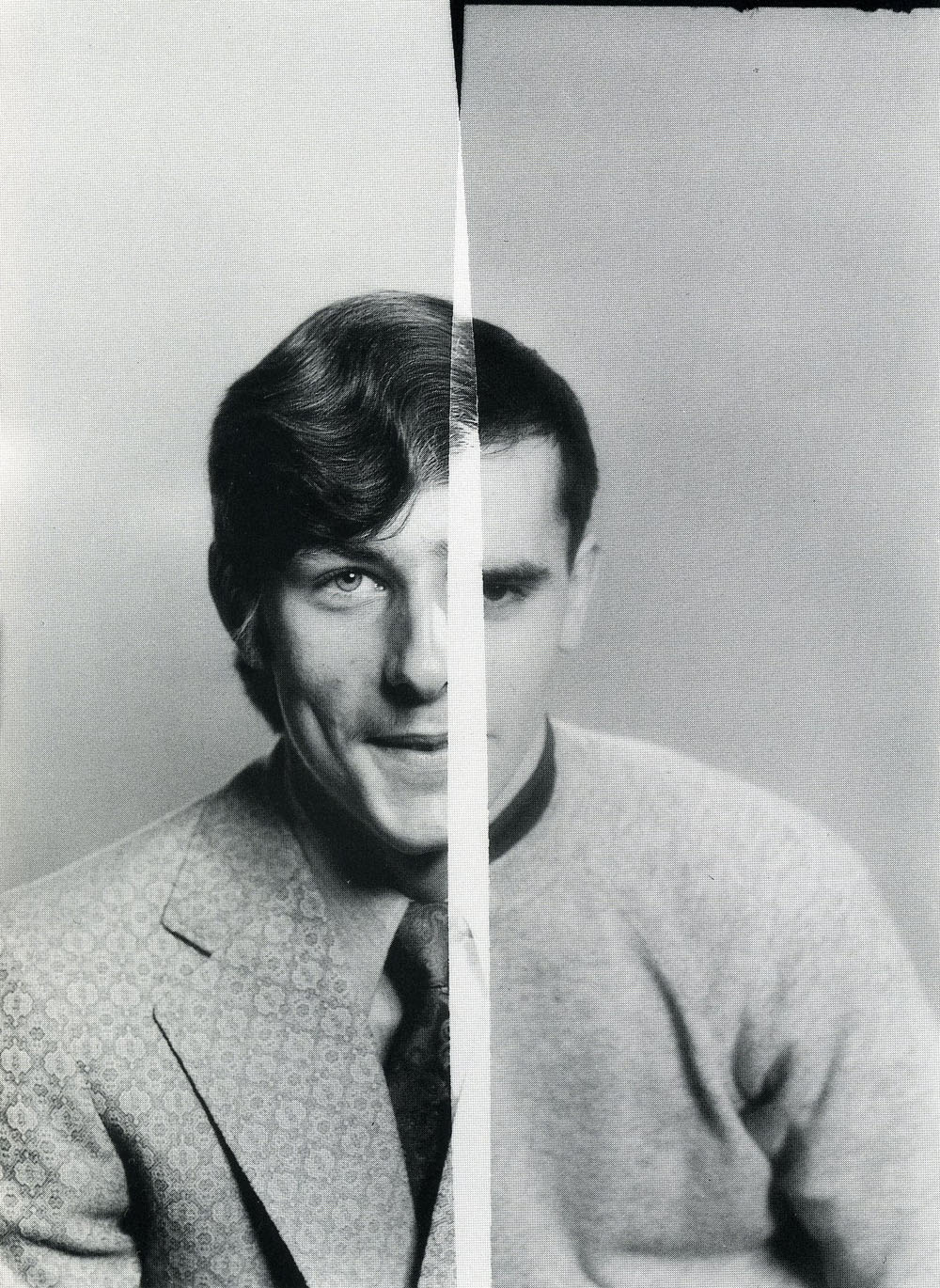 Professional Photographers of America Associations
David Goldman
Association: New York Press Photographers Association
David began shooting at age 16, almost immediately his career went up thanks to natural talent. Now he is engaged mainly in commercial and fashion photography, working with publications in huge magazines such as GQ and Esquire, as well as advertising for companies such as Nike, Clarks, H & M and many others. David was born in the UK, but also actively works in the United States. In 2017 he became a photographer of the year according to New York Press Photographers Association's version.
Works:
Brad Feinknopf
Association: American Society of Media Photographers
Brad Feinknopf is a professional photographer for 25 years now, he even created of his own photographic studio. The basis of his work is architecture. Brad received education in New York, here he passed an internship by assisting famous photographers, and then founded his own agency. At the moment, it is published in magazines around the world and takes part in a variety of competitions.
Works: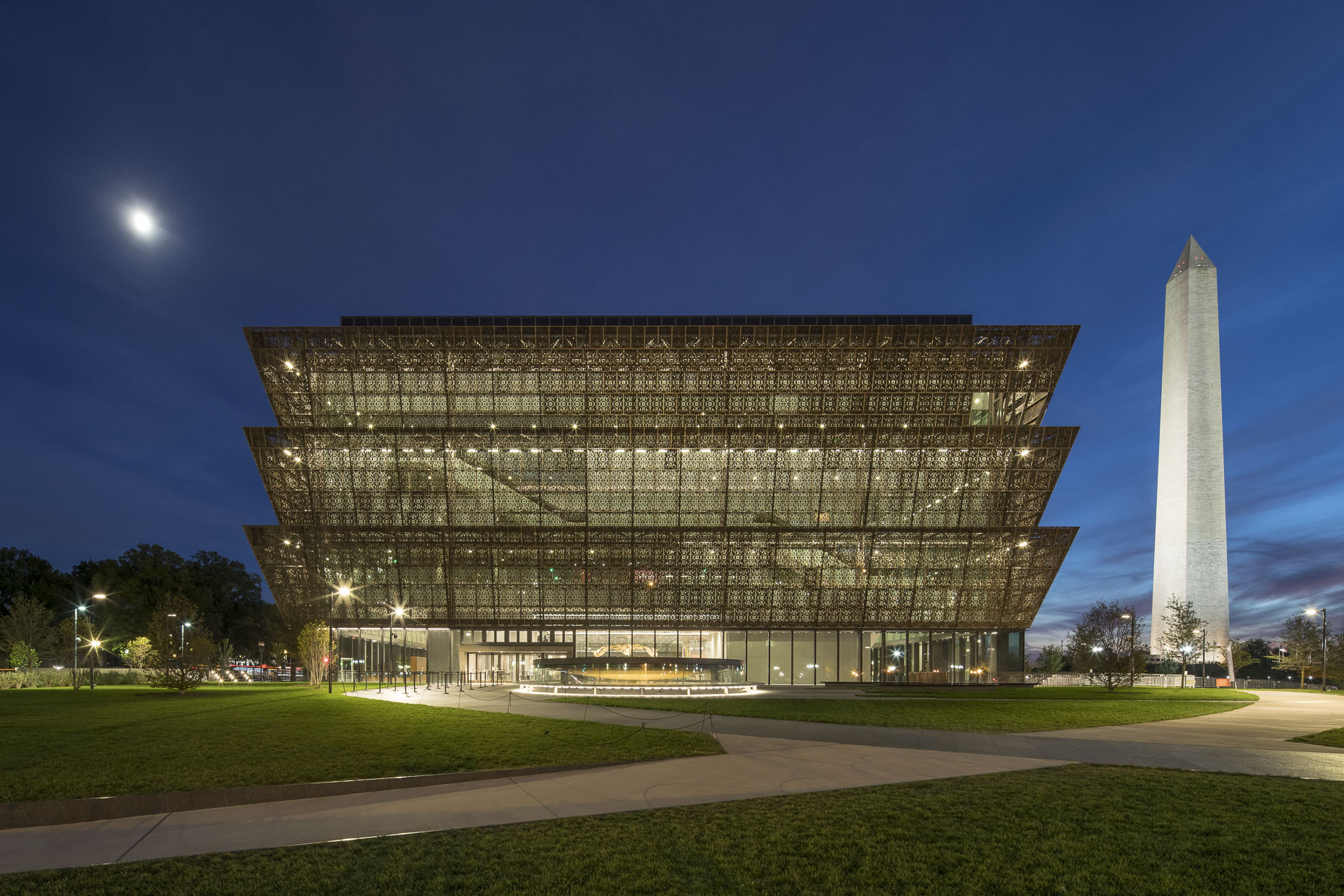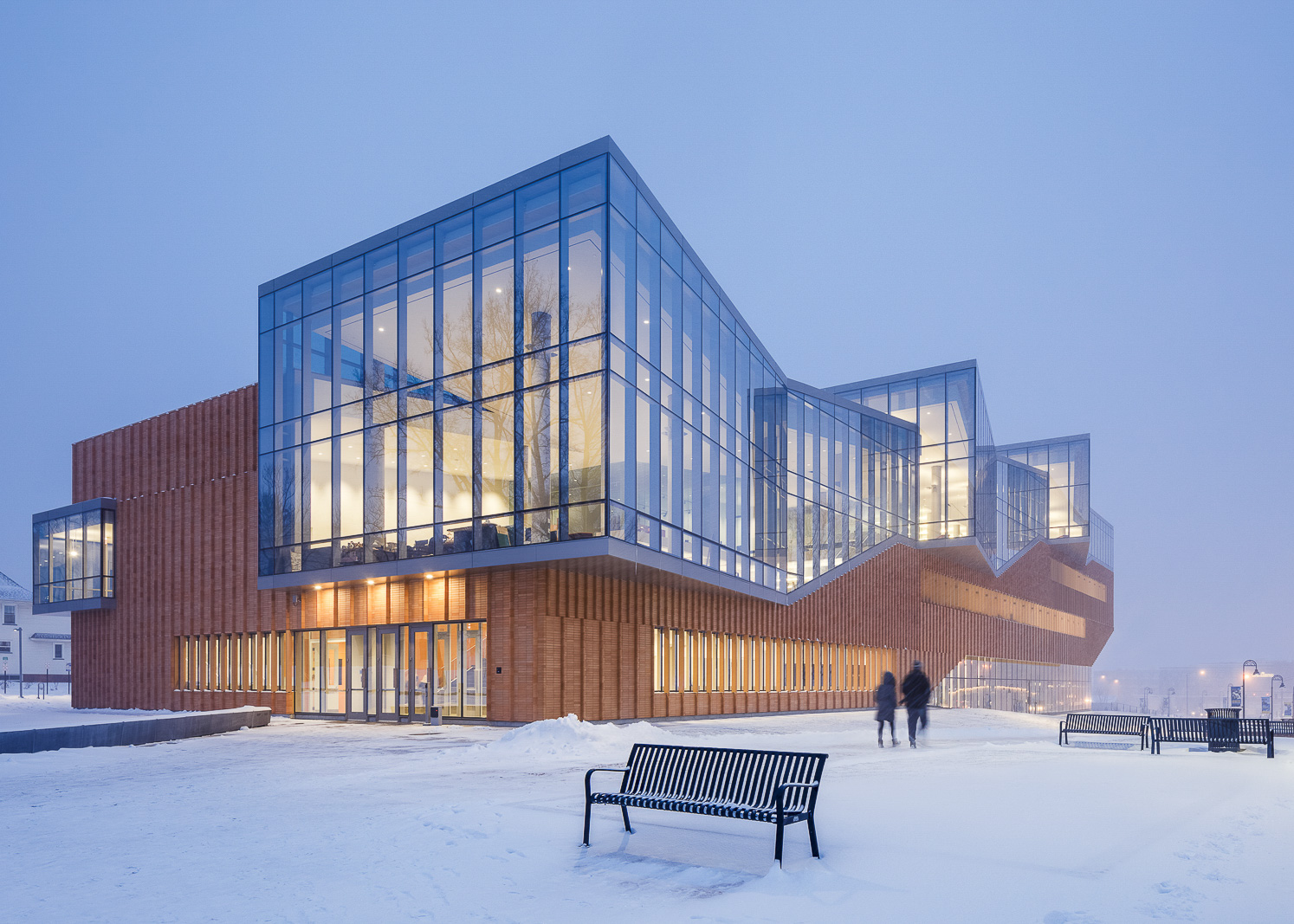 Ben Shirk
Association: Professional Photographers of America
Ben began his career as an arter and graphic designer, very soon he decided to pick up the camera. Quickly, from an usual hobby, photography turned into a life for him and Ben together with his wife opened a small photographic studio. At the moment he is engaged in portrait photography and makes interesting sports photoshoots for team sports. He was the PPA International Diamond Photographer of the Year seven times.
Works:
Matt McClain
Association: National Press Photographers Association (NPPA)
Matt is a very recognizable personality among photographic society, which is associated with journalism. After receiving a special education in journalism, Matt almost immediately began his career, beginning to work as a regular photographer in The Ventura County Star. After that, he worked in many publications, and now is a photographer at The Washington Post. To all other, he is a member of several photographic organizations, as well as repeatedly awarded for his work.
Works:
Gabriel Nivera
Association: American Photographic Artists
This amazing photographer was born in Boston, but he spent his childhood in several countries, ranging from Indonesia to Hong Kong, where he learned to subtly feel nature and enjoy the surrounding beauty. Perhaps this is what made him turn to art, which is to capture the most interesting moments of life. At the moment, Gabe's biggest hobby is a lifestyle photo. He is very modest and doesn't like to talk much about himself, but at the same time he is the owner of many serious awards.
Works:
13 Reasons of Getting Photographer Memberships
Every country and even the region have groups and organizations of photographers of different degrees of professionalism. Membership in such a club offers great opportunities for both beginners and professional photographers. A member of such a community receives discounts for participation in various conferences, access to information resources, and, most importantly, advertising of own works. Promotion in such organizations is an opportunity to increase the number of clients and profit. Therefore, it is very important to be in such organizations. Here are the main advantages of membership:
Recognition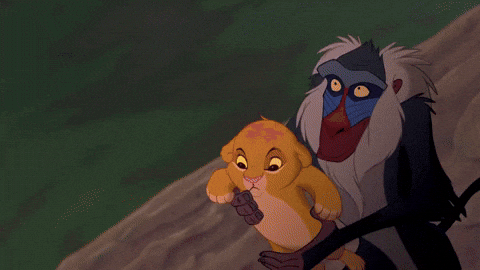 A large number of photographers are self-taught. They use all possible available literature; take online professional photography tutorials on the Internet. At the same time, they don't have a special status and a certificate of education, which would give an opportunity to establish them and take advantage of other photographers. Membership in the organization is another step to the status of a professional photographer.
Pricing
If you are a beginner photographer, then at the beginning of your career it is complicated for you to evaluate your work. Most photographers underestimate their work and do not know how to deal with competition. You use all of your resources, but your profits don't increase significantly. In this case, the association of photographers in your region can help to evaluate your work and inform about professional photography prices and photography session prices. You will be able to advertise your works, as well as get a certificate of a photographer who can help increase the number of your customers and increase price of your photos. The association provides support, which will give you the strength to move forward.
Critique
Effective criticism for the photographer is an opportunity to improve their work. The association of photographers will give you an opportunity to look at your photos in a new way. This is an excellent great chance for your professional careers and an effective way to eliminate errors. Criticism is not an indicator that you are making your pictures wrong, but it's the way to get better and to make your pictures quality and in-demand.
Access to Resources
If you really want to know what you are capable of, be sure to take part in various photographic competitions. Social networking is also an opportunity to advertise their work and get approval, but they will not give you such emotions and development, which provide contests. Competitions are necessary to achieve recognition. You may not realize that your professional photography can impress a large number of people. This is a great chance to succeed in the photo industry. Of course, not everyone can win at the first attempt, but now you'll know in which direction you should move. And you will have enough time to parse errors and prepare for the next contest.
Continuing Education
National Association of professional photographers holds seminars and conferences that will be of interest to both the beginner photographer and the professional photographer. Usually, associations provide discounts to members for participation in seminars, which is very favorably for the photographer. Don't necessarily go to an international or national conference; choose what is closer to you.
Networking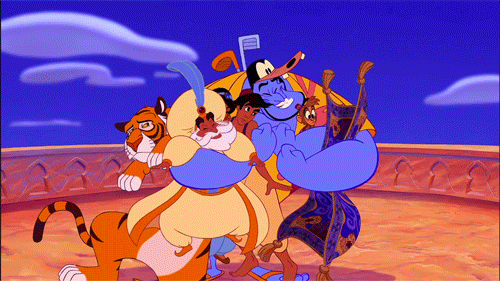 Communication with other photographers may seem unfounded because you are competitors. But every photographer specializes in a certain type of professional photography. And friends-photographers can help you in difficult situations, for example, when your professional photography equipment is out of order, and you plan to have an important photo shoot.
Support
Many photographers are used to working alone, not communicating with anyone. But different meetings and communication with like-minded people, with whom you can exchange experience, will be able to change your life. You can get new friends, as well as mentors. Perhaps you had an experience of dealing with inadequate people, but this is not a reason to give up.
Ethical Guidelines
Any organization or association has its own rules and ethical guidelines. In the photo industry, as well as in any other spheres of activity, various unscrupulous people are used to violating rules and norms. Therefore, every member of the association must adhere to the ethical guidelines so that each photographer can protect his rights and that no one can steal your photographs. For your client, this will be a guarantee that you do not steal his advance payment and will be able to provide high-quality professional photography pictures.
Insurance
Membership in the association includes professional photography equipment insurance usually. Some organizations also offer health insurance, and sometimes even dental insurance. For each participant, this is a huge advantage. Therefore, if you have not yet decided where to join, study what each organization or association offers.
Other discounts and benefits
To attract new members, each organization offers additional benefits, discounts, bonuses and photography classes. For example, you can rent equipment at a low price or print your photos at a discount. Perhaps the organization provides a cheap professional photography studios rental. You get additional opportunities for your development, without significant money costs.
Listing in a Directory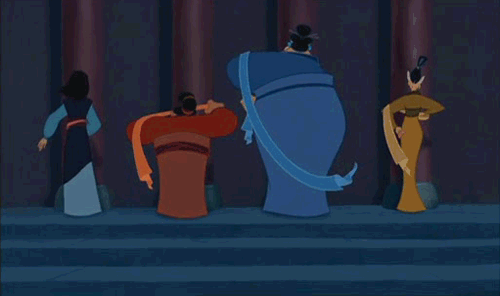 Membership in an association is primarily a search for new customers. Therefore, if you are on the list of a professional photographer of your organization - this gives you many advantages over other photographers. The client always wants his/her pictures to look perfect, regardless of whether it's a wedding or a photo session in nature. Therefore, they choose only professional photographers. When you are on the list of certified or accredited photographers, there is give much more chance that someone will take advantage of your services. It doesn't depend on the genre in which you take pictures, because in any case, being on the list of accredited photographers is additional customers, personal growth and increase your photography session prices.
Sum up
Thanks to winning in contests, filling in the special applications, granting the fellowships or other chances, you can ensure membership in the association for the next year for free. In any case, you will get additional customers, raise your status, learn about the novelties photo industry, find like-minded people and be able to realize your potential, get extra bonuses and discounts. In general, this is a real opportunity to show everything that you are capable of and succeed in a reasonably short time.
Do you like the article? Please feel free to share it via your social accounts.
---
Pay attention this photography blog which does not require credit for the pictures and photo post production examples listed here . All photographs used in the article are only copyright to their respectful creators . These shots posted as a big admiration of portfolio and photo retouching talent the experienced rt masters have . If you found the photo on this post that is yours and do not want to be promoted on our website , please do not hesitate to write us via online chat on your right and it will be quickly deleted .
---
Rate the article!
The article's rating:
---
You comments or questions are welcome; please share your opinion on the topic.
Use Facebook:
Use Disqus: