Free Online Photography Courses
Should I go to college to become a professional photographer in 2018? There is no right answer. Nowadays, having million online photography classes available, you don't need to sit at classes and do a lot of boring home tasks. If you want to provide paid photography services, you don't need a degree, just your skills and good gear. But there are many benefits of studying. We have reviewed all the variants of free online photography courses in English so you can choose the class regardless of your level or style and get online photography degree.
---
Contents:
---
Best online photography courses by levels
Photography classes online for beginners
1. The Basics of Photography: The Complete Guide by Lifehacker:
If you only think about entering photography industry, start with this kind of classes. No strange photography term are guaranteed. You need to start with the basics! Working with the camera, composing and editing – all of these basic things you can learn using free beginner photography classes online by Lifehacker. The course is divided into 5 parts and is available for a whole year, so the intensity of training is determined by you!
2. Introduction to Photography and Related Media
This course is freely available through the OpenCourseWare initiative and represents video lectures from a semester undergraduate course at the Massachusetts Institute of Technology. Here you can learn the basics and technical aspects of work with both analog and DSLR cameras. Also, you can get free online film courses.
Thanks to these very popular photography classes for beginners, you will learn how to properly adjust and work with lighting for improving your images. Learning takes place through text with accompanying images, but the material is extensive and easy to understand.
4. Your Road to Better Photography by Udemy
Do you want to take basic photography lessons from a celebrity in the world of photography? The famous photographer and cinematographer Corey Reese will teach you shooting in natural light and understanding manual camera settings for most photography applications.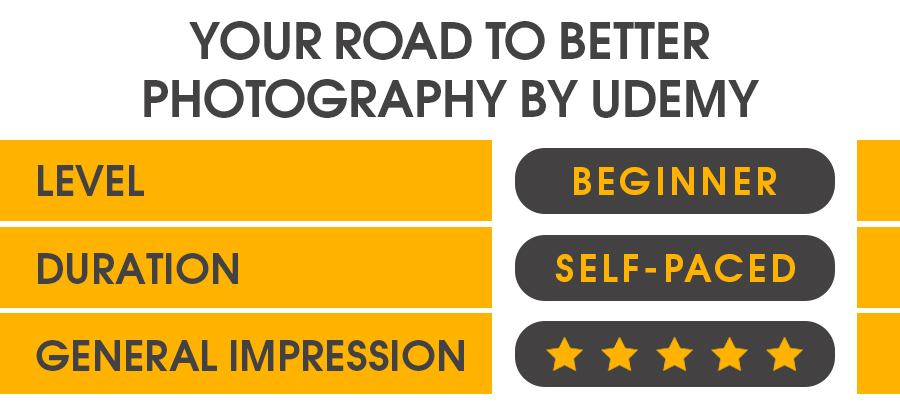 5. Photography: Ditch Auto – Start Shooting in Manual
As you already guessed, after reading the title - this is a beginner photography classes
for those who are used to using automatic mode, but want to learn how to take pictures in manual mode. If the manual mode sounds to you as something terrible and unknown - start the learning right now!
6. A Complete Introduction to Photography (aka Reddit Photoclass)
Thanks to the Reddit, many people have the opportunity to communicate on topics of interest to them. But Alexandre Buisse went further - he created a virtual beginning photography class, where he trained his subscribers for almost all sections of photography. Well suited to those who like to learn using video materials.
7. Beginner Digital Photography
These are an excellent photography tutorials for beginners, touching on many important topics. You will learn a lot about lenses, as well as the application and balancing of light. In this course, using a non-technical language, you will be trained to work with Photoshop and Lightroom, which will ensure you a great start in the photographer's career.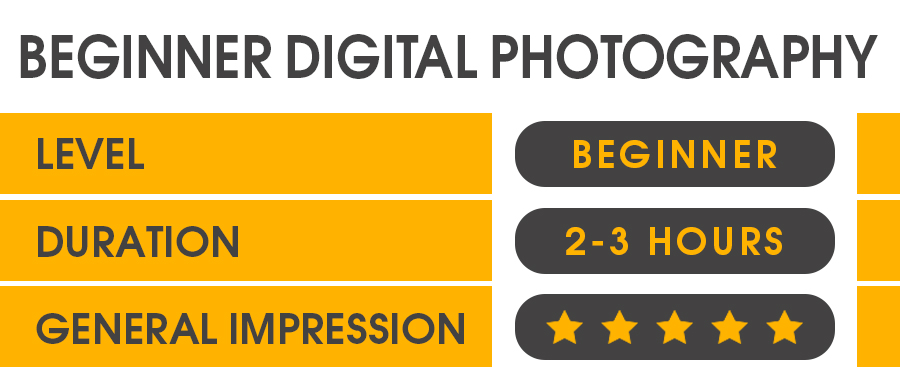 Free intermediate photography classes
1. Intermediate Photography Course by PhotographyCourse.net
If you have already mastered the basics and are ready for more advanced training - PhotographyCourse.net, the best online photography courses 2016, offers you to find many useful lessons about everything from different technical aspects of the camera to a variety of photography styles. A great choice to refresh your knowledge.
2. Intermediate Digital Photography
It's very difficult to overestimate the importance of correct exposure. Modern cameras are powerful enough to create a good exposure, but often it happens that manual adjustment is simply necessary. This course is well suited to those who want to learn more about the features of working with manual mode.
3. Working with Speedlights: A Free Photography Course
This course is devoted to the issue of working with speedlights. If you are no longer a novice, but the skills for setting up the speedlights are still not enough, then this course is what you need.
A lot of classes for intermediate photographers, as well as an excellent creative atmosphere - this is what the DIY Photography Tutorials course offers. Look for a solution to a particular problem, but constantly stumble upon common answers? This course is designed to correct this problem by offering specific answers to specific questions.
Looking for the best online photography classes with a user-friendly site and a variety of useful content? Congratulations, you found it. Cambridge in Color is a constantly improving mechanism, where each element is a valuable information. The number of topics is limited only by your desire to learn, and convenient navigation will always help you not get lost in this variety.
6. An Introduction To Tilt + Shift Photography
Haven't hear what the "Tilt + Shift" effect is? Or have you heard and want to learn more? In any case, we advise you to study the guide by Peter Hill about the "Tilt + Shift" effect, that has been gaining popularity lately.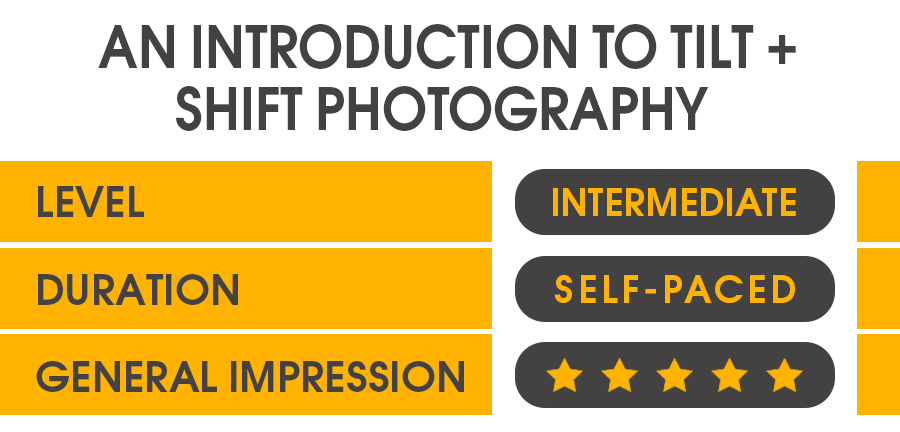 7. Pixels After Dark: Shooting the Night
The right photos after sunset can become a real gem in your collection of pictures. But these photos are as beautiful as they are complex in performance. Three-time Olympic photographer Jeff Cable in his video will tell you how to create outstanding photos at night.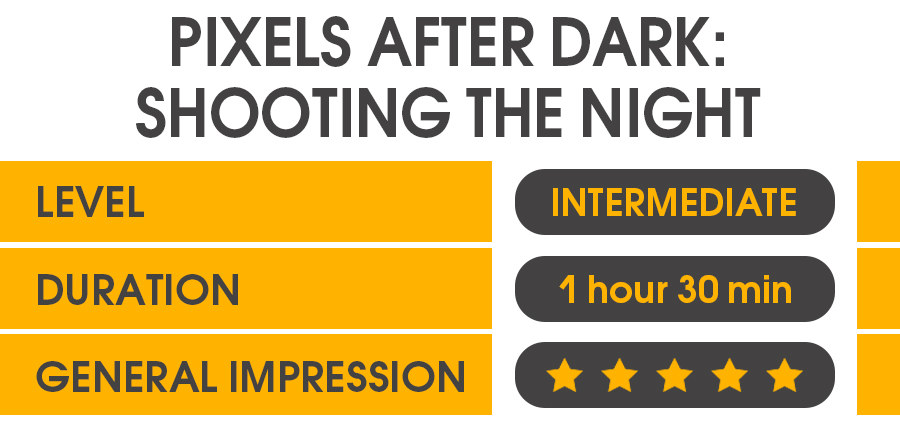 Online Resources with Advanced Materials
1. Advanced Digital Photography
Advanced Digital Photography course can help you to master the most advanced concepts in the field of photography, using easy-to-understand manuals and diagrams. Also, these accredited online photography classes are good for improving existing skills such as post-production and work with various software.
2. Lectures on Digital Photography by Marc Levoy
Marc Levoy and his lectures offer a real scientific approach in creating high-quality images. As a Professor Emeritus at Stanford, and a Principal Engineer at Google, Levoy offers materials designed to deepen the knowledge about the technical side of photography.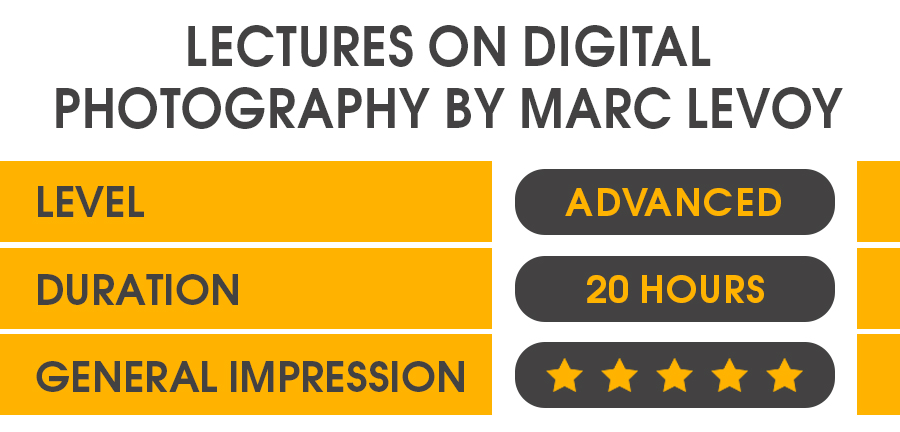 Notwithstanding the fact that this is a paid course, we recommend that you to get acquainted with their photography tutorials for beginners pdf. This resource is included in this list because of a free trial month, which will help you decide whether to buy or not.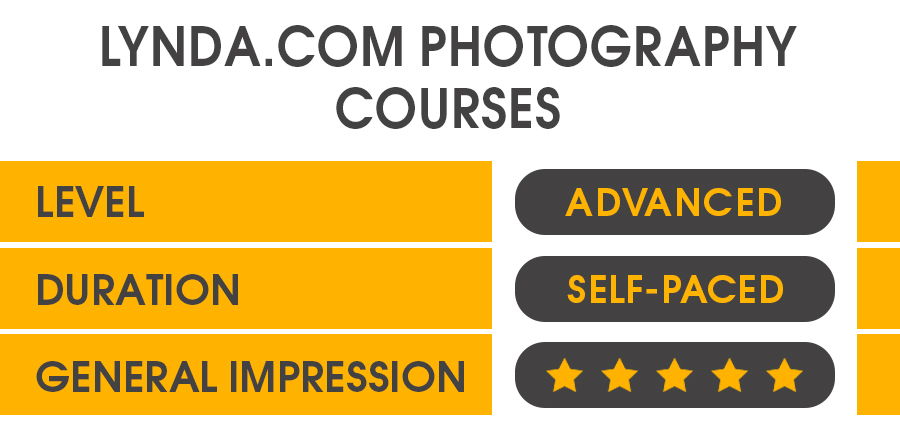 A pretty popular among Facebook users resource, where you can find a lot of interesting and useful info about the craft of photographer. Digital Photography School is one of the most well rated online photography schools.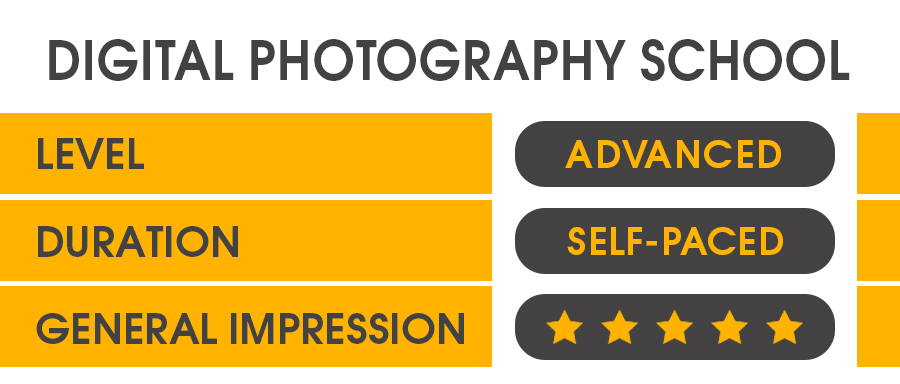 This resource provides an excellent chance to gain valuable experience and knowledge from the best photographers in the world. However, if you want to do it for free, then you need to watch the lectures live. An excellent choice for those who want to look at the process of creating a photo under a prism of different styles.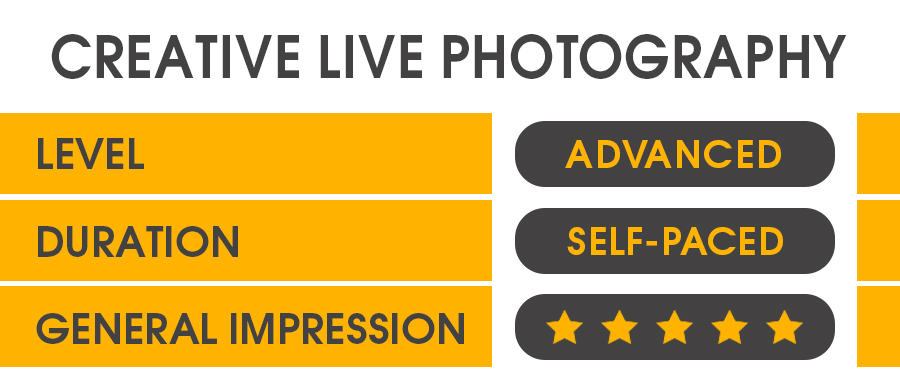 6. ShortCourses
A fairly thorough resource, which affects many important and relevant topics. Being free, ShortCourses is well suited for beginners as a guide, as well as for experienced photographers as a reminder.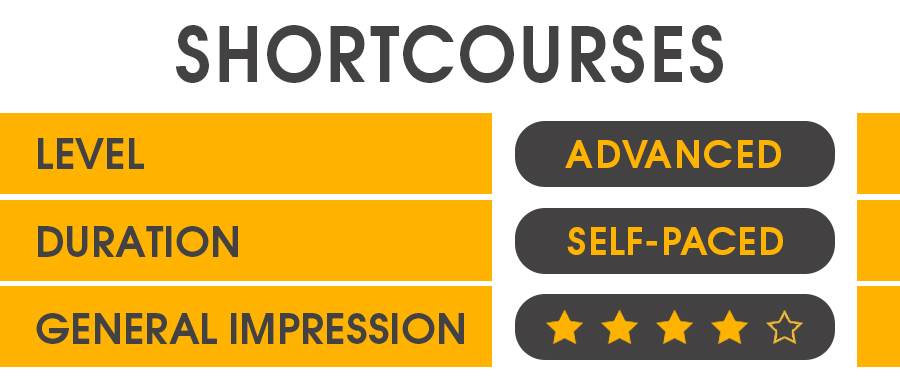 7. PetaPixel
Founded by a professional photographer, this resource is like a master's manual. A lot of useful articles and a huge database of tutorials paired with convenient navigation make PetaPixel the flagship of news from the world of photography.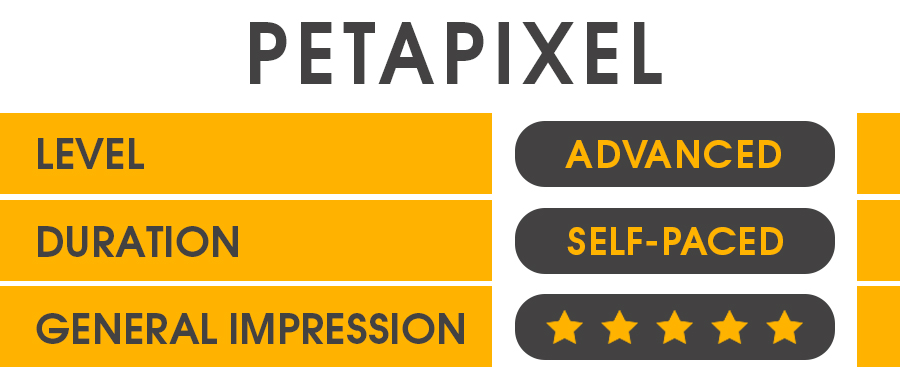 Post-production photography courses online
1. Anthony Morganti's Video Series on Lightroom 5
Having difficulties with Lightroom? Anthony Morganti offers 40 photography video tutorials about working with Lightroom, which affect every aspect of the software.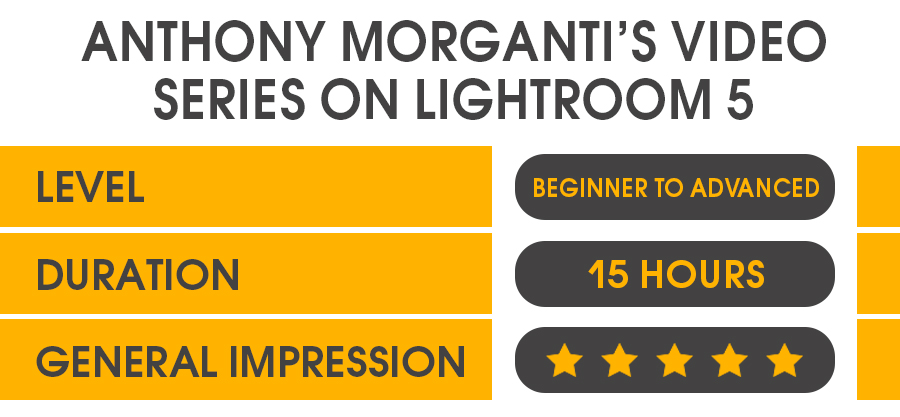 2. Phlearn
Phlearn is dedicated to working with Photoshop and Lightroom and presenting information in the form of video tutorials. Despite the fact that more in-depth materials require a fee, the site has many free tutorials that are no less useful than their paid counterparts.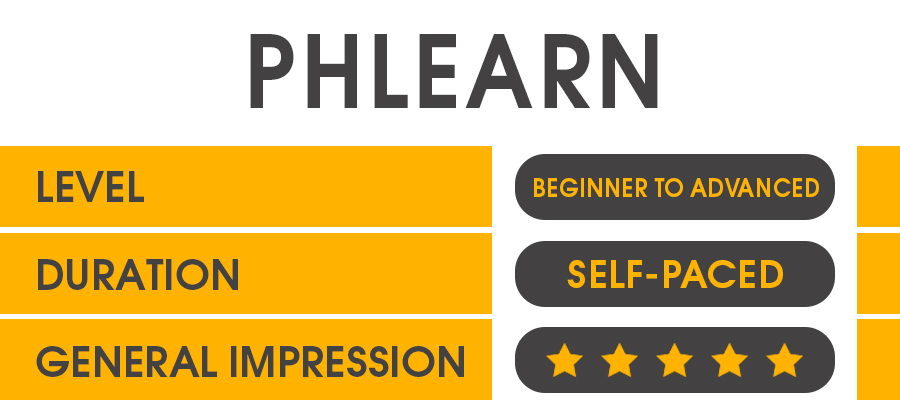 3. Getting Started with Adobe Photoshop Lightroom 5
Begin to effectively use Lightroom, using the video instructions directly from the developer. Be sure, the guys from Adobe are well versed in their own program.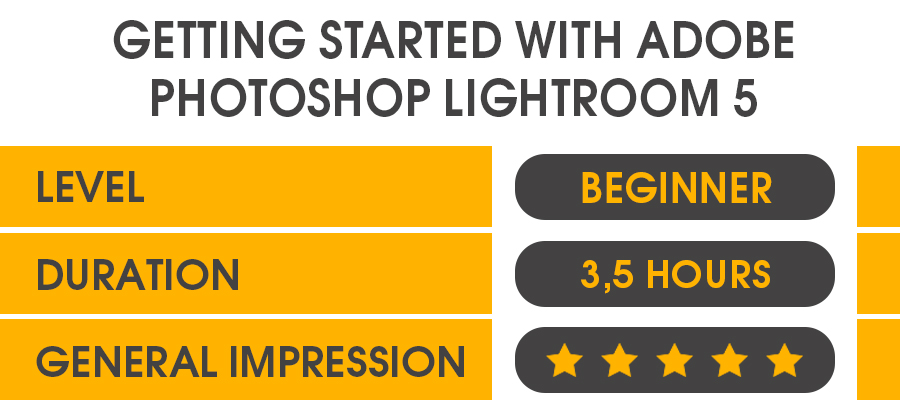 4. Adobe Photoshop CS6 Essential tools
Any question that interests you about Adobe Photoshop CS6 is probably already described in detail in this course. How to use this or that tool? How do I change the background or insert elements? Just go to the site, find the right section and absorb the knowledge together with Adobe Photoshop CS6 Essential tools.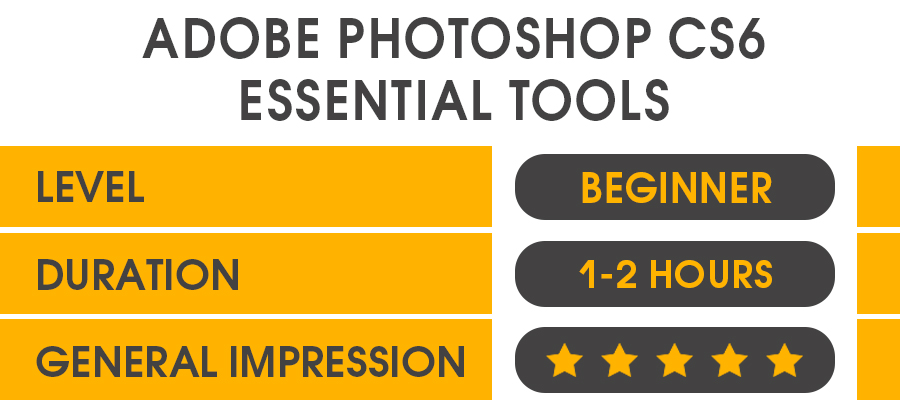 5. SkillShare
This resource is a large storage of the various manuals of Lightroom, Photoshop, as well as many mobile apps.
Another resource from Adobe is dedicated to its own programs. Short and practical videos will be able to quickly and easily explain the basic principles of the work of Photoshop and Lightroom. Want these photography video tutorials download for free? No problems.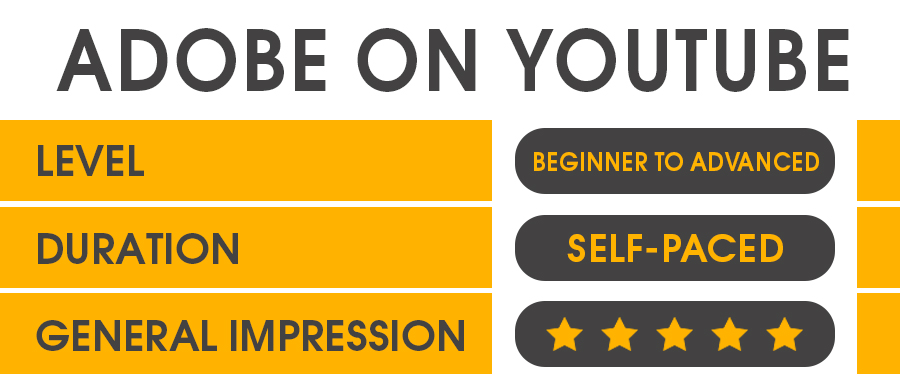 Photo Editing on the Cheap offers a training course using their own software - Pixelmator for $15. This is a cheaper alternative to Photoshop, but you decide whether to buy or not.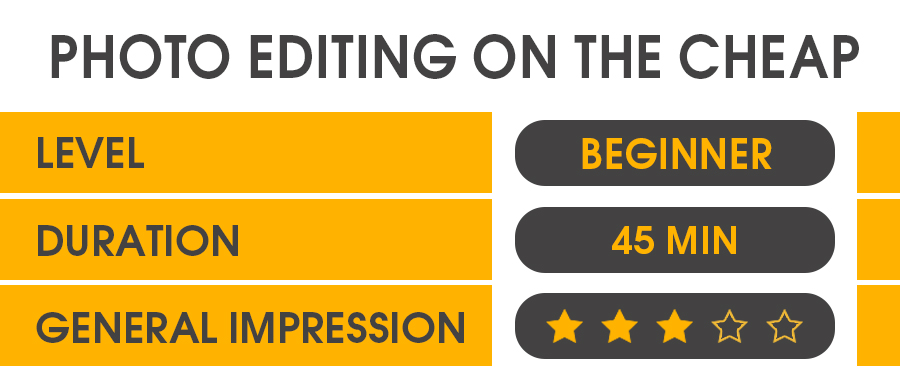 8. Photo Editing With The iPhone
If you are a frequent user of iPhone and want to unite your device with a passion for photography, then Photo Editing With The iPhone course will be an excellent choice for you. This course will teach you how to edit photos in various applications on your iPhone.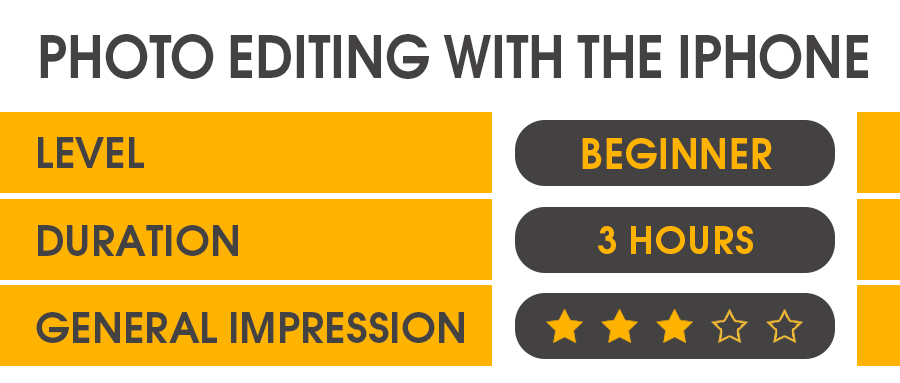 9. Adobe Photoshop Actions for Photographers, The Ultimate Guide
Adobe Photoshop Actions for Photographers, The Ultimate Guide is a pretty good set of various articles dedicated to Photoshop. If you decide to expand your knowledge of Photoshop or repeat already learned, then this site is for you.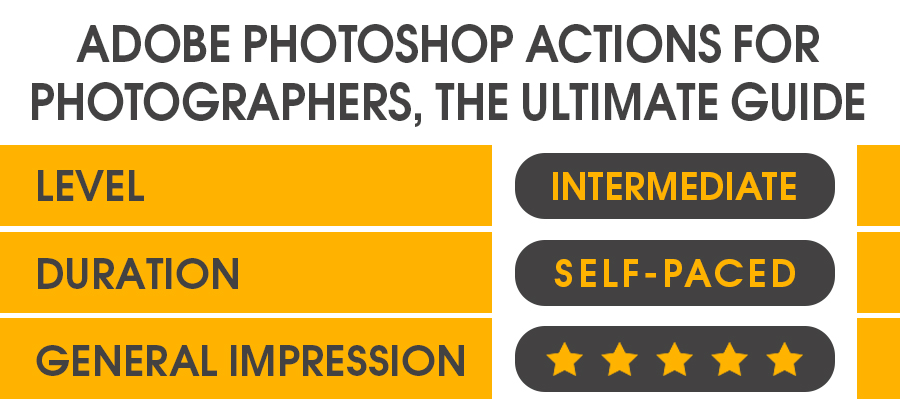 Free photography tutorials by genres
1. Professional Family Portraits with Kirk Tuck by Craftsy
Despite the fact that Craftsy usually sell online courses, they have one free, but no less useful course - Professional Family Portraits with Kirk Tuck. Here you will learn photography online free with all the basic rules and tricks necessary to create high-quality group portraits.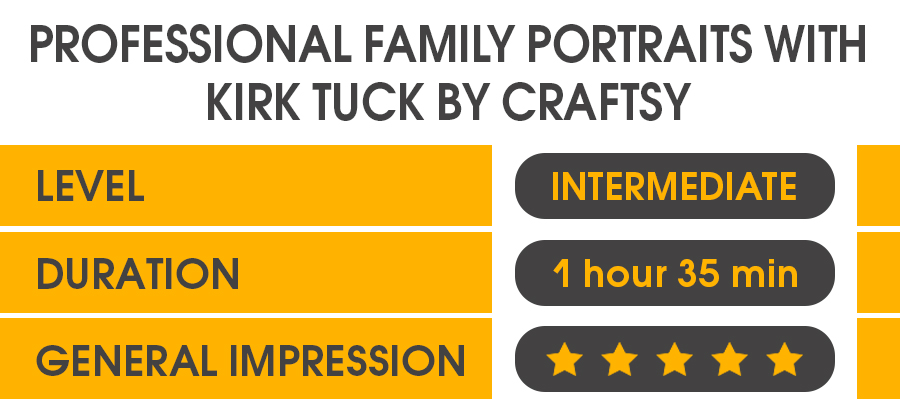 2. Documentary Photography and Photojournalism: Still Images of a World in Motion
This course is dedicated to photography and photojournalism. The course is suitable for more advanced photographers who want to further improve their skills.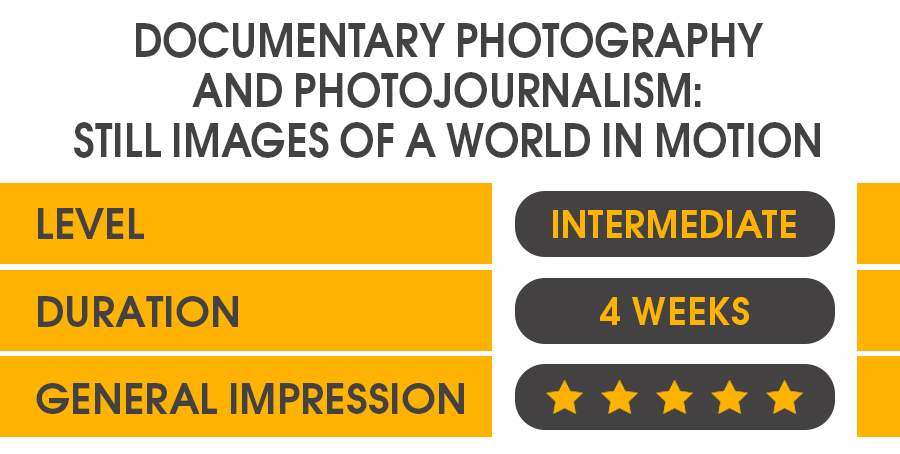 In this course, Dan Rubin offers us 26 minutes of fascinating narrative about prepping for exploration, shooting tips and selecting the best images. Interesting and sincere material is very easy to perceive, and no less simple to implement!
Wildlife photography offers a number of tutorials for nature photographers of all levels. Here you can find a huge amount of material on how to properly allocate the budget, choose the method of photography and how to promote your photos. This course is suitable even for advanced photographers, as it also considers the use of the latest technology and business promotion.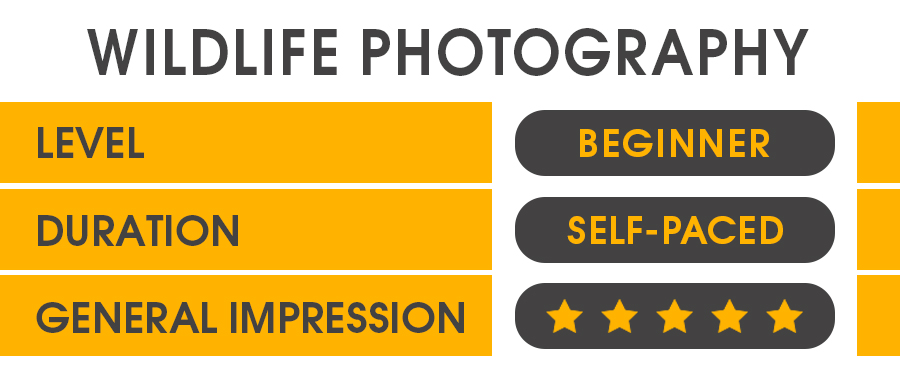 5. Learn Landscape Photography
Learn Landscape Photography is a seven short lessons dedicated to landscape photography basics and tips, as well as photography tutorials pdf and unforgettable landscapes of New Zealand. An excellent choice for fans of landscape photography.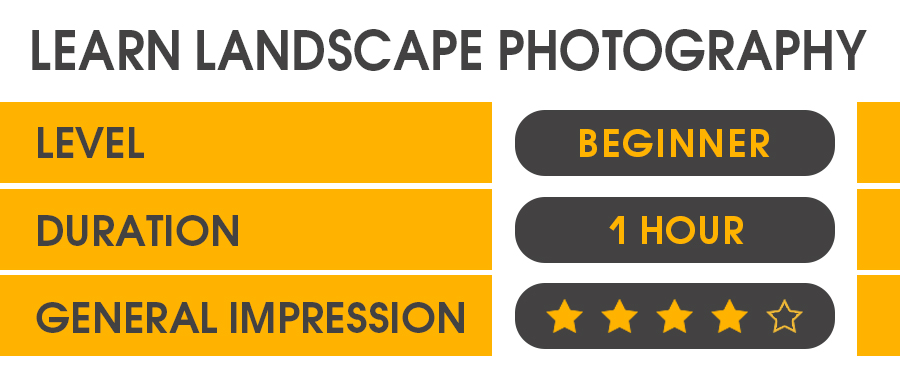 This course, based on the personal experience of the author, is entirely devoted to the street photography. The author reveals more practical side of the issue than the theoretical one. You are invited to learn how to approach people correctly, interact with them and arrange them to yourself. Also you will learn how to succeed in social networks and customize your business as efficiently as possible.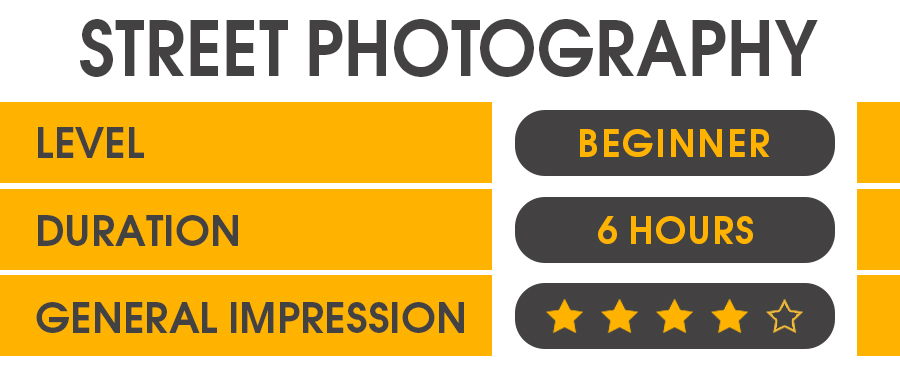 Wedding photography course from Canon offers a tutorial from a professional photographer with 16 years of experience. As the name suggests, the course is entirely devoted to wedding photography. The course covers almost everything, from the equipment checklist and ending with camera settings and methods that he uses when photographing weddings.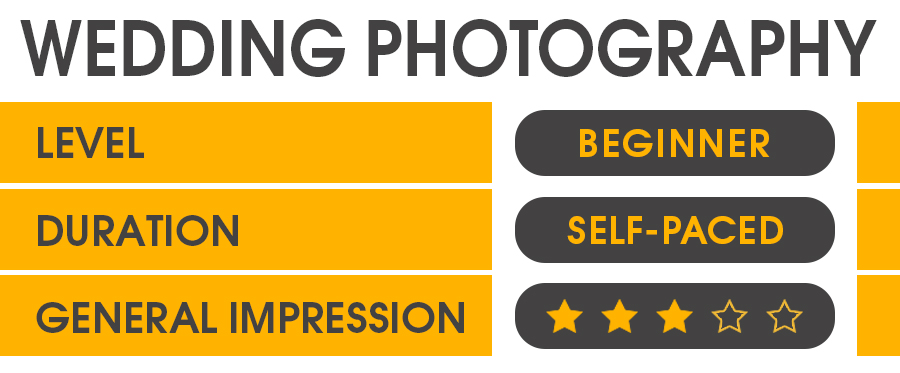 Here is absolutely everything you wanted to know about sport photography. A professional sports photographer with more than 25 years experience on the example of a local school rugby match talks about how to choose the right equipment and shares personal secrets of professional sports photography.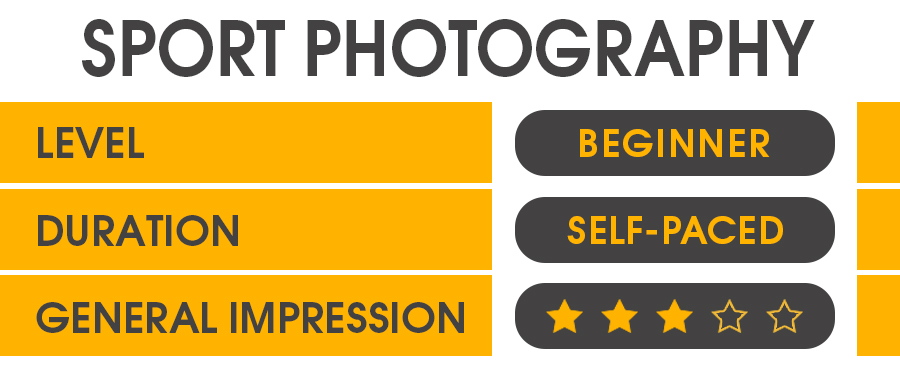 Kane Hibberd, a professional music photographer with a ten-year experience, tells the primary things needed for concert photography. Here you will learn about his equipment list and the use of various techniques developed over the years.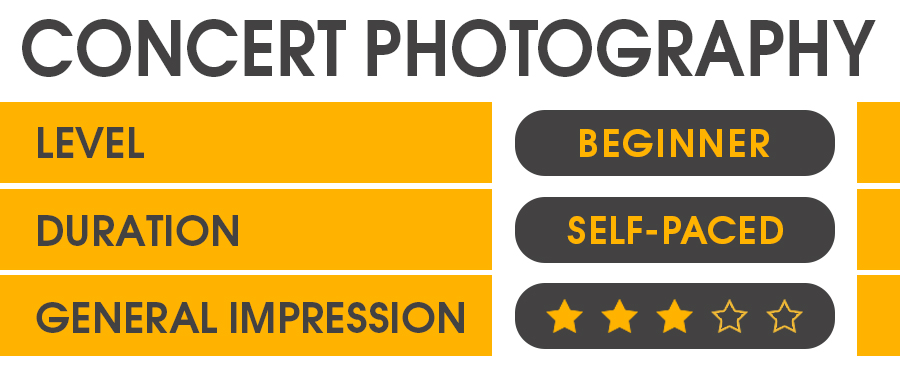 A course that teaches the correct underwater photography. You will learn how to properly apply special waterproof equipment and how to choose a kit for underwater shooting. This course proves in practice that in underwater photography the special properties of digital photography are most fully revealed due to the expanded possibilities of additional manipulation with the image.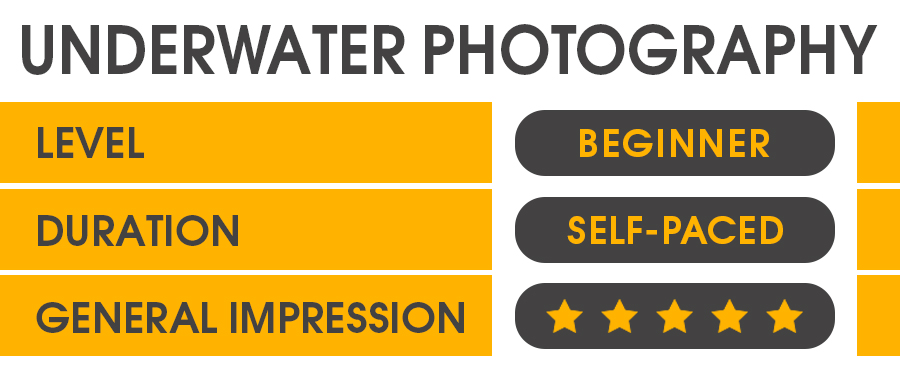 General photography courses
1. Overcoming Self-Doubt and Finding Confidence as a Photographer by WhimMagazine.com
This free online course, which lasts seven days, is designed to return photographers confidence in their actions so that they can bring their photo business to a new, successful level. It covers a wide range of topics, such as setting goals for photography, evaluating your work, having a successful online presence, collaborating with inspirational ads and much more.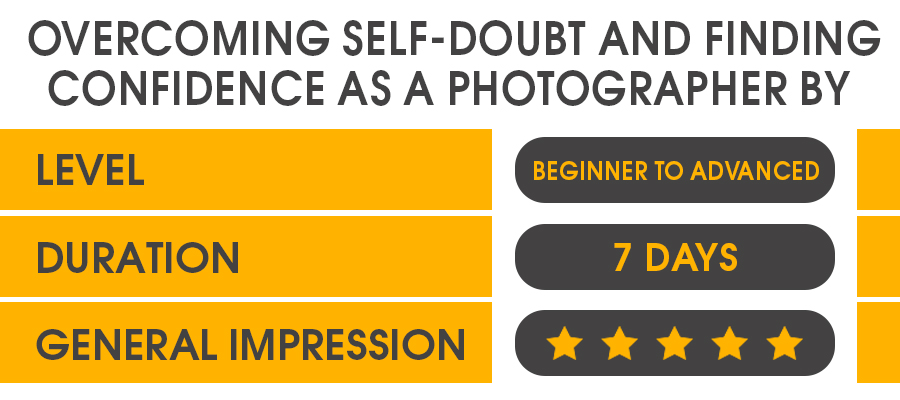 2. The Art of Photography (PHOT) by Dr. Shane Hulbert
First of all, these free online photography courses with certificates are interesting because including quizzes and evaluation at the end of each module. Spending an average of about 3 hours a week, students will be able to study in detail the various editing tools, the basic principles of camera operation and their proper setting. After completing the course, you will be issued a certificate of achievement.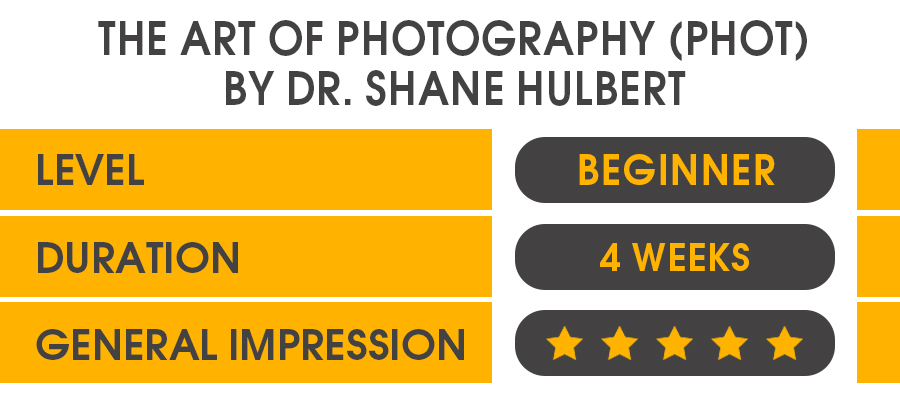 This unusual course studies photography as a means of interacting with politics, economics and social life. Look at ordinary things in a new way, and maybe this will be your source of inspiration.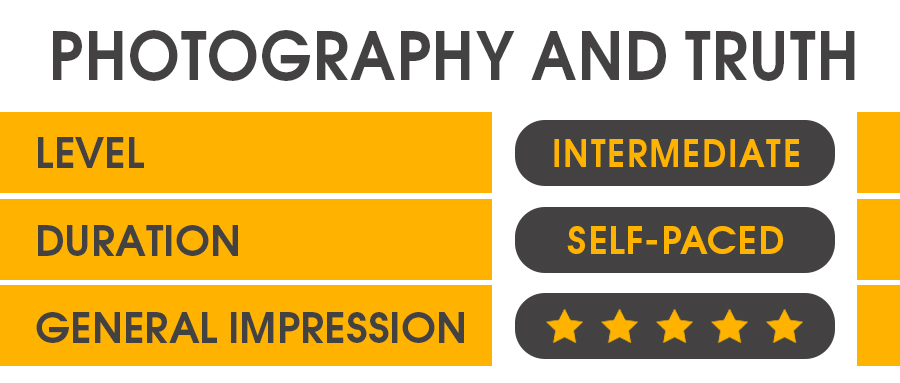 4. History of Photography Podcasts
The most interesting decisions in the history of photography, the most crucial moments and just an interesting conversation - this is what you should expect from this course. If you are interested in the history of photography as an art, we strongly recommend that you plunge into a historical excursion from Jeff Curto.

5. Introduction to Social Media Strategy
Lead your photo business, but very little or no profit? Perhaps you just simply aren't competent enough in matters of business and marketing strategy. This 45-minute class will help you become a recognizable brand in social networks and not only. Increasing brand awareness, increasing traffic, creating strategies and much more is available in the Introduction to Social Media Strategy.

6. Building Trust Between Photographer and Client: Capturing Emotion Evoking Images
Any photographer involved in portrait photography should not only have an expensive camera and display correct settings in it, beautifully composing shots, but also psychologically correct work with the main character of the frame - a person. The satisfaction of both from the joint creative work depends on the correctly established contact between the photographer and the client. Beginners do not know how to put the client, what to tell him, how to make the survey easy and positive.
Building Trust Between Photographer and Client: Capturing Emotion Evoking Images is called to correct this problem, and to show that the interaction between photographer and the client is not only easy, but also pleasant.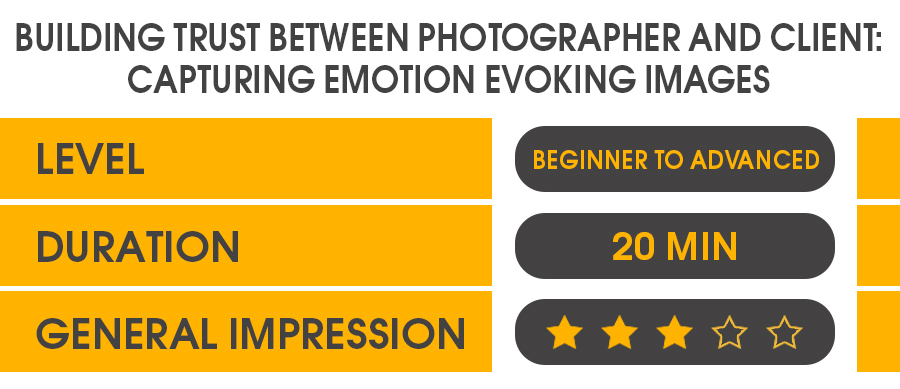 7. How to Make an Online Portfolio Website from Scratch
This course will let you know how to create a beautiful portfolio website in just an hour. Portfolio website is one of the main criteria that potential customers pay attention to during the selection of the performer.
This course is great for photographers, because in essence the portfolio of photographers and graphic designers is considered their business card, and in most cases the portfolio plays a decisive role in whether the client chooses you or continues searching.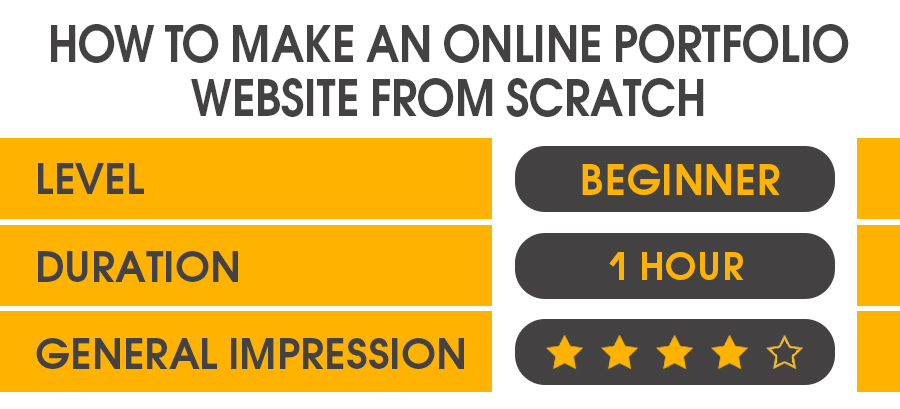 8. Secrets of Magazine Model Photography
This course contains the knowledge and experience of the professional photographer Glamor & Magazine - Jason Cole. Here, more than two hours of video filmed behind the scenes to directly explore every aspect of photographing models. Professional methods, selection of equipment and various secrets - all this will allow you to create high-quality portfolios or sell your work to magazines.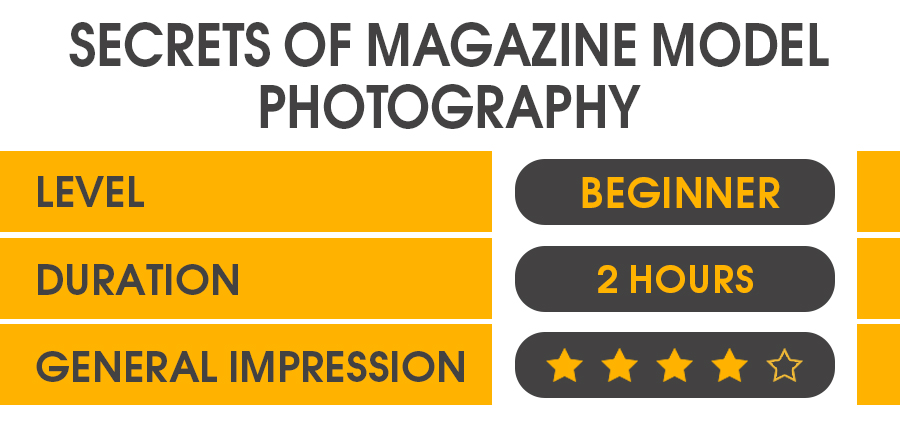 Photography Life is the creative child of Nasim Mansurov. This website provides many interesting resources for photographers of different levels of experience. There are so many different materials here that it's hard to believe that it's all free. In general, a good site from a good photographer.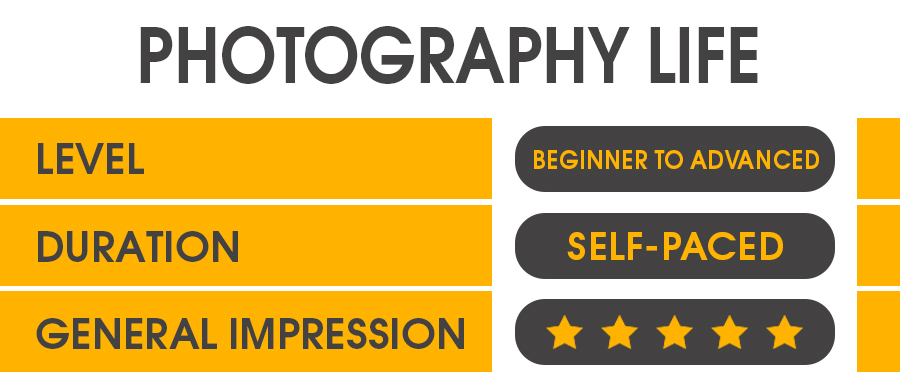 10. Canon's World of EOS Learn
No matter what level of skills you have, this online tutorial will become a useful assistant for everyone. Just choose your level and start studying without limiting yourself in the material.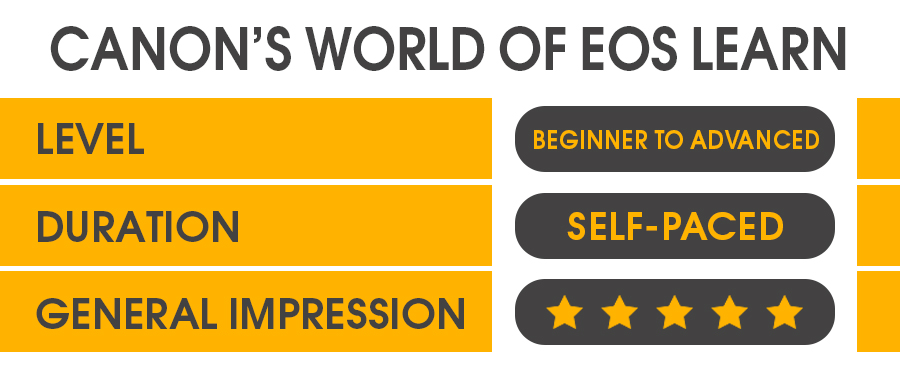 The main plus of free online courses, in addition to lack of fees, is accessibility for everyone who is associated with photography. Even if you are an experienced photographer, refreshing knowledge will never be superfluous. If you do not have money for expensive courses, use our survey and find an acceptable online course for yourself. And remember - it's never too late to learn.
Do you like the article? Please feel free to share it via your social accounts.
---
Pay attention this photography blog which does not require credit for the pictures and photo post production examples listed here . All photographs used in the article are only copyright to their respectful creators . These shots posted as a big admiration of portfolio and photo retouching talent the experienced rt masters have . If you found the photo on this post that is yours and do not want to be promoted on our website , please do not hesitate to write us via online chat on your right and it will be quickly deleted .
---
Rate the article!
The article's rating:
---
You comments or questions are welcome; please share your opinion on the topic.
Use Facebook:
Use Disqus: