How to Double Exposure in Photoshop - easy & fast tutorial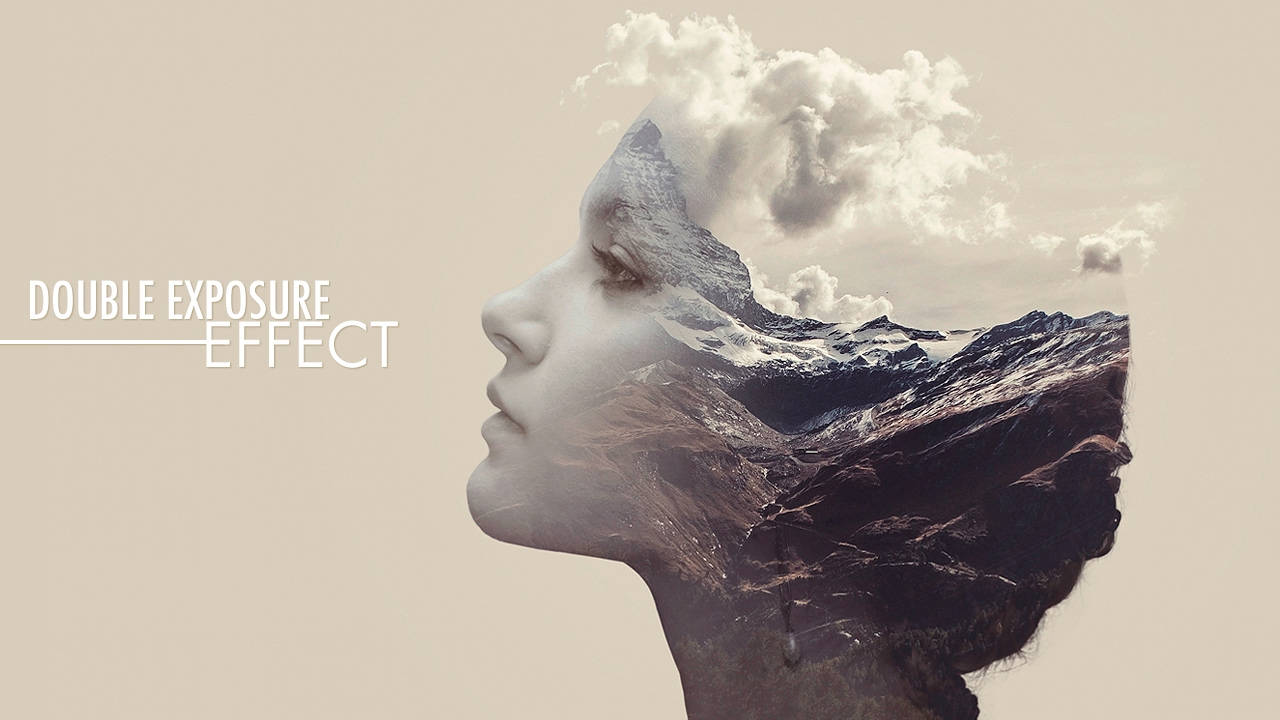 New albums of musicians have it lately. The more unusual and extravagant band or a singer is the more breathtaking the image on the cover of a new album appears. However, it is not only about musicians and their album covers. The whole Internet is blowing up with this idea and everyone who considers him/herself having extraordinary vision of life wants to share such a pic!
Advertisements, magazines and their front pages, book covers even, well double exposure images are seen almost everywhere. They intrigue audience, catch their attention since everyone wants to know what are those two images composing an unreal composition of surrealism.
Where the double exposure in Photoshop can be used
A lot of people are strongly convinced that it is our technological epoch that made it possible. Unfortunately, it is easy to prove that they are mistaken in this issue. This technique has been known already for ages but not in the way we know it right now. Originally, such effect was achieved if you used the same film a couple of times in your camera but for while capturing different scenes without changing the frame. Yeap, that is pretty hard since you almost cannot control the areas of blending.
However, with modern program software we can easily re-create analogous effect in Adobe Photoshop. As far as we can see now, it is not considerably new thing and has been known for a long time already. It was just reborn and became a real success. With modern technological advances it is not so complicated as it used to be. Double exposure in Photoshop is a real piece of cake for photo post production services. Furthermore, a tendency to extra ordinary vision of the world and surrealism over whelming artist have its realisation in double exposure. Visionary kinds of art such as photography and cinema use this kind of imagery composition in their own way.
There was nothing to think long about and I decided to dedicate the article to double exposure creation. This topic is very interesting and you would not regret if you go through the information I want to share with you.
Quite often digital artists use it to mimic surrealists. Popular example of such is True Detective or Tailor's Swift music video that can help you to recognize it. Artists like to combine silhouettes of people with sights of nature: trees, mountains or even big city suburbs so that they fill in the silhouette of the portrait.
Therefore, in the following article, I will share with you my knowledge, i.e. one of double exposure Photoshop tutorials, which are sure to give you an answer to such a demanding question of how to create double exposure in Photoshop. So, let us start!
How to double exposure Photoshop in 10 minutes
There is plenty of images all over the Internet so you can choose any you like. I have picked up this one on a free photo stock. If you are interested in double exposure photos to make it a cutting edge of your portfolio, you'd better took images from your personal archive. In such a way you will show your own development and skills.
There are some demands that an image should meet in order to be used in this tutorial for example. It is worthwhile mentioning that monochrome background is valuable and more preferable. There would be less troubles when working with a portrait photo of such kind. Grass or leaves, or any other texture on the background will only complicate the whole process. Consequently, neutral background is better.
I will crop this image a bit in order to make it smaller. You do it as usual with your crop tool.
Well, moving on you should correct contrast and brightness as the two who are going in couple all the time. You do it in the usual pop-up window Levels. Choose what you prefer most – writing down values for each item or playing with buttons. It is up to you, I do not mind you doing the choice. It should be convenient and you are likely to do it as usual. Do not forget to confirm the changes!
I have nothing against boys wearing earrings but it seems to me that in our image it would be a bit awkward and even unnecessary. So, I made up my mind to use a magic healing and get rid of any spot of it in the picture. By the way, I usually use this tool if there are a lot of work with portrait retouch and the skin should be edited considerably. It is nice to have it.
As you remember me mentioning already about the importance of background and it being monochrome. Now you will see why. You should select only the portrait and get rid of the background. It is really simple and I believe you would cope here fast. Magic Wand will help you to do it, if you have forgotten how to do it.
Magic Tool is great but it is not all. You should work with edge detection in order to change the mode of image viewing. It gives you an opportunity to choose such a mode that it would be convenient for you to work. Big advantage of it is that it makes more visible the portrait itself and in your turn you find a big advantage here. By the way, you should think about man's hair. If you make the edge too precise it will be seen and even detected by separate hairs cut. To avoid this mistake adjust the edge at 1,5.
In order to be sure about the monochrome of the background, I created a new layer and toned it grey.
As you see, we have edited the image itself in order to prepare it to double exposure creation. Further, we are going to create the double exposure in Photoshop uniting two images into one.
As it usually happens, I also picked up the second image in a photo stock. There is a tendency to create such an effect in combination of a portrait with landscape (trees, lakes or mountains even city suburbs images are pretty good for creation of surrealistic vision).
My choice is simple and not very extravagant. It is landscape of a forest with a lake. The image is black and white.
Now, you should add the image of the forest into your document. This one should be above the layer mask in order to have a contour of silhouette seen. In such a way you can easily continue editing. I believe this step was a piece of cake for you.
After you have opened up the pop up window levels once again you should create a vector mask. It will make only that part of the landscape remain which corresponds to areas inside silhouette. All the rest will be eliminated since we do not need it. Be careful and notice those chains between the miniatures of levels. It means that when breaking it you can turn the forest upside down and in any side you like. What is more important, all these movements in no way influence the layer. It remains to be stable.
I believe it would be better that the associates tell everyone to place roots that is the black part of the image into the head of the portrait.
Next step demands from us making a copy of a thumbnail layer. You should paste the copy above the forest. Going on, I turn the image into a black and white one corresponding to the pellet of forest itself to eliminate the discrepancies.
We need to darken the portrait steel more. To do this you open a quite familiar window levels. You make the photo dark at level 117. After it you work with hue and saturation. Play with buttons and make the image seem a bit blue.
I want to make the image more surrealistic. On this purpose, I will edit the head of the portrait. Being armed with brush and Airbrush I start painting white. Do not be nervous because of red color on the image I show to you. It is just because I want you to see where and what I am doing. Now, it is vivid that white paint makes head seem full of air and more realistic. If I saw the picture for the first time , I would rather say that the forest is growing in his head.
At this Stage, some parts of the image seem to be too noisy – for instance, areas around the eyes, where trees from the forest silhouette create distracting effect. Let us get rid of it and make these areas more bright and contrast.
Create a new layer under the one of unsaturated portrait. Take Brush Instrument (B) again and switch the instrument of inking into dark blue ( #2f2c35). You can take it from the part of portraits hair with I.
Start painting under the eyes area making it mode clear. To make it more convenient, you can click Ctrl on the mask layer portrait to make the selected area visible. It allows you to paint inside it and do not come outside the borders.
Let us add some characteristic traits to our image. Choose the layer unsaturated portrait and add layer mask with clicking the icon mask in the lower part of layer panel. Tale Brush Instrument and switch to black. Accounting to the fact, that white is the color used in the default mode, black will help us to erase unnecessary parts of the image. Paint the parts of man's neck to create the illusion of his face rolling out of trees.
What a masterpiece! I believe that our work is very successful!
Now after you have complete the tutorial, I believe that there would be no troubles for you in creating double exposure for you. It is an approximate scheme for you to follow in all the rest of your surrealistic images. It is a real piece of cake for you and me!) It was achieved by uniting two images into one with creating an interesting surrealistic effect. I hope that you have found a couple of interesting Stages in one of my double exposure Photoshop tutorials, which will help you to create even more interesting combinations and photo manipulations. Wish you good luck in this field!
Of course, I do not mean to make you think that my way of double exposure in Photoshop is the only right. Every photographer has his /her own approach to the question how to create double exposure in Photoshop. Check it out yourself! There is plenty of 2017 Best Photoshop tutorials on YouTube
Here is one of double exposure Photoshop tutorials which can also supply you with new ideas in this field.
This is one of video tutorials teaching how to double exposure Photoshop in 9 minutes. It is rather informative. The made image is very much alike to the one I did. Actually, such vision is really wide spread in the world and there is nothing special about it. You may produce extravaganza featuring your own style and vision since every idea has its right to be discussed.
Being a member of Fix The Photo Team, I want to lay an accent on the importance of photo color correction services in our life today and on. People subscribe regularly visit our blog since there is plenty of important information about contests and educational programs of our company and others. For instance, Educational pack from Fix the Photo is at your disposal the same as our editors.
Our photo service can boast of before and after retouch. High quality of images that we produce is a key of our success. Professionalism is as much important in our job as air and food in everyday life for you. Surfing the website of our company you can check out that photo editing prices are really low and it would be a challenge for you to find a photo service with still lower prices and more credible reputation that ours.
Therefore, you have only one vivid way out. You should contact us and enjoy the collaboration since we know how to make our clients happy and satisfied.
Do you like the article? Please feel free to share it via your social accounts.
---
Pay attention this photography blog which does not require credit for the pictures and photo post production examples listed here . All photographs used in the article are only copyright to their respectful creators . These shots posted as a big admiration of portfolio and photo retouching talent the experienced rt masters have . If you found the photo on this post that is yours and do not want to be promoted on our website , please do not hesitate to write us via online chat on your right and it will be quickly deleted .
---
Rate the article!
The article's rating:
---
You comments or questions are welcome; please share your opinion on the topic.
Use Facebook:
Use Disqus: