Best hashtag photography for your portfolio
Sometimes, an amazing thing happen. You wake up in the morning, and somehow exactly now, at this moment, you do like what you see in the mirror. What will you do next? Most likely, you take your smartphone and make a dozen of selfie. What is the next step? Surely after basic processing and selection of the desired filter, this photo will go to your Instagram profile. Hey, it seems like something is missing. It is so-called hashtag photography. Gosh, what of them are worth picking? They have to be cute and funny and suitable for the photo at the same time. Moreover, they have to be original, not corny.
So, hashtags. What are they, and since what time they have become so important? Just for a little while not everyone knew what this thing is at all. Some people start diffidently use hashtags in ironic way, like YOLO and so on. But having Instagram or Tumbler, or any social network is not so difficult to notice how hashtags simplifies the search for the desired information. They can help you not only find what you need, but also promote your own project, whether it is a photo, picture, article, or something else. The most popular spot for hashtags are Twitter and Tumbler and Instagram.
So, what about the last one? Let's face it, that posting photo on Instagram can be not so fast, because you waste your time not to process your photo but to come up with its description and hashtags. And not just any of them, but popular photography hashtags. Because each one of us wants this cute photo of your dog or a breathtaking landscape, and maybe even good selfie to be seen by as many people as possible. Yes, many people say that they don't care about the number of likes, but, let's be real, the more red hearts under your photo, the more you are happy.
Hashtag photography, i.e. photos with hashtag, will gain more views and likes, than a photo without any signatures for like one hundred percent. Using popular Instagram tags will allow you to attract a large number of interested people to show them your photos, and then get a lot likes and new subscribers (followers). Using Instagram tags is very easy thing to do. For this you need to add to the description selected in advance popular tags or make up your own ones when you post a photo. Hashtag photography or any other hashtag consists of a pound key and any keyword #keyword (for example, #book), if the primary keyword consists of two or more words, then you need to write without spaces (e.g. #GoodBook). Keyword can be written both in English and in any other language. You can also put a hashtag in comments to photos posted previously. It is beneficial to use those Instagram tags, that have already become popular. Choosing popular tags on Instagram depends on theme of your photos.
Why does Instagram relevant for photographers?
If you create Instagram profile not only to post photos of breakfast, cats and selfies, but for business, it's likely that you have thought whether your business fits this platform? Instagram is a great platform for photographers for sure. And there are several reasons why.
Instagram users love beautiful pictures. Photographers are able to make beautiful pictures. It turns out that one can give another what they need and on the contrary. It is an advantage. Usually a good frame processing requires a lot of time. Instagram gives you an opportunity to "heat up your photos" and post, for example, photos from the backstage in the Instagram story. In addition, on Instagram is is possible to tag people in a photo and to recommend them in comments. It can help photographers to tell people about each other, because every photographer is a personal brand. That's why it is very convenient to create your own hashtag, so people start to recognize you. Simone Bramante, Italian photographer, starts doing it. Sometimes he uses his nickname (@brahmino) as a tag. Instagram hashtags for photographers can include not only their personal tag, and hashtags, that described photo, but also advertising ones, which is very convenient. People (clients) will spend a few hours with the photographer on the shooting, so they need to feel free, to get the beautiful photos. They mustn't be like photo of the passport or something like this. For this reason, it is important know the photographer not only as a professional but also as a person. You can understand this on a personal meeting, and it is possible through their account on Instagram.
Kinds of accounts:
1) Personal accounts.
2) Bloggers.
3) Groups (thematic communities).
4) Internet shops and stores offline.
5) Business accounts (Cafe and restaurants, tourist offices, manufacturing).
6) Brands accounts.
7) Celebrity's accounts.
8) Bots.
9) Lending accounts
10) Video accounts
What photographers can you find in Instagram?
The answer is any. For example, there are photographers who are interested in photography exclusively pets. If taking pictures of cats and dogs is your hobby too, Pet Photography Ideas From Popular Photographers.
You will find it useful and interesting. Food-photographers are the ones who takes professional photos of food. By the way hashtags with the meal are in the top photography hashtags on Instagram. There are photographers who specializes in wedding photos, baby photos, and photographers, who specializes in newborn photography, and fashion photographers as well. Probably one of the biggest categories of photos is the photos of nature.
Of course, a variety of breathtaking landscapes and beautiful seascapes inspire many photographers. Some of them doesn't only take photos of flower fields or beaches, but also high mountains, underwater caves and so on. These photographers known as extreme, and their pictures are never be out of attention and never remain anyone indifferent. Check here, How it is difficult to be an extreme photographer.
Of course, there are common tags for all types of photos, but it is worth paying attention to the fact that each category has its own top photography hashtags.
What you need to be popular with Instagram users
Sometimes pictures on Instagram account are so cool, that the line between photographers and not photographers erases completely, it is not clear who is engaged in it professionally and takes photo for money and who is just common person who takes beautiful photos for pleasure and its Instagram. Therefore, if you use hashtags with the words "professional photography" or "headshot retouching"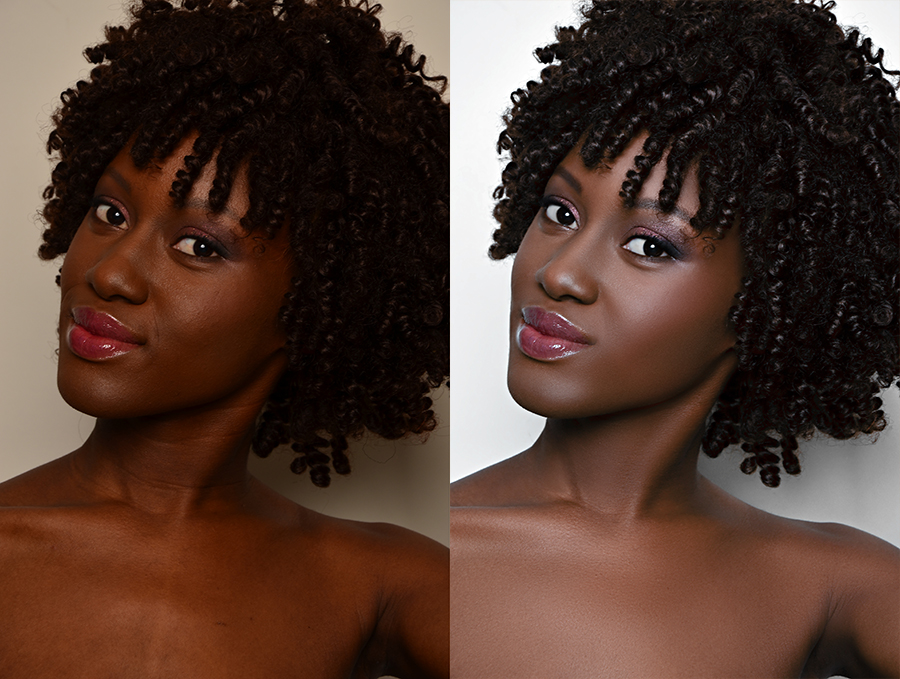 It may help clarify this point. But no matter how talented you are, in the world with enormous competition you need to have something more. To be notice, it is not enough to publish your photos and use popular photography hashtags. There is a need to do something to these photographs are seen and appreciated, after all, in this social network there is a huge number of accounts with quiet good quality and pretty photos.
It is clear that even if you just process your photos and not only use Instagram's filters, your images will already be allocated among a large part of such content. Just take a look at the pictures before and after retouch.
Instagram has its own specificity and style. If you look through several popular accounts of any theme, this style is easy to understand: interesting idea, sound composition, perfectly matched filters. For this you just have to google "top photography hashtags on Instagram".
There are a few win-win options that are easier and faster become popular:
- accounts that are from abroad. We all curious about how people live in foreign countries. That's why accounts of travelers or those who has left their country and now sends sunny greetings from some island, are quickly become popular.
- accounts with cute children. Most users on Instagram are women. Many of them are young mothers, and those of them who is not, are still love children. It's their nature. As a result, accounts of young mothers with cute little babies quickly gains popularity because it is important for young mothers to discuss everything in the world and share piece of advice. Furthermore, in most cases, children are very photogenic with their immediacy.
- account with cute animals. And it's not just cats. Dogs, raccoons, rabbits and even bugs (though with them will be a bit harder) with proper positioning cause a storm of emotion, likes and followers. Again, the animals are usually also very photogenic.
The main advantage of Instagram is that your account could be noticed by Instagram itself, and they may write about you in their multi-million account. Good advertising, isn't it? Because then thousands of views and surely offers are waited for you.
Advertising (including official), mass-following and popular photography hashtags work for accounts from any areas and for photographers including. But, of course, it is not enough to just buy advertising in an account with million subscribers and wait for the rapid growth in the number of your ones. To get people subscribe, you need to get the content you are offering them, to be very interesting and like nothing on earth.
Photography services are in great demand as everyone wants to have snazzy photos, and, of course, it is desirable even for free. After all, not everyone can afford professional photos, and if they can, then photo post production services some may perceive as a luxury. You can easily find celebrities, popular bloggers, journals, projects, and activities that organize many useful events. You can cooperate with all these people. You give them photo session, they give you PR.
Of course, celebrities get a lot of such offers. So be mentally prepared for next: you have to offer something unusual, or write a million emails and receive only one answer. It is ok. And there is no reason to get upset.
Popular tags on Insagram
So, as it has been said many times before, hashtags are easiest way to become popular. Let's look through the top photography hashtags on Instagram.
#love - not even need explanation, as this topic is very popular in movies, music and books, it is not surprising that Instagram is not exception. Love is a magnificent feeling, which can cause admiration, pain of memories and pleasant nostalgia. In any case, your heart will not remain indifferent.
#instagood - it is pretty pointless tag. Its meaning in appealing a look at your photo and no more. Most likely it has become popular just because you can write it under any photograph, whether it's a beautiful view of the sky, a bouquet of flowers, your parrot or selfie.
#me - well, we all love ourselves and do not even that you have on your phone hundreds of your selfie.
#tbt - it is "nostalgic" tag, it is put in the pictures where you are a child, or a graduate and so on.
#follow - it is a commonly used tag in different variations, it's really nothing more than an advertisement.
Still, it is far better to use popular hashtags on Instagram, that has become popular lately. For example: #summer - that has just arrived, #newbook -when you take photo of a book you have just bought. Such tags are more efficient because they lead to you specific and people who is already interested in it.
Instagram hashtags for photographers will not be very different from hashtags for the typical user of this social network.
What is iphoneography?
By the way, to become famous among Instagram users, you don't even need to have an expensive camera. There is a separate category of people in this social network, that called iphoneography.
Using Apple iPhone to take photos has already become an independent genre. Of course, it has its own leaders who sets the general direction of this movement. And one of them, undoubtedly, is the New York photographer Anthony Daniel (@takinyerphoto). You can easily find him using his name as hashtag photography.
He won the competition of street photography on Instagram and he is one of the most recognized and popular New York City iphoneographers. Anthony is one of the first users of Instagram and therefore we can say that he is one of those who made Instagram popular. He said that he found out about Instagram two weeks after its appearance. In that time he was surprised Instagram's accessibility, and especially he liked free filters. Anthony Daniel's works are extremely varied, starting from usual street shots in a characteristic style and finishing carefully deliberate production photographs.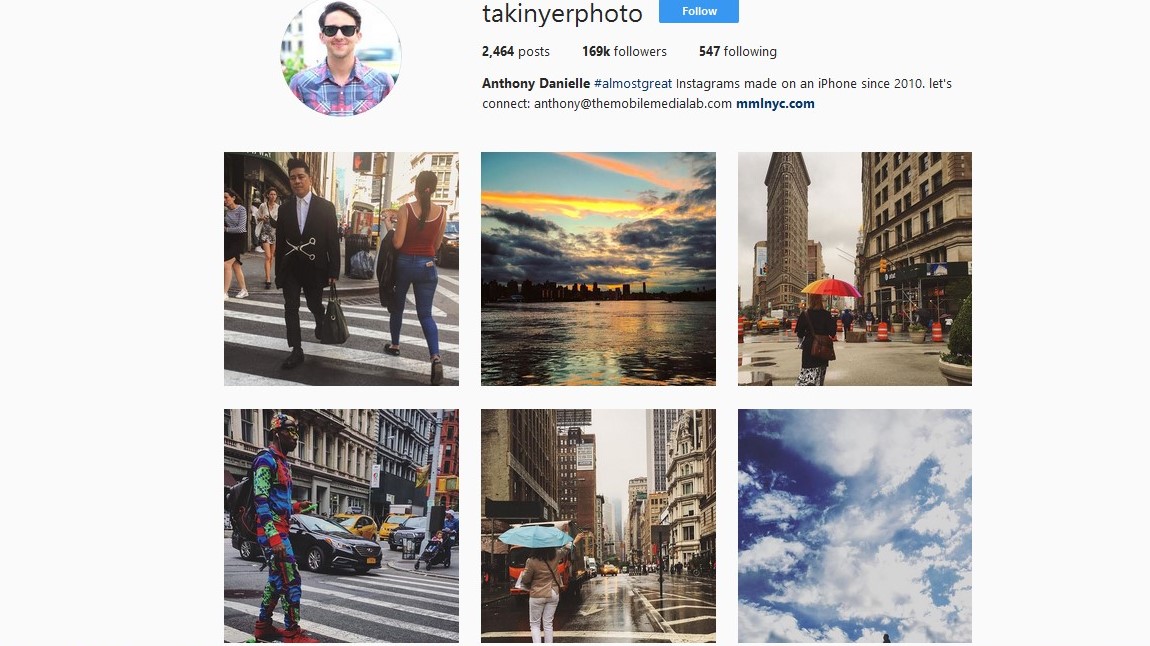 Another photographer, who makes wonderful photographs with the help of iPhone, is a Japanese photographer Masaki Kai (@mr007). His pictures are distinguished by an interesting idea. There is a silhouette, an unknown figure, in his shots which is in the center of events. But there are photos without any central object, it seems like there are all at once in those pictures. Sometimes sassy, sometimes mystical, pictures of Masaki Kai attract people from all over the world. His works are very popular on the Internet. By the way, most of his pictures are in black and white, and it creates a very unusual and interesting contrast.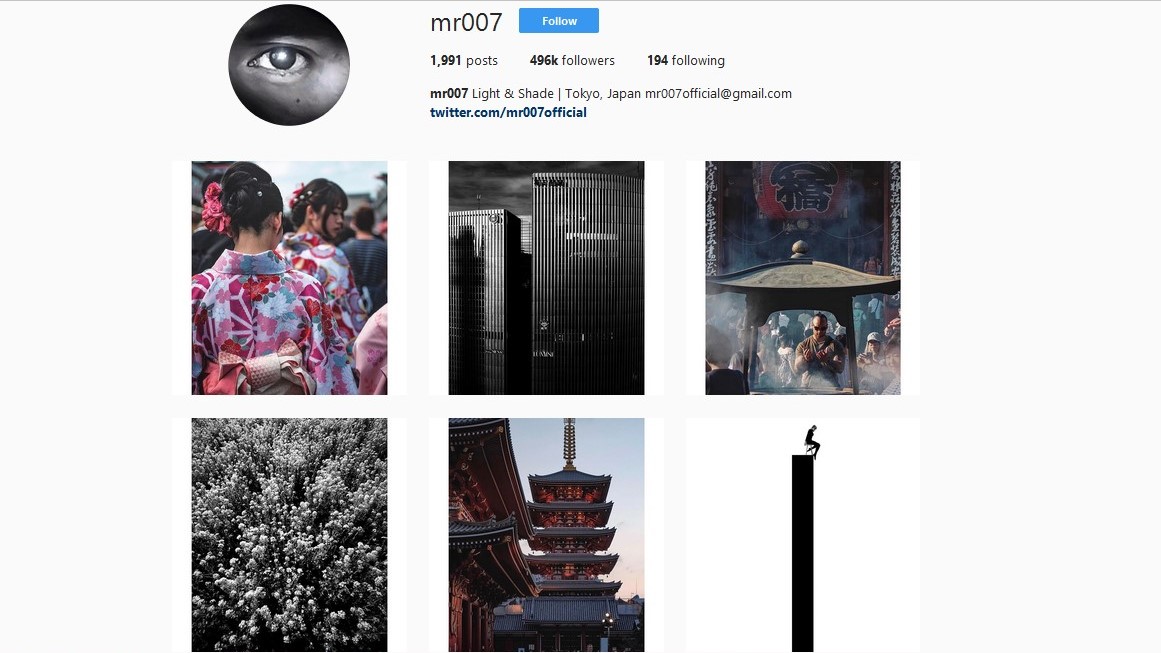 The opposite of this photographer is one of the most famous Turkish photographers Mehmet Kirali (@civilking). His works are notable for saturation and color. Because of this abundance of paints in his pictures, made with iPhone too, they seem to be even fantastic, although they depict ordinary buildings, streets and so on. His last photo is views of beautiful beaches and various objects on them. These photos create a separate block in his profile, all of them unites the hashtag photography #philippines. By the way, here's an example of another advertising, where the focus is not on the artist, but on a place that he takes picture of. Certainly, many of his subscribers will want to go there after seeing such beauty.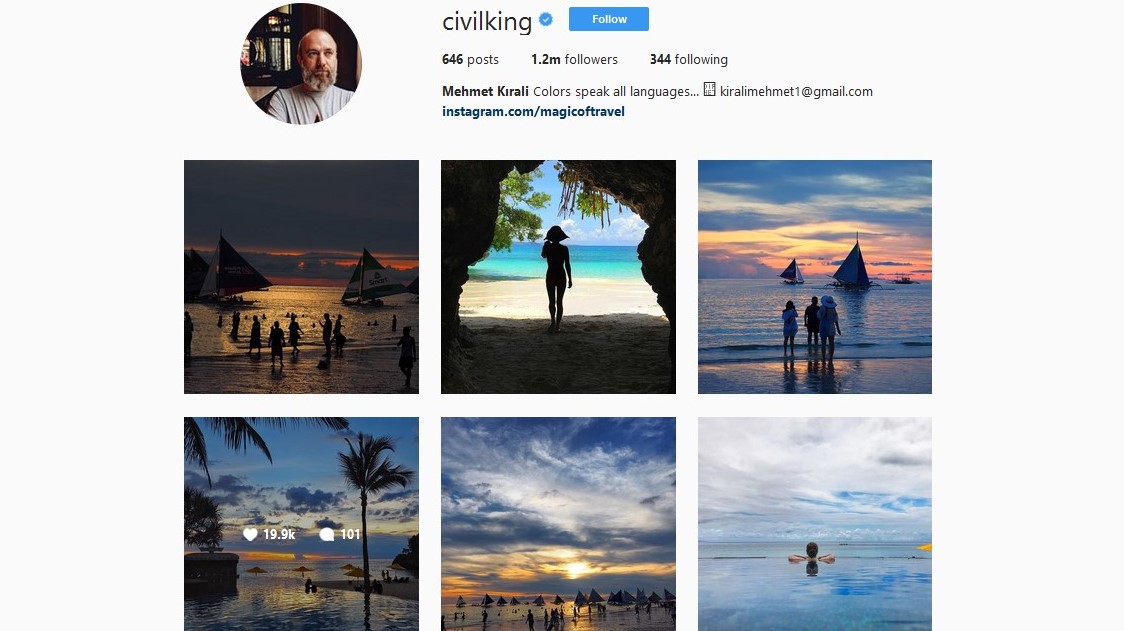 Big city is firstly massive buildings, factories, transport, shops, passers-by etc. However, even in most major metropolitan areas, there is a place for wildlife, and sometimes it becomes the subject of admiration of the photographer from Sweden, Julian Castaneda (@meetjulian)
He likes all seasons, that's for sure. There is no bad weather, every season he finds charming. By the way, not all of his works are made in cities, but many of them there, in parks, squares, alleys and green suburban. And it turns out that urban nature is beautiful. In his profile there are many photos of other theme: portraits, architecture and "random" shots which doesn't make the whole picture, but as it was taken a part of it. However, the whole idea is in this piece of something bigger.
Italian photographer and writer Giacomo Por (@saturninofarandola) is one of the most prominent photographers on Instagram. He specializes in portraits, but very unusual ones. Light and shadow interweave in surprising combinations in his works and creating a unique game on the faces of the models. In the pictures he took dominate black color that immediately catches the eye. There is this something Gothic in it, even macabre, but no less fabulous because of it. He does not disclose the technical side of his work, even what kind of camera and photo color correction services he uses, and this gives already puzzling works even greater aura of mystery.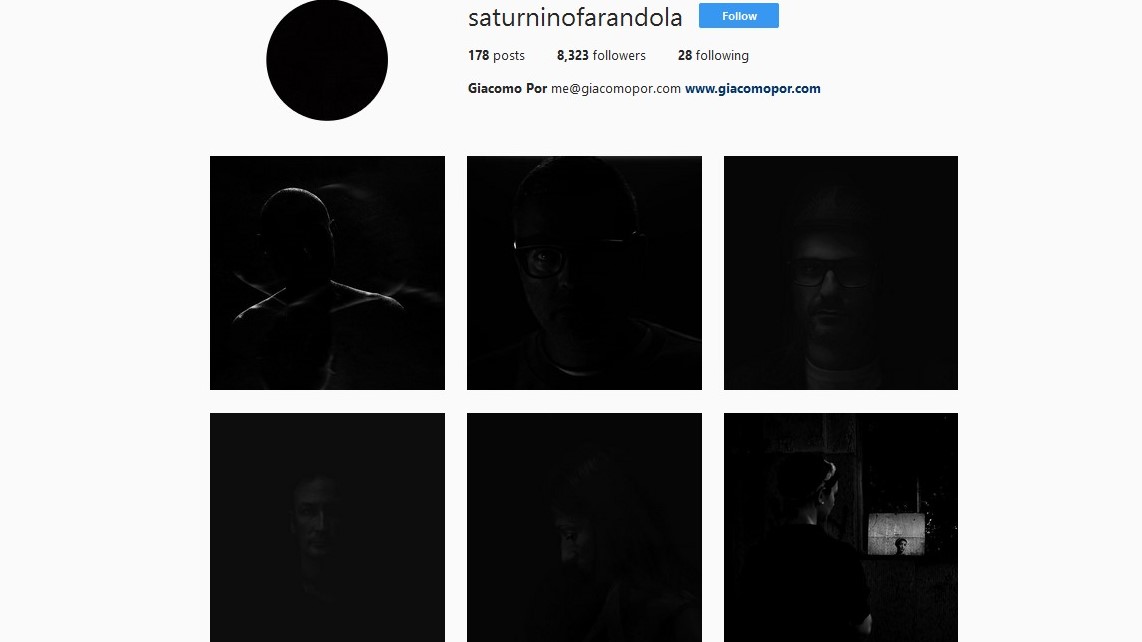 In fact, there are many of such talented photographers on Instagram and often they create so-called top photography hashtags. Because tags becomes popular after popular personalities start using them. Of course, this is not a rule, but often it happens in such a way.
Helpful tip for photographers: one does not use 100+ Instagram hashtags for photographers, but choose those which can realistically attract people who is interested for you. For example, it can be event's tag that you visit, brands in photo and others. Also put geotags, if it is possible.
So, giving small tips for photographers about using Instagram and tags, we have smoothly approached a conclusion.
7 rules of using Instagram for photographers
You are offered 7 rules of using Instagram, through which you can not only demonstrate your professionalism to a wide range of potential customers, but also get a new effective sales tool.
1) Post photos that your client will probably not able to do. Be a magician for him or her. Your pictures should call the wow-effect. People who left comment full of admiration below the photo is a potential client.
2) Share the pictures with clients. Often, people are afraid of going to the photographer, because they believe that for this you need to have model looks. You need to prove that this is not the case.
3) Show yourself. If the client is already thinks you have some magical power, there is no reason to hide your picture so show that you are a common man. Of course, stylish and well-dressed man, because the face of your brand it's literally your face!
4) Post the backstage pictures. Show clients that you are really organized during photo session, what level of service you provide and how well you work with the model. You can also post pictures of examples of your work of portrait retouch.
5) As you already understand, use top photography hashtags on Instagram.
6) Show your clients with your work. For example, with the canvas or photo-books. It will not only demonstrate your product, but also positive emotions experienced by the client by working with you.
7) Specify your partners. Those who has helped you with the shooting. It let you make a viral spreading of your post. Just in case, you can specify even the technique of light and camera.
The basic rule is simplicity. You should choose a simple name to a person can easily remember your name and then find you in search. For personal account and personal brand name is the name and surname. If you have an account store, community, the name consists of the name of your product (service) and the city.
Informative content is the one that brings to a subscriber information about your product/service. What is the sense of the brand? What is the range? What is the price? How to buy? What delivery? What advantages? What team?
Entertainment content are posts that make users smile, encourage them to leave comments and share publications. For example, a good joke, a compilation of tips or a poll.
Selling content are publications that stimulate the user to make a purchase. More often than not, include a call to action. For example, "Go to the site and find out details", "you can make your order by clicking on the link in the description of the profile", "to learn photo editing prices write in a personal message or mailbox" and so on.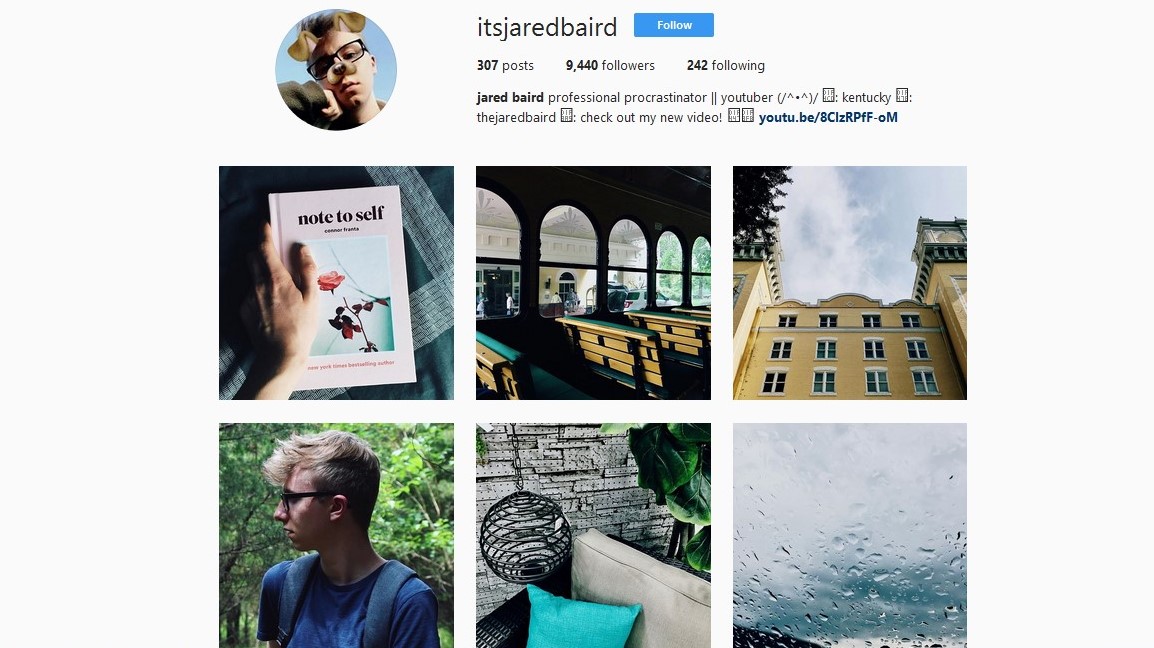 There are tender attitude for photo quality, decorations etc. This is a social network for visualization. Your account should not resemble a collection of disparate photos and random top photography hashtags that don't even fit your photos. Most successful bloggers distinguish their style in the photo content. Try to stick to one style.
Do you like the article? Please feel free to share it via your social accounts.
---
Pay attention this photography blog which does not require credit for the pictures and photo post production examples listed here . All photographs used in the article are only copyright to their respectful creators . These shots posted as a big admiration of portfolio and photo retouching talent the experienced rt masters have . If you found the photo on this post that is yours and do not want to be promoted on our website , please do not hesitate to write us via online chat on your right and it will be quickly deleted .
---
Rate the article!
The article's rating:
---
You comments or questions are welcome; please share your opinion on the topic.
Use Facebook:
Use Disqus: