Jewelry Photography Kit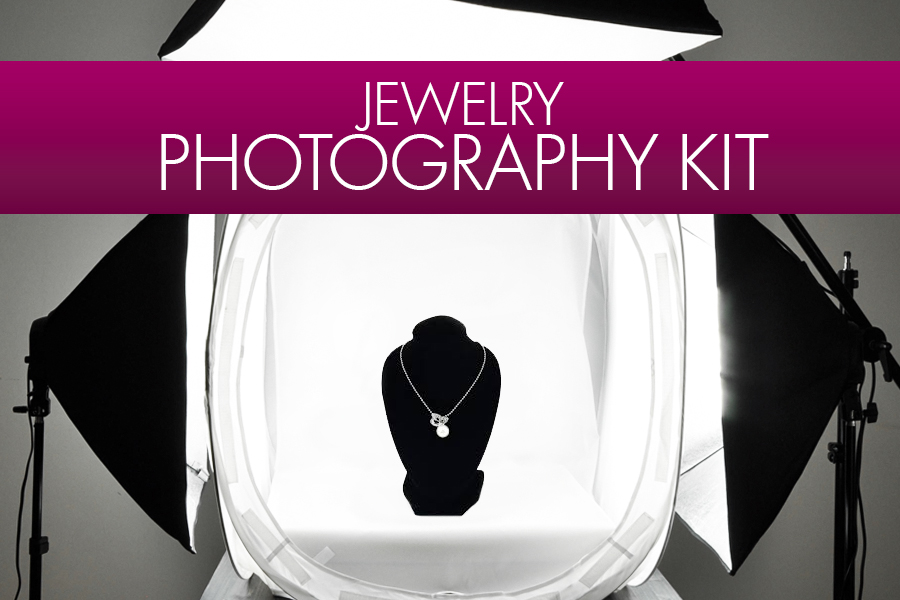 Photographing jewelry is perhaps the most difficult type of ecommerce shooting. Working with small gems, mirrorless stones and tiny jewels is hard and to solve this problem you need to have the proper jewellery photography kit for getting the job done well. Here's a list of the gear you will need to produce the great quality of photos or to make your own home photography studio for $70.
---
Contents:
---
Ten years ago, I started with a DIY small studio for shooting cheap products for eBay and Amazon at home. Today I'm working as an ecommerce photographer for popular jewelry brands, designing amazing portfolios and listings for their marketing campaigns. If you are a jewelry seller, especially for you, I have gathered a list of necessary things for your own jewellery photography kit. Keep reading.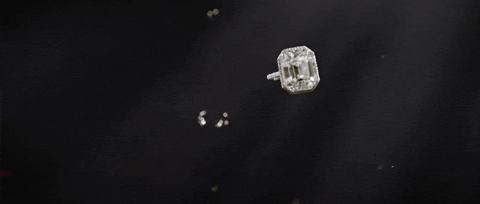 3 Main Types Of Jewelry Photography Kit
Cameras for your jewelry photography kit
AMATEUR PHOTOGRAPHY KIT: CAMERA
There are no strict characteristics your camera should have to take beautiful jewelry photos. Take any entry level DSLR.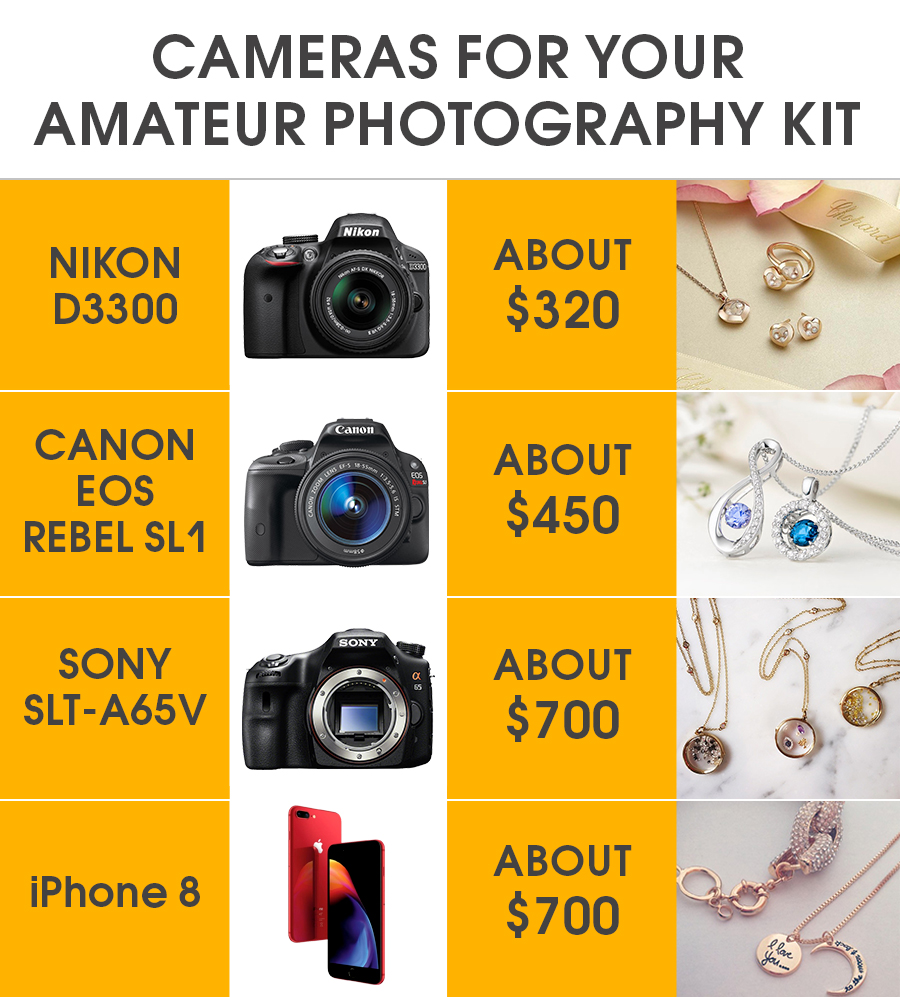 Very often, even with the best jewelry photography props, your photos of rings aren't clear-cut. Mainly, DSLR enables you to regulate shutter speed, aperture and other setting according to the shooting environment and photo goals.
Start your career with Canon Rebel SL1, because it's the best camera for photographing jewelry for beginners. Value your money and don't spend them on more expensive cameras, which have many functions unnecessary for shooting jewelry.
Nikon D3300 – was my first camera for jewelry photography, I recommend it to start with. New Nikon D3300 is an awesome variant for an amateur shooter, which shows how modernized cameras have become. This model is lighter; it has a 10 megapixel CCD sensor, 3fps mode and 3200 ISO, which makes it so popular and demanded.
Canon EOS Rebel SL1 was told to be the smallest DSLR on the market. It is similar to T5i in the type of sensor and processor, but its 4 fps burst speed is a little bit lower with a shutter speed from bulb to 1/4000. SL1. It has a touchscreen and an optical viewfinder. Actually, it seems to be quite a good model for shooting ecommerce and especially jewelry photography.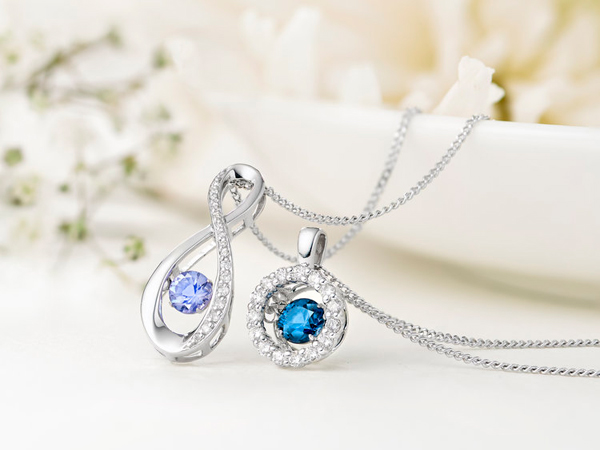 Sony SLT-A65V is the great example of camera for amateur photographer of jewelry. It has a full manual control, but has great auto mode which is perfect for beginners.
IPhone 8 is something that you always have in your pocket.This handy device with 12MP camera and a perfect touchscreen is always in your pocket, if suddenly you need to urgently post photos for your page in Instagram. It has optical stabilization to shoot good photos on white background and semi-automatic mode to help you adjust the exposure.
PROFESSIONAL PHOTOGRAPHY KIT: CAMERA
D7100 is the first camera that a professional jewelry photographer will think about. Quality in accordance with excellent functionality. This camera makes 6 photos per second and has ISO 100 to 6400, which is ideal for experimenting with professional jewelry photos for Amazon listings, because you can select the required ISO level to avoid unnecessary graininess.
Canon EOS 70D helps you to take a picture with an ideal focus on a small detail that can be a piece of jewelry. It has an excellent autofocus function, but only in the case of shooting with a viewfinder. One of the most convenient features is that the model is equipped with wireless communication, which will help you to keep a close eye on the image taken during the process.
Sony A77II offers you a unique in its kind of shooting speed up to 12 frames per second, which is exceptional for cameras of this class. It will help you to make incredible quality photos for your online store. In addition, this camera is equipped with a new generation of autofocus and AF-sensor.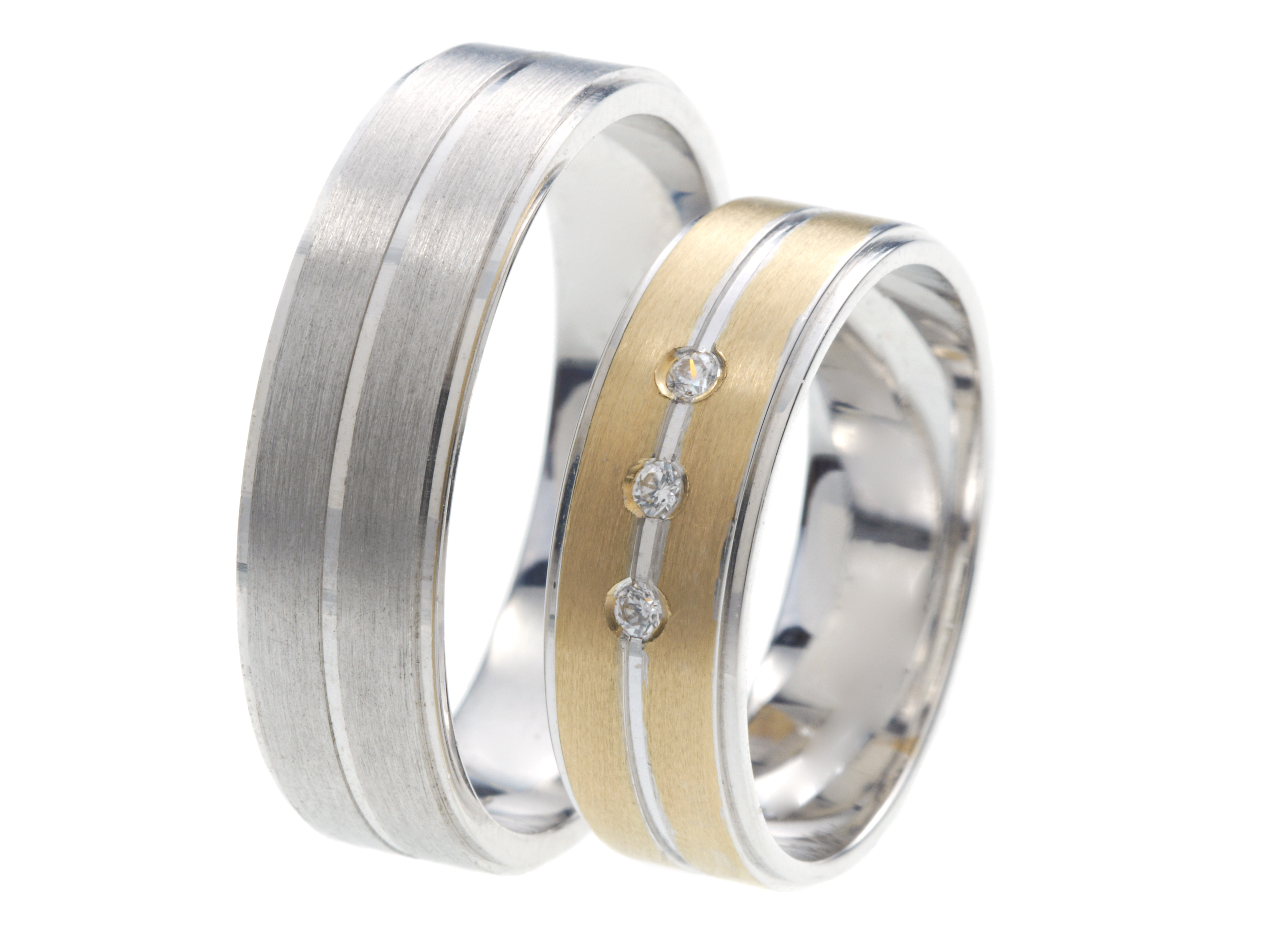 ADVANCED PHOTOGRAPHY KIT: CAMERA
Nikon D800 is one of the best choices for those who want to take photos of small things such as rings, necklace or earrings for magazines, catalogs or any other advertising companies, because this camera has a wide range of manual options and settings.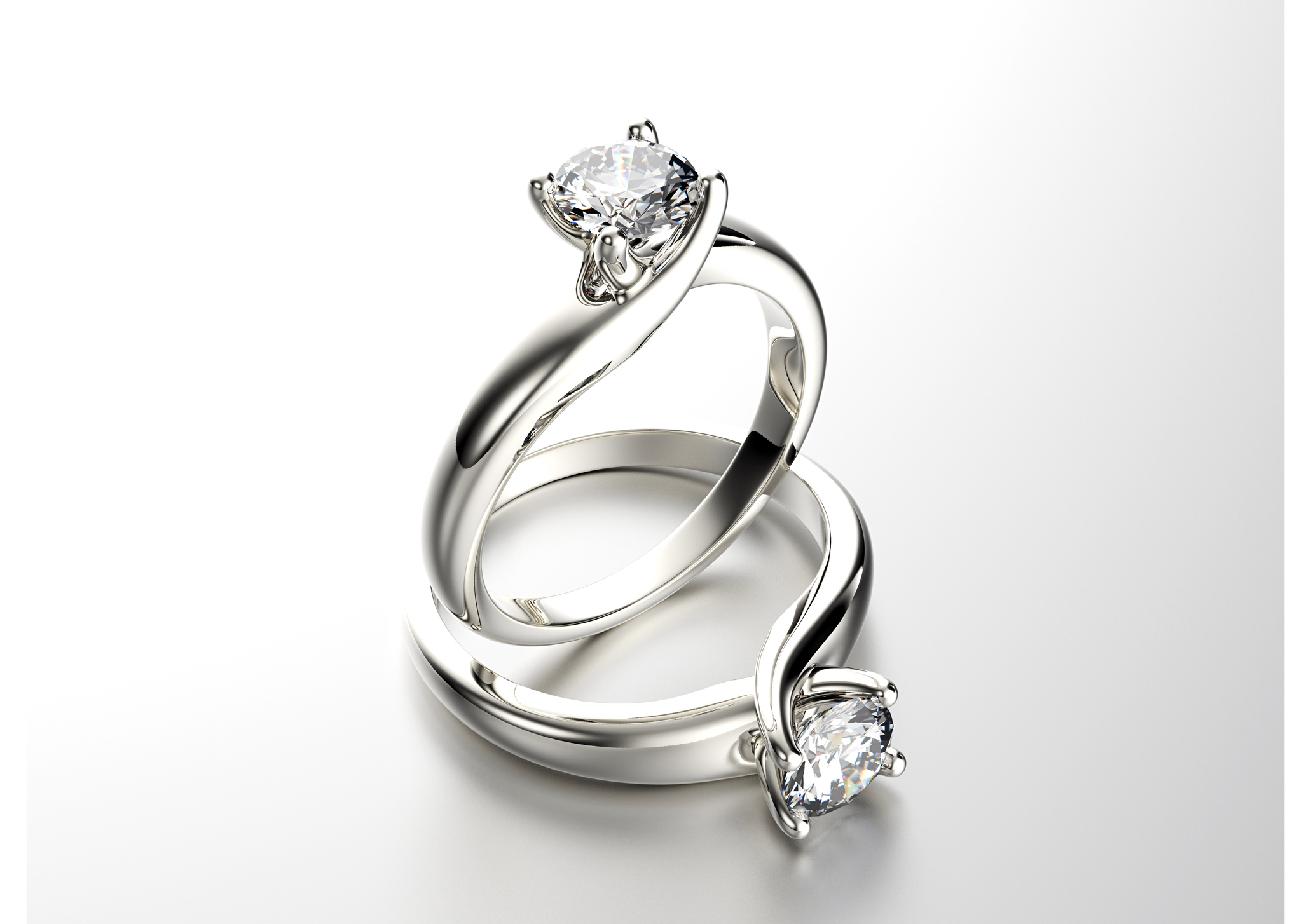 Canon EOS 5D MK III offers an excellent opportunity for those who don't like to do a lot of editing for photography. This camera provides photos without digital noise. It makes it possible to shoot high resolution RAW photos, which is especially appreciated in the field of advertising jewelry photographs for magazines and catalogs.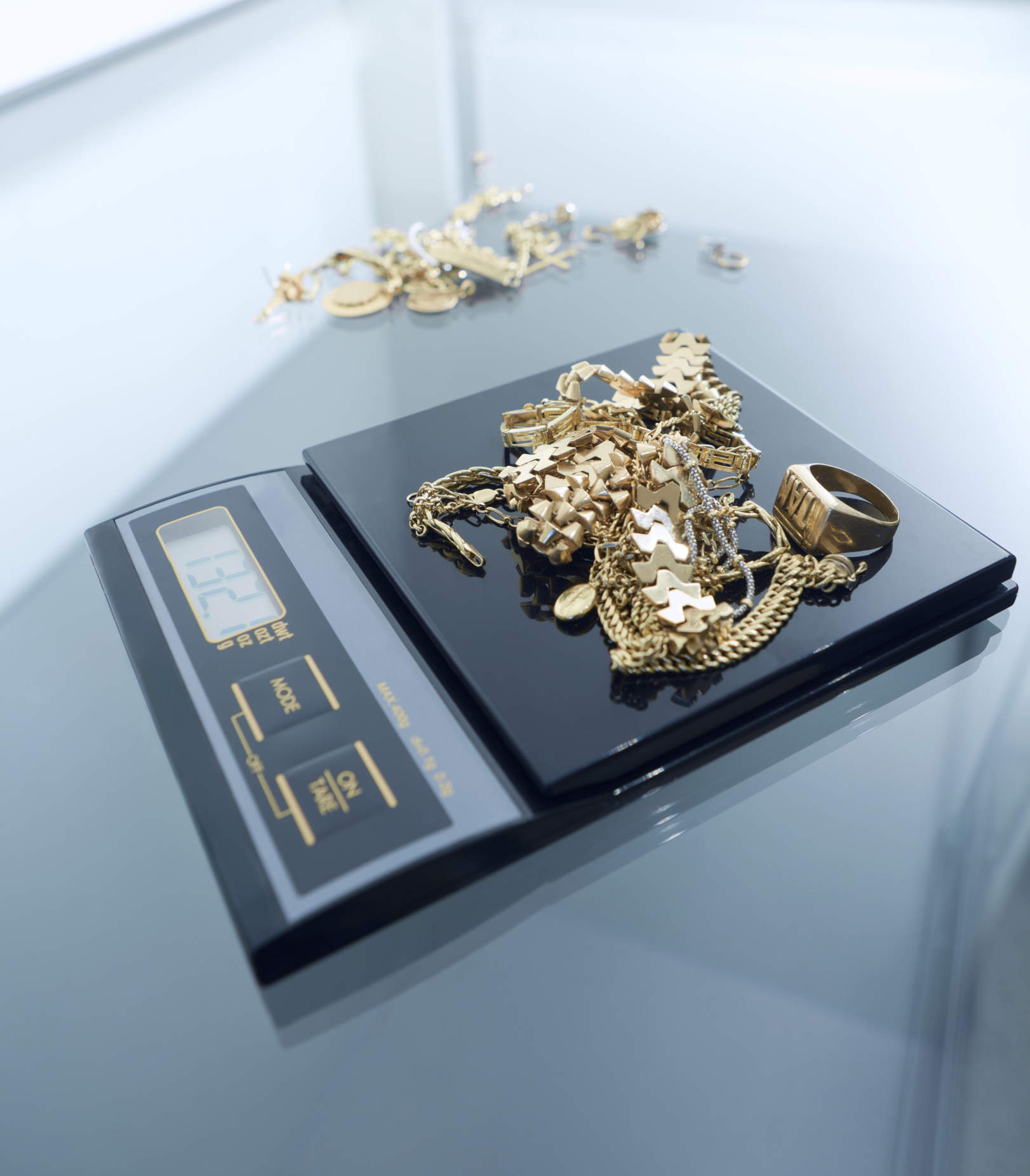 Sony ALPHA SLT-A99V provides new quality of autofocus which is so necessary for photographing small items such as rings, earrings, necklace, etc. The A99V features a 24-megapixel sensor and combines very good image quality with a high degree of camera customization and an ergonomically design.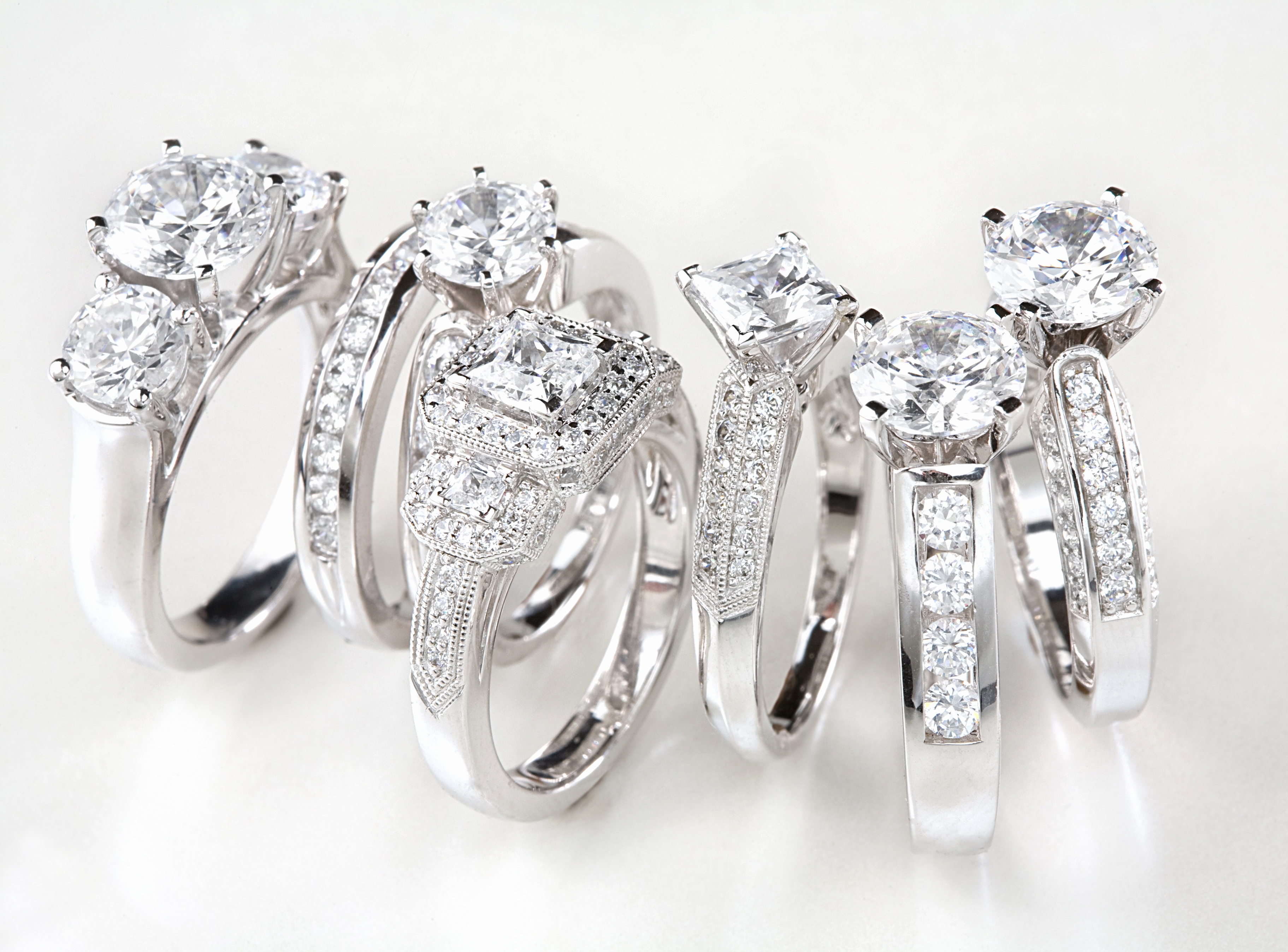 Jewelry photography camera settings
Any photographer engaged in professional photography of jewelry should remember that there are a number of features that should be kept in mind when it comes to camera settings. When shooting small objects, it is important to use ISO at least 100, which will allow you to take a detailed photo, but without unnecessary noise in the picture.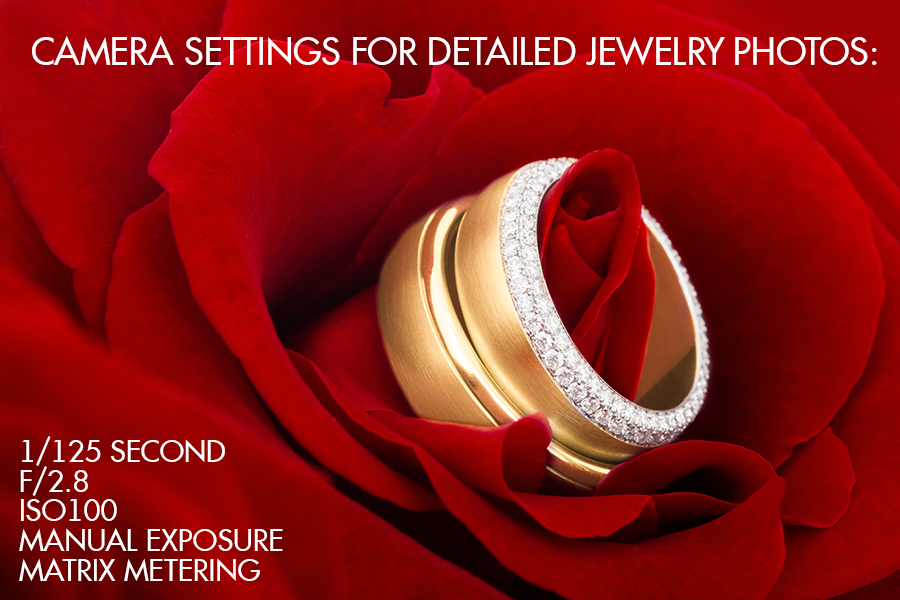 Never forget about Aperture. It will be a helper if necessary to control the depth of the picture, as well as the width of the focus range and its spreading on the part of the jewelry. Don't forget to use as little value as possible, which will give you more depth. So, something between 30-60.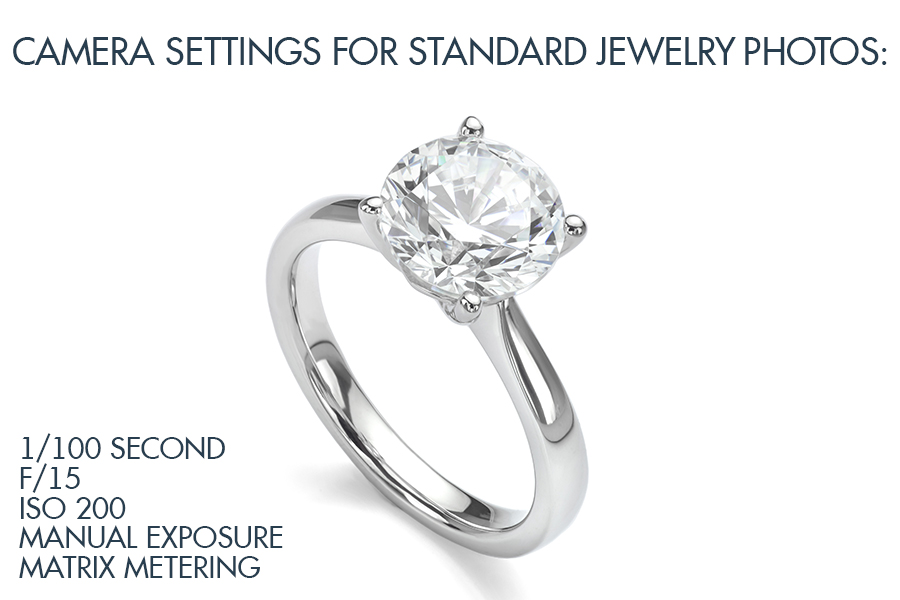 In addition, it is very important to shoot with manual mode, this gives you greater plastic as a photographer. Try not to use the Auto Mode during the shooting. You may have a problem with light discrepancy, which later becomes a serious problem during jewelry photo retouching process.
Best lens for small product photography
What are the best lens for shooting jewelry – macro or non-macro? A macro lens 85–100mm range or a set of extension tubes that enable your lens to shoot macro images is the best choice.
If you want to get a big picture of a tiny product, you'd better choose macro lenses. This best lens for jewelry photography will work pretty well for pictures in a 1000x1000 size. Due to the fact that some lenses are better than others, you have to be attentive to such moments as "macro focus range" and "minimal focus distance", which are indicated with every lens, as your camera is quite close to the product.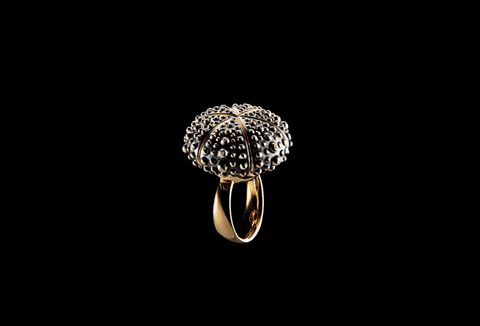 Macro lenses help to get closer focus. Smaller distance is more appropriate for such type of photography:
105mm macro – 0.31m distance;
18-55mm – 0.28m.
AMATEUR PHOTOGRAPHY KIT: LENS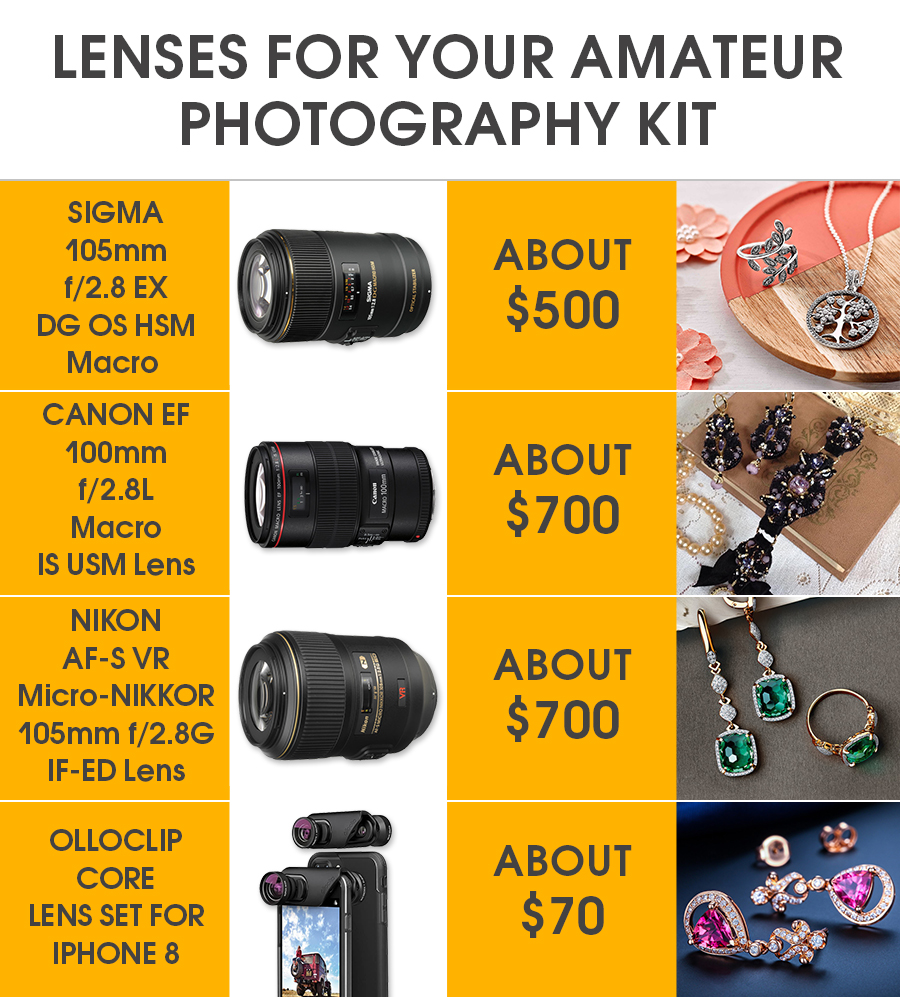 Sigma 105mm f/2.8 EX DG OS HSM Macro. You can take very precise and detailed macro shots of jewelry from a distance of several steps, because the focal length of this lens allows you not to see the gleam or shadows from the camera and the lens. With this lens, you will be very comfortable to take photos even in natural light, which is very convenient for beginning photographers.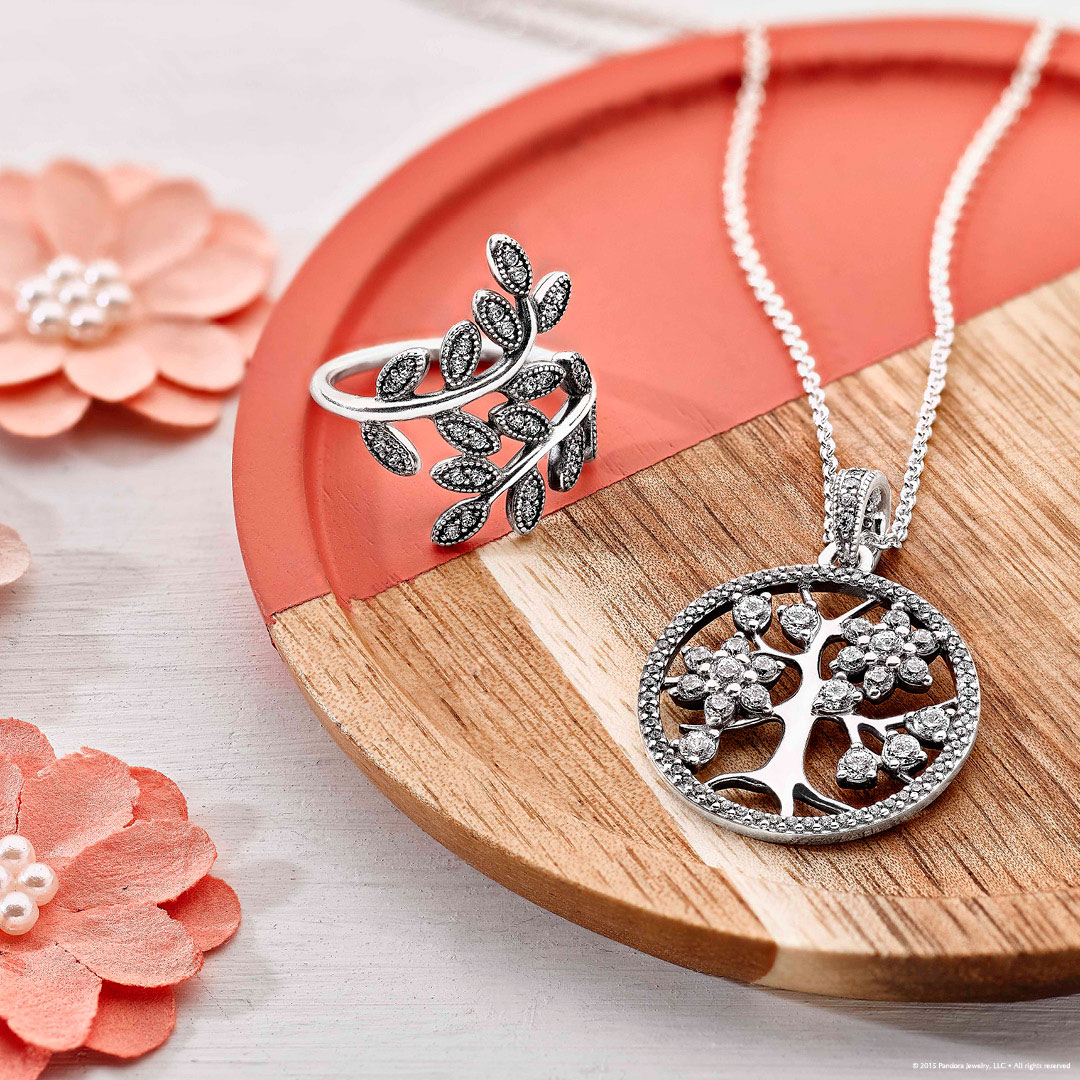 Canon EF 100mm f/2.8L Macro IS USM. This lens offers a versatile 3-group floatation system that gives you the ability to take high-quality snapshots of small objects at almost any focal length, and this is a godsend for novice photographers.
Nikon AF-S VR Micro-NIKKOR 105mm f/2.8G IF-ED has one of the best features of a beginner photographer. It can instantly change the focus automatically without changing the length of the lens itself. This model is specially designed for close-up and macro photography. The focal length of the lens is 105 mm, minimum focus distance for this model is 10 ft. (0314 m).
Olloclip Core Lens Set for iPhone 8. Do you use your iPhone for shooting? There is a special small lens that will help improve the quality of close-up photos and make them a little better. This lens has a special fisheye, macro feature with a 15x magnification of small objects for more detailed shooting. In addition, this lens works with any shooting app that you use in your daily work.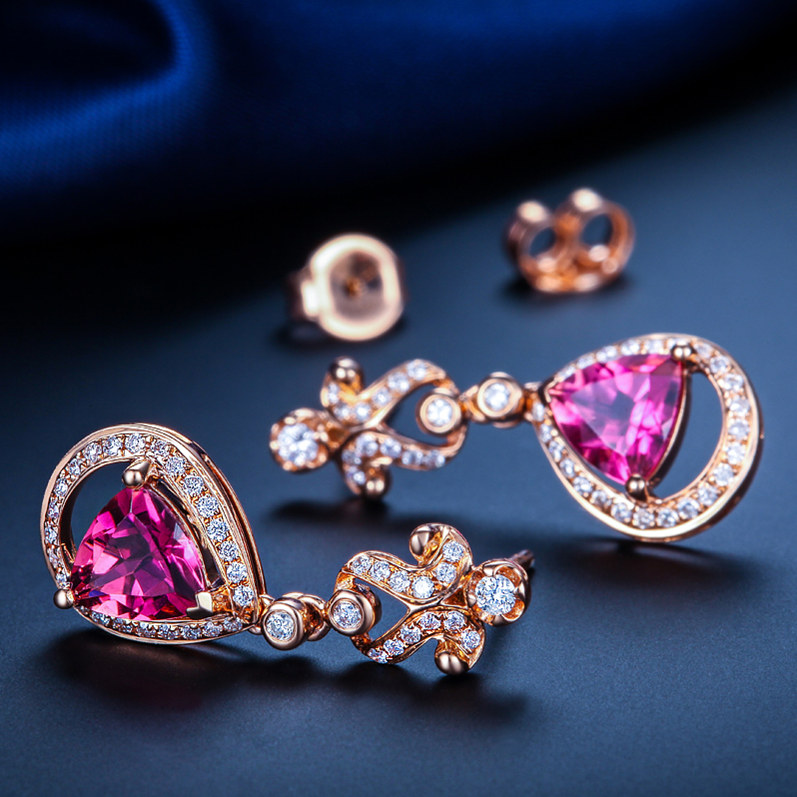 PROFESSIONAL PHOTOGRAPHY KIT: LENS
Canon EF 180mm f/3.5L Macro USM. This model delivers excellent functionality in order to create photos of the required quality for online store. This model has a wide focus range, which allows to improve the quality, even on small details, which is incredibly important when shooting jewelry.
Sigma 35mm f/1.4 DG HSM Art. Use this model for a full frame of the camera and you will never regret, the quality of the photos will amaze you. In addition, this model has an APS-C sensor.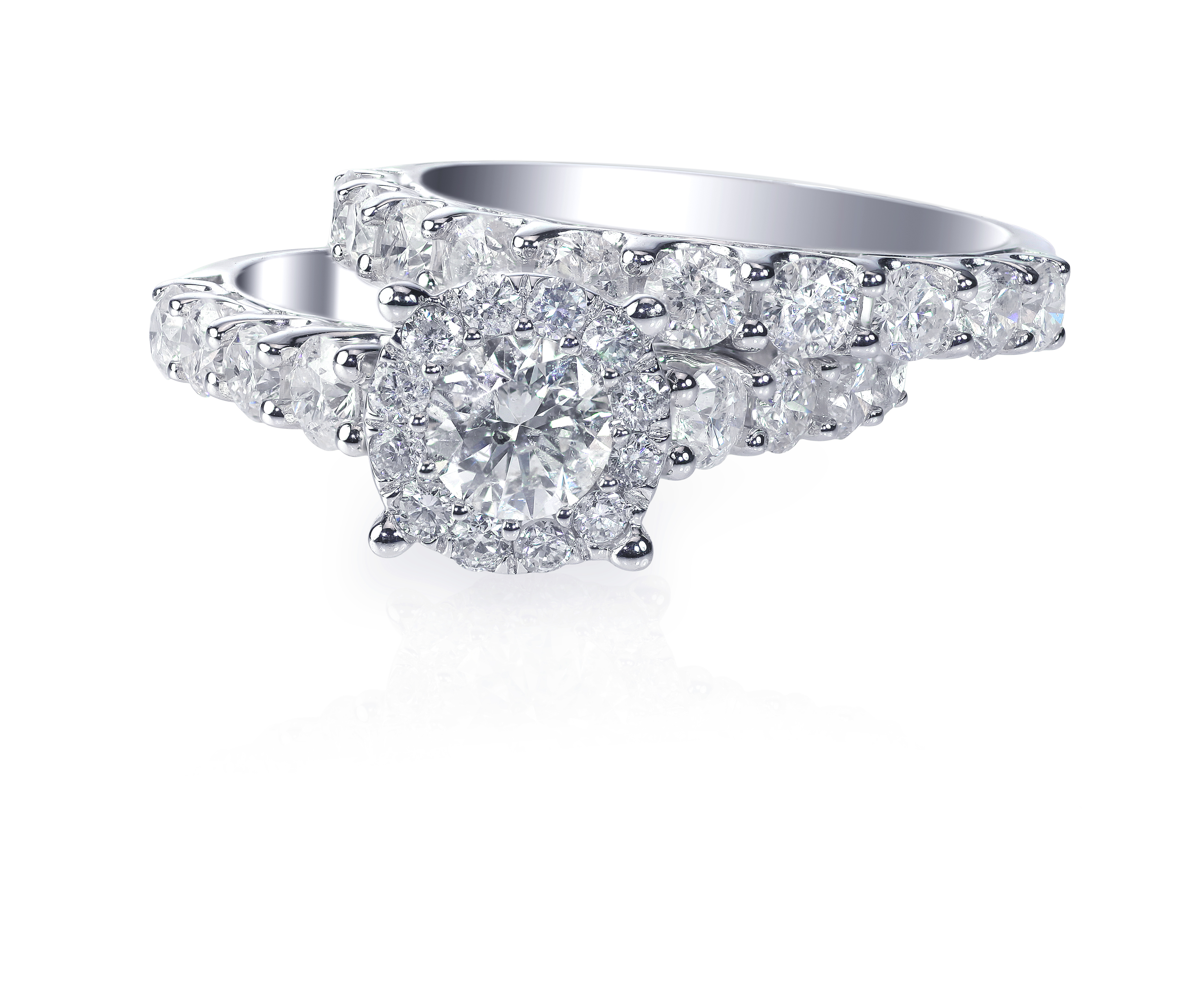 Tamron SP 15-30mm f/2.8 Di VC USD This option is perfect for those photographers who want to get excellent technology for an extra low price. This lens has an excellent manual mechanism, which allows you to trim the frame most effectively.
ADVANCED PHOTOGRAPHY KIT: LENS
Nikon AF Micro-NIKKOR 200mm f/4D IF-ED is a lens that will help you explore the world of macro photography of jewelry.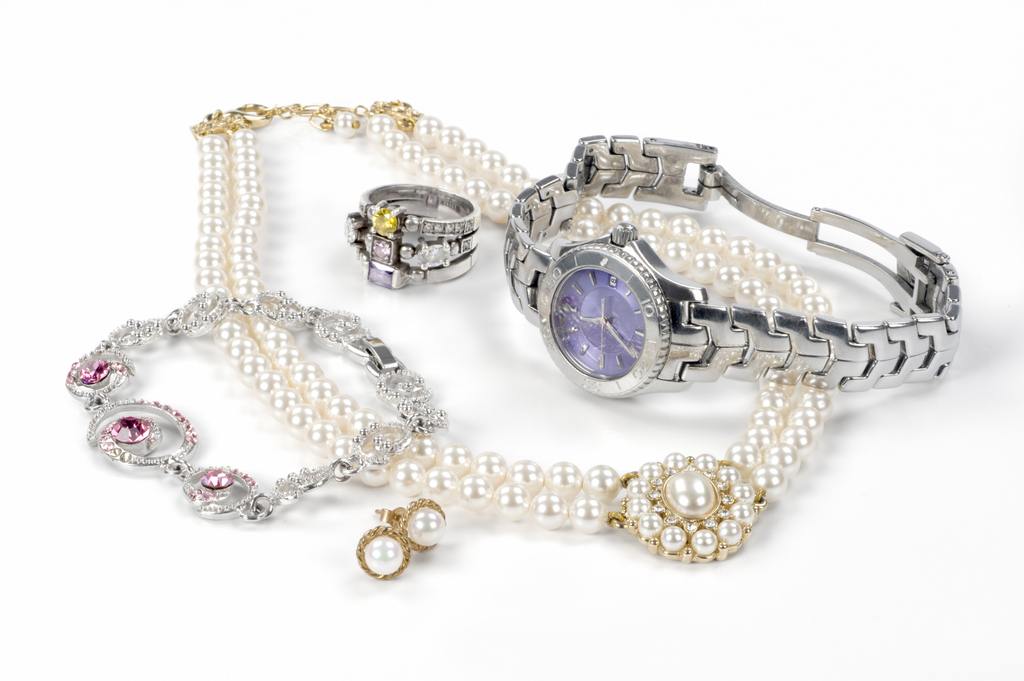 Sigma 180mm f/2.8 APO Macro EX DG OS HSM lens is made especially with an optical stabilization system to improve shooting performance. This lens involves taking pictures with a 4 times slower speed shutter than is possible without using a lens, which makes photos of jewelry just incredible.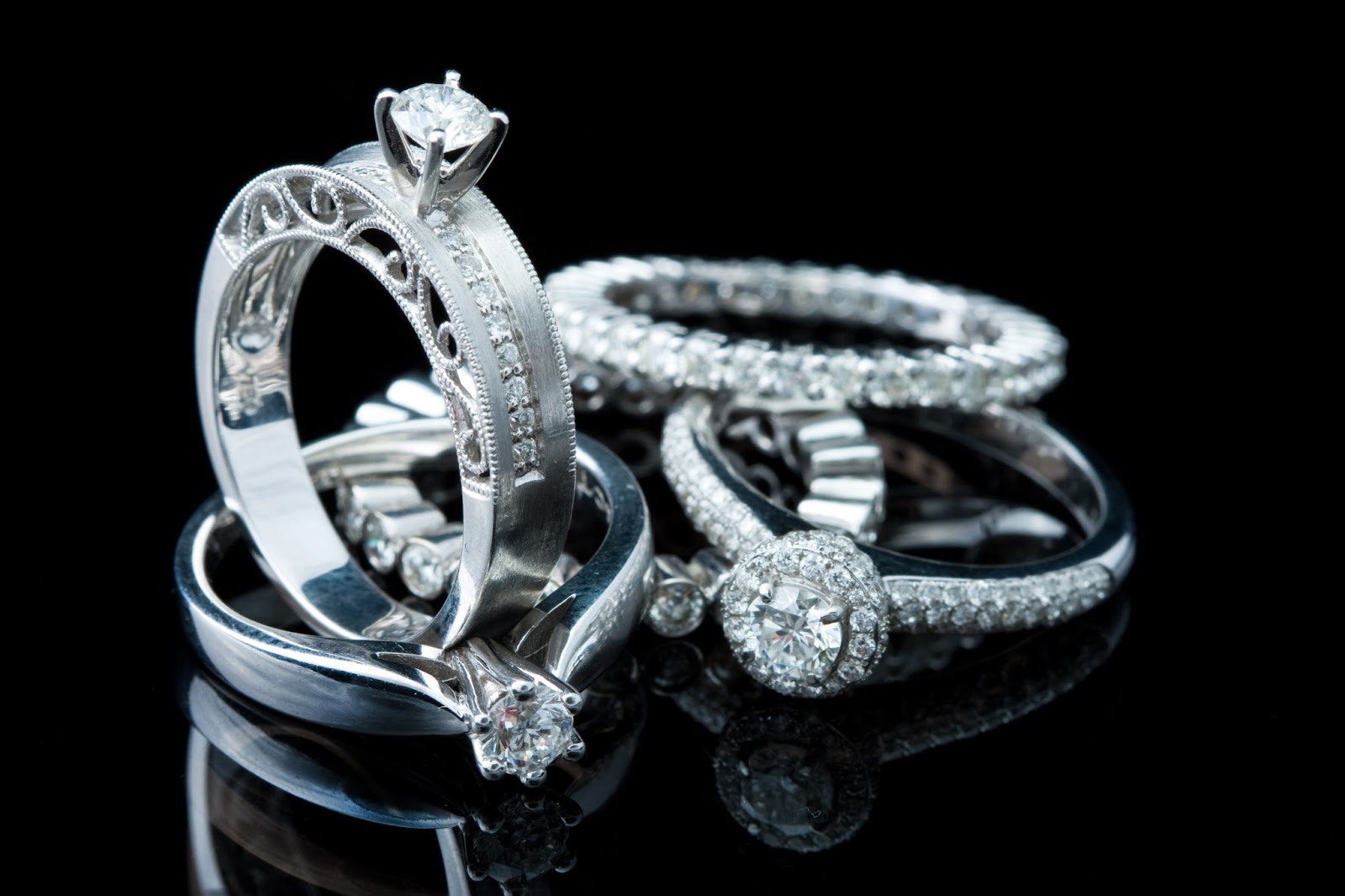 Canon 50mm f/2.8L Macro - Tilt-Shift DSLR Lens. The ideal lens, because it has two UD elements of the lens, which allows you to take high-quality images.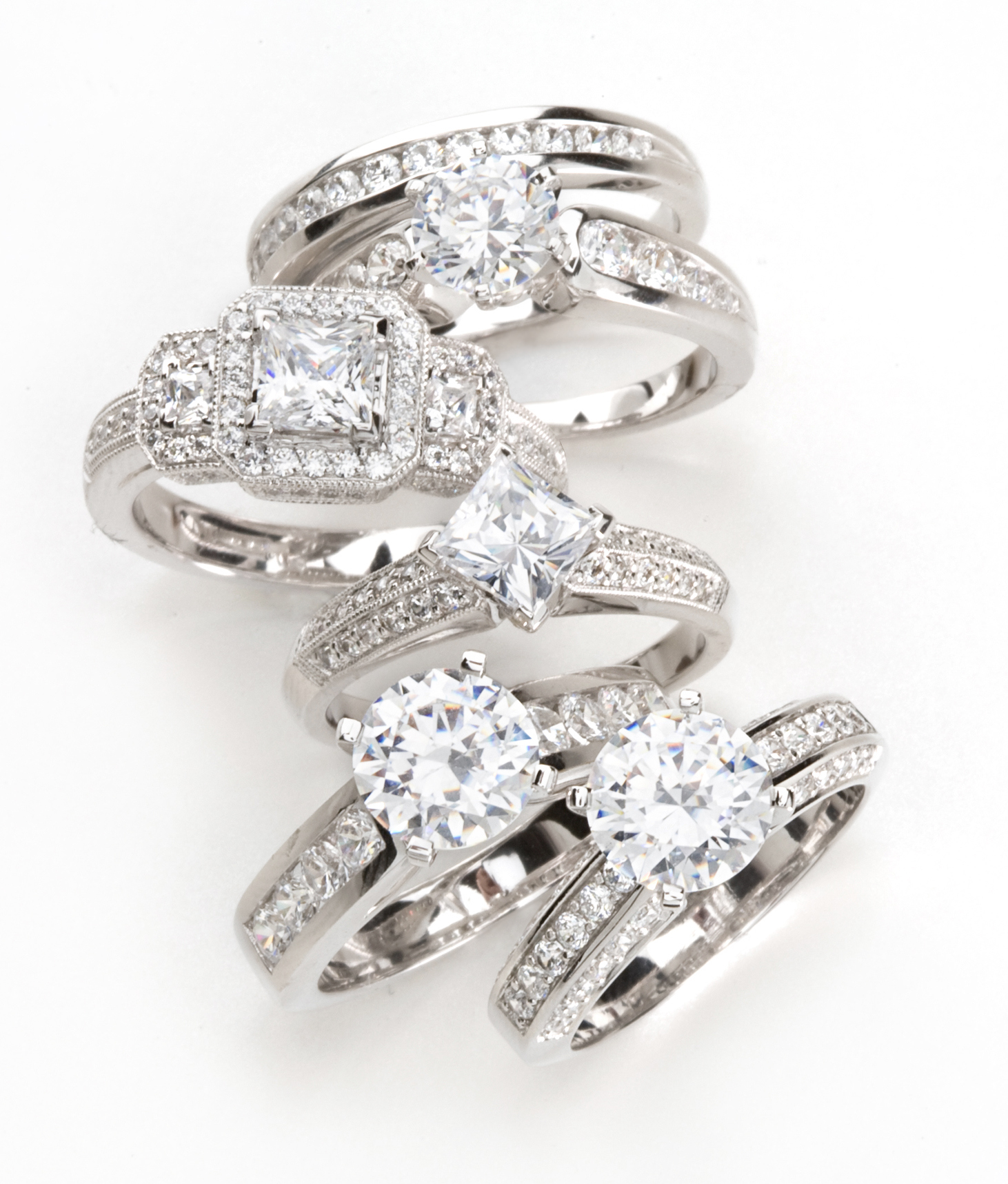 Tripods
A photo of a jewelry involves taking pictures of items that don't move, that is why you need to set your camera at one point and already shoot the product from different angles with small changes in camera position. What do professional photographers use to stabilize the camera? The most commonly the use tripod for jewelry photography. Many people know the photo stands, which operate on the same principle as the tripods, but are more cumbersome.
In addition, the camera stands can be more expensive and more often cost from $ 1,000. If you don't want to waste a huge amount of money, then my advice for you is to purchase an aluminum tripod. Such tripods can even hold large heavy cameras.
AMATEUR PHOTOGRAPHY KIT: TRIPODS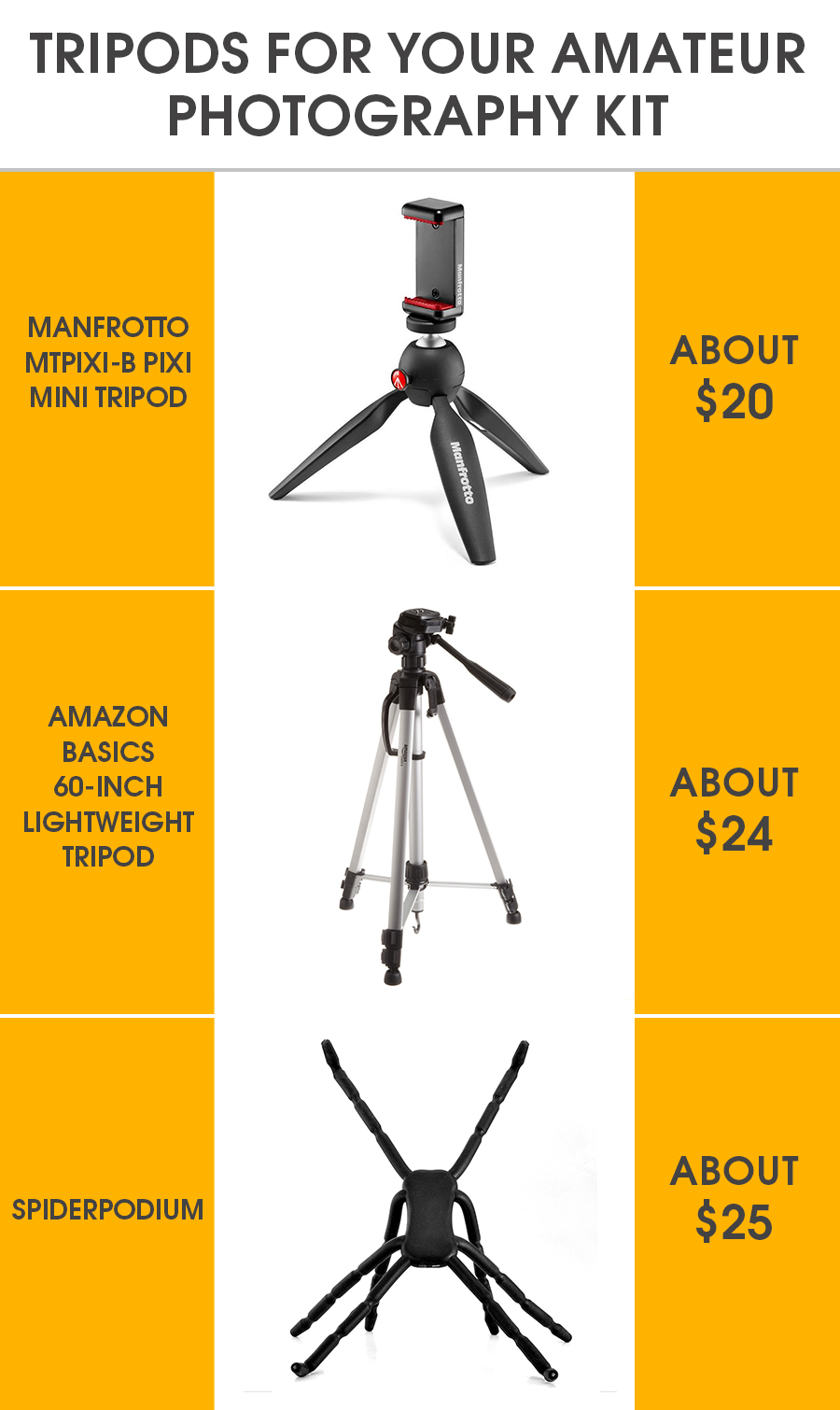 Manfrotto MTPIXI-B PIXI Mini Tripod is a great option on moderate price. If you compare this model with other kinds of tripods, it can withstand more weight without reinforcing the structure and increasing the overall weight of the device.
AmazonBasics 60-Inch Lightweight Tripod is such affordable accessories that costs only about $25. This model is lightweight tripod with adjustable-height legs and rubber feet will be suitable for any type of camera, smartphone or even GoPro.
Spiderpodium. This innovative tripod, which will help your favorite smartphone to become a very stable and convenient camera for the necessary time, without any other unnecessary technique and other devices. Note that this tripod has very flexible legs, which allow you to fix the phone in a position convenient for you.
PROFESSIONAL PHOTOGRAPHY KIT: TRIPODS
Vanguard Alta Pro 263AB is about $220. With this tripod, you can shoot at 25, 50 and 80 degrees, as well as try out other, more extreme angles, if your shooting requires jewelry.
BONFOTO B671C Tripod is one of the most lightweight options, but at the same time it is convenient to transport and move. However, be careful, if you use a massive technique, for example, lenses with a large zoom, you need to hedge with additional fixation.
oMei Z818 Magnesium Aluminum Tripod is a compact tool is a great purchase, which is quickly transformed into a monopod. Thanks to a special plate, your DSLR is fast screwed on a tripod.
ADVANCED PHOTOGRAPHY KIT: TRIPODS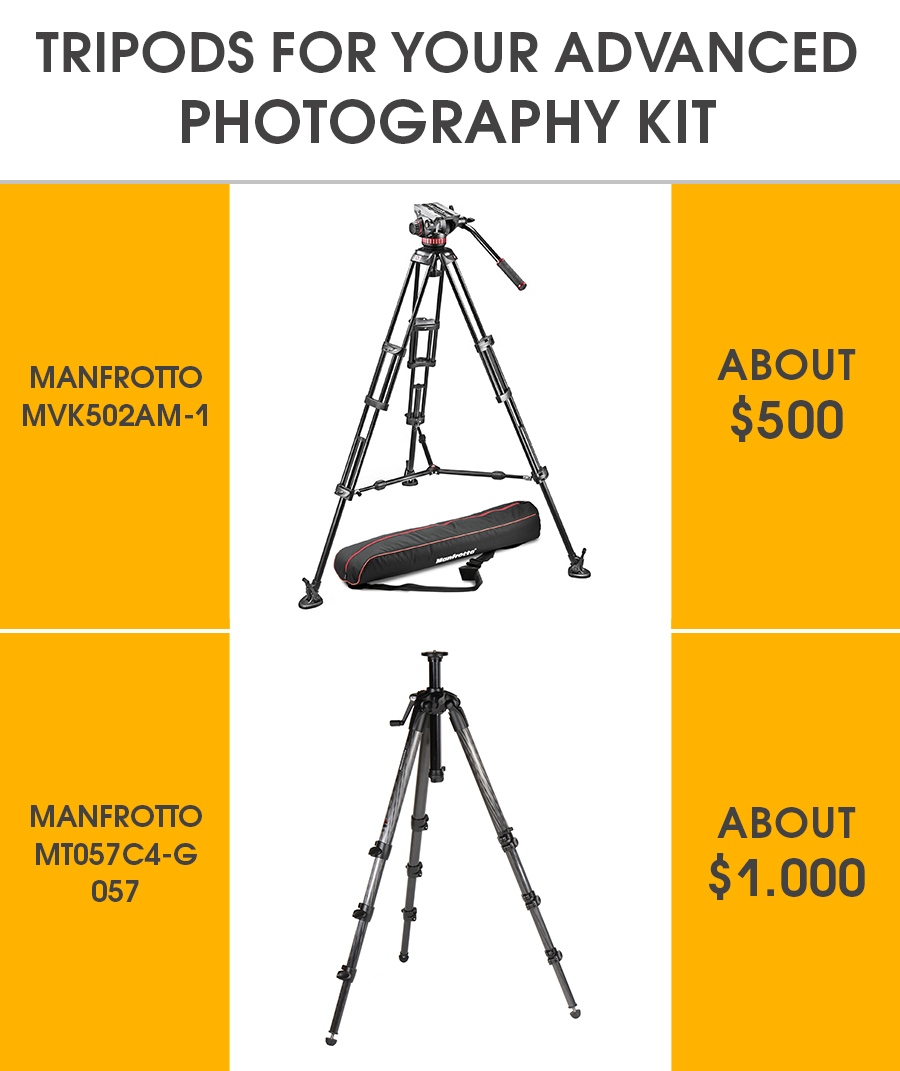 Manfrotto MVK502AM-1 is your best option for advanced jewelry photograpy. A great tripod, with comfortable legs that are perfectly transportable. Stable, allows you to shoot from a great height.
Manfrotto MT057C4-G 057 is a tripod that professional photographers choose for their daily work. It is very light and easy to transport, moreover it allows you to maximally conveniently adjust the angle of the shot.
Jewelry photography lighting
If you want to understand how to photograph jewelry, you have to pay attention to the light settings. To achieve a snow white backdrop can be real only by means of proper lighting conditions.
DAYLIGHT. A large window may become useful for shooting on eBay and Etsy, because even it can provide you with the necessary amount of light. The only problem is that you can't regulate this, especially on gloomy days. Moreover, changeable clouds may spoil the color balance. If you are interested how to photograph jewelry to sell, you'd better choose very fine days for getting a maximum of light.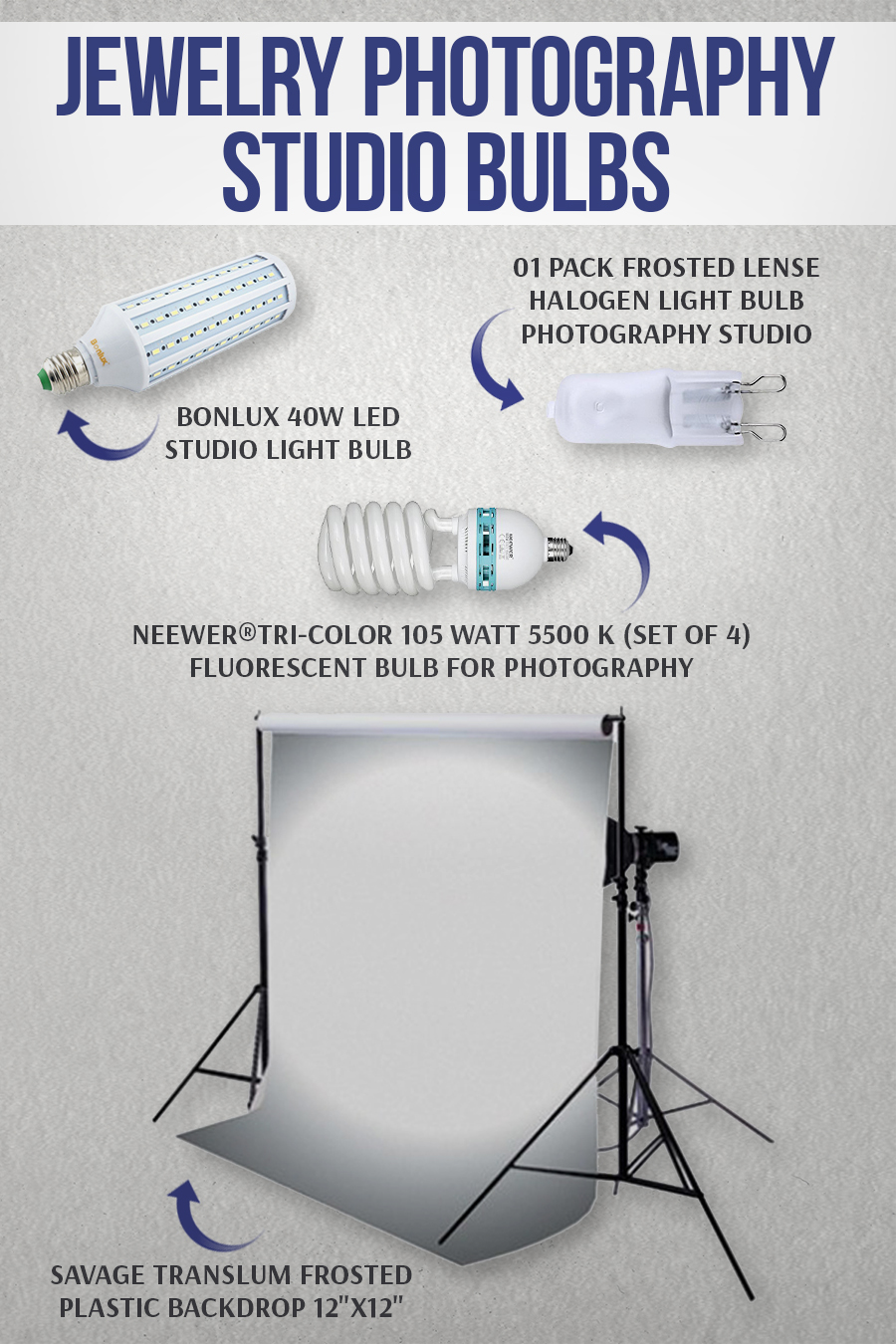 LIGHT BULBS. They can vary in many different aspects, which is really awesome. Concentrate on two basic types: traditional or studio.
Traditional Bulbs are common in a household, as they are low-priced and easily obtainable. Having used in a proper way, they are good for quality ecommerce pictures. There are two main types: glow-lamp and fluorescent.
Tips while choosing:
don't forget that different companies can have different bulb color temperature, so use products from the same company;
it is recommended to use them in a studio room without windows to avoid undesirable effect on the photos.
STUDIO BULBS give oscillating luminosity and easy diffuser mounting. Studio lights may be of three kinds: wolfram, photodiode (LED) and florescent (the main advantage is that they are energy-efficient, but it is worth remembering that they are also not bright enough).
Diffusion Sheets
You can place such sheets in front of various lighting devices or simple light bulbs to diffuse the photo lights evenly. The material may be nylon fabric, tracing paper or matte plastic. In specialized shops, you can find diffusion sheets of numerous format.
However, there are always a number of things that are worth remembering when you are faced with a choice of lighting. The first thing to look out for is the choice of matching light. If you use light of a certain type, never mix lamps with different lighting temperatures and colors. If you allow mixing, you can get an undesirable effect that affects the quality of the photo. So, try to us only LED or only Fluorescent bulbs in your studio.
The second aspect is to be careful with the white background and to adjust the expose clearly to the jewelry. The fact is that the white clear background can shade the jewelry itself too much and it will look like an underexposed. It is very important to install the expose correctly, so as not to damage the photos and put in its center a ring, brooch or other product that you shoot. Make sure that you are prepared correctly for these photosets and then your photos will be chic.
Lightbox for photographing jewelry
If you want a small lightning studio in one device - buy a light box for jewelry photography. You can quickly fix light and regulate it as you want.
AMATEUR PHOTOGRAPHY KIT: LIGHT BOXES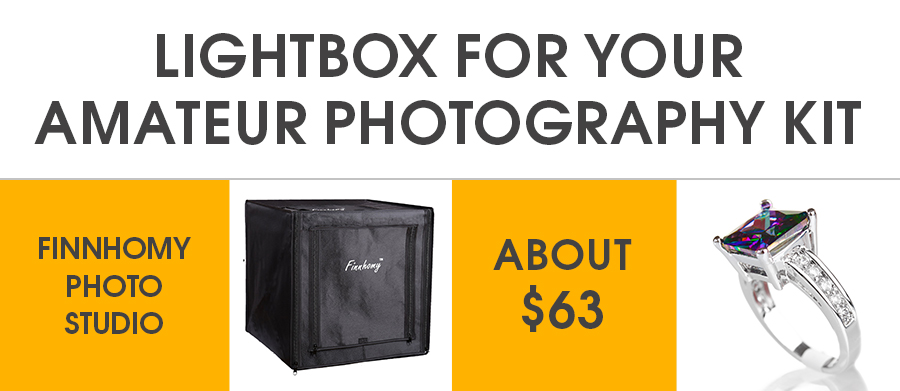 Finnhomy Portable Professional Photo Studio has 3 backdrops included. One of the most convenient things is the ability to open a light box from the side convenient to you or from above. It is famous for its sturdy construction. The light box is of an average size. It has 24 inches LED lights, a tumbler and a dimmer control. The material is a lasting molten plastic, so the product is really durable. Thanks to the glare shields, you will have no glares on pictures.
PROFESSIONAL PHOTOGRAPHY KIT: LIGHT BOXES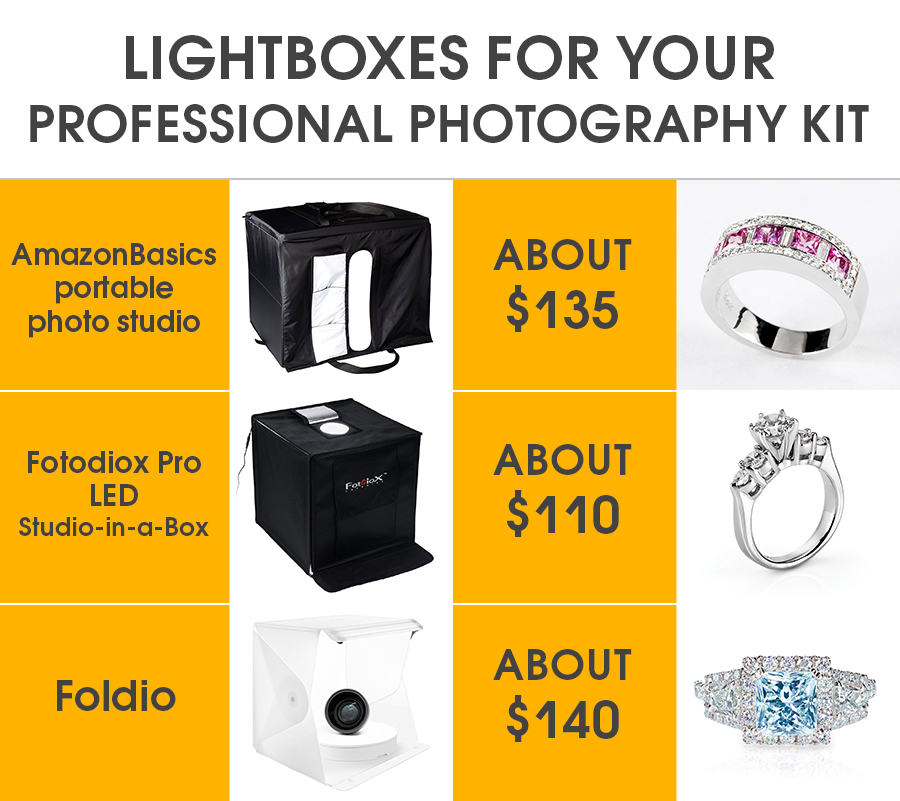 AmazonBasics Portable Photo Studio measures 25'' x 30'' x 25''. High output built-in LED, a front 3-door system, it is so easy to photograph at diverse angles and bring to life various jewelry photoshoot ideas. You will be able to shoot tiny products with no shadow. You will definitely like it! Highly recommended if you shoot for Amazon account.
Fotodiox Pro LED Studio-in-a-Box is built on the basis of a panel of LED lamps, as well as a special diffusion panel, which makes it possible professionally and beautifully to diffuse the light. This model is incredibly transportable, convenient during the move, because it has its own case. This is a perfect example of jewelry photography box that can be used to photography from above.
Foldio is bright and help jewelry you photograph look more professional. The white background is extremely sturdy and seamless. The 25" is big enough even to contain not only jewelry itself but other items for your composition too.
ADVANCED PHOTOGRAPHY KIT: LIGHT BOXES
2D PhotoBench 100 is great desktop option for professional photographers. This light box works fine with the cameras of Canon and Nikon models. It uses its functional almost entirely involved in all areas of photography, from shooting to editing. All you need is simply place the jewelry inside it and use built-in software to take a picture.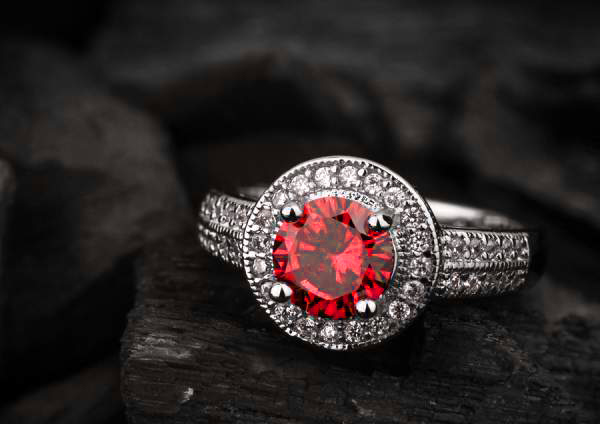 3D MFP is perfect for those photographers who aim to make 360-degree shoots of jewelry. Moreover, this model can create 3D scans. 3D MFP can save photos to multiple file formats. Given the huge functionality of the light box manufacturer provides a 90-minute training lesson. Additional options for this box are reflectors, light diffusers, tent and a number of background panel options for changing during shooting.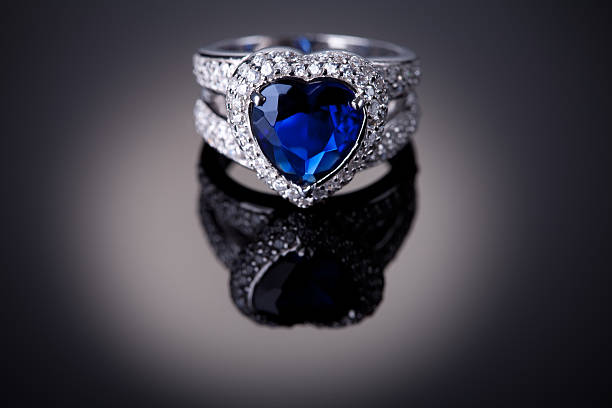 In addition, if you are a beginning photographer and you don't have the opportunity to purchase a special light box or portable photo studio, we recommend you do it by yourself. It's simple and doesn't require any special skills and also quite economical compared to buying a professional light box. Create the best photo equipment for jewelry with your own hands.
Other jewelry photography equipment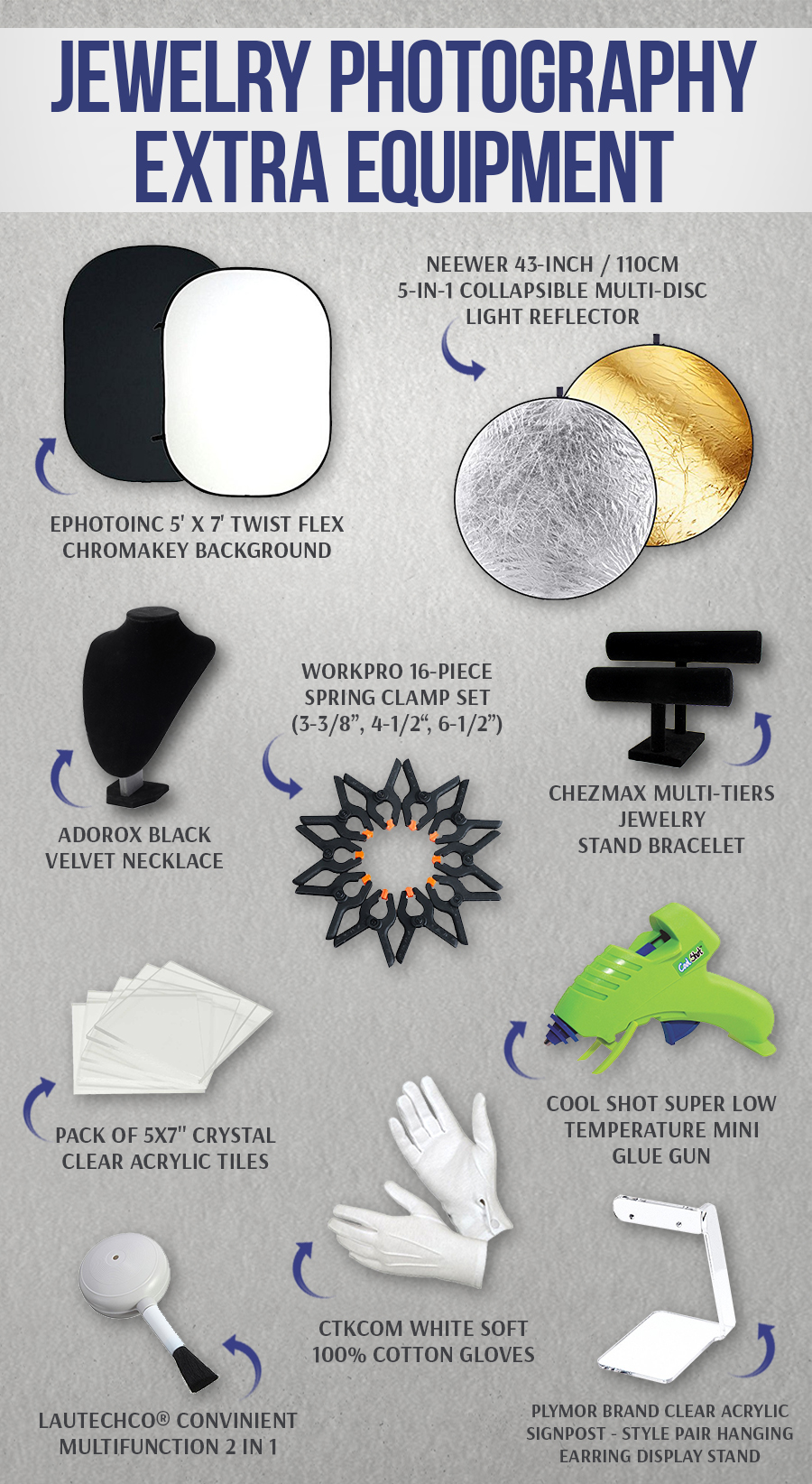 WHITE REFLECTORS
Jewelry photography equipment kit will be incomplete without light reflectors
This white background costs about $50. You may use this 5' X 7' flexible background in a studio or in various locations. One side is black, another one is white. The diameter is 27". Perfect for necklaces shooting.
Even the small mirrors can be used perfectly to shoot small rings or earrings. Moreover, you can buy them at any local store at a low price.
A DUST BLOWER
Jewelry with dust and hair on it looks awful. Clean the product and the surfaces for a successful shooting with the help of a dust blower.
It will help you even clean the screens of your camera and lens, gems, glass objects and other surfaces.
COTTON GLOVES TO HOLD THE JEWELRY
Forget about accidental fingerprints on the products. Use cotton gloves.
Equipment for placing jewelry
However, in order to make the picture really professional, you will need some additional jewelry photography supplies to give your jewelry a right form. They can be purchased separately or as special ready-made kits, which are sold on many sites, or you can even make it at home.
Jewelry photography kit Amazon is about $50. It consists all the necessary number of important jewelry photography props for photographing jewelry. Special acrylic piles, stands for bracelets, watches, rings and earrings, specific reflective plates and much more. I suggest you consider all the necessary additional components for your kit as it is.
"A" CLIPS
A WHITE ACRYLIC TILE
Want to get wonderful reflections, use the crystal clear acrylic tiles. You will need an open frame or double weight to hang in the air items for creating stunning floating or even flying look. Use any kind of fine string to hang or place jewelry right as you want. Use a white or transparent erring holder, a bracelet round. You can purchase a 1.5" PVC pipe on the inside of the bracelet.
A COOL TEMPERATURE GLUE GUN
If you want to know how to photograph jewelry for sale without additional surfaces, first of all, make sure to fix it carefully with a glue gun. The lower the temperature, the better effect. It dries in a matter of seconds and is perfect for different purposes. You can bond paper, ribbon and light fabrics.
EARRING HOLDER
How to photograph earrings if they are so tiny? Use an earring holder. It aims to hold a pair of earrings and shoot them in the proper angle.
A BRACELET STAND
Make the bracelets look gorgeous in photos having used bracelet stands. The holder with a gorgeous design keeps bracelets visible and organized. It has removable sliding boxes on three levels for various pieces of jewelry.
A NECKLACE FORM
Necklaces can be sometimes too long. You can only shoot them with a special stand. Beautiful velvet display made in a form of a 3D bust for the all-around jewelry disposal. It is nice and soft to touch. The background makes the viewer focus on the jewelry. It is 9 inches tall and 7 inches wide.
Jewelry photo editing
Don't forget about retouching your product photos in Photoshop after shooting. For each purpose you need appropriate photo editing.
Purpose:
Instagram small shop
Etsy
Photo retouching applied:
Color correction
Clipping path and background removal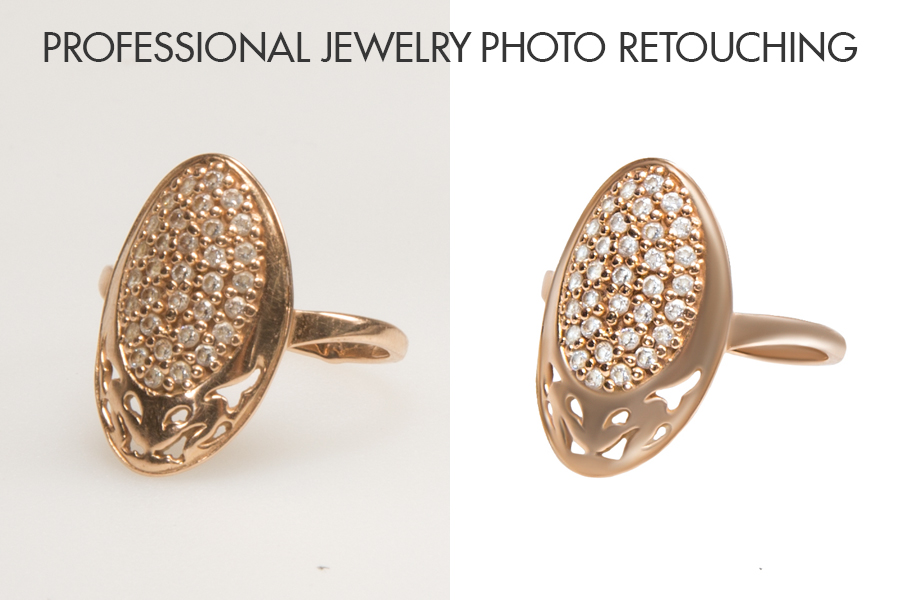 Purpose:
Photo retouching applied:
Color correction
Clipping path and background removal
Elimination of minor product defects (scratches, dents)
Reflections correction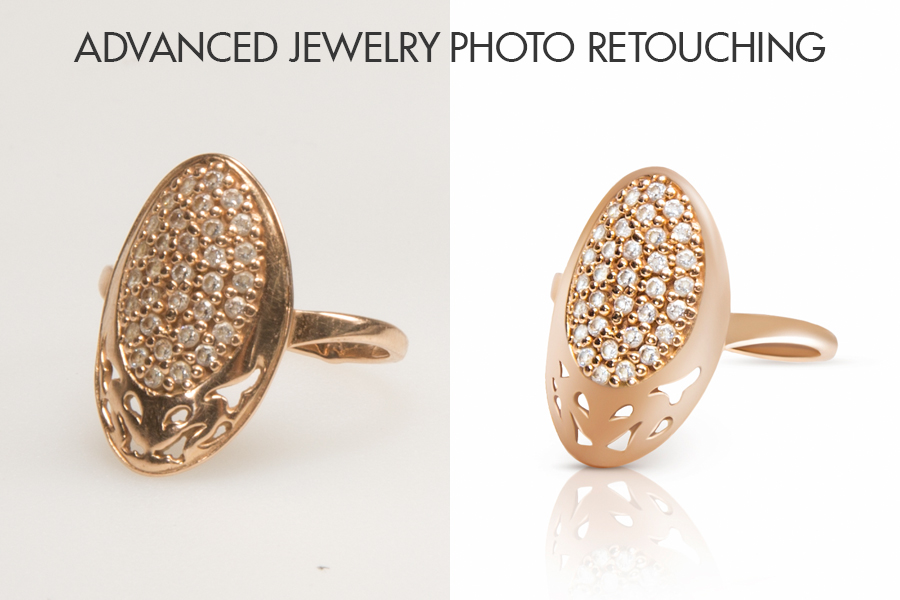 Purpose:
Advertising
For fashion brands
Photo retouching applied:
Color correction
Clipping path and background removal
Elimination of minor product defects (scratches, dents)
Reflections correction
Mirror effect
Natural shadow adding
Metal smoothing
If you can't do it your own, address jewelry retouching services and ask them about things you need to correct.
Having read over these tips you'll be able to set up a simple but effective studio for your jewelry photography and according to your purpose.
Do you like the article? Please feel free to share it via your social accounts.
---
Pay attention this photography blog which does not require credit for the pictures and photo post production examples listed here . All photographs used in the article are only copyright to their respectful creators . These shots posted as a big admiration of portfolio and photo retouching talent the experienced rt masters have . If you found the photo on this post that is yours and do not want to be promoted on our website , please do not hesitate to write us via online chat on your right and it will be quickly deleted .
---
Rate the article!
The article's rating:
---
You comments or questions are welcome; please share your opinion on the topic.
Use Facebook:
Use Disqus: