How To Install Photoshop Actions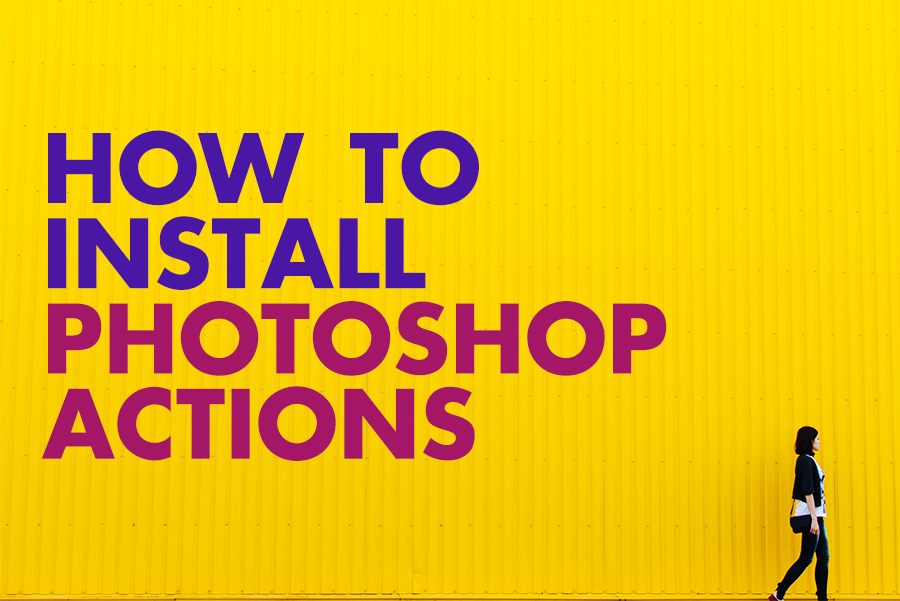 Don't know how to install Photoshop actions, manage them in the simplest way possible? FixThePhoto will show you in photos how to add Photoshop actions on Mac in 6 steps and on Windows in 3 steps.
Photoshop actions are convenient tools that you can apply for photo retouching in order to simplify the editing process and save precious time if you are a shooter or a graphic designer. They provide more changes than the ordinary Lightroom presets have for color correction. Got interested but don't know how to install them? Here is the best Photoshop action install instructions and video tutorials for Windows and Mac.
---
Contents:
---
Photo actions for Photoshop enlarge your photo retouching workflow with different effects, ranging from light make-up, removing wrinkles actions, and fantastic, surreal photo manipulations. If you aren't very good at working with this useful and fast way of photo retouching, let's find out how to install Photoshop actions and use them for your images.
What are Photoshop Actions?
Photoshop actions are .ATN format files that were recorded by a Photoshop user while photo retouching in order to repeat them on other photographs. It makes photo retouching faster and stylized without going through every separate step every time you retouch your photos. It's like fast rewinding of your actions.
How to Install Photoshop Actions on Mac?
Before purchasing PS actions for $20-60, start with trying free Photoshop actions to understand how they work.
You can just double-click on your Action and it will open in Photoshop. But in such a way the Actions won't be saved when the program is restarted.
Therefore, let's have a look at a more reliable method.
STEP 1. Mostly, at startup, you won't find the Actions window, as it must be activated.
STEP 2. You can do this by pressing key combination Alt + F9, or going to the Window tab – Actions.
STEP 3. When the Actions tab is already available, you can start installing the .ATN files.
STEP 4. Click the button with four bars and go to Load Actions.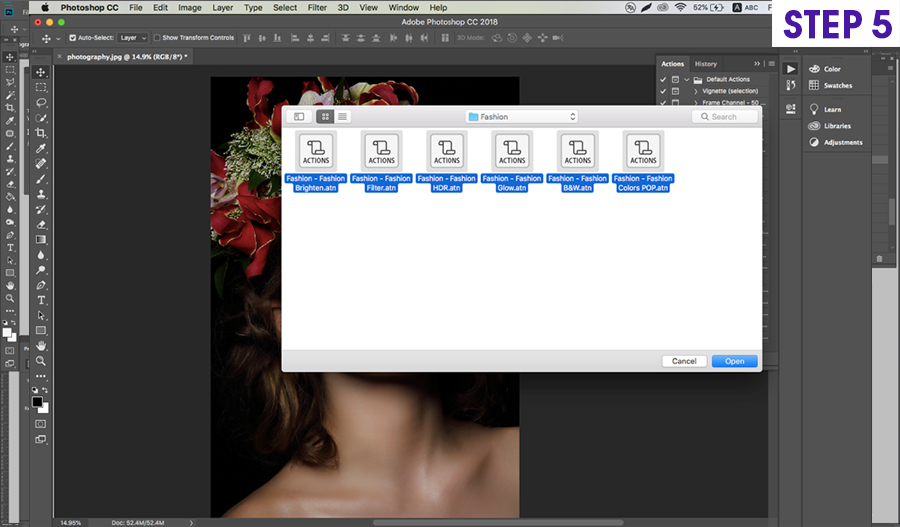 STEP 5. Find your Actions on the device and choose the necessary ones, then click Open. Now, all your Actions are saved in the list.
We also recommend viewing video tutorial by Linda Thompson for clearer understanding.
How to Install Photoshop Actions on Windows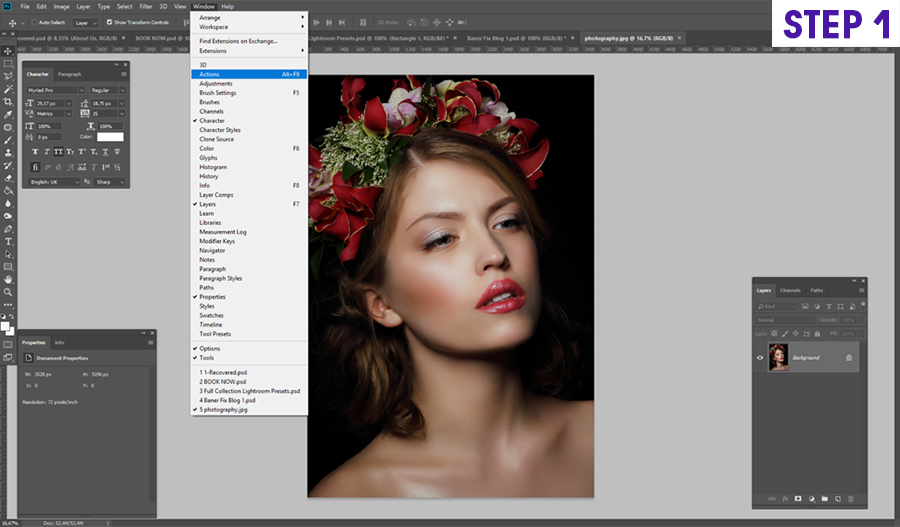 STEP 1. After downloading the necessary presets to your laptop, open Photoshop and activate Actions window. Another way to do it is by pressing Alt + F9.
STEP 2. Now, when you can see the Action window, click on the menu in the form of several bars at the top right corner of this window and select Load Actions.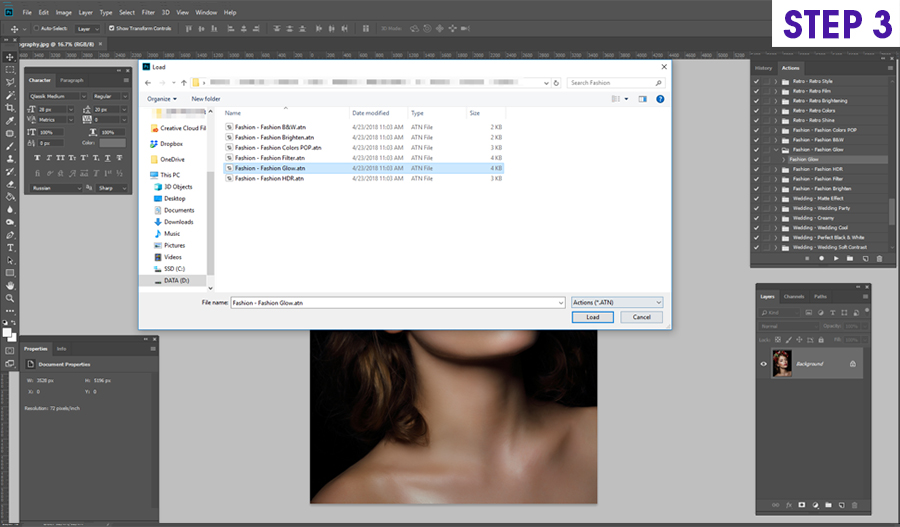 STEP 3. After selecting the folder with the necessary Actions, single them out and click Load. We also recommend viewing video tutorial by Photoshop Video Academy for clearer understanding.
How to Use Photoshop Actions

For quick usage of Photoshop actions, choose the layer submitted for further photo retouching with their help.
Then pick the appropriate action and click the Play button, and your Action will also be applied.
Photoshop Free Actions For Photographers
Before making the purchase of Photoshop Actions, we recommend you to try free Photoshop actions on our website.
Here you are lucky to find bundles of 318 free Photoshop actions for portraits, newborn photography, with vintage, sepia, retro, dramatic, HDR effects, professional bridal Photoshop actions and cross processing actions.
The process of downloading the bundle is quite simple. You just need to write the email address, fill in the name box and get the actions on your email in 2 minutes.
In fact, this is all you have to do, to perfect your photos. With a few clicks, you can get professional retouching results that are really time-consuming.
F.A.Q. About How to Install Photoshop Actions

I have downloaded the Actions, but the result differs from your example. What is the problem?
You need to choose Actions individually for each photo. Sometimes, it is necessary to play with the action's settings your own. But more often you get remarkable results.
Which operating systems are compatible with Photoshop Actions?
Actions Photoshop will work perfectly with both Microsoft Windows and with OS X (Mac), if you have an appropriate version of Adobe Photoshop installed.
Which Photoshop versions should I install to work with Actions?
Most of the Photoshop actions packages represented on our website are compatible with Adobe Photoshop CS4, CS5, CS6 and Photoshop CC. Keep in mind that in rare cases actions require Photoshop CC or a later release, because of the demand to support RAW files of certain cameras. If our actions don't work on your version, just let us know and we will provide assistance in solving any problems! Please remember that we always recommend using the latest version of Photoshop.
What will be the format of a photo after using Lightroom presets?
The finished photo is saved in any format you need, including RAW.
What should I do, if actions for Photoshop don't work?
The first step is to restart and reset the program settings. Besides, a common mistake is an attempt to download the action in the. ZIP format. Do not forget to unzip it. These are the most frequent installation problems.
How to delete an unnecessary action?
In order to delete an action from the list, you need to pick your action and move it to the recycle bin at the bottom of this window.
Why are Photoshop Actions So Popular?
The majority of Photoshop users (photographers, designers, bloggers, etc.) apply PS actions on regular basis, as these 'tools' help save time and speed up photo retouching. Besides, if you are a beginning photographer, it is a very interesting thing to try. When you install Photoshop actions for professional photography, in the end, it seems that somebody has created it directly on your laptop. You can avoid lots of stressful moments and enjoy using different actions at a single click of a mouse.
Working in Adobe Photoshop is sometimes very laborious. In this case, you often have to retouch hundreds of images, repeatedly performing the same actions. Fortunately, Photoshop has Actions, with which you can perform the same task in a couple of seconds, if you know how.
Photoshop actions are used very often for artistic photo retouching. It's no secret that many newcomers do not have enough skills in order to create really beautiful effects. In this case, it makes sense to try to find an action on the Internet with the effect you like. You can find free packages or spend some money on the purchase.
Nevertheless, in this article, we did our best in order to provide a simple and detailed instruction about installing and using Photoshop Actions.
Do you like the article? Please feel free to share it via your social accounts.
---
Pay attention this photography blog which does not require credit for the pictures and photo post production examples listed here . All photographs used in the article are only copyright to their respectful creators . These shots posted as a big admiration of portfolio and photo retouching talent the experienced rt masters have . If you found the photo on this post that is yours and do not want to be promoted on our website , please do not hesitate to write us via online chat on your right and it will be quickly deleted .
---
Rate the article!
The article's rating:
---
You comments or questions are welcome; please share your opinion on the topic.
Use Facebook:
Use Disqus: