Hotel Photography
If you look at the statistics of TripAdvisor website, you can understand why famous hospitality photographers receive up to $100,000 dollars for 20 photos of the luxury hotel. After all, despite the prevailing view that people make the basic choice after reading the hotel reviews, approximately 65% of all respondents pay more attention to hotel photography.
Annually large hotel chains like Holiday Inn, Hilton or Four Seasons together spend over 1 billion dollars on photos for new hotels or updating old photos. Got interested in hotel photography jobs? Let's find out the basics.
---
Contents:
---
Hotel photography pricing
Often beginners ask me the questions consulting on my personal example "How to make photography price list correctly?" or "How to calculate the cost of my services?". In order to answer these questions, you need to understand how much work is to be done, how much time you plan to spend on the project and what additional funds are needed to take into account. As for me, I'm going to tell you from my own experience the cheapest and most expensive rewards for shooting a hotel photography and how I price my services.
At the beginning of my career I had a contract to shoot a hotel chain of 45 properties. For each little hotel photoshoot I was paid $400. Such kind of contracts are usually made for a long-term basis. The most expensive professional hotel photography contract my colleague Jake had. In 2017 he was asked to create a full portfolio for the website of one of the new Hilton hotels that was just opening. He lived in the hotel for a week and had to make all possible types of hotel photography from the exterior to the lifestyle photos. His hotel photography pricing was $6,500. He spend near 6 days to complete this portfolio.
Factors that influence on hotel architectural photography pricing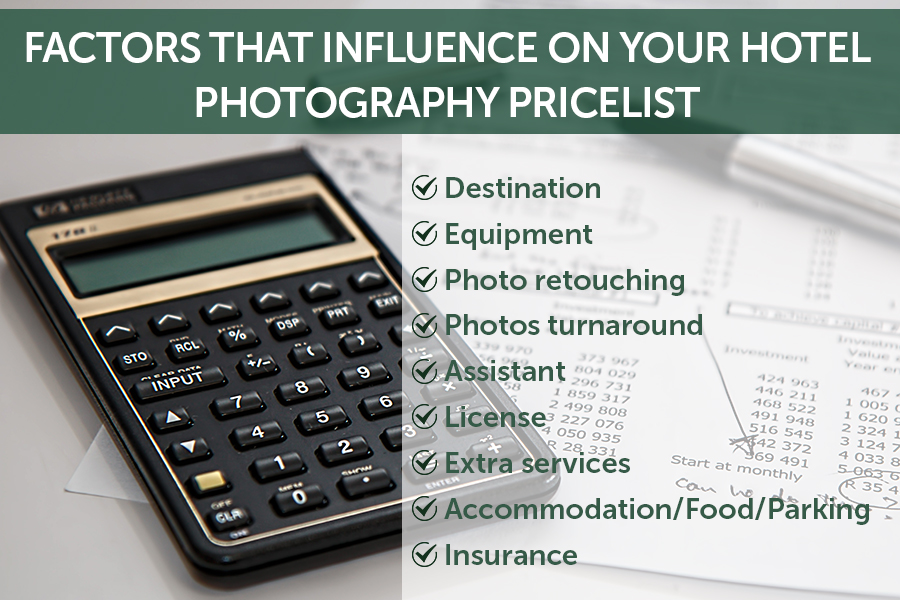 Destination: every hotel photography price list must include the cost of the road (by car or plane) also takes your time. So, it turns out that the company pays for the road as a time when you are already working for it. This item is always in the contract and paid by the client, because the only flight to Thailand from New York for the shooting of a new tropical hotel can cost more than $1,800. What about 20 hours of your life to get to this work?
Rental of Equipment: if you have your own camera and all the necessary equipment, it's great. However, sometimes it happens that something extra is required. So, renting a professional hotel photography camera will cost $400-550 per day, lenses will cost $200 per day and standard equipment for lighting – $500-600.
Basic Editing: counts on the number of photos. Typically, the editing of one picture of the hotel costs not less than $50-100. However, in order to minimize this point, you can use the services of online retouching services. For example, FixThePhoto offers the cheapest, but high-quality basic real estate photo editing services for $2 per photo. If you want to make it manually but fast, download HDR real estate Lightroom presets to speed up your workflow.
Additional Retouching: always paid hourly and costs at least $100 per hour (day to dusk, high end, background enhancement, big objects removal).
Turnaround: don't forget that this part of you hotel photography price list should include not only the days of direct shooting, but also the preparatory days and time of the road. Prices can vary widely, ranging from $200-300 per day for standard shooting to $900 per day for more luxurious projects.
Assistant: for standard low-price photos of small hotels/motels only one photographer will be enough, but often photographers work in a team of three people to create really good pictures, for example, with two assistants or one assistant and a stylist. This raises the cost of the work, but also makes it faster and provides best hotel photography. One assistant is paid at least $350 per day.
License: the customer may want to transfer the photography copyright to himself/herself, in order to use them in future for any purposes he/she needs. Depending on the features of the license, its terms and limitations, the prices are very different.
Extras: the client may require some extra photography services. These services include taking pictures with the help of drones, 3D real estate photography, videos, walking tours. Usually, the hotel photography pricing for these services vary from $200-250.
Types of hotel photography

A professional hotel photographer is a person who works in a variety of diverse genres, from shooting food to luxurious architectural photos. There is a huge number of different types of hotel photography, namely, interiors, exteriors, surrounding areas, facilities, lobby, restaurant, lifestyle and staff portrait photos.
Exterior resort photography
This kind of photos can be called architectural real estate images outdoors because they usually reflect the main view of the building. I recommend shooting exteriors at sunrise or sunset that gives us a fantastic coloring, deep blue sky behind fluffy white clouds for the best hotel photography. Moreover, it's a good time to get rid of the huge number of cars that can usually be seen around the hotel during the day. The daylight will add a certain charming and welcoming atmosphere to photos.
Interior hotel photography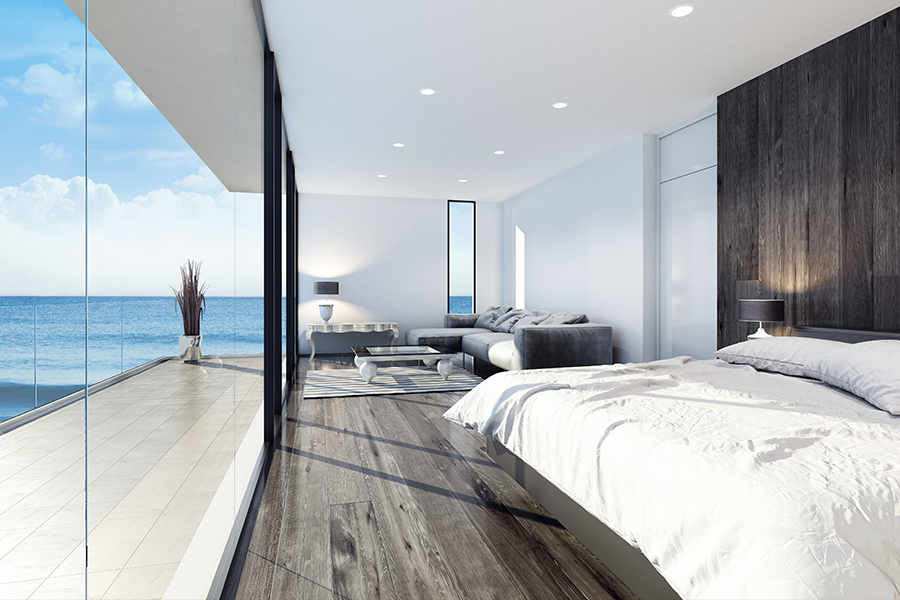 These are the photos of the room, bathroom, still life images, and furniture. One of the key things when you're photographing interiors is to make sure you're polarizing, to make window light natural and not oversaturated.
Be sure to shoot with a flash and turn on the light. This will add a special warm and cozy atmosphere to photography, especially after applying interior design Lightroom presets. The best lens for interior photography is wide angle lens.
Hospitality photography of the surrounding area
Perhaps the photos of the local bar, the supermarket next to the hotel or sight don't represent huge artistic value, but they are also necessary for hotel photography genre. This will help the potential guest of the hotel to understand in which area the hotel is located, whether the guest will be able to find everything he/she needs. Most often, these photos are placed in the hotel's galleries or in the articles describing the surrounding space.
Facilities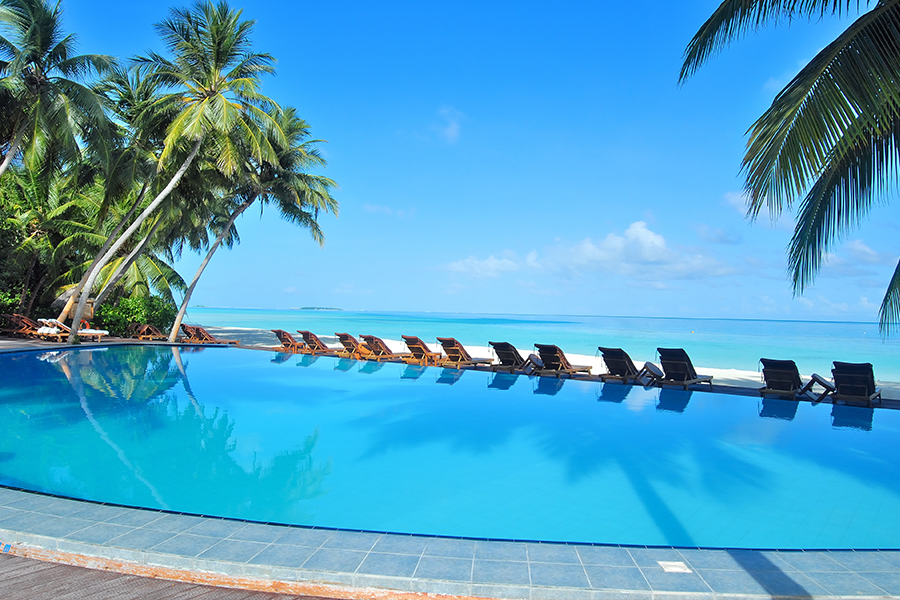 If the hotel has a swimming pool, gym, spa or conference room, all this will need to be photographed to show potential guests on advertising sites. In this type of hotel photography it is very important to catch that ideal moment when the lighting is optimal, but not to interfere the real guests who already live in the hotel. The best time for such shooting is at dawn.
Lobby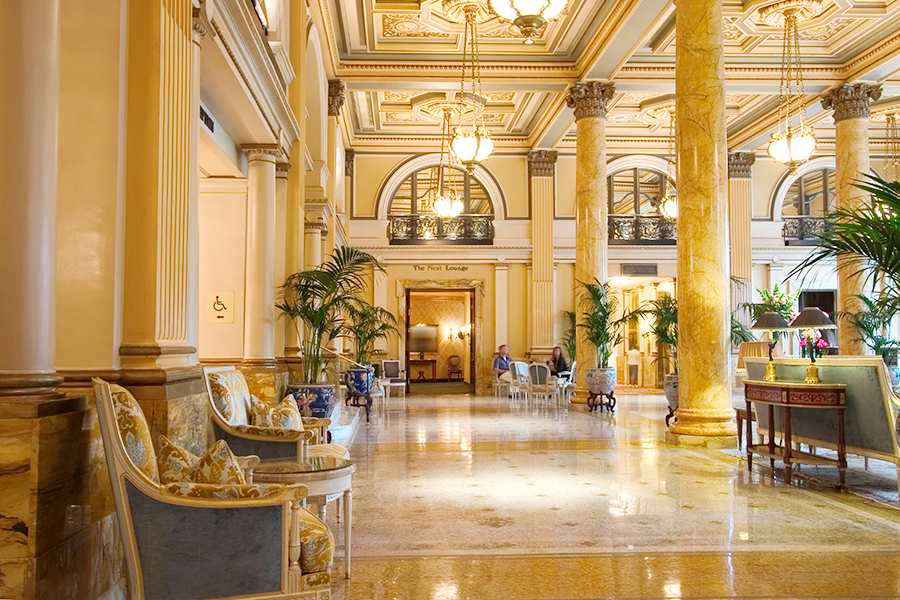 In most cases, the most successful solution for professional hotel photography of the lobby and reception is a photo with a front desk staff. However, photographers often face problems that arise during the shooting of such photos, because the lobby is the most flooded area of the hotel. In order to avoid bad shots, we recommend you take such pictures early in the morning. If this is not possible for any reason, you can use Photoshop, which will help to remove the extra people from the picture.
Food and beverage hospitality photography
In total, photos of restaurants, cafes or bars in the hotel are a combination of indoor photography and food images. A very important aspect of composition and planning of such hotel photoshoot ideas is the choice of dishes that will be presented on the picture. Most often, it is worth discussing with the chef the dishes that will appear in the photo in advance, because this is one of the most meaningful parts of this type of photos. You can make several types of photos, for example, the interior without people, prepared food and to make several staged photos with the help of hotel guests or models.
Portraits of the staff
This kind of hotel and resort photography is the photos of administration, housekeepers, chefs, maids, waiters, etc. This helps to make the hotel more caring and allows guests to imagine how excellent a rest can be with a friendly waiter or a smiling receptionist. Often photos of the staff present to the guests the eminent chefs or other well-known and qualified personnel.
Lifestyle photos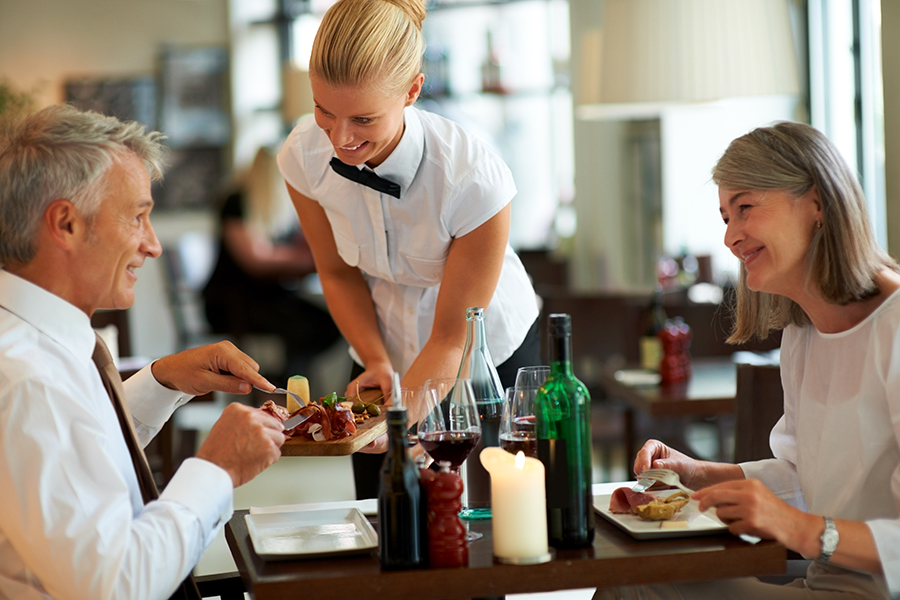 This is the best hotel photography kind which is candid and artistic. You can take a picture of a happy family in the pool in a family hotel. In a business hotel you can take a picture of two business people behind the negotiations in the conference hall or a restaurant.
The best hospitality photographers in the US
Greg Pierce - a luxury hotel photographer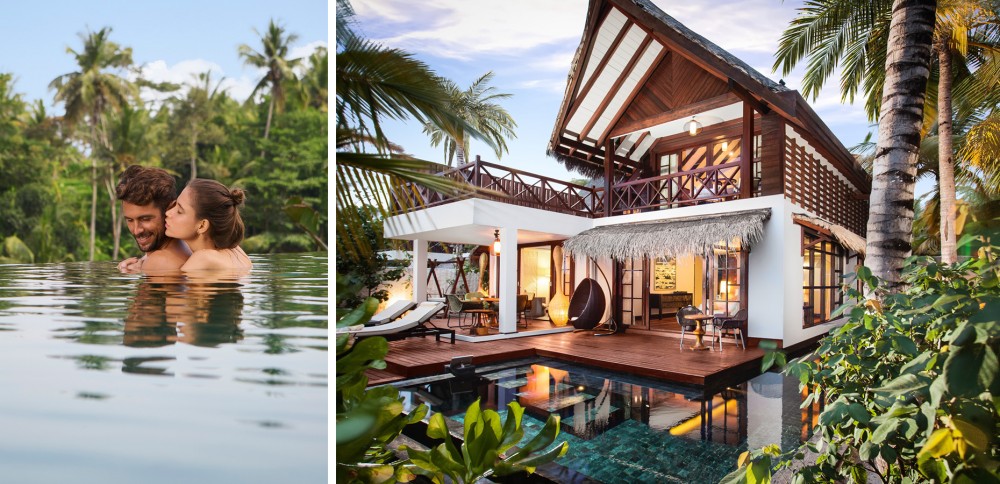 Starting his career as a traveler, now Greg works as a resort photographer in Bangkok, Thailand and the US. He offers Exotic hospitality, Luxury hospitality, Classic hospitality, Food, Architecture photography services, Videos. His clients are Best Western Hotels in New Zealand, Conrad Hotels and Resorts in Hawaii, Hilton Hotels worldwide, Marriot Hotels and Resorts in Manila, The Ritz Carlton in Hong Kong, etc.
Kevin Syms photography
This man works in commercial and architectural photography for the hospitality industry. Kevin's main goal is to collaborate with the hotel staff to create true, vivid, interesting and very high-quality photos. His photographs are on the covers of well-known magazines and clients are such well-known brands as Four Seasons, Hilton, Fisher Island and many others. Kevin Syms is a hotel photographer who has been working in this sphere for more than twenty-five years and is based in Sun Valley, Idaho.
Professional hotel photography from Jeff Caven
Jeff Caven knows how to visually capture short-lived moments of happiness and joy while relaxing using a hotel for a photoshoot. He is a hotel lifestyle photographer based in the Pacific Northwest. The work of this photographer is an ideal example of a beautiful lifestyle photography. Jeff makes incredible shots by combining finesse knowledge about the use of natural lighting and the talent for creating life photos.
How to photograph hotel interiors with Antonio Cuellar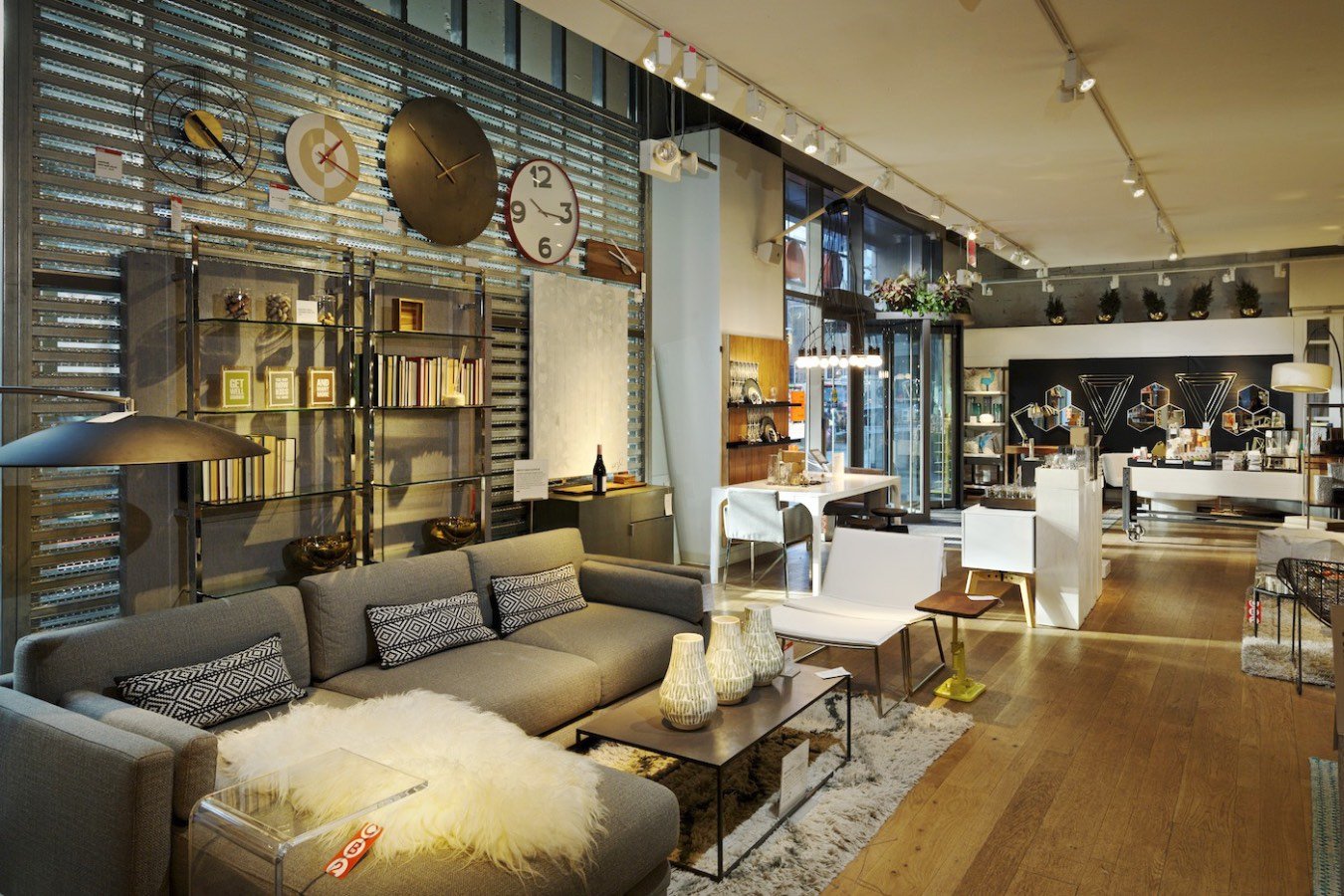 Antonio is a luxury hotel photographer who has an incredible passion for his work, taking orders from the most exquisitely furnished hotels in the US, Europe, Asia and the Middle East. Antonio's love for details, undoubted professionalism and the ability to convey the essence of the most luxurious hotels in the world gave him the opportunity to become a judge for "Luxury Travel Guide". Moreover, the American Society of Media Photographers 'ASMP' honored him as best of 2013.
Scott Baker – a hotel and resort photography expert
Scott's customers, regardless of whether they are the largest hotel chains or small, frequent hotels, always receive unsurpassed hotel photography services. This photographer can create an incredible photo that will help attract more guests, thereby increasing the company's profits. He primarily works and lives in Miami Beach, Florida, he travels the world taking photos of luxury resorts, hotels, and for tourism boards and tour & travel companies. Scott is proud to be a Hyatt brands and DoubleTree by Hilton preferred hotel photographer and works with most hotel brands worldwide including IHG, Marriott, and Choice.
D'arcy Leck – a professional shooter of hotel and resort photography
As one of the youngest photographers in this list, D'arcy from Denver, Colorado is gaining attention to himself with interesting hotel room photoshoot ideas nationwide and worldwide serving his clients as a hotel and architectural photographer. For example, along with traditional photoshoots of exteriors and interiors, he offers 360° virtual tours, and high end exterior photographs. His clients are Hilton Hotels, Sheraton Hotels, Marriott Hotels, Holiday Inn Hotels, and American Express.
Roger Mendez – a famous hospitality photographer
The combination of the best interior design photography equipment, 20 years of experience and incredible abilities in photo retouching make Roger one of the most demanded hospitality photographers in Canary Islands, Spain and worldwide. He cooperates with such well-known brands as Ritz-Carlton, Iberostar, Starwood and many others. In addition, Roger Mendez is also engaged in product photography.
Ken Hayden – professional resort video and photography
This famous Miami-based photographer can always be found traveling around the world during the shooting of the most exquisite hotels. Ken is an example of how the love for photography and travel helped create an incredible career in hotel photography. Using the talent in the luxury hotel photography, Ken is popular with outstanding hotel chains, creating brilliant masterpieces.
Dean Riggot knows how to photograph hotel interiors perfectly
Dean combines his many years of experience with modern technology in order to capture the chic look of the hotel. His work is often used by numerous magazines, websites, advertising companies and travel guides around the world. In addition, his ability to find an interesting angle for shooting and use natural interior photography lighting create beautiful pictures.
Hotel photography tips

The demand among the potential guests largely depends on how good the photos of the hotel are. That's why special attention should be paid to the shooting process. So, what can you do to improve the quality of photos?
Staging hotel photography tips
Often, in order to make the photo ideal, photographers themselves are engaged in the professional staging of the space. It requires some skills, but if you don't have them, here are several effective hotel photography guidelines:
• make sure that there is no unnecessary reflection in the mirror surfaces and windows;
• turn on all the lights and clamp the fireplace, if there is one, for creating a special lighting a room for photography;
• make sure that the bed and other fabrics are neatly smoothed and the pillows are perfectly positioned;
• get rid of everything unnecessary in the shoot, which can detract from the aesthetics of photography. It can be remote from the TV or a rubber mat in the bathroom, but they will significantly degrade the look of your photos.
Interior photography camera settings
Hotel room photography lighting
Hotel room photography lighting can make or break a hotel photo. If you have windows in your room, show it! Hotel owners can't promote a unique selling point without windows. Note that florescent lighting may be nice for some situation but not many!
Use the maximum amount of natural light for your photos and don't forget that it is very important to take into account the different light on all the photos to make them look similar while creating a series of photos for one hotel. Many famous photographers recommend taking photographs during the "golden hour", the time of sunset or dawn. The sun which is low at the horizon adds warmth to your picture and floods it with warm light which is perfect for hotel room photography lighting. In addition, this effect adds long shadows, which allows you to add some attention to the details.

Mind the logos and other marketing things
If possible, remove any marketing things from the hotel room. The fact is that many hotels often update the appearance of any marketing logos or branding products and the photos should remain relevant for as long as possible.
Complete room arrangement
The main task of the hotel photographer is to take a photo that will help sell this hotel room to the guest. That is why special attention should be paid to ensure that the rooms are equipped with everything that should be in the room of the appropriate type.
Hotel photography guidelines for meeting space
Make sure all tablecloths on all the tables are uniform. All linens should be pressed or ironed and left unfolded before being placed on the tables. Do not push chairs under the tables. It is often better to set an 8-round table for 6 people. It reduces the clutter and thus reduces clutter in the minds of the planner. Use a small vase with flowers on either side of the table or a row of small potted plants in front of the table to make it more inviting.
As you can see, that the hotel photography companies market is huge. There are over 60,000 hotels and resorts in the US, all of them need images every 5 years. That's why this genre of real estate photography is very demanded and need more fresh minds and creative artists as you are.
Do you like the article? Please feel free to share it via your social accounts.
---
Pay attention this photography blog which does not require credit for the pictures and photo post production examples listed here . All photographs used in the article are only copyright to their respectful creators . These shots posted as a big admiration of portfolio and photo retouching talent the experienced rt masters have . If you found the photo on this post that is yours and do not want to be promoted on our website , please do not hesitate to write us via online chat on your right and it will be quickly deleted .
---
Rate the article!
The article's rating:
---
You comments or questions are welcome; please share your opinion on the topic.
Use Facebook:
Use Disqus: