Hairstyles photography- the right idea will make you outstanding
Professional photography for an album is not just a true angle and high quality of a picture. It is, first of all, an opportunity to see yourself from inside, because good photographers are real artists capable of using the camera to penetrate the soul of the model.
And if a photo shoot is necessary to create or to enrich a portfolio, then it is a great chance to capture new and unusual images permanently and surely to see how magical face dignities are highlighted and drawbacks of appearance are hidden.
Any photo shoot, whether professional or amateur, requires a certain amount of preparation, this involves careful selection of both clothes and accessories, both make-up and hairstyles, as only a harmonious combination of all the components will create a holistic image. And that is our main target. To achieve this goal, we suggest starting with photoshoot hair ideas.
General rules for choosing ad creating a hair-style
Depending on the type of photo session, the requirements for a hairstyle may vary. In the case where several images are supposed to be shot, the hairstyle should not be complicated and strongly fixed, because the hair will have to be stacked several times, which means that the complicated weaving, the great amounts of decoration with all sorts of sparkles are not welcome. The ideal option - clean, slightly curled hair, as that gives way to a big variety of natural hair photoshoot ideas.
When it comes to a photo shoot in a certain theme, everything is much simpler here. Choosing a hairstyle should be done in advance. It must suit your appearance and chosen photo style simultaneously. So, complex volumetric hairstyles will be inappropriate if the photo session takes place in nature, and even carefully laid ragged strands will be discordant with a palace-style setting.
Evening images correspond to smooth styling, the image of a celebrity perfectly demonstrate the fluttering curls, and a complex weaving or an elegant bunch will emphasize the tenderness of the image when creating a wedding photo session. Everything must be in harmony. But how to do your hair for a photoshoot without any limited theme?
In the Internet there are a lot of interesting variants of hairdressing photography. But to make a great beginning, let`s consider some basic rules of preparing your hair to such an important day as professional photo shooting and only after you know all of them, you will read about photoshoot hair ideas.
To make the hairstyles for a photo shoot look perfectly, you need to observe two important requirements for your hair. Firstly, they must be healthy. If, for example, a photo shoot is planned outdoors, then under natural light, split ends or dull strands will only emphasize the unhealthy state of your hair. Therefore, on the eve of shooting, you should make different moisturizing hair masks, get rid off the damaged ends, perhaps visit a stylist and make a lamination procedure, if necessary of course.
Secondly, the curls should be clean. They shine, are soft and gentle while touching and have a pleasant aroma. That is a desirable result. Another thing, if for a photo shoot it is planned to make a styling for long hair. Strangely enough, but on the washed head to make a smooth hairstyle will be very difficult. However, washing or not washing is a rhetorical question. It's better to use the styling, rather than to go to the photo session in the studio with unwashed head, as in this case nothing will help you.
It doesn`t matter what kind of shooting you have planned, for the start it is necessary to take into account the inevitable technical nuances. For instance, the features of lighting, as it can be natural, in nature or studio. The camera in a special way reproduces what seems familiar in everyday life. And, as in any professional field, it is better to use the services of a professional stylist and hairdresser in choosing a hairstyle. Otherwise, you should be ready to any unpredictable situations. More about them you will find in our article About Studio Photography - Reality Behind Photography.
Sure thing that your photographer must be a professional, who should discuss all the details with you, including recommending, how to do your hair for a photoshoot better. In any case, the choice is yours, but your hairstyle, in any case should not look contrived and too carefully done. Moreover, nowadays in the fashion is laying that produces the impression of deliberate negligence and naturalness. Light in making hairstyles for a photo shoot, as practice shows, are the most successful options for any images that you are going to embody.
One more detail to be taken into consideration is dyed hair. If you dye it, be sure to refresh the color a few days before the event, so it will look more natural. Overgrown roots and faded color, as well as unhealthy appearance of hair clearly show up in the pictures. And will become a problem to be solved only by expensive digital retouching.
If you want your beautiful hair for a photo shoot to be as effective as possible, it is better to take advantage of the help of your "own" hairdresser, who knows better than many others what he/she needs to do to make you look great. On the eve of shooting, it is better not to experiment with finding a new hairdresser or new styling, and use the images that you usually follow, adding new nuances in them, as this will become the key to the naturalness of the pictures. But what if you are eager to do a hair-style on your own, is it possible?
What kind of haircut to make for a photo shoot depends greatly on the type of person`s appearance. It's not a secret that the camera, even in the hands of the most skilled master, conveys features of appearance in its own and definitely specific way. For example, long side strands in the pictures emphasize the length of the nose and the depth of nasolabial folds, short bangs to the middle of the forehead are able to make visually any face wider, and loose, even the most beautiful curls, as well as a bright unnatural shade of hair visually add age. These nuances must be taken into consideration, while discussing with a photographer details of shooting and choosing which hairstyle can be done for the photo session. Remember that how to do your hair for a photoshoot ia a question of great importance.
No matter what length of the hair and face type do you have, it is worth choosing the style that visually makes the face longer, giving it the ideal shape of the desirable oval, emphasize the elegant outlines of the cheekbones and neck and, as the photographers claim, open the face. That will make your hairdressing photography perfect and worth praising. Optimal in many cases will be styling with raised forehead hair, or choosing full opening of the forehead, as this creates an emphasis on the eyebrows and eyes.
Natural hair photoshoot ideas done without professional stylists
It's not difficult to make hairstyle for a photo shoot with your own hands. There are several sure-fire photoshoot hair ideas that can be perfectly realized at home without much efforts. To the studio, by the way, it's better to come with a ready-made styling, but in any case, do not make too strong styling. This way when changing the image, you can easily change stacking, for example, by dismissing or collecting your hair.
To ensure that both the styling and the image as a whole look naturally, do not use strong hair spray, especially with sparkles, as well as shiny hairpins or hair ornaments. It is better to add decorating and styling in the process of shooting.
The choice of hairstyle for a photo shoot on medium hair depends only on the images you have chosen for shooting. Today in fashion are stylized and thematic staged shootings in carefully designed interiors or just outdoors. In any case, the styling pattern must be selected depending on the exterior. One of the most versatile and suitable hair styling for any type of face, as well as for a lot of romantic images, is a bow. Moreover, this hair-style can be easily done within 10 minutes and now we will teach you how.
1. A bow – show that you are romantic
If you have not much time, and you doubt what hairdo to make for a photo shoot, make a hair bow. It will fit any image, emphasize dignity and add to you mischief and originality. The optimal length of hair for this laying is up to the shoulders.
The process of making:
1. Make all the hair in a high pony tail.
2. Pick the ends of the tail and stick with an elastic band to form a loop of strands. Leave a small tail free, it should be in front of the resulting loop.
3. Divide the resulting loop in half.
4. Wrap the tail where the rubber band is fastened.
5. Pinch the remains of the tail with stilettos.
6. Hairstyle is ready.
You see that only six easy steps and you will be ready to become a star during your photo shooting. But this hair style will be suitable only for romantic women that are not afraid to reveal their feelings. Below we will present other hairstyles photography that will be not less amusing.
2. Hairstyles based on French raids
To create such a hairstyle, you may need the help of a sister or girlfriend, if you do not know how to weave French braids. The optimal length of hair is up to the shoulders, but it can be a little longer. This laying will add to your image of tenderness and romanticism, suitable for a photo shoot both outdoors and in the studio.
TECHNIQUE PERFORMANCE:
1. Divide the hair into three parts.
2. From the side parts make French pigtails, fix them with elastic bands. Keep the central part free.
3. Add the braid, using tails of finished braids and the central untouched part. Raise the end of the braid and clip it with the studs.
4. A ready hairstyle can be decorated with a hairpin, a crest or can be left as it is.
You will spend about half an hour doing this haircut. Romantic dresses, ethnic dresses, as well as varied business suits, will suit it, making your hairstyles photography really unsurpassed.
3. Elegant wavy queen
You can easily create a romantic and at the same time solemn hair-style at home. With this arrangement, the professional photoshoot will be very successful.
PERFORMANCE ORDER:
1. Screw all locks on electric forceps or hair curlers.
2. Dissolve the curls with your fingers, without combing.
3. Scrub the back of your hair to lift the back of your head.
4. Sprinkle them with hair-spray.
5. Collect the curls, picking up the occipital part and creating a volume.
6. Pinch them with a hairpin or hairpins.
7. Comb the tips with your fingers.
8. Hairstyle is ready.
4. Hairstyle like princess has
One of the best hairstyles for a photo shoot, including not just romantic or thematic, is called simply "princess". It is also created quite simply and does not require the participation of a professional hairdresser.
TECHNIQUE PERFORMANCE:
1. On clean and lightly dried hair, apply a little styling medium fixation and slightly lift the hair at the roots with a hair dryer or large hair curlers.
2. The ends of the hair lay in large curls, but, without combing them.
3. Simply disassemble with the fingers on individual strands.
4. For light and naughty hair you will need easy fixation with hairspray.
Really that is all, but be sure that in the end your hairdressing photography will be unsurpassed. This arrangement can be decorated with fresh flowers, with it beautifully combined veils, tiaras and other ornaments. Moreover, it can be easily dissolved, allowing you to change the image rather quickly.
These were variants of hairstyles photography for those girls that have medium-size hair. It is believed to be the easiest length of hair for styling. But still what if you are a certainly happy owner of long and beautiful hair? Sure thing that during your photo shooting you will have a desire to show off this definite bonus of your appearance. But in what way?
The best ideas for long hair
If the hair of medium length can easily be laid even at home, the hairstyles for a photo shoot for girls with long hair will require the participation of a highly professional and proven hairdresser. It is senseless to trust such a styling to a newbie or an inexperienced studio stylist. In this case, it is also better to provide several options for styling, which can be changed depending on the image change or requirements. And, of course, plan shooting with loose hair, which captures the beauty of luxurious curls. That means having no hairstyling at all. One of the most successful and fashionable ideas for hairstyles for a photo shoot is a variety of styling with French braids. Similar ideas we have with medium-length hair, but in case with long hair the variety of possible styles is considerably wider.
It is for their creation that professional help is definitely required. Additionally, you do not need to style your hair with a curler or hairdryer, just wash your hair and use an air conditioner that gives it plasticity and softness. For this laying, it is necessary to divide the hair into three parts and from the two to make braces. The French braids may be tight or loose depending only on the density of the hair. And then you need to put the loose curls of the middle part into the tails of the side braids and form a luxurious complex knot at the back of the head. To fix such a styling is best with studs, and in addition it will be brilliant to decorate them already in the studio.
The undoubted advantage of this laying is that it looks great from any shooting angle, both in profile and in full-face, demonstrating the beauty of hair, beautifully decorated with flowers, hairpins and any other ornaments. But at the same time, the laying is easy to dissolve, if it requires a quick change of image, as definitely the loose curls will quite look natural.
One more variant will be to create a top knot. This hairstyle will suit perfectly for indoor photo shootings, where natural hair photoshoot ideas are of the biggest value. They create a definite feeling of coziness and home warmness. If you and your photographer are in the same mood to make home-like photos, this hair-idea will the most perfect. Moreover, it is quite easy in making and it can also be quite funny. In case you want to show off your easy-going nature, making your knot a little bit messy will be quite brilliantly.
What a hairstyle with a bang can be done for a photo shoot?
Hairstyle with a bang for a photo shoot will require special attention specifically to the bangs. What seems natural and organic in everyday life, the camera's lens will "see" in a special way. The final styling should be chosen depending on the length of the hair and style of the images that you have chosen. But, if you wear a too long and thick bang before it is shot, be sure to shorten it in order to open your face. Also, a visit to the hairdresser will require haircuts with oblique and graded cheeks, they should also be slightly refreshed.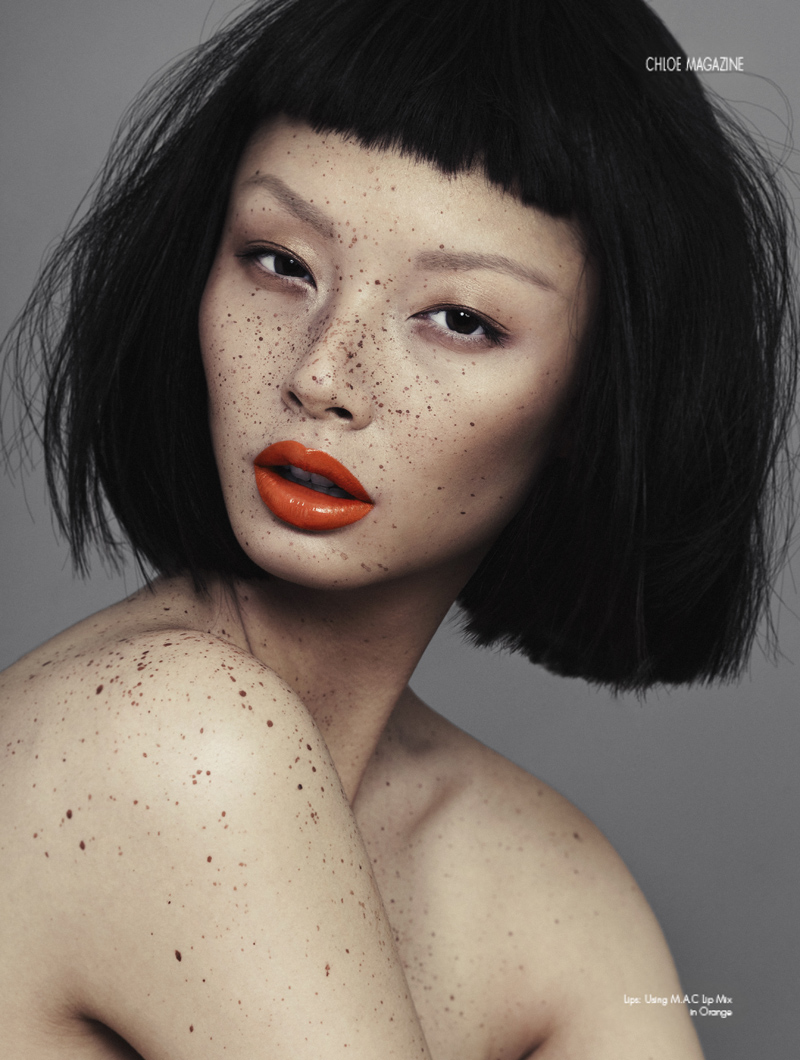 And what about shot hair?
At first you may think that shot hair provides not many ideas for choosing necessary hair-styles. What hairstyles for short hair will be the most suitable for a photo shoot, your haircut will tell you. In any case you should not experiment with new haircuts on the eve of the appointed photo set, because definitely you will not find luck from the first time.
Before shooting, you should do everything necessary to bring your hair in perfect condition - to make moisturizing or nourishing masks on your hair, to refresh the color and the contour of the haircut.
Do not forget that the dark hair tones always add age, so if you want to look younger in the pictures - lighten the hair, but a little bit. The owners of short and graphic haircuts, such as "quads", "ganson" or a very fashionable graduated "bob" have not such an extensive choice of styling as the owners of long curls. But the principle of creating successful hairstyles for a photo shoot is the same. It is necessary to emphasize the strong points of appearance as much as possible, focusing on the eyes, high cheekbones or an elegant nose.
In many aspects professional make-up will be quite helpful, but do not forget that the styling should be expressive and very natural. In addition to the fact that styling with "hard" styling today is not in fashion, some women are still ordering only them. Do not follow this tendency.
Without make-up your efforts will be wasted
How to make a make-up and hairstyle to look impressive in a photograph? This question also may disturb women that are going to participate in a professional photo session. Maybe that will seem and sound ridiculous, but even the most alluring and exquisite hair-style will be done just for nothing if your face will be ordinary-looking. Thus, after your hair is organized into a great hair-style it is high time to think about make-up that must solve two main tasks simultaneously. Firstly, it must suit your appearance and highlight all unique features of your face. And secondly, it must go in harmony with your hair-style. To illustrate, if you have a sophisticated hair-style, your make-up should not be too bright in order not to turn you in an unnatural star.
Even if you do not normally use makeup, you still should use makeup for shooting. In any of the women's magazines you will find many tips on the rules of applying various kinds of makeup, so we will focus only on the most used secrets for making your face natural looking and appealing at the same time.
To get a good photo, cosmetics should be limited, so that in the photo you look as if you did not use it at all. This is called a natural kind or a natural look. The main thing here is to use the make-up of soft pastel tones that will not go in contradiction with your natural face tones. That is big skill to apply a make-up that everybody will say:" You are so attractive without make-up".
Even if you have the perfect face complexion, apply a foundation, otherwise in the photo your skin will look covered with reddish spots. Apply a layer of powder over the tone to avoid gloss. These are the main secrets concerning face tones. The latest trend in fashion for cosmetics is the basis with a "shine", giving a light shine to the skin, which is used until the décolleté zone. Still notice that this trend can be applied only for professional shootings or during evening events. For daily wear that will be quite inappropriate and too artificial.
Use shades of brownish or gray tones without pearl and sparkling ingredients. These are the most frequently used tons that are always in trends. Moreover, refrain from bright blue, purple or pink. They have come out of fashion many years ago. Furthermore, they will not suit every woman and thus, they can a play a disappointing trick with you. Such bright colors suit only different youth cultures. In case you are deeply interested in them, we present you this article Youth culture photography ideas for subculture representatives.
Also pay attention to the way you highlight your eyes. Remember that fat black lines around the eyes are aging and look vulgar, all the time. The only exception is theme-based photo session, but that is not our case. Although the eyes need to be enlarged with color, professionals must select eyeliner pencil according to natural eye color (dark gray or brown), and then continue make-up with shades of a slightly lighter tone. Everything must be natural.
Mascara for eyelashes can and should be used a lot, as it will give your look a considerable expressiveness and alluring depth. Do not use colored mascara, for instance blue or green. The best idea is simple black or dark brown. They suit everybody. You can stick false eyelashes, models and actresses do it all the time, so why not you? But do not add too many of them.
Eyebrows for shooting need to be appealing too, as they are the basement of the look. They should not be too thick or thin, and it is better to do it in a beauty salon. Moreover, this procedure is inexpensive and it can be enjoyed long after the photo shooting. Highlight them a little, you can use not a pencil, but shades of the right color, as that is the latest trend.
A bit of the blush of apricot or brownish tint applied to the cheekbones will give the person the necessary beauty and right correction. For example if your face is round, then the blush is superimposed under the cheekbones. Believe us that every face may be corrected, especially with supporting of photo post production services, where face improvement plays the leading role. And this limited sphere is done for nothing without photo color correction services.
Be sure to use a lip liner. Full lips do not require any reduction, as the full lips look sexier. As they say - too full lips do not happen! Men like them, that is a tendency. Too thin lips can be corrected with a pencil and lipstick, but notice the measure again not to look too artificial. Use a red, brownish or dark pink lipstick. Do not use violet and crimson tones, as well as light pomades with sparkling effect. Dark lipsticks are aging, but in some case they can be used too.
The great idea will be to take the cosmetic bag with you to correct possible defects quickly without interrupting a process. On a high-quality make-up 1-2 hours will be taken. Use the services of a make-up artist if you can afford it. If you cannot, follow the photos from the covers of women's magazines such as Cosmopolitan - on girls-models a ton of make-up is applied, but in fact, you cannot say for sure that it is so, right? Achieve the same result with following our advice and further ordering digital enhancing with surprising photo editing prices.
Experiment with makeup before doing make-up for a photo shoot. You, of course, know in general what suits for you, and what not. So, try different makeup options offered in a fashion magazine, and see what you like more.
The main thing - makeup should in no case be old and vulgar. Eyes must be highlighted and increased as much as possible, lips should be sexy and plump, skin - smooth and healthy color. That is what we should strive for. But still even after you see taken shots and notice some imperfects, everything may be further corrected with portrait retouch. You will see after your exquisite before and after retouch that maybe that professional make-up and hair-style was senseless and everything may be done with digital editing, but still that is not so. The only photo improving sphere that deals with photographed models without cosmetics is headshot retouching.
Do you like the article? Please feel free to share it via your social accounts.
---
Pay attention this photography blog which does not require credit for the pictures and photo post production examples listed here . All photographs used in the article are only copyright to their respectful creators . These shots posted as a big admiration of portfolio and photo retouching talent the experienced rt masters have . If you found the photo on this post that is yours and do not want to be promoted on our website , please do not hesitate to write us via online chat on your right and it will be quickly deleted .
---
Rate the article!
The article's rating:
---
You comments or questions are welcome; please share your opinion on the topic.
Use Facebook:
Use Disqus: