TOP 5 Free Photo Contests To Submit Your Photos Right Now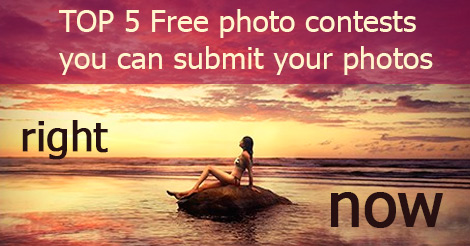 Do you love your job? Are you a passionate, hard-working and enthusiastic photographer? If your answers are `yes`, this article will help you to share your ideas with public. Moreover, you can get-rich-click. Taking part in such photo competitions the winner can be awarded by a sum of money, digital equipment, a foreign tour or even photo services subscriptions. We have gathered 5 the hottest free photo contests you can send your photos to right now, while the entry is opened.
1. The 2016 Sony World Photography Awards
The Sony World Photography Awards is the professional competition which is open either for experts or amateurs. If you want to become the best recognized contemporary photographer in the world, do not miss a chance! Digital exhibitions, publications in the world-known magazines, an incredible $30,000 (USD) in cash plus the latest Sony digital imaging equipment serve as the prize each year. This contest offers categories across all genres of photography. Choose the best one for you and please keep in mind that before signing in read attentively the rules.
Entry Start:
01/06/2015
Entry Close:
05/01/2016
Categories:
Low light, Nature and Wild Life, People, Smile, Travel etc.
Judges:
The 2016 Honorary Judging Committee
How to entry:
Click here https://www.worldphoto.org/
2. ZEISS Photography Award "Seeing Beyond"
The ZEISS Photography Award "Seeing Beyond" is the unusual photo contest. It looks for special images. Pictures can be made at the office, under the water, on the fly or even in space. They should be as manifold as you are. Your job is to share minimum 3 and maximum 10 photos but do not forget about edition, it plays a great role in selecting the winner. Win up €15,000 worth of ZEISS camera lenses, be recognizable to media world and have chance to present your own exhibition.
Entry Start:
05/11/2015
Entry Close:
05/02/2016
Categories:
Meaningful places
Judges:
The experts selected by ZEISS and WPO.
How to entry:
Click here http://www.worldphoto.org/competitions/zeiss-photography-award-seeing-beyond
3. Olympus Global Open Photo Contest 2015
Hurry up! The Olympus Global Open Photo Contest 2015 entry will be closed very soon, on 11:00 AM Friday, November 20, 2015 (JST) Submit your photo featuring your judgment according to outward things and you could win Latest Olympus PEN Camera + Lens kit and 1 Million Japanese Yen. You will find the results on the website at the timing stated in the Schedule. Olympus will connect the winners using e-mail addresses.
Entry Start:
25/08/2015 at 02:00 PM
Entry Close:
20/11/2015 at 11:00 AM
Categories:
Life, Future, People, Technical
Judges:
Photographers: Anne Day, Wakako Jet, Kim Lau, Kan Mimura etc.
How to entry:
Click here http://gopc.olympus-imaging.com
4. Nikon Small World Competition 2016
Nikon Small World Competition 2016 gathers the participants from 84 countries. This open contest suggests showing skills and imagination for anyone with a keen interest in photography and art. This year's prize will be $3000 (US) toward the purchase of Nikon equipment at suggested retail selling prices in the USA. So combine your knowledge in microscopy and photography and see what you receive.
Entry Close:
30/04/2016
Categories:
Any digital time-lapse photography taken through the microscope
How to entry:
Click here https://www.microscopyu.com
5. Share The Experience Photo Contest
If you like travelling and taking pictures of places which do not leave your memory this competition suits you in a way. It looks for talented photographers from the USA who highlights the best landscapes, historical sites and national reservations. The winners will receive more than $30,000 in cash and other technical equipment, vouchers for a free hotel stay sponsored by ACTIVE Network, Celestron and Historic Hotels of America.
Entry Start:
30/04/2015
Entry Close:
31/12/2015
Categories:
Adventure & Outdoor Recreation, Historical & Cultural etc.
How to entry:
Click here http://www.sharetheexperience.org/
How to win
To win you have to be very talented and skillful. Besides, you should follow some tips for improving your chances on photo competitions. Read the contest's rules very attentively and make sure that you have done everything in a right way. Choose an interesting composition to shoot; you can try one that you haven't used before. To stand out at the competition, focus in on sharpness. The secret of success is to burn the candle at both ends, dedicate your time to hard work with your images and its edition. The last advice is to take a photo with its history, soul. It should be a real image of life. Use your creativity to get though the photo contest.
We wish you good luck! Take the great photos and win the awards! And remember, you can always count on FixThePhoto for all your post production photography needs.
---
---
Do you like the article? Please feel free to share it via your social accounts.
---
Pay attention this photography blog which does not require credit for the pictures and photo post production examples listed here . All photographs used in the article are only copyright to their respectful creators . These shots posted as a big admiration of portfolio and photo retouching talent the experienced rt masters have . If you found the photo on this post that is yours and do not want to be promoted on our website , please do not hesitate to write us via online chat on your right and it will be quickly deleted .
---
Rate the article!
The article's rating:
---
You comments or questions are welcome; please share your opinion on the topic.
Use Facebook:
Use Disqus: