Professional Photo Editing > Free PNG Overlay > Powder PNG
Powder PNG
The main purpose of a Powder PNG Overlays is to add colorful dust that resembles Holi paints to your photos. These beautiful, bright, multi-colored overlays will look naturally in different kinds of photographs that can benefit from a splash of color.
The Powder Explosion PNG Overlays are usually applied to make the background more interesting and colorful, add brightness, contrast, and vibrancy to the shot, breathe new life into your work. You can also apply them to hide small imperfections and objects that seem out of place.Color powder PNG overlays are used to edit photographs that can serve as banners, blog headers, Instagram pics, etc. They're also perfect for ads since they attract a lot of attention with their rich colors. Images with a powder explosion effect PNG look great both in digital and print formats.
The powder PNG overlays included in this article were developed by professional designers and can be used by experienced and newbie photographers, bloggers, and retouchers. They're particularly popular among portrait photographers since such overlays are a great framing tool and do wonders for changing the mood of any photo.Applying a powder splash PNG overlay is very simple and you can adjust the effect afterward with minimum effort. All you need is basic Photoshop skills!
---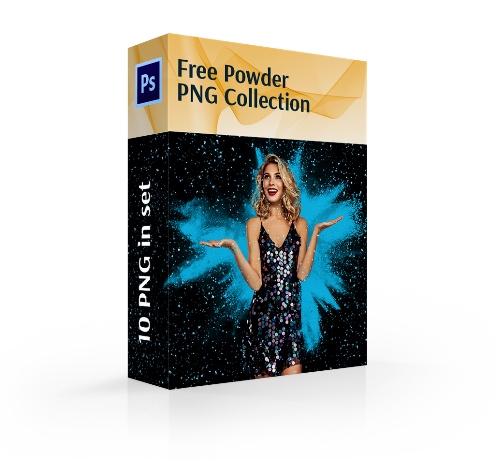 Color Powder PNG - Free Collection:
---
Powder Explosion PNG
There are several suggestions you can follow to ensure your photos look stylish and thematically with a powder explosion PNG overlay:
This effect looks best in outdoor portraits, love story, street, and event photographs.
It's not recommended to apply a powder splash PNG overlay to newborn, landscape, family, and vintage photos. Images that have a cluttered/complex background are also a poor fit.
The overlay looks natural in brightly colored images taken in good lighting conditions.
Color powder PNG overlays provide the best results when applied to close-up photos with a plain background, preferably taken in a studio.
Once you've applied the free PNG powder overlay, change white balance and color tones to make the powder effect fit in better.
Free Powder PNG
10 Top-Grade PNG overlays
Ready for use in all Ps and CC versions
Completely FREE
Guaranteed compatibility with Mac and Windows PCs
Can be applied to RAW and JPEG images

Download Color Powder PNG Free
---
Powder PNG #1 "Spray Paint"