Ghost Mannequin Photography
In today's article I'm going to talk about a really cool tool that I use for my eBay page – ghost mannequin photography. It will help you to take better pictures, make more sales, and grow your business. I'm going to take you behind the scenes and show you the invisible ghost mannequin, which can reduce your photo retouching time forever.
---
Contents:
---
How to photograph clothing to sell online
How to photograph clothing laying flat
This type of apparel photography is usually used for Instagram account. You pick up the background (generally a one-colored or matte), pick up the objects, it can clothes with food or makeup stuff. To understand how to photograph clothing laying flat well, you should stick to a color palette or arrange into a square layout. Use the rule of three: choose 3 "main" objects and add smaller accessories. Take a photo, edit, you can use Lightroom presets to speed up this step.
Can be applied to:
Shirts
Jumpers
Shoes (multi-angle)
Scarves
Towels
Handbags
Kidswear
Live model
It's a basic portrait photoshoot. The background should suit the clothes you want to advertise and not to distract from it. When choosing the backdrop, consider the color and texture, for example neutral colors with pops of greenery work together to evoke the feeling of nature.
Apparel collections
Handbags
Accessories
Sunglasses
Watches
Ghost photography technique
All people who sell clothes online use mannequins for their apparel images because it is an efficient and cost-effective way to promote their products. They help your dresses and T-shirts hold their shape. But even the best mannequin for photography can be distracting, so a ghost mannequin effect is highly recommended to use.
Ghost mannequin, which is usually called invisible mannequin photography is frequently used by apparel brands and retailers to give their products a 3D or so-called hollow man effect.
Can be applied to:
Jeans
Blazers
T-shirts
Long dresses
Coats
Socks
Underwear
Swimwear
Pros and cons of ghost mannequin photography
PROS:
Great for showing off features of the clothes like inner linings and cuffs.
Quick and simple to style.
Helps customers visualize clothes as if been dressed.
CONS:
Any ghost photography technique requires photo post production work and image compositing
Many popular brands and new retailers across the world prefer to take photos of their dresses, jackets and trousers using this style to maintain consistency. Take a look at Zulily, for example.
How to take ghost mannequin photography
Ghost mannequin photography effect may seem difficult to reproduce, especially if you are amateur. To make it simpler, follow my step-by-step tutorial about how to make ghost mannequin real.
A Mannequin & Poses
Choose: a model or a mannequin. Make the decision based upon your needs. If you choose a mannequin, keep in mind that there are many types of these tools you will have to use for different types of apparel. You may need to buy a mannequin of a certain gender (male or female ghost mannequin), body type (plus-size or regular) etc.
What mannequin color to choose? A white matte mannequin for photography are the most optimal choice: they don't reflect any light and will merge with the white background.
Choose the right size. Doublecheck that the size of the clothes is right and fits your model/mannequin. If a piece of clothing has sleeves, make sure that they point downwards, and you cannot see their inside part.
Capture the product from all the angles possible. Whether you are taking pictures of a real model or a mannequin, you need to capture the product from all its sides.
Avoid dynamic poses. Static poses are better, when it comes to showcasing the clothes properly.

Mind the model's hair. To make your editing process faster, make sure your model's hair is tied in a ponytail.
Make sure that your background is white. If you work with ghost mannequin photography, don't experiment with textured and multicolored backdrops. White is the best to sell product.
Ghost mannequin photography equipment and set up
To achieve the ghost mannequin photography effect, you simply must know how to create professional photos in a studio. The effect itself won't save the images if their quality is low. That's why it's crucial to know how to set up your gear professionally.
Basic gear. Standard equipment includes a mannequin for photography, clothes, a DSLR camera, a tripod, lighting softboxes and, of course, the background. Don't forget about styling tools as clips, pins, tape, canned air or tissue paper and more are used to help the clothes fit more tightly.
Mind the placement of your camera. When you take a picture of any product, it's important to remember to place the camera directly in front of the area you are photographing. That means, when you are taking a picture of a blouse, you should place your camera at a chest level and when you are photographing shorts, place it across the hip area.
If you disregard this rule and take the picture either too high or too low, the apparel will look inaccurate and distorted. Let me show it on the ghost mannequins below. One is taken properly and the other one violates the mentioned rule. Try to put yourself in the customers' shoes and look at these images with their eyes.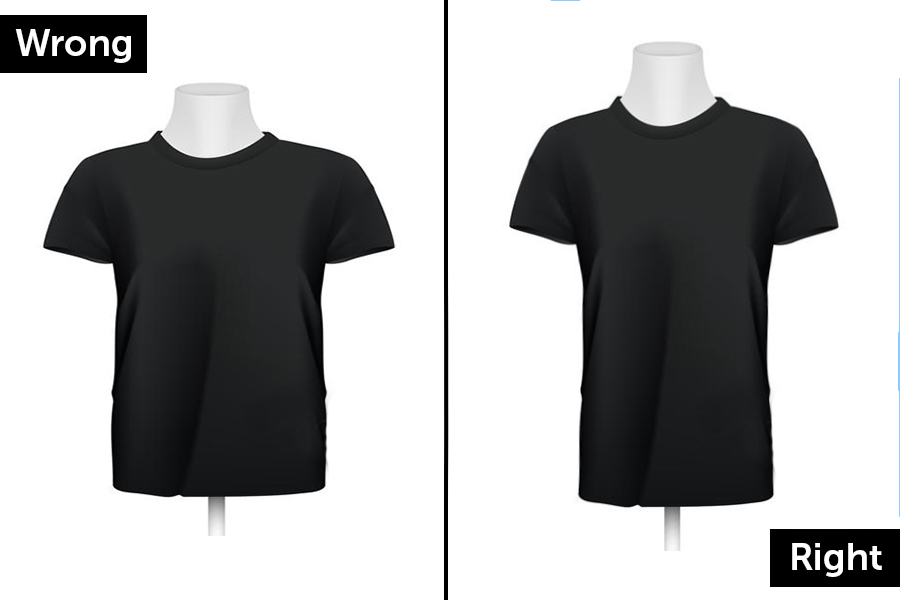 Lightning setup. The cheapest way to light your clothes on the best mannequin for photography is to use the natural sunlight. Having consistent lighting will make you independent and more professional. The standard lighting kit includes a century-stand, a softbox, a pocket wizard, and a battery pack to power the light.
The most vital part is monolight. Its price may shock you, because one moonlight may cost from $200 to $500 per one lamp. A softbox will help you light the object evenly. A pocket wizard will synchronize the camera with the light.
Set up the light properly. If you don't have lighting equipment, place your gear and the mannequin outlet in front of the window. If you're using a lighting setup, check out the picture below to get an idea of how to position everything correctly.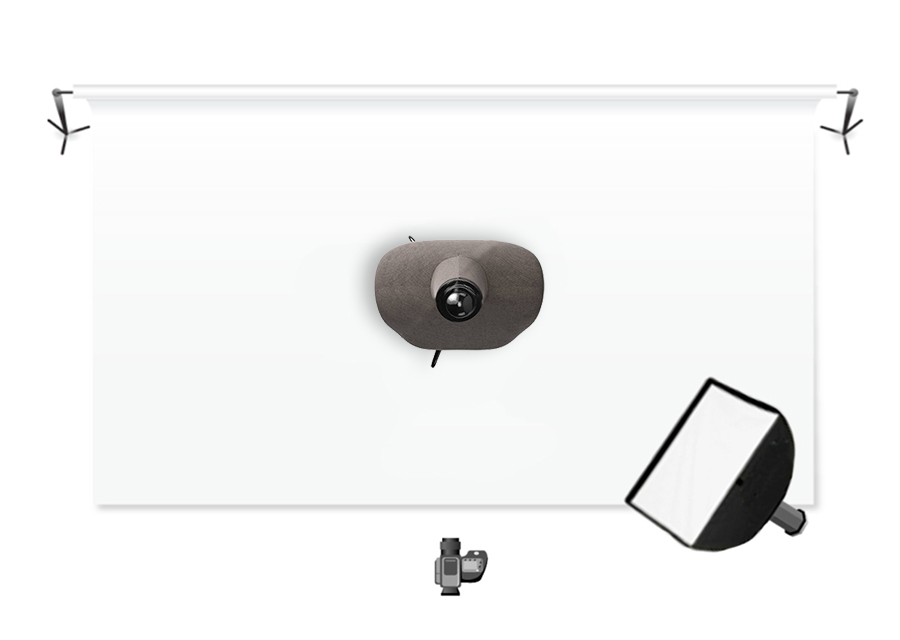 Do not put your mannequin outlet too close to the backdrop, this will create some harsh shadows. The light should be placed just above the mannequin. Remember, that the light should be soft and evenly distributed. If you put your soft box at a 40-50 degree angle, it will bounce the light nicely and highlight all the details of the product. This should be enough to create a depth of field that will ensure that the product remains sharp. If you want to expose the scene and control the settings in a manual mode, we recommend you learn about the in-built light meter in your camera.
Much space. Professional studio equipment occupies a lot of space, so when preparing for a ghost mannequin product photography set, make sure that you have enough space for all your gear and mannequins.
Purchase a mini photo studio. If you are capturing small items, it will be very convenient for you to buy a portable studio. It opens up a lot of possibilities and enables you to take high-quality product pictures even with a smartphone. The prices for this studio range from $30 to $90, which is very low.
Right camera settings for ghost mannequin photography
Even if you are a skillful photo editor, you should set right camera settings.
ISO. Always keep in mind that when you are taking picture for your ghost mannequin photography, you need to keep your ISO as low as possible. Pictures with high ISO are grainy and do not retain all details. Use a tripod to keep your ISO minimal (100-200). The final pictures will be clear and sharp.
Aperture. Aperture is in charge of focus and how much light enters your camera. While small f-number is great for some photography styles, when it comes to ghost mannequin service, your f-number should be higher than 11. Small aperture) will keep the entire object in focus, instead of only highlighting a certain aspect of it.
White Balance. Set white balance to auto mode and the camera will do it for you.
Ghost mannequin for sale
It is usually headless and has detachable body parts (neck, arms, chest) so that they don't distract the potential customers from the product. Mannequins like these are especially useful for retail stores and fashion photographers: the shape of clothes they hold is appealing to the eye. This photography mannequin for sale is a must have for any professional apparel photographer.
Of course, you can create a DIY ghost mannequin, but due to their popularity there has appeared lots of websites on which you can purchase a high-quality mannequin for a reasonable price in a matter of seconds.
Mannequin Mall – the best place to buy a famous ghost mannequin Torso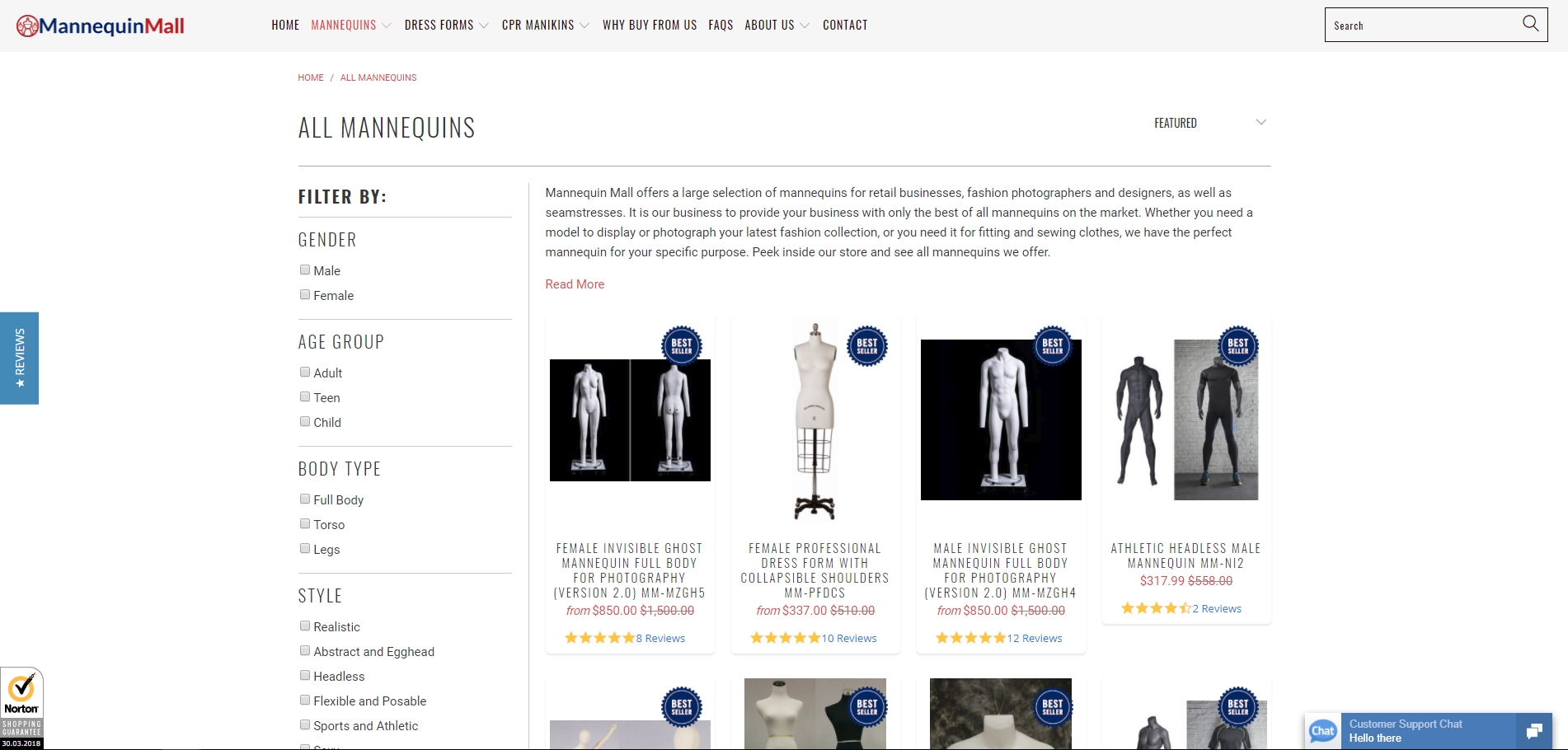 This is the most popular mannequin-only website. It offers the widest selection of items. The products are categorized by gender (female and male ghost mannequin for sale), age group (adult, child), body type (full body, torso), style (headless, style, and invisible ghost mannequin for sale), color (white, fleshtone, black, gray & silver, chrome, gold).
This is another great website with top manufacturers that offers male, ghost and clear mannequin for sale. The categorization is extremely detailed, and it also has a "shop green" option. That means you can purchase used ghost mannequin: it's cost-effective and environment-friendly. You can also rent products here, which is very convenient.
Both Ebay and Amazon don't specialize only in mannequins, but they are universal trading platforms. So, whether you search for "ghost mannequin Ebay" or "ghost mannequin Amazon", you'll find numerous options to choose from. You can also enter search parameters to narrow your choices down and find the necessary product even quicker.
How to create 3D ghost mannequin product photography?
First, you need to dress the mannequin and take a picture of its front and back. Next, you will have to take a foam board and hang the piece of clothing on it. Again, you need to take a picture of its front and back. You must do this so that the inner parts of your product are also visible in the final picture.
If you want to capture a piece of clothing with a collar, make sure that it's unbuttoned, and you can see the inner part of the back. Sometimes, you will have to turn it inside out.
Ghost mannequin Photoshop tutorials on different apparel
SWEATER: How to photograph clothing without a model
How to create ghost mannequin in Photoshop
7 minutes step-by-step Photoshop tutorial about how to retouch a pullover and make a ghost mannequin effect.
DRESS: Mannequin effect video
T-SHIRT: Ghost mannequin Photoshop lesson
Well, if you don't like extra sounds while watching Photoshop tutorials, choose this one. It is about editing a T-shirt in Photoshop.
Learn how to take right photography to achieve that effect as though a piece of clothing is floating on an invisible body. And after that you will find out all important photo retouching tips and detailed instruction (even the level of brush opacity)
Photoshop Ghost Mannequin / Mannequin removing Tut
Ghost mannequin image editing with Linkedin
Ghost mannequin image editing by Clipping Path experts
The tutorial is very short, but still it contains all necessary steps and tips about retouching sport T-shirt.
GARMENT: The Invisible Mannequin Technique
The video is about how to shoot a garment and make a ghost mannequin effect in Photoshop.
Ghost Mannequin "How to" with Leemo from 2TP photography
The video is supported with the comments from the retoucher which are very useful. Here the main attention is paid to showing the inside label.
TROUSERS: How to Photograph Trousers and Jeans with a ghost mannequin effect Photoshop
SHOES: How to Photograph Shoes on Tabletop
How to Photograph Boots, Sneakers and Sandals on Tabletop
Ghost mannequin editing
Ghost mannequin software. The best software you can use to achieve this effect is Adobe Photoshop.
Open the mannequin product photos and create the background layer. Fill the background layer you've created with white color. Don't forget to name all the layers you create. This will keep things organized and you won't get confused mid-editing.
Use a Selection Tool to select the product. You can use any Selection Tool you feel most comfortable working with. Lasso, Marquee, Magnetic Lasso, Magic Wand, Quick Selection – all of them can be used at this stage. Zoom in the image to select the product accurately. If you have taken the pictures against the white background, the mannequin is going to stand out nicely and you will remove it quickly. That's why, white color is the best option for quick ghost mannequin editing.
Use Refine Edge Tool to place the mask on the product. Using this tool is a great invisible mannequin photography technique to achieve the floating effect. Select it from the menu bar and put the mask on the product. If needed, keep re-adjusting it to make sure it looks good.
Open foam board product photos. Now you have to do the exact same thing with foam board images. You may think you don't need these photos, but you cannot complete the ghost mannequin Photoshop illusion without them. So, create the background white layer, select the product carefully, put the mask on it and refine it.
Create one picture. When you've done all the previous steps for both types of photos, you have to merge them together. In order to do that, drag one image on the top of the other one.
Organize and adjust the layers. Check if the mannequin image is higher than the foam board one. If not, correct that and adjust the layers in a way that makes the edges of the product coincide.
Delete the non-essential parts. Now you need to hide your ghost mannequin layer and remove the unwanted parts. Delete the foam board so that it doesn't stand in the way of the mannequin. Afterwards, you need to make sure that everything is nice and clean. Pay close attention to the neck and shoulders part of the mannequin – they are the most problematic.
Create more depth. Lastly, you need to give the item some depth, so that it looks more realistic. To achieve such effect, add a shadow between two layers and then merge all of them. Next, save the photo as a different file.
Positioning. All items you take pictures of should be of the same size. They should also be situated strictly in center. The images should line up perfectly. To ensure maximum alignment, create guidelines in a Photoshop template.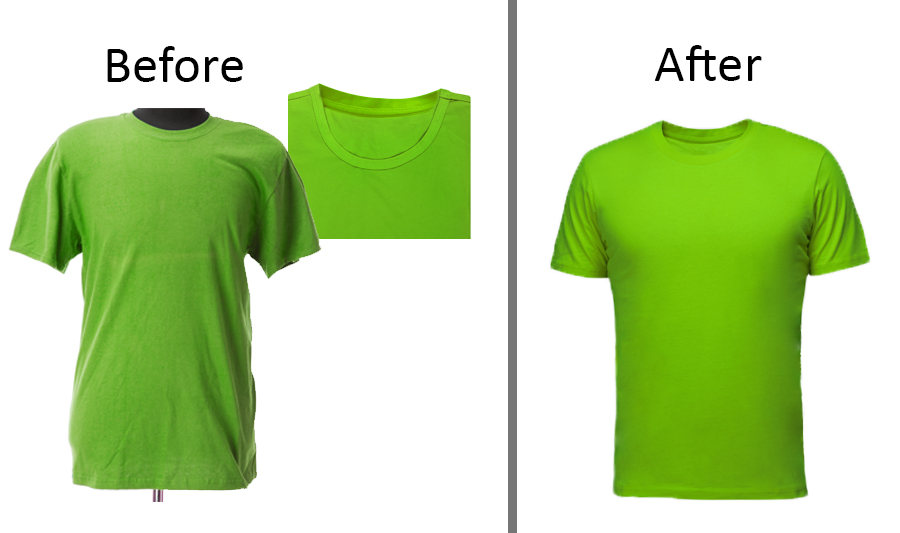 Crop the image. Similarly to previous step, crop your photos identically. That means if you crop one photo horizontally, you should cut all the other photos in the same way.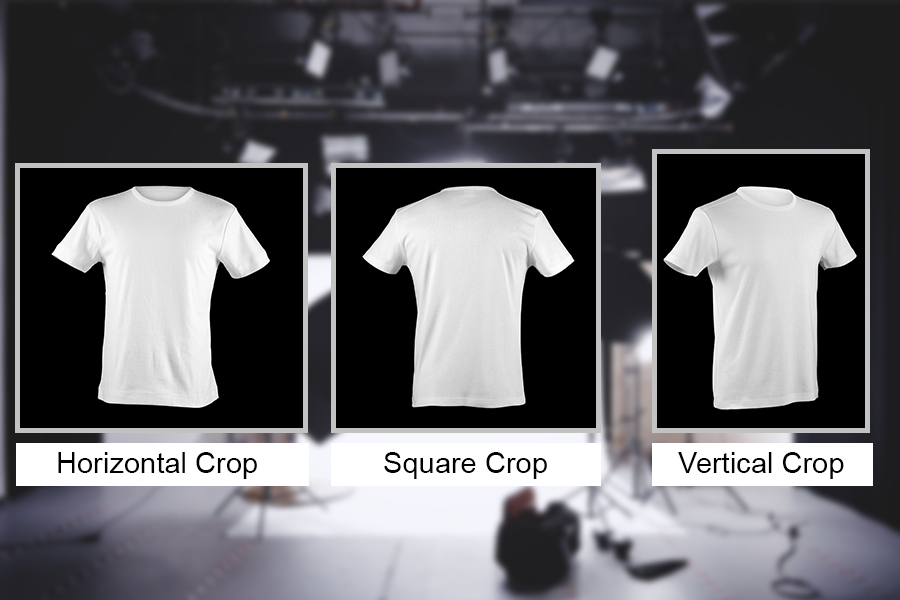 Invisible mannequin photography – better than ghost?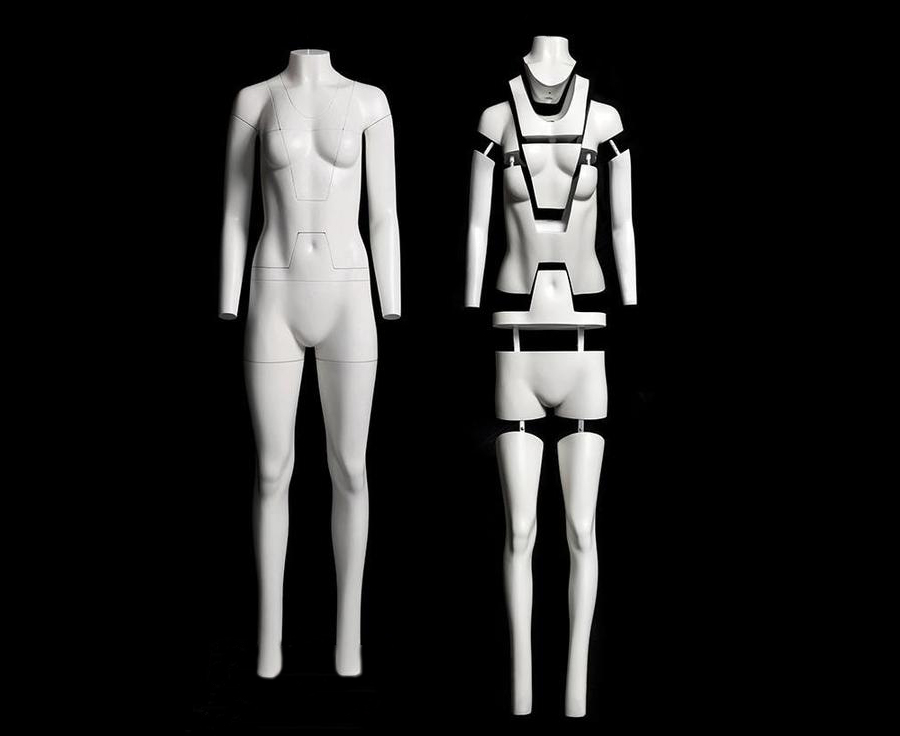 If you don't want to retouch your photos and make a ghost mannequin photography, you may invest money in buying invisible mannequin. Such photography mannequins for sale consist of many parts and each part has a special use, which can better display your clothes. Usually they have 8 parts that can be easily separated. Mostly you will use removable chest and arms, as such parts are always "seen" in terms of regular mannequin photography.
So, keeping these parts invisible, you will help customers more easily imagine themselves wearing the garments. In terms of types of clothing, invisible mannequin photography is quite useful for things like blazers, jeans, jackets and shirts. Their biggest advantage is that they can bring the inside of your clothes to life without the need for Photoshop.
Do you like the article? Please feel free to share it via your social accounts.
---
Pay attention this photography blog which does not require credit for the pictures and photo post production examples listed here . All photographs used in the article are only copyright to their respectful creators . These shots posted as a big admiration of portfolio and photo retouching talent the experienced rt masters have . If you found the photo on this post that is yours and do not want to be promoted on our website , please do not hesitate to write us via online chat on your right and it will be quickly deleted .
---
Rate the article!
The article's rating:
---
You comments or questions are welcome; please share your opinion on the topic.
Use Facebook:
Use Disqus: