Professional Photo Editing > Free Photoshop Overlays > Free Rain Overlay Photoshop
Free Rain Overlay Photoshop
Want to enhance those greyer, wetter days which can dull a lot of photos? This collection of 10 free rain overlays Photoshop will bring life back into your photos, making them shine through the rain.
Taking photos while it is raining, you're at risk to fail to capture the rain itself: slanting flows of rain, drops of rain and their splatters. But it is always possible to add the rain to an image by means of the Photoshop tools for its better look.
Our photographers and professional retouchers designed free rain overlay Photoshop collection for you with the help of which you're able to depict the real rain on your images. This package contains various kinds overlays – from spring drizzle to downpour. They are easy to download and install.
A detailed description of each free rain overlay for Photoshop is described below. In addition, you have the possibility to view the before and after photo samples to compare and understand what you need. You'll be definitely satisfied with the final results.
---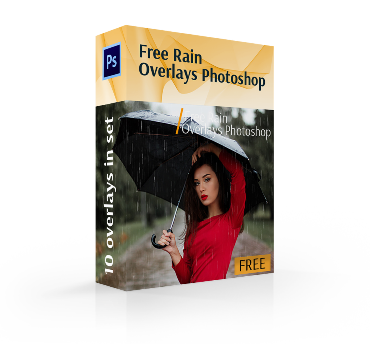 10 Free Photoshop Rain Overlay Bundle :
---
Photoshop Rain Overlay Free
Sometimes the weather can spoil your photography composition. Don't be upset. You have the chance not to get wet and have your camera moistened but, after all, with the beautiful raining effect. Just wait out the rain, make a lot of photos, come back home or at studio to use our Photoshop rain overlay free bundle. Get the most on your bad weather images with this pack that creates a rain effect for photographs in Adobe Photoshop.
Don't worry to overdo with Photoshop overlays. Our free rain overlays Photoshop are aimed at creating the realistic view.
---
Rain Overlay Photoshop Free
• 10 free overlays in total
• jpg format
• Adobe Creative Cloud, Photoshop 4-6
• Immediate download and easy installation
• Suitable for Mac and PC users
• Dealing with Raw and JPG photos
Free Rain Overlay for Photoshop
---
PS Overlay #1 "Warm"
The first rain overlay Photoshop free is designed for a classical type of photos when raindrops begin to fall. The little drops of rain are spread all over the photo.

---
PS Overlay #2 "Jungles"
With the help of this free Photoshop rain overlay, you manage to create the dramatic but romantic atmosphere. Small drops of rain are barely visible on your photos. But the effect of raining appears.
---

PS Overlay #3 "Wet"
This free rain Photoshop overlay allows you to depict the heavy rain. You can easily achieve the effect of large, heavy raindrops vertically falling down as if there is a wall of raining.
---
PS Overlay #4 "Pouring"
You'll see distinct raindrops of the middle size that are randomly placed throughout a picture. It seems to be taken during a summer rain.

---
PS Overlay #5 "Summer Rain"
Washy, long raindrops could create the effect as if you managed to shoot during a heavy downpour, as a result, great shots are possible to have by using the given free rain overlay Photoshop.
---

PS Overlay #6 "Fall"
This free Photoshop rain overlay contains little round raindrops which are out of the camera focus, also irregularly places all over an image.
---
PS Overlay #7 "Cold Atmospher"
It is a good idea to use this Photoshop rain overlay free, if you tend to capture the beginning of the rain. You'll manage to create the effect as if it has hardly started raining, only little raindrops are falling down.
---
PS Overlay #8 "Storm"
Here you won't see a separate raindrop. With the help of this rain overlay Photoshop free you will have a heavy rain with blurred white background. So, create the effect of the cold fall rain.
---

PS Overlay #9 "Before the Rainbow"
The picture edited by this free rain overlay for Photoshop provides thick medium-sized vague raindrops.
---
PS Overlay #10 "Dreary Mood"
Use this free rain Photoshop overlay to single out the raindrops on the mirror or any other surface. Highly recommended for dramatic portrait photos made near the window.
---
Don't hesitate to try this package and you will see how it is easy to turn ordinary, dull photos into really valuable masterpieces. Broaden your portfolio with a fresh view of raining. Your customers would rather remain dry than wet during a photo session in the rain and wind. But still, will have amazing results.