Photoshop Or Lightroom: What Is The Photographer`s Best Friend?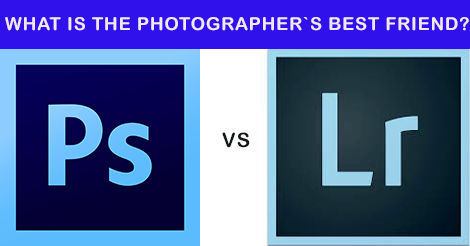 From a great number of photo editors these two are the most popular ones. It is enough just to look at their admirers, the websites with plug-ins, actions, guru books of a Photoshop and skillful masters of Lightroom, and you will receive the evidence of this mere statement. Meanwhile, these packages are different — moreover, even their assignment says that different people have to use them.
However, it is only an initial segmentation of the company-developer — Adobe being on the slab-heap for decades and making both Windows and many producers of photo equipment not endeavor the maximum integration. We will not take the reasons of such dislike to pieces but we will deal with our issue.
Nevertheless we will mention the next consequences: mother Adobe color profiles are usually badly coordinated with mother ones of Windows visual display units. `Some` producers aim to encode data field in personal image files (certainly, the RAW formats are). Adobe doesn`t pay any attention to it, and only users suffer from their disputes.
The retouching program of all time ─ Adobe Photoshop
As envisioned by developer the Photoshop is the comprehensive program of editing the image which allows you to do everything you want. Yes, everything, without any strings attached. All you need is only to find preferable tools in a standard set or at exterior developers. Limitations lie only in the image restrictions: you won`t be able to make from a two-dimensional picture a 3-D one (you can only simulate it), from the 8-bit to the 16-bit image (the intervals will be simply filled with empty data), from the black-and-white to the color one (painting in manual way), though even they are conditional. In the Photoshop there are a lot of tools for working with images.
What is more, this program is a closed book for beginners because of its bulkiness. That is really true, the program is written for professionals, not for amateurs. Being well-known through the whole world the program did not win the popularity thanks to its simplicity. However, the Photoshop can be simplified. It has the mass of the plug-ins automating different stages of work allowing users to achieve a certain result quicker than by means of the program. Also Photoshop Actions should be mentioned, they give the possibility to robotize a number of standard tools algorithms, and also they allow beginning photographers who have not basic knowledge of working with channels, layers and curves to achieve tremendous results during the first days of using this program.
Initially Photoshop Actions which are made for professionals can help everybody — usually beginners do understand about their existence nothing. You always need to photo color correction, to work over contrast, to reduce digital noise or sometimes you need photo restoration — just push PLAY, why bother your head over unnecessary technical thoughts when there is a set of actions for all occasions?! Sooner or later, you catch yourself thinking about the need of image retouching bases because, whatever automatic equipment is, it won`t replace good human hands. The matter is that often actions in itself mean a certain set of settings and when you pay good money for them and these actions can bring absolutely deranged result at your correctly pro-exhibited shots. To blame the development engineers is the last thing you should do, because even the waves don`t repeat in the nature, without talking about the millions of pixels distinction, that is why there can be no standard decisions. As a result, everything should be wrapped up by hands.
The graphic editor ─ Adobe Photoshop Lightroom
To work with Lightroom is much more difficult (by the way, the full name of the Photoshop Lightroom program reflects its secondary meaning). Initially it was designed as the thread-specific tool for professional photographer and it was put into shape by the same professionals. Despite the fact that Lightroom`s package is simple to use, nevertheless, it is a quite powerful program. Its most prominent features are the gradient and point filters, which can be drawn on the image in the form of a template and you can apply locally any standard LR settings. It is unlikely to speak about serious editing if all changes are registered not by pixels, but simply by numerical data in the external SWF. The stamp with a plaster is enough for retracting acne rash from a face, correcting shape of ears or a face form, remove red eye in pictures, and another types of professional portrait editing. Working with Photoshop you will have to spend two minutes for it with cut and try method.
However, Lightroom also has an installation of plug-ins — from the most known they are Genuine Fractals, all set of Nik Software filters and the glorified portraitist Imagenomic Portraiture. All connected filters work in Lightroom with the file copy which can be directly changed. The most powerful standard plug-in of Lightroom — it as it is ridiculous, `big` Adobe Photoshop. The most powerful standard plug-in of Lightroom sounds really ridiculously ─ is a `big` Adobe Photoshop. It is necessary to remember that everything that concerns basic color correction, in LR is realized in a good way, but in fact, it is the only function it has, except for small editing. However, it is enough for the majority of photographers. This editing program facilitates a quick photo stylization and color correction.
Photoshop or Lightroom – what to choose
Frankly speaking, the question is raised incorrectly: as you have already managed to understand from written above, the purposes of these two programs are different. The Photoshop is aimed at slow deep work with one image, while Lightroom, on the contrary, deals with fast processing and stylization of big blocks of photos and photo shoots. We use LR when the greatest part of work is already made during shooting and all you need is basic light correction. Usually if you shoot weddings, for example, you need to select and wedding retouching photos which can be about 100-200 pictures during a week (from 400-1000 photos), and to create a photo book from the best ones. Here comes Light Room which is suitable for this mission as well as possible.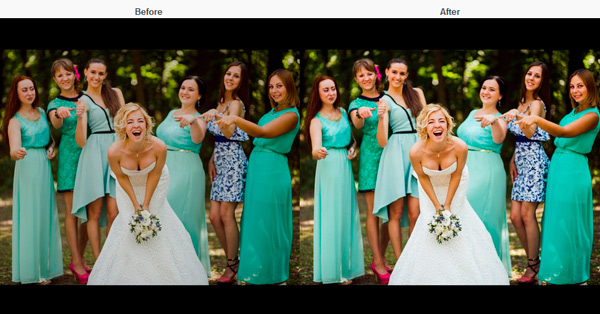 But if you are too busy even for this, read the following article Why Should You Stop Retouching Your Photos ... By Yourself?
The portfolios of models are prepared in the same way too. In contrast, if the photographer gives a life to his idea in studio, he can only choose one from hundred finished shots and spend a lot of time in the Photoshop. It does not matter it will be a difficult retouching with overlaying of shots or work with textures and digital drawings.
If you shoot everything in RAW and you print or you publish photos practically without editing, and the only method of photo retouching is removing braces or reshaping face, framing or drawing of blue eyes, Lightroom will be your best friend. If you are engaged in deep editing of the photos, shoot a little and retouch 1-2 images per day (about than 7-10 pictures per week), the best variant for you will be only Photoshop. By all means Fix The Photo works day in day out and is always ready to help you offering affordable photo post production services.
Do you like the article? Please feel free to share it via your social accounts.
---
Pay attention this photography blog which does not require credit for the pictures and photo post production examples listed here . All photographs used in the article are only copyright to their respectful creators . These shots posted as a big admiration of portfolio and photo retouching talent the experienced rt masters have . If you found the photo on this post that is yours and do not want to be promoted on our website , please do not hesitate to write us via online chat on your right and it will be quickly deleted .
---
Rate the article!
The article's rating:
---
You comments or questions are welcome; please share your opinion on the topic.
Use Facebook:
Use Disqus: