How To Take Food Photography & How To Edit Food Photos In Photoshop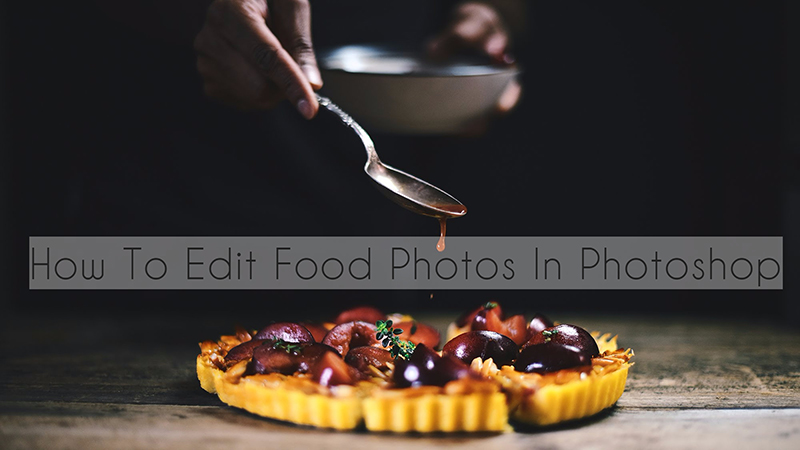 A turkey with a crispy golden skin, a tasty vegetable salad seasoned with olive oil, blueberry or raspberry pancakes, delicious doughnuts with bright glaze and sprinkles... All these attractive pictures come to mind making the stomach growl and mouth fill with saliva.
Today we're going to talk about food photography.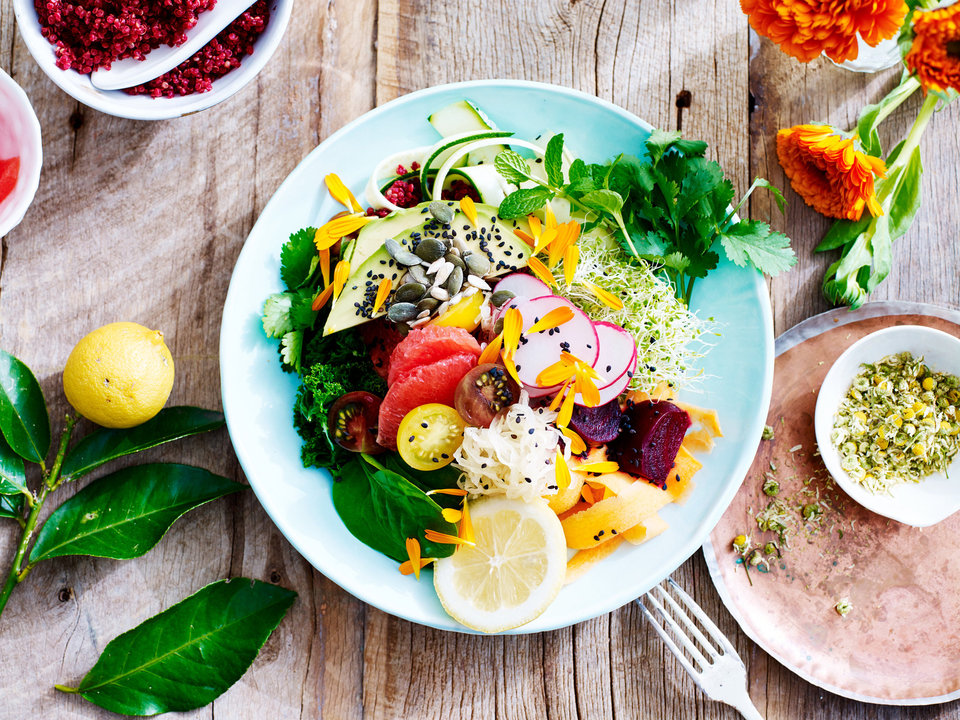 Photo by Andy Lewis
And, what is most importantly, how to edit it. To interest you immediately, here's a visual example of before and after retouch
Food photography is a separate genre in the photography world. More often than not, such photographs are commercial nature, i.e. they are designed to advertise a product. The food can be photographed on an usual white background and later placed on the cover of a finished product or beverage, used as a label or stuff like that. You can also create an entire composition with a beautiful background, tableware and dishes. Usually, there is not one person, but an entire team consisting of an art director, a photographer, a food stylist, a stylist on props and their assistants work on such a photo.
Later, these photos are put in various culinary magazines and books, menus for expensive restaurants and, again, as an advertisement.
Before we begin, you should know that this article includes a lot of information, so you'll be asked to watch this video first: Tips for Stunning Food Photography with TopWithCinnamon
Food As Art
It's worth noticing that food photograph is not always an advertisement. There are a lot of people who have Instagram dedicated to the food, and these profiles are not commercial at all. People just like to cook and then boast about the results of their work by sharing photos with their subscribers. Others also visit various cafes and restaurants to take pictures of gorgeous dishes and beverages, so that they can be posted on their Instagram profile later. It is true art. What to say, people just love food! Apparently, it is not the big news.
Let's meet the most popular food bloggers on Instagram.
1. For Brittany Wright, a food photographer from the United States, food is some kind of art. With various fruits, vegetables and other foods, she creates very beautiful images. The colors are amazing!
You can find her on Instagram as @wrightkitchen
2. The incredibly aesthetic Instagram profile of Beth Kirby (@local_milk) astounds by its colours. Here you can find not only a photos of food, but also a variety of beautiful landscapes.
Her pictures are real masterpieces. In addition to the Instagram profile, Beth has a magnificent blog - http://localmilkblog.com
There you can find more beautiful photos of food in different interpretations, as well as recipes, useful tips and many other things.
3. Instagram of Kate Arends (@witanddelight_) is filled with light colours and pastel shades. There you can find not only the magical pictures of food, but also a lot photos of beautiful interiors.
4. Linda Lomelino (@linda_lomelino) is an excellent author of both dark and light coloured photos. She's not just a photographer, but also a recipe book author.
Equipment You Will Need
We stop for now, but we'll continue the review of the exemplary food photographers later. Now we're going to ask yourself how to get the same pretty pictures? What do we need to know about editing food photography? What apps better to use? It's obvious that it's not enough to use Instagram filters to get photos like those. It all depends on the purpose of your photo, if it's just your hobby, you can certainly use a good camera on your smartphone and some good apps we'll talk about later. But if you want to make money on it, I think it's superfluous to say that the work of professional photo post production services and amateur's work on Instagram or Facebook has a huge difference. So if you're planning to become a real food blogger, it's recommended that you go to special services or learn yourself how to work in Photoshop at an advanced user level. We'll come back to that later.
So, to edit a photo, you firstly have to take it (oh really?). To take a photograph, you need equipment. Let's start with this point.
1. Camera
Attention must, however, still be drawn to that you can make good photos on a smartphone. But for many people, this is the first tool they need to take a photo. And if you do this regularly and professionally, you need to have a good camera. Plus, the better your camera, the less time you'll spend on editing food photos. Why? Well, a good camera will probably has different effects like bokeh and other types of blurring.
For professionals, it is important to be comfortable with long shots and a good resolution of the matrix. So it makes sense to buy a professional product. For example, Canon EOS 5 Mark IV (III) or Nikon D810.
It's not worth saving your money in case of buying a camera, because then you will have to pay more for the photo editing. By the way, find out the photo editing prices here.
Lenses
This section is really important. After all, only two things affect that much a beautiful image in your frame and it's the lens and the setting of light. And choosing the right lens for food photography is the most important thing! The food photographer takes pictures of difficult still-life that occupy only one square meter, so we give up on wide-angle and portrait lenses and leave them for the iphone photographers. Today, we are not interested in both a portrait and headshot retouching, but in a photograph of subject, specifially food. Our tool is telephoto lens. They're big, massive, and restaurateur immediately realize that we're pros (just kidding).
In fact, one of the main tasks of food photography is to convey the naturality of food. And the telephoto lens works best here. They're also good at showing volume.
2. Light
As with any other genre of photography, light is the second most important factor.
Just like in a portrait photography, backlight is very good for food photo. You put the food between the window and the camera, so the light comes from behind the subject. It is believed that at this location of the light, the frames are interesting and vivid. Speaking of portrait photos, knowing how to do the portrait retouch correctly, you can easily retouch food.
If you amateur, and you need to do a couple of photos a day and they can be in different shadow pictures, then the chapter avout the light can be safely ignored. Use the window and the reflectors. That'll be enough. But if you're a professional, you should think seriously about buying some light devices. When you shoot series of frames and it's very important that it is in the same light, then the impermanence of the daylight will only interfere you.
What the professional light for a food photo consist of?
- Monolight
If you need a really good light, you better pay close attention to Profoto or Broncolor. These are the top two firms that make light devices.
- Light Shaping Tools
You can understand from the name, these are the things that form the light. A food photographer should create the most natural images. This means that the food requires the most natural illumination. Well, or its imitation. And you know there are two types of light shaping tools: The ones that give the hard light and the ones that give soft.
It is better to use soft light when photographing food. What is the best for soft light? Right, softboxes. Those who know how to edit food pictures can lighten up the photo or darken it in the editor later, but why create extra work, huh?
- Synchronizer
It is a thing that makes light work at the same time as the camera's shutter.
What kind of a synchronizer to buy is depend on the company of monolight you choose. Every light producer has its own synchronizers.
- Rack
So we got to the main. What thing will keep this whole set of light? You can take the assistant, but you have to feed him (I mean pay, huh). So, when we buy light devices, we also buy racks. It's a tripod for light.
Well, perhaps this equipment is enough for a food photographer. Now that we've learned about this, let's move on to the photograph in the flash. Let's talk about composition.
Story Behind A Picture
Before you build a frame, you need to understand what kind of story you want to tell in your photos. The idea often gives the cue for what composition rule is best applied to transform it into reality.
The photographer using the composite elements controls the viewer's attention. He focuses on the main objects, and small ones puts to a second plan. So he tries to explain his idea to the viewer with minimal loss, and also he tries to capture and hold his or her attention.
Even the best food photo editing app in the world will not be able to make your picture ideal if you initially place objects in it in wrong way.
The composition is divided into aesthetics (idea of a photography) and technical (frame geometry, color combination and light).
So let's move on to a few rules that will make your picture perfect.
1. The Golden Ratio
This is the basic rule of composition that has existed in art since ancient times. Let's not deep into its explanation. Just remember, that according to this rule, the frame area is divided into two vertical and two horizontal lines.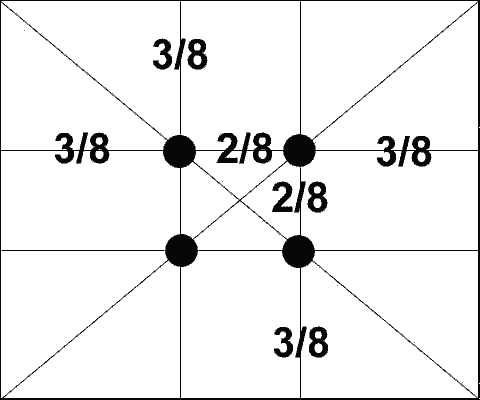 The main objects in the frame must be placed along these lines or at the points where they intersect. Points of intersection are called "eyesight center ". It is believed that they attract primarily the attention of the person.
Photo by Linda Lomelino
2. Diagonal Rule
It is one of the most commonly used rules in food photography. Its essence is that the main objects in the frame should be located diagonally. This technique is good because it creates a dynamic in the image.
Photo by Beth Kirby
3. Triangle Rule
It is also a very popular rule in a food photo. Its essence is the main objects must form a triangle. Look at the example.
Photo by Kate Arends
4. Spiral
It's amazing, but this harmony rule is derived from mathematical calculations. We will not go into details, but simply agree that the images with the spiral composition are very interesting. The composition can be constructed so that the view of the viewer tighten or spun the spiral, arriving at the main object in the frame.
Photo was taken by Katie Quinn Davies
5. Pattern
This is a repeating occurrence of the same or similar objects in the frame. It's a simple but very spectacular composite method.
It's a simple but very spectacular composite method.
Photo by Brittany Wright
6. Different Heights
An interesting method is the placement of objects at different heights.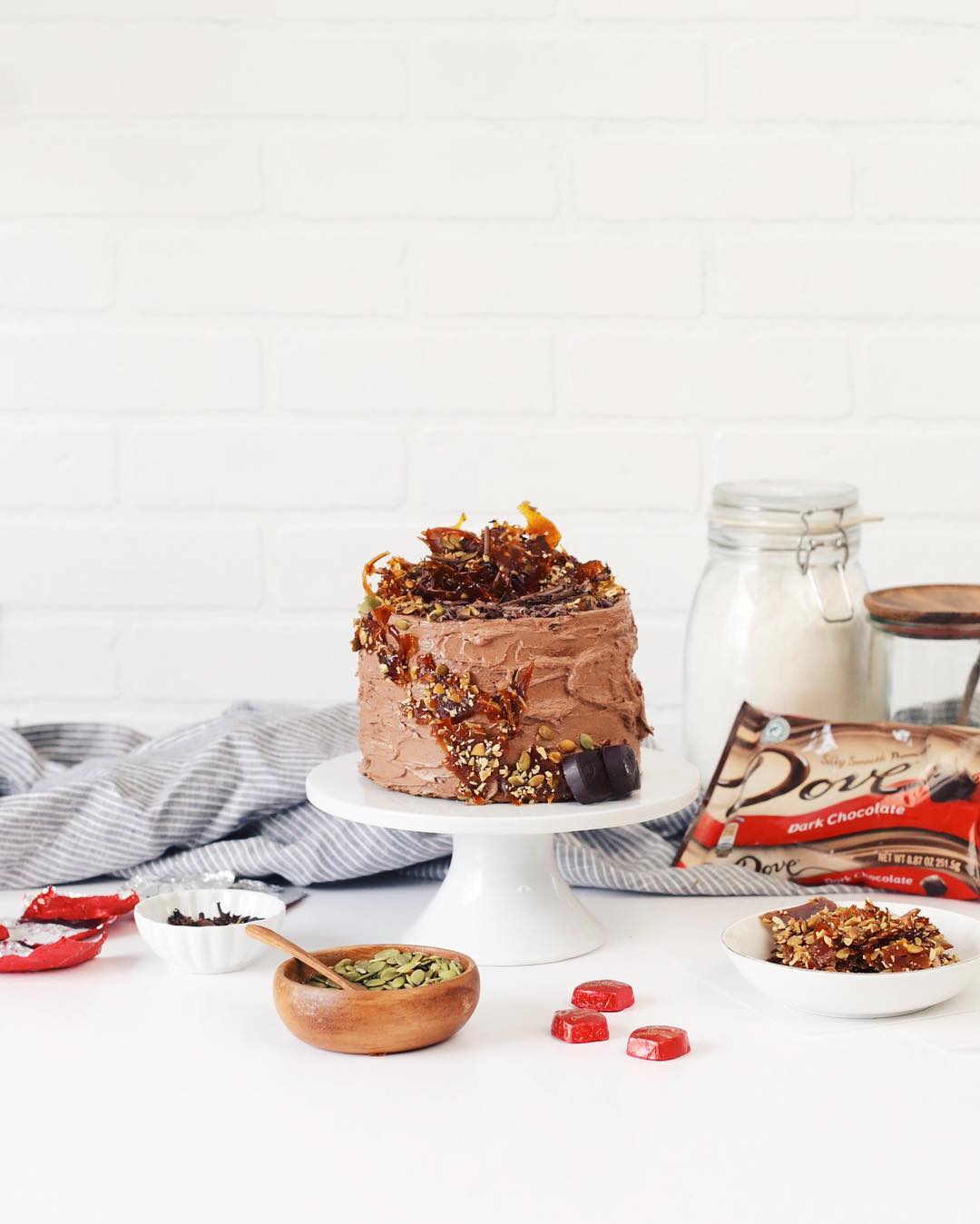 Photo by Julie Lee
Now that you've learned all this, we can go to photo post processing.
How To Edit Food Pictures
Talking about an Instagram profile, most of the processing will be done on a smartphone by using different apps. Few people now use only Instagram filters and nothing more. Usually, before that photographers do the primary processing, and then they decide use filters or not.
So what apps are best for this?
Let's together review several programs that compete for the best food photo editing app.
1.Pixelmator
A fairly powerful photo-processing program. It gives you a possibility to:
- Use filters, effects, make collages, add text to the photo;
- Use professional-level correction tools;
-The ability to draw on the canvas
- Layer styles
- Of course, use professional tools for retouching and more.
Learn more about its opportunities here Pixelmator for Iphone Overview
2. Snapseed
A free app to edit photos on a phone or tablet that Google created. Features and capabilities... So, it's so much better to see them on the app page right away, because the list is really big. Editing food photos becomes much easier with it!
More about it here Best Photo Editing App! - How To Edit Pictures - Snapseed Review
3. MOLDIV
First, you can use this application to create stunning collages. But that's not the only advantage. A quick but good review of this app you will find here MOLDIV | AZ Technology
4. VSCO
VSCO has proven to be a very good developer of film profiles for Lightroom and Photoshop. Now it's also availablefor smartphones.
The app is perfect for styling your pictures as it was taken with old non-digital camera. It is important to note very high quality of the filters. You can change the filter power. In addition to applying a filter, standard tools are available for working with exposure, color, vignetting, and other features.
Although this app is used to edit selfie and landscapes, it will also be good for editing food photography.
Learn more about it in the VSCOcam Review - Photo Editing App For Iphone And Ipad
5. Mextures
Just like others, Mextures has a setup panel with tools to process and simulate film, but they are quite simple. The point is that this app is concentrated on texture maps, there are more than 120 of them.
Editing food photography can turn into a really interesting thing with this app.
It's worth noting that all the filters are different in form, which makes diversity. Working with layers in this app is identical to working in Photoshop. You can control texture transparency and turn it off through the layers panel.
For more information, watch Mextures iPhone App Review
This application will definitely help you to make your background more interesting.
Which of these applications is the best food photo editing app - you decide.
Especially as there are many other apps, it would take forever to make full list of them. The demand for them is greater than ever, because it is impossible to have a smartphone with a good camera and don't have any photo post processing applications. As a result, developers continue to surprise us every year with a new and cool applications specifically for photo processing.
So here we go to the topic, how to work with pictures on the PC.
How To Edit Food Photos In Photoshop
We'll discuss the editing process step by step for any photo, whether it's a dish, a fruit or a beverage.
1. Crop a shot
There is a crop function in any photo editor. When you select a framing tool, usually a frame appears in the image that you can drag to the corners or sides. In that way, you can choose what is going to be in picture and what's left of the frame. You can also rotate the picture here.
2. Turning Traces Of Dust Or Other Spots
Sometimes it is happened to be a little dark speck in the picture. Where did it come from? It could be simply dust. Or something got on the lens during the shooting meal, or the cooking.
In Photoshop, this can easily be removed with the Healing Brush.
3. Levels and Curves
How to edit food pictures using levels and curves? To make a picture more interesting, sometimes it's worth increasing contrast, making light areas of the image lighter and dark ones even darker.
The simplest tool for doing this is Levels, more complex - Curves.
In fact, curves are not much more complex then levels, but this tool requires an understanding of what you are doing.
The levels are simple. In fact, you just need to look at the histogram and drag the leftmost triangle (black) to the left, and the right (white) to the right-hand side. Or, use the Auto Levels feature.
Before we go any further, you'll also be asked to watch training videos about how to edit food photos in photoshop, which was filmed by tutvid. You can find it clicking by the following link How To Touch Food (Burger) With Adobe Photoshop
Let's continue with our step-by-step instruction.
4. Increased saturation
The next step is to increase the color saturation. The picture will become more juicy and brighter.
The most important thing here is not to overdo it. A picture with bright screaming colors looks unnatural and cheap.
If you feel that you are unable to convey the colors of your photos in the same way you would like to, then contact the photo color correction services
Let your picture be perfect!
5. Sharpening
Most digital pictures require sharpening. How much you should sharpen depends on a particular photo and its purpose.
Remember that here are typical and basic food photography editing tips for any kind of photo. You can do with photography what you want: Change colors, add objects, blur the background and so on. Just keep in mind that a food photo should look natural. For more information about working with Photoshop you can find on 2017 Best Photoshop Tutorial On Youtube
Let's take a look at a few more Instagram profiles, which will serve as an excellent example and perhaps an inspiration.
At the beginning of this article, we met four of them. Let us continue with our list.
5. Marcus Nilsson
He is not just an excellent food photographer, but also a magnificent chef! He had been working in the restaurant business for 10 years before he became a photographer.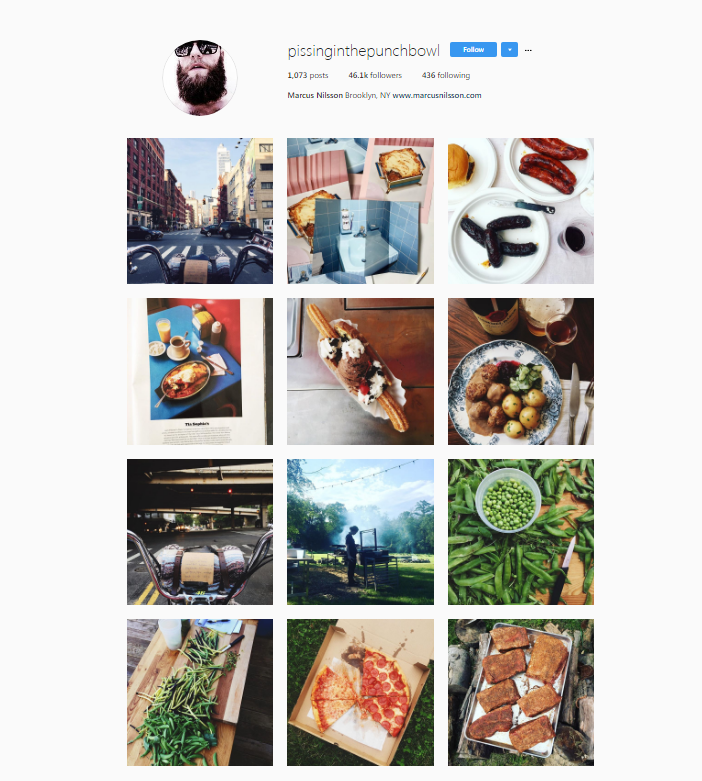 You can find him on Instagram as @pissinginthepunchbowl
6. Ida Skivenes
This wonderful and incredibly creative photographer is from Norway. Every photo of food taken by her is very cute. She just perfectly does these little compositions of food.
Visit her Instagram (@idafrosk) and you will definitely enjoy it. She certainly knows perfectly all about editing food photos.
7. Marte Marie Forsberg
A very talented Norwegian photographer. On her Instagram (@marte_marie_forsberg), you will find not only elegant photos of food, but also different landscapes and still-lives of ordinary life that are not ordinary at all.
All of her photos are in the same style and include similar shades of colors.
8. Julie Lee
You can find her on Instagram as @julieskitchen. Oh, you fall in love with her pictures immediately! They're incredibly tasty and beautiful. See for yourself!
By the way, even if each of them cannot personally give you the food photography editing tips, you'll learn a lot from just watching their pictures!
Time to summarize. In this article, you've made acquaintance with the eight most popular food photographers, learned about various smartphone apps for photo editing. What's next? Oh, yes, well, we have learned something useful about the composition of a photograph, and we've also talked about equipment for food photographer. We also remembered how to edit food photos in photoshop by repeating the basic steps. Nothing left, right? Believe in yourself, and do not be afraid to set new goals, more details about it here Photography Challenges - Do Need Them?
Wish your delicious successes!
Do you like the article? Please feel free to share it via your social accounts.
---
Pay attention this photography blog which does not require credit for the pictures and photo post production examples listed here . All photographs used in the article are only copyright to their respectful creators . These shots posted as a big admiration of portfolio and photo retouching talent the experienced rt masters have . If you found the photo on this post that is yours and do not want to be promoted on our website , please do not hesitate to write us via online chat on your right and it will be quickly deleted .
---
Rate the article!
The article's rating:
---
You comments or questions are welcome; please share your opinion on the topic.
Use Facebook:
Use Disqus: