Do you know the most expensive photo in the world?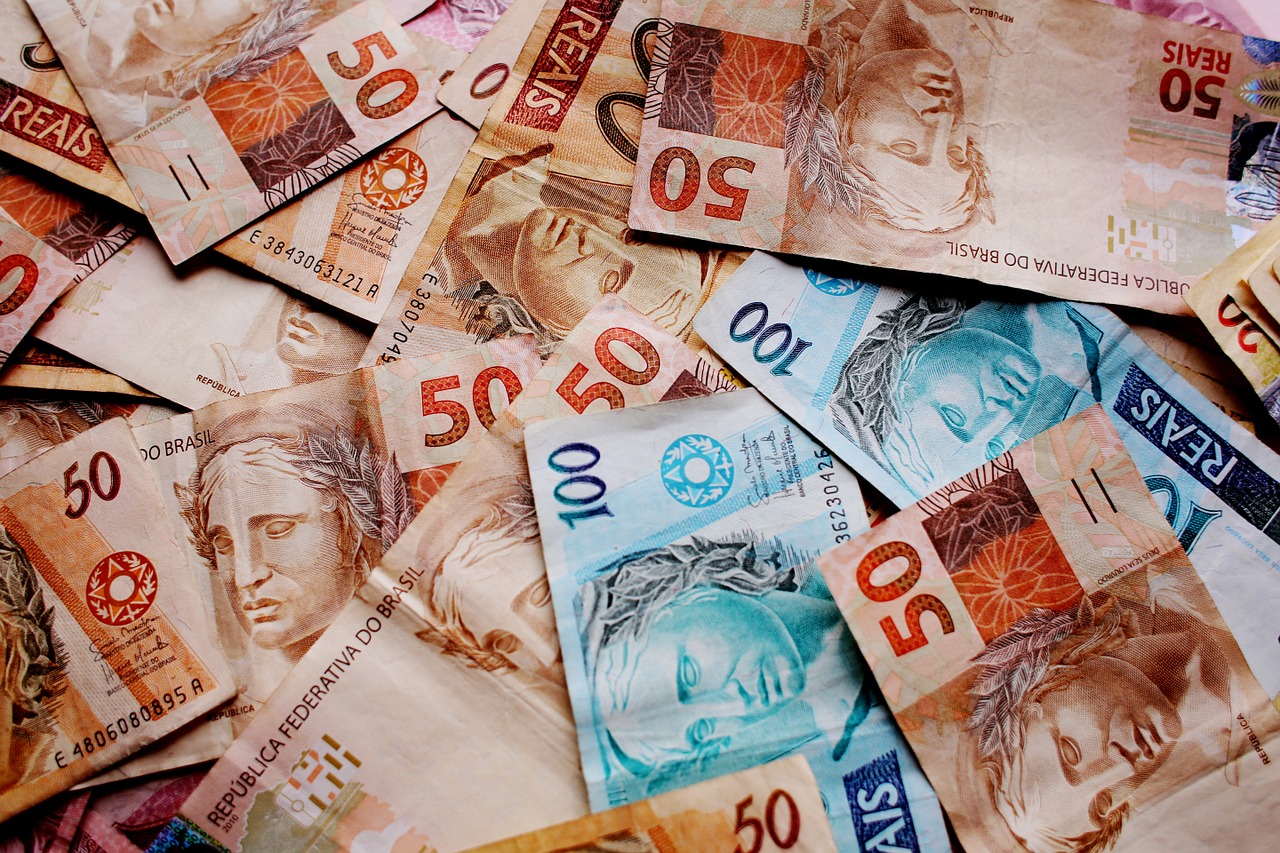 The most luxurious photos always cause curiosity and surprise. Part of them need to be shown at the galleries, but the popularity of another part of these masterpieces is absolutely incomprehensible. What makes buyers pay such big sums of money for these shots? Let's describe it in this article. We suggest you reading this article about the 10 most exclusive photos in the world.
1.The most expensive photograph is made by Peter Lik "Phantom" (2014) - $6,5 million
Source: http://www.lik.com/
An outstanding Australian professional photographer, Peter Lik, has officially made art history by selling the most expensive picture ever. The photo you see was made in the Southwestern region of the United States, where he is frequently drawn to Arizona's Antelope Canyon - a slot canyon carved out by natural flowing water over the course of millions of years. It is here, in a subterranean cavern, that Peter captured "Phantom" - a striking, B&W depiction of a ghostlike symbol.
"The purpose of my photos - to imprint force of nature" - Peter says. "Phantom" is the black-and-white version of a photo under the name "Ghost". Here the canyon of the Antelope (State of Arizona) is imprinted, and "ghost" is the dust which is turned in a ray of light.
2. Andreas Gursky most expensive photograph "Rhein II"(1999) — $4,3 million
Source: https://en.wikipedia.org/wiki/Rhein_II
A German photographer Andreas Gursky is famous for large-format pictures of architecture and landscapes. This shooter makes large-scale, color photographs distinctive for their incisive and critical look at the effect of capitalism and globalization on contemporary life.
In 1999 he took a series of six photos of Rein, where the biggest and the best-known of them became "Rhine II". The print may be Plexiglass-mounted, signed, and gigantic (it's nearly 12 feet wide), but the price had many people scratching their heads.
3. Another most expensive photograph sold is captured by Richard Prince "Spiritual America" (1981) — $3,9 million
Source: https://consuelarusuphotography.wordpress.com/2014/03/09/
An American painter and photographer's work "Spiritual America" featured Garry Gross's photo of Brooke Shields at the age of ten, standing in a bathtub, as an allusion to precocious sexuality and to the Alfred Stieglitz photograph by the same name. Prince's Spiritual America is recognized internationally and has been exhibited many times in New York and also Brussels, Paris and published in Brazil. Its treatment in England is baffling and damaging. This photo looks damaged in some way, because it's really a hard post-production work to enhance photo quality.
4. Cindy Sherman most expensive photograph "Untitled #96" (1981) - $3,8 million
Source: www.iheartberlin.de
Cindy Sherman is famous for her provocative self-portraits, which are very popular among the art collectors. She doesn't name the pictures, giving the audience an opportunity to think about the history of this photo. "Untitled #96" is one of 12 photos of the Centerfold series made at the request of the ArtForum magazine. The heroine in the picture (certainly, Sherman) is a teenager. She holds the announcements of acquaintances which are cut out from the newspaper, symbolizing a readiness to leave her childhood behind and an aspiration to find true love.
5. The list of expensive photographers includes Gilbert & George's photograph "To Her Majesty" (1973) ― $3,7 million
Source: www.lostateminor.com
Gilbert & George have carved a successful photography career by taking images that tackle various world topics. They sold their most expensive piece when their photograph For Her Majesty commanded $3.7 million at Sotheby's in June 2008.
6. Best selling photography list consists Jeff Wall's "Dead Troops Talk" (1992) - $3,6 million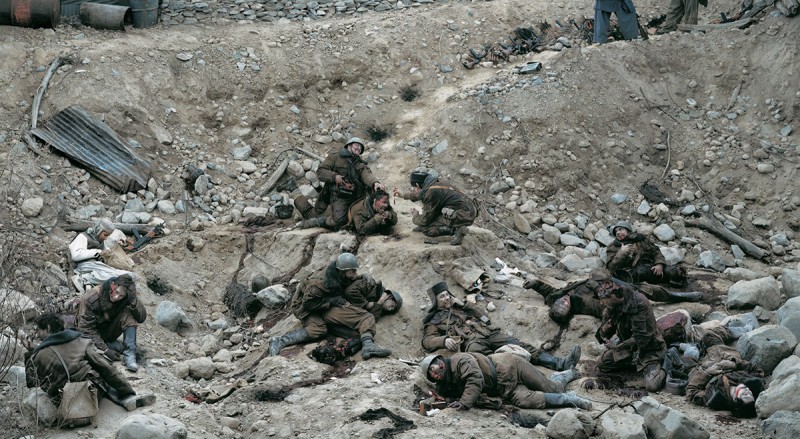 Source: www.greynotgrey.com
This shot is a vision after an ambush of a Red Army patrol, near Moqor, Afghanistan, winter 1986. For this picture, Wall chose to depict the grisly ambush of a Russian contingent during the 1988 Soviet invasion of Afghanistan. However it was made in the studio, and people on it are the actors. A Canadian photographer Jeff Wall wasn't in Afghanistan.
"My "Dead Troops Talk" is not the comment to the Afghan war - the author says. - I just wanted to create an image on which the died soldiers talk with each other, I don't know why".
7. Andreas Gursky most expensive photo is "99 Cent II Diptychon" (2001) - $3,3 million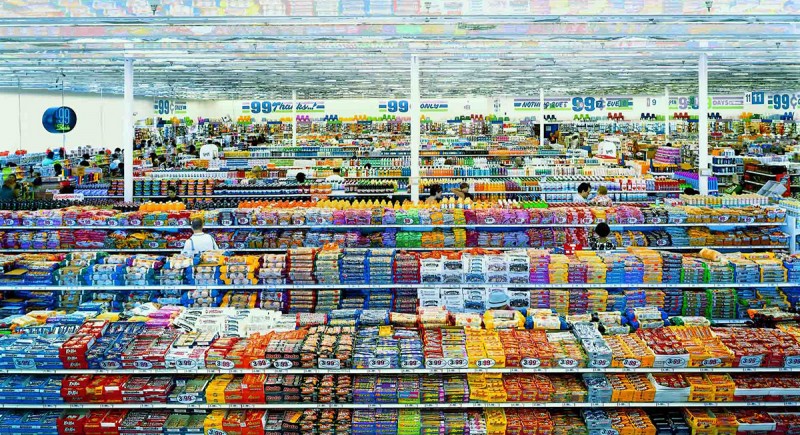 Source: thesegunsdontquit.wordpress.com
Here is another of Andreas Gursky's photos in this list. In fact, two photos from this well-known photographer are in the sixth spot. Both photos show a supermarket of numerous goods being sold, but the shooter heavily modified both works. Both works, which are very costly, measured almost seven by 11 feet. The first, which he called 99 Cent II, was the first photo to have been sold for more than three million dollars back in 2007.
8. Richard Prince "Untitled (Cowboy)" (2000) — $3 million
Source: www.metmuseum.org
The photographer's interest in art began while working in the publishing house Time, Inc., where his task was to cut diverse articles from different magazines which were required by the authors. As a result, only illustrations and advertising was left, and viewing the page by the page, you might find only the pictures. "Cowboy" is a photo of the photo, the copy of an advertising page in which Prince's hobby for the American archetypes was realized.
An unknown cowboy was photographed in action, as he uses his rope to catch a horse.This shot, complete with an amazing backdrop of a clear bright sky and disheveled clouds, earned famous photographer Richard Prince a cool 3.4 million dollars and took place at the world top 10 photos.
9. Cindy Sherman "Untitled Film Still #48" (1979) - $2,9 million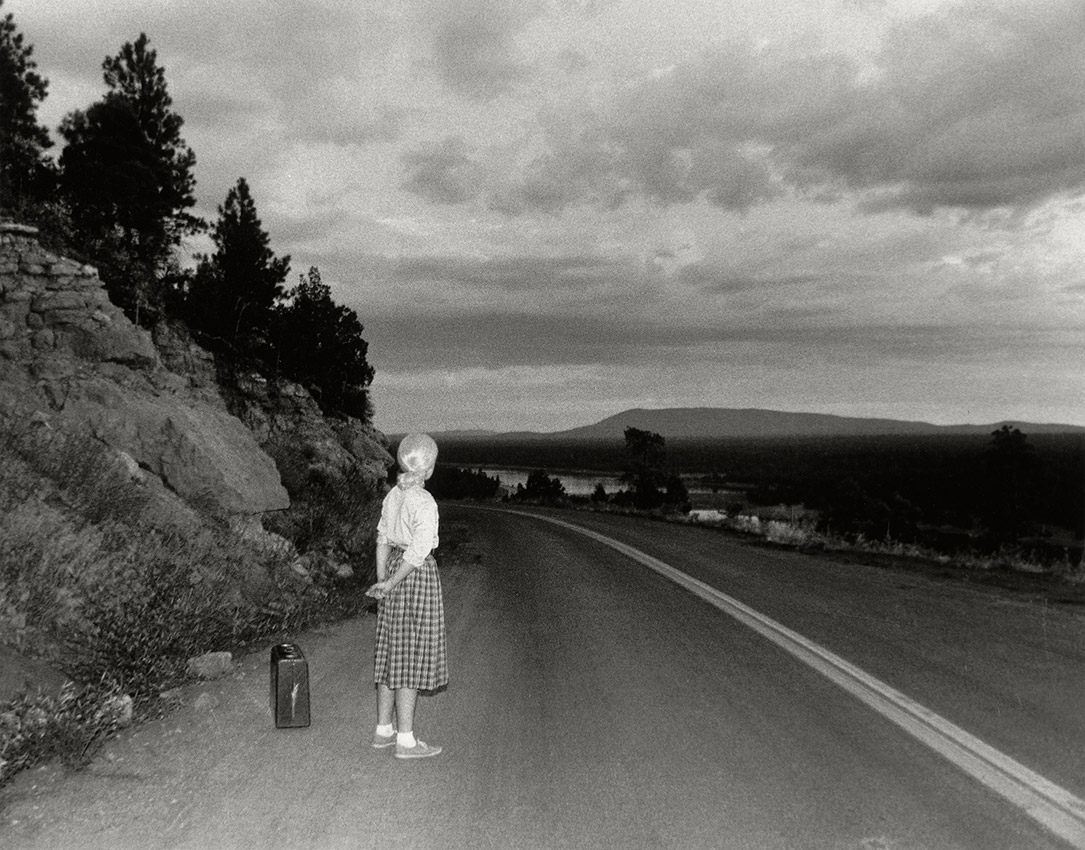 Source: www.markrichardson.org
Cynthia Morris "Cindy" Sherman is an American shooter and film director, best known for her conceptual portraits. The series Untitled Film Stills, 1977–1980, with which Cindy Sherman achieved international recognition, consists of 69 black-and-white photographs. The artist poses in different roles and settings (streets, yards, pools, beaches, and interiors), producing a result reminiscent of stills typical of Italian neorealism or American film noir of the 1940s, 1950s and 1960s.
10. Edward Steichen "The Pond - Moonlight" (1904) - $2,9 million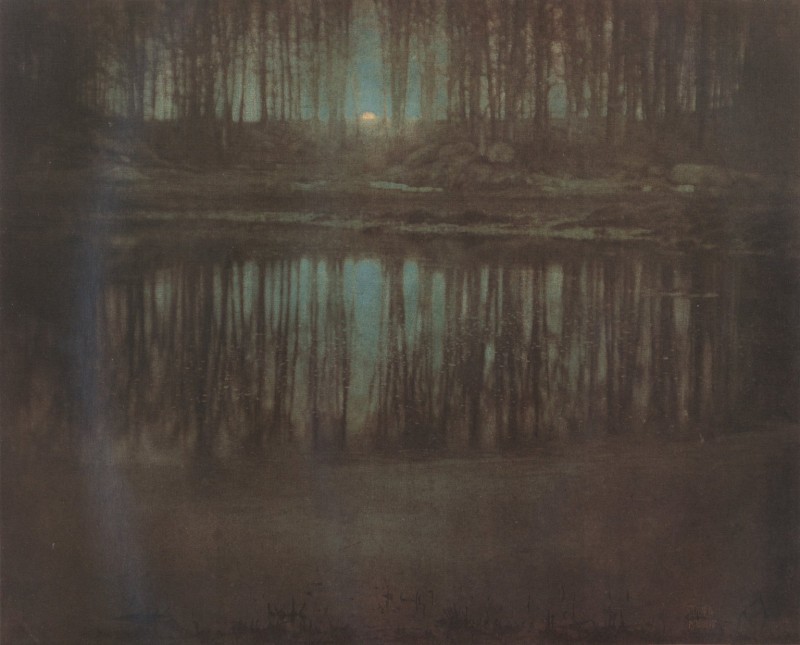 Source: en.wikipedia.org
The picture "Moonlight" was captured by a popular American shooter - Edward Steichen in the city of angles, New York, in 1904. This famous and exceptional image depicts a forest sitting across from a pond, with the moon just barely visible through the dark trees.
This shot is so widespread by aficionados in the photography society, the reason why is not only the fact it is one of the first color images; it is also among the first color photos that were broadly distributed. It is also very noticeable thanks to its exceptionality. There are only 3 varieties of this photograph; nobody knows why the value of each photo prominently increased.
Today, everywhere you can meet people shooting tons of photos just by clicking on their smartphone or a DSL camera. Then all you need is just to add a little bit of magic of photo editing work and presto! It means that our generation doesn't pay too much attention to photographs which were very famous even a few years ago. Tablets and smartphones can take incredible pictures of high quality like what you can observe in our previous blog post about best Instagram photographers.
Our photo retouching service really understands that some pictures illustrated in this list can astonish you by the amount of money they were sold for. But one great lesson is that the symbolism and meaning of a photo can sometimes become more significant than its visual features. A shot is meant to challenge one's thinking and instigate discussion; it is safe to say that all of these pictures achieve that.
Do you like the article? Please feel free to share it via your social accounts.
---
Pay attention this photography blog which does not require credit for the pictures and photo post production examples listed here . All photographs used in the article are only copyright to their respectful creators . These shots posted as a big admiration of portfolio and photo retouching talent the experienced rt masters have . If you found the photo on this post that is yours and do not want to be promoted on our website , please do not hesitate to write us via online chat on your right and it will be quickly deleted .
---
Rate the article!
The article's rating:
---
You comments or questions are welcome; please share your opinion on the topic.
Use Facebook:
Use Disqus: