5 Simple Tips How To Improve Your Photos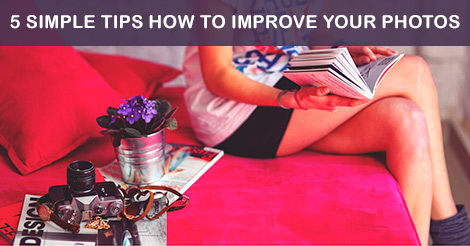 Probably many of you would like to receive good and qualitative pictures without buying professional equipment. That`s why you should know some simple secrets which will help you to receive the pictures you dream. We can`t claim that all your pictures will become better, however we can say with 100% confidence that you will begin receiving good photos more often than you received them before reading this article.
That`s a given, that nowadays YouTube gives access to a large number of free training videos – more than 400 000 by our calculations. Subscribe to channels which have the photo shooting lessons. They will help you to master base of photographing, to develop exclusive skills in Photoshop and how to use the major tools in the photo. Do not just copy others` works. Create the individual style which will distinguish you from the other photographers. Retouching your pictures concentrate on each separate pixel. Your image is worth to look perfectly.
Improve Photo TIP №1: Composition. Golden Rule of Thirds
The rule of thirds is a powerful composite method of photos transformation to more interesting and dynamic ones. This rule states that the image looks more interesting when the subjects represented on it or its zones are divided by the imagined lines which break the image down into thirds in vertical and horizontal directions. Actually it is extremely amusing that the rule, which looks as mathematical one, can be applied to something so various and subjective as the picture. But it works, besides, surprisingly well. The rule of thirds is entirely devoted to an aesthetic compromise. It often creates feeling of balance without making a picture excessively static and without overloading the picture.
What if there is nothing to level on thirds? Though it happens rare, it can exist on extremely abstract compositions. However, `the spirit of the rule` can still be applied: having given a picture feeling of balance, without having made it excessively static and stiffened.
Improve Photo TIP №2: Do remember about Depth of Field
Typically we hear from any level photographers the complaint such as: `my images do not have sharpness` and `I can`t catch focus`. Many of them accuse their equipment and really there are many cases in which the equipment is guilty. To receive desirable photos follow the next advices. You should configure a dioptry to bigger amendment but if you still need more corrections, replace dioptries in DSLR/SLR cameras of any producers in the range from-5 to +4. Understand your viewing lens. Advantage of lenses of higher level is that they allow full manual control, even when the auto focus is recorded. It is simple to find `the best line` on a portrait photo, it can be eyes, lines or color between the contrasting shirt and a suit. Everything that is in contrast will help the auto focus to work better and quicker.
Improve Photo TIP №3: Set up your Photo camera for Exposure Bracketing
In the photo art there are bases which are impossible not to learn to make qualitative and beautiful pictures. The understanding of the shot exposition is very important: time exposure correctly, a diaphragm and sensitivity. These things form the exposition and knowing them is necessary for receiving good shots. Correct exposure is a great combination of ISO, shutter speed, aperture and lens settings.
Together values of endurance and a diaphragm form exposition couple (an optimum, correct combination of endurance and a diaphragm for these conditions of lighting). In each DSLR camera there are shutter priority AE and a diaphragm. If you need to shoot the movement, use the shutter priority. FixThePhoto recommend you photographing in Aperture Priority Mode and at the lowest ISO setting which then provides you with the appropriate exposure time.
Improve Photo TIP №4: Add a color spot to a picture
The color spot focuses attention of the viewer on the composition of your picture. It needs to be used very neat, otherwise you risk not to attract attention but to distract it. Anything that occurs to you may be the color spot, starting from a hat, a dress, a bunch of light/color, a mug, body art.
Color can become very effective graphic remedy. As well as bright red colors, blue and juicy green give the same effect at a shot, especially if they are depicted on neutrally painted background. But the quality of color on your photo also depends on your camera. If you are a beginning photographer and face the problem of choosing a new camera, follow our blog tech tips: How To Choose The Best Camera For An Amateur Photographer.
Sometimes it happens your photographs are damaged and you don't know how to restore photos? Our professional editors are always ready to help with this issue.
Improve Photo TIP №5: Choose the right place and environment
In order to choose a place for shooting, it is necessary to define style in which you are going to work. Whether it will be it a photo shoot, or usual shooting of a landscape, think about lighting and time of day in advance. Also it is desirable to choose deserted places because flashing people in a shot and even their presence can simply confuse you and prevent the natural course of creative process. Of course, it is possible to make background removal or replacement during the retouching, but the better conditions you start from the higher quality of the photos you get with fewer efforts.
In a sunny day, excellent bright pictures will turn out. If it is wedding shooting, it is better to photograph on the open area, on a beach or a shore drive. If the day is windy, do not be upset, in such weather you will receive beautiful photos with fluttering clothes or hair. In the fall, the park or the square will be a successful place for shooting, in time when leaves on trees haven`t fallen down up to the end yet, but already multi-colored carpet lies under feet. Keep shooting and practicing at your own pace and time, allow errors and fail forward to success. Probably you still will need some wedding photo retouching to create a small masterpiece for great emotions.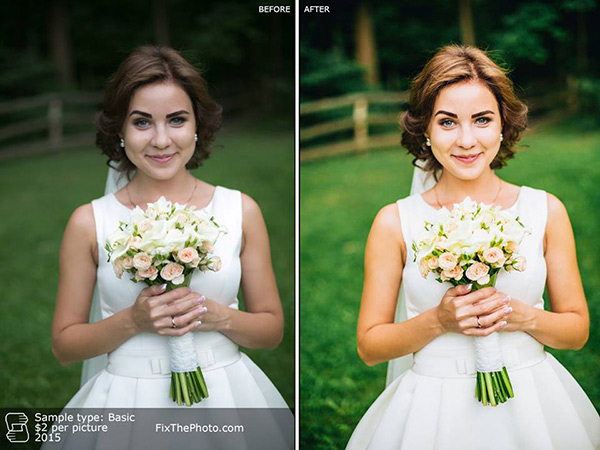 It happens that after drawing the correct make-up, selection of flowers or clothes and a suitable background the result is not as good as you wanted. It seems the camera to be adjusted in correct way, and the interesting background is chosen, but you did not receive the expected result. You can always use our photo post production services.
Make your best photos!
Do you like the article? Please feel free to share it via your social accounts.
---
Pay attention this photography blog which does not require credit for the pictures and photo post production examples listed here . All photographs used in the article are only copyright to their respectful creators . These shots posted as a big admiration of portfolio and photo retouching talent the experienced rt masters have . If you found the photo on this post that is yours and do not want to be promoted on our website , please do not hesitate to write us via online chat on your right and it will be quickly deleted .
---
Rate the article!
The article's rating:
---
You comments or questions are welcome; please share your opinion on the topic.
Use Facebook:
Use Disqus: