Professional Photo Editing > Free Photoshop Brushes > Free Photoshop Heart Brushes
Free Photoshop Heart Brushes
Free Photoshop heart brushes are a tool which helps create a romantic mood in the photo, design an original greeting card or a cute invitation. If you have at least basic Photoshop skills, using Photoshop brushes will not be difficult for you. If you are looking for some special tricks to make your projects more eye-catching, interesting and attractive, download the entire collection of free heart photoshop brushes, which consists of 10 originally painted heart brushes. Experiment, combine, change colors and sizes, so you`ll definitely achieve creative and amazing results.
---
10 Free Heart Photoshop Brushes Bundle :
---
Free Heart Brushes Photoshop
What is one of the best Photoshop instruments for all designers? For sure, a good collection of Photoshop brushes. There are so many brushes collections on the web, but it's very difficult to find professional ones without spam and of high resolution. FixThePhoto's free Photoshop heart brushes collection includes 10 professionally created plugins for creative and fast photo manipulations and designing. Every photographer or designer, either amateur or professional can use them over and over in developing various projects.
---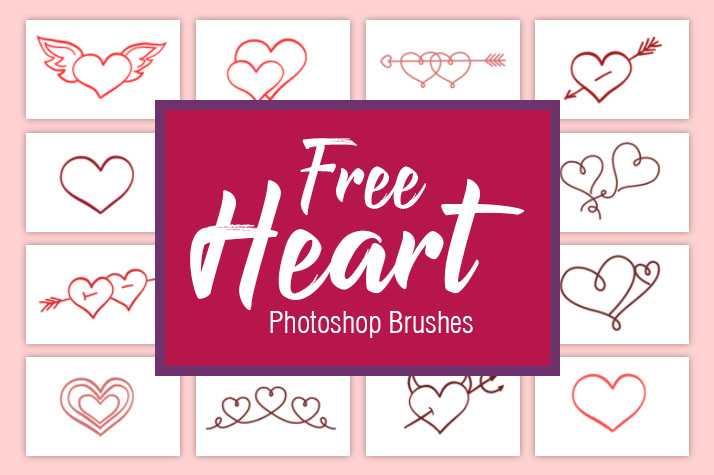 Heart Brushes Photoshop Free
• 10 Free Photoshop heart brushes
• Created in .abr format
• Are compatible with Photoshop 4-6
• Work with RAW and JPG format photos
• Instant download
Free Heart Brush Photoshop
---
PS Heart Brush #1
St Valentine`s day brings a lot of romantic moments and fills your heart with some wonder. The best way to create the mood of this holiday is to share your feeling with people who you love. Create a unique, warm and caring greeting card with a help of the first plugin of the free heart Photoshop brushes collection.
Brush's group: Free Photoshop Heart Brushes
Tips: Use this Photoshop brush to design greeting cards and wedding invitations.