Professional Photo Editing > Free Photoshop Brushes > Free Photoshop Star Brushes
Free Star Brushes Photoshop
If you're looking for free star brushes Photoshop that are of high quality and look realistic, download these 10 free brushes for creative photo retouching. Let these image retouching plug-ins be your helping hand while editing night photographs on a regular basis. The Photoshop Star brushes free are very easy to install, customize and use even if you are not a professional Photoshop user.
The following 10 free Star Photoshop brushes are designed in a realistic manner for you to depict all the beauty of the night sky. Select the most suitable free Photoshop Star brush to put the final touches on your images.
---
Free Photoshop Star Brushes Bundle :
---
Star Brushes Photoshop Free
People often look up at the sky, pensively gazing into the colorful star myriads and admiring the beauty of the night. Sometimes, there are no stars at all, but you wish to get a beautiful photo to share in social networks, post on the website or add to your photography portfolio. For such a case, you may simply download free Photoshop Star brushes and don't wait for a suitable moment.
In fact, stars may serve as a beautiful decoration to make your pictures more interesting and eye-catching. That's the main reason to download Photoshop Star brushes free collection and enjoy the marvelous results. All in all, starts may "save" the most unsuccessful photo and make it magical. Besides, if you are engaged in the digital design, you'll be able to create the most spectacular projects. So, enjoy the process with these professional free Star brushes Photoshop.
Decorate your images, postcards, banners, websites, business cards and anything you wish, using these Star brushes. Attract more clients and impress them with a non-standard approach to regular tasks. Add a little magic to your works making them truly memorable.
---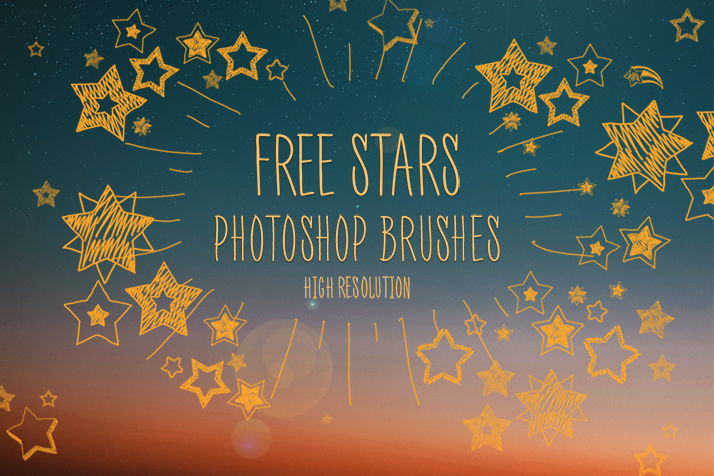 Free Star Photoshop Brushes
• The collection consists of 10 universal free Photoshop Star brushes
• Available in .ABR format
• You can use the brushes to enhance JPG and RAW images
• Photoshop 4-6 is used for convenient work
• The downloading takes several seconds
Free Photoshop Brushes Star
---
PS Brush #1
If you wish to add small stars to the background and bigger ones to the foreground, this free Photoshop Star brush is just what you need.
Brush's group: Free Star Brushes Photoshop
Tip: This tool is effective to make the background more dramatic and prominent.