Professional Photo Editing > Free Photoshop Brushes > Free Photoshop Flower Brushes
Flower Brushes Photoshop
FixThePhoto proposes you to install and use the excellent set of 10 free flower Photoshop brushes that are helpful for advanced or beginning photo retouchers and digital artists. The collection provides good examples of modern floral elements. The free flower brushes for Photoshop are similar to the natural blossom of poppies, lilies, roses, daisies, and other plants.
You are welcome to use any our brush flower Photoshop free, download it on your desktop with the whole packet and experiment with the floral designs. It is quick and takes only a few minutes. The process of downloading the free flower Photoshop brush on our website is quite convenient. You do not need any money or time for a long registration. Nowadays successful designers use various brushes to save their time and make their work more effective. The free flower brush for Photoshop is a simple instrument that helps make photos more beautiful, bright and unusual. Smooth lines and nice shapes of this collection transform usual graphic designs and ordinary photographs into excellent arts. They look pretty and underline the mood of summer, joy, love or holidays.
Such free flower Photoshop brushes are useful for decorating photos of pets and kids, love stories or creating elements of a wide range of websites. Thanks to a big variety of variants, the packet is interesting for all Photoshop fans. You can download it on your computer only in several seconds. Just try and open new opportunities.
---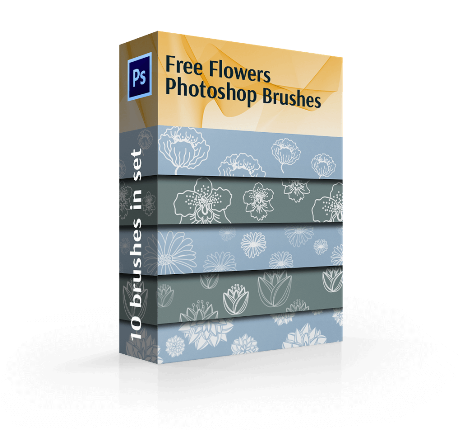 Flower Brushes Photoshop Free Bundle :
---
Free Flower Photoshop Brushes
Usage of such flower brushes Photoshop is free and enables graphic designers to draw popular floral patterns in a few seconds. They provide many opportunities for photographers that want to bring diversity in their works, create an interesting professional portfolio. The free Photoshop flower brushes are especially popular in the spring and summer seasons, as they can decorate outdoor photoshoots.
It is easy to find a free flower Photoshop brush according to size, shape or pattern that you need. The brushes can be used to create cards for the major holidays and events like birthdays, weddings and anniversaries. Designers can also use them to make banners, logotypes and other advertisements. You can manage their colors to make the free Photoshop flower brushes be more natural or bright.
---
Free Photoshop Flower Brushes
• 10 different brushes
• Ready to download in .abr format
• Created to Photoshop versions 4-6
• Suit for Raw or JPG formats
• Fast download
Free Flower Brushes for Photoshop
---
PS Flower Brush #1
The playful design of nice poppies with elegant wavy petals. Bulk flowers look really good on different backgrounds. You can use the free flower brush for Photoshop to create exciting cards or websites designs.
Brush's group: Flower Brushes Photoshop Free
Advice: This brush gives a beautiful effect on a black background. You can make the flowers pink, red or other bright colors.