Tattoo retouching - how to retouch skin professionally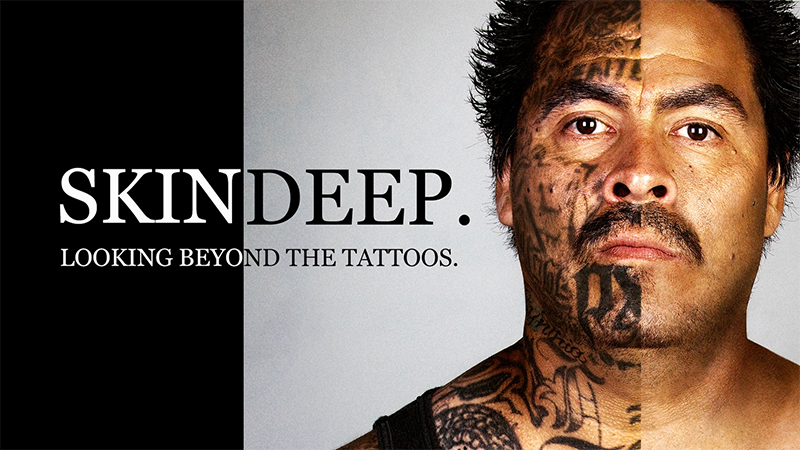 Every gang member must have impertinent and redoubtable and it is the first rule of criminal gangs. The impertinent look spikes fear into those around the criminalists. The members of Latin-American criminal gangs tattooed themselves entirely to reach this effect. But one day these gangs splits and their tattoos remain. The ex-gang member either live with them or try to get rid of them.
Steve Berton, the well-known photographer, decided to help ex-gang members to get rid of theirs tattoos with the help of portrait photo retouching in Photoshop. His project "Skin Deep" helps the ex-gang members to see how they would look without numerous of tattoos. They looked in wide-eyed astonishment. The effect was amazing. We prepare for your attention the most impressive shots of this project and tell you about it, how it was created and certainly, about the founder of it.
About the creator of the "Deep Skin" project.
Steven Burton is portrayed, fashion and advertising photographer from the United Kingdom. He is a self-taught photographer who was inspired by the works of Michael Roberts, Bruce Weber, and many others professional photographers. He has spent years, working hard, to achieve the result and become the photographer like he is today. Steven like to travel around the world, see new places, get to know customs and to be inspired by this time. He combines traveling and passion for photography. The remote spots attract his attention such as the Middle East, Asia, and Tibet. Steven works with such Non-Governmental Organizations as the UN, Homeboy Industries (in Los Angles) and GRS (in South Africa). The photographer lives between Miami and New York. Our photo editing service considers him to be in the list of the best photo editors in the world.
" I started this project to understand the effects tattoos have on people escaping the gangs, how they are judged by society and ultimately how they judge themselves. What I learned changed everything." - Steven Burton.
What is the project "Deep Skin" about?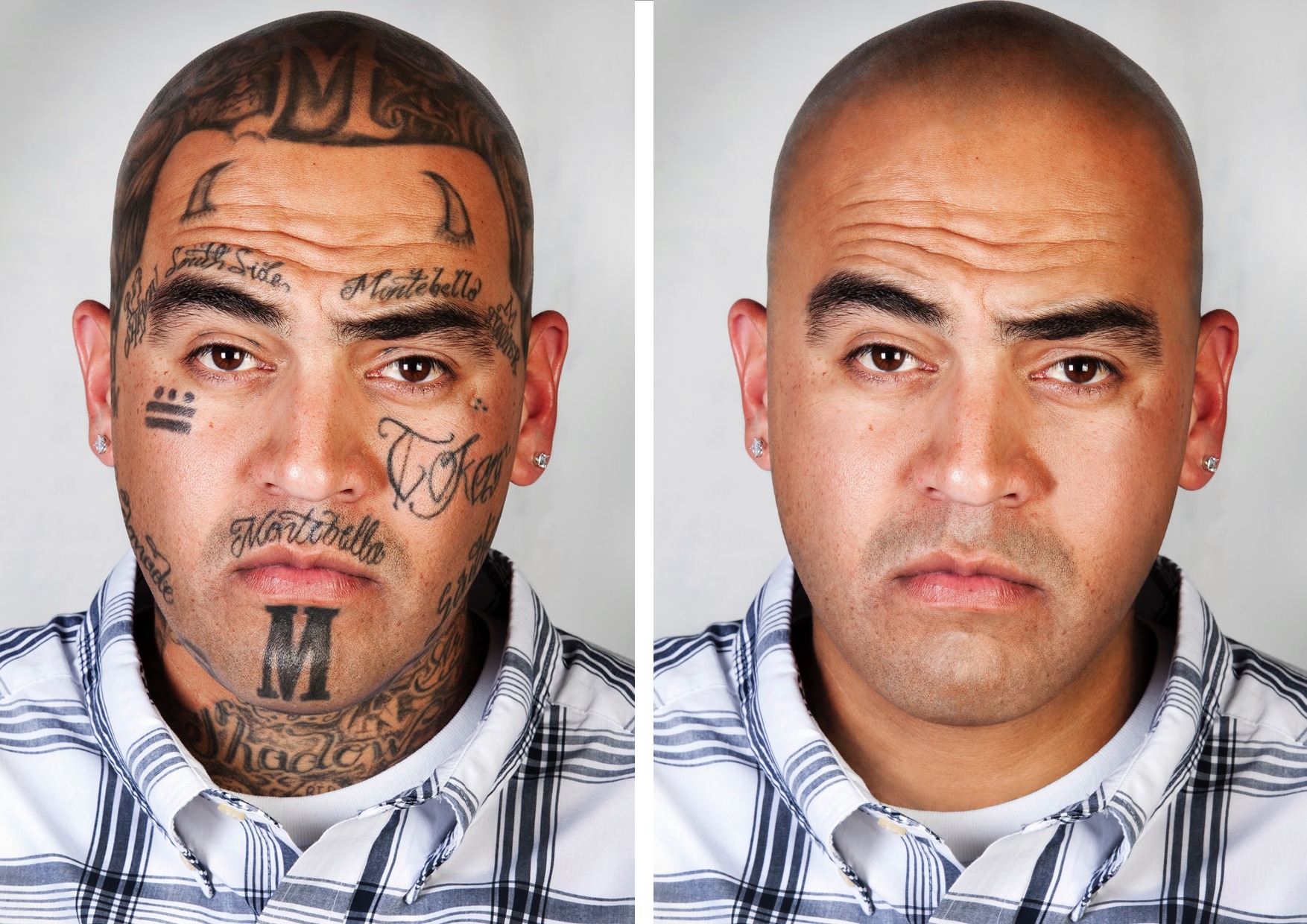 The project "Deep Skin" is the Steve Burton's brain child. His friend works in Homeboy Industrie and invites him to cooperate and see. Homeboy Industrie is program founded in Los Angeles which is intended to assist high-risk youth, former gang members and the recently incarcerated with a variety of free programs, such as legal services, mental health counseling, education classes, work-readiness training and employment services. The members of Homeboy Industries are involved in social works where they can get the necessary skill to find their place in the world. The Home Industries provides also tattoo removal, over 3000 each month.
He starts his project with the idea to capture entirely tattooed ex-gang members and remove the tattoos using digital retouching to show before and after shots. He was sure that the ex-criminalists haven't seen themselves without tattoos for ages. He understands that people consider the tattooed man and woman not as normal and judge them. He didn't just take photos, he also listened to their stories. Stories involving abuse, addiction, and unthinkable violence.
The creation of the book.
Steve Burton just started a Kickstarter to publish these stories in a book. He is going to collect everything in the book and publish it together with the Powerhouse Books(publishing company in New York). The shots and digital retouching have already completed after two years and over 400 hours of editing. The interviews have been prepared. The book will contain glossy, before and after pictures of the ex-gang criminalists.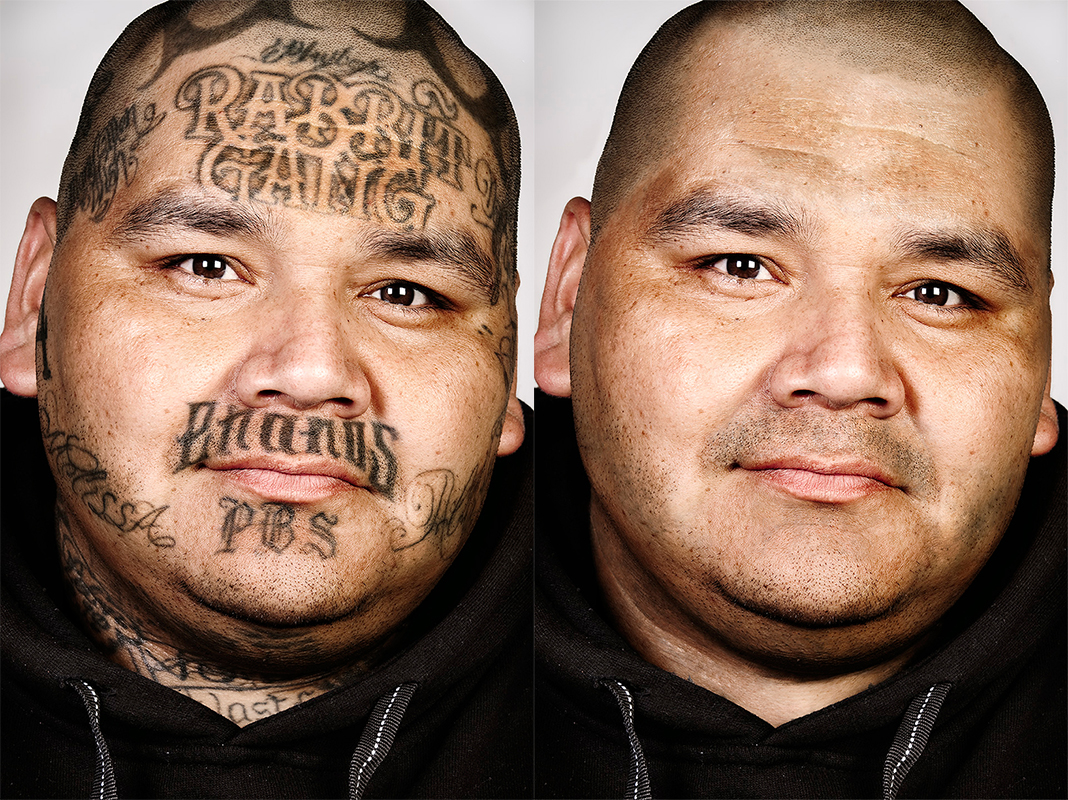 The photos of people who are outcast by nowadays society. Their impressions, feeling and own stories will be described in the book. They will share with readers the narratives of everyday struggle and how they are finding their place in the world. The book will contain 172 pictures. They have to finish design and some details, and the book will go to the production.
Steve Burton believes that his book will attract the attention of a wide circle of people. As gang members as ordinary readers. He expects that after reading they will change their minds and show their sympathy and comprehension. They are also humans as everyone of us. They are feeling and dreaming as we. The main idea of the book is that we can't judge by the cover.
The expression of urgent matters.
Everybody of the ex-gang has a story of his life. We prepared interviews a few ex-gang members, where they shared theirs emotions, feelings and describe the attitude of the other's people expressions in public. Their reactions are priceless.
Francisco Flores was really surprised as he saw before and after shots of him. He remembers himself without tattoo when he was 16. At the moment of the interview, he was 31 and he smiled through tears, looking at the shots. He had noticed the reaction of people before. Francisco affirmed he looks differently. Humans stare at him and judge.
Dennis Zamaran is an another ex-gang who shared his expressions. He was definitely amazed. Dennis' father was also involved in the gang. However, his father hated tattoos and when he would see him, he would say "You are a bad guy". Now, he has a little son and he doesn't want that for him. Dennis shared the situation during traveling by bus. He sat down and nobody wanted to sit next to him. It was awkward. They would rather stand up than sit next to him. Dennis wants to be a simple person.
Marcus Luna finds the shots of him without tattoos crazy. He compared the original photo with an edited photo in photoshop. Marcus described the tattooed man as arrogant and the other without tattoo looks human being. Now, he is on the way of tattoo removing.
It is enough even these three examples to see that we can't judge the person by his look. Everybody can go the wrong way, but it is important to stay a human inside. Steve Burton hopes that these photos will change your attitude to the tattooed people. After this project, we stop to judge them and what is more, the ex-gang members stop to judge themselves. Steve wants to get rid the world of stereotypes that makes the lives of the tattooed people quite harder.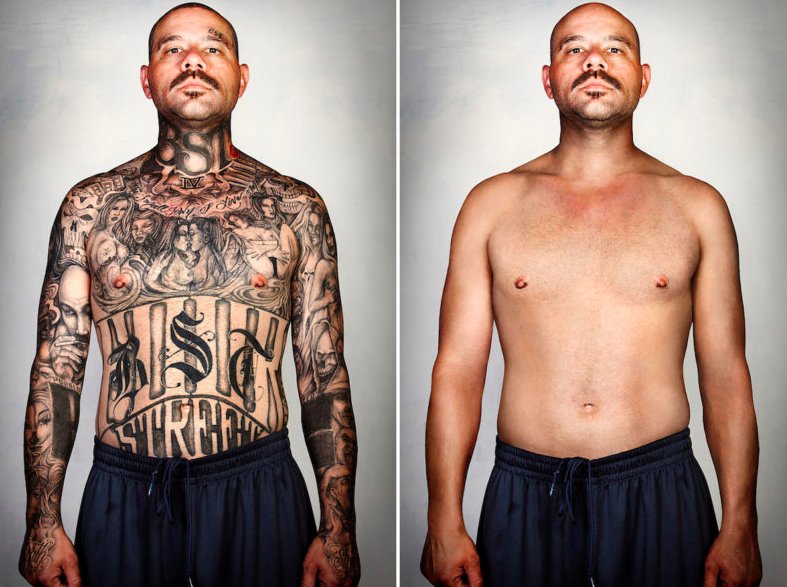 Through his project, Steve Burton could change the views of many people. He achieves the result using digital retouching to create this great difference between before and after portraits. The photo retouching makes the incredible work. The photos are breathtaking. We can't even imagine it.
The shots require a great deal of retouching to provide a perfect result. If you are interested in learning more about photography post processing services, read other articles in our blog and view our photo retouching portfolio.
Fix The Photo offers post production for photographers covering all genres of photography: wedding retouching, family photo editing, retouching headshots, product retouching, jewelry photo retouching, and real estate retouching.
You can outsource photo editing and count on the best photo retouching prices for:
If you are a photographer who is interested in getting more clients for his photography business, learn more how SEO services for photographers can help.
Do you like the article? Please feel free to share it via your social accounts.
---
Pay attention this photography blog which does not require credit for the pictures and photo post production examples listed here . All photographs used in the article are only copyright to their respectful creators . These shots posted as a big admiration of portfolio and photo retouching talent the experienced rt masters have . If you found the photo on this post that is yours and do not want to be promoted on our website , please do not hesitate to write us via online chat on your right and it will be quickly deleted .
---
Rate the article!
The article's rating:
---
You comments or questions are welcome; please share your opinion on the topic.
Use Facebook:
Use Disqus: