Real Estate Aerial Photography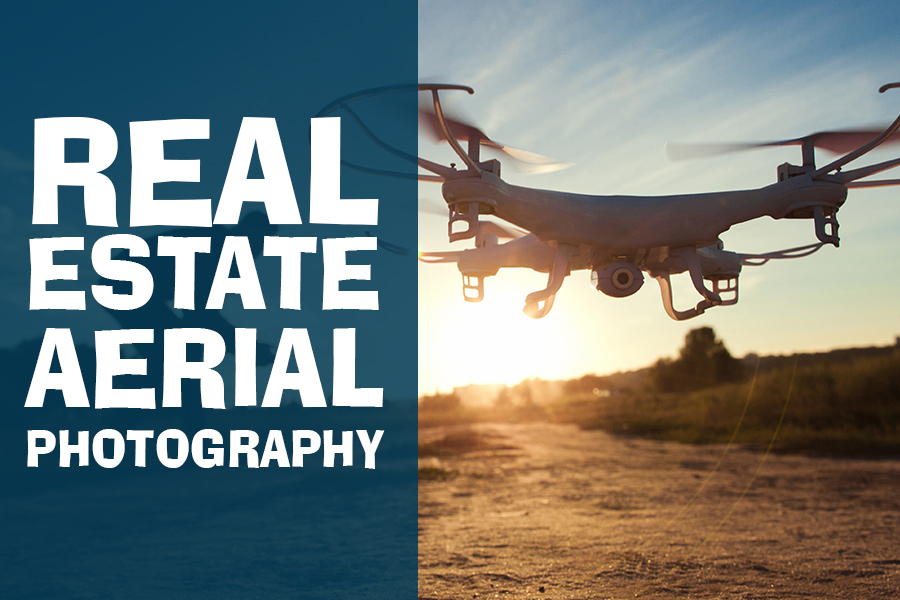 National Association of Realtors said that 80% of homeowners preferred to work with an agent who makes real estate aerial photography and walking tours in marketing their building. According to current drone real estate statistics, the global drone equipment market is likely to grow to approximately $20.6 billion in the following 5 years. You still haven't incorporated professional drones in your photography services yet, it's high time to begin.
---
Contents:
---
Risks and benefits of drones in real estate
The main goal of real estate aerial photography is using different kinds of drones for taking low-altitude and high end real estate photography both of the building and surroundings for private or commercial purposes. Various analysts are claiming that FAA drone ruling will result in a really dramatic growth of drone use in the real estate industry the current year. When the FAA handed out its first professional drone operator releases several years ago, 35% of drone users worked in real estate business.
The drone real estate statistics has stated that buildings featuring drone photographs sell about 68% faster than do those properties featuring only one option of non-aerial images. GPS-programmed effective flight paths in combination with automatic specialized point-of-interest targeting are a great plus for real estate photographer. The drones can capture the property's angles more dramatic, help to show the backyards, swimming pools, parks near the property.
Drone real estate photography pricing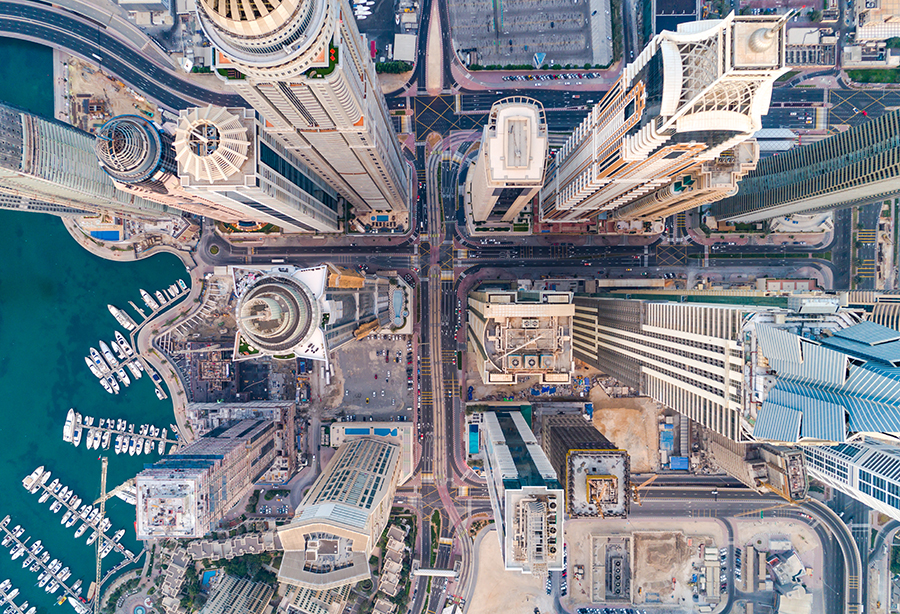 Professional drone photography is not cheap. In general, 1-10 still drone pictures are charged from $150 to $300. Short real estate drone videos, nearly 1-5 minutes, cost around $300 up to $1,000.
Gear you need for aerial photography
When it comes to gear, you can either buy a ready set of equipment or put together your own set yourself, using the information below.
Best drone for photography
Obviously, purchasing drone is a must. They come in different sizes: small – for versatile indoor shooting, larger ones- for outdoor shooting and professional ones. In case you can`t decide for sure what definite model of aerial photography drones to choose, try to estimate all considered models according to such criteria:
Battery life. Mind that a usual battery life for middle-price drones is from 15 to 20 minutes. For this, you will certainly require extra batteries (usually 2 items).
Gimbal. Surely, buying a drone with the camera gimbal will be beneficial for you. So, omit getting samples without this system. Gimbal is a specific option that helps a camera to be pointed in one direction no matter where a drone is moving. You will get steady and clear pictures without camera vibration.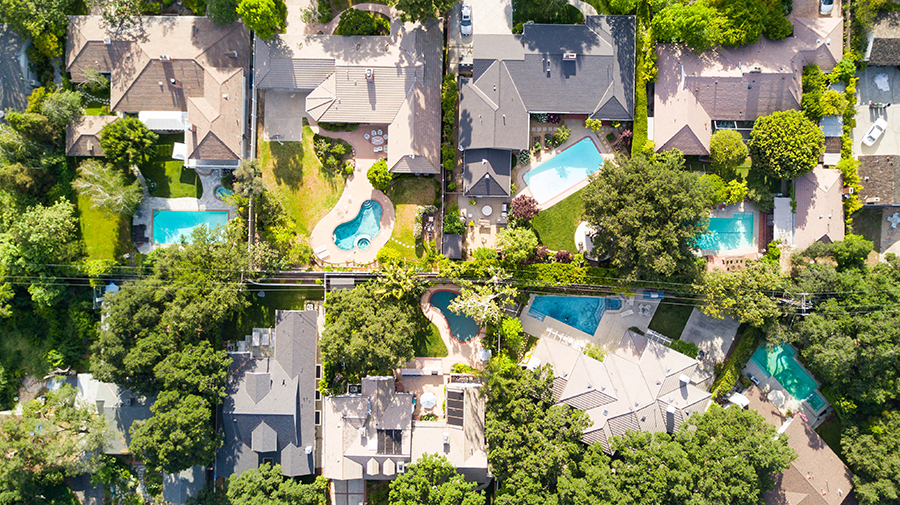 Smart flight modes. Getting professional real estate aerial photography simply means only two things: 1. Flying a drone and 2. Controlling a camera. Smart flight modes give you an opportunity to be concentrated only on getting pictures.
Quality of a camera. Despite being unusual and having the great ability to fly, the main function of drones is still photographing and video making. Thus, don`t forget about a high-quality and effective camera to distribute only high real estate drone services. Surely, to stay innovative, choose a camera that shoots 4K videos.
I recommend you to try three types of drones: a learner drone, intermediate and experienced drones.
Learner flying camera drone for sale
This type of flying drone is very useful if you just began real estate drone photography. It is cheap (near $60) and toy-like for you to learn in a profound way the basics of controlling the drone flight and not worrying about its crash. What else is needed? You can try popular SYMA X5C-1 RC Quadcopter.
The best drone for photography – intermediate level
DJI PHANTOM 4 PRO (about $1,220)
That is the worth-attention model in the line of DJII`s Phantom series with a Pro version. This sample has obstacle sensor, a mechanical shutter in combination with 4K camera, great specifications and ability to stay in the air for about 20 minutes and fly for 7 kilometers. Moreover, it enables to create slow motion full HD videos.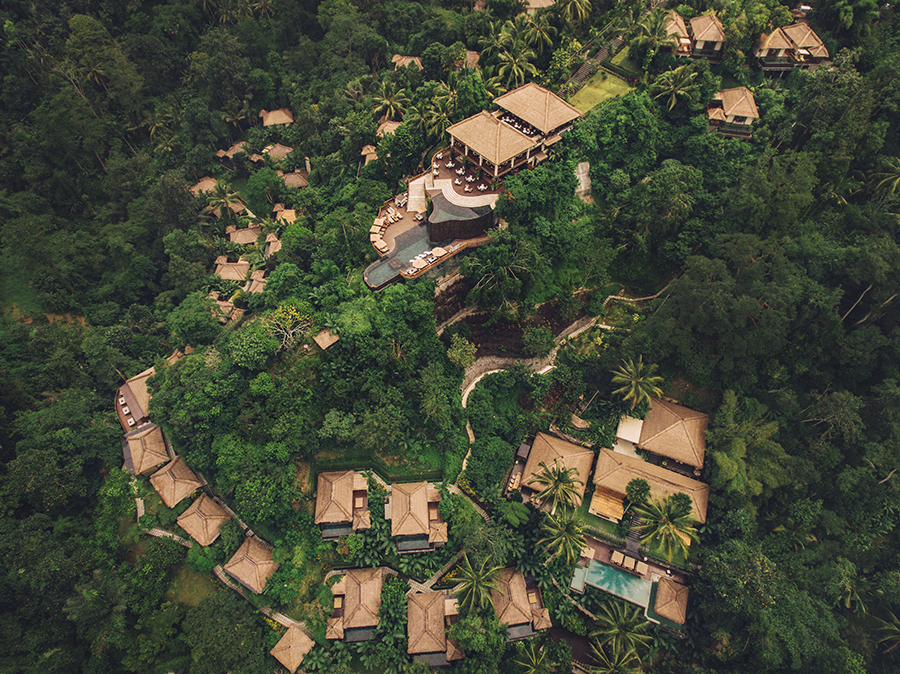 DJI PHANTOM 4 (about $778)
DJI Phantom 4 for sale is a great sample for being surely named as the best drone for aerial photography because it has 4K camera and can transmit live feed to your IOS or Android device with the help of the app that has become simpler for non-tech users.
The additional plus is battery life, as it can stay in the air for time period of about 23-25 minutes. Note that for best drones to buy this choice is great and don`t get mislead that other cheap(!) drone can fly more than half an hour. Very appreciate its collision system, but still it avoids obstacles only in the front, but not from its sides.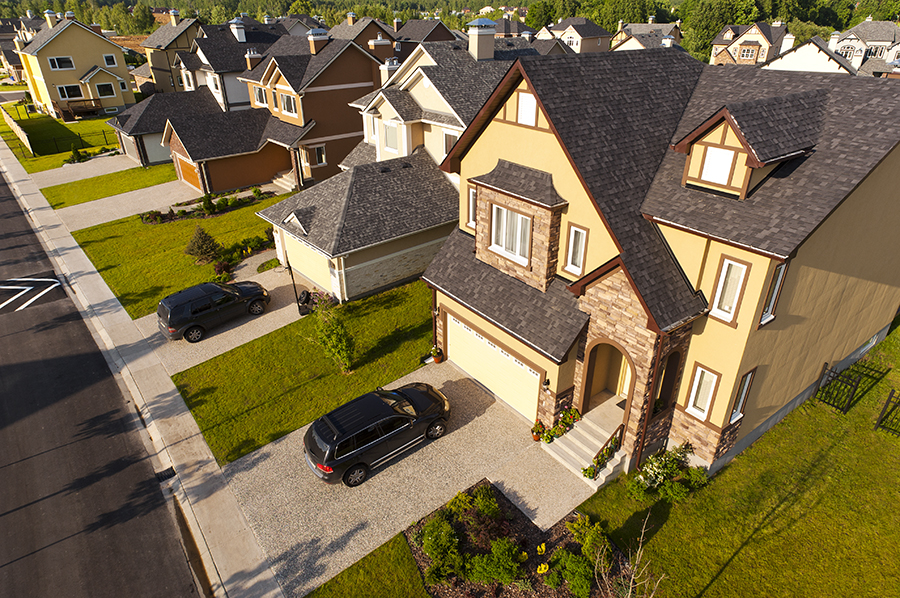 YUNEEC TYPHOON H (about $800)
Firstly, that is hexacopter, while all other presented samples are quadcopters. This guarantees that even one motor burnouts, a photographer can still land the device in a safe way. Secondly, this sample contains the option of collision avoidance, modern "follow me" mode. You also shouldn`t be afraid of its huge size, as it has retractable arms, so when being stowed it is just of the same size as a usual quadcopter. Needless to remind, that flying time is 20+ minutes.
Professional drones for photography
YUNEEC TORNADO H920 (about $2,903)
This sample suits totally perfectly for professional real estate aerial photography. Being easy in transportation, because of folded wings, it has a frame made of carbon fiber. Although lightweight, this device can lift up approximately 7 kg of photography equipment. Additionally, thanks to the failsafe system a drone will never fall under the condition of a low battery.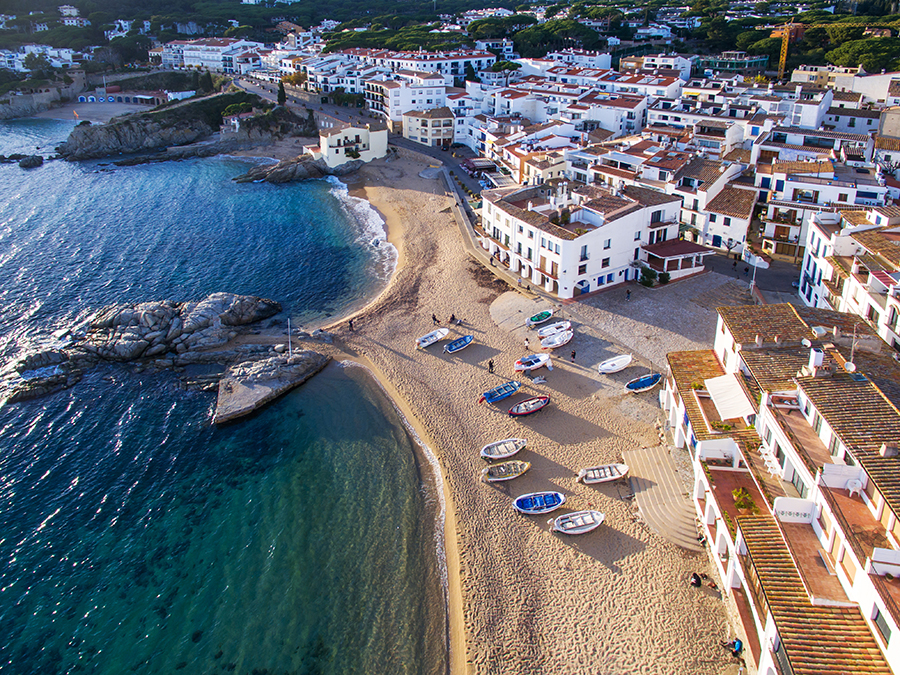 DJI INSPIRE 2 (about $2,929)
Just like the previous sample, it can lift up 7 kg of equipment. The battery works up to 27 minutes. The biggest bonus is that this drone can create 5.2K resolution videos, which is currently the highest possible resolution. Of course, that is not the best drone for the money, but it is worth every dollar.
A Camera
Your drone may not be able to carry your existing heavy but even the best camera for real estate photography. That's why, it may be a good idea to invest in a smaller, lighter, mirrorless camera.
A Transmitter
You cannot have a drone without buying a transmitter. It helps control its flying pattern. The selection of transmitters is wide: from simple and cheap models with few controlling options to expensive models with more features.
A Gimbal for better aerial drone photography
Gimbals help to carry the photography equipment, keep it steady. It's important to buy gimbal that will handle your camera's weight and one drone that has power handle your gimbal. You can buy a well-known brand like Zenmuse, or stick to a cheaper alternative.
First Person View Screen
FPV screen helps you capture the exact shot you want by transmitting the image to you. It's very convenient: when you are satisfied with the view you see, you click on the trigger button to take a picture.
Batteries, Chargers & Other Pieces of gear
You will need to purchase batteries, preferably a couple of them to use interchangeably. You will also need to purchase a battery charger, extra drone parts and tools for its maintenance.
Tips for starting a drone photography business
When you want to organize aerial drone photography business, these will not do without these tips.
Consider drones for real estate legal side, regulation & No-Fly zones
Before starting aerial photography drone business you should have a clear idea about all laws and legal status of drones exactly in your state. The main problem is that such photographing equipment is still new. So, no wonder that varied states have versatile regulations concerning aerial drone photography real estate.
You also should take into consideration special zoning issues. These are specific places, for instance not far from the airports, where you will not have legal right to use drones no matter what. Additional, laws that regulate real estate drone services for commercial and hobby purposes are also different.
Due to all this, better read FAA drone regulations before the start.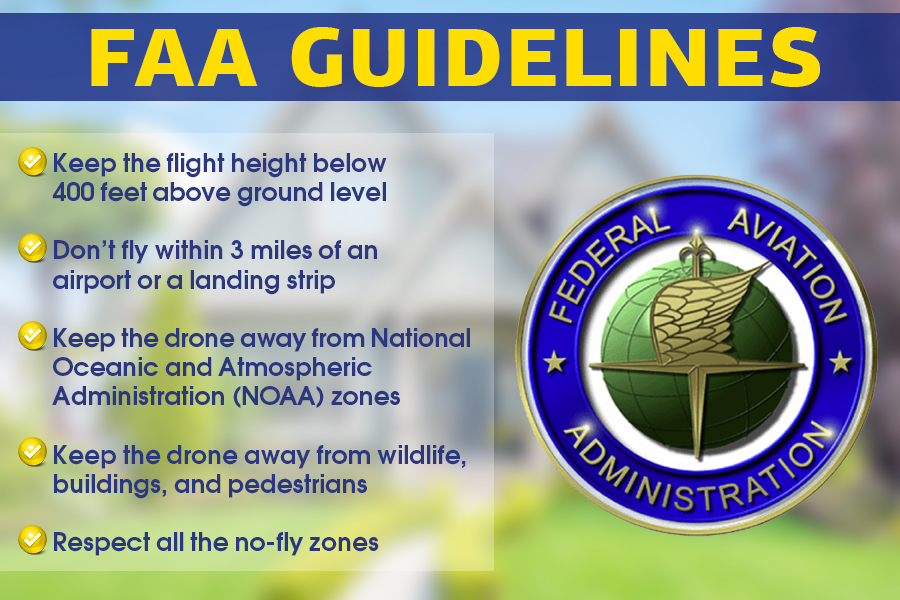 If you're from states of the USA, the first thing you need to do after buying the equipment is to visit the Federal Aviation Administration's website to find about the drones for real estate legal regulations in your area. Next step is registering your drone there. All registered drone operators get one official identification number that must be undisputedly written on every registered drone.
Don't forget to find where special no-fly zones are beforehand. It's only your direct responsibility and duty to be aware where they are situated, so you face possibility to avoid working there and breaking the official law.
Useful fact, the drone company, DJI, has made a no-fly database with all useful info which you can easily check on their website.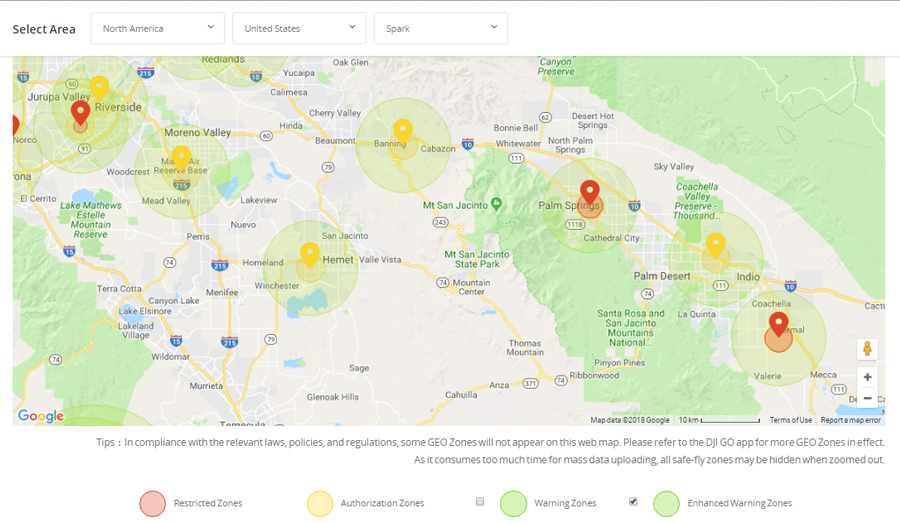 If you are planing to work with your drone in commercial real estate drone photography at the territory of the USA, specific Section 333 Exemption must be applied.
Insure your professional drones
Surely real estate aerial photography taken by drones is considerably cheaper than the equal one done by airplanes or helicopters. Nevertheless, insure drones after buying, because even under the best weather conditions there is a risk to break it. Will you afford to pay about $5,000 for causing damages to people where your drone fell? If not, investigate whether there are some companies that offer commercial drone insurance in your state.
Pass exams before offering aerial drone photography services
Before starting an aerial drone business, you should get a proper drone training or even courses. That will not only teach you how to operate a drone, but will also enable you to get ready for passing exams, which are needed for getting permission for real estate aerial photography. You will definitely be asked to pass the exam called FAA Part 107 Airman Knowledge. Under the condition of successful passing, you will be classified as commercial drone pilot with a legal license. In any case, taking professional drone photography courses is beneficial even if in your region there are no requirements for taking them obligatorily.
Train your skills in flying and drone photography
Before attaching your camera to the drone, find an open space to practice flying. Here are some of the exercises you need to practice: Taking off, Hovering, safe and slow Landing, Side to side movement, Draw square and complicated circles in the air, and Rotation.
Drone Controls & Settings
Before starting to fly, you'll face a need to understand clearly and completely the controls and settings.
Prepare your aerial photography drones
Even if it's a hobby – prepare to flying drone thoroughly and responsibly.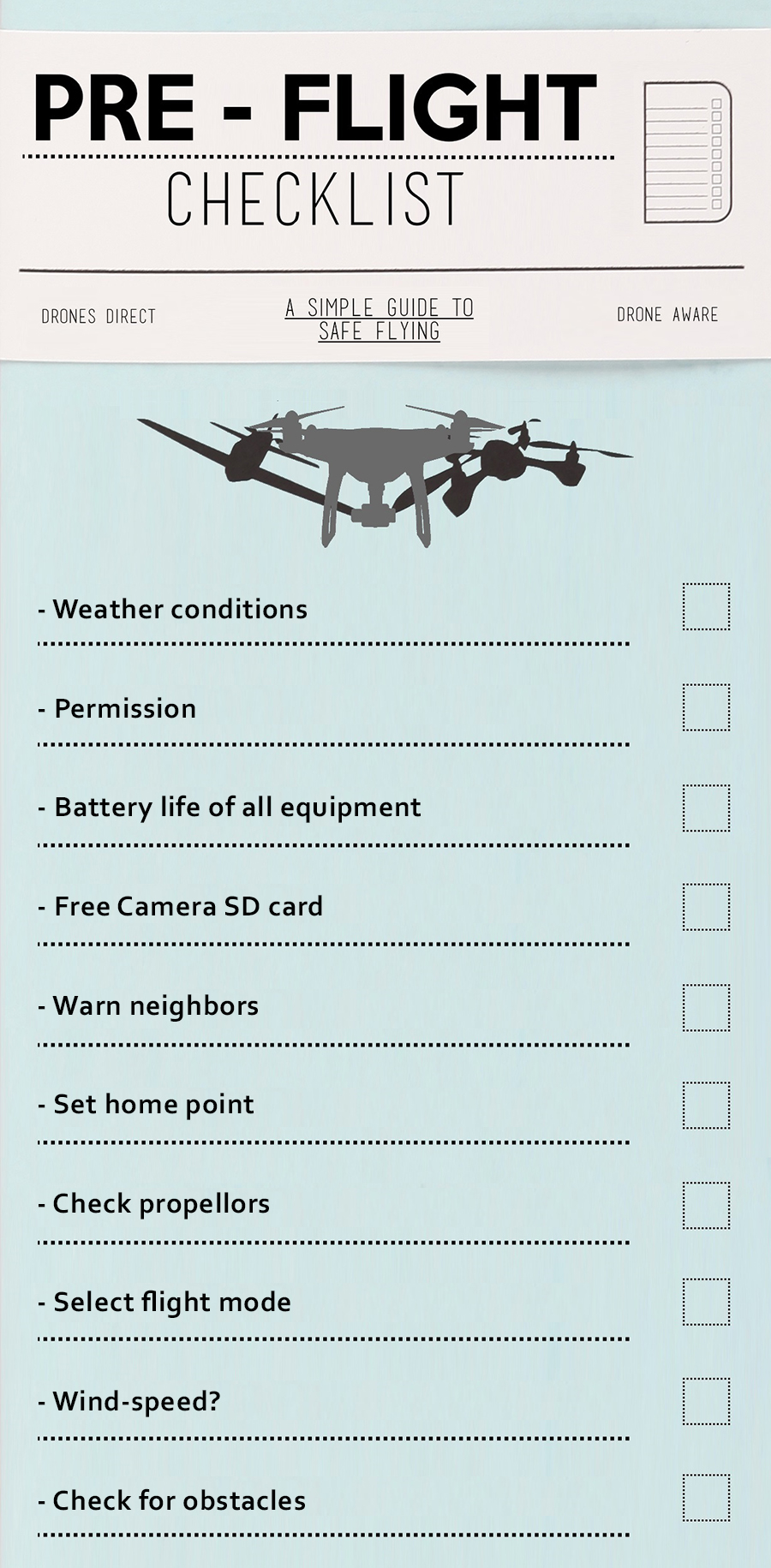 Plan your real estate aerial photography beforehand
In addition to using FPV – use Google Maps or Google Earth to scout for locations.
Don't Zoom in
Regardless of how good your camera's optical zoom is, don't use it- even small vibrations will result in blurriness.
Best professional real estate photography drone projects
New York at bird`s eye view
The most amazing fact is that such incredible real estate aerial photography was taken by self-taught photographer Humza Deas. Exactly these awesome pictures helped him to get an article in "Outlaw Instagrammers". He also gathered more than 220,000 followers.
When only starting his career, he used to climb in order to get the best angle. And that made him famous. Still, he had a fear that fame would not do good for him and New York police would nab him because of trespassing. After that, he had an idea to start drone photography business and send them to those places, which he cannot climb to.
Sky-scrapers in Hong-Kong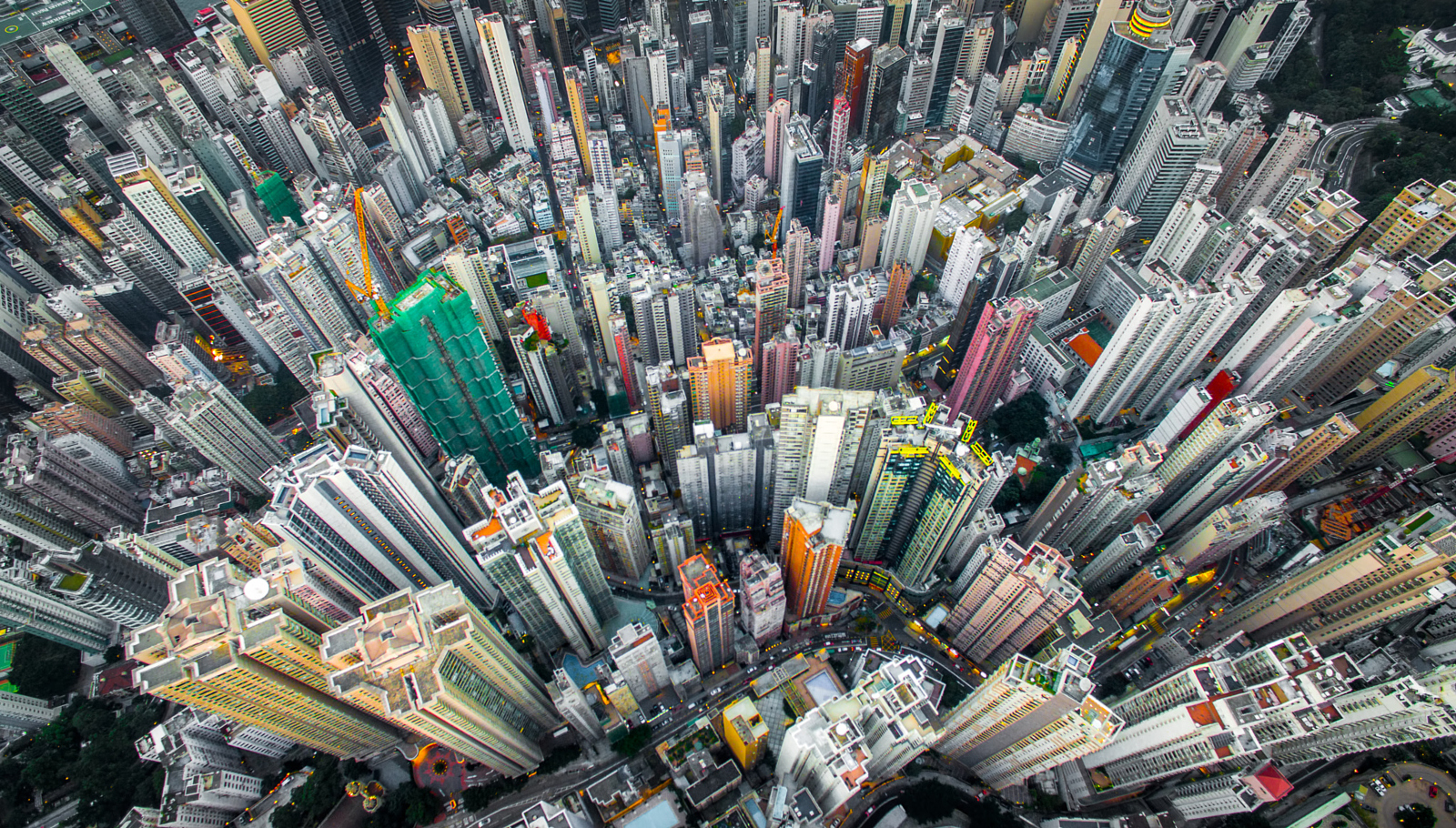 Surely Hong Kong is one of the world`s busiest metropolises, but Andy Yeung has managed to find a way of capturing it in all its beauty. This photographer found an unusual angle for photographing this densely overcrowded city.
The most difficult challenge is that Hong Kong has the biggest number of buildings that are higher than 500 feet (approximately 150). There is one more fact. The population of more than 7 million lives in the area that is smaller than 400 square miles. So, real estate aerial photography is almost the most suitable way of capturing it without people.
Division between rich and poor areas
In South Africa the barrier between areas where rich people and those, who are on the brink of poverty may be not visible from the ground. But from air everything becomes visible. Exactly this aim pursued Johnny Miller, a photographer from Cape Town. He claims that the biggest bonus of using professional drones for photography is seeing all things as they really are. Thus, thanks to his works we can see the incredible inequality. Moreover, he aimed to show that such conditions are the result of ineffective Apartheid policy. Although they enforced racial segregation 22 years ago, in reality all barriers still exist.
Budapest Shrouded lost in fog
Peter Kallo shows us one more way of making money with drones. His idea was simple and interesting at time, as he just captured Chain Bridge during misty winter weather. Gotten panorama shows this most famous Budapest`s landmark from different angles, which are equally beautiful. So, these photos are currently used as postcards.
Are drones a necessity in the real estate photography business or are they an extra? It's for you to decide. Benefits of drones in real estate are huge. Today aerial photography and real estate drone videos is a leader when it comes to showing property from the best angle. Helicopters and planes are very expensive, so there are no other alternatives, except drones. Thus, if you want to take advantage over their using, start right now. I manage to learn drone photography within a month. So, what stops you?
Do you like the article? Please feel free to share it via your social accounts.
---
Pay attention this photography blog which does not require credit for the pictures and photo post production examples listed here . All photographs used in the article are only copyright to their respectful creators . These shots posted as a big admiration of portfolio and photo retouching talent the experienced rt masters have . If you found the photo on this post that is yours and do not want to be promoted on our website , please do not hesitate to write us via online chat on your right and it will be quickly deleted .
---
Rate the article!
The article's rating:
---
You comments or questions are welcome; please share your opinion on the topic.
Use Facebook:
Use Disqus: