Light Box For Jewelry Photography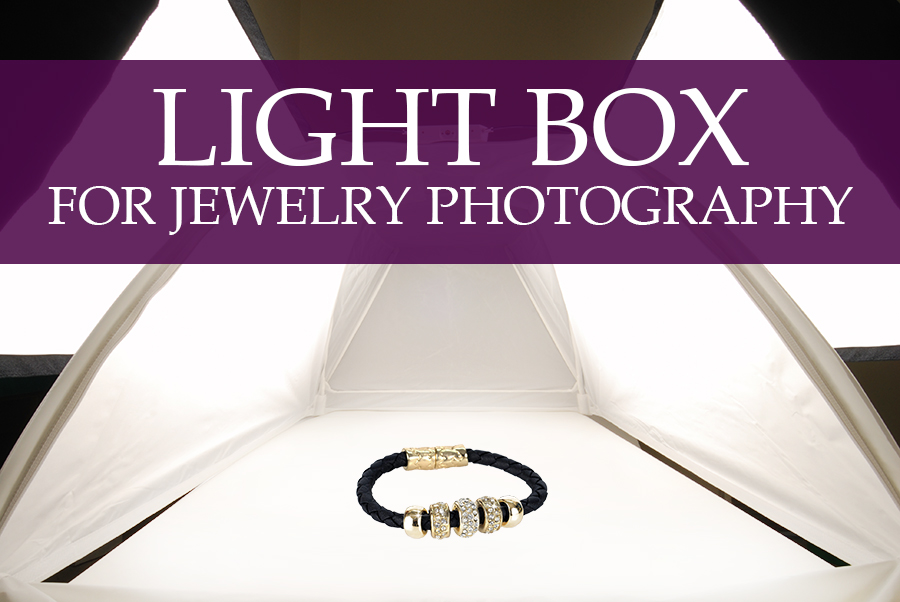 You have amazing daylight in the room, your jewelry looks great in real, but when you take a photo, you get a fuzzy image with a lot of shadows and yellowness? Having $10 in your pocket, you can make an excellent homemade light tent, having add $30-50, you will have an excellent light box with built-in lighting, and having $100, you will have professional light box for jewelry photography.
---
Contens:
---
How to make a lightbox for photographing jewelry
The secret of a good light box for product photography is to scatter the light from the lamps in three points - right, left and above smoothly, and to be compact and portable. Although many professional light tents for photography products are stationary, which can be inconvenient if you need to change the destination of shooting. You can buy a complete model for about $50-100 or make it fast at home, as I did before bought it. How to make a mini photo studio DIY – all you need is few sheets of styrofoam and white A3 paper, a duct tape, and 3 desk lamps with LED lamps. It's cost is near $10 only.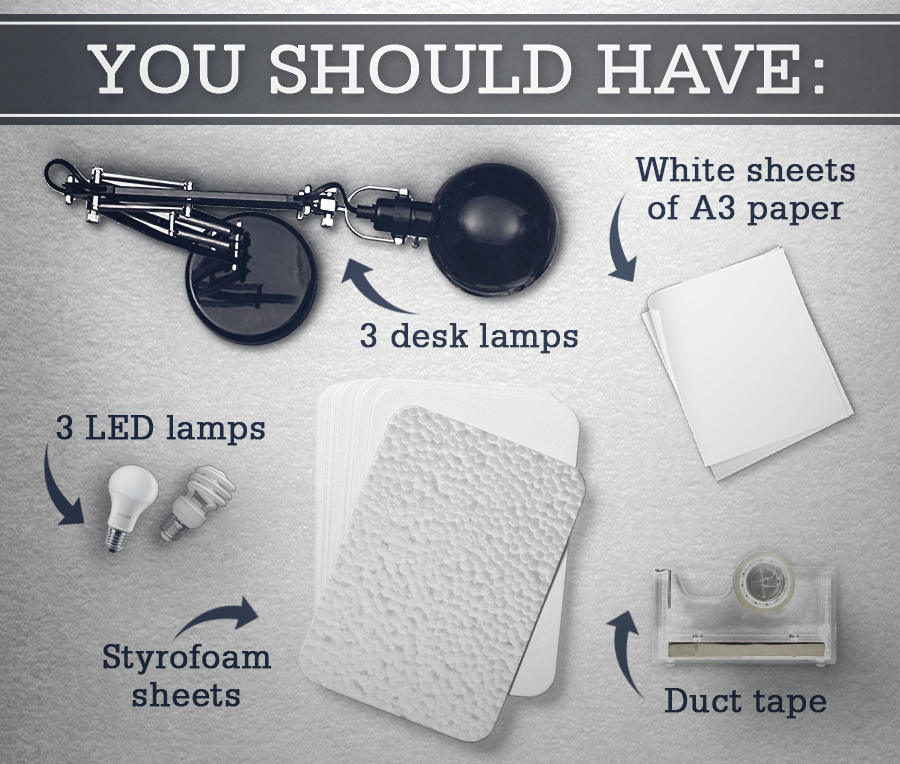 Make a box with styrofoam sheets using the tape. Take the sheets of paper and place them over the box on three sides, then put the lamps on three sides with equal distance. Don't mix different kinds of light bulbs, choose bright energy efficient ones that are full spectrum and daylight balanced. Turn them on, and you're ready to shoot. This will be the diffuser in your professional jewelry photography equipment list.
Your box should be in one color inside. You may think that only a white background is enough, but jewelry has good reflective options. Even the reflection of the right wall of your box can cause a weird spot on your product.
If you want to make a 3D look, turn on one lamp to let more light on one side. If you want to get rid of almost all shadows, use three lamps, this makes the background really white. If you want your jewelry fill in the shadows, use two lamps on each side of your box. I recommend you always have 5 extra LEDs in your jewellery photography kit.
Remember, do not make sharp lines to make the corners of your box visible, otherwise you will have to use jewellery retouching services to fix background. Taking a picture of jewelry you want your product float in white space not lay in the box. This effect is called cyclorama. It is usually used in advertising campaigns. While presenting its laptops and iPhones, Apple Company uses a cyclorama in black or white colors to create the illusion of an endless room, which allows you to better concentrate on the subject.
Set your light, homemade portable photo studio box, place the subject, set the camera, adjust White Balance, use Exposure Compensation to keep your photos bright, and take a picture. This kind of tent can be used for a long time, but the more experience you gain, the better and more professional light box models you want to own.
How to choose light box for jewelry photography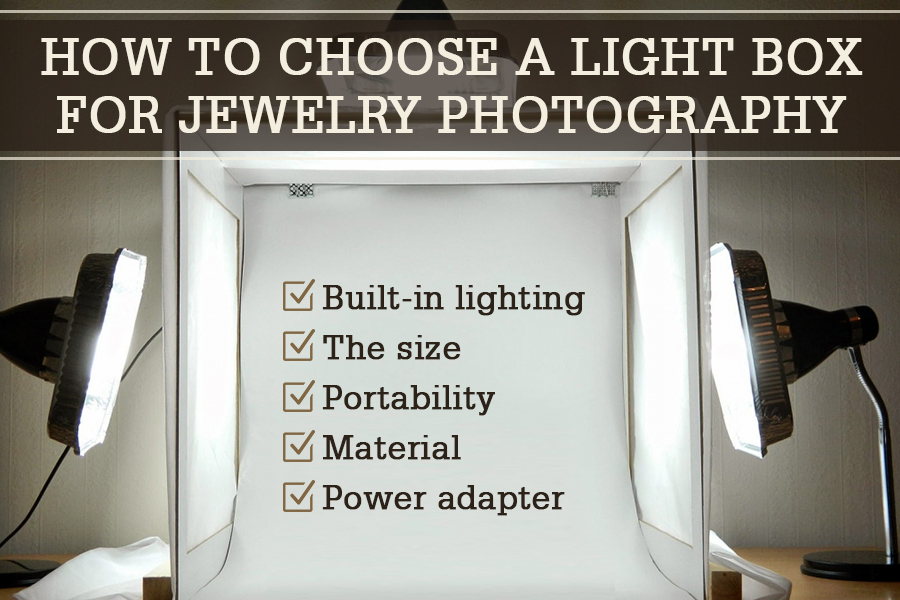 BUILT-IN LIGHTING. Almost all pro light boxes now have it. Prefer three points lighting and 5500К daylight balanced LEDs in your jewellery photography kit.
SIZE. If you are planning to photograph small jewelry, choose a minimum size light box, 16", it will be much easier for you to set the light having limited by a small space. If you want to create compositions, then select larger sizes from 24" that gives more space.
PORTABILITY. If you don't plan to stay in one place, and want to master a studio for jewelry photographing that you can roll up and carry with you in your bag, then your choice is the portable light boxes. They differ only by the complexity of the assembly – from a simple system of unfolding and fastening with stickers, to complex metal wireframes.
MATERIAL. The materials differ in density, texture and reflective capabilities. The best material for the light box's background is a dense white paper that cannot be creased while forming awful lines.
POWER ADAPTER. The best photo light boxes should be with a built-in battery for charging via USB, but unfortunately, most devices have a direct connection to the network.
Each best jewelry photography kit should include a light box
Once you will find your homemade light box to have large and uncomfortable size, and the constant setting up and adjustment of the lamps can take a lot of time. Then you will want to buy a good and convenient light box. Such light box you can take anywhere without worrying about lighting adjustment and wasting much time.
Affordable jewellery photography light boxes
Foldio (has three kinds of sizes 10″, 15″ and 25″) from $29 to $139
Foldio is a very successful kickstart from Orangemonkey Company. This is a portable mini photo studio box with built-in LED strips. You just need to get it out of your bag, put it where you want, roll out the cyclorama, attach the backlight to the magnets, turn it on and take a shot. In addition, the company offers its own application Foldio App with the ability to adjust the white balance and change the background. You can order Foldio with an additional light box photography kit: an extra LED strip, a background cyclorama in any color or the Foldio360 panel. The last one has a built-in backlight and allows you to rotate your subject to create a 3D model, however, you will have to pay $139 extra for it. You can also buy Foldio360 Smart Turntable for 360 degree jewellery images to find the best angle of your product.
Finnhomy Photo Studio - about $63
Finnhomy 16-inch light box comes complete with 3 backgrounds - black, beige and white to create different compositions. This mini photo studio kit also comes with all the necessary things, such as a bag, 2 LED strips with adjustable luminous intensity and a metal base. Its main advantage is a camera connector for shooting above the object. The disadvantage is that Finnhomy is held by metal sticks, so it takes some time to pull this structure together before working. It is a more affordable analogue of Havox photo studio and Torchstar pro, which cost $30-40 more, but they offer basically the same product. Considering price-quality ratio, its one of the best light tent for product photography.
Elviros professional light box - about $65 for 16'', about $123 for 24''

Elviros Light box has a very bulky design that has several advantages that distinguish it from the light boxes listed above. Elviros is a portable light box, which has two backlights that generate brightness 10 times greater than simple fluorescent lamps, and a reflective surface inside the box, which strengthen the lighting power and provides multipolar light. Elviros, also, allows to take photos from below and above. The disadvantage is that despite 24" size, it is good for shooting only small objects, because of the closed type of the box. The distance from the lens to the camera is extremely small, although you can always open the front part of the light box.
Fotodiox Pro LED Studio-in-a-Box - about $45 for 16'', about $110 for 28''

Perhaps the best lightbox for product photography from this list. It combines all the advantages of the previous models. Fotodiox Studio-in-a-box has built-in LEDs, which do not need to connect separately, and a reflective surface that strengthens the lighting. The set includes 3 backgrounds (blue, white, black). This photo light tent kit also allows you to take pictures from the above, but the biggest plus is the speed of the assembly. You drag it out of your bag, stick 6 sides of the cube just by pressing them against each other, turn on the power adapter and start shooting. A huge plus is a great choice of sizes, there is even a version of 28'' for big compositions of jewelry. All these advantages only confirm the status of the best photo light box for jewelry for a reasonable price.
Pro jewelry photography light boxes
Professional light boxes are usually made of more firm materials, they are easier to set up and all have built-in lighting. Some of them are not easy to carry, and most often are stationary, but each of them offers a creative idea for jewelry photography.
MyStudio MS20 - from $175 with fluorescent lighting up to $303 with LED

This ultimate photo box has an excellent cyclorama that does not require permanent unfolding, but at the same time, it will be quite problematic to transport. The cyclorama is made of strong material, so you can easily wipe dirt and scuffs. The lighting set up is a bit complicated, because it is held in place by two metal legs. Since this light box is for professional purpose, you have to do it once. The set includes two reflectors that can be freely installed at any point you need. Despite the high price for LED, this light box for photography is quite a good and reasonable choice for any kind of product photography.
SHOTBOX Professional Light Light Box - about $210
Professional mini portable photo studio that can be assembled in a few seconds thanks to a simple design. The box is made of strong plastic and has two conveniently adjustable LED lamps that can work in turn, and a set of four different backgrounds - black, white, blue and green. The thing that distinguishes this photo light tent from the others is a front lighting that is installed separately and has a stand for the smartphone. This model is highly recommended for Amazon and ETSY jewelry images.
Slowbeat Portable Photo Studio - about $134

The designers of this portable photo studio and lighting kit simplified the technique of a quick assembling by using magnets. According to Slowbeat, this light box can be collected in 30 seconds, even with lighting. The magnets allow you to move lighting freely on the walls, as you wish for your composition. It has two backgrounds - black and white, which are made of foam material, which has a pleasant texture and a reflective effect.
What is the most expensive light box for jewelry photography?
Ortery Company produces professional equipment for ecommerce photography. Most often their equipment is used by big stores. I'm not sure that any photographer might need this professional jewelry photography equipment. Yes, it allows you to do great 360° or 3D images easier, but you can spend 100 times less money and make similar photos, even using to the Foldio360 panel.
Photosimile 50 - about $2450

This is a real studio in a box for photography that does not use cyclorama in its technology, instead each wall is a light panel with constant light scattering. If you use a Canon or Nikon DSLR camera, there is lightbox photography software to simplify the shooting. Thanks to it, you can take photos in JPG, TIFF, RAW, as well as PNG images.
2D PhotoBench 100 - about $5,000

This large light box for photography duplicates Photosimile 50, but has a completely closed type of box. It supports the use of multiple cameras connected to it, you will only need to change the subject of your shooting and click on your PC/Laptop to receive a ready shot. No interaction with the camera and light. PhotoBench also supports the installation of a 3D panel that is called 3D PhotoBench 60 for $ 8000.
3D MFP - about $46,000

Using this 3D studio with a built-in camera, you can quickly create 3D models of your jewelry. A computer controls the lighting, position and color. This is a fully automated system for easy 3D jewelry photography and modeling.
My choice of light box - AmazonBasics portable photo studio review
AmazonBasics Portable Photo Studio – about $135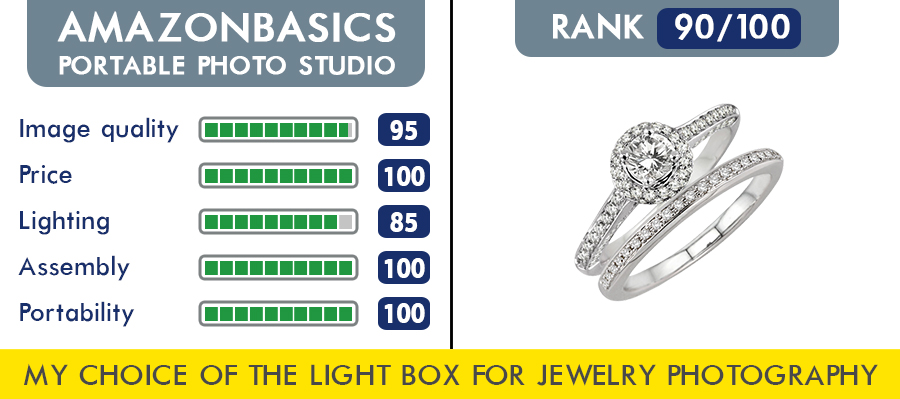 Since in 2014 Amazon received a patent for photographing products using a white background, they produced their own light box to satisfy the seller's needs. AmazonBasics is the best portable photo studio kit in the world. Its size is 25" by 30"; has a reliable and firm construction, which easily assemble. You have to spread out the box like a children's tent, and establish a white background. This light tent from Amazon has built-in light, which unfortunately cannot be made brighter or dimmer, but you can always change your camera settings. Having used the Amazon Seller application, take the photos using your smartphone, edit and immediately create an advertisement for sale on Amazon.
Extra jewelry photography kit
Additional light
To make brighter photos and get rid of all shadows, product photographers use attachable lighting bar. Usually, it has magnetic structure, so you can attach it on the side or bottom magnet spots of your light box in conformity with your needs.
Additional backgrounds
Non reflective and reflective backgrounds can be used to make creative jewelry images. They can be different: white, black, beige, green, wooden, silver, etc. You can even buy the backgrounds with different designs.
Turntable
Many companies like Orangemonkei produce smart turntables that let jewelry shooters create 360° photographs having used a DSLR and smartphone. You can use only a lightbox and your mobile device or DSLR camera. By means of Bluetooth and IR sensors which directly connect with your camera.
Tripod stand holder
Usually I use portable tripods for camera to fit all brands, and even smartphones. They are lightweight with adjustable-height legs and rubber feet. Generally, the max load weight is 6.6 lbs (3kg) for optimum performance. Quick-release mounting plate helps ensure quick transitions between images.
Portable charger
Sometimes I am on destinations where there is no power supply near me and I depend on the power bank to keep using my laptop or camera without interruption. I recommend you buying a 50,000 mAh charger.
Bag
Having a portable light box, you should buy a firm bag to transport your equipment. If you damaged your bag, buy a handbag for laptop, it's cheap and compact.
Summing up
Light boxes are so multifunctional that people use them not only for commercial jewelry photography. Once I met a photographer who took pictures of small animals (kittens, guinea pigs, hamsters) in it. He was too lazy to make a full photo studio, he just bought a big light box, something about 20-24", put a rug there and took photos of animals, not letting them run out. There are photographers who shoot people buying a large photo tent - from 47" for $400 and putting the model in. I think it's stupid and not professional, because what model will go to the photographer who puts her/him in a box? Even the best photo light tent of a big size isn't good for people, only for photographing different product compositions, shooting sets of clothes, etc.
Remember that you do not need to buy a 3D MFP light box for crazy $46,000 in order to make jewelry photography well. Follow the basic light box photography tips about lighting and camera set up and start shooting.
Do you like the article? Please feel free to share it via your social accounts.
---
Pay attention this photography blog which does not require credit for the pictures and photo post production examples listed here . All photographs used in the article are only copyright to their respectful creators . These shots posted as a big admiration of portfolio and photo retouching talent the experienced rt masters have . If you found the photo on this post that is yours and do not want to be promoted on our website , please do not hesitate to write us via online chat on your right and it will be quickly deleted .
---
Rate the article!
The article's rating:
---
You comments or questions are welcome; please share your opinion on the topic.
Use Facebook:
Use Disqus: