Photography is not allowed – places, people, things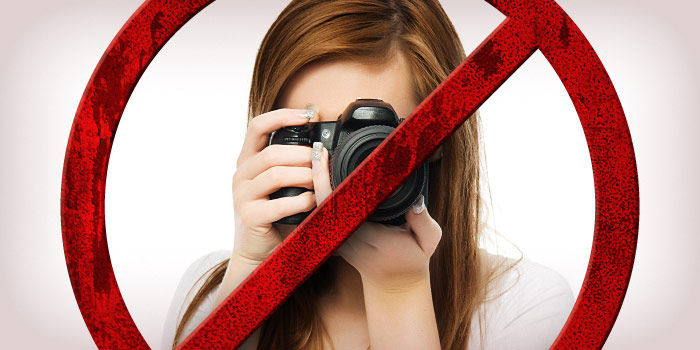 Photography is not allowed everywhere in the world. There are lots of reasons starting from copyright to the cases of national security. But what can and what can't a photographer shoot? Headshot retouching will only do you good if the person agreed to be photographed! Otherwise you can have either a small argument about shooting or even a call to the police about the violation of this person's privacy. Any kind of device made our lives much more interesting. Taking pictures is now easier. No need to carry a bulky camera, cause it's enough to take a mobile phone that is always at hand. In this regard, the question of what is allowed to photograph and what is not, has become relevant for everyone. It is especially interesting, because in some places we are not allowed to conduct photo and video shooting because of totally unreasonable rules. When they are reasonable, we just have to get it and obey.
It is not forbidden to take pictures of the counters, shelves, or price tags in supermarkets, department stores, boutiques and even jewelry stores, although many shops place a sign that means that it is a whim of the owners, not a law. However, often security guards or other employees of the institution are not allowed to photograph in these locations and the reason is a commercial secret. Where else you are not going to find a photography not allowed sign: everyone is in the markets, in the restaurants, clubs, bars, and so on. It is possible to shoot there with a but: ASK FIRST! As those things are private ownings, you may be in trouble for anything more, than a selfie. As well as in health care institutions and banks. The information to which the access is free to reach for everyone cannot be considered a trade secret. Therefore, to photograph and shoot videos of the video shelves, the cashiers and even the security personnel of the institution is really an option if you want to do it. The latter are not entitled to prohibit or suspend shooting, to remove the camera recording and, especially, to use physical force. If the guards do it – you should call the police.
Another most common argument for the photo banning "the copyright". It may be products on the shelves laid out in a certain way, a showcase decorated outside the box and so on. Meanwhile, the law on copyright and related rights states that "a photographic work, works of architecture, fine art may be reproduced, broadcasted or cabled, and communicated to the public in any other way if such works are permanently located in an open to the public place. Although you have to consider that the image of such works should not be the main object of the reproduction, broadcasting, transmission by cable or other communication to the public and should not be used for commercial purposes". At the same time, photo post production services used by an occasional shooter may bring some new clients to a certain place, so wise owners allow to shoot their interiors, exteriors and goods. There are even tutorials about making photos of shop windows like this!
The list of places where photography is not allowed
It was already told about the works of art. But there are thousands of them in the world and some are considered the most famous tourist attractions! For example, Eiffel Tower. You may not have expected this, but you only have the right to make the pictures of it when it is daytime, because in the night, when the lights are glowing, it is one of those artworks you have no right to make pictures of! Of course, there are hundreds of the night photos done secretly in the night, but there is this no photography allowed policy so does not publish it in your social accounts unless you wish to be exposed. No one knows, how this will end, unless you are a part of the company who paid for the right to photograph and to post such images. But what about festivals that happen near it each year? Read our article "Specifics and features of music festival photography tips" to get some help with that.
Another possible surprise – airports. In the whole world. Mostly because they matter very much to each country and there's always a threat to the national security and to people in the building or plane. Being behind bars is usually not very profitable for photo shooters, so do not try to depict them in order to keep your ability to make photographs freely. Most of the museums, galleries and so on deny the right to make your shots there. The Louvre is just like the Eiffel Tower: open in the daytime, restricted in the night. If you like to travel, you will sooner or later find out, that the Sistine Chapel, a famous place for worshipers, is one of the places you cannot take photo. The reason, however, is simple. While the Vatican needed a lot of many for the restoration, Japanese TV Network lent them money and kept the right to make shoots of the Chapel exclusively along with the sum.
As you know, there are burial chambers in mausoleums. Do not try to break the rule of the no photography allowed policy, because it will not end well. Most of the Hindu temples, churches, mosques and other sacred places are also a part of such policy. There are some exceptions, but find it out before you find yourself locked in a cell in another country. Some countries make photographers apply for the right to shoot their national parks, like Australia. At least if the photographs are going to be used in a professional way, and not for your social media avatar, remember to obey this law.
Some shopping malls though are in the restricted area as well. Let alone the government buildings. If you like shooting children without their parents' permission do not be surprised to find them angry at you, and being good at portrait retouch won't help you calm them down. On the contrary, most of the people on the streets are usually good with being shot if you ask them and tell them, how beautiful or interesting they look. Undoubtedly, any military base is no place for a shooting, just like the weapons and power plants.
Sights where you can find the photography not allowed sign
As you must have guessed, there are a lot of sights, that ban photography inside of them. We told about the mausoleums above, but Lenin's Mausoleum is well secured and you will not enjoy dealing with the angry guard and getting put in a prison. So just remember about the sacred places. Orthodox people take everything connected to their religion seriously, and the next no-no place for a shooter is the Bachkovo Monastery. Tokyo has several districts, and Shinjuku is one of them. Another one, Golden Gai District, is one of the places that you should not take photos of it. One of the most expensive places to stay at is the Emirates Palace and if you try to ignore their restrictions you can get yourself jailed pretty easily, even if your before and after retouch will please them very much: the law is the law.
Speaking about the dead bodies, the royalty in Egypt was buried in the Luxor. And it is situated in The Valley of the Kings, literally. And here we slowly come to the question, that people often ask: why do museums not allow flash photography. There, in Luxor, your equipment's flash light can easily damage mummies and other artifacts, that are older than you in thousand times. It is totally normal to temporarily confiscate cameras there. This is a tricky question. They do it mostly for the old things or in museums. So, where's the logic here? It turns out, that people conducted experiments, that led to the law why do museums not allow flash photography. The experiment included several pictures and several paintings, who were shot with totally different flash lights: with filters, bare ones, etc. And it turns out, that the flash lights can make the painting colours fade because of the influence of the ultra violet waves they produce. So in order to keep the pictures for the future centuries, art museums defend their property. If you want to find something new about flash photography, watch this video.
Scotland is now famous with the Rosslyn Chapel. It began to spread after the movie we all know as The Da Vinci Code became famous. Ammish communities usually welcome everybody but at the same time they wish to stay relaxed and to keep their privacy so they ask to come and leave without any photo making. Taj Mahal, this gorgeous mausoleum, not only let the coexistence of the different architectural styles, but also forbids photographing, so don't do it, unless you want to surrender your camera and other equipment and even food on the way out. Another space where the photography is forbidden, is the Main Reading Room. It's located in the Library of Congress so you are always able to come and visit, but not make pictures.
Photography not allowed sign for these things
If a thing is close to the borders of another country, it is considerated as a dangerous place to make photos. Especially if those countries are not in good relationship. Leh Airport is situated in the circle of a military encampment which is a frontline base claimed by China, so it is also a part of military zone. So it fits both laws about airports and military objects – both of which need the highest level of security.
Making photographs from the rooftops may be considered as violation of the people's privacy, so be very accurate with that. You may think, that shooting childbirth is also a violation of privacy, but strangely many people like that. Check out our "How to take pics of childbirth - Photographer's tips" article to acquire more knowledge about that. One travelling shooter named l'Anson says, that you are not allowed to shoot even beaches in France! But the no photography allowed policy has its weak points, so to speak. There are places where you can make shots and selfies with your mobile phone or camera, but if the security sees you carrying a tripod, you may have some trouble, because professional photos are more dangerous to the objects, than amateurs' ones. It will not even come to the photo color correction services, if you cannot keep the shots you've done. Digital SLR of good quality is also a giveaway for the security, so be careful with your equipment.
So, let's repeat all of the places you should be very accurate with, if you wish to photographs them. Of course, airports, because of the terrorist threat, which can happen to any country at all and you have very few chances of not being caught making photos. Then let's remember why do museums not allow flash photography along with some galleries: colour fading. Sacred institutions: churches, mosques, temples – you must definitely ask before you try anything or you will be in trouble. Any type of military or defense installations, because anyone with a camera near a military object is suspected. The same goes for railway stations, tunnels, even bridges, let alone the government buildings. Then again, you can ask, but don't be too disappointed, if they won't allow you make pictures. Department stores and shopping malls are usually okay with making selfies or amateur shots, but if you carry around a professional camera, remember, that they are private property from the beginning.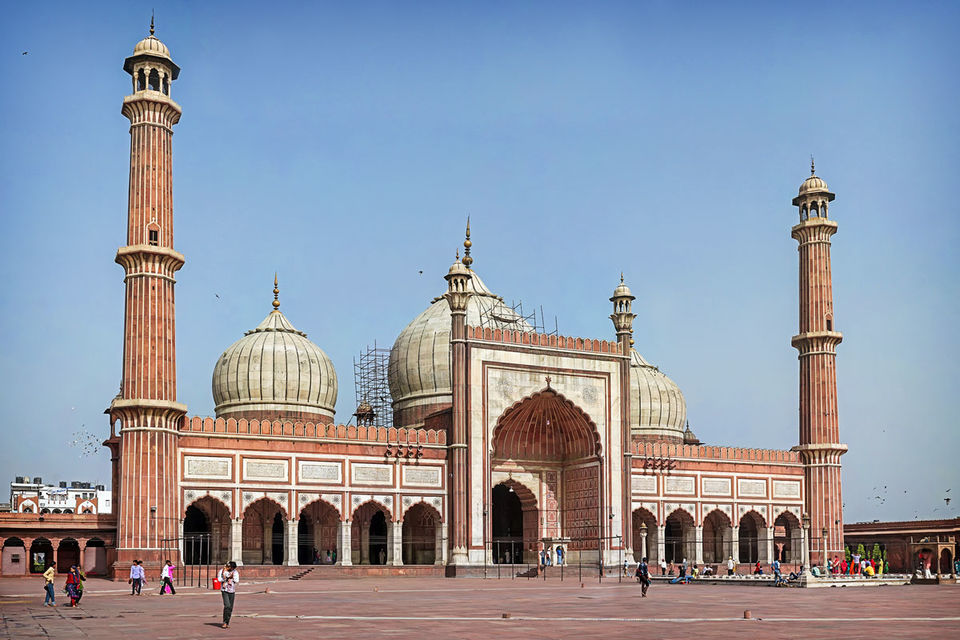 And remember the rules about the Louvre and the Eiffel Tower: monuments and public buildings can have their own strange rules about photography. If you made some pictures and you are not sure if you are allowed to post them anywhere, you can contact us, Fix The Photo, and ask for a consultation or even post production. Our photo editing prices are not high, so fell free to contact us anytime on any day.
Do you like the article? Please feel free to share it via your social accounts.
---
Pay attention this photography blog which does not require credit for the pictures and photo post production examples listed here . All photographs used in the article are only copyright to their respectful creators . These shots posted as a big admiration of portfolio and photo retouching talent the experienced rt masters have . If you found the photo on this post that is yours and do not want to be promoted on our website , please do not hesitate to write us via online chat on your right and it will be quickly deleted .
---
Rate the article!
The article's rating:
---
You comments or questions are welcome; please share your opinion on the topic.
Use Facebook:
Use Disqus: