Professional Photo Editing > Free Lightroom Presets > Free Lightroom Landscape Presets
Free Lightroom Landscape Presets
Tired of having spoiled landscape photographs because of bad weather conditions or light? Do not worry – Fix The Photo is ready to help you.
Landscape photographers spend countless hours looking for unique destinations and exclusive places for a photoshooting. Editing the landscape photographs demands much knowledge and it is a time-consuming task. If you need to facilitate this uneasy work we offer you to try our free landscape Lightroom presets made by Fix The Photo.
With these free Lightroom landscape presets photographers shouldn't sort out hundreds of setting combinations in Lightroom software anymore. This pre-setting will emphasize the night sky, the mystery of the forest, the scenery of mountains with rocks, the colors and tones diversity and the change of seasons on your images. Our team makes your image post production easier – simply choose the one you like and push on "download free Lightroom landscape presets" button.
---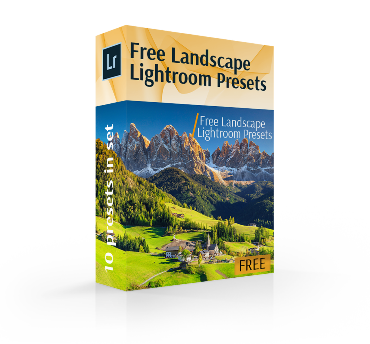 10 Free Lightroom Landscape Presets Bundle Includes:
---
Benefits of our Lightroom Landscape Presets Free
The bundle of Lightroom presets will turn your landscape photographs into magical destinations and amazing places by means of the following adjustments: light contrast for dark, soft cold, vibrance vignette, saturation. Download HDR landscape Lightroom presets and receive a wonderful HDR med effect. You can also change the Lightroom settings, namely a basic tone, sharpening, clarity, noise reduction, and calibration. The best thing is you can do everything by one click. Try our free Lightroom landscape presets and create a picture that everyone likes.
By using our bundle of free landscape Lightroom presets you will get the following advantages:
Easy to use. All your free landscape

Lightroom

presets will be displayed on the left side of your screen and you can preview it before choosing.
Speed of photo editing. You shouldn't spend hours for retouching. Just choose the most suitable

Lightroom

landscape presets free and create a High End photo in one click.
A fresh look. Very often we become a prisoner of our habits. The same we can say about photo editing. You understand that edit photos in one style, use the same settings and effects. Using free

Lightroom

landscape presets will help the landscape photographer to see one photo from different sides, to experiment with colors and shadows.
Many photographs. If you need to retouch a pile of landscape images, you can download our

Lightroom

landscape presets free and apply it to more than one picture. This procedure will save your working hours and efforts.
Without experience. If you have just begun to work in Adobe

Lightroom

, our free landscape presets

Lightroom

5 and 4 will be easy. Our

Lightroom

presets free landscape have all necessary settings. The first step is to click on them and download, add to

Lightroom

, choose the preset you like the most and apply to your image by 1 click.
---
The Collection of our 10 Free Landscape Lightroom Presets
---
LR Preset #1 "Light Contrast for Dark"
The following one is the best decision for darkened photographs that adjust the photo's exposition and make the photo lighter, increase the contrast, remove grey tints from the white objects and reduces some noise. By means of these Lightroom landscape presets free it is easy to make a natural and tender photo retouching in warm and light tones.

---
LR Preset #2 "Medium Contrast for Dark"
The second preset brightens up your underexposed images and adds light. Unlike the first preset, this one fully clarifies the photo and makes the colors rich and maximum natural. This one will enhance the photograph's contrast and clarity.
---
LR Preset #3 "Hard Contrast for Dark"
From the bundle of our free landscape presets Lightroom 5 for dark photographs, this preset is the most unique. It lets emphasize the foreground by means of increasing the brightness and contrast. Our team recommends using this preset namely for landscape photographs where a green color dominates (grass, trees, meadow, leaves, etc.), but you can also apply it for any pictures.
---
LR Preset #4 "HDR for Dark"
Having applied a natural style to your landscape picture, these free landscape Lightroom presets is made for you. The preset lets you tone map your HDR landscape images with amazing results and enhance any picture, reproduce images in details, add contrast to the scenes and increase the exposures. This preset will increase luminosity, improve saturations, and adjust the strength of your photographs.

---
LR Preset #5 "Medium Colors"
If your landscape image has a bit of haze and is quite dull and the color of the grass and trees are drab, we highly recommend using this preset. It corrects brightness and saturation, darken the photo for little, gives the blue and cold tones to the image. Our Lightroom 4 landscape presets free enhance your photo having increased the clarity just a little. It lets the image more detail to the areas of contrast, make it seem more crisp.
---
LR Preset #6 "Soft Cold"
The sixth one is specially created to make a certain tone and style within your landscape image. Here cold, and soft tones dominate. These Lightroom landscape presets free can be applied to diverse destinations including hot, sea atmosphere all the way to cold, drone Lightroom effects. By means of these settings, it is simple to find the perfect one for you.
---
LR Preset #7 "Dark Cold Green"
Dark cold green preset is a good choice for enriching "green" photographs and adjust tones on your images of nature. It is very easy to customize the following preset to your image and find the balance between white and black colors, adjust exposition. This is one of the mostly downloaded Lightroom presets free landscape among our customers.
---
LR Preset #8 "Vibrance Vignette"
If you have chosen our Lightroom 4 landscape presets free in use, you need these corrections without words. This one increase exposure & brightness, adds warm effect, corrects contrast and vibrancy, and creates a slight vignette effect. Exactly this preset let its users to bring out the bright form of underexposed landscape photos.
---
LR Preset #9 "Saturation"
The name of this preset speaks for itself. This effect is usually confused with clarity or contrast, but it has another influence. Saturation preset will make the saturation in your landscape images bigger and make the tones pop and stand out from others. Our bundle of Lightroom 4 landscape presets free will bump up the intensity of all tones, colors and shadows in your picture regardless of the starting point of the color.
---
LR Preset #10 "HDR Medium"
The last preset by Fix The Photo makes the cold & cool tones in the bright, and contrasts tones well with the dark. It helps to create a pop to low-contrast light positions, and enhance the scenes with big contrast.
---
These Lightroom landscape presets free are made by professional photo retouchers from our team and the settings are for landscape photographs. You are Free to use our presets.
---
Helpful Video Guide about Lightroom Presets
---
More Free Lightroom Presets by FixThePhoto
Do you want more Free Lightroom Presets? Check out what we have.
---
---
---