Professional Photo Editing > Free Lightroom Presets > Free Lightroom Landscape Presets
Free Lightroom Landscape Presets
Tired of having spoiled landscape photographs because of bad weather conditions or light? Do not worry – Fix The Photo is ready to help you.Landscape photographers spend countless hours looking for unique destinations and exclusive places for a photoshooting. Editing the landscape photographs demands much knowledge and it is a time-consuming task. If you need to facilitate this uneasy work we offer you to try our free landscape Lightroom presets made by Fix The Photo.
With these free Lightroom landscape presets photographers shouldn't sort out hundreds of setting combinations in Lightroom software anymore. This pre-setting will emphasize the night sky, the mystery of the forest, the scenery of mountains with rocks, the colors and tones diversity and the change of seasons on your images. Our team makes your image post production easier – simply choose the one you like and push on "download free Lightroom landscape presets" button.
---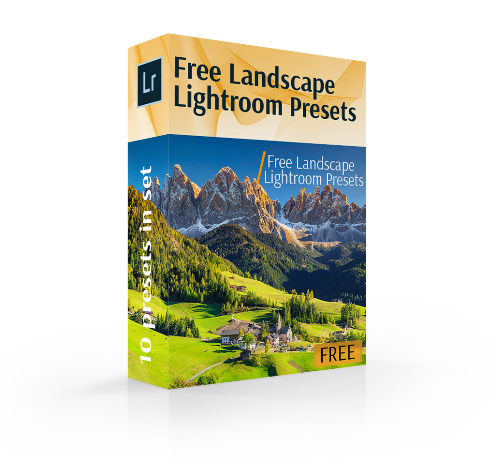 10 Free Lightroom Landscape Presets Bundle Includes:
---
Lightroom Landscape Presets Free
The bundle of Lightroom presets will turn your landscape photographs into magical destinations and amazing places by means of the following adjustments: light contrast for dark, soft cold, vibrance vignette, saturation. Download HDR landscape Lightroom presets and receive a wonderful HDR med effect. You can also change the Lightroom settings, namely a basic tone, sharpening, clarity, noise reduction, and calibration. The best thing is you can do everything by one click. Try our free Lightroom landscape presets and create a picture that everyone likes.
Our Collection of Free Landscape Lightroom Presets Provides
10 unique free Lightroom landscape presets
Compatible with all versions of Adobe Lightroom
Be applied to JPEG and RAW photos
Fully managed
Easy in use
Easy for professional and beginning landscapes photographers
For Mac and PC
Quick download

The Collection of our 10 Free Landscape Lightroom Presets
---
Preset Lr for Landscape #1 "Details"