Do you retouch too much?
Photoshop is everywhere today. Mass media and in particular - advertizing cannot exist today without photos corrections of digital processing. Their retouching abilities are unlimited. On the contrary, psychologists consider that looking regularly at such inconceivable ideal of beauty, who is not simply handsome and beautiful, and whose photos are even more retouched in Photoshop, creates a strong stress for the ordinary average person and often leads to disappointment in itself — and also to unpleasant consequences of this frustration.
Over the last years many celebrities started anti retouching campaign trying to show their fans who the real faces and bodies looked. Actress and model Emma Roberts was featured in the Photoshop free campaign for the lingerie brand Aerie REAL messaging to women - `real is sexy, real is cool!`
Photographer Ali Mitton
Actress Kate Winslet became the face of Lancome on the condition that her photos would not be retouched. Demi Lovato posed for Vanity Fair`s nude photoshoot without retouching. Photos of Serena Williams, tennis superstar, were shown in the annual Pirelli Calendar without portrait retouching.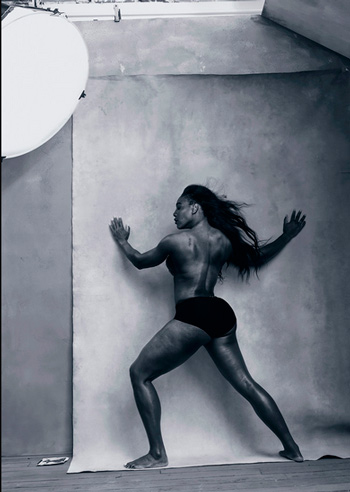 Source Vanity Fair
Digital editors hold quite a bit of power. It is only you who shows your viewer the subject you were going to open. The photographers are in the midst of a lengthy discussion over retouching and how much you should retouch. If you are a professional photographer, you know that your clients want to look good or want their goods look ideal. Sometimes your client does not take notice of how the audience`s perception is changed while asking for post-production. Usually all the teenage girls who take on unrealistic beauty standards from advertising ask for huge changes.
To retouch or not to retouch?
Before making any corrections, you should decide do you want get down to this business or not. Majority will agree that to remove a zit on a model`s face for her portfolio is pretty harmless considering it a basic retouching. Most professional photographers will agree that wedding photo retouching is a must for professional shooting. At the same time one has to agree that making changes in the proportions of a teenager`s body and facial structure sounds harmful.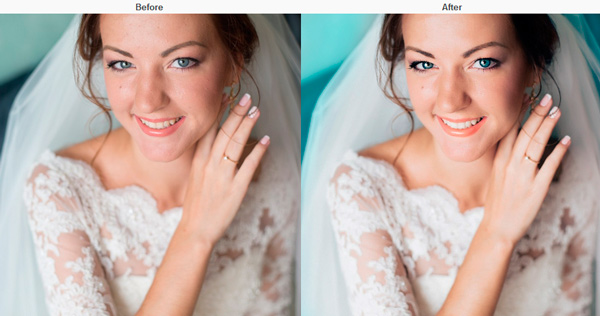 We are sure that the viewer should know the difference between reality and enhancement. Before moving pixels around on a screen, there is a whole host of other retouching techniques that will make the appearance of people on camera look better. Despite of everything, the smart photographer knows that without previous retouching you cannot give photos to clients. The minimum processing should be used for example photo color correction, working with shadows or zoom framing. These simple corrections are one of the most important features in professional photography. Lighting is used to point out at the best parts of a person and hide the more homely parts. It is natural that we have a great appetite for perfection in pictures.
In terms of background retouching, the alteration of the background often makes your photo look gorgeous. All unnecessary details are got off and nothing attracts attention away from you.
Photography as an art
Making retouching you can illustrate the photo as you see it in your imagination: from the brightest emotional contrast to a deep graceful black and white picture, from extraterrestrial beauty to infernal horror.
It makes sense to divide concepts of the photo and computer art. Criteria of division are simple. If the effects created in a photoshop can be reproduced at the manual press is a photo. If you use a distortion of forms it is already the computer art. We consider that after being taken any photo after the camera needs to be led up in a photoshop. On a minimum: the nuclear is sharpness and contrast. More difficult processing can mean a retouch of undesirable objects in a shot, selective increase of contrast, imitation of sepia and other shades.
When the picture was damaged by water or time, and it needs a colorizing or photo renovations, photographers use photo restoration services to restore photos.
There can be no doubt that images no longer live on a dusty shelf, they live online, at your website, profiles on Facebook or Instagram for the public to judge. Post production services for photographers gives to your photos some specific charisma and originality, ambiguity and expressiveness, opens a new side of art, shows its beauty and initial semantic loading given by the professional photographers. It is almost impossible to make your picture look in the way you wanted at once. When you finish images in a photoshop, you develop a certain style and taste.
But do not confuse the photo editing terms, read Editing, Retouching, Post Processing, Post Production – What`s The Difference?
Everything is in your hands!
Do you like the article? Please feel free to share it via your social accounts.
---
Pay attention this photography blog which does not require credit for the pictures and photo post production examples listed here . All photographs used in the article are only copyright to their respectful creators . These shots posted as a big admiration of portfolio and photo retouching talent the experienced rt masters have . If you found the photo on this post that is yours and do not want to be promoted on our website , please do not hesitate to write us via online chat on your right and it will be quickly deleted .
---
Rate the article!
The article's rating:
---
You comments or questions are welcome; please share your opinion on the topic.
Use Facebook:
Use Disqus: