Photoshop manipulation ideas you should not miss
Have you ever thought about the way they create magazine covers or advertising billboards? Perhaps you haven't. The aim of any advertisement is to grab the attention of the customer and make them want more to buy the product. The designer works out their ideas and implements and then brings them to life, using Photoshop.
Photoshop is a really weighty tool in the hand of a skilled professionalism. Today, Photoshop possibilities are not limited and creative works of art can be created. Photoshop is helpful in developing the creativity of a person.
The photo manipulation is one of the techniques of photo editing. It is widely used by advertising designers to catch customer's attention, using product photo retouching services, jewellery retouching services, and real estate photo editing at the same time. The photo manipulation services are also used in website designing. Many celebrities prefer manipulation editing to improve their images and get them published on the first page. This service is also used for editing documents. Let's observe this popular photo editing service in detail and have a look at an amazing photo manipulation example.
Do you know the meaning of photo manipulation?
The controversial art of photography has been practiced for almost two centuries. Some find it as an art form; the others think it is just praised falseness. It doesn't matter on which side you stand for, there are no doubts that photo manipulation is amazing, creative and skillful art creation.
Photo manipulation comprises the changing and transforming a shot, using various tools and techniques to get a wished for result. Photo manipulation is skillful and creative artwork.
You might think that photo manipulation is just moving elements into another image or adding supernatural things to a photo. It is really not. Photo manipulation is a kind of extraordinary and surreal photo editing.
Photo editing services and photo manipulation are not the same things. While the photo editing means correction of problems, like headshot retouching, background removal service or professional photo color correction, photo manipulation changes the photo fundamentally.
Image manipulation involves making changes to the look of the shot for different aims, such as magazines, music, gallery artwork, magazines, packaging, or a book. The images are also edited in the acting and modeling industries.
With the help of photo manipulation techniques, the photo editor makes the shots imaginative and creative. The viewer does not expect to see such striking images, which boggle the mind. A few images are often juxtaposed into the one to create a surreal album or book cover.
The skillful photo editors and graphic designer professionally manipulate the shot, depending on its purpose. They have big talent in creating something that offers a better effect to the images.
Photoshop manipulation ideas you should not miss
Photoshop is the second name of creativity. Photo manipulation is the craziest thing you can do in Photoshop. All you need is patience, time and imagination to create a mind-blowing shot. Inspire and try. Perhaps your image, which inspires the others, will be the next. We would like to present your attention to these unique photoshop manipulation ideas.
A mysterious steampunk man in a Victorian Setting is the first great artwork. It looks so sophisticated and unreal.
The next idea, which came to the creator's mind, is walking man through a path in the ocean. It is difficult to incorporate into a composition. The master coped with adjustment layers, masking tools and use of filters skillfully.
A surreal sky scene is a breath-taking work. This extraordinary image forces us to think over time and its wasting in vain.
A surreal loneliness scene arises mixed feelings inside us.
Breathtaking photo manipulation of a tightrope dancer. This shot makes the heart soar.
The post-apocalyptic scene in Photoshop is another example. Just one look at this shot that chills the bone.
The next manipulated image has sad motives. It brings a sense of wasted time.
The cybernetic woman has a look of a man in the future when robots seize our planet.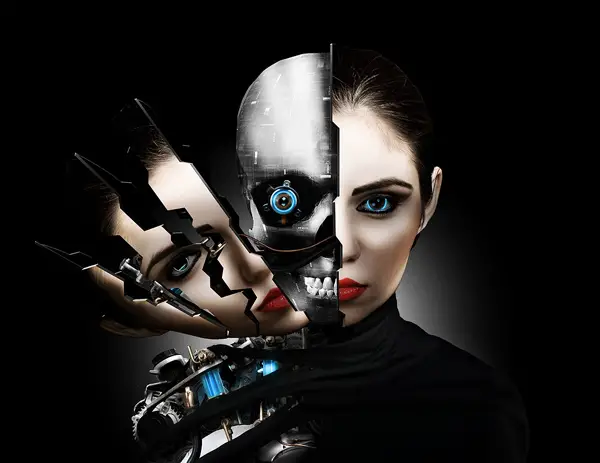 The next image is a true work of art. A beautiful abstract portrait is worthwhile to be noticed.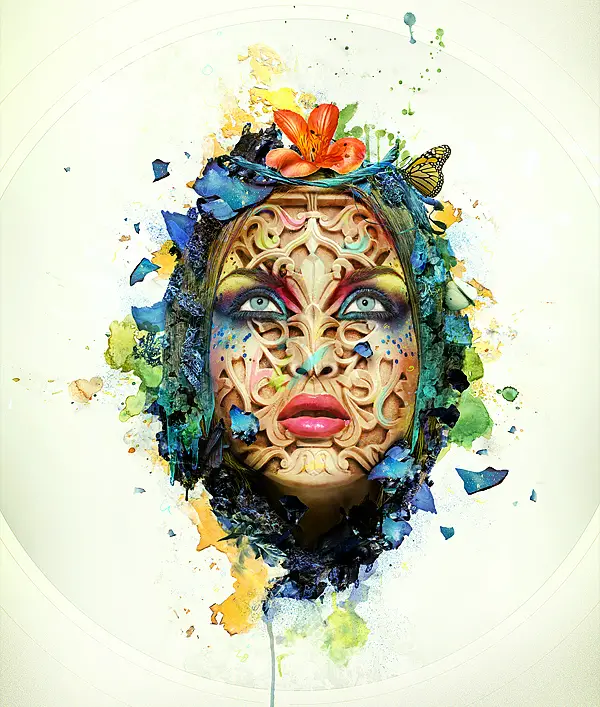 Devastating Tidal Wave is a breathtaking vision. We can even imagine this in real life, but the photo editor is successful in reproducing it on the photo.
These Photoshop manipulation ideas develop our imagination and we can think of our mind frames. We can easily implement our own ideas into life. Photoshop works like magic.
The best of the best and creative photo manipulations
As you have already guessed, photo manipulation is mostly used by advertising and website designers. Their creative photo manipulation is the main thing they need. Their broad imagination helps to create such unreal great works of art. Sometimes to create the extraordinary images, the photo editors combine incompatible elements and objects.
Photo manipulation is fun to create and fun to look at. Using Photoshop you can show the world what you have in your creative mind. There are lots of photo manipulation examples on the Internet. We collected the most overwhelming photo manipulation works and want to present them for your attention.
The photos of John Wilhelm, who has a passion for photography and digital art, created the wonderful manipulation of his daughters. He had fun creating such cheerful shots.
Interesting photo for your kid's album. An incredible story bringing fantasy alive.
Nature is in the first line of photo manipulation rates. The designer creates incredible and breathtaking manipulation of nature photos. If you want to enjoy nature beauty shots, without editing, check out the article 20 Stunning photos according to National Geographic.
Christophe Gilbert believes that small details can make a big difference. Look at his witty photo manipulation works.
Frank Uyttenhove is a professional photographer, who creates amazing manipulation works, involving people and animals.
Andric Ljubodrag is advertising photographer, who combines humor with wit in his works. His works are something out of the ordinary.
Khuong Nguyen, a photographer from Paris, combines contradictive elements into one artwork, like animals and a shoe.
Garrigosa Studios is a famous company, which works out advertising for brands. His works are popular and are demanded by such companies as Nike or Audi.
These masterpieces of photo manipulation are just a drop in the sea. The number of creative designers is high, while the number of their works is higher. Check out the article Photoshop or reality to see more examples. Every image has a photo manipulation meaning which the author intended to show. Of course, the graphic designer and photographer can't do without post production photography services and post processing services for photographers to be able to create the seen above images.
Photo manipulation techniques you have to use
Photo manipulation services are widely used today, as the photo industry makes a headway. Read the article about Everything about UK photography and USA photography and photo editing industry to have a look at the photo industry's development. Photo manipulation is one of the first photo editing techniques used today. So, we prepared a list of essential photo editing techniques, which help you to do photo manipulation with ease.
Prepare your images. As you know, photo manipulation is stockpiling of a few images. So, prepare these images in advance and cut them out. If you are a Photoshop follower, use the Pen to get results.
The manipulated photos are surreal, and you can even see a flying cow or magic fairy. But don't forget to adjust shadows. It gives the shot a clearer look.
Think about proportions. Everything depends on your idea. If you want to create a dog bigger than a house, do it. Remember the realistic look of the photo depends on the proportions.
Use textures to add to the depth of your masterpiece. The texture varies, and you can use the dark one or the light one, depending on the aim of the art.
Choose the stock images,you are going to use. Think over your idea once again and collect the images.
When your shot is going to be vibrant, you should care about color blending. It is one of the important sides of photo manipulation.
Stress on the details, by using sharp colors. You want the viewer to be focused on some element, so do it.
Choose the multiple images carefully to combine them. They should match, like a puzzle.
It is better to enhance a stock image if you want it to be seen in a more appealing way. Change sides and play with sizes to get successful result.
Take into consideration these main techniques and make your photo manipulation easier by yourself. When you want to get your photo ready without any work, you can choose to outsource photo retouching.
Our photo editing company works with photographers all over the world, and provides wedding photo retouching services, family photo editing, portrait photo retouching, old photo restoration services, baby photo retouching and many other photo editing services, depending on your requirements. You can check photo retouching examples to be sure of the skillfulness of our photo editors. We offer affordable photo retouching prices and discounts. In addition, we keep retouching blog, where you can find interesting information and tips for photographers. If you want your works to be known worldwide, read the information about a photo contest in the article Photo Contest by FixThePhoto. We are confident, you will be satisfied, working with us.
Do you like the article? Please feel free to share it via your social accounts.
---
Pay attention this photography blog which does not require credit for the pictures and photo post production examples listed here . All photographs used in the article are only copyright to their respectful creators . These shots posted as a big admiration of portfolio and photo retouching talent the experienced rt masters have . If you found the photo on this post that is yours and do not want to be promoted on our website , please do not hesitate to write us via online chat on your right and it will be quickly deleted .
---
Rate the article!
The article's rating:
---
You comments or questions are welcome; please share your opinion on the topic.
Use Facebook:
Use Disqus: